Check Out These Other Pages At Hoseheads
Hoseheads Dirt Late Model News
Bill W's Knoxville News Bill Wright
KO's Indiana Bullring Scene Kevin Oldham
From the Grandstand Ron Rodda
Wagsworld Ken Wagner
Sooner Circles Don Hubbard
View From the Pressbox Stacy Ervin
Keeping Track Dino Oberto
Tri-State Outlook Duane Hancock
Western PA News Rick Rarer
Interrogation Gary Costa
A Fans View Rick Hartnett
the PITS 2009
Central PA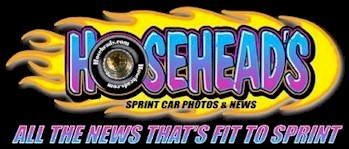 "Hooked Up At the Thunderbowl"
USAC National/CRA Sprint Cars at the Tulare Thunderbowl Raceway 2009 Pacific Coast Nationals
All shots are by Steve Lafond..."Hope you like 'em!" Check out Steve's website at Tear-Off Heaven Fotos http://www.tohf.com
Jesse Hockett
Levi Jones 2009 USAC National Sprint Car Champion
Nic Faas
Shane Golobic
Coleman Gulick
Wes Gutierrez
Cody Williams
Dave Darland
Damion Gardner
Jerry Coons Jr
Cole Carter
Bud Kaeding
David Cardey
Austin Williams
Casey Riggs
Bill Rose
Richard Vanderweerd
Rip Williams
Mathew Shedarowich
Bruce St James
Matt Streeter
Brad Sweet
Kevin Swindell
Bryan Clauson
Greg Taylor
Garrett Hansen
Danny Sheridan
Cole Whitt
Peter Murphy
Davey Pombo
Ronnie Gardner
Kyle Larson
Austin Mero
Blake Miller
Cory Kruseman
Tracy Hines
---
A Hosehead Production
Copyright © 2009 by "Hosehead's Sprint Car Photos & News." Do not reproduce anything from these pages without the permission of the photographers, writers or webmaster.
Hosehead's Sprint Car Photos & News,PO Box 42, Drums PA 18222-0042