Volume 11, Number 1
Loving Every Minute of It
For the average working stiff who grinds out a mundane forty-plus hours fifty-two times a year, waking up on Monday morning to do it all over again sure gets old rather quickly. Some new responsibilities or a scant pay raise may add a little bit of life for a few days, but a job is just that and in reality, we're all working to settle our debts, aiming for the weekend when we can truly enjoy what life has to offer. Sure, one should be thankful to have an outlet to earn a wage in such bleak economic times, but that sort of reminder isn't the most comforting when having to consistently deal with overwhelming workplace demands.
In such a drab, dull existence, weekend variety is the ray of light that provides a pulse. For couples who have children and can land a babysitter for an evening, a rare night on the town can certainly serve as a refreshing oasis in the desert of family responsibility. For those unattached, the sky is virtually the limit on what the weekend can bear.
It could be a date with a beautiful woman, enjoying witty banter over drinks and dinner. It could be a two day getaway to Chicago or Cincinnati, where the thrill of the big city awaits. It could even be time spent at home lounging in sweatpants in front of the television. And for those of us afflicted with the racing bug, our dream weekend might consist of chasing sprint cars to Bloomington, Eldora, and Winchester. Regardless of how one chooses to spend his or her hours from Friday evening through Monday morning, it's a welcomed break from the ball and chain and it helps recharge our batteries.
The Dog – A candid shot of Staab at Kelly's Pub Too in Speedway. (Dan Laycock photo)
When faced with the most unenviable tasks, while counting to ten, taking deep breaths, and reverting to our own happy place, how many of us have daydreams dominated by flying mud, slide jobs, and screaming engines? Refuting the theory that variety is the spice of life, those outside of the "scene" cannot fathom how anyone would want to spend six months of their year sitting on hard pine benches, inhaling exhaust fumes, dodging dirt clods, squinting through irritating dust, and dining on fast food. Time consuming and all-encompassing, it's not for everyone. Do addicted shoppers, gamblers, or golf players partake in their activity more than fifty times a year? Can they afford to? Suffice it to say, racing folk are infinitely passionate about their weekend preference and unlike the daily grind, such repetitive behavior never seems to lose its flavor.
One such passionate soul who has pursued his motor racing madness with unequaled fervor is Cincinnati, Ohio native Greg Staab. An only-son who was raised on the banks of the mighty Ohio River in the blue-collar burg of Anderson Ferry, located just three houses down from the Staabs was the Rose residence, home to Greg's childhood pals Pete and Dave, Pete of course going on to make quite a name for himself in major league baseball. Probably interrupting some sporting event in the backyard, Mr. Rose first took his two boys and their neighbor friend to Lawrenceburg Speedway in 1958. Completely in awe of the spectacle that was automobile racing, from that point on it was all over for Greg, as motorsports completely consumed his existence since that fateful trip to the track. That's a lot of weekends devoted to just one activity, wouldn't you say?
But with all sincerity, he wouldn't have had it any other way. Simple, resolute, persistent, and to the point, that's the German influence in Mr. Gregory J. Staab. Absolutely certain of what he liked at an early age, for fifty years he chased those boyhood dreams, setting and achieving seemingly unattainable goals when considering his humble beginnings. Unfazed by society's norms and doing what he wanted to do, he did so in a fashion that made his mother and father proud.
Soon after that initial taste of auto racing, both Greg and Dave Rose had their own go-karts for Milford Speedway competition. Absolutely inseparable, by 1967 they moved up to the late model stock car division at Lawrenceburg Speedway. Staab handled the driving chores and ultimately produced championships in 1969 and 1970, the first of many to come in his storied career at the Dearborn County speed plant.
Just two years later, a chance midget opportunity came courtesy of Tom Dickinson at Illinois' Grundy County Speedway, albeit in some rather antiquated equipment. Battling a 103 degree temperature, Greg failed to make the cut but thankfully another offer was extended by Norm Powers for the following weekend. Qualifying and finishing fourth against a stout AMRA field proved that he could do this and his dream of reaching the Indianapolis Motor Speedway suddenly didn't seem too far fetched.
In the early 1970s, the road to Indy still began with the United States Auto Club midget division so naturally the Staabs pooled resources to purchase some hardware. Hitting the road when USAC's midgets crisscrossed the country, the grueling slate rivaled any rock band's North American World Tour. Underfunded and inexperienced, Greg honed his skills by dueling night after night with men like Pancho Carter, Johnny Parsons, Tommy Astone, Jimmy Caruthers, Sleepy Tripp, Mel Kenyon, Rich Vogler, and Steve Lotshaw. Despite the humbling experience of struggling to make features, in the same breath it was the time of his life, getting to see all corners of the country while enjoying unequaled camaraderie.
Battling uphill for a handful of seasons, a 1977 Salem thumb and shoulder injury provided a pause and allowed the family unit to re-evaluate priorities. Nearly void of sponsorship and necessitating an endless supply of dollars to keep up with the latest in engine technology, the travel-intensive schedule also did not allow time for a proper income producing position. Forever grounded in blue-collar work ethic, Greg made the bold but suddenly sensible decision to stay closer to home and resume a Monday through Friday job, eventually landing a position as a mechanic with the City of Cincinnati's Municipal Garage in October of 1979, punching the same time clock for 25 years.
Full-scale racing dreams did not have to be abandoned however, as the Queen City's proximity to Indiana dirt tracks allowed him an opportunity to sample the previously unexplored society of sprint cars. Sleep deprived and elbows-up in oil and grease, just how many Monday mornings did he have visions of the upcoming racing weekend? Fueled by his insatiable racing desire and long before the days of Red Bull, sprint car racing gave Greg his wings.
Early into his sprint car career Staab's talent caught the eye of Dayton, Ohio businessman Tom Stenger. Finally afforded the resources and personnel to excel against the best of the best, not surprisingly the decade from 1978 through 1988 was Greg's most productive. Racking up 56 feature victories in that time span, 19 came in a mind-blowing 1984 campaign where his win total was fourth highest in the nation. Along the way, he nailed down an impressive array of track titles, five of them at Lawrenceburg Speedway ('82, '83, '84, '85, '87) and one at Bloomington (1984).
Owner of numerous awards to commemorate his accomplishments, during the Stenger era Staab was named driver of the year by the Cincinnati Auto Race Club ('82, '87, '89), the Buckeye Auto Race Fans ('83, '89), and the Dayton Auto Racing Fans ('83). The dream of competing at 16th and Georgetown nearly came true in 1983, invited to drive for the Rattlesnake Racing Team out of Pensacola, Florida. Unfortunately, funding never materialized and outside of his days of working as a crew member for Hoffman Auto Racing's 1979 and 1980 "500" efforts, Indy was alas, still just a dream.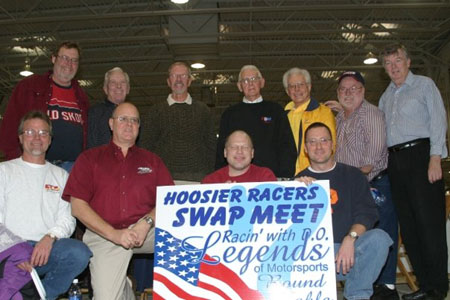 Holding His Own – A legend among legends, Greg kneels on the front row (second from the left) in a photo opportunity after the Hoosier Racers Swap Meet Legends Roundtable discussion in January of 2007. (Unknown photo source)
Readjusting goals yet again and having accomplished everything he could at The Burg, he returned to the USAC trail full-time in 1988 and wound up a solid second in the national sprint car standings. Nursing a deflating right rear tire, he dramatically held off all comers to steal his first career national victory at Indianapolis Raceway Park, televised live to the world on ESPN's Thursday Night Thunder. Close enough to sniff a national championship, in the years following 1988 he isolated all energies to achieving that goal. A USAC loyalist through and through, unfortunately he never quite reached his goal, rewarded with points finishes of fourth ('89), third ('90), seventh ('91), thirteenth ('92), eighth ('93), seventh ('94), and sixth ('95). Tenth in '85 points, eight out of eleven years he would wind up inside of USAC's top ten, a feat in of itself.
Even more amazing is the fact that he did it while holding down that full-time job with the city of Cincinnati. In 1986 alone, he managed to compete 86 times while staying in the good graces of his employer. Combine day-time duties with racecar maintenance, a rigorous and religious workout regimen, and the travel required to race and what you have is one dizzying schedule. How many kids from today's world could keep up with such an agenda?
Making 177 USAC sprint car starts through July of 1996, while in action at Paragon, Indiana another competitor's wheel entered his cockpit, seriously injuring his left humerus and thus requiring the services of famed racing fixer-upper Dr. Terry Trammel. Somehow recovering from serious spills at Lakeside ('91) and Salem ('77), he made yet another bold decision to hang up his driving gear for good after the Paragon incident, earning him the coveted Emma Ray Award for Courage from the late Joie Ray.
Strong-willed and stubborn, it only seems logical that the man who devoted his entire existence to auto racing would find a way to stay involved. Reinventing himself, he teamed up with young Cincinnati charger Joey Kerr to campaign a USAC sprint car effort for 1997. Not to be undone, he also took over operation and promotion of his beloved Lawrenceburg Speedway from 1997 through 2000, saving the place from extinction. Burning the candle at both ends and literally running on fumes for those four years, Staab got very little sleep when dealing with the headaches and stress of running a racetrack. And yet, he still managed to faithfully punch that clock for the city of Cincinnati. After splitting with Kerr, he still managed to field a sprint car as well, earning a Lawrenceburg Speedway sprint car championship with Jason Setser behind the wheel of his familiar yellow number 44.
Along the way, he befriended fellow competitor Johnny Heydenreich, annihilating I-74 asphalt to maintain Johnny's Silver Crown car that was based out of Indianapolis. And for a brief while, he was even employed at Tony Stewart Racing before he landed his dream job with the United States Auto Club, heading up the national sprint car division for 2006. Finally, after two decades of desiring such an address, he packed up his belongings and made the move to Indianapolis. Nearly everything he had ever envisioned was now reality and things could not get any better.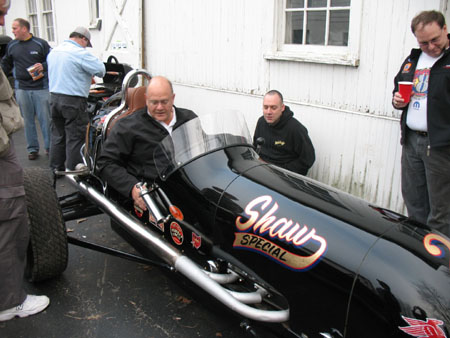 Happy Dog – At a Hoffman Auto Racing fish fry, Greg grins after testing out creator Josh Shaw's 1940s era sprint car replica. Shaw is kneeling in the background while Rob Hoffman admires the machine. (Keith Wendel photo)
Unfortunately, life is never perfect as a shift in USAC management and philosophy eliminated his position midway through 2008. Disappointed but undaunted, like a chameleon he changed colors once again and adapted to the environment of the day, joining Darryl Guiducci's Team Six-R Racing. Having the time of his life, he couldn't be any happier, continuing to do what he wants to do, all these years later. Now sixty years old, he's spent all but ten of his years heavily involved in motor racing. How many of us can maintain that level of devotion for that many years, in any chosen field? It's simply amazing.
Even with his one-track mind on automobile racing, variety and some level of balance is still key to Greg's life. He enjoys baseball and football. He is heavily involved in physical fitness. He is an avid fan of music. He also loves animals, nursing his diabetic feline friend Ralph. On the racing front, he's kept things interesting by competing as both a driver and a car owner. He's promoted and operated a racetrack. He's served as a mechanic and a crew chief. He's mentored young drivers. He's even served as a series official, working with other track owners to develop schedules. Still setting goals, he remains as passionate and focused as the day he began racing go-karts with his lifelong buddy Dave Rose, who also moved to Indianapolis and shares the same address just west of the Indianapolis Motor Speedway. Since being introduced to auto racing at Lawrenceburg Speedway in 1958, he has been there, done that, and enjoyed it, loving every minute of it.
As has been said a million times, racing is full of so many unique personalities who keep things extremely interesting. But among that cast of characters, you'd be hard-pressed to find someone as dignified, classy, well-liked, and positive as Greg. You'd also be hard pressed to find anyone as relentless and resilient, knocked down so many times only to get back up, dust himself off, and stay intimately involved in the activity he loves most. One of the hardest working men I've ever known, the blue-collar racer is a true go-getter, consistently making the impossible seem possible. Honored and privileged to have had the opportunities to chase his dreams for so long, it is because of passionate people like Greg Staab that sprint car racing has managed to survive and thrive through the years.
Perhaps he hasn't accomplished everything he has wanted in terms of feature wins and national championships, but he still beams with pride when thinking of where he has come from and what he's been able to get done on pure desire. If there were ever was a category for premier ambassador on the National Sprint Car Hall of Fame ballot, Mr. Staab would be a landslide winner.
Regardless of whether or not he makes the Hall of Fame, he is still living the dream, now combining work with his lifelong obsession. Not having to worry about the stress of maintaining a fleet of trucks on a tight budget or supervising the work of others, he still enjoys getting his hands dirty and tinkering with mechanical equipment. But, instead of daydreaming about his weekend racing during those work hours, he is literally living the dream. I have to say, I'm more than a little envious.
Many a special thank you is extended to the generous souls of Dave Rose, Keith Wendel, Gene Marderness, John Mahoney, Jackie Litchfield, Kevin Eckert, and Danny Laycock, as each one went out of their way to dig through the archives to provide valuable information, stories, statistics, and timeless photographs that added so much color to an already vibrant story and career. And of course, I would be remiss if I didn't thank "The Dog" himself, Greg Staab, for so eloquently answering three and a half hours of questions. Putting his memory to the test, he passed with flying colors.
So without futher delay, please sit back and enjoy the recount of a mid-January afternoon conversation I shared with Greg, one of the most interesting and entertaining stories I've been able to put into words thus far. It's a long road, so beware - you might have to complete the reading in more than one sitting. Enjoy!
KO: You have had a long standing love affair with motor racing and I know of few people who have remained as fiercely passionate and upbeat about the sport through the years. Cincinnati isn't a huge racing town, so what got it started for you?
GS: In 1958, I was neighbors with the Roses. The name Pete Rose would be synonymous with the baseball player. It was his father, his brother, and himself. His father took me to Lawrenceburg Speedway in 1958 and it was completely over with for me. From that point on, I was locked in and this is what I wanted to do at age eight.
KO: As a kid, did you attend any midget races at the Cincinnati Race Bowl or were you too young? That track went away in the late 1950s or so. Did you go to any races there?
GS: I can remember being there. I can't give you any details, but I believe my father and my uncle Charlie took me there one time or maybe more. I can remember seeing the place. I can remember it being in Evendale. I know exactly where it was. I could take you to the spot where it was. But I can't remember a whole lot about the things that were going on. I might have even been younger than eight at the time.
KO: Evendale?
GS: Evendale - not too terribly far from the GE jet engine plant.
KO: Were there any other racetracks you attended as a kid? Other than Lawrenceburg and the Race Bowl, there weren't too many choices in the Cincinnati area. Was it just being at The Burg that got that bug started?
GS: Shortly after that, there was a racetrack in Glen Este, Ohio that had quite a bit of stock car racing and the sprint cars would go there occasionally. And then my mom and dad would take me to that occasionally and we'd get to see sprint cars run there on a Sunday night.
KO: You mentioned Pete Rose's younger brother Dave. You've known him nearly your whole life and he is currently your Indianapolis roommate here on west 16th, not too far from the Indianapolis Motor Speedway. While growing up, how close did you live to the Rose family, two houses down or three houses down?
GS: We were three houses down from the Rose family. We moved there in 1953 and from that point on, I've been around Dave and his brother for most all of my life.
KO: So did you play any backyard sports with those guys?
GS: Oh, we did everything! We played baseball. We played football. We did it all. We did the whole thing. I did little league baseball. I didn't do football because it was too tough for my father to get me to practices and so forth. Yeah, I did a lot of sports. I was not as gifted as those guys were but we did a lot of sports.
KO: So talking about Pete Rose, were you able to stay in contact with him when he was at his peak in baseball? Obviously Pete Rose was HUGE and he was a busy guy, in demand all of the time. Were you still able to maintain any contact with him?
GS: We did. We did. We remained friends for years. I'd see him when he was in town when I lived in Cincinnati. Just recently, we had dinner with him in Las Vegas. He signs autographs at the Field of Dreams at Caesar's Palace Mall in Las Vegas and Dave, Dick Jordan, and I had dinner. It was a very, very cordial, warm dinner. It was a great time. We had a great time with him. Yeah, we're still good friends.
KO: Was he able to keep track of your racing even when he was winning World Series games? Was he always interested in your racing?
GS: He did to a point. Obviously he was preoccupied with his life and what a great, great career he had. He kind of new what was going on with me. He also knew when I got hurt, so I guess he was keeping fairly close tabs whenever there were any injuries.
KO: So you've known Dave Rose since you were about three years old, but did you ever lose touch with him throughout the years?
GS: David moved to Tampa. David moved to Boca Raton. But we always kept in touch. There might be a month or six weeks where we wouldn't talk, but it was always pretty close.
KO: Since you lived very close to the Roses, you would have grown up in the Anderson Ferry area of Cincinnati, not Western Hills like many would want to believe. You went to high school in Western Hills. Talk a little bit about your community of Anderson Ferry and what it was like growing up there in the '50s and '60s.
GS: Anderson Ferry was down on the river, right near the Anderson Ferry which still runs today. The ferry boat is a shortcut across to the airport for a lot of people who can cut out going downtown to go to the bridges to get to the airport. You can just jump across on the ferry boat and shoot to the top of the hill and the airport is right at the top of the hill. It was a basic, low or mid-level blue-collar area I would say. Everyone worked. Everyone had daily jobs. Everyone worked and strived very hard to get ahead and keep their heads above water. Work ethic was a big thing in the area. Dave Rose still has an incredible work ethic. Pete obviously has a work ethic. Mine's pretty good where I come from. We work pretty hard. It was just a blue-collar, hard-work area and you were taught as a kid to learn how to work and create things for yourself.
And I picked a sport that was very difficult to get into. With the grace of my mother and father, who were the best in the world, and I miss them terribly, but they got me a go-kart and a go-kart progressed onto the next level into stock cars. We didn't have a lot of money but we just kept trying, trying, and trying and eventually it worked out to be a pretty good ending of a pretty good story, really. From no money and a blue-collar area to what I ended up doing, I'm pretty proud of it.
KO: Dave told me that you guys would have been considered "river rats". Was flooding ever an issue for your home?
GS: Flooding was an issue in two years. The water got across the road and that was when we'd all get together and get our ball bats and go down towards the railroad tracks and club the rats as they came across. When the rats would come across, our main sport was killing rats before they could get to our house. Or my dad would sit in the front yard with a .22 and pop them when they tried to come up in the yard.
KO: So they were pretty big?
GS: Yeah. And there were a lot of them too.
KO: Wow! So what's that neighborhood like in 2009 compared to growing up?
GS: Like any neighborhood, the blight has taken effect and it has deteriorated to the point where it's nowhere near as nice as when we had it. I'm sure everyone understands that, that they've seen the same thing happen with their areas or a lot of areas. It's nowhere near as nice as it was when we were there.
KO: So is your house still there that you grew up in?
GS: It is. It is for a fact. And it had a long-standing history. It's a huge stone house and it can be seen for miles on the Ohio River. You can see it standing out on the hill compared to all the rest. That's pretty much the way it was. It was a blue-collar area without a lot of money and we actually rented the second floor for, oh geez, twenty-nine years I believe it was. Nobody could afford to do anything different. So, that's the way that was.
KO: Did you have any brothers and sisters and what did your dad do for a living?
GS: No brothers or sisters. I was an only-child which right away people are going to think, wow, spoiled brat but guess what? It wasn't that way at all.
My father worked for the C&O Railroad. He retired from the Chesapeake and Ohio Railroad after 33 years of service. He started out as an operator and then he became a yardmaster, which puts the trains together. And he moved around from Spring Grove, Kentucky to across the river to Cincinnati and then back over to Covington. Every night he'd be in a different place putting trains together as a yardmaster.
KO: With your dad retiring from the C&O, it's kind of ironic that your house is so close to the C&O, or B&O, tracks that ran through the middle of Speedway. You could probably hit a baseball or golf ball from your house to the old tracks. I guess the railroads aren't necessarily dying, but it's kind of sad to see all that infrastructure go away.
GS: They still use it a lot, if you're paying attention out on the road. When we go out west, you'll see the huge trains out through New Mexico and Arizona – great big, long trains with lots of cars – front-end pushers and back-end pushers…
KO: I know Dave Rose enjoyed baseball and geared his life towards becoming a baseball player. Did you have any aspirations other than racing?
GS: After eight years old, that's all I cared about. That's all I wanted to do. The nuns would catch me drawing pictures of sprint cars in between papers in the books and it probably took away from some of my education but racing is all I ever wanted to do. And to this day, it's really what I want to do.
KO: To my knowledge, you were an employee for the city of Cincinnati for many, many, many years until you retired. When did you start working for the city?
GS: October 27th, 1979.
KO: So what was your position when you started and what was it when you stopped?
GS: I started out as a mechanic's helper and moved up to a mechanic. Then I moved up to crew chief and then became an assistant supervisor before I left and retired at 25 years and 55 years of age.
KO: Ok! Other than at Lawrenceburg Speedway when you were running that joint, did you have any other jobs outside of racing?
GS: I did in fact. I had many, many jobs because when it came time for racing season, I was gone to go racing and that job was gone. Except for one – I worked seven years for the Kroger Company at the Gold Crest Candy Company - making candy. I was a candy cook. I was a candy enrober operator. Everything we had to do to make every kind of candy, I did it. You name a candy and I can tell you how it was made. We made it.
KO: Wow. And that was owned by Kroger, huh?
GS: Kroger Company – it was under the Gold Crest label and I think they moved it down south near Atlanta or someplace and capitalized on cheaper labor.
KO: In talking to Dave Rose, I learned that you both were racing karts at about age 12. Is that when you first started?
GS: That is a fact. I started at eleven years old racing go-karts at Milford Speedway with David. Gary McCabe, Eddie Fowler and some other friends of mine, we all had karts around that time. The go-karts went from '59 to '63 and there were a couple of years in there where I didn't have anything to do and couldn't get anything going. In '67 or '68, we put our first stock car together.
KO: So in those karting years, who did better, you or Dave?
GS: Dave didn't get a lot of help from a lot of people. I did better than Dave but Dave had the potential. He was going to win his first race he was ever in. The chain came off the kart. Yeah, he was a gifted driver actually when he was young.
KO: So he did everything good, huh? We were talking about him earlier from one of your pictures, having all the talent…
GS: Well, when God gave out the talent, he gave it all to David. And he gave Pete the work ethic. David had God-given talent - to burn. He could out run you. He could out hit you. He could knock you down. He could hit a ball farther. He could do all of it. He was just gifted by God up above.
KO: He was a bad-ass huh!
GS: Pretty much.
KO: So your yellow number 44 – did you choose this color and number on your own or were you influenced in any way by some other driver or car, maybe one that you were drawing pictures of?
GS: Ironically, the number 44 came from Jim Bob Luebbert and Tom Soudrette. Jim Bob runs Speedway Monogramming up here, the same guy who went on to run USAC sprints and moved on through the ranks also. That's where the number came from.
And for some strange reason, I was at Salem Speedway or Dayton Speedway and I saw George Snider's gorgeous yellow number 22 car that he built back in 1970 or '71 and it just took me completely out of my mind and I had to have a yellow racecar with a number 44 on it. And that's exactly the way we went from there. I chose the number and the color just jumped up. That bright yellow was just beautiful to me and that's why we did the yellow 44 thing.
KO: And in later years, your gold or silver leaf lettering and stuff like that, that's probably where it came from?
GS: Snider's car had yellow with silver leaf numbers on it – it was just incredible to me.
KO: And I'm sure the numbers weren't staggered.
GS: Mmm, MMM! Mmm, MMM!
KO: At Kelly's Pub one of the other nights, I recall Dave Rose talking about one of your stock cars you raced – it was a '66 Falcon body placed on a '56 Ford frame. Doing a little further research I found that you were the 1969 and 1970 Lawrenceburg late model champion, which I'm sure was a feat in its day because I imagine there were some stout guys competing. Was the stock car deal a successful endeavor?
GS: One of those seasons was an abbreviated season because of a problem with the fair board. It was a short season with seven races or something and we did well in several of them and it ended up being that way. But, what it did Kevin was let me know whether I could do this or not. Everyone doubts themselves to a point and even I was doubting myself whether I could get out there and do this after watching some of the things that I'd seen. And this proved to me that I could go do this thing and I enjoyed the heck out of it.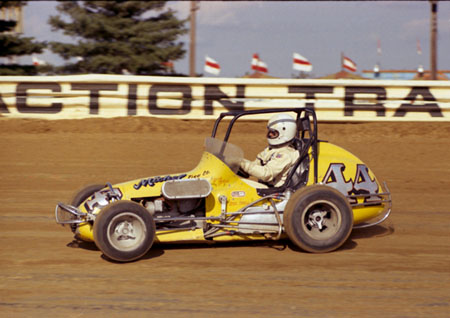 Learning Curve – The USAC midget circuit served as a supreme test for the Staab family, as Greg circles the east end of Terre Haute's Action Track on July 30th, 1974. (John Mahoney photo)
KO: Some of the guys you raced against, perhaps Shane Mugavin's dad?
GS: Father John. John Mugavin. Oh geeze…Don Wilbur. Pat Patrick. Rodney Combs. On and on and on. Chuck McWilliams later on. There's just a billion. Gene Petro. A lot of the guys who were around back then were really fast.
KO: So other than Lawrenceburg, would you run a place like Florence?
GS: Tri-County! Tri-County Speedway.
KO: When it was dirt?
GS: When it was dirt, it was THE class place of the racing areas around here. It was so far ahead of its time. It had bathrooms in the infield and a nice driver's lounge upstairs. It was NICE! And we would run a Wednesday night there and a Saturday night there, two nights a week. And I learned a heckuva lot running that half-mile with that little Falcon. It stepped me on up to go to the next level.
KO: So if Tri-County ran Wednesdays and Saturdays, did The Burg run Fridays?
GS: That was during the time when there were problems with the fair board. There was a contract issue and I'm not real sure what it was about.
KO: Did you have some feature wins in the stock cars?
GS: Second, third, second, third, fourth, fifth…we just didn't have the money to have the big 300 cubic inch Ford truck engine. We had a little 240. Everyone else had the 300s and the 292 inch Chevrolets. I was a little bit outclassed on the horsepower on that big racetrack but we gave them Hell with what we had. We eventually got a 300 and they of course stepped it up too but it was just a progression. It was a very good learning experience to run that racetrack.
KO: With the smaller engine, it probably taught you to be smooth… you couldn't afford to ease up and you had to be precise.
GS: Momentum was a big issue there and like you said, there wasn't enough power to pass these guys. You'd creep up on 'em and get to them and once you got to them, it was very difficult to pass them because you didn't have enough power to go by.
KO: Doing a little research again, 1972 was the first year I saw you listed in USAC midget points. Was this indeed your first year for midgets?
GS: I got to run a car at Grundy County. A fellow by the name of Tom Dickinson had a car. He had an Offy-Kurtis. My dad allowed me to run with Tom up there and we went to Grundy County and I ran the pavement one time and missed it. I had a 103 fever and tried to run the car up there that night the very first time. And then the following week we went to McCutchenville, Ohio at an AMRA race with Norm Powers. I ran against the likes of John Tenney and Les Scott and Jack Calabrase. People like that. I qualified fourth. I made the dash. And I finished fourth in the feature, my first time on dirt with a midget back then. I knew then that I could do it.
KO: You had to be pumped.
GS: I knew then that I could do it. I was wound up!
KO: Making the jump to midgets instead of sprint cars - was that just the natural progression in those days? You had to start off in midgets and that's unlike today when kids can race sprint cars at tracks where they let 'em run before they are of proper age. You had to learn somewhere and midgets were the place to learn?
GS: Midgets were the place to learn and even after running them for seven years, I still had a great, great difficulty in getting a ride. I was 31 years old, check that, 29 years old before they even let me get in a sprint car. They said I didn't have enough experience. And I'd already run six or seven years of USAC midgets!
KO: Man! It was a different world.
GS: People were hardcore back then and they didn't want just anyone sitting in their racecar.
KO: Too many guys getting killed…
GS: Oh, it was much more lethal than it is now. There's no question.
KO: Safety just wasn't even a consideration.
GS: Um-hmmm.
KO: So who did you purchase your first midget from? I'm sure you have some interesting stories. I'm curious about the chassis and engine combination.
GS: The first midget came from a fellow from Pennsylvania by the name of Wayne Woodward. We drove to York, Pennsylvania to take a look at it and when we got there, the pictures of the car that he sent us weren't the car we were looking at. The description of the car wasn't the car. The trailer wasn't the trailer he described and we were pretty much stuck. But dad talked him down on the price and we grabbed this old car and brought it home. It turns out that the car had a devious past and I'm not going to get into that…
We took it and put it back together, completely rebuilding it with Mel and Don Kenyon's help. Dad built a Chevy-II four cylinder engine for it, which was a pretty good engine at the time. That next year, the Sesco came out and made the Chevy-II obsolete. That comes full circle again later. Once I got my Sesco, the VWs came out and made that Sesco outdated. So then shortly after that, the Cosworth came out and made the VWs outdated. So this thing becomes a long, roundabout thing and I was out of the midgets by then anyway.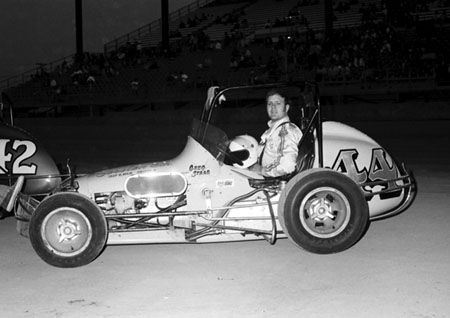 Say Cheese – Strapped in his midget, Greg poses for the camera at the Indiana State Fairgrounds on May 16th, 1975. (John Mahoney photo)
KO: It just ends up being a lot of money that you spend and prices a lot of people out I'm sure. So the Kenyons, you said they helped you out but were there any other guys along the way who were invaluable as far as advice?
GS: Bob Higman was good to me. Mel and Don Kenyon – I can't say enough about them. There were times I'd drive up to Don's shop, take my welding helmet with me, and take a day off of work just to sit and watch him weld, to learn how to TIG weld. And I'm not the best TIG welder. I'm not Billy Puterbaugh. I'm not as good as these guys they've got here. But I learned to put these cars together and they won't fall apart. I put my front end together for the sprint car at Winchester and it never fell off so I guess we did ok.
KO: Yeah – that's a lot of force on that right front!
GS: But Don took very good care of me. There were times when we had money problems and they waited on their money and they waited until we could get it. They were very good to me over the years and Don taught me a lot. And Mel taught me a lot on assembly. He was very, very hard on me. He was very point blank about things. He told the truth and it paid off because we assemble a pretty nice racecar now.
KO: Tough love from Mel?
GS: I'd say that's a good one!
KO: Looking at your USAC points finishes, I'll read off the stats. 115th in '72, 28th in '73, 14th in '74, 16th in '75, and 14th in '76 (also competing sporadically in '77, '78, and '79). Judging by the numbers, this looked like a tough series to find success. Were you a full-time competitor, chasing the entire deal in '74, '75, and '76?
GS: Pretty much. We had one sponsor one year, I believe it was '76. '75 or '76. It was the Scio Cabinet Company. Mr. Bob Riggs from up in Ohio, he helped us out a bit, spent a little money, and bought us a few items. It made all the difference in the world. I was never able to crack the top-ten because of money. We worked very, very hard at it and as you can see, I didn't let up. But it taught me an unbelievable amount about racing and cars. It came back to do me a better deal later on.
KO: Chasing the USAC midget tour back then, I cannot imagine that you had a full-time job when you were literally crisscrossing the country, but did you have a full-time job when you were doing that? Did you try?
GS: I did most of the time. I worked for Don's Crankshaft Company for two of those years, '75 and '76 I think it was. Or '74 and '75. And Don would let me go racing whenever necessary.
KO: What's Don's last name?
GS: Kemper. And Don's Crankshaft Company is now defunct and everyone has pretty much gone to different areas and Don passed away several years ago. It made a difference. He let me do that. And if I didn't have a job, jobs were easy to get back then. You'd just go get another job. It was no big deal. You'd walk in, put your application in, and a few days later they'd call you. It isn't like today. It's tough now.
KO: When you traveled the country, who was your primary help? You had told me earlier that you went through a lot of guys because it was a grueling schedule. From your scrapbook, I saw that your dad helped you out a lot but when you're up and down the road, hauling all the way to Denver or Salt Lake City, who were some of the guys you remember helping?
GS: Timmy Martini from Cincinnati went with me quite a bit. Bob Noppert went with me quite a bit. And Rick Schwarm, who lives in Tampa now, or Fort Meyers, he helped me a ton many years ago. But basically it was my dad and myself. Dad was a rock. He would plan his vacation time. He'd get the schedule. He'd pre-plan his vacation time of when he could be off. He would hit as many races as he possibly could. I think he only sent me out on my own in the first few years for like six races total.
KO: Is Timmy Martini any relation to Denny Martini?
GS: Brother.
KO: Talk about some of the names from the USAC midgets you had to race against on a regular basis. When I was looking through those stats from Kevin Eckert's website (www.openwheeltimes.com), it was amazing to see some of the guys you went head-to-head against. It was just such a different time back then compared to now. I'm not sure why, but the quality of competitors seemed so much stronger in your era. Who were some of those names?
GS: I can load you up on names. Pancho Carter. Johnny Parsons. Tommy Astone. Jimmy Caruthers. Danny Caruthers. Well, Danny was gone by the time I got there. But Jimmy Caruthers was still around. Sleepy Tripp. Bobby Tripp. Danny McKnight. Uh…geeze.
KO: Rich Vogler?
GS: Rich Vogler. I've been to Rich Vogler's house. We've worked out of their yard before. We've traveled with them. Steve Lotshaw is a very close friend of mine. Mike Gregg became a close friend of mine. Jimmy Beckley from Denver became a close friend. So many people that if you sit there for a few minutes and think, but those are the ones that I got to know. I got to know Rick Goudy. I got to know Wally Pankratz from out there. Just all the west coast guys…Leigh Earnshaw from the East. And Ken "Mister" Brenn from the East. There's a lot of relationships you build over the years just by doing the USAC midget schedule.
KO: Who did you like to race against?
GS: Steve Lotshaw was quality. Mike Gregg was quality. You could run against those guys. Some of the other guys would hit you and knock you out of the way. I wasn't used to that nor could I afford to have that. You couldn't afford to have your stuff bent up. They all ended up being great racers and that proves it right there.
KO: Who did you NOT like to race against? Who were some of those who ran into you?
GS: You had to watch Rich when you were around Rich. He would whack you on the way by. Rich would not intentionally do it but it would happen and then you'd be sitting there with a bent racecar. And if you saw him coming, you'd kind of give him a little extra room because he'd slam you.
KO: Anybody else you remember like that?
GS: Not really. Not in the midgets. There wasn't too many. There wasn't a lot of that. Well, safety equipment wasn't anywhere near what it is now. So you couldn't afford to be that way. You had to watch your ass because you could get hurt in a heartbeat in these things and it isn't like it is now with the seats and head and neck restraint devices and everything.
KO: Plus with the number of races you went to, you're way out in the middle of nowhere and trying to repair cars would be tough.
GS: Precisely. And you can't always find a garage to fix a bent tubular chassis you know?
KO: At the bigger races like the Hut Hundred, some even bigger names would come out like Foyt, Gary B., etc. At the time when you were just trying to make the show, could you appreciate the legendary talent that you raced against?
GS: Absolutely. You'd just be overwhelmed because generally the Hoosier Hundred was the day before. And you went up there and licked your chops, watching the Silver Crown cars. Back then they were called Champ Dirt cars. And you watched those guys run those cars and they'd come to the Hut Hundred the following day. You'd see George Snider. Tom Bigelow. Pancho. You'd see Johnny Parsons. Jan Opperman. A.J. Foyt would come over and run. There's just all big names would come over and run like you said. Don Holley was a guy from California that I could remember reading about. Don Holley, he ran flat-track motorcycles, was running for Gus Sohm and he came to the Hut Hundred.
And the Hut Hundred was much tougher. Much, much tougher to make back then. I only made two I believe.
KO: You were saying that 80 cars would show up for 33 spots.
GS: And the same thing for Ascot Park at Turkey Night. You'd go out there and there would be 80 racecars. I never did make a Turkey Night race. Never.
KO: So you'd have to qualify within a certain range?
GS: If not, you're on the trailer. You didn't get a C-main, B-main – none of that stuff. It was either what you did or what you didn't. The Hut Hundred was very, very difficult to make.
KO: Go hard or go home!
GS: Um-hum.
KO: No provisionals either.
GS: It wasn't even heard of.
KO: My gut tells me that the USAC midget scene in the '70s might just have been a fun time. Of course it was harder than hell to make those shows, but what was it really like?
GS: It was hard work. It was educational. You got to befriend a lot of people and create a lot of great relationships. The competition was absolutely incredible. You really didn't know who was going to win each night. It was very, very competitive.
KO: Some of the characters…who were they and how much fun was it being around those people? Traveling from city to city in a caravan, I'm sure there were some jokesters in there.
GS: Oh you know it. Billy Engelhart – I got to be really good friends with him. Steve Lotshaw was pretty much a case. He had a dry sort of sense of humor and we just had a great time with Stevie Lotshaw and his father Dick. They were great people. They treated me good and I'll never forget those days either. They were probably the best.
KO: Talk about the stark differences between the midget scene back then compared to now. Money, equipment, resourcefulness, ingenuity of the racers, and the camaraderie. Back in the '70s, money and equipment weren't as big of a factor. The resourcefulness and ingenuity – this was more prevalent back then compared to now. Camaraderie - especially bigger back then compared to now. Was that the reality? People talk about how good things were and they look at them now and things aren't horrible, but there's quite a big difference.
GS: We all had a great level of camaraderie back then. As I said, I stayed at Vogler's house. I stayed at Mike Gregg's house. We all just got along good and it was a lot of father-son things, kind of like it is now. But I guess the main difference is now all the cars are cookie-cutter cars. Back then, there were the LTC cars. There were the Edmunds cars. There were the Higman cars. There were five or six different manufacturers of cars and five different motors. You didn't have to have one specific thing. Now, it's a cookie-cutter situation. You have to have this or that, whatever is hot at the time. It could be the Toyota. Nowadays it could be the Mopar. You don't know. It could be the new Chevrolet. Back then it was a little bit like that but the cars were different. You could have a Benson. George Benson, up in Northern California, built one heck of a pavement car, probably THE best pavement car that was built back then. But he would only build like five a year and the west coast guys would grab 'em up. So you'd go out west to run Roseville or San Jose and the Benson cars would just blow you away. And it's not that way anymore. It's one particular car. Cookie-cutter cars have kind of changed that part.
KO: I miss the days of seeing some of those Badger midgets. Donnie Jones had one around here.
GS: Rollie Lindblad. Very good. Rollie Lindblad built those and they were similar to a supermodified. They were a one-of-a-kind deal and they worked great. If you didn't have one, they were going to go by you. They were going to beat you.
KO: This was like mid-to-late '80s and he was still running a Chevy II in the thing. But the engine was totally offset on the left hand side of the car and Jones was blowing by everybody on the high banks.
GS: John Parsons ran one for Lockhard. Lockhards had one too.
KO: One of your first forays into car ownership came on October 20th, 1974. Lloyd Ruby finished 11th on the Pocono ¾ mile in your midget. According to Eckert's site, it was a $3000 to win show won by Pancho Carter. Other names in the race included Billy Vukovich, Jimmy Caruthers, Johnny Parsons, Johnny Rutherford, A.J. Foyt, Jim McElreath, Roger McCluskey, Wally Dallenbach, Steve Krisiloff, your man Ruby, and Bobby Unser. Wow! What a show! Any thoughts on that race and Lloyd Ruby? That sounded like a neat event.
GS: Lloyd was great to work with. That whole scene was a great, great show. I don't know why more people didn't show up to watch it. It was very poorly attended but it was very, very brutally cold in the Poconos that year. It was horribly cold. We would have went better. I didn't know what was wrong. He kept talking about the car moving around. There was a broken birdcage on the car from a flip I had the week before at Terre Haute and I didn't know it. So it had pulled the studs out of the hub. I could have made it better but I couldn't find it. I couldn't tell what it was.
Yeah, it was a great time and we got paid handsomely to go there. It was a good experience. It was a great time.
KO: So was that just a stand-alone show?
GS: They ran sprint cars also because I remember seeing Seymour's car pitted right next to us. I think that's the two classes they ran. They might have run something else.
Wounded Soldier – Staab is interviewed at Winchester in the summer of 1996 after his Paragon Speedway injuries. (Keith Wendel photo)
KO: I remember in the mid to late '80s they still ran midgets there on the front straightaway and up pit road. Or did they run behind pit road?
GS: There was an actual three-quarter mile, if I'm not mistaken, on the inside of the Pocono two and a half. I think that's pretty much what they used.
KO: Another unusual event I noticed in your records included a fifth place finish at Trenton in August of 1976, the second of a two day show. You trailed Billy Vukovich (Pool 9), Billy Engelhart, Doug Craig, and Steve Lotshaw. Midgets on a 1.5 mile paved oval – how treacherous, twitchy, and fast were they?
GS: If anyone remembers the old Trenton track, it had a dog-leg in the backstretch. You actually turned right and we had never done that before. These cars weren't set to do that. And it took quite a bit of bravado to figure out how you're going to go through this dog-leg flat-out, the opposite way. You had to change the shocks a little bit and the car around just a little bit to get it to work but I was particularly proud of that fifth place finish up there. That was one of the coolest things I've ever done and I can remember going down the straightaway and you can barely hear the engine run. And the poles are going by (Greg is making sound effects – shu, shu, shu) as fast as you can see. That thing is geared so high to run that huge racetrack. But it was a great time and we did quite well obviously. And the day before, I was going to do good too. There was a two day show. I believe they had the Indycars there. That was a Friday-Saturday and I think they had Indycars there on Sunday. It was the neatest thing I've done.
KO: That sounded fun! Pucker-up on that big track.
GS: Oh yeah! Oh yeah! But look at the names you're running against. I was right up in there and that made me feel really good about that.
KO: In the two weeks following Trenton, you raced at IRP, Little Springfield, Denver, Boise, Salt Lake City, and Pikes Peak, finishing 2nd to Larry Patton at the Salt Palace. Was that an indoor race?
GS: Indoor show in August at the Salt Palace in Salt Lake City!
KO: It must have better hotter than you know what there.
GS: Bad…really bad.
KO: Did they have the A/C on in there?
GS: Yeah, I think they did. The night before, I was going to win it and I tried to take somebody out and I took myself out. I believe I tried to take Sleepy out as a matter of fact to win it and this one here I elected to run second. I had him passed one time and a yellow took it back. And it could have been my first and only USAC midget feature win.
KO: But you did it the class way.
GS: I backed off and ran second.
KO: So did you do all the shows in that swing?
GS: Oh yeah. Every one of them. Oh yeah. Every single one of them.
KO: That sounded like a pretty awesome swing there. It appears that the midget schedule was almost reminiscent of a World of Outlaws schedule with all the traveling. How grueling was that for an owner/operator?
GS: Pretty tough. We had a camper on the truck and we slept in the truck. We didn't get rooms a whole lot. Once in awhile we'd get a room or we'd use somebody else's room when they were done with it to shower. But you know what? Looking back it was one of the greatest times I've ever had in my life. It was great.
KO: You got to see a lot of stuff I'm sure.
GS: Mount Saint Helens. I was in Washington state before it blew its cork.
KO: So did you get any kind of tow money to do that or was gas just that cheap back then?
GS: Gas was 75 cents a gallon back then and you didn't even care about it. All you wanted to do was race and you hoped that you made enough racing. Plus, we did occasionally smuggle a little Olympia beer and Coors beer back from the west and make five bucks a case on that so we'd make our gas money back!
KO: Sounds like a little Smokey and the Bandit deal!
GS: Oh, whatever it took! We had to do what we had to do.
KO: In that timeframe, did you have a ton of vacation time or were those the days when you took a hiatus from work and looked for a job when you came back?
GS: In '73, I quit the Kroger Company candy plant because I was going to be a professional racer. Whatever! And then in '74, '75, and '76 they were all just sporadic jobs and Don's Crankshaft was in there for two years. I worked at a grain elevator in 6 and 7. Again, they were just hit and miss jobs.
KO: So with all the different places you raced with the midgets, there had to be some trips that still stand out as memorable. You talk about that as being one of the best times of your life. Are there any you remember more than others?
GS: Absolutely. The Pacific Northwest tour started out at Provo, Utah. Then from Provo, Utah to Boise, Idaho. From Boise, Idaho to Spanaway, Washington which rained out. From Spanaway to Olympia. From Olympia to Tenino Speedway, which you could see Mount Rainier right in the distance. Across the Juan de Fuca Straits to Victoria, British Columbia. Raced at Victoria, British Columbia, come back across to Skagit Speedway, which still runs to this day. Down from Skagit and down to Denver, finished up in Denver and came home. That was a terrific two and a half to three week trip that I will never forget as long as I live.
KO: Unbelievable! Wow! I guess I will leave it at that because I'm sure there are others you can think about too but that sounds pretty dramatic.
GS: Yeah. That was the greatest one.
KO: What about unusual places to race? You raced on mile dirt tracks at DuQuoin, which may have been dusted out, and Syracuse. What about any other oddball joints that seem strange compared to now? I remember seeing midgets on the mile at Springfield but at DuQuoin, they must have been fast there. Syracuse? They must have been fast there too.
GS: Indianapolis Mile. My first USAC midget race was on the Indianapolis Mile, which we had engine problems that night. I didn't qualify or even get to race. That's where the first one was, the mile there.
Yeah the Trenton thing was pretty much the capper on that deal.
KO: You didn't know you were going to have to run a road course!
GS: But you've got to remember, Dayton, Salem, and Winchester were always a blast too with a midget. That would scare the pants off of anyone.
KO: Are there any places you miss racing at? I remember you mentioning Olympic Stadium in Kansas City was always a place you enjoyed.
GS: Olympic Stadium had gooey black river gumbo from some place out there they found. And even on a hot day, they'd water it and it would be so tacky that you couldn't spin a wheel. And for some reason, it worked for me. I did ok there in my car one night. We were pretty close to winning my first feature there too.
KO: You didn't break any rear ends on that sticky surface?
GS: No. I ran out of tear-offs. I could barely see what I was doing. It was so black and gooey. But that place had a history with the Weld brothers, Tiger Bob Williams, Carl Williams, Jay Woodside, Ray Lee Goodwin and all those guys used to run that racetrack and I was just tickled to death from history to be able to run on a track where those guys ran. You know?
KO: So was it really too dusty that day at DuQuoin? I saw in Eckert's results that it just said "DUST". Was the show cancelled?
GS: Yeah. They shut it down. It was just horrible. Terrible.
KO: And people think about tracks being too dusty today. It's always been an issue when you try to run during the day.
GS: Yeah. It was very difficult. You couldn't see anything. And it wasn't good for the cars. It was just a real bad deal.
KO: You mainly chased USAC midgets but there were a ton of other sanctioning bodies in the '70s. Did you score any midget feature wins outside of USAC, like maybe with CORA?
GS: I did. As a matter of fact, they took it away because they wanted to cube check our engine and my dad wouldn't let them cube check our engine because he had to go to work that night. And he just refused and they took the win away from him.
KO: And where would that have been?
GS: That was at Lawrenceburg.
KO: Man, you had to be upset to say the least. Heartbroken?
GS: I know I won it. I finally won a midget feature. It hurt. But that's ok. I know in my heart that we won it.
KO: The USAC records still show you competing sporadically with the midget group from '77 to '79. Did you already transition to sprint cars in that timeframe?
GS: I was injured at Salem pretty badly in '77. And that's when we pretty much quit running. I had Roger Rager in my car shortly after that. I wanted to move on. I had my training ground time. It was time to move onto sprint cars one way or another. I kind of sat out a year and ran some late model stock cars around Lawrenceburg and started getting into sprint cars down at Lawrenceburg. I caught the eye of Mr. Tom Stenger in Dayton and he elected to start helping us out and get a car. And we got a car and it got better and better from that point on.
KO: The midget series was very competitive with a ton of talent but the local sprint cars in Indiana featured some tough hombres too. On a regular basis, you raced wheel to wheel with Dick Gaines, Bob Kinser, Sheldon Kinser, Bobby Adkins, Butch Wilkerson, Louie Mann, Randy Kinser, Kelly Kinser, Tony Solomito, Bernie Graybeal, Allen Barr, Kerry Norris, Danny Milburn, Bobby Black, Marvin Deputy, and Larry Martin. How bad-ass were these guys?
GS: All bad-ass! Dick Gaines, Butch Wilkerson, Allen Barr, Bob Kinser…nobody has a clue unless they've seen it or done it or been around it or watched them do it. It was just a very competitive, good bunch of guys, wouldn't tell you a whole lot, and wouldn't teach you a whole lot because they knew you were going to come try beat 'em with it. But it was a great, great time actually.
KO: Back in '79, I see that you ran 6th against the Outlaws at New Bremen. Steve Kinser, Dub May, Lee James, Rick Ferkel, and Doug Wolfgang finished ahead of you, with Sammy chasing you. The next year, you ran 9th against the Outlaws at the same track. When you ran sixth, was that a wingless show?
GS: It was. Back then the Outlaws bounced back and forth from day to day. You didn't know what it was going to be until however it was advertised. Yeah, that was quite an enjoying day that day. Wolfgang, Swindell, myself, and I believe Ferkel traded third, fourth, fifth, and sixth back and forth for I don't know, ten or fifteen laps. Finally, Wolfgang started cutting down through the infield and started kicking up rocks, gravel, dirt, and grass – kind of distracted you for a minute and I lost one spot to him but I think we would have run fourth that day if it hadn't been for that.
KO: As a local racer, was your equipment up to par with those guys? Did they have the stout engines and the lightweight cars like today?
GS: They had the lightweight cars and all the good engines and I had an 1840 pound Bob Trostle car that Frank Hollingsworth from over in Illinois sold us. It was a big, old heavy .120 wall car and it worked really well. I wish I had a big picture of that…I had a picture of that someplace but it went away. That was one of the better days. Those guys raced hard. It taught me a lot just running with those guys, how hard you've really got to run with them.
KO: To see a local racer do that, except for central PA, Knoxville, or northern California, you'd never see that today. Was it easier to do that with those guys back then or was it still a pretty big feat?
GS: By no means was it easy. I felt extremely gifted when we rolled out of there that day with that good of a finish because of the people we were running with. You had the names you were naming and there were about five more that were there. I beat some pretty significant people that day and it really felt good to accomplish that, you know? This isn't all about an ego thing with me or an "I'm better than you" type thing. This is about accomplishing something, setting goals, and going after it. Here I am running against some of the best guys around and heck, I'm able to stay with them and beat some of them. And I'm feeling pretty good about that, thinking that some day I'd catch somebody's eye and get a ride.
KO: And be able to keep chasing that dream…
GS: Oh yeah! Exactly.
KO: I found that you ran second to Fred Linder against the All Stars at Charlestown, Indiana on May 14th, 1982. The next night, you won a sprint car feature at Lawrenceburg. I know recordkeeping for local Indiana races is not that good. I'm wondering if May 15th of '82 might have been your first-ever sprint car feature victory. Maybe you got another one or two before that?
GS: That was the first sprint car feature win and I knew when I rolled out of Charlestown, after running second in an All Star show, I knew that we were going to do really well the following night. I just had a feeling that this was going to be it and it was.
KO: What memories do you have of that first sprint car win? Obviously the drive across the bottom half of Indiana that night from Charlestown back to Cincinnati you were feeling good, but what do you remember from that actual night when you did get the win?
GS: We had finally gotten a Gambler chassis car that was able to compete with Kerry Norris. Kerry Norris was the hot shoe back then. And we actually were able to have a car that could run with him and I don't know where he finished that night but we won and he didn't. To have a car that works so well, with so little effort, after trying to get that heavier Trostle car to do what we did with it, (which it ended up in Tampa Bay, by the way, running a pavement series down in Tampa Bay)…the Gambler chassis made all the difference in the world and that's exactly why we won. The night before wound me up. We ran second against the All Stars, you know?
KO: It's amazing what confidence can do.
GS: Oh, it was incredible!
KO: In June of '82, you won a local feature at Kokomo, beating Kelly Kinser, Bob Kinser, Louie Mann, and another one of those bad-asses, Bob Christian. Kokomo has always been a demanding track and I would guess it was no different back in '82. With its rich racing history and all the big names that have rolled through the pit gate, becoming a winner there had to be special. Do you have any memories of winning at Kokomo for the first time?
GS: I did and I also had a shot rear bumper from the guys pounding on the back of it trying to knock me out of the way. I'll probably need to point it out too that from 1979, October and on now, from anything we speak of from this point, I'm working a full-time job with the city of Cincinnati. So that Sunday night we ran at Kokomo, we won, I had to be back at work the next morning at 6 AM.
KO: And we were on different time with Cincinnati back then.

GS: We lost the hour coming back. Yeah, it was very difficult physically and mentally to be able to keep this up from that point on.
KO: Did it feel like a significant feather in your cap by winning at Kokomo, more so than at Lawrenceburg because it was a track that you may not have raced at nearly as much? A guy from Cincinnati coming in there to beat the Indiana guys, it seems like Kokomo has always had that local flair, so did it feel extra special?
GS: There's no question. It felt good to go there and beat those guys at their track. Any time you do that, you've accomplished something because like you said, they've got their local group that are really, really tough to beat. And those guys were tough to beat. I have to remember who Kelly Kinser was running for at the time, but he and somebody else just pounded the rear bumper clear off my car just trying to knock me out of the way and for some reason I was able to muscle past it and keep on going.
KO: Were you running huggy pole then?
GS: Yeah. Oh yeah. There was nothing else really. There was nothing out there to play with. I could hear people back there trying it, but obviously they weren't making it work.
KO: Some people loved the old Kokomo. A lot of people hated it. How did it suit your style?
GS: It didn't matter. A racetrack was a racetrack. And after you've run as many racetracks as I've run and as many states as I've run, you didn't even pay attention to it. You didn't cry about the tracks like a lot of them do nowadays.
KO: Without question '82 was your breakout season, winning at least six times - once at Kokomo, once at Lincoln Park, and four times at Lawrenceburg. And success continued into 1983, finding a pair of July Bloomington victories, three more at The Burg, and some second place winged efforts at Eldora and Findlay. What were you doing differently in '82 and '83 compared to before? I know you talked about the Gambler chassis. Was that the main thing or were there some other things?
GS: The Gambler chassis was the main thing. And it was a learning process for us to learn. Because we were non-winged guys, we didn't run the wings all the time. So consequently, we didn't exactly know how to go about setting them up and how the guys do it. And the winged guys all had better engines than we did. That second at Findlay you were talking about - that was great! Nobody gets it. But that was a really great feeling because you had the Keegans and you had all the Northern Ohio guys who went to Findlay on Sunday night. Then again, I had to tow home. A three hour tow to get home and go back to work the next morning at 6 AM.
KO: Grueling! Did winning change you in any way? You were used to doing things the hard way and not having the success. Winning can sometimes change a person – obviously adding some confidence – but did it change you any other way you think?
GS: I liked it! It made me even more determined to do it and sometimes I got a little bit over-focused and didn't think about the people around me. They were being affected by my drive and determination and I probably should have been a little bit more user-friendly with some of the people around me. Male and female.
KO: Winning is a focus and if you're getting it done, you want more of it. I can understand that. For the most part, you've primarily driven your own stuff. I saw your name listed in Bud Doty's number 50 in the midgets.
GS: Yep. Bud's a friend of mine. Has been for many years. Kevin was a little young guy at 12 years old when I went to race for his father in Wichita and Olympic Stadium. I remember Kevin, I think he was 11 or 12. And then Kevin came up and did quite well before his demise but yeah, the Dotys were great people. They treated me nice. I stayed at their house and they had a special bedroom for the drivers and it was just a really nice thing with those people.
KO: You were the man! So on July 17th, 1982, for Eldora you landed in the Gingerich 72. Was this Kokomo's Fenton Gingerich?
GS: Absolutely. With Jim McQueen wrenching.
KO: Interesting. So I've heard he could be a hard guy to drive for. And I guess for that matter, McQueen maybe a little harder with both of those guys being kind of crusty. Can you confirm the speculation?
GS: Yep! Sure enough. That was not one of my finest hours. We did ok. They wanted more. They wanted better. They wanted to win. I was not used to the things that Jim was doing. I could have adapted to them over a period of time but Jim was one of the best mechanics ever around here and I just didn't catch on quick enough and I only got to run two races with them.
KO: How did you land that deal?
GS: It came open. They fired somebody and my name popped up because I was winning at Lawrenceburg and winning at Kokomo and doing ok at Eldora. My name just popped up. In racing, there's a list that goes on. Like right now, there's a list of five guys that you want to drive for you. Robert Ballou, Jesse Hockett, Casey Shuman, Daron Clayton two years ago, Jon Stanbrough, Dave Darland. There's your list nowadays. Back then there was a list also. It was Randy Kinser, Greg Staab, Kerry Norris – that type of thing. And I was on that list. I happened to get that chance to do that ride.
KO: So other than Doty and Gingerich, up until '82, I know you spoke about getting to drive Tom Dickinson's midget, but was there anybody else in your early midget and sprint car days that you got to drive for?
GS: I did. There was a fellow by the name of Troy Wagner in Cincinnati. He was a friend of mine back then and still is. He got a car and it was an old Bobby Allen car. And we stuck it together and ran '78 with it – right after I came back from being hurt. I think it was '78. We ran it quite a few races and it was an ok car to learn in. I learned quite a bit out of the deal. It was a short-term deal but nevertheless, we went racing with them.
KO: Back in those early sprint car days, you mentioned hooking up with Tom Stenger Ford. I remember seeing that on your car for years and years but how did that relationship with Tom start out?
GS: There was a lady in Cincinnati who was president of CAR – Competitive Auto Racing Fan Club. It was Georgeann Stemler. I don't know if she's still around or not but I sure hope so. She met Tom somewhere and Tom mentioned he wanted to get his name on some sprint cars. Georgeann gave me his phone number. I called him. I went up and met him. We arrived at a fifty dollar per race deal if I made a feature in the first year. He saw the potential there and it blossomed from there. And my greatest years were with Tom Stenger.
KO: How long did that relationship last?
GS: Ten years. From 1978 to 1988. We had ten great years and a lot of championships.
KO: Any thoughts about Tom Stenger that stand out? The type of guy he was?
GS: Gruff. Tough. Heart of gold. Do anything for you but on the outside you just thought he was the toughest bastard to ever walk the face of the earth. Big guy. Kind of gruff guy. But a great, great person who along with my father got me to where I'm at right now.
KO: Given that he had a Ford dealership, did he ever want you to run Ford engines in your sprint car?
GS: We did. As a matter of fact, "Ohio" George Montgomery, the drag racer, built a cast iron 410 Ford and we tried to run it a couple of times. We ran it at Granite City, Illinois and we ran it at Lawrenceburg. We won a heat race with it at Lawrenceburg with a wing on and it had a lot of horsepower but you could feel it was heavier because of the cast iron block. There weren't any aluminum Ford blocks back then. We ran Hinsdale – Santa Fe Speedway. We were going to run a TV race with it one night and something broke in the valve train on it and we didn't get to run it but just a few laps.
But the Ford ended up being ok. Casey Luna ran one when they finally came out with an aluminum block. But the weight disadvantage was a problem.
KO: So other than Michel Tire, which I saw on some of your midgets, Stenger Ford, and Don's Crankshaft, I don't recall too many sponsor decals on your cars. Who were some of your other supporters over the years?
GS: Jerry Scarlato from Cincinnati, Ohio. He and his brother Greg are names around the Cincinnati area. Greg has four Popeye's Chicken places down there. They've been friends of mine for years. Greg Scarlato had the Italian Inn downtown across from the City Hall. He helped me out quite a bit to get me to some of the races out west. He paid my travel expenses to go out to California and such.
Mr. A.J. Esterkamp from the Western Hills area has been a lifelong friend. I've known him since I was about eleven. He gave me great assistance over the years by helping me physically and financially to get the cars to the track and he was thoroughly involved in my racing up until just a few years back. He ended up being an official at the speedway. He worked with Glen Niebel for awhile and helped Glen. He's a genuine racer and he's a good person.
KO: Do I still see that Esterkamp name on some Lawrenceburg Speedway billboards?
GS: Yes. Very same one.
KO: Speaking of Stenger though, was that his car that you drove to fourth at the Silver Crown portion of Eldora's Four Crown in October of '82? I think you said you might have been laid up in the hospital in October of '82.
GS: It might have been '82. I'm pretty sure it was '83. Anyway, that was Tom's car. We started dead last and ran 'er up to fourth.
KO: It says Ron Shuman won. Steve Kinser was second. And Kenny Schrader in third.
GS: Schrader was right out ahead of me.
KO: And you came from the back to do that!
GS: Yep.
KO: In the Data Processing Solutions number 71.
GS: Exactly. Ironically, there's some history to that. That car is the exact same car Jan Opperman was hurt in at the Fairgrounds when it was the Longhorn 48. And that car ended up just about taking me out at the Fairgrounds because I flipped it when Charlie Ledford bought it and Glen Niebel was wrenching it. I just about bought it on that one. Knocked five of the six cage points off of it when I turned it over at the Fairgrounds.
KO: The Silver Crown deal was prestigious back then and I would guess that it was kind of a clique. You had to be a big name to get one of those rides. How hard was it to attract Silver Crown owners in the early 1980s? Was gaining a Silver Crown ride a priority for you?
GS: It was a rung on the ladder – yes. That's all I really wanted to do – was keep moving up and moving up. Obviously the Indianapolis Motor Speedway was the final goal, which never happened. But, I came close to that too. The Silver Crown cars – that's what I wanted to get into. Tom gave me a break but for some reason he kept me off the miles with it. He'd let me run the short tracks though. To this day, I don't understand why that was but that's neither here nor there.
He put Butch Wilkerson in it for the miles or he put someone else in it for the miles. He put Barry Camp in it at Nazareth. I'd just come off finishing fourth with it. The following week, he put Barry Camp in it.
KO: A hard guy to figure out I guess?
GS: And you don't bother. You just do what you're told.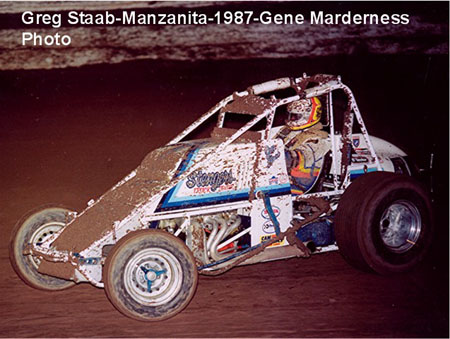 Manzy Mud – Greg gets dirty at Manzanita's Western World Championships on October 30th, 1987, finding his way to tenth place in the A-main. (Gene Marderness photo)
KO: As long as you can have the ride the next time it becomes available…
GS: Yeah, you don't question it.
KO: 1984 – what a year! 19 wins! Eckert has 18 but I'll go with your 19 because stats can be hard to come by. All I have to say is WOW! These days, you hear guys like Jon Stanbrough, Tony Elliott, Dave Darland, Jay Drake, and J.J. Yeley having those types of years and they are cemented into memory. Either way, that is a dominating year. According to Eckert's website, I found 11 scores at Lawrenceburg, 3 at Lincoln Park, 3 at Bloomington, and 1 at Twin Cities. Rarely did you ever finish outside of the top-five in the stats I found. Can you nail down a reason why you were so dominant?
GS: Preparation and another Gambler chassis. It was a 1984 Gambler. It was a brand new car and it was a very good car. Our preparation and everything we'd learned, where we'd broken items, every mistake there is to be made on a racecar, I've made it. And I've worked really, really hard in those years after that not to make those mistakes again. I think that made the difference and I'm pretty sure that sums it up, really.
KO: Was it car, engine, driver, crew or was it the whole combination?
GS: I had a phenomenal crew. I had Andy Martini. I had five guys and everybody had a specific job, which lightened my load considerably. One guy did fuel. One guy did tires. One guy did chassis. Me and dad took care of the engines. And another guy took care of the truck and trailer. We had a great group of guys and that was a great time! That was also the year we went to California for the Pacific Coast Nationals with the first car sitting on the roof. I carried it out on top of the roof of the trailer. No one had ever seen that done before.
KO: Did you come up with that on your own?
GS: We were the first ones as far as I know.
KO: I remember seeing Outlaw guys who would put the chassis and body up on the trailer in '87.
GS: This is a complete car, engine and everything!
KO: Oh WOW!
GS: (Laughing)
KO: Unbelievable!
GS: Yep.
KO: Why doesn't your name come up when people mention dominant years? When I did my research, I just found this out. I didn't even know about it because I didn't start following racing, hard core, until about 1985. Nobody ever really talks about that time, you know? I don't know if there's a reason why that's never brought up, but I'm just kind of curious.
GS: I don't really know Kevin. I wish I had an answer for that. I think that they feel that the competition wasn't as tough back then. Everyone in their own little era thinks that their competition is the toughest. And if they don't think it wasn't hard back then, they needed to trade spots. You know? That could be part of it. Age is another thing. People are starting to get older. Their memories aren't as sharp. Fortunately you and I have some stats here. I have a fairly good memory even though I've got "dain bramage" from all the concussions and head injuries and stuff but I can still remember a lot of things that really jump out.
KO: Toward the end of '84, did you feel like King Kong? Did the ladies swoon over you because you were a huge winner?
GS: I wouldn't go quite that far but it made you a little more popular than normal, let's put it that way.
KO: Did you make any money that year or was it still expensive and a break-even deal at best?
GS: No, that year, that racecar made money and I'm not going to go into details but yes, it did. Enough to go to California and Manzanita and pay for that out of what we made.
KO: On August 16th of 1984, I see that Rick Hood drove your car to a 3rd place finish at Eldora. With all the success you had that season and the possibility of winning at Eldora, which I'm sure would have been a big deal to you, what made you give up your seat?
GS: Completely political move. Ricky was chasing points and the Fortunes were good people and they needed a ride. They broke theirs and I got out of the car to let him do that. I caught a lot of hell from a lot of people for doing it.
KO: But I would guess he would have appreciated that.
GS: I would think so. It stands out in people's minds when you do things like that. I'm sure it does.
KO: You already mentioned this but at the end of '84, you made the long tow out to Ascot and Manzy. How much of an eye-opening of an experience was that tow out there? You'd already done these tows before with the midgets but the California sprint car scene had to be different than the midget scene. An eye opener?
GS: Culture shock! When you see Dean Thompson, Bubby Jones, and Lealand McSpadden doing this thing and you think you're good, you're not even in the same ball park as those guys when you go out there. Incredible experience…watching Dean Thompson run Ascot was worth the price of admission! I'd pay $25 just to walk through the pits to see that. He was that good. Bubby was right behind him, better than him some nights. Bubby was great.
Yes, you're right. It was a culture shock. We missed the A-main by one car. I was first alternate for the Pacific Coast Nationals and I missed Manzanita by two cars. I was the second alternate at Manzanita. People can laugh about that all they want but it was very, very difficult to make those races.
KO: I imagine Indiana drivers back then were straight and smooth. They liked to run the bottom. But those west coast guys, were they that much faster and braver than the Midwestern guys? Or was it just a style that you had to get used to?
GS: It was a style that they did every week. They ran Ascot, what 35 times a year, 39 times a year? They knew their racetrack. They knew the Manzanita track. I'd been around Manzy a lot in a midget, but never a sprint car. The first time out there at Manzanita, I won my heat race right out of the box, the first night, which made us feel pretty good. But, it was a point accumulation thing and I missed that one by two cars. It was just a great experience.
KO: So did you adjust your driving style to the west coast or did you keep doing what you were doing all along?
GS: What you needed to do was free your car up to slide like they did. They had special cars with the engines down and forward. And the fuel tanks were down and forward where the car would lighten up. They had different chassis torsion tube heights where the cars would slide on purpose. It was intentionally done that way so they could get in the corner harder.
But we learned a few things. Roger Newell, who was later killed at Ascot, and Bill Pryor, from Donovan, helped me out a ton back then and got me going better that night at Ascot. We got better as the thing went on. In other words, if I could have stayed there and learned it, I could have gotten good at it.
KO: So did you like backing it in?
GS: I loved it. I did. I absolutely loved it. There were some experiences that happened on that Ascot trip that we don't have time to go into now but it's a great experience. Anybody that missed Ascot Park missed one of the neatest things going – ever!
KO: That's exactly where I was going with my next question. Are there any wild Ascot stories to tell that won't get you into trouble?
GS: I can. I can for a fact. We went out and they used to register your muffler reading on the scoreboard when you'd go out to qualify. If you were loud, you had to correct it right away or you didn't get to run. We were working on our mufflers and all of a sudden the crowd was gasping…and roared…and everybody screamed. I looked up and I saw this double-zero car go flying by and then pretty soon you hear this "chink, chink" crash metal noise.
Well, everything is quiet and a few minutes later and they announced it was Stanley Atherton in Bill Hicks' car. Everything was quiet again. Stanley was out of the car, moving around. Everything was quiet again. A few minutes later, if I can think of his name, the announcer at Ascot…
KO: Bruce Flanders?
GS: Bruce Flanders came over the P.A. and I will never forget this as long as I live. "Will the owners of a Toyota pickup truck, da-da-da-da-da license plate, the owners of a gold Ford Thunderbird, and the owners of a blue Lincoln," and he gave the license plate number and paused for a second, "please report to the parking lot. Stanley Atherton just customized your cars for you."
He flew out of the racetrack, into the parking lot, through the fence, knocked a big shark bite looking chunk out of the fence, and bounced off these three cars and annihilated these three cars apparently. So that's an Ascot story I'll never forget. I just saw Bruce Flanders, who still announces at Irwindale for Turkey Night. I just saw him a few weeks ago when we were out there.
KO: It seems like you and D.O. Laycock occasionally discuss a wild Phoenix pool party from the mid '80s. I'm wondering if it was it on this trip.
GS: Youuuuuu got it! Actually, I believe it was on the '83 trip, but at any rate, yeah, we walked up to the pool and we didn't have a way to make a cooler for the beer. And everybody was having a good time. It was Brad Noffsinger, Stan Atherton, their wives, all my crew, D.O., and some other people he was with. He went out to the trailer, grabbed an old tire, filled the tire up with ice, and made his cooler out of an old right rear tire!
KO: Very nice!
GS: VERY nice! And we walked up to the pool and there were some people in there that didn't really have all of their clothes on. So I backed away from the pool pretty quick! We backed away and went back to the beer cooler instead!
KO: So some of those guys without their clothes on were drivers?
GS: OH YEAH!
KO: Any of them we talked about previously?
GS: OH YEAH!
KO: Any guys that won championships?
GS: Uh huh! Uh huh!
KO: But we don't need to name any names, do we?
GS: No, no names. You can be creative with it.
KO: I think I've got an idea. But you guys still talk about that party. That was just a good time, huh?
GS: We did quite well that night. It was pretty much fun and everybody had a good time. We got to know people we didn't know before. It was just a great time. When you go out there back then, you were much better received for some reason than you are now.
KO: And you got a long-tow award from Manzy? You got a plaque for that.
GS: I have gotten a couple of those. Yep. We got the furthest tow award from Manzanita – I think three times we got it.
KO: Interesting. So no wonder you like driving out there!
GS: Oh, it's just good people. And they treat you well.
KO: This is kind of going on a tangent, but I had to throw this question in there somewhere. Dave Rose told me that Kevin Doran, famous for managing Al Holbert's IMSA GTP championships for all those years, used to work on your racecars. Kevin even built his own Grand Am cars in recent years before selling out to Dallara. If this is true, when was that?
GS: It's even deeper than that. He helped me with the midget actually. In '75 and '76. But it goes a little deeper than that. His father had a dirt late model. They were famous with their dirt late model and they requested me to drive it several places for them. I ran it at Florence. I ran it at Brown County. I ran at Portsmouth, Ohio for them. I did ok with it. I drove the wheels off of it, as fast as it would go. And I learned the newer style late models as we went on in '77, so it was different than me doing it ten years earlier, or eight years earlier.
But yeah, Kevin is a friend of mine, has been a friend. I've been a friend of the family for years. I see his brother around once in awhile. His brother was driving for awhile. I think he was running ASA maybe, for awhile. I see Kevin occasionally and we exchange stories. He's got his deal going on the east side of Cincinnati, over around Milford or something.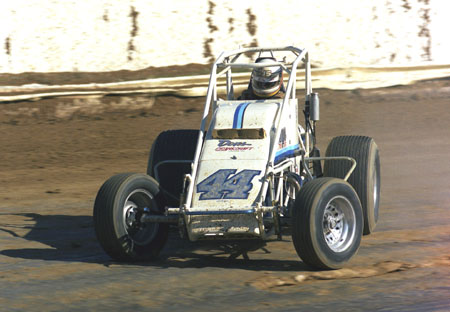 Nice Form – Smooth and straight, Greg debuts his revolutionary 1987 Gambler at the February 9th, 1987 USAC season opener at the Florida State Fairgrounds. (Gene Marderness photo)
KO: It seems like he sold his car building deal to Dallara. In that Grand Am series, only so many car builders can be in it. But were you able to teach him something about racecars or did he teach you about racecars?
GS: It was a give and take. He was very adamant on the way he wanted things done and I was very adamant on the way I wanted things done and we had an impasse. We ended up dealing with it. Once he taught me what I needed to know, I was good and he thanked me for learning what he learned too.
KO: So did his dad own and operate the Tri-County track which became Queen City?
GS: He did for a fact. After Mr. Redwine had it, his father was the promoter there. You're exactly right.
KO: In 1985 you opened up with a TBARA win at East Bay in the Ledford car. Was that Charles Ledford?
GS: That's it! Charlie Ledford Construction from Tarpon Springs, Florida.
KO: How did you end up with that ride and was it your first win with a wing?
GS: Tom Stenger and Charles Ledford were close friends because they went to the Copper World at Phoenix and Tom helped sponsor Jimmy Haynes, who ran for Charlie. Jimmy Haynes was killed at Phoenix International and they needed a driver to fill in. Tom recommended me to Charlie and I got the ride and immediately produced for him. I ran the Fairgrounds for him. I ran East Bay for him. I ended up winning the Florida State Championship at Volusia County in 1986, on the half mile. I beat Rick Ferkel, Jack Hewitt, and a whole bunch of people who were running down there that night.
KO: We were at the same racetrack in 1986, at the fall All Star race at Woodstock, Georgia and you were running the Ledford car down there. You took your car down with Mike Bowling too?
GS: I said we're going down, we might as well take my car. It's sitting there ready to race. And Mike ran my car at Woodstock. Dixie Speedway.
KO: The Ledford deal was in April of '85. About a week later, I remember I was writing a term paper and I couldn't go. But you ran second to Rickey Hood on a Sunday afternoon at Eldora. I recall lots of third and fourth place finishes there after that second place run. But how bad did you want an Eldora win on your resume?
GS: In the absolute worst way I wanted a win at Eldora. That's what I told Robert Ballou the other day. I said, "You don't have any idea how cool it is for you to win that many races in that short of a time at Eldora." It's hard to do! It's a very difficult place to race at. Always has been.
KO: Compared to your monumental 1984 season with 19 wins, there were not as many wins in '85. Were there any significant changes made to your program over the winter that caused you not to win as many shows?
GS: Actually, that's the year that Lawrenceburg banned aluminum blocks. In '85, that was the year that they banned aluminum blocks. They seemed to think that was the only reason we were winning, because we had an aluminum block, which we only used three times because we didn't understand how to make the car work with the lighter engine. They banned aluminum blocks because certain people said that was the reason we were winning. I only ran it three times and I only won with it once. It was hard to make the car work. It was jumpy. It was very different. So that following year, Mr. Stenger and my dad got together and they built two 434 inch small blocks that worked pretty well when we won our features at Lawrenceburg and we won another championship at Lawrenceburg.
KO: Excellent! Moving onto '86, you were finally dethroned as Lawrenceburg champ. 1982, 1983, 1984, and 1985 you were a title winner there. I didn't know about your Bloomington championship in '84 until today. Were there any other championships that I missed?
GS: No. That's it. 1986 was interesting because I pretty much took myself out of that. It was my own stupid fault. If I really wanted to win it, we probably could have worked a little harder and won it but I elected to go to another USAC show one night when there was a Lawrenceburg race. I think it was at Eldora as a matter of fact. And rather than go to Lawrenceburg that night, not the night of the championship, I went to Eldora instead. I missed the show and that would have made the difference. If we'd have had a decent night, we'd have won again.
KO: One year later though, you regained your throne with another title in '87 so that made you a five-time champ. Was there any satisfaction from being the big dog at The Burg?
GS: It is, but it puts a certain stigma over you that you have a hard time shaking. They say that you can't go fast at other places and being the stubborn German that I am, I had to go prove that it was not true. As the record shows, it was not true. We could do other things you know.
KO: Were they all wingless championships in that timeframe or did Lawrenceburg switch to wings at some point? I'm guessing '82 through '85 were all wingless but I don't know if they switched to wings in '86 or '87.
GS: '87 was wings.
KO: Interesting! So you got one on your resume with wings. A little diversity. So what was the local scene like down at The Burg in the mid-1980s? Now, it's quite a bit different with the bigger track but when Tom Wieck had it, there were certain guys that ran down there and I'm sure in the mid-'80s there was a core group of racers too. Was it still a fun time? What was the scene like?
GS: It was a fun time. When you're on top of things like we were, you become disliked. Everyone wants to see you do good in the beginning, and then they dislike you later because you're winning too much. I could not believe in 1974 that I heard them boo Dick Gaines. In '74, he came back from winning the Knoxville Nationals and people were booing Dick Gaines. I'm going, "Wow, how does this work?" Here's a guy that's the baddest in the country, how could you possibly think anything bad about the guy who just won the biggest race in the country? And the same thing happened to me. People were disliking what we did. Accusations flew, and they weren't true, about this and that. It just wasn't true. It got old and that's another reason why I decided, "Ok, we've done all we can do here. It's time to branch out and go do the USAC thing."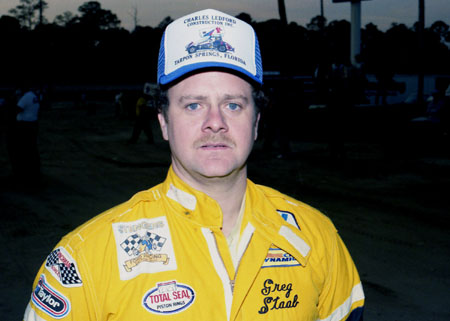 Circa 1986 – Here's how Greg appeared in January of 1986, competing for Charles Ledford Construction. (Gene Marderness photo)
KO: What did racing at Lawrenceburg teach you that you took on the USAC trail?
GS: Seat time. Lap after lap after lap. No matter what you do in auto racing, the more seat time you have, the better you are. And it taught you how to win. It taught you how to prepare a car to win. It didn't teach you setups for Eldora or setups for New Bremen or Winchester or anything like that. It taught you how to go about setting those cars up and the procedure you have to go through to make them work.
KO: In one of your early season 1987 Lawrenceburg winged victories, you beat a very young Jeff Gordon. At the time, did you seem him as a special talent or was he just another racer?
GS: To be very honest with you, I didn't really pay a lot of attention to Jeff until a couple of years later. He went back to Bloomington and won a lot of races at Bloomington I believe in that time span. I became friends with his father later. His father and I are best of friends at this point still. It's just a different situation. I didn't pay attention. I was too preoccupied with trying to make my own deal work, which was very hard.
KO: Back in '87, did you think that 15 or 16 year old kids were too young to get into sprint cars?
GS: I never really gave it much thought. The only time that came up was recently, when there's so darned many of them. Now they are everywhere. There's just a ton of them. It doesn't dawn on you until you realize there's so darned many of them out there right now.
KO: So in '87, it was mostly winged racing in your brand new 1987 Gambler, which was a revolutionary car at the time with those down tubes. That was a good-looking piece by the way. I have a picture of that car wheel-packing at Terre Haute and that was one sharp car. I really liked it. So kudos on that.
GS: Well thank you!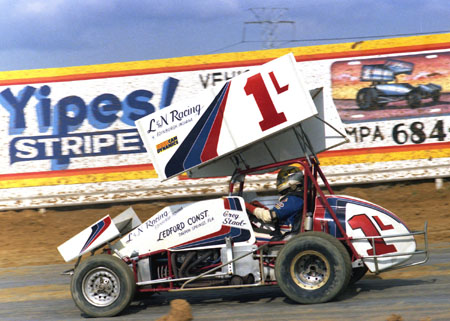 Just Winging It – In the Charles Ledford Construction number 1L at the Florida State Fairgrounds in January of 1986. (Gene Marderness photo)
KO: Were there any other significant differences with that chassis over the previous Gambler models, other than the down tubes?
GS: You had to learn to make it work a little different because of the down tubes. That stiffened the chassis up and you had to run different torsion bars with it in the front and you had to learn that. It took four or five times out to learn exactly what you needed to do.
KO: Were you able to switch back and forth with that car? It seemed like it was pretty versatile. I thought I saw it on dirt with and without a wing and also on asphalt. How much did you like that car?
GS: I liked it a lot. I liked it a whole lot. The '84 was good but the '87 was as good or better. I liked it a whole lot. That's the car we converted to asphalt and we actually won that TV race with, which we'll come to later.
KO: Again in the fall of '87, you hauled out to Ascot and Manzy, this time running 10th at Manzy. There might have even been a race for you on the Phoenix mile with the champ car. At least that's why I was out there. You must have been hooked on those west coast excursions. Was it easier this time than in '83 or '84?
GS: Yes it was. We had better power plants. We had a Ron Shaver engine at the time. Mr. Stenger enabled us to get this Shaver engine and it made all the difference in the world. The California trips were just the shit. They're just great.
That was the highlight of the year. You worked all year, started planning way in advance to go do the Pacific Coast Nationals and the Western World. That was the greatest thing.
KO: How about those west coast trophy girls? I seem to remember the name of Leslie Bremer.
GS: Leslie Bremer! Ha ha!
KO: I daydreamed about her when I was sitting in high school class. People were paying attention and I was thinking about Leslie Bremer and Open Wheel magazine. So how about those west coast trophy girls?
GS: I asked questions and tried to track her down, her history and where she's at in California this last trip I was there. And the story I got was that she became a born-again Christian, then she became an exotic dancer, then she became a grandma and after that, nobody really knows where's she's at right now. But she was the all-time best and you are correct about that!
KO: So that was almost a single-handed reason to go out to the west coast, wasn't it? An attraction…
GS: They do things with a much nicer, greater flair in Southern California than they do back here for some reason. And you know you try to have that carryover back here and it doesn't always work that way. But there's just something about out there – there's a little more showmanship involved.
KO: There you go! They have nice looking racecars and nice looking trophy girls.
GS: Yes they do!
KO: So moving onto 1988, I found victories at The Burg, the $3,000 to win wingless show at Bloomington and of course, the now world famous USAC score on Thursday Night Thunder at IRP on ESPN. I believe you used a McCreary right rear tire that night. Steve Butler was a bad ass there that year and you beat Kevin Huntley in the Hoffman car for the win. Any significant memories of that evening?
GS: That evening was absolutely nothing but pure desire on my part to win that race. We had been issued an American Race Tire/McCreary by John Summers to try for the evening. And it felt ok early and he requested we leave it on. There was no specific tire rule at the time. Well I believe Bob Frey and Rich Vogler took each other out or something to that effect, which eliminated two of the better cars. And our car came to life about two-thirds of the way through the race and I just caught Kevin Huntley and just drove right by him. Well, little did I know the right rear was going flat and that's why the car hooked up so hard. So if you ever watch the TV film of this thing, I'm running cross-ways and sideways and every which-a-way. The tire was going down badly and was nowhere near inflation-wise of where it should have been. And that's why the car picked up so fast and that's why I was running sideways at the end. I wasn't going to back off for nothing. I didn't care. I was going to win this race and we won it and it was one of the coolest things that's ever happened to me in my life. It's like the epitome of what we've worked to get to do. I know it's just sprint cars. It's not the Indy 500 but it was a great, great thing and I'll never forget it.
KO: Did you feel like you had a USAC monkey on your back up until that point?
GS: I did and I really thought that it would open a few eyes to some other owners who may give me a shot in their cars later. But it never really panned out that way. I was still stuck with the individual role of doing it on my own and trying to finance my own deal. But it was a great experience. I'll never forget it.
KO: When people talk about Greg Staab, do you think they primarily remember you for that TV win?
GS: Actually, that's part of it but the Lawrenceburg championships seem to be the highlight. I've got another stat that I'm particularly proud of that I can't prove but I think is accurate. I believe 9 out of 11 years we ran in the top-ten in USAC points. You might want to research that.
KO: Okay. Yeah, I can check that.
GS: It might be 8 out of 11 years. But I don't think anyone's ever done that before and that's pretty consistent with the way we raced a lot.
KO: Okay, well I've got some figures here. Second in 1988, 4th in 1989, 3rd in 1990, 7th in 1991, 1992 was 13th, 8th in 1993, 7th in 1994, and 6th in 1995. I'd have to go back and see what was before 1988. Let's see…1985 you were 10th, 1986 you were 16th and 1987 you were 18th. So that makes 8 out of 11 years in the top-ten in USAC sprint car points.
GS: That's A LOT of races. That's A LOT of races if anybody tallies those up.
KO: For sure. That's a good stat. Any more on that – that you want to touch on?
GS: That's one of my proud things. Of course the national feature win, which a lot of people win bunches of races, but this was particularly hard for me to do because we financed this on our own. It was Mr. Stenger, my dad, and myself. It was very hard to do this sport and we adapted to the pavement and the American Race Tire. In fact, we rolled that car out of victory lane that night on a flat tire. The right rear was down. So it was a great time. It finalized everything that I've done and I'm very happy with that.
KO: That season of 1988, USAC brought pavement sprint cars back for the first time since the early '80s. Something seemed so right about that series when thinking about it now. There was lots of participation with converted dirt cars and at IRP, the racing was simply spectacular. I was a dirt guy and loved dirt, but that racing opened my eyes to pavement. In your opinion, can pavement racing ever get back to that excitement level or is there just no hope because the cars are too technical and too hooked up?
GS: I don't have a real honest answer on that. I do know that '88 was very exciting racing with us running the pavement. I liked it a lot. Of course I kind of cheated too. Vogler, myself, and a couple of us guys had run midgets on the pavement so we had a rough idea of what was going on with it. Some of the other people didn't. But that's just the way it is. We had a leg up on them for a short period of time. But, the problem I've got now is that Raceway Park won't even take a USAC sprint race.
KO: Yeah. They say they can't make money on it.
GS: I can't comprehend why that is but it is. They wouldn't take one from me when I was working with USAC. They won't take one now and I really can't get it together in my mind as to why that is.
KO: Well, Kevin Kotansky, from Kroger, who has worked with IRP on sponsorship for a long time, he says that they can't make money on it. But, he and I remember back in the day, in the '80s and '90s, that they always had a title sponsor for that race. To me, if they get a title sponsor, maybe they can afford it. Maybe they just don't have the personnel there at IRP to get that job done?
In my opinion, 1988 was just a great time and provided some great TV. I thought it made the series look pretty good.
GS: I think it advanced sprint car racing. I think it helped sprint car racing – those Thursday Night Thunder shows and Saturday Night Thunder shows to be placed when they were, in basically prime time, and people enjoyed it. They looked forward to watching it.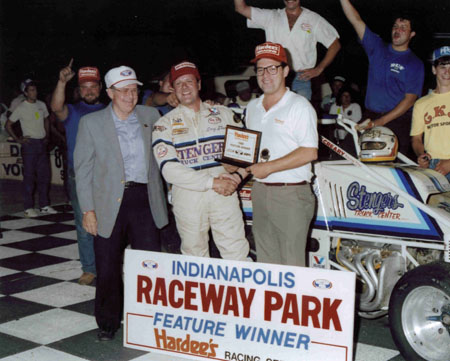 Glory Days – Greg's lone USAC national win was televised live to the world on ESPN's Thursday Night Thunder at Indianapolis Raceway Park on July 28, 1988. Oh what a night! (John Mahoney photo)
KO: I recall a USAC sprint car race at Eldora in June of '88 when you finished 4th. At the time, that was billed as the last wingless USAC sprint car race on dirt. What were your feelings about USAC going to exclusive winged sprint car racing on dirt?
GS: I thought it was preposterous. I thought it was ludicrous. To this day I can't figure out why they did what they wanted to do. Just basically for car counts, that's what they were looking for. I know it was. But, I didn't like it a bit. I had a preference of non-winged racing. When I started racing go-karts, they didn't have wings on them. And that's what I wanted to be – a good non-winged sprint car driver. I didn't care about the wings. I did it because it was a necessity. And yeah we won some races with wings. But I didn't care for it as much – just my personal feelings.
KO: From the late '80s all the way through '96 you faithfully followed the USAC sprint car series as one of the little guys, the owner-operator without much sponsorship help and having to work a full-time job. So it was a tough deal. In that range, you had some decent point finishes and we've already talked about that. Second in '88 was a big deal that I'm sure you were very proud of. Fourth in '89 and then third in '90. For a low dollar guy like you, how much was a championship on the brain?
GS: Every minute of every day, every day of every year. I wanted a championship. I wanted to be number one so bad but knew I didn't have the finances to do it. I tried everything in the world I could. My desire level was at a max. My determination level was at a max. I couldn't do any more. It was like watching Pete Rose sliding into home plate head-first…I wanted to do this just as bad.
KO: So championship was on the brain, every minute of every day, but how proud were you of those solid points finishes, especially 2nd in '88, 4th in '89, and 3rd in '90. There were still some guys who you were racing with that had money, the Hoffmans being a perfect example. Jeff Stoops, Johnny Vance – there were some guys in that series that had some dough.
GS: It was difficult and I'm so proud of the finishes we did have. If you look at these records, as many races as we ran, I believe it was in 1986 that I ran 86 races and kept a full-time job. This is a feat. Can you imagine some of these guys nowadays trying to run 86 races a year and work an eight hour a day job?
KO: No, it doesn't happen. For the guys that do work, they might work a halfway job but nothing full-time. Not to harp about the pride in your points finishes, but how proud were you?
GS: Incredibly proud. I'm so proud of my second place finish ring that it's my Super Bowl ring. It's my wife, my kids, my cars, my house I never had, my nice clothes I never had, the new cars I never had. That's wrapped up in that ring. That may sound silly, but it's a fact.
KO: Well, it's what you wanted to do from when you were a kid. So there you go. Was it easier following the sprint car trail compared to the midgets? Even though you still held down a full-time job, there wasn't nearly the traveling involved. Was it easier?
GS: Much easier because of the locale of the racetracks you run. You run Bloomington. You run Eldora. You run Findlay, Winchester, Salem, IRP. It kept it within travel range to where you could go do it and still keep the job that I had.
KO: Back when USAC dirt races were winged, what did you think about all the cherry picking from World of Outlaws and All Star guys? I'm sure you had an opinion about it at the time.
GS: It pissed me off! But that's what they do for a living and I accepted that and that's the way it is. They do it to put food on the table and they do it for a living and that's fully acceptable. I envy them.
KO: So did you welcome or dread that kind of competition when you were going for a championship, especially in a day when there were no provisionals?
GS: It only made you a better racer but it could hurt you in the long term points standings. To run against those guys you automatically became sharper and better than what you were doing. But it also could hurt you points-wise if you got knocked out of the show by a Danny Smith or a Steve Kinser that came in to cherry pick or a Doug Wolfgang because they finished ahead of you in the heat race and you didn't make the feature.
KO: You were picked to drive the famed Leader Card number 7 for A.J. Watson at the Hoosier Hundred of 1989. You might have even driven it at Springfield the race before. What kind of an honor was this for you?
GS: Incredible – Kevin. That was one of the highest honors I've had to this day. They asked me to hot lap it at Springfield because I believe Tom Bigelow was supposed to run it. He got tied up on an airplane problem from Pocono and couldn't get down there in time. They stuck me in it to hot lap. We went out to hot lap and this racecar was the most incredible feeling thing I've ever sat in my life. It stuck. It moved. You turned the wheel, it turned. You pushed the throttle, it went forward. It was the greatest car I've ever felt. And I was actually able to flat-foot the thing around the Springfield mile and I'll never forget that as long as I live! And we were the quickest car in practice that day.
I came in and the cam drive broke on the water pump. I could have fixed it because I knew how to fix it. But A.J. Watson was with Bigelow, he wasn't there. So his helper guys, they somehow got a hold of him and they wouldn't let me fix it. So it got parked that day.
Then I think we qualified 6th or 7th with it at the Hoosier Hundred. I pulled out on purpose because I couldn't see. That was the night it was very wet, very muddy. The sand was getting in my eyes and rather than crash the man's beautiful racecar, I pulled in and he thanked me for it!
KO: Wow! I remember a lot of plugged up radiators that night. A lot of overheating.
GS: A lot of engines broke that night because of that.
KO: So you wound up 30th at that race but you did manage to run 12th in it at DuQuoin. What was it like working with A.J. Watson and have you figured out what made his car different than any other champ car you'd previously driven?
GS: He's just a shrewd, sharp man. His cars were the best. That was the nicest feeling champ car I've driven to this day. And it was just incredible. Everything worked well. You asked him to do this or that and he'd do it. We tossed a few things around and I probably could have gotten a little bit better finish for him that day with a softer tire but for some reason, I was able to run softer tires than most people. He probably went with his previous experience with the throttle stompers that chewed the tires off of them and we could have done better for him I think. As it was, we parted friends and still are friends. I still see him at El Rodeo for lunch every once in a while.
KO: Up until that point, was that THE career highlight, other than the USAC sprint car win? I know you have done a lot of things that you're proud of, but getting to drive for A.J. Watson, just thinking of the guys he has worked with, is incredible.
GS: Exactly. That's probably one of the highlights. I'd say that's probably in the top two things that ever happened to me because it was a great honor and he was respectful for what I was doing too. It was really neat.
KO: Later that year, you competed with the All Stars at Orange County Speedway in Rougemount, NC, a quick little 3/8ths mile paved circle. I think Jeff Gordon ended up winning but what was that like? Were you dizzy?
GS: That was different altogether. With a winged pavement car, I'd never done that before. And that was a whole new experience too with how fast the corner speeds are and how fast you enter the corners with the thing. I understand he was down there testing before we ever got there.
KO: But definitely a fast little joint.
GS: Oh yeah. And that's where we learned to eat fried bologna sandwiches too, with pickles on them.
KO: Pretty good?
GS: Very good. Very good.
KO: Do you still make them up here?
GS: I don't fool with it! It's not in my diet. You know about the diet thing.
KO: The next year, you wound up third in USAC sprint car points, yet another thing you were proud of. You collected fourth place finishes at Eldora, Winchester, and Wilmot, Wisconsin. I know you liked Wilmot, but why?
GS: I adapted to Wilmot for some reason. It was just like an automatic. We rolled in there and I believe we were third or fourth quick and we did well in the heat race and finished fourth in the feature with the potential to run second or third. It was a close race. I just liked the Wilmot racetrack. I don't know why. There's places you fall into that you adapt to and that happened to be one of them. It's like me with Grand Rapids – Berlin. I love, love Berlin! Some people adapt to certain places and it's just one of those deals.
KO: Also in '90, you drove a midget for the first time in a long while for Eddie Griffith. You also drove in a CRA race at Mesa Marin not too long after Billy Vukovich III was fatally injured there. Earlier that year, of course Rich Vogler was killed at Salem. Danny Milburn wasn't too far after that. Did you have any concerns about pavement safety at that time? The cars were getting faster and pavement was no longer the series that USAC thought it would be in '88 when they brought it back with a lot of converted dirt cars. Were there things that worried you at the time when those guys died?
GS: Any time you lose a friend like that, it bothers you. But I wasn't real concerned with the safety. I just decided that everything and anything we could do to upgrade our belts and our head restraints and things like that…and this was before arm restraints. There's quite a bit of things that have come along since then. But no, I really didn't pay much attention to it. I was too focused to try and do well at the races. I probably should have been more knowledgeable of it but I wasn't.
KO: In '91, you were fourth at Berlin and I seem to recall several top-fives for you there in the years that followed. In talking to Eric Gordon last year, I know he mentioned how much he loves that place and it wasn't always because of the track itself, but also the fans up there who seemed so into the USAC deal. Why did you like racing up there?
GS: It was a track that I adapted to very quickly. I don't know why. I can't explain but maybe it was a go-kart thing years ago. We raced another go-kart track that was smaller but similar to that design – a D-shape. It was kind of like that. The other thing, like you said, the fans were incredible. It was just an incredible show of fan support up there. They were hanging out of trees and hanging up on tree limbs and watching races from up above in the trees nearby. And the place was just packed with people who shared a terrific amount of respect and enthusiasm for us.
KO: That had to make you feel special.
GS: Oh, it was great! Great!
KO: Obviously the significant lowlight of 1991 was a Lakeside accident in September. Thinking of Vogler, Vukovich, and Danny Millburn, who I'm sure was a friend of yours since you were his teammate at Eldora in the Silver Crown wars back in '82, it seems like so many accidents had been happening on pavement. And not too long after your accident, that's when Wolfgang got burned at the same Lakeside track. What happened with you and how devastating were the injuries?
GS: I went to pass Steve Butler in the Hoffman car on the outside in a heat race and the lights went out for me. The car spun around backwards. I apparently spun the left side of the car into the wall, hit my head on the concrete wall and it gave me a closed head injury and a shoulder separation on the left side. The rest of it, I was just beat up in the other areas of my body. But the head injury was critical and they didn't know if I'd make it through the night or not.
They were getting ready to drill my skull and take the pressure off because the brain was swelling so badly and for some reason on the second cat scan they caught that the swelling had stopped. They saw it and they didn't have to drill the proverbial hole in your head. I spent several days in the University of Kansas Medical Center and after that I was flown home by Rod Urish, who volunteered from the Jayhawk Fan Club, to fly me home in his private plane. I had no way to get home. All my friends had to go back to work and everybody left. I was pretty much in the hospital there by myself. He flew me home and some people met me there at the airport and took me to my mom's house and it took several weeks of trying…I broke my jaw. I broke three teeth off flush with my jaw on this side. It took several weeks to get myself back together. That one was tough. That was very difficult.
KO: So definitely your hardest crash?
GS: Oh, no question about it!
KO: When were you able to get back to work after that accident? That was in September.
GS: I was off ten days or nine days.
KO: Still pretty groggy when you got back?
GS: I was fuzzy for six months. I'm not going to lie about it. It was not good.
KO: Your injuries didn't keep you from being a car owner. I remember that Stevie Reeves, Terry Shepherd (3rd at Four Crown), and Leon Thickstun (in a winged show at the end of the year at Paragon) piloted your equipment.
GS: That was the night we lost the car in a cornfield.
KO: Wow! I forgot about that! Did it come off the trailer?
GS: It came off the trailer on route 44 between Paragon and Shelbyville. It ended up out in a cornfield and mowed down a bunch of corn stalks and sat out there in the field. A Martinsville policeman found it with his alley lights on the top of the thing.
KO: I can't believe you towed that way because I've been that way when it was light out, between 37 and 135, and that's super tight and twisty…and at night? You were brave.
GS: It was a shortcut for us to cut down to Shelbyville.
KO: Had you even given any thoughts to retiring as a driver when you suffered those injuries?
GS: A lot of people wanted me to but stubborn German, pig head…I still had some things to prove. I wanted another ring.
KO: Did watching those guys race your car, especially Terry Shepherd, motivate you to get better?
GS: Not really. Terry's been a great friend of mine for many years. He just about won the Four Crown. If we hadn't broken a rocker arm that day, he probably would have won the Four Crown in my car.
KO: Man, that would have been awesome!
GS: That was a good racecar. But no, I just wanted to race. I still wanted to race and that was what I had to do and nothing stopped me from it.
KO: By 1992, USAC returned to exclusive wingless racing.
GS: Yay!
KO: I'm sure you were happy and relieved.
GS: Oh yeah. There was nobody any more happy than myself. We were able to adapt back to that pretty quick because we were pretty good at it anyway.
KO: For '92, you hooked up with Carmel, Indiana's Larry Fritz, a guy who specializes in repairing Jaguars – Just Jags. The best finish I found was a 3rd at the Sheldon Kinser Memorial. Were you fully recovered from your injuries by the time the racing season started in '92?
GS: Yes. The reason for the split…Larry Miller was the other car. It was a combination car owner thing there. It was Larry Miller from Dayton and Larry Fritz from over there. I tried to get them to coincide on the numbers so the points would turn out right for everybody. Back at Eldora, the opening race, I led it for a little while and caught Frankie Kerr and passed Frankie Kerr. We did ok right out of the box with those guys and then the thing got kind of cut back and the money ran out on both parts at the middle of the season and it didn't really pan out at the end of the year like it should have.
KO: So you never got a Jaguar out of the deal?
GS: No! Heavens no. He repaired them. He didn't just hand them out!
KO: So for '93, you did your own pavement sprint car deal and your own Silver Crown deal. I remember that Silver Crown car, at least when you first got it a few years before, it was an Oz-Car and had that reverse gear in it. I remember you backing it out of your pit area at Eldora. I always thought that was kind of cool.
GS: I wanted to put a back-up beeper on it, like off of one of our garbage trucks that the city had. I was never able to get it done.
KO: That was unique. I don't know that many people had the reverse gear on those cars. But anyway, on the Indiana bullrings, you hooked up with Commiskey, Indiana's Law Brothers.
GS: Very good.
KO: I think you mentioned that they had a 430 cubic inch small block which had to be quite a horse on those short tracks. Any thoughts about racing with the Law Brothers? Any memories?
GS: Great people. Great to deal with. We had fun. I darn near won the Bloomington thing when Cary Faas beat me with only just a few laps left. I was hoping to win it for them and it didn't quite happen but it ended up where we ran second.
KO: But what does it mean to you when you hear that guys like that are hanging it up for good after 2008?
GS: It's a sign of the times. I believe Roger is retired now and Vic is retiring soon or already has. It's just a sign of the times and the economics produce racecars that cost more than the guys can afford to run. You know? It's very expensive to run these things nowadays. They probably won't be the last one we hear happen.
KO: July 16th of 1993, you just mentioned it. You finished second to Cary Faas at Bloomington which would have been an Indiana Sprintweek show. Faas hadn't been to Indiana that long but he gassed it up and showed people a way…you saw it when you went out to the west coast…a lot of people hadn't seen that style coming back to Indiana. But if I remember right, Faas passed you on the bottom to win. Is that true?
GS: Full crossways, full right lock, complete full Ascot slide right in front of me and on around and he was gone! Just that quick.
KO: Did you say that there was a lesson learned in that deal?
GS: I used one of my tricks. I watched the lights. I saw him coming. And I saw him try it the lap before. So I gave him enough room to where if he tried to come through there he didn't take us both out. And you could see the shadows in the lights at Bloomington…you can just glance at the shadows getting in the corner, look down at the shadow and you could see another car coming. And I spotted him coming and gave him room to go. Again, I wanted to finish. I didn't want to end up in a ball and of course I wanted to win, but this guy was faster than me. What are you going to do? There comes a point when you say this guy is faster, there is nothing you can do about it. And he went on by me and he got the win that night.
KO: It was almost a resurgence of sorts. You had some good runs with the Law Brothers that year and maybe it rejuvenated you just a little?
GS: Not only that, but they were both good mechanics. They both took care of their cars. They had been doing it for awhile and they're just good guys. They knew what to do. And they had good racecars.
KO: 1994 was rocked by the death of Robbie Stanley at Winchester in May. Any thoughts on racing with Robbie?
GS: I wasn't that close with Robbie. There was an age difference there between he and I but I was good friends with the family. I was friends with his mother and father. From traveling with them and being around them, you don't have a choice but to be friends with people like that.
Robbie was good. He was very good. It was very unfortunate to how that happened, for him to meet his demise.
KO: What do you think he could have gone on to do had that not happened? I'm not sure he would have had the great opportunities down south, but do you think he would have scored a few more USAC championships?
GS: I'm sure. I'm sure of that or possibly with the Indiana connections he had, he might have even been able to do an IRL thing. At the time, Tony George was running Ed Carpenter in quarter midgets and I'm sure they were running Robbie's father's quarter midgets.
KO: Throughout the early to mid-1990s, you were a solid top-ten guy, night in and night out. Were you content with this or did you feel a need to improve? By then, things were getting pretty costly for an owner/operator to succeed. Knowing you, I'm thinking that you wanted to improve on that.
GS: That's a pretty accurate statement. You got to the point where you saw, no matter what you did or how you went about it, you couldn't improve your finishes because those cars were better than your car, which boils down to economics and I didn't have the money to compete with those guys. Just plain and simple.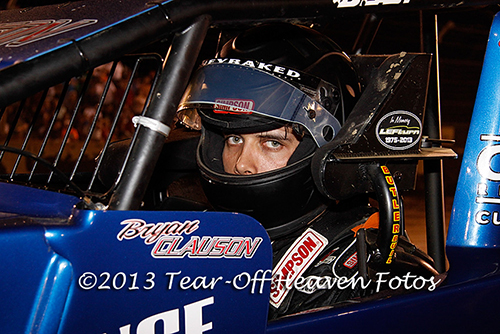 Game Face – Fit and trim in his Valvoline suit, Greg readies for battle in Larry Miller's sprint car for the 1992 Four Crown at Eldora. (Keith Wendel photo)
KO: Despite the increase in costs and need for testing on pavement, which seemed to become prevalent in the early '90s, USAC racing seemed pretty healthy in that era. There were plenty of cars, lots of TV exposure, and all kinds of ingenuity was abound with different chassis, especially on pavement. Looking back, were there better times for USAC than the early '90s?
GS: The '70s were really good. '74, five, and six, for the USAC sprint division, that was really good. I'd say '72 and on up, '72 to '76 was great. There were some good times in both eras. It's just hard to say. But like you said, we had cars. We didn't have a problem with car counts. It is what it is and economics dictate everything in our sport. I hate to say that. I hate to keep throwing back on that. It sounds like I'm using it as a crutch but it's just the bare-bones truth.
KO: July of '96, we'll fast forward onto that. You had an on-track incident with Mark Cassella at Paragon. What all did it break?
GS: Broke my left humerus on my left arm. The car came into the cockpit and hit my arm and I ended up in Methodist Hospital with Dr. Trammel's bunch. They put me back together with a six inch piece of tubing with nine screws in it.
KO: So that's still in there?
GS: Oh yeah. The bone has grown around it. I saw the X-ray of it about five years later. They did a great repair. Cold weather is a bitch because you can feel that cold piece of steel in there sometimes. But they did a great job and I got great treatment at Methodist. I don't think anybody could ask for anything better. And that was a time when there was a realization that you've gone as far as you can as a driver in this sport. There are other avenues you can pursue to still stay involved in the sport. You can't beat these kids with their money coming in. You can't beat the kids because they're probably better than you now. It's called diminishing skills. Diminishing skills happen with people and being able to be intelligent enough or brave enough to recognize that they're happening to you…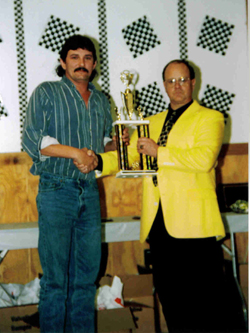 Yellow Jacket – Looking quite dapper in his yellow sport coat, Greg hands the 1998 Lawrenceburg championship trophy to Sheldon Kinser, Jr. (Keith Wendel photo)
KO: That takes some balls.
GS: Yes it does. And there are people out there, some of them are friends of mine, that really need to take a second look at their skill from ten years ago to their skill from now…and say ok, I'm not as good as I was. But I can do other things. I've got a ton of knowledge. I can do other things. That's precisely where we went from that point.
KO: In the latter stages of '96, you decided to team up with another Cincinnati-area racer, an up and comer named Joey Kerr. You ended '96 together and planned for a full assault on USAC for 1997. So other than debating about staggered numbers on the tail tank, what prevented you two from doing better? I think the kid had some talent.
GS: Joey is a great guy. He is a great fabricator. He's gone on to build some custom motorcycles that he's nationally known for right now. People here don't know that but he's tremendous at building these custom motorcycles.
Joey had a different way of doing things. You move into a group of people and they have a way of doing things and they don't feel like your way of doing things is exactly like it should be done. So it's differences of opinions. I took Joey to the Phoenix mile, he'd never been on a mile in his life, and with Tom Klein building the engine for us, he got up to seventh or eighth in the Desert Star Classic, and he'd never even seen a mile before. And he was going forward and the engine expired – burned head gasket.
It was a parting of the ways. Joey wanted to go one way and I wanted to go another and it just didn't go any further. We're still friends to this day and I respect his abilities a ton.
KO: This was a busy time for you. In addition to car ownership and your full-time job with the city of Cincinnati, in the winter of '96 you decided to take over the reins of the legendary Lawrenceburg Speedway for '97. What made you want to take on such a challenge like that?
GS: A love affair with that place that I had. I loved the place from the time I was a kid. I saw that it was not being maintained or taken care of like it should have been. I thought a shot of new blood like myself may be able to resurrect it and make it more user friendly, make some changes and do some things like that.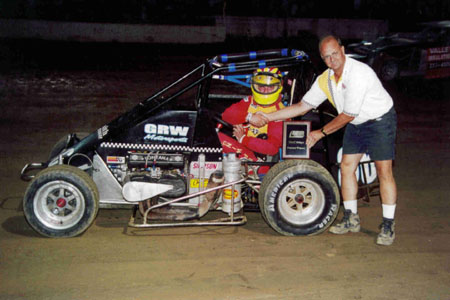 Handing Out Hardware – On July 15th, of 2000, Greg gives a USAC regional midget feature winner plaque to Shane Cottle. With a modified rolling by, it appears that they are in a hurry. (Keith Wendel photo)
KO: What unforeseen issues existed with that position that caused you great stress?
GS: Well your best friends call you four letter words within two weeks of running the racetrack. You get M-F'd by your best friends because you have to be the decision maker. You're now the bad cop and there's nothing you can do about it but move on and stand your ground. And I've had toe-to-toes with people – that's the way it's going to be and this is the way we're going to do it. And in my heart I felt that I was doing the right thing, you know?
KO: So anything else with The Burg that caused you headaches?
GS: The floods. The floods. And the more floods! (Laughing) Being down in the sump hole, hooking the pumps up… It's an incredible physical amount of work involved in doing that. Allen Barr came in, and he's one of the best in the world on a grader. He's one of the best guys I've ever met. And he taught me how to water the racetrack and he taught me how much water to put on the racetrack. He did the grading because he was better at it than me. He volunteered to come over and do it. We had a great relationship with it. The first two years, I flat-out sucked at preparing a racetrack. After I understood how to do it and what to do, trying different things, there's a combination you have to arrive at, and we found that combination. The final two-three years, it was a good racetrack, all the time.
KO: I can only imagine the amount of hours you were putting in a week. You had your normal job and then working at the racetrack…you still had a racecar with Joey Kerr and then you did your own sprint car again. From '97 to 2000, did you get any sleep whatsoever?
GS: Not a whole lot. It was really hard. We kind of left Joey going – he moved over here (Indy) and Steve Stapp took him under his wing and they kind of did things together. And I really didn't get a whole lot of hands-on with that deal, which is probably another reason why had I been around more with him, maybe, maybe not, he might have done better. Who knows because he didn't have a lot of guidance. A young kid just going out and doing it, it wasn't fair to him.
But the racetrack consumed my life. The racetrack consumed me for four years and I'd learned a ton. I still would do it again but under different circumstances because I enjoyed it that much.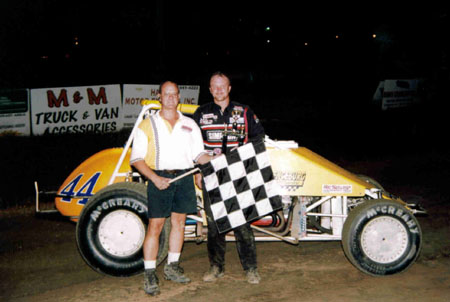 Double Duty – Greg is pictured with Eric Gordon on September 5th, 1998 after Eric steered his car to victory at the same Lawrenceburg Speedway he promoted. (Keith Wendel photo)
KO: So how did you stay sane throughout those years? You're a pretty positive, upbeat guy, always seeing the glass half-full, but how did you stay sane when friends are calling you names and accusing you of this or that or whatever? How do you live with that?
GS: You become very callous to it. You also have a firm way of looking at things. If you are a firm believer and doing what you're doing is the right thing to do, you stick with it no matter what. And somehow that converts back to respect from the competitors. If you have a rainout that night and you're halfway through a feature and you tell them they're going to be the first event next Saturday night, that's what you're going to do and they respect the fact that you're telling them the truth.
KO: Eventually you had to give up the deal so what was the deciding factor there?
GS: Oh, there were some other people coming in with promises that they were going to do this and that and the city government looked at it as a positive for them and they chose his contract over mine.
KO: But you would have kept on doing it had the city not changed their direction?
GS: We had just gotten it turned around and just had gotten it where it was beginning to make money as opposed to losing money every night, which most nights it did except for special events. I just did get it to where it was turned around and start to break even.
KO: Were you glad to get away from being the guy running the show there or was there some regret in having to step away?
GS: It started out being very regretful and after seeing how it was run later it was even more regretful. But there's a bit of relief involved. I mean physically, I don't think I could have done it anymore like I was doing it.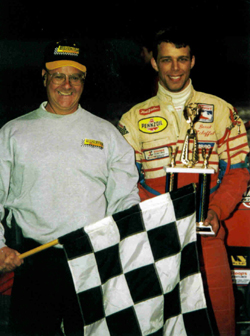 All Smiles – Wearing the promoter's hat on 9/25/99, Greg salutes Lawrenceburg feature winner Derek Scheffel. (Keith Wendel photo)
KO: So what did it teach you about racing and racing people?
GS: There's definitely two sides to everything. There's definitely two viewpoints. Even though they respect you as a racer, they may not respect you as a promoter. People have a false interpretation of promoters as they're all thieves and crooks. These guys work their butts off. Jiggs Thomason, Mike Miles, these guys are all friends of mine. Keith Ford. They work their ass off to make this work, you know?
KO: Those guys take a lot of financial risks every time that they have a show because there's money that goes out before you even get any people in the gate.
GS: Jared and Reece up at Kokomo, those people work their behinds off. And hard work is where it's at.
KO: If you could have done something different with the racetrack and if hindsight is 20/20, what would you have done?
GS: Well now, the Lawrenceburg city is upgrading the thing so much that I wish I would have had my bathrooms nice like they are now because they couldn't even take care of the bathrooms for me back then. But right now, there's a bit of money to play around with down there that they can improve their properties. That would have helped a ton.
KO: When somebody with money gets excited about a project, it's amazing what they can do. But it all comes down to money again.
GS: Absolutely. Argosy's tax contributions down there are making a world of difference in the city of Lawrenceburg.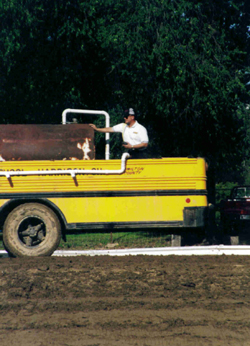 Working Hard – Check out Lawrenceburg's unique water application system for the 1997 season. Yep, that's Greg riding the bus. (Keith Wendel photo)
KO: Question number 81, but who's counting? You've done everything in racing from driving, to car ownership, to duties as a mechanic, to toiling as a chief mechanic/team manager, to racetrack promoter/operator, to sanctioning body series organizer/official. Is there something that you haven't done? What about announcing?
GS: I leave that to the likes of Rob Klepper and people like him. There are gifted people on the mike that say and do the right thing and have the proper voice for it. I realize where I don't belong and I think that's one of them.
KO: So that's something that you haven't done but is there something you haven't done that you want to do? I don't know that there's anything out there that's left.
GS: I'm open for suggestions if anyone wants to get ahold of me. I'm not opposed to going back to running another racetrack for some people again, some day. But it would have to be on my terms and it would have to be somewhat convenient because I don't want to have to drive seventy miles a day to go to the event and do that.
KO: So after your Paragon injury in '96, you plugged many a driver into the seat of your number 44. A short list contains Tyce Carlson, Eric Gordon (you won some races with him in '98), Kenneth Nichols, Joey Kerr. How about Rust-O-Leum (Rusty McClure)? Then there's Mike Mann (3rd at Kokomo Sprintweek 1999), the legendary Allen Barr, Jason Setser (who won a championship for you down at The Burg), Critter Malone, Chris Coers, Johnny Heydenreich, Wil Newlin, Matt Westfall, Jeff Harris, Don Droud, Jr., and Mat Neely. One of the names I forgot to put down on this list is Cary Faas! Danny Smith, Terry Shepherd, Lealand McSpadden, Kenny Jacobs, and Dave Darland drove your champ car. I don't know that you can nail down one guy, maybe it's a few guys, but who out of this group did you really enjoy working with? You probably enjoyed working with all of them, so maybe I'm putting too much pressure on you.
GS: Terry Shepherd was great. Jason Setser probably was the most underdeveloped natural talent of the whole bunch that I've ever seen. We're not measuring him against Lealand McSpadden, but I pride myself in giving…because I was subjected to such late years of being allowed to get in a sprint car, and no one would let me get in a sprint car, that I went way out of my way to let these young guys get a ride. Critter was one. Chris Coers. Jason Setser. Jason Setser was an incredible talent until he had his injury at North Vernon in one of the Keith Kunz-mobiles.
But they were all great! Lealand was great to work with. Kenny Jacobs was fantastic. I mean I really can't single one of them out. But the most talent I've seen was Jason Setser. He never sat in a sprint car before and won the first night out. You don't have that. That just doesn't happen.
KO: That's a once in a blue moon type of deal. And is he still driving late models?
GS: I don't know. He lost his father two years ago I believe and I don't know what he's doing right now.
KO: But you ended up winning a Lawrenceburg track title with him in 2000, which I'm sure was special since you'd done it as a driver and then you did it as a car owner, while you were running the track.
GS: Well of course I caught hell for that too. We supposedly set the races up.
KO: People would say, "Oh, he's got a good draw. He's starting on the pole!"
GS: Exactly. I heard that over and over again.
KO: People always want to list excuses, some how, some way. But we should say something about that. Winning a title as a car owner, when you look back and think about it now, what does it mean to you?
GS: I had to stay low key because I didn't want it to look like it was fixed in any way. It wasn't. There was no way anything was out of line. I wouldn't do that. I'm not that kind of person. But he (Setser) was just a good race driver. I think he won three features that year with that car.
KO: I think he got a win at North Vernon in your car somewhere along the way too. Obviously that title was a good feeling.
In the years following your relinquishment of Lawrenceburg, you spent the majority of your racing time assisting Johnny Heydenreich's Silver Crown effort as the crew chief. Were you indeed the crew chief?
GS: Pretty much. I'd drive over from Cincinnati and maintain it. I'd take care of it and go to the races with them. Sharon Bank was the owner. Stephanie, my girlfriend at the time, she and I would take care of things. And my friend Vern would help me. We took care of the racecar and I'm very, very happy with some of the great finishes we had with that car. I pride myself on the car finishing those races. And he did finish.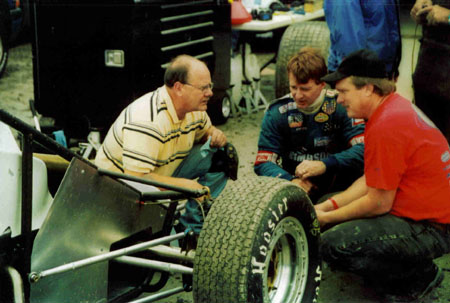 Crew Chief – Staab advises Johnny Heydenreich prior to the 2002 Syracuse 100 mile Silver Crown event. (Keith Wendel photo)
KO: The hundred mile races…I remember Eric Gordon talking about that with Phil Shuler – all the maintenance that you've got to get done. The parts only last for a certain amount of time and you've either got to rebuild them or replace them. So obviously you already knew that stuff.
GS: And Eric Gordon is another great one. He drove for me and he won several features for us too. And he is another great race driver…an underrated guy who should have went further and didn't. The two people who stand out in my mind, in our group, that didn't get to go any further, were Brian Tyler and Eric Gordon. Brian is making a good living now down south but these two guys are great. In fact, I'm very happy that I get to help on Brian's car now.
Yeah, the Silver Crown thing with Johnny, we came close to winning a couple of races and we should have won a couple of races. But woulda, shoulda, coulda, it didn't happen. And now I'm focused. I want to win a Silver Crown race as a mechanic now. I haven't done that yet and I want it in the worst way.
KO: It sounds like it could happen.
GS: That's "goal-oriented me" speaking right now but that's what I want.
KO: So is it possible to give an estimate of how many times you traveled back and forth from Cincinnati to Indy's 21st Street and Country Club Road? Do you have any idea?
GS: I have no idea. Sometimes it was twice a week back and forth. But I have no clue. You were riding by there seeing my car there all the time. You know it's a fact!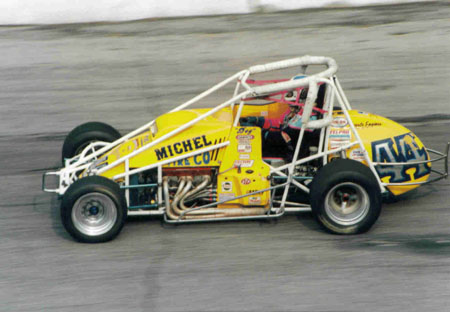 Saturday Banking – Staab exits turn two of Winchester's high banks, on his way to an 8th place finish on July 16th, 1994. (Keith Wendel photo)
KO: Oh yeah! I lived pretty close to there so I always saw what was going on at Heydenreich's place.
In the process, you must have logged many miles on your big Mercedes sedan? I'm assuming that's the car that you drove.
GS: It was my white one that I eventually sold down the road. I put a ton of miles on it and now I've got the blue one and it's got 230,000 miles on it. So yeah, they're a pretty reliable vehicle.
KO: I know Pete Rose became a Porsche man because of insistence from brother Dave, but here I always thought you were a Ford man.
GS: I was a Ford truck man. I got to realize that the Mercedes piece is such a tough and durable piece that I like 'em. Plus, they go along with my German heritage. It's just an overall good deal for me and I'll probably have one until the day I die, somehow.
KO: So you like German food then?
GS: Yes I do!
KO: Any good places in Indianapolis other than Rathskeller?
GS: I haven't been there yet. We have a couple in Cincinnati that I'm familiar with but some of them have closed because they were in the ghetto areas, the riot problems and so forth. Nobody would go down there and eat anymore.
KO: Before you took your job with USAC, you worked for Tony Stewart Racing for a few weeks. I don't know how long of a time period that was. I seem to recall a busy Toledo/IRP weekend thrash that you were involved with. Did you see anything with Tony Stewart Racing that might have surprised you with the current state of affairs of the sport?
GS: (Thinking and sighing) They wanted for nothing. They had everything and anything they wanted. It was really refreshing to see that because I know how hard I worked. Sometimes I would have to drive up here from Cincinnati just to get bolts and nuts for my racecar because Cincinnati wouldn't even have it…a grade A bolt and nut or an aircraft bolt and nut. Or a head gasket or an intake gasket. I couldn't get them in Cincinnati. I had to drive up here to Galen Fox's and get the parts up here. So to see these guys have their parts right on the shelf, and everything right there, was very refreshing. That was very cool.
KO: The right way to do it.
GS: Absolutely.
KO: Anything else that might have opened your eyes there?
GS: There were a lot of people involved, a lot of people hanging around there a lot. Tony Stewart's an interesting guy and people flock around him. He wasn't around there that much. In fact, I don't recall seeing him in the shop but one time. I wasn't there that day. I had a dental appointment.
But it was interesting. I worked for Larry Curry. Larry brought me in to help the guys out.
KO: Another Cincinnati guy.
GS: We were rookies with the Hoffman Indycar team in 1975.
KO: I've got a Hoffman Indy garage sign, number 79. It was a backup car. It has Larry Curry's name on it but I didn't see Greg Staab's name on there.
GS: Well, Greg Staab was just a parts washer at the time. But yeah, I was with those guys for a couple of years at the Speedway. I learned a lot just by doing that too.
KO: Your move to Indianapolis was a big deal for you but certainly a long time coming. I'm sure a lot of people pleaded with you to move up here since you drove up here so much. How long had you considered such a move and what finally pushed you over the edge to get it done?
GS: Probably since I was 20 years old I wanted to live up here but I had jobs in Cincinnati. I had my parents in the Cincinnati area. And I had to stick with them. There was no way I could move up here then. Steve Stapp gives me the devil to this day because I didn't move up here years ago. But that's just the way it is and I'm here now and I'm a happy dog about it. I like it!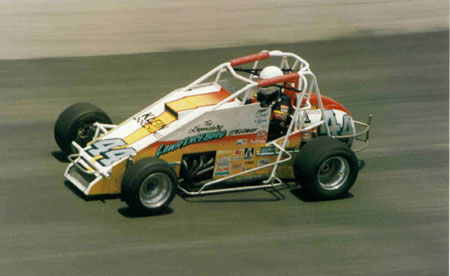 New Beginning – After hanging up his driving gear, Greg teamed with Joey Kerr for a USAC sprint assault in 1997. Joey is seen in action at Winchester, with The Legendary Lawrenceburg Speedway proudly advertised on the hood. (Keith Wendel photo)
KO: Shortly after the Stewart deal, you started working for USAC. I don't know if it was the end of '05 or the beginning of '06, basically after Jason Smith announced he was leaving. Was that in '05?
GS: Um-hmm.
KO: When you first started that job, did you feel like you were in heaven? I remember you said that it was your dream deal.
GS: It initially started out with the Laredo-Go, which is a Mercedes world record run, that Rollie needed some help with because nobody could go down there and stay 30 days in Laredo, Texas for this Mercedes-Benz diesel run. It was really good and I got along with all the guys good. Rollie saw an opportunity for me to go to work with USAC and utilize what I did know. Jason was still there but it was my dream job, yes it was.
KO: It seems like you said that was something you dreamed of doing once you retired from racing, either as a driver or a car owner. Was that true?
GS: When Gary Sokola was sitting in his seat in 1990, I said, "I want to sit in that seat some day. I want that job." And I got it.
KO: So could life have possibly gotten any better for you?
GS: Um, it was difficult there. There were some difficult items. It's a hard job. You catch more grief there then you do as a track owner. And you're constantly having to answer to people there. It's a pretty tough job but I liked it. I loved it. And I'm better for it.
KO: You worked very hard at getting your schedules out early. You also developed sprint and midget schedules that really appealed to USAC's hardcore fans while also working to take the series to new places where they hadn't been in a long time, Pennsylvania in particular. With the midgets, you developed relationships with other sanctioning bodies to bolster the schedule, especially on dirt. What were your goals in creating your schedules?
GS: Originally I wanted to go to 50 races with the sprint car division. I was told I shouldn't do that. That was way too many races. The USAC thing, there was such a constant controversy with the midget groups, back and forth. I wanted to try to mend that, try to fix that. Let's get this taken care of. We're all grown men here. Let's make this work somehow. I tried hard to make the POWRi thing work. I tried with the Badger bunch. It just was very, very difficult. There were so many obstacles thrown at me that every time you had a goal or a plan, you'd have an obstacle thrown at you. It was kind of strange. So it turned out that a lot of it worked and a lot of it didn't, but the Pennsylvania thing started out at three races and now it's gone to five last year. It could be more if somebody wanted to pursue it. I'm no longer there to do that, so that's entirely up to them.
KO: What places did you want to take USAC to that you weren't able to get done?
GS: We came up short on the pavement a lot and I couldn't understand why. I worked hard to get a third show into Winchester, which we got done.
KO: I remembered you said you wanted to go to a place like Mobile or Pensacola.
GS: I went to Mobile in person. I went to Pensacola and Mobile in person, and had it within a few dollars, we'll say, of bringing in a sponsor, and having both of those places locked in. They both wanted us and they both were enthusiastic about having us but they wanted a sponsor brought along to help defer their expenses. Both of those places are fantastic paved racetracks. Incredible places. And I went down in person and visited both tracks and it looked like it was going to be a done deal and it didn't quite work out.
KO: You seem to be the type of guy to not sit still, continuously working to improve whatever it is that you're involved with. Maybe it's that German heritage again. Can you share with me your vision for the USAC sprint car and midget divisions? I know you said 50 races, but was there a thought that maybe if a big enough sponsor could be obtained that this could be a full-time traveling series, where these guys could make a living off of it? Or did you just want to focus on providing good racing?
GS: The thought of a full-time traveling thing is kind of off-beat because you have to have a sponsor to cover some of that, which we didn't have. I believe that fifty races is not out of the question. This year's schedule has 42 on it. If you could get to Pensacola and a few more like that, bang, you're at 50. So it's not out of the question to have 50. I was told that we were cutting the races back and I didn't know they were going to pursue this as heavy as they did. This schedule is a very impressive schedule.
KO: This could be controversial, but were you concerned about your position with USAC when Kevin Miller was hired as President?
GS: Any time you see a new leader come in, there's always a ray of worry. There's an element of worry. When he started chopping heads at first, of course the worry increased. I thought I was pretty stable with it and I thought I had done a good job with it. I still feel very confident that I was doing the right thing. I just didn't fit into the program that he has. And that's fully understandable. I accept that. It's not a bad bit of light on either party. But I wish I could have stayed there to help out. It didn't happen that way and we'll move right on.
KO: How much did the culture change from when Rollie was running things to when Kevin came in? Of course headcount was reduced, but was it a completely different culture? Rollie had been a long-time car owner with USAC. He knew the way things were run there before and he represented a continuation of the way things were done. Did the culture change that much with Kevin?
GS: It did. It did in fact change. The education part of it for Kevin was to learn exactly what everyone did, and to learn how this whole game worked. I respect that Kevin has a major job to do and I respect him for his insight on the way he wanted to go about it. It's just two different paths and two different ways of going about it. He brought in Jason Smith and Jason McCord. Jason Smith knows what to do. He knows how to go about it. He's very, very good at it. Jason McCord has picked it up and he's done very well too.
KO: Did you miss working with Rollie Helmling?
GS: Rollie and I are great friends – have been great friends for years and I see him all the time. Yeah, it was different.
KO: It seems like he might have given you more leeway. He knows that you've been around the sport and you know what you're doing. You've worked as a promoter. Maybe you were given more room to work under Rollie's leadership?
GS: He gave me the sprint division when Jason left and said, "Here, run this like it's your business." That's exactly what we did and it worked. It was working out pretty well I thought.
KO: I enjoyed those years. I'll say that as a fan. To me, I don't know how it could have gotten any better as a fan from Indiana.
GS: Thank you! That's quite a compliment.
KO: But that's just my perspective as a fan, not to be blowing smoke up your ass. This is my passion. This is what I enjoy most from life. I know I was enjoying it immensely when you were in charge of it.
So going back to the beginning of 2008, when did you find out that your job was in jeopardy?
GS: In May I believe it was, Kevin had reviews and my name was last on the list of reviews. I knew right away there was something up because when you're last on the list, that means everyone's gone out of the building and it's time to get serious.
KO: So that's how you found out then – knowing it was a closed door meeting?
GS: Correct.
KO: What reason were you given? Can you even discuss that?
GS: He cited a lack of passion for the sport and I had to question that one a little bit. And my work ethic, he said I didn't do anything back there in the office all day.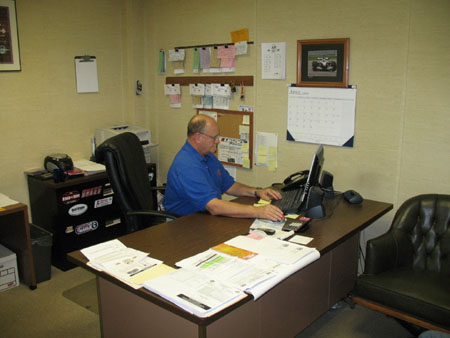 In The Office – Back in the day when he was employed by the Speedway, Indiana sanctioning body, Greg is pictured in his USAC office, tending to sprint car and midget series duties. (Keith Wendel photo)
KO: Wow! We just talked about that and it leads into my next question. Kevin Miller claimed that you didn't have enough passion for USAC. But given your history with the organization that dates back to the early '70s, traveling with them all over the country, supporting them through thick and thin, especially when they didn't have a ton of cars, and being a staunch USAC supporter, how badly did that anger and frustrate you?
GS: It was just a big question mark. Where would this come from? How could this be? It was just a tough pill to swallow. And then they kept me around for a little while, having a few things here and there to do. It was bitter disappointment when you base your life around something and then something like this comes in and changes. But I'll move on and I'll do just fine. I'm very happy doing what I'm doing right now. VERY happy with it! I've got a great bunch of people to work with and it's just a great time.
KO: Given Mr. Miller's future plans for USAC, other than a few more pavement shows, the 2009 schedule looks a lot like the one you built despite the notion of them wishing to cut back on the number of races. It looks a lot like the ones from 2006 to 2008. But what's your opinion on the current state of affairs for USAC? Are they in trouble?
GS: I really don't know Kevin. I don't know. One thing you hear is the economic situation but apparently the Calistoga promotion went really well as I understand it. They did a nice job on that out there. So those are the things they need to do if there's an economic problem. You need to do more of those.
KO: Do you ever see a day in the near future when there might not be a USAC?
GS: I guess at this point, anything is possible. With the economics the way they are and rumors of the building being knocked down and the street change down there, that would be the perfect time for something drastic to happen. I don't know. It's hard to say.
KO: If you were in charge, what changes would you enact immediately or over a period of time to help save USAC from extinction?
GS: (Ponders for a bit) A little bit more user-friendly approach to the history of USAC. It's being pushed aside now due to the computer age and they're appealing to the younger people. There are still A LOT of old USAC fans out there. Not because I'm older…
KO: Well, I'm becoming an old USAC fan and I'm 37.
GS: Exactly. The computer age is being pushed onto the scene heavily right now. This is a good thing, but I wouldn't short change the older people, 37 and older, who still enjoy a good USAC race at Winchester. They don't all have computers. They don't all live by the computer age. And this seems to be bypassed right now and I feel for those people.
KO: You're working for a Silver Crown team right now. Of course three years ago they went to the new style cars for the pavement but now that the older cars are back the car owners aren't coming out to support it like in the past. What's causing that? What's wrong with the Silver Crown series? Not that there is anything particularly wrong, but why aren't the owners coming out to support it? Maybe you don't have the answer?
GS: I don't have a true answer, but I have a feeling. I may be wrong, but this is my opinion and I'm allowed to have this opinion. I feel that for years and years, Silver Crown teams and cars, families, people, they had these cars and they went to the races. It became a way of life. Well the other change came in with the new cars and those cars, the older cars, were yanked away by the new car. Now these people have found a way to fill that void on a weekend of Springfield, on a weekend of DuQuoin, on a weekend of the Hoosier Hundred. They have now got a cottage on the lake. They've got a trailer on the lake some place, ball games to go to or they've got another way to fill that void. And I think that void is being filled by other items now in the entertainment area. They may go to King's Island. They may go to the Gulf Shores. They may go to the gambling boat or the casino. Who knows! But I've got a theory that the people who have gone away have gotten their feelings hurt by the elimination of their racecars they had a passion for and they found other ways to fill that void for the weekends.
KO: That very well could be. It reminds me of baseball. In '94 when they had the strike, I was a hardcore Reds fan. I haven't really followed it since then. That's when I started hitting the racing hard. I found other ways to spend my time and here I am. I haven't gone back.
GS: My point exactly! I'm sure that's happened to several. I can't name a team. I can't tell you exactly who would be involved in a change like that, but I bet you that has happened. That would be my opinion.
KO: Next question – kind of a different area - if another wingless sprint car organization, doesn't matter who it is, came into the Midwest, paid a larger purse and didn't demand entry fees from its car owners, you think it could it overpower USAC?
GS: USAC is a very, very strong name. USAC has the numero uno, on the pedestal name. That's going to be very hard to overpower. You may become very popular. And you may produce a fast and efficient show that pays more and is more user-friendly to the racers and the fans, but you still have that USAC emblem.
KO: So you're confident that the name still has some clout?
GS: Unless they anger more people, they're going to be the number one group.
KO: So throughout the mess of 2008 and losing your full-time status with USAC, you still jumped in to help the sanctioning body whenever possible. Did you have any other job offers after the USAC deal that you can divulge? Who were some of the people who contacted you about your services?
GS: Yeah, there was a call that came from down in the southwest from Tommie Estes to call Emmett Hahn to branch out and bring the TNT Tour up to the Midwest which still hasn't really been dropped completely. I went to 80-something races and 70-something races and then 77-something races, three years in a row. I'm kind of recovering from all the USAC races right now. So I don't know if I really want to work that hard and go back to doing a big deal but it's not out of the question. I'm supposed to see Emmett, but I never did get to talk to him out west. Eventually we'll talk.
KO: Any other people? Any other interesting names that called you?
GS: No, not really. Or none that I can talk about anyway.
KO: That's fair! We want to keep this on the up and up and not burn any bridges because I know you have so many years left in the sport. This piece is to promote you and not slam anybody else.
Now you are working for the big man at Jet Star Trucking, Darryl Guiducci, who is also the big man at 6R Racing. What is your current position with the team and how did you decide that it was the place for you?
GS: They were short on help and it's really not a paying position. They take care of you in going to the races and they take care of your expenses and so forth but I'm the crew chief on the 19 car that Mike Murgoitio and Kody Swanson drive. I maintain it. I work out of the shop up there and I help them. It's not a paid position by any means but they're good people. Darryl is an extremely outgoing ambassador for the sport. He's one of the best people the sport could possibly have. It's just really neat to work with Darryl and Chuck Castor and Bernie Hallisky. We've got a pretty good team going there. I'm very meticulous with my work. I like to have cars finish races. They say I'm too slow and they laugh about it being slow. Well, I'm slow because I want this to work. I don't want something falling off of it, you know!
KO: One thing that stands out when I think of Greg Staab is his positive outlook on life. With very few exceptions, you never seem to have a bad word for anybody, always taking the high road. Where did this come from?
GS: If anybody out there is listening and knew my father, my father could go to a tree and get a conversation out of it. He was pretty much like that all of the time. He was 90 percent in a good mood all of the time. I've watched him. I've watched other people I've been around in my life that are similar to that. I've had some pretty good role models. I've had the work ethic role model with Pete Rose, watching him work. My father was a very hard worker. I had some other bosses who were very good workers. Tom Soudrette, who started helping me out in my beginning racing years, his grandson Jason is running at Lawrenceburg now, he taught me a lot. Claude "Buster" Lowther, who ran with Jimmy Davies in the USAC midgets for years, he was hard on me too but he also taught me a lot about life. I've had several people who have been influential in casting my personality – mainly my father. My mother was a great mother, but she didn't have quite the outgoing approach to things. I've got a lot of people to thank for that.
KO: From a personal standpoint, I don't ever recall a marriage being associated with your life. Have you ever been married?
GS: No sir. No marriages for me.
KO: Married to racing?
GS: I am what I am and that's what I am. I don't see any reason for that (marriage) right now.
KO: The nickname of "The Dog" – I'm curious how you got that because I started seeing it on your cars in the early '90s. Was that given to you by one of your female acquaintances by chance?
GS: Steve Stapp! Steve Stapp started calling me The Dog because I'd crawl up anywhere and go to sleep. I was just like an old dog and he threw the dog thing on me.
KO: And then you started lettering your racecars that way.
GS: Well, if you're going to call me a dog, I'll put it on the racecar! But it was funny. It was fun to play with. Steve Stapp started that shit.
KO: But it stuck!
GS: Yeah! And I'm ok with that! In most circles of socialization, dog means you can go around and hump anything and anybody. Well, I don't think that's really where the nickname was going, but there may be a little bit of that in there.
KO: In the sprint car fraternity, I don't know of anyone else who has been more religious when it comes to exercise and pumping iron than you. No matter how late of a night it was after the races, no matter if you're away on business in California, you're always at that gym pumping iron early in the morning. Has it always been that way?
GS: In 1985, my friend A.J. Esterkamp bought me a membership to the health club in Cincinnati called Covedale Sports Center. I immediately saw a difference in '85 that I was not falling out of the racecar anymore. I was stronger than people. I was doing better in longer races. Sitting straight up for thirty laps, it was making a difference. I did it all my life anyway. And from '85 and on I really, really worked at it. I've backed off lately because I've been sick. You know for a fact that I've been after it and I always have.
KO: So what's your routine? Weights only or cardio too? What do you like to do there?
GS: It's off and on. I'll start cardio here in about a month – heavy – before racing season starts. I've backed off of it now because of my knees, hips, and feet. But normally just weights…free weights – pretty extensive. I do pretty well for a sixty year old guy. You won't see too many people lifting like that.
KO: I just ran into an eighty year old guy at the gym today. He was still pumping iron and he told me it makes him feel young.
GS: It feels good! It's kind of an adrenaline rush I guess.
KO: You may have already answered this but I just want to be sure to get this down - what's the most entertaining racing story that you can tell without getting anyone in serious trouble? You're a guy that's been around racing for a long time and we both know racing people know how to have a good time, laughing and joking. I don't know if there's one racing story that stands out and involves you…
GS: Actually the car falling off the trailer coming from Paragon that night was one of the most hilarious things I've ever done. It scared the hell out of me at the time, but that made it to UPI, United Press International. It made it all over the country – about me losing a racecar and it ended up in a cornfield at four o'clock in the morning. It was spooky at the time because there's my life, my money, my cylinder heads, my engine! Everything I owned – GONE! Those Southern Indiana boys don't play. They'll take that shit and hide it and you'll never find it.
KO: So how fast did you know that it was off the trailer?
GS: I drove all the way to Shelbyville – pulled into the Bigfoot Station to get fuel and noticed that the racecar wasn't on the trailer when I got out to put fuel in the truck. I told the girl I was with – "Hey, the racecar's not back there!" She said, "Oh quit joking around!" I said, "I'm telling you now! The racecar's not back there!"
We backtracked. I went straight to the Martinsville police station. A Martinsville cop came out, turned on his alley lights, driving up route 44. There were my four-by-fours laying there that I shoved under the car to keep the car from bouncing. I said, "Those are my four-by-fours. That thing's around here somewhere."
He said, "How do you know those are your four-by-fours?"
"It's because I put them together. I nailed them together and this is my stuff."
He said, "Ok. If you say so."
So he turned the alley lights on and started shining them out in the field. As we crest the top of the hill, you could see the corn stalks mowed down and there's our racecar sitting out there in the middle of the field.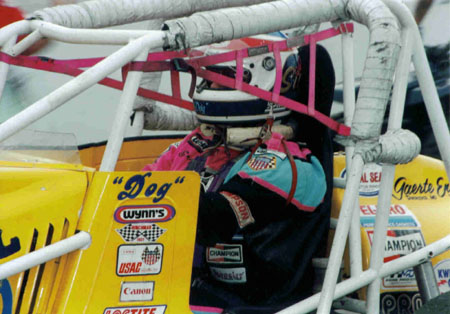 Waiting at Winchester – Awaiting asphalt assignment, Greg is raring to go in Winchester's push-off lane in July of 1994. (Keith Wendel photo)
KO: That was kind of a crazy night. It seems like down there at Paragon, there was a fire or something like that.
GS: And a storm. There was a helluva storm. That's why the thing didn't get tied down. I was trying to keep from getting soaking wet and I didn't tie it down properly.
KO: There WAS a storm coming! It was simply a strange night. They even had an Australian pursuit race that night. About every weird thing that could happen took place.
Moving on, can you tell me what one thing is the best thing that's happened to you because of racing? Is it the friends, the respect – what's the best thing? And you can take all the time you need to think about that.
GS: Two things. I set goals. I accomplished a lot of goals. Even though they were small goals for some people, I accomplished those goals. Championships at Lawrenceburg. USAC sprint car driver – didn't win a championship, but I came close. National TV win – that was beyond any goal. That was beyond what I thought I could ever make. I've overachieved by a mile from what I thought I could ever do.
The other one is the respect factor all across the United States. If I was in Atlantic City right now, I could walk into the Atlantic City trade show right now and there'd be 50 to 100 people who would know who I was.
KO: Go out to Phoenix and it would be the same way?
GS: Skagit, Washington. Southern California. And that's a really, really good feeling to know that many people respect what you've done, even though it's not world-beating and it's not a Formula One championship, it's a respect level. I hadn't seen Doug Wolfgang in years and he had that terrible head injury…he actually remembered me at Atlantic City last year when he was with Dave Argabright. I hadn't seen him in 15 or 18 years. So that's kind of neat.
KO: So did you ever own an enclosed trailer for your racecar?
GS: I have never owned one. Mr. Stenger owned several enclosed trailers. And we had 'em in the '80s. But I have never owned one myself – no.
KO: It's just a question I had. I remember seeing your open trailer at Williams Grove…even in '96 it was rare for people not to have an enclosed trailer. I would guess the last time you towed out to Manzy, which might have been 2002 with Matt Westfall, did you borrow one for that trip?
GS: I borrowed Tom Burkey's trailer to go out there.
KO: It's always good to have that when you're making the long tow and having to stay in a motel.
So if you had an all-time favorite venue, could it possibly be Lawrenceburg Speedway?
GS: My favorite racetrack?
KO: Yeah.
GS: I've done so many of them Kevin, it's hard to say.
KO: Maybe there's not just one…a top three?
GS: A top three. Berlin. Winchester. Ascot Park.
KO: Awesome!
GS: Ascot Park! Maybe not in that order, but I had to come up with a dirt track out of the deal.
KO: So Ascot just had everything?
GS: Including Leslie Bremer!
KO: Exactly! It was definitely the place to be. It was always a place I wanted to go to but I never had the chance. It still bothers me to this day. When I was on my honeymoon out in California, I found where Ascot was and I got some of the dirt that was still there. Nothing had been built on it. I brought it home in a baggy. I still have it.
GS: I got to see the Spruce Goose. I got to see the Queen Mary. I got to see Mount Saint Helens. Mount Rainier. I got to be on top of Pikes Peak. There's just so much shit I've done, just all from racing.
KO: Is there a favorite win? The TV deal at IRP has to be at the top because it was so special. You know, maybe there were some other wins at The Burg or Florida…
GS: The Volusia County win was good. That state championship thing was fantastic. The Road Runner 50 at Putnamville in 1983 or '84 where I beat everybody. They were all there and I won that. That was good because I went with no crew. I ran a winged show at Chillicothe, got back from Chillicothe and nobody wanted to go. They were all worn out – too tired. Got back too late…yadda yadda. I stayed at the garage all night, set the car up, called Rickie Hodgkiss, my friend, and said, "You want to go to Putnamville with me?"
He said, "Hell yeah I'll go. Who's all going?"
I said, "Nobody. I don't have any help." He and I went and we KICKED THEIR ASS! It was NEAT! Including Vogler. Including Larry Rice. I think Ron Shuman was there. They were all there. It was an afternoon show. I started on the front row. I muscled my way into the lead and I didn't give it up for nothing.
Those are good ones. The TV race was of course a good one.
KO: Hell, maybe some races you didn't win were also memorable?
GS: The Toledo race. Sprint cars. 1990 or '91. Jeff Bloom, me, and Gary Fedewa exchanged spots.
KO: Hey, how are you doing? (As Greg's cat hops up onto the table directly in front me.)
GS: That's Ralph.
KO: Hey Ralph!
GS: Ralph's the diabetic cat. He gets a shot of insulin every morning at 7.
The three of us exchanged third, fourth, and fifth spot and we never touched, thirty laps, never touched! Swapped, traded, passed, passed, boom, pass – never touched!
KO: That's kind of hard to do at Toledo because it's kind of narrow.

GS: The three of us just grabbed each other in one huge, three-way hug afterwards. It was one of the neatest races I've ever done.
KO: Anything else you can think of? I can't think of anything because I wasn't around to see a lot of the stuff in the '70s and early '80s.
GS: As petty as it may sound, a heat race win at Ascot one night – I won a heat race out there and beat Shuman and all those guys one night too. That stands out. Even though it was only eight laps, I did it!
KO: That HAD to be a highlight when that's one of your favorite places, you're a long way from home and you're out there racing against some studs.
What about this question…is there one person in racing you respect the most? Maybe there's not just one but several?
GS: Wow!
KO: A guy like Tom Stenger was a guy that you admired. A.J. Watson? You mentioned him. Maybe the guy from Don's Crankshaft, Don Kemper?
GS: There's ten names. You couldn't single one out. It would be unfair to the rest of them. I don't know. Tom Stenger would be one. A.J. Watson would be another. Ronnie Shuman would be another. You got that one on there too, the best driver you raced against?
KO: Oh…we're getting there. I think I skipped that question, or at least the question of favorite guy to race against.
GS: Not favorite – BEST! I say Ronnie Shuman is the best non-winged race driver.
KO: He was a money racer. He would finish and finish up front.
GS: He was the best. That's my opinion.
KO: That falls into the respect deal obviously.
GS: Yep. Yep. How many Turkey Night wins?
KO: Eight? I think…he's done it all. Raced with the World of Outlaws and had some success there. So he's the best guy you raced against. How about your favorite guy to race against? It could be anyone from the midget days like Steve Lotshaw. Sprint cars – down at The Burg…
GS: Leon Thickstun or Kerry Norris or Danny Milburn. Geez, that's tough!
KO: A lot of guys hated racing against Jack Hewitt because he was so hard to beat. Tray House talked about that.
GS: WOW! That's hard. That's another hard question.
KO: Maybe it's too broad of a question because there were so many?
GS: Yeah. It encompasses so many.
KO: So we talked about your favorite win, your favorite guy to race against, the person you respected the most in racing…so we can leave it at that. You've had a career that's spanned many decades so it's hard to nail down just one.
Moving on, is there one thing that pains you the most about the current state of affairs of short track racing?
GS: Economics have not been addressed properly to get things in order to help corral the expenses so more people can do it, if that makes any sense.
KO: It does. Back in the day, you could still make up the difference with smarter setups and driver skills. There's a lot more access to equal stuff now whereas maybe there wasn't before. It's just come down to credit card racing.
GS: Our sport's always been a money sport but it's far more prevalent now than it ever was before. It took me four years of racing sprint cars to get my first set of Carrillo connecting rods. And I slept with them. I put them in my bed with me. It took me, phew, everybody else already had aluminum blocks and it took me an extra three years to get an aluminum block. And we had to take one of C.K. Spurlock's broken ones, bring it back home to get it fixed, to get our first one. And then they outlawed it!
KO: So the money situation and not really addressing it is your beef.
GS: Mmm-hmm. The DT-3 tire thing, in the Midwest area, I thought was going to help a lot. And I think it did, but then it created a situation for a lawsuit where Hoosier and McCreary were suing each other.
KO: You mentioned the deal out at Ascot when Stan Atherton flew out of the park and landed on some cars, but was that the wildest thing you've seen happen at a racetrack?
GS: Pretty much stands out. If anyone asks me, that's the one that pops up.
KO: I just wondered if anything else stands out as being semi-crazy. Dickie Gaines almost flipping up into the stands at Bloomington. That's going up and I don't know how that happened.
GS: There was a time in 1987, maybe, that we started running a west coast race at Ascot. We came down for the green and ran into the corner and everybody's pulling tear-offs because it was gooey and tacky and nasty. I saw something fly up and thought it was a tear-off, no big deal. I came off the corner and when we got to the backstretch, it's red. Everybody slowed down and parked at the end of front stretch, up by four. Here's Richard Griffin. He's stuck up in the fence, higher than Dickie Gaines ever thought he was going to be, in turn one, hanging like this (gesturing) out of the car, knocked out cold. He flipped from the flag stand, all the way down, and got snagged in a cable where the front axle caught it and hung it in the cable.
So I walked down there. They've got a bucket loader coming in and they're going to pull him out. It's going to take forever to get this mess cleaned up. I walk down and I'm standing there next to Jimmy Oskie. And he's standing there like this with a drink in his hand and a ham sandwich. He looked at me and said, "Staab, if I knew it was going to take this damned long to clean up, I'd have brought two ham sandwiches! I would have brought you one!"
Just crazy. Crazy!
KO: Has there ever been a time that you've been burned out on racing?
GS: At the end of every season everybody gets burned out on racing. Everybody gets wore down and everybody gets burned out and it's only a short time burnout. The difference I had was with Cincinnati. Up here, everybody keeps racing and keeps on racing. Back in Cincinnati, I was the only one that did that, so I kept on racing. I had a goal to get one car done, rebuilt and ready to go by Turkey Night. By Christmas, I'd have the other one done. Rebuilt, blasted, painted, everything done. I pretty much met those goals every time I did it. I never stopped.
KO: You were setting those goals, even when it wasn't racing season.
GS: Christmas day I'd catch hell because I would work on the racecars in the morning for a couple of hours.
KO: Do you think you'll ever get tired of racing?
GS: I don't think so.
KO: It hasn't happened yet, even with the burnout factor every year.
GS: The injuries. The job differences. The race track going away at Lawrenceburg. This is my life. It's what I do.
KO: I saw a video on You Tube of you driving a replica vintage Shaw Sprinter at the Hoffman fish fry. How cool was that thing?
GS: It was very cool! And if I had belts on, I would have pushed the throttle and got 'er sideways, but I didn't have belts on at the time.
KO: Was there an Offy in that?
GS: That was a flathead V-8 Ford.
KO: Even though that thing wasn't "real", I wonder if you'd driven a car like that anywhere before.
GS: No. The closest thing to that was that Offy midget that Tom Dickinson had – that Kurtis Kraft Offy midget.
KO: So how did that car feel? I don't know that you were able to get it up to speed.
GS: It felt good! It spun the wheels and it did a little jiggy-jaggy. In fact, they were supposed to let me run it around Winchester at the Old Timer's Weekend this fall. But it's got wire wheels on it so I have to be real careful with it.
KO: So you just drove it around their parking lot?
GS: It's a pretty big area. They've got a big area, a big spread. I took it around a little bit.
KO: So speaking of the Hoffmans, they're from Cincinnati and you're from Cincinnati. How come you two never hooked up?
GS: I was on their radar screen a couple of times to drive for them. The way they do their drivers is that they put them up on a board and they list their plusses and minuses. And I fell down in flat places like Terre Haute and Granite City and I stood out in short tracks and Eldora. And there were highs and lows and I didn't meet their standards.
KO: That's an interesting way of charting potential drivers. I'm not sure if I've ever heard of that but I guess if you have to pick somebody, there have to be pros and cons.
GS: Sure. It's just like it took them two years to put Jerry Coons in their pavement car.
KO: Yeah. He did alright in the midgets on pavement.
GS: Yeah! He won at Salem. He could win.
KO: So of course with a career that has spanned so many years, I would be remiss if I didn't ask if there are any regrets for things that you didn't accomplish that you wanted to. Is this even the case? You've been pretty thankful for what you could accomplish and you have mentioned that you never dreamed you would have gotten this far. Still, were there any regrets for things you didn't get done yet?
GS: I wanted the national championship for the sprint cars. When I realized it was within grasp, I wanted number one. I couldn't get it. I got number two. Pete Rose gave me hell about that in Vegas when I showed him my number two ring. He said, "What's this? Number TWO ring? Take that and get it out of here!" He was on my ass about it.
To me, that's a great accomplishment. Not to Dave Darland. He has a lot of rings. But he's been a full-time racer for 12 to 15 years. I was a worker and living in Cincinnati. It's very difficult to do a sport that you're on your own with in a town where there is no racing. So I'm very thankful and as far as regrets, there's one or two years I shouldn't have chose the routes on cars I was driving and so forth but it's the way it is and I made a mistake.
I do want to win a Silver Crown event as a mechanic. That's THE goal in my mind, right now, burning, BURNING.
KO: So you pretty much answered my next question and we must be on the same page – about the things that you still want to do in racing.
GS: At sixty years old do I still have goals? Am I goal oriented? Absolutely! Positively!
KO: So how is life in Indianapolis?
GS: I love it! I wouldn't have it any other way.
KO: What was your main reason for getting out of Cincinnati? I know we've partially covered this, but was it all the riots, crime, and crazy stuff going on there or was it just that you wanted to be around racing people?
GS: Poorly run town. Poorly, poorly run place. It's poor on its maintenance of its streets. It's poor on its city government. The attitude of its people is negative - 95 percent of the people are negative and down-trodden at all times. And it's just such a very, very negative, not such a good place at all. And a lot of crime. A lot of crime.
KO: Racing has always been on the brain for you but as far as anything outside of racing, do you follow baseball, football, or anything like that? Bengals? Reds?
GS: I wanted to see the Bengals have a good season but it isn't going to happen anytime in the near future with Mike Brown running it.
KO: They are not spending the money like they should be?
GS: They won't spend the money. They let three really good players go this year. And they're all playing on other teams. Tomorrow I'll be glued to both playoff games. You won't be able to drag me away with a tractor, but yeah, I'm a football guy. Always have been. I played football for years.
KO: So you like their stadium down there? I've been to it a couple of times.
GS: I haven't gotten to go to the new one yet. I'm waiting on Rico from Fatheadz who told me he was going to take me to a Colts game this year.
KO: I just wondered about the Bengals' stadium.
GS: Oh! I haven't been to that one yet. I've been to Riverfront many times when it was there. I haven't been to the new Paul Brown yet either. I don't care about it.
KO: So are you a Colts fan now that you're in Indy?
GS: Pretty much! Pretty much! I really like Tony Dungy but now he's gone so that leaves the new guy Caldwell…
KO: There's only one Tony Dungy.
GS: Personality – he had a great personality. He's a good person.
KO: People like working for him. It's kind of hard to replace that. But I just wondered what other stuff you liked to do. Racing has been a big focus but of course there's always some other outside interests that get you going. I have an interest in railroads, different things like that. You mentioned your dad worked for a railroad, so I didn't know if you liked that too?
GS: I did. I used to have the model trains – the Lionel train sets and all that stuff. Racing just became the focus. I had to give up baseball for racing. I had to give up football for racing. I had to give up hockey for racing. I played hockey for awhile – goaltender obviously – what else would I have been? I played center and guard in a 165 pound semi-pro football team for three years and I'd knock you down! I enjoyed knocking people down. That was great!
KO: Anything I missed that you wanted to discuss? My last question is people to thank in racing, which I am sure you have some that we may not have touched on. But is there anything I missed on your career that we didn't talk about that you want to discuss?
GS: Probably the go-kart years – they were kind of bypassed in our conversations.
KO: I wondered about the success there because there aren't records of that out there for public consumption, but we can talk about that.
GS: It's hard to say but there was a group that raced in Harrison, Ohio. They had a paved track.
KO: I saw some pictures in your scrapbook of Harrison.
GS: One night, a USAC midget show at Richmond got cancelled. Some of the USAC midget cars came down to the go-kart track, pulled out in the parking lot and there were three of them, on open trailers – just BEAUTIFUL racecars! And that was another thing that got me wound up – was to drive one of them someday.
But the go-kart track was good. It taught me a lot of stuff and they took time to teach you. It was pretty cool.
That's really it. We've covered pretty much everything. You've done a helluva job.
KO: I've just tried to pick things out of my memory and then I read through the results on Kevin Eckert's site. I clicked on the results to see more details and was able to figure out more questions to ask.
But what about people to thank? I know you had your guys Noppert, Schwarm, and Martini. Tom Dickinson. Tom Stenger. Don Kemper.
GS: But the problem is most of 'em are dead! Tom Soudrette of course. My father Stan Staab of course was instrumental in guiding me the right way.
KO: It seems like Don Lambert from Kokomo…he was hanging around you for many years.
GS: He was another great help of mine! A.J. Esterkamp was another great help. Don Wilbur and Marvin Goins from Dayton flipped over backwards to help me out. There's a group in Dayton who really bent over backwards to help me out because they met me through Tom and they liked the way I went about things. They liked the way I raced. Don Wilbur was exceptionally good to me.
KO: It seems like you know a lot of people in the Phoenix area and I don't know if you stayed at a lot of people's houses out there.
GS: Bob DeYoung, he lives in L.A. right now. He's from Phoenix. He's one of the great helps. He helped me a ton. Tom Klein, he helped me out years ago with the engine thing out there. Ron Shaver helped us with the engines. Earl Gaerte helped me with the engine thing. There's been a lot of people who have contributed to that. C.K. Spurlock at Gambler Chassis many years ago…I don't know where he's at now or what's he's doing, but he was Kenny Rogers' business manager and he helped us out a ton down there. Floyd Bailey at Gambler helped us a bunch. Kenny Woodruff helped me a ton. There's just hundreds of them! Hundreds of people – I can't name them all.
But A.J. Esterkamp was another significant name. Vernon Krull, a fellow who helped me the final few years – he helped me a bunch. I can keep on going. Tom Burkey, John Heydenreich's friend and my friend, helped me a ton in my racing career. He's just a great person and a great asset to the sport. There's just a bunch of 'em like that.
KO: Is it time to mention Tom Dickinson's name again with the midget and the champ car?
GS: Yes.
KO: I didn't mention about those early years in your champ car career when you drove his number 99.
GS: Charlie Ledford was responsible for those few victories I had with him. John Klausing in Tampa, Florida was another great person who was responsible for helping me. (Thinking….) Now I'm starting to get burned out!
KO: It was a big test! You've held up well. The last time I did this with Eric Gordon, it wore me out and I think I was sick for a few days after that, some of it from just talking so much. I think I had more questions for you but I really appreciate the time because this has been one I've wanted to do for awhile and I just had to get around to it.
GS: Well, I'm glad I made time. I knew this was going to be a long deal and I made time to do it. You let me get my shit done this morning too.
KO: Ok, so I'm continuing to look through this scrapbook and I can't get away from it. I see the USAC midget schedule from years ago. Being out in San Bernardino recently, I see that you ran at Orange Show Speedway, sometime in the '70s.
GS: '75. '74 or '75. Orange Show Speedway. Ran Chula Vista. Ran Ascot. Ran Manzanita and I was starting to run out of money and we had to get home. I had to make $96 at Orange Show Speedway to have enough money to get home on. We'd been to Disneyland earlier in the week and went through the Small, Small World ride and that song gets in your head really bad.
I'm driving down the freeway one day and the radio's on and I'm still catching myself going, "Na-na-na-NEE-na…nee-na-na-na-na." (It's a Small World song.) We pull up in a traffic jam, the radio's on, you're sitting there and you're going, "Na-na-na-NEE-na…nee-na-na-na-na." I can't get it out of my head!
So we go to Orange Show Speedway. Volkswagen heaven. We've got a Sesco. Ain't too likely we're going to make the race but we're going to try it. We qualify and then we start from the front row of a heat race. We hold 'em off and made fourth in the heat – made the feature – a 100 lapper at Orange Show.
I've got to make 96 bucks. I've got to finish at least fourteenth to make a hundred bucks.
KO: (Tape change) So you're starting in the back and you've got to finish at least fourteenth.
GS: I started in the back and boom – there's a crash. There's two out. They only started twenty cars. I'm up to 18th. Running along, I pass one car. It breaks something and oils the track down. I pass another one. I'm up to 15th. BAM! Roger Mears and Larry Patton take each other out – against the wall. Two VWs against the wall. I'm up to 14th. Visor is up...I'm cruising around watching them pick the racecars up and I'm going, "Na-na-na-NEE-na…nee-na-na-na-na!"
I'm like, "What are you doing? You're CRAZY!" So I'm singing the Small, Small World song that's stuck in my head when I got up to 14th spot, which made a hundred bucks. I ended up getting two more spots out of it and made $150 that night to get home on and we were good. We got to come home. I was going to have to wire home for money or something to get home because I didn't have any more money.
So there's your Small, Small World, Orange Show Speedway 100 lapper story! Not to mention the two final spots I passed, the guys' heads were hanging out like this and they were all out of the cockpit and I went on by them.

KO: That was a tiny little paved track, kind of like a 1/5 mile at the Speedrome.
GS: Yeah. Like a Speedrome. Yeah.
KO: They still have shows out there occasionally I think.
GS: They run those Lucas Oil modifieds out there.
KO: I'm still admiring this schedule.
GS: Brutal, wasn't it?
KO: Yeah. It was brutal.
When I first came into your house, I noticed the wall of awards. You've got quite a few. Any of them that stand out for you?
GS: Any of the HARF awards (1991 Sportsman of the Year) mean a lot to me because a lot of them were from my contributions to the sport. They've been so good over the years about honoring the various champions.
Obviously the DARF driver of the year award.
KO: 1983.
GS: It's a great big one.
KO: How about the Emma Ray Award for Courage? 1996.
GS: That meant a whole lot from Joie Ray because I had enough courage to quit the sport, so he said, before I got hurt again. He thought that was a brilliant move on my part and I respect that.
The Gene Bundy Memorial award in 2001 was given to me because of how hard I worked to keep the Lawrenceburg Speedway running and not allowing it to go away.
The Outstanding Accomplishment in 1988 from the Buckeye Auto Racefan Club – same thing again for second place in USAC points from Buckeye Auto Racefan Club – all mean a lot to little old me.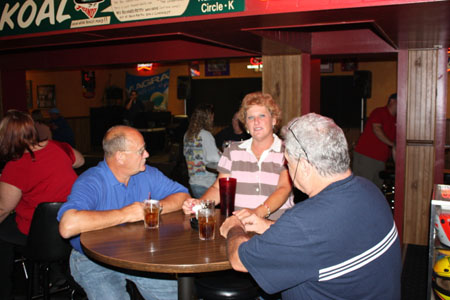 Indy Night Life – Greg is enjoying the Indy racing scene with lifelong buddy Dave Rose while Dru Laycock looks on after a Monday night Racin' with D.O. radio show at Kelly's Pub Too in Speedway, Indiana. (Dan Laycock photo)
KO: Kneeling down…let's see…
GS: Another big one – Tom Stenger award – outstanding contributions to the betterment of Midwest auto racing. It means a lot.
KO: Interesting. Oh let's see, you got an award from IRP of all places.
GS: That was from when I retired. John Capels presented that to me on the front stretch when I left the sport as a driver.
KO: A lot of HARF awards. Of course 25 years of service, 2004, City of Cincinnati. You were probably glad to get that one!
GS: Pooey!
KO: And how about these Certificates of Appreciation from USAC? Down there in the corner, it looks like Dick Jordan gave those.
GS: I have to see which ones they are. I've lost some of them.
KO: It says, "For his contributions to the United States Auto Club through generous cooperation with the USAC news bureau in regards to pre-race publicity." There's one from USAC – '91 through '96. So what about those?
GS: Those are both track related. When I had the Lawrenceburg Speedway, I cooperated with them on various items there that they are speaking about.
And I've got trophies down below but I don't have a place to put them. The one I'd like to put up there is that big, old Volusia County one. It's that (motioning) tall.
KO: That's cool.
GS: Ledford had one made for me.
I don't know if you saw the helmets or not – there's every helmet but two that I ever had. I'm sorry – three! One's in the Knoxville Hall of Fame. Two of them Bell kept because they were broken too bad.
KO: So who painted your helmets?
GS: Dale Burton did the first couple. And he did another one too. Chip, up in Dayton, did some of them too.
KO: Another thing I forgot to mention was that your home base for racing was Sayler Park, Ohio. In speaking with you, Dave Rose, and your friend Jackie Litchfield, I had no idea of the amount of racers that called that area home. Much like Indy's west side contains the vast majority of racers in this state, the same could be said for Cincinnati's Sayler Park. Can you mention some of the names that pop out in your head as members of the Sayler Park racing community?
GS: Oh gosh! Sayler Park…the last little ville west of Cincinnati on River Road, which is U.S. 50. I think there's a list of about 35 names that I know of that came from Sayler Park. There was Ross Smith, who ran ARCA and USAC stock cars – and sprint cars too. There was Jim Bob Luebbert. Denny Martini.
A lot of Lawrenceburg promoters were from Sayler Park. Charles "Shotgun" Noppert, Joe Noppert, and Roy Mattlin, who were all three promoters at the same time, came from the area. Craig Stevens, father of current sprint car driver Brad, was also a Lawrenceburg promoter from Sayler Park.
Let's see who else I can remember…of course I already mentioned Roy Mattlin, but there was also Donnie Mattlin, Tommy Mattlin, and Scotty Mattlin, who now races modifieds. Tom Soudrette and Jason Soudrette. Jason now runs sprint cars at The Burg. Dwayne Spille. Larry Beck. Bruce Stevens. Timmy Martini. One of my old crewmembers Mike "Lunch Meat" Litchfield. Nick Litchfield. Brian and Jeff Litchfield. Ollie Zimmerman. Don Woodworth. Pat Patrick.
Every one of those names had involvement in racing. And every one of them had ties to Sayler Park.
KO: Wow! I never knew so many people could come from one area. And I thought Cincinnati wasn't a racing town! That's very impressive.
Well, that's all the questions I have. I guess that's a wrap! I'm officially worn out. Let's shut this baby off.
GS: Sounds good! Thank you.
As I usually state after every lengthy Q&A piece from the Bullring Scene, if you have made it this far, you are to be congratulated! I hope you enjoyed the ride and please come back again soon. Feedback is welcomed at bullringko@aol.com.