Check Out These Other Pages At Hoseheads
Hoseheads Dirt Late Model News
Bill W's Knoxville News Bill Wright
KO's Indiana Bullring Scene Kevin Oldham
From the Grandstand Ron Rodda
Wagsworld Ken Wagner
Sooner Circles Don Hubbard
View From the Pressbox Stacy Ervin
Upper Midwest Ramblings Justin Zoch
Keeping Track Dino Oberto
Tri-State Outlook Duane Hancock
Western PA News Rick Rarer
The Big Cars Jay Hardin
Interrogation Gary Costa
A Fans View Rick Hartnett
the PITS 2008
Central PA
Contributing Photographers
Tear-Off Heaven Fotos
M & M Photos
Mike Campbell
Jim Fisher
Al Consoli
Doug Johnson
N2 PHOTOgraphics
Mike Arthur
Lewis F. Brubaker
Dennis Krieger
Tim Shumaker
O'Field Photography
Kenetic Photos
Hein Bros Photo
Gene Marderness
John's Racing Photos
Franks Photo
Stan Junior
Jim Balentine
Dave Hill
Travis Branch
Mike Doyle
Mark Funderburk
Paul Trevino
Paul Arch
Tom Kloskey
Action Photo
Gary Reid
Matt Hill
Tim Aylwin
Joe Secka
Max Dolder
High Fly-n Photos
D.R.Goodman
Paul Olyer
Jeff Martz
Rich Kepner
Rob Glieden
Rick Rarer
Ryan Northcote
Chris Pedersen
Dave Merritt
Steve Cox
Brian Simonseth
Jason McConnell
Gregg Obst
Jeff Hertzler
Terry Shaw
Doug Allen
Paul Gretzinger
Alan Messick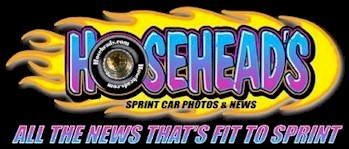 Jeff "The Jet" Shepard
A few photos from the career of fan favorite and one of the best Jeff "The Jet" Shepard. Jeff has announced his retirement this year from driving sprint cars. 22 years of sprint car racing and these are just a few of the rides. All photos by Paul Arch except for the last 3 are by me. As a fan I just want to say Thanks Jeff.
According to Open Wheel Times Jeff has run 1178 races in his career with 97 wins and 682 top 10's.
Knoxville 8-9-07 Victory Lane - Jeff wins his qualifying night in the Zemco #1z. Jeff and the Knoxville Queen Stephanie Frey from Chambersburg, PA and her Court
1988
2-28-88 Hagerstown Shepard's Exxon #140
1988 Vass & Hastings Sponsorship
Hagerstown 1989
Hagerstown 1989
Williams Grove 1990
Williams Grove 1991
Attica 4-10-93
St Augustine FL 1996
East Bay 2001
Ft Worth TX 2001
2003 All Stars Miller #2
2004 - Knoxville Sat A 3rd place + Oskaloosa winner JEI House Car
2004
2005 King's Royal Kasey Kahne #9
Williams Grove Oct 2005 Beef Packers No. 83
2005 Bob Stewart Apple #12
Knoxville 2006
2006 Volusia FL Ashworth #92
2007 Williams Grove Zemco No. 1
Knoxville 2007
Knoxville 2007
Knoxville 2006
Knoxville 2008
Port Royal 2008
Volusia 2008
Williams Grove 2000 Stewart 4J Hosehead Photo
East Bay 2001 Hosehead Photo
Williams Grove 2000 Apple 12 Hosehead Photo
---
Copyright © 2008 by "Hosehead's Sprint Car Photos & News." Do not reproduce anything from these pages without the permission of the photographers, writers or webmaster.
Hosehead's Sprint Car Photos & News,PO Box 42, Drums PA 18222-0042