Check Out These Other Pages At Hoseheads

Bill W's Knoxville News Bill Wright

KO's Indiana Bullring Scene Kevin Oldham

From the Grandstand Ron Rodda

Wagsworld Ken Wagner

Keeping Track Dino Oberto

Tri-State Outlook Duane Hancock

Runnin The High Groove Paul Kuyawa

Hoosier Race Report Danny Burton

INot Just Another Racing Column Pastor Dudley Balmer

Dirt Divas Camisha Miller

Central PA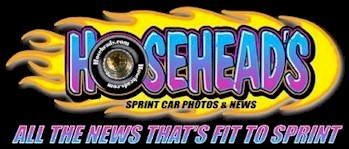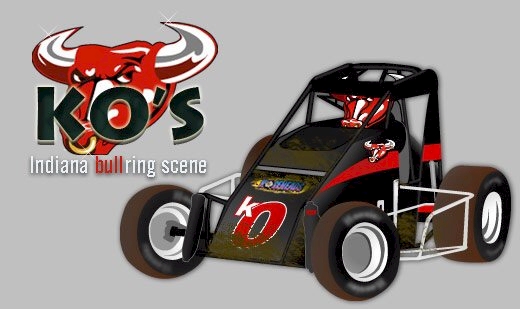 KO's interview with the Hurst Brothers is HERE
KO's interview with Phil Poor is HERE
---
Volume 18, Number 1
New Roads
Given my six month longing for a sprint car fix, vacationing at a time other than the off-season sure seems like a rookie mistake, as the possibility of missing the first two outdoor open wheel weekends in the Midwest is the furthest thing a thirty-year fanatic would ever agree to. But on a gorgeous and sun-splashed Saturday in late March, there I was soaring over Brownstown Speedway and its lid-lifting No Way Out 40 while aiming for Atlanta, the lone stopover on my initial European excursion to Ireland. Still in disbelief as I reviewed hot lap times while waiting to board for the eight hour haul to Dublin, despite the knowledge that Indiana events can indeed be conducted without my presence, I was still experiencing a slight bit of withdrawal, reliving my worst nightmare ten years prior when I was infinitely more addicted.
Unable to relax enough to earn some well-needed shuteye to forget about this sudden onset of paranoia, I spent the bulk of the eight hours absorbing all of the automotive-related media available on the flight which included a pair of wonderful documentaries, the first being Steve McQueen: The Man and Le Mans and the other being Winning: The Racing Life of Paul Newman. I was so moved by the McQueen flick that I had to watch it again on the return home.
Once setting foot on foreign soil, my stubborn, one-track mind was finally opened to the idea of enjoying such a unique experience chock full spectacular scenery (forty shades of green and rocky cliffs tumbling to blue oceans), quaint villages crammed with fantastic bars, pubs, and eateries, historic castles, churches, and architectural ruins from centuries ago, and hospitable natives so happy to have visitors from lands afar. My motoring mind was also entertained with all of the previously unseen automotive makes and models not available in the States (like the hot, new VW Scirocco) and all those narrow, winding roads that seem to go nowhere. All in all, it was a truly enjoyable journey, one that I will never soon forget.
Despite some warnings to the contrary, the food was fantastic as European influence weighed heavily. And of course there were all those beverages to sample, first taking a tour and titling a few glasses at the Jameson's distillery near Cork. In addition, there were countless craft brews that were unique to each town, much like the rage this industry has become in my Hoosier homeland. Most notable were breweries in Wicklow and Dingle, the former creating St. Kevin's Red (you'll never make a saint of me) and the latter making Tom Crean's 18/35 (An Antarctic explorer and true Irish hero - not the IU basketball coach). Crean's Irish Lager is only available outside of Ireland in Boston and aboard Aer Lingus flights, but one could only imagine the killing they would make if it were marketed in Bloomington and Indianapolis.
If I have one regret from the trip, it's that I did not insist on getting behind the wheel of my father in-law's Open Insignia rental for a brief stint. Instead playing navigator, I now wish that I could have experienced what it was like to drive on the opposite side of the road while shifting a manual transmission with my left hand. Nevertheless, the notion of missing the first three outdoor races of the season for such an unorthodox excursion certainly qualifies as new roads for this home body who previously included auto racing in all of his own vacations.
With Brownstown, Lawrenceburg, and Terre Haute going on without me, I managed to survive, comforted by the fact that the rest of the season was completely jammed with more than its share of memorable contests. Coming back to a disastrous and stressful in-house flood, two days of jet lag, and foul weather that resembled January, the next weekend's Kokomo Grand Prix was cancelled, as were other options in Bloomington, Putnamville, and Lawrenceburg.
Moving my initial outings to USAC sprint shows at Bloomington and Haubstadt, my post-vacation patience was again tested in my trip to B-town, unable to leave the north side of Indy until 5:50 PM. Infinitely stressful east side 465 gridlock from Pendleton Pike to I-70 detoured me downtown on 70 and 65, eventually earning a smooth transition to 37 where timely stoplights conveniently allowed a swap from work to race clothing all from the driver's seat. Making great time to Martinsville, expected construction delays between Martinsville and Bloomington became reality immediately after Mahalasville Road, using the grassy median to detour back to Mahalasville and employ my nephew's advised alternate route. Right on Downey, right on Low Gap Road, right on Anderson, and left on Old Road 37, this path cut directly through the Morgan-Monroe forest in some of the most remote areas of these adjoining counties. Much like Ireland's impossibly narrow and circuitous routes, these were also new roads for which I used up every inch, aggressively maneuvering my Raptor like it was a Robby Gordon trophy truck, doing my best to avoid craters while soaring over rises and overtaking like there was no tomorrow. Unlike Ireland however, thankfully there was no precipitation and the pot at the end of this proverbial rainbow was Bloomington Speedway, where a racing tradition that dates all the way back to 1923 continues. 1923! Can you believe it?
What I couldn't believe is that one of the vehicles involved in my high speed convoy from Indy to Martinsville was already at the track when I arrived. Feeling defeated that my ridiculously dangerous driving netted me nothing other than the absence of sitting in stopped traffic, I could at least be thankful that I arrived in one piece.
Also disheartened to learn that qualifying for the 35-car corral was already complete, 305 racer Jared Fox informed that C.J. Leary had topped the timing charts with a sizzling 10.842 second circuit, piloting Mike Dutcher's potent Maxim/Fisher to a new USAC record. For those inquiring minds, 10.842 is now a new all-time Bloomington wingless mark, ultimately eclipsing Kevin Swindell's 10.880 tour from April 2007. Second-quick Chase Stockon was also beneath the long-unbeatable Swindell barrier. Scoping out the rest of the qualifying rundown at the USAC trailer, coincidentally my season's first extended conversation came with Evansville-area diehard Dan Hetser, just as it did one year ago. Some things never change, and I'm ok with that!
Finding heat race pit side seating reserved by Dave Darland devotee Joe Higdon, Joe observed that Dave and team owner Jeff Walker were swapping cars for their heat, as Darland detailed that his Jeff Claxton power plant had been weak all day and wasn't going to make it for the duration of the evening. Benefitting from USAC's peculiar new rule that only penalizes a team that swaps cars with a start on the tail for just one race, had Dave not finished fourth in his heat he still would have earned a B-main starting spot based on his original qualifying time. (Back in the day, using any car other than the one qualified would have meant a start at the tail of every event, including the feature.) As it was, The People's Champ did find fourth in the fourth heat, which was won by fourth-starting Bryan Clauson (Dooling/Hayward 63). In fact, all four heats were taken from the outside of row two, as Brent Beauchamp (Olson 34), Chad Boespflug (Nine-Eight/EZR 98), Thomas Meseraull (Amati 66) took those early honors. After seventh-quick Max McGhee tangled with Isaac Chapple in heat three and made a mess of his family-owned Maxim, he too reverted to a backup for the B. Coming from the rear to snag the sixth and final transfer, Max sent Austin Prock and Kody Swanson packing. Issues with Swanson's Phillips 71P prevented a qualifying lap, putting him behind the eight-ball all night long. Again beset with mechanical gremlins and enduring yet another frustrating evening on Saturday in Haubstadt (20th), a few days later owners Steve and Carla Phillips made a difficult decision to mothball their USAC sprint car effort until further notice.
In between heats and B, I noticed Brad, Steve, and Braylon Fox assisting Chris Hoyer and Kevin Price on Jon Stanbrough's DRC chassis, a deviation after Stanbrough had used Spikes for all of 2015. The Brownsburg fabricator still has one Spike and will alternate between the two different constructors. Once calling the shots for 2004 USAC sprint car champion Doug Kalitta, legendary Ohio traveler Rick Ferkel was advising on Seth Motsinger's deuce, driven by Sikeston, Missouri's Hunter Schuerenberg. Hunter was parked next to Brinton Marvel, a fourth generation racer who employed an ex-Schuerenberg chassis in his 305 winged sprint car debut. Marvel was swept up in an odd feature accident over the turn three and four bank, lightly landing him on his lid and crumpling his new top wing. After Ethan Fleetwood connected with Luke Bland and folded Luke's front axle, Ethan earned his first winged 305 victory.
Top-ten qualifiers Carson Short, Robert Ballou, Max McGhee, and Justin Grant had to come through the B, benefitting Boespflug and Beauchamp with front row seats for Friday's thirty lap finale. After a meeting of the minds with Rodney Reynolds, I headed for the hill where a healthy crowd was assembled. Standing just in front of the concession stand and eyeing moist ribbons around the top and bottom, I sensed that this would be a solid feature as two Bloomington grooves generally equates to happiness and satisfaction. Happy to report that this was indeed the case, it felt good to be standing amongst the large throng, giving hope that engines will continue to roar for years to come on the south side of this ultra-liberal city that does not genuinely value the presence of a racing facility in its back yard.
Interrupted by separate early flips over the turn one bank by C.J. Leary and Brent Beauchamp, the Hanford Hornet paced the first two tours before fourth-starting Bacon blew by him on the outside of two, immediately pointing his Hoffman Triple X to the bottom of turn three. Two brief stoppages by Kevin Thomas, Jr. (Epperson 2) and Jeff Bland, Jr. (own 38) compressed the field, which by the tenth tour had Bacon brushing back the attacks of third-starting Schuerenberg, Stockon, Boespflug, and 11th-starting Clauson. Choosing the high road, Bryan flew to fourth and was soon third when Hunter overextended turn four. By lap 18, the Bullet had turned up the heat on Bacon, who chopped Bryan's nose at the flag stand. One lap later, Clauson's top shelf tactic propelled him to P1, never to be headed the rest of the way. Bacon, tenth-starting Thomas Meseraull (after heavy mid-race contact with Ballou), Chase Stockon, and Robert Ballou secured second through fifth at the 11:06 PM checkered. Darland (from 14th), Schuerenberg, Andretti (from 15th), Brady Short, and McGhee scored sixth through tenth place money.
Easily earning his seventh USAC victory of 2016 (national win number two), this was Bryan's fourth consecutive conquest of Bloomington USAC national sprint car contests, winner of five of the last 11 national events in the Dooling/Hayward 63 Spike. All amazing statistics, the sensational numbers that Clauson continues to mount are not shocking, as he remains one of the best talents that USAC has ever seen. Choosing new roads as for the second year in a row his schedule is heavily weighted with winged sprint car contests, dare I say that his wingless skills have improved since focusing on the winged wars? Clearly evident at one of his best venues, his ability to ride the rim and carry speed by keeping his machine straight and smooth made all the difference, making this triumph seem like child's play. Completely dialed in with spot-on setups from his father Tim, if this duo chose to run the full schedule, one could only imagine just how many victories would result. Given his limited status, the competition has to be breathing a sigh of relief.
Saturday weather was spectacular as my nephew joined me for the lengthy journey southwest via 67/57/58/69, owning a goal of reaching Evansville's Tin Man Brewing Company prior to Tri-State Speedway's season opening USAC/MSCS Spring Showdown. Once on 69 at Elnora (not to be confused with Eldora), I-69 might have been a straight shot to Indiana 62, but it seemed like forever on this new road to nowhere. Located just north of Evansville's downtown on Franklin Street, I was pleasantly surprised by Tin Man's word-class brews and impressive cuisine, feasting on a stunningly delicious fried chicken and cornbread waffle sandwich (oozing with spicy maple mayo and bacon jam) washed down with an equally satisfying Golden Strong Ale brewed in limited supply for their Firkin Friday. After sandwich and suds disappeared, I unfortunately missed out on their signature dessert of pretzel bread pudding as hot laps were due to begin in twenty minutes. Anxious to return for my next hustle to Haubstadt, so many interesting options abound at Tin Man.
Wishing to avoid U.S. 41 stoplights to reach The Class Track, Danny directed me a few blocks west and then north on St. Joseph's Avenue. Eventually intersecting with Boonville/New Harmony Road, it took us through the tiny town of Darmstadt, which judging from the architecture fully embraces its German heritage. Home to another intriguing eatery appropriately named the Darmstadt Inn (a Tri-State Speedway sponsor), I later learned that longtime New York Yankee star and current Miami Marlins manager Don Mattingly maintained a residence near Darmstadt, even in the height of his big league career.
The stars must have been aligned as our 6:10 PM arrival had Tommy Helfrich and crew finalizing dirt track preparations for the evening's sprint car/modified double header. Slightly disappointed but not surprised by the relatively low turnout of 25 sprint cars, assemblies at Putnamville and Lawrenceburg were in the same ballpark, but I would much rather prefer an evening of four heats rather than three, wondering why more racers would not want a solid shot at $500 start money ($400 if you are not a member). Perhaps the late night drive home from the central time zone is one reason, but the biggest may be that most drivers want to race where they are most competitive and have a shot at winning. This leads to another consideration: there are generally only a handful who are consistently a factor to take home a trophy at Tri-State, as it takes a completely different philosophy (balls-out) to run up front on this tight paperclip, not favoring the technical racer who has it burned into his brain to hit his marks.
Lacking long-time crowd pleasers Daron Clayton, Hud Cone, Alex Shanks, Jon Stanbrough, and Bryan Clauson, Levi Jones was another gasser loved by the Haubstadt locals, unfortunately here just to officiate from his USAC golf cart. So, who could possibly be left to thrill the capacity crowd? That would of course be Kyle Cummins, the Pride of Princeton whose huge wheelie at the completion of his second qualifying circuit literally rose the roof. Rare to hear the cheers over a screaming small block, Cummins qualified quickest at 13.512 seconds in Hank Byram's Mach 1/CRE. Two Shorts timed in the top-six, which also included Stockon, McGhee, and Leary.
Unhappy with his sub-par time of 16th and feeling something amiss in the same Maxim chassis utilized on Friday, Robert Ballou reverted to a backup for his heat but failed to make the cut. Have no fear, as USAC's revised rule meant he still got his time back for the B, easily earning second. Perhaps the biggest shock of all was that sixth-quick qualifier Brady Short finished seventh in heat three and blew his shot at the pole. Brady became a victim of a premature heat race ending as a spinning Jim Shelton caused caution just after winner Chase Stockon and second place Dakota Jackson dipped underneath the checkered flag. I can remember USAC laps not being officially scored until everyone crossed the start/finish line but once again, the rules may have been revised, as I don't claim to read the rule book or attend drivers' meetings. Either way, Short's miss meant someone else could capitalize, as he is almost automatic from such a primo starting spot. Heat winners Max McGhee, Kent Schmidt, and Stockon began from third, second, and sixth. Shelton's last lap B-main revolution caused leader Chad Boespflug to stall, forcing Chad to charge hard in the final two laps when he surged past four cars to take fourth. Bret Mellenberndt was eighth, just one spot out of the A.
In that third and final heat, Stockon slid Rose Hulman sophomore Dakota Jackson for the win while coming to the white, the loss doing nothing to dampen Dakota's Tri-State spirits even after an earlier thrash to troubleshoot his Bullet chassis jumping out of gear. Excited about his upcoming season which will also contain 7 to 8 winged sprint car contests, despite a plethora of 8 AM classes Jackson spent the better part of March and April burning the midnight oil to finish homework and projects during the week so that he could head home on the weekend to assemble sprint car equipment. After earning 11th on this evening, Dakota will spend his second consecutive summer interning at Cummins when not longing for a return trip to Haubstadt.
Sixth in the B and earning an A-main berth was New Zealand native Nevil Algieo. This being Nevil's first career USAC feature appearance, his success is a prime reason why more low-buck racers should consider a trip to Tri-State. A 24-year resident of the United States and regular Paragon competitor for the last decade, this was the 51 year-old Algieo's first time out with a new Triple X chassis purchased from Indy Race Parts. While preparing to climb through the cage, Nevil offered a quick summary of his existence, having welded "pipes" (a.k.a. headers) since the age of 15. The former motorcycle road racer proudly married a trophy girl and taught the Howerton boys the ins and outs of welding these "pipes" from 1994 to 2000, the irony being that headers are now the number one revenue generator at Howerton Racing Products. Proud to take some credit for Bobby Labonte's successful 1995 season at Joe Gibbs Racing thanks to newfound power from his custom-crafted pipes, these days he fabricates drag racing pieces for Ray Skillman.
After the second surface revamp of the night, the modified finale was up first, leading to a 9:58 PM (local time) sprint car wave lap. Ocala winner Thomas Meseraull drew the pole with Sumar Classic victor C.J. Leary alongside. Sentimental favorite Kyle Cummins, who came within five laps of his first USAC score last September, would start sixth.
Naturally C.J.'s outside start shot him to the lead exiting turn two but after a lap one caution for a heavily smoking Max McGhee (breaking an oil filter mount, not an engine), Leary's subsequent turn one tilt on two-wheels opened the door for a T-Mez slider on the opposite end. Thomas set a torrid pace in his Marion Underground Construction DRC, preparing to enter lapped traffic on the sixth circuit as Aaron Farney spun to a stop on the south end.
Fourth-starting Chase Stockon was all over Meseraull after the restart and for the next six laps, the two would wage a thrilling wheel to wheel war. Although Thomas would lead to lap 11, as surface conditions slightly deteriorated, so did his shot at another win. A moving screen in turn four allowed "Showtime" to pilfer P1, immediately pulling away as his DRC seemed to enjoy better side and forward bite. Cummins climbed to second by lap 16 and slowly sliced Chase's lead to less than a straightaway, but he was going to need additional assistance to make something happen. Such assistance came in the form of a caution for Isaac Chapple, as the lap 25 pause also meant that lapped traffic would restart at the tail. In the final five lap sprint, Kyle immediately kept it close in one and two, earning enough backstretch momentum to mount a turn three threat. However, Chase dipped low enough to thwart the obligatory slide job and that was all she wrote.
Stabbing and steering the Superior Tank and Trailer DRC/Fisher now dampened by Pro Shocks, Chase collected career USAC victory number seven on his seventh speedway, moving him to the national points lead by 14 over Meseraull and 29 over Cummins. Used to towing back to Sullivan and later Elizabethtown (near Columbus), Stockon's short, post-race pull to Fort Branch is still a new road to get used to after his wife took a job at the Princeton Toyota plant last year. In the feature rundown, Cummins once again had to settle for second-best while Carson Short charged to third after falling as far as eighth. Chad Boespflug and C.J. Leary copped fourth and fifth. Last year's winner Brady Bacon bagged sixth while Robert Ballou (hardest charger from 16th), Brady Short, Meseraull, and an improved Kent Schmidt secured seventh through tenth.
Entering I-69 at state road 168, I followed it for nearly 100 miles back to Bloomington where it ends at exit 114. Reaching the west side of the Monroe County seat by 12:30 AM, the use of such new roads served up a psychological victory, as an early morning return from Bloomington is so much easier to digest than Vincennes or Terre Haute.
Interstate 69 from Indianapolis to Lansing, Michigan has been complete since 1971, frequently used by United States Auto Club competitors while traveling to Fort Wayne Coliseum indoor midget contests (up through 1989) and Gas City sprint car shows (since 2002). However, departing I-69 at state road 18 (now listed as exit 264) is an altogether new road for USAC, as the Montpelier Motor Speedway hosted its first foray with the Speedway, Indiana sanctioning body on Saturday, April 23rd. This late April sprint car soiree would be followed by midgets on Tuesday, May 31st, which serves as the kick off to Indiana Midget Week.
Built in 1903 as a half-mile horse racing facility, horsepower of the four-legged and mechanical variety alternated in Montpelier's 113 year span. Owning a colorful history, auto racing first began in 1915 while the final horse race was held in 1970. An extremely popular venue in the early 1900s, overflowing crowds of 10,000 to 12,000 came via the railroad on the west edge of the property, as did its Kentucky clay. Once known as the fastest half-mile clay track in the country, for four years Montpelier held the half-mile world records for Pacers and Trotters. Because of its horse racing fame, Montpelier's high school basketball team adopted the Pacers name, as did Indiana's ABA and NBA squad. Three times the covered grandstand for the half-mile was destroyed by heavy storms (1913, 1916, and 1969) and after that last one, the grounds lay dormant until 1986, when a quarter-mile auto racing oval was carved inside of the huge half. Changing hands countless times in the 113 years, five of those transactions took place in the early 2000s. Since 2009, Harold and Lori Hunter have held the reins and have invested great sums, the most notable improvements coming with restrooms, walls, catch fencing, and lighting. Despite heavy storms doing damage once again in 2012, the new owners were undeterred in their quest to keep Montpelier's rich racing history alive.
A strict 11 PM curfew demanded an early hot lap start of 5 PM, with heat races promptly rolling off at 6:30. Serious about making a positive impression, Montpelier kept its timing well intact, finishing the sprint car feature at 9:30 PM, even after a pair of periods for surface maintenance. Helped by a modest count of 25 sprinters just like last Saturday at Haubstadt, I honestly expected participation from more cars north of Indy. With only three cars sent home early, as previously mentioned the drama isn't nearly as thick as it could be with four heats.
Sixteenth in line, Brady Bacon's 14.199 second lap around the quarter-mile would establish a USAC standard. The first time for the Hoffman 69 to appear in Montpelier, USAC's all-time winner for sprint car contests was in the minority as the majority had been here one time or another since 2003. However, everyone's lack of experience at this facility, coupled with rapidly changing surface conditions, generated some radical gear and torsion bar swaps throughout the evening, far more than usual. Baldwin bandit Justin Grant and his crew chief Derek Claxton further experimented by bolting a pair of Slade Shock Technology Black Widow twin-tube oil shocks on the rear of their DRC, going with a pair of ARS on the front.
Despite no hot laps because of a faulty mag box, Thomas Meseraull timed second best while Stockon, Stanbrough, Cottle (Shane), and Cummins clocked third through sixth. Meseraull's Amati Racing 66 was looking immaculate as usual thanks to Tim "Tattoo" Parfrey, a native of Tucson, Arizona who has spent many a season assisting various Arizona squads. Tattoo's job is to keep Shane Wade's shop, truck, trailer, and sprint car spotless and the results show just how serious he is about his job. Crew chief Donnie Gentry says that he'll provide Tim an education on sprint car maintenance before he heads back home later this year.
All three Montpelier heats were claimed from the outside of the front row, with A.J. Hopkins (Jackson 42), Ballou, and Leary victorious. Even with Scott and Ryan Pedersen lending support to Chris Hoyer on Jon Stanbrough's Spike chassis, Jon was unable to capitalize on his top-six time by failing to transfer out of the first heat, as the reworked surface had passing coming at a premium. 2003 Montpelier champion Scotty Weir scratched the Keen 18 from the B-main, with South Dakota's Bret Mellenberndt (wrenched and maintained by Jim Forman) making a late race move to keep Josh Spencer and Stuart Hanft from A-main status.
Thankfully saved a feature seat by Joe Higdon as the main grandstand was standing room only, I bumped into Toledo, Ohio USAC loyalist John Nolan in the row beneath me. This being John's first trip to Montpelier, it was also his 1,993rd USAC event. Making his milestone 1,000th event in 1982 which was commemorated by a plaque from the legendary sanctioning body, today he picks and chooses as the desire to drive long distances is not quite like it used to be (he racked up over one million miles on his 1967 Volvo 1800s while chasing races). Expected to soon reach another milestone with his 2,000th USAC contest, the incredible achievement is expected to come at the Gas City Indiana Midget Week stop, as his immediate plans are to attend events at Toledo, Gas City, Terre Haute, Indianapolis, Clermont, and Montpelier. Given that no one except for Dick Jordan has been as loyal to the group in its 61 years, one would hope that someone in the organization will find a way to pay tribute to John on his extra-special evening. (With Toledo's wash out and barring any other cancellations, number 2,000 should come in Putnamville.)
Dave Darland and Kyle Cummins would share front row seats for Montpelier's first USAC national feature, as freshly tilled top and bottom grooves made setup decisions a true crapshoot. Darland beat Cummins to the top of turn one and led the first 11 laps in Jeff Walker's Maxim/Claxton. The action in those first dozen or so tours provided the best entertainment of the evening, beginning on the next go-round when Shane Cottle slid Cummins for runner-up rights through the west end. With the top-three of Darland, Cottle, and Cummins hammer-down on the top shelf, Brady Bacon was making hay around the bottom, surging from sixth to fourth. Twice a Montpelier winner in 2015 for Paul Hazen, Cottle made a bid for the lead on the bottom of one and two but by the back chute found himself in third when circled by Cummins.
With Bacon quickly closing on the top three, it was quite apparent that his team's setup and lane choice were right on the money. Snatching third and second on lap 11, one lap later he surged to first exiting turn two. Dave and Kyle soon bolted for the bottom, but it was one lap too late. Bacon's big lead was erased by an A.J. Hopkins front stretch spin on lap 20 and four laps later, another caution came when Bret Mellenberndt spun, as yellow lights turned red for a pit side emergency. With a slight delay expected, the red was opened up to crews who could turn wrenches on torsion stops and adjust air pressure. Any of the changes made were not enough to keep car 69 from victory lane however, marking the team's 94th in USAC sprint car competition, all coming since 1989. In the process, the 2014 USAC national champ became the Hoffman's winningest driver with 14 victories, surprising that such a low figure is number one.
Brady beat top-five finishers Cummins, Darland, Cottle (Shane), and Stockon. The second half of the top-ten consisted of Leary (hardest charger from 15th), Coons, Short (Carson), Stanbrough, and Grant. With all of these new roads a thing of the past, the series heads to familiar territory in Rossburg, Ohio for a two night stand on May 6th and 7th, with Stockon leading Cummins by 25, Bacon by 27, Meseraull by 31, and Darland by 67. Double-dipping on both nights with the World of Outlaws, it should be a blast! Hoping the weather allows me to catch some action on a busy weekend when the calendar flips from April to May, plenty of local options exist (Bloomington, Danville, Putnamville, Lawrenceburg, Haubstadt, Terre Haute, and Kokomo) but as usual, Mother Nature will ultimately chart my course. Even if nothing happens, I can take solace in the fact that I am once again on familiar turf, back in my element.
Volume 17, Number 14
Final Drive
If September served as my two-minute warning to savor the remainder of this 2015 racing season, October was the equivalent of trying to catch the ball and sprint to the sidelines, as there were simply not enough racing excursions remaining to keep the clock from showing all zeroes. No matter how much I'd like the season to stay alive, everything, good or bad, has its conclusion and racing is no different. Remembering contests at Winchester and Eldora running into early November back in the late '80s, track operators have since figured out that October is still a stretch to attract a respectable crowd. Apparently Indiana fans aren't as hearty as they used to be, but there is also something to be said about limiting the supply so that adequate demand is maintained.
Filled with less than a handful of final drives that offer the last few peaceful escapes from the stress of everyday life without requiring costly airfare and precious vacation time, October's initial outing came on the first Friday of the month. Not necessarily the most pleasant of excursions, Interstate 69 doesn't offer anything in the way of eye candy, but it is efficient once outside of Fishers. Battling some abnormally stiff winds blowing from the east, judging by the ease with which they were tossing my full-size truck around, I should have known something was up. Upon exiting said vehicle, it sure felt like fall, as the bitter chill from those blustery conditions demanded every piece of clothing I carried, a rather a clear indication that those feelings of freedom enjoyed during the outdoor racing campaign were vanishing into thin air.
54 degrees at 6:30 PM felt more like 34, easily able to land a top row vantage point alongside USAC staffer Richie Murray. Such horrendous weather kept the crowd to a bare minimum, enticing attendance from only the most hardcore. Dropping just two degrees two and a half hours later when the 25-lap finale rolled off, surface grip was on opposite ends of the spectrum. Starting with vapor pouring off of right rears for hot laps/qualifying, over those 150 minutes the winds had polished the surface smooth and slick, generally not the most optimal conditions for wingless competition. However, the incredible action that would soon follow was the season's most pleasant surprise, believing Scotty Weir's thrilling victory to be my favorite feature of 2015.
Thirty-two sprinters populated Gas City's pits, ripe with some rather interesting combinations. Most notable was Dave Darland's initial association with Eaton, Ohio's Jamie Paul, who has previously provided seats for Tyler Hewitt and Shane Cockrum. Another unique union saw Casey Shuman with Lincoln Park Speedway car owner champ Jeremy Ottinger, not to mention Haubstadt hero Dakota Jackson with Dave Stensland, the latter a previously planned combo for Brownstown's No Way Out 40 way back in March. Yet another first-time pairing came with Colten Cottle and long-time car owner Ron Lambertson, who was back in business after a prior partnership with Roy Jackson's 42. Scotty Weir (Keen 18), C.J. Leary (Pedersen 4), and A.J. Hopkins (Jackson 42) all reunited with rides from their past.
Recently moving to Wabash, Indiana after calling Anderson home for the last 33 years, Ron Lambertson's inventory for the younger Cottle included a DRC chassis and Dick Kercher mill, wearing an unfamiliar number 1. Remembering Ron's number to be 8L all the way back to his Dallas Kinser days, he also gave Colten's uncle Shane a big break back in 2003, winning in their initial outing at this same venue. Lambertson has been around this sport for nearly his whole life, starting when he was just 13 years old at Warsaw Speedway (1964). Not too many years later, he became a car owner and hired Jerry Priest for the 1972 through 1974 seasons. At the time, Jerry was married to Ron's sister but the two eventually divorced. Priest remarried Tony Elliott's mother Sue after she lost her husband Jim to a motorcycle accident in the spring of 1973. In a bitter twist of irony, on this same day when I spoke to Ron, Sue would lose her son Tony as well.
Winning the first heat was USAC point leader Robert Ballou, who used this Gas City outing to sort out the handling on a Maxim chassis that did not perform to his level of expectation at the recent Four Crown Nationals. Driver Justin Grant, mechanic Derek Claxton, and owner Ken Baldwin were doing the same with their DRC chassis, brand new at Eldora when they failed to crack the A-main. Having tested the previous evening in Kokomo, I also noticed a switch in shock brands on the orange 5, going from SuperShox to Factory Kahne.
Transferring four from heats and redrawing the top-two, that rewarded Logan Jarrett with the pole, his first race back since his early August traffic accident. Fellow front row mate A.J. Hopkins reached the top of turn one first as the fight for runner-up status fanned three wide on the back chute. Tyler Courtney was one of those three, but Tyler's untimely push between three and four took out Jarrett, who dramatically cartwheeled over the cushion. This time, Logan was ok after the ordeal.
Right after the red, Scotty Weir followed the infield tires and emerged with first, fending off a feisty Hopkins. Seventh-starting Dave Darland gained three spots on the initial tour and was soon following Weir, immediately stepping upstairs despite a miniscule cushion that existed on the east end. Scotty stayed low and allowed the Lincoln legend to lead by turn three, but the Marion, Indiana native found some bite at the bottom of four and would regain the premier position at the start/finish each lap. This back and forth battle would continue for four or five laps until Darland stole Weir's spot at the bottom of three. Still high in one and two but low in three and four, Dave maintained a slim advantage through thick traffic, allowing me to divert my eyes to an incredible fight for fifth that contained nine cars. The awesome action was put on pause on lap 19 for a Max McGhee spin, allowing third-place Tyler Courtney a true shot as his top-shelf tactic had been extremely effective.
For the final six laps, it was a completely new contest as the lead trio was extremely tight. Tyler continued to ride the rim and inched past Scotty to score second, soon giving Darland all he could handle for first. Sliding the leader through one and two with three to go, Courtney was unable to seal the deal. It was more of the same the next time by, almost too close for comfort; thus allowing Weir to walk away with the lead thanks to his consistent launches off the bottom of two. Courtney again attempted one final slider on Darland to no avail, gift-wrapping Weir's first win of the season.
Behind Darland and Courtney came Shane Cottle, and Robert Ballou. After bagging the B, Terre Haute traveler Brandon Mattox surged from 17th to 6th, impressive in his first-ever Gas City go. Grant, Leary, 16th-starting Critter Malone (in a rare wingless start), and 19th-starting Casey Shuman took seventh through tenth at the 9:17 PM checkered flag. Despite a few disappointing crowds unfairly influenced by weather, one can only hope that the O'Connors are willing to give Gas City another go for 2016, as the majority of their six race slate saw some extremely enjoyable and entertaining action.
On top of the world during my drive home, by the time I reached the spot where State Road 37 turned from two lanes to four I thumbed through my phone for open wheel updates, immediately brought back to reality when spotting the mind-numbing news of the plane crash that took the life of open wheel icon Tony Elliott. Just a few miles from the location where I learned that Jason Leffler had left us for good back in June of 2013 (also on a return trip from Gas City), Tony's abrupt exit cut extremely deep, impossible to express in words the contributions he made to the Indiana wingless wars as a competitor (keeping the sport alive in the mid-to-late 1980s) and more recently as a fan, ambassador, and sponsor. It's not every day that one gets to interact with living legends like Elliott, but such was the case as he was still a very big part of this scene. Sadly, his unique laugh, sharp sense of humor, upbeat outlook, playful personality, and permanent grin are now just memories. One of the sport's most colorful characters, sprint car racing's vibrancy was instantly and infinitely dulled when he left us, much like a stiff wind blowing leaves from trees and leaving us without autumn's red, yellow, and orange foliage. Forever desiring to host a roundtable discussion with Tony, Dave Darland, and Kevin Thomas regarding their rivalry from the '80s and '90s Indiana sprint car scene, sadly my dream is no longer attainable. Doing more living in one of his 54 years than I may get to do my entire life, Tony Elliott truly enjoyed his existence, but it still haunts me as I ponder what was going through his mind in those final moments of impending doom. It's a sad, sad story and we are all going to miss him dearly, but it sure was a blast to be a part of his world. Unfortunately, we just didn't know how good we had it when he was around.
Exactly one week from Gas City's final go I bypassed Brownstown's Fun Fest, a thriller bagged by Chase Briscoe for his first win in a limited 2015 campaign. Instead, I opted to wait a day and join my nephew and Matt Pedersen in a final drive to Eldora Speedway for its third annual Sprintacular, gladly going out of our way to Greenville for a sack of Maid Rites. Eventually meeting up with Tom Percy, the enjoyable evening provided a respite from the recent tragedy that consumed my thought processes. Known for attracting a large contingent in this sprint-only soiree, 2015 was no different as a record-setting count of 126 machines crammed the infield, requiring a couple dozen to pit outside of turn three. The headlining All Star Circuit of Champions drew 42 while the NRA winged 360s tallied 28. The wingless BOSS brigade boasted an all-time record assembly of 56, backing up the 53 that showed for USAC's Four Crown just two weeks prior. Four men did double-duty with and without aerodynamic aid, namely Bryan Clauson, Gary Taylor, Bill Rose, and Brandon Matus. Six double-dipped in the airfoil-only arena, specifically Greg Wilson, Tanner Thorson, Randy Hannagan, Shawn Dancer, Ryan Ruhl, and Jared Horstman. Abnormal wingless chariots were assigned to Clauson (McGhee 7), Taylor (Courtad 9), Rose (Kissel 320), Hunter Schuerenberg (Walker 11), Landon Simon (Jim Simon 22), Mike Miller (Marshall 32), Todd Kane (Pearson 69), and Chad Boespflug (Hazen 57).
With hot laps commencing an hour and a half earlier than usual, much like the Four Crown the Sprintacular attempts to squeeze ten pounds of racing into a five pound bag. After hot laps, the All Stars took time through a single car, single lap process while the NRA required seven sessions for their four-car groups, both laying down starting positions for their heats (numbering five and three, respectively). BOSS aligned their six heats by a blind draw, creating some entertaining action as so many of the fast guys drew poorly. That left one trophy dash (All Stars), four B-mains (two for BOSS), and three A-mains, waving the final checkered at a respectable 10:29 PM.
As expected, BOSS prelims were best, highlighted by a ninth to first flogging by USAC point leader Robert Ballou. 2015 BOSS champion Shawn Westerfeld, J.T. Stapp, Tyler Courtney, Scotty Weir, and Cody Gardner claimed the other five, the furthest drive being from fourth. In addition to Ballou, other noteworthy performances came from Logan Jarrett (8th to 2nd), Clauson (9th to 3rd), Luke Hall (8th to 3rd), and Jarett Andretti (7th to 3rd). Stacked by a much more substantial cushion than the Four Crown, Eldora dirt enticed a lot more rim riders, which bit Kent Wolters and Joss Moffatt in separate B-main incidents. Operating in the final transfer, Lawrenceburg champion Moffatt mauled the wall and went for a huge ride, which up to this point was the biggest of the night.
Despite the breathtaking BOSS heats, the All Star finale once again stole the show. Four-time All Star champion Chad Kemenah was on it all night, scoring a clean sweep as he clocked quickest in time trials (12.841), battled with Steve Kinser to bag his heat, took the trophy dash, and used a late race romp to eclipse six-time series champ Dale Blaney, landing in Eldora's victory lane for the first time since June of 2003. Flexing his Muddy muscle by hustling from tenth to third in the dash, with the aid of lapped traffic The Low Rider lifted the lead from Kemenah off the bottom of turn four on lap 15. However, Chad was not done. After a lap 18 restart for a Sheldon Haudenschild red, he took to a choppy top shelf and turned up the heat. With nine laps left, his humongous turn two momentum shot him past Blaney. Enduring one more restart and an attempted slide job with four to go, Kemenah collected his second All Star win of the season. Just like last year, Blaney settled for a Sprintacular second while outside front row starter Steve Kinser was third. Tim Shaffer and 22nd-starting Rico Abreu rounded out the top-five. Winning this race one year ago and still exhibiting zero fear, Rico of course put on a show with his high-side heroics and scorching slide jobs, truly a shame to see such talent wasted with NASCAR nonsense. Sixth through tenth included Four Crown WoO winner Wilson, Logan Wagner, Cap Henry, Cody Darrah, and Danny Holtgraver.
Crediting his car owners Rob and Rita Hunter, the mechanical genius of his brother Brian and a recent switch to Maxim chassis, Kemenah commented from victory lane, "I'm kind of speechless right now. We've been so mentally beat up this year. We tried to reinvent the tire for at least six months and it's still round." In discussing his mindset of running down a nearly unbeatable Blaney, a succinct Chad concluded, "He pissed me off. I'm tired of losing to him. I just needed to get back up on the fence and get after it. Either win it or wear it."
Missing the All Star cut after a 19th to 7th B-main surge, Coldwater, Michigan's Ryan Ruhl was the NRA 360 beneficiary after leader Kyle Sauder's vicious turn one tumble, topping Moffatt for the evening's most spectacular spill. With a huge lead in hand, Kyle absolutely killed an Aaron Call/Janet Hollbrook J&J chassis after scaling the right rear tire of lapper Ronnie Blair. Inheriting first place after firing from fifth, Ryan ruled the final 14 tours, registering his first Eldora conquest. Ruhl easily outdistanced 12th-starting Jared Horstman, Devon Dobie, 20th-starting Randy Hannagan, and Tanner Thorson.
The final BOSS battle of 2015 offered a championship front row, both present and past with Shawn Westerfeld and Dustin Smith. Westerfeld immediately dropped like a rock, falling outside of the top-ten at the conclusion of lap one. Smith led the first four circuits but could not contain a turn one slider from third-starting Ballou, who built a half-straight advantage in just one lap. Owning a massive margin by the halfway mark, Robert nearly threw it all away after climbing the right rear of Brandon Spithaler. One final caution with six laps left eliminated his huge lead, but Ballou still ruled the roost and tallied his 15th triumph of the season. In that final dash, Bryan Clauson slid Chad Boespflug for second and hung with the leader for a lap or two, but a teeter-totter ride in turn one sealed his fate. After the checkered fell, Brandon Spithaler was again the center of attention as he dumped Ray Marshall's deuce in corner four.
Serious sliders were the special of the day as the top-five finishers employed them frequently in their charges from deep in the field. Clauson came from 13th to snag second while Boespflug gained valuable Big E experience by successfully pulling off a multitude of the signature dive bombs, producing a respectable third in his Paul Hazen reunion. Hunter Schuerenberg shot past 15 cars to find fourth while Scotty Weir worked his way past seven to secure fifth in the Keen 18. Operating as high as third, Tyler Courtney scored sixth for Chuck Eberhardt while Dallas Hewitt settled for seventh after running second for the majority of the race in Mark Swanson's Twister. Cody Gardner, 18th-starting Todd Kane, and Logan Jarrett rounded out the top-ten.
Continuing to say what is on his mind without filter, Ballou bellowed, "We came here a couple of weeks ago for the Four Crown with a new racecar and it wasn't what it was cracked up to be. This thing's about ten years old, it's an ex-Danny Smith car, and I haven't ran it since 2011. We took all the parts off the other car and put this thing together. This is one hell of a Maxim chassis. I've got to thank Derrick Bye. We busted our butts getting this thing done. We finished it at about two o'clock this afternoon. It was good from the time we started and I wish we had this thing at the Four Crown. Hats off to whoever the track prep guy is. He did his homework tonight and gave us something to race with. It was pretty brutal the other week. But, if it was easy, everyone would have a track prep job." With all three features won from the top shelf, that's the way I want to remember my final drive home from Eldora Speedway for 2015.
The day after Eldora I was headed northeast to Warsaw to pay my respects to Tony Elliott on an otherwise gorgeous Sunday afternoon. It's hard to believe, but the last time I traversed Indiana State Road 15 was 1989, following photographer Steve Remington to an All Star sprint car meet at Warsaw Speedway. Tony's visitation was held at the massive Warsaw Community Church just south of town, where some comfort was gained by sharing sentiments with so many familiar faces from the racing fraternity, all of us feeling the same void from losing this larger than life personality. Personally extending my condolences to Tony's wife Cindy, I was amazed at her resilience in such a tragic time. I'm not sure how she pulled it all together, but she did, pleasantly surprised by the selection of so many perfect pictures that chronicled her husband's incredible career, all professionally blown up, mounted on fiberboard, and placed on easels throughout the church. Enjoying the golden oldies of Tony with his go-kart and street stock, I couldn't help but get choked up as I thumbed through his racing scrapbook from the 1980s, having attended so many of the same affairs – again not knowing how good I had it at the time. Spotted in so many of those pictures was Tony's longtime pal Roger Brandon, who naturally was at the end of the line to offer an embrace. With so many of his helmets, suits, and trophies on display, I was most moved by the sight of Tony's 1998 USAC championship winning Jeff Walker Racing Stealth, proudly wearing the number one as it was parked outside the front doors along with his most recent Little 500 ride belonging to Gene Nolen. Both Walker and Nolen thrashed all week to assemble these machines from a bare frame and my hat is truly tipped to these men as their efforts and ultimate tribute truly made my day. It's never easy to say goodbye, and Sunday was no different.
Next up on my October agenda was the final journey to Kokomo Speedway, the 15th occasion to enter the City of Firsts for thrilling auto racing entertainment this season. On tap was the ninth running of the Kokomo Klash, preferring to partake in Friday's open wheel offering that saw 161 cars from five different classes overflow the pit area. Focused on the 29 sprint cars and 32 midgets, also joining in the fun were 27 600cc mini sprints, 30 thunder cars, and 43 hornets. Saturday's finale was entirely tin-top, 179 cars strong.
Arriving as combined hot laps and qualifying were concluding, Justin Grant was the quickest of all in Kenny Baldwin's 5, hearing how previous Baldwin Brothers bandit and 2015 track champion C.J. Leary prematurely called it a night with terminal engine issues. Often times pairing drivers with unusual rides, this year's Klash had Brandon Mattox getting the nod in Jerry Burton's 04, interesting to see news that normal pilot Jeff Bland would be heading back to his own 38 for 2016. With Brian Cripe calling the shots, Pennsylvania transplant Tony DiMattia acquired an ex-Chris Gentry DRC that previously found victory lane with Chase Stockon.
With the Klash format altered slightly from standard Sunday night sprint car affairs, there would be no feature redraw, instead lining the finale straight up from heat race finishes. Offering plenty of motivation to win, Darland, McGhee, and Cottle (Shane) took top honors from the first or second row. Back in Jeff Walker's 11, Darland may have secured the pole, but it wasn't without its share of drama. Doused with fuel as it was wildly spraying through the dashboard and around the gauges, Dave ignored the distraction and still got the job done despite a noticeable loss of power. Believing a fuel line was loose, such was not the case as Walker's squad eventually found a broken valve. Before strapping in for the feature, the driver was still confident that he could win on seven cylinders, as the plan was to remove the spark plug on that bad cylinder and block off the fuel line. Unfortunately, not all plans come to fruition as while warming up on the track, the all-time Kokomo feature winner said his engine shook abnormally under heavy acceleration. After turning down the fuel to build some heat, the power plant shut off, scratching an opportunity for a special victory as Tony Elliott's son Brandon was on-hand to wave the green flag and award the feature-winning trophy. Always enjoying storybook finishes, it would have been rather appropriate for Walker and Darland to win in honor of the man who made both infinitely better racers. But unlike NASCAR, Indiana sprint car racing is the real deal, with no artificial endings necessary.
With Darland's scratch, Shane Cottle copped the pole position and the rest, as they say, was history. So fitting that Paul Hazen's machine would claim this emotional Kokomo round given the car owner's rich history of winning on these same grounds with Jim Elliott and his son Tony, having a third generation Elliott join him in victory lane provided that storybook ending after all. Even though he led all 25 laps, it was far from a leisurely drive for Cottle, his second of the season here and fifth overall in 2015.
A cool 39 degrees at the drop of the green, outside front row starter Max McGhee led to turn one but hooked the turn two cushion and fell to fourth as Cottle coaxed the lead in his DRC/Kercher. Two early cautions for Joe Bares and Brandon Mattox kept Shane honest, with Jerry Coons, Jr., Brady Short, Logan Jarrett, and Justin Grant following him back to green with 21 laps left. The Throttle consistently laid low in one and two while flying high in three and four, keeping Coons at bay during a long green flag stretch. Inching to the edge of my seat as Grant galloped to third by bouncing off the boards, Short would regain the show position when the former BCRA midget master gathered Mattox in a synchronized spin. Three laps later, McGhee scaled concrete in corner two and stopped, setting up a six lap dash to the checkered. Restarting 4th from 14th, Kevin Thomas, Jr. hustled to second, running out of laps in Mike Dutcher's Maxim/Fisher. Chasing Cottle and Thomas were Coons, Short, and Jarrett. Grant recovered to score sixth while Casey Shuman (up from 16th in Jeremy Ottinger's DRC), Kyle Robbins (from 17th), Jarett Andretti, and Colten Cottle completed the second half of the top-ten.
The Klash's 32 midgets offered a wide array of equipment and talent. The cream certainly rose to the top in the four heats as winners included recent Spoon River POWRi producer Justin Peck, three-time 2015 POWRi victor Spencer Bayston, twice Indiana Midget Week champ Shane Cottle (Ecker 57), and current USAC point leader Tracy Hines. Kokomo maestro Justin Grant (Gardner 38) put on a show in finishing second to Bayston but because he did so on just three cylinders forced him to scratch from the feature lineup. An up-front B-main battle between Logan Arnold and Noblesville's Jeremy Warren was cut short when Warren encountered issues, this coming after Richard Drangmeister climbed a wheel in corner two and flipped wildly. Before the accident, 32 year-old Drangmeister commented that this was the first time he had driven this older Edmunds chassis, having purchased the car for a measly $200 at a Dave Dayton Thanksgiving auction with his allowance money when he was just 10 years old.
Powered by a 2.2 liter Chrysler, Richard was one of three generations of Drangmeisters in competition, as this Crown Point/Hobart, Indiana family epitomizes the ultimate little guy looking for a place to race. His father Ken, who was just ten days short of a 65th birthday, had his iron block Pontiac go up in smoke during the B-main while Ken's 23 year-old grandson Eric Hein did manage to finish with his Olds Quad 4 powered Ellis copy. The Drangmeisters represented three members of a healthy assembly of "D2" Klash competitors, which could indeed become the wave of midget racing's future as POWRi is said to be sanctioning such a division while Wisconsin's famed Badger series is modifying its rules to only allow stock block/stock headed engines for 2016. Speaking of Badger, Chili Bowl and Hut 100 winner Scott Hatton was on-hand with a stock Honda and finished a respectable third in his heat race and sixth in the feature.
As for that midget finale, it was well worth the wait and the 37 degree temperatures, quite an entertaining little affair. Peck, Bayston, Cottle, and Hines made up the first two rows by virtue of their heat race wins, such a surprise to see Hines spin across a slicker than expected bottom groove in turn three of lap one. But, with 25 laps left, he had plenty of time to get back to the front, as I made the prediction to Joe Higdon that he would come back to win the thing. I wasn't far off.
One lap after Tracy's miscue, a three car scrum involved Justin Dickerson, Dave Camfield, and Arnold, going all green until lap 19. Peck briefly held P1 until 2013 Klash midget winner Shane Cottle showed him how low one can go at Kokomo, stealing the lead while eighth-starter Casey Shuman, doubling his pleasure in a Dickerson team car, made his way to third. Hines, meanwhile, was already up to 8th. Ten laps in, Cottle relinquished any shot at a clean sweep when he pulled to the infield, placing Peck in the hot seat once again. The trio of Shuman, Hines, and Bayston scrapped for second for a few laps and just as Spencer slid Casey in turn one, Shuman's car gave up the ghost, illuminating amber bulbs for the final time.
Peck, Bayston, and Hines led the dwindling field back to green but Justin would jump too high in turn four, dramatically handing the lead to a bottom-feeding Hines. Tracy soon felt pressure from the rim-riding Bayston, who flirted with the fence in his Bryan Clauson Inc. Spike/Esslinger. The recently turned 17 year-old from Lebanon, Indiana actually made that treacherous top shelf work, overhauling Hines with three laps left to take his fifth feature victory of 2015. Chasing Spencer and Tracy to the Saturday morning checkered were 12th-starting Shane Hollingsworth, 9th-starting Nick Speidel, and C.J. Leary. Sixth through tenth included the aforementioned Hatton, Austin Prock, 16th-starting Ryan Greth, 20th-starting Kurt Mayhew, and Dalton Camfield. With two more features to go, sadly it was time to bid a fond farewell to K-town as there were too many morning tasks to complete before needing to leave for Lawrenceburg.
Short on sleep due to the late night, despite a definite feeling of fatigue my internal clock kept reminding me that it was time get my butt out of bed as time was truly running out in this 2015 outdoor agenda. Needing to him the gym, mow, and stop to see Speedball before my ultimate final drive, October 17th's excursion to Lawrenceburg Speedway's Fall Nationals was hardly reason for celebration as the end was clearly in sight. However, if there was any way to put an exclamation point on the last seven months, a USAC Midwestern sprint car finale would be just the ticket.
Preceded by a Friday night World of Outlaws round claimed by Paul McMahan, Kings Royal victor Shane Stewart scored second and was the only outlaw regular to shed wings for a next day $1,000 bonus. Not surprised by the lack of Saturday participation due to a completely segregated sprint car world, despite Shane's ugly meeting with the turn three wall in qualifications it was still a noble effort, wishing more winged warriors would be willing to step out of their comfort zone. While Shane's Larson-Marks Cool chassis (imported from Australia) was cracking concrete, I was instantly taken back to Hales Corners 1991 when Sammy Swindell tumbled in CRA Midwest Tour qualifying, with Donny Schatz's 2003 Hoosier Hundred hot laps incident also coming to mind. After Stewart's rough ride broke the frame at the radiator on both sides, my immediate thought was that the days of Outlaw drivers moonlighting in anything other than Chili Bowl midgets is effectively over and has been since the Mopar Million. Thankfully, there are still a few old souls left like Bryan Clauson who prefer to buck the trend, but it's going to take more than a grand for the usual wingers to go without.
Except for Stewart's early drama and the bitter chill from a typical Indiana autumn, the night had plenty of other positives. So many people to see and speak to, immediately upon scaling grandstand steps the first two included Jack Hewitt (soon headed South for the winter) and 2000 HARF sprint car rookie of the year Jeff Wilson (crediting Jack with helping him in his first Eldora late model outing in 1994). After hot laps and qualifying came seven-time Lawrenceburg Speedway champion Greg Staab, French-Canadian sprint car star Dwayne Spille (with an accent on the E in Spille), and five-time Daytona 24-Hour winning crew chief Kevin Doran, all Cincinnati racing mainstays. Despite discerning a distinct front end push, Staab got to stab and steer Josh Shaw's cageless Ellison Special for several hot laps while his protégé Joey Kerr strapped into another Shaw creation and bravely stood on the loud pedal, attempting to run down eventual vintage feature winner Mike Mason.
In addition to my final encounter with pit side personalities, naturally there was yet another chapter unfolding in an air-tight three-way USAC championship conflict containing Robert Ballou, Chase Stockon, and Dave Darland. With $1,100 up for grabs for quick time (the extra $1,000 came from the world-famous whistling turbodiesels of the Lawrenceburg Speedway fire and safety crew), there was added incentive to get after it early. Twelfth in a line of 34 cars, 2013 track champ C.J. Leary had his dad calling the shots on his DRC, bagging the bonus bucks with his 13.898 second circuit. Tony DiMattia was an impressive second-best while Kyle Robbins also opened eyes with the third fastest lap. Dave Darland, Kyle Cummins, and Chad Boespflug (Nolen 20) rounded out the quick-six. Title contenders Chase Stockon and Robert Ballou did not help their championship cause after clocking 12th and 24th.
Lawrenceburg's cushion was pushed high unusually early in the evening and the slightly slick surface paid dividends during these final heat races, perhaps the best I have ever witnessed at the revamped 3/8ths mile Lawrenceburg layout despite being won from either the first or second row. Thoroughly enjoying a third heat battle for the final transfer between Jarett Andretti, Robbins, and a vastly improved Lee Dakus, the fourth heat was supremely stacked with Ballou, Darland, Grant, Stockon, Stanbrough, and Hines. The latter two would have to come through the consy, as would four of the quick six qualifiers. K-Robb was one of those four, but his wall contact and subsequent spin excluded him from the A. The same status befell Dallas Hewitt (Swanson 21), Dakus, DiMattia, and Mattox, all involved in some sort of calamity.
With ten thousand George Washington portraits providing plenty of motivation, 11th-quick Scotty Weir and defending series champ Brady Bacon occupied front row seats for the 30-lap finale. Bacon had to be the favorite as his hometown Hoffman Triple-X/Williams Precision Mopar scored the last USAC win here in July. Beating Scotty to the top of turn two, Brady led the first lap while Four Crown winner Thomas Meseraull flew from fourth to second in his Amati Racing DRC/Dynotech. T-Mez seized the day with a second lap slider through one and two, but Dave Darland's backstretch stoppage brought caution and put Bacon back out front. Caused by his Phillips Motorsports DRC jumping out of gear, this incident came after breaking a set of quick change gears at the conclusion of qualifying. Much to the dismay of my grandstand neighbor Joe Higdon, yet another prime opportunity for the '99 series champ to gain points was flushed down the drain.
On the restart, Meseraull wasted no time in getting down to business, sliding Bacon in turn one and showing supreme speed, enough to build an insurmountable advantage. Encountering lapped traffic by the 12th tour, T-Mez might have been slightly shadowed by Kevin Thomas, Jr., but KTJ could never close the gap, especially after the third and fourth corner attracted rubber and made the remainder of the race a single-file affair. Tallying his second USAC triumph in a row, this was Meseraull's monumental tenth win of the season and fourth at Lawrenceburg, truly a career year for the old-school crowd-pleasing cowboy. Thomas, Jr. was runner-up for the second night in a row, with Leary, Bacon (earning a monetary bonus from Indy Race Parts and Spike for having the best average finish between Friday and Saturday), and Chris Windom (from 15th) completing the first five. Kody Swanson (Wolters 21), Stockon, Weir, Stanbrough, and hard-charger Ballou (up from 21st) secured sixth through tenth. Darland could only claim 15th, losing eight points to Ballou as he now sits 43 in arrears. Meanwhile, Stockon is just 19 points out of first as the series heads west for the remaining six shows.
After gifting us with his now signature victory lane howl, an amped-up Meseraull addressed the chilled crowd and USAC microphone master Dillon Welch. Thomas touted, "Thank you so much for coming out and being a part of this deal. This was my tenth win on the season. How about that! Ten grand for my tenth win in front of my favorite fans! I'm pretty Shane Wade needs to call Todd Keen and thank him for giving me so many laps down here because really, without the 18 car and all the laps I had here, I wouldn't be up here (in victory lane). But you know, with this 66 Amati Racing team, we're on a roll. Donnie had 'er hooked up tonight!"
Done by 9:55 PM, that left enough time for one last trip through the pits with Railroad Joe, making a pact to meet up again on December 12th for the groundbreaking Indy Invitational at Banker's Life Fieldhouse, a dirt midget/outlaw kart doubleheader conducted on a dirt surface constructed overnight on the home floor of the Indiana Pacers. With recent news of USAC sanction added to DuQuoin's indoor Junior Knepper 55 on December 19th and of course Fort Wayne's Rumble in the Expo on December 26th and 27th, this off-season doesn't quite seem so daunting – not yet at least.
Still in a Queen City state of mind on my ultimate final drive home, I tried extending the evening by stopping for a Skyline fix in Batesville. Mulling over the last seven months that amounted to a 54-race campaign, I easily remembered the thrilling Sunday afternoon opening round in Brownstown, Indiana like it was yesterday. But, once getting into my racing groove, each successive weekend resulted in one big blur, thus defining this 2015 season that was now in my rearview mirror, truly a thing of the past.
Defined as the means for transmitting power from the propeller shaft to the rear axle in an automotive vehicle, the term "final drive" also has similar significance in this soon-to-be offseason. With these final four races of October leaving such a positive lasting impression, the resulting energy from these recollections constantly turn an imaginary set of gears in my head, thus propelling me not just to those December indoor midget duels, but also the far-reaching prize of spring 2016 outdoor action. No matter how much I try to convince myself that I should be cutting back on my open wheel attendance and resulting writing, when the action is in such short supply I can't help but crave to be back in my dirt track element and living life to its fullest, the only way I have known for the last 30 years. Having dragged my feet these last two weeks in completing this final column of 2015, I have finally come to grips with the fact that the clock has indeed expired. Yes, it might be time to move on to fall and wintertime activities, but with my mind still stuck in October those gears are in perpetual motion, mentally priming me for that next, elusive race. I know I'm ready – how about you?
Volume 17, Number 13
Two Minutes
When pondering the most awkward and uncomfortable moments in my life, only occasions such as first dates, weddings, and being pulled over for speeding exceed the uneasiness associated with the start of a new job and new school year. Going back to September of 1986 and a painful beginning to my freshman year of high school, one of the few comforts was having an English teacher who was also one of our football coaches, extremely casual in his approach and clearly sports-minded. So, in the theme of NBA public-address announcers, two minutes from the end of each class Mr. Morris anointed one student to call out a warning: "Two minutes. Two minutes." Yep, that was our signal to finish up any work, pack up our belongings, and wait for the bell to move on to the next period.
Fast-forwarding to 2015, of course football season has begun, with the aforementioned two minute warning serving as an integral aspect of this game as well. Unfortunately, football's beginning signals the imminent end of outdoor racing in Indiana, as the entire month of September is essentially sprint, midget, and champ dirt car racing's two minute warning, leaving just a smattering of October shows to enjoy before settling into hibernation mode once again. Seriously, does it have to be that time already?
My month of September open wheel activity began with a highly enjoyable journey to Du Quoin, Illinois for USAC Silver Crown racing's traditional Ted Horn 100, creating humongous momentum for the rest of the month. Playing passenger as my nephew acted as chauffeur, family friend Matt Pedersen was an integral participant in this expedition that initially directed us to downtown Du Quoin's St. Nicholas Brewing Company, enjoying some excellent craft beer and pub grub in an ancient hotel sitting along the former Illinois Central main line. An extremely muggy 90-plus degree afternoon/early evening at the Magic Mile, I will save the details for an upcoming column in Flat Out magazine, but suffice it to say this was the most thrilling one mile dirt champ car contest I have ever been witness to in my 30 years of attending such endeavors. With last year's winner Shane Cockrum and asphalt outlaw Aaron Pierce scratching and clawing under the same lead blanket as pole sitter Kody Swanson, Shane and Aaron exchanged the runner-up slot several times, pulling even with the white number 63 as they applied serious heat. So spectacular and stealing the show, the fearless Pierce pounded the cushion lap after lap and threw sparks as he kissed concrete on three separate occasions, the last of which eliminated him from battle. Just before Pierce's spin, Cockrum slid Swanson in turn three, able to repeat the feat on the restart. Much to the delight of the hometown crowd and retiring announcer Jim Childers, Benton, Illinois's fire chief led the remaining 33 tours to take his second Du Quoin victory in a row, his third career Silver Crown score. Chasing the Hardy Boys Maxim to the checkered were Chris Windom (blowing a tire on the cool down lap in the Gormly 98), Swanson, Justin Grant, and Casey Shuman (Bateman 55). Although we stopped for caffeine and nourishment in Effingham, there's nothing like an epic event to keep me energized on a four hour ride home in the wee hours of Labor Day morning.
Less than a week later, Montpelier Motor Speedway's BOSS bash was the next play in my two-minute drill, skipping hot laps so that I could stop for a shake at the Upland, Indiana ice cream institution known as Ivanhoe's. Choosing peaches and cream as one of 100 flavors, never mind the thirty minute wait as there are few things in life that I enjoy more than ice cream. Suffice it to say, but it's a good thing I don't live any closer as the notion of getting my name on a plaque for sampling all 100 flavors is a challenge that I feel confident I could master in a short amount of time.
Arriving to find a field of 40 machines for a standard $1,500 to win/$200 to start BOSS payout, the pit area offered an extremely old-school feel. Basking in the glow of such living legends like Jack Hewitt, Bob Hampshire, Rusty McClure, Ralph Ligouri, and Greg Staab, I was most surprised to see Hamp in the house, as he was here just to watch his Silver Crown chauffeur Kody Swanson stab 360 cubic inches of steel block power for car owner Kent Wolters. Still pondering a return to Silver Crown competition in Springfield, Hewitt played the role of team manager for Iowa car owner Mark Swanson, who installed Jack's nephew Dallas in the seat of his coil-front F5/Twister chassis. Mark is more famous for his previous TNT pursuits with Charles Davis, Jr., who piloted this same piece at a recent BOSS meet in Moler, also unable to get Mark's Silver Crown chariot to fire in Du Quoin. So happy and proud to be back doing his racing thing and "working his ass off this summer", the always positive Greg Staab was here with his girlfriend Penny, tending to Indy Race Parts business for Bernie Stuebgen. Some 72 pounds lighter and best of all cancer-free, Greg says he's back to a five day a week gym routine.
Among the field of 40 were heavyweight contenders Jon Stanbrough, Justin Grant, and Shane Cottle, with the balance of the field consisting of an odd assortment of Waynesfield, Lawrenceburg, and BOSS regulars. Taking a break from his own 81, Stanbrough found work in the Spike chassis belonging to Greenfield's Scott Pedersen, aided as always by Scott's father Red and son Ryan. The Pedersen 4 was one of five sprint cars towed on an open trailer. Directly relating to the relaxed atmosphere that this series offers, no wonder the following is so strong.
On his way home from dropping an engine block at Jeff Claxton's shop earlier in the day, I watched the five heats with Dayton, Ohio's Jamie Miller. Punctuated by two massive flips, the first involved Aaron "Mid-Air" Middaugh, who caught the outside wall exiting turn four and nearly took out the flag stand in his tumble atop concrete. Tearing out a section of fencing, thankfully Aaron was ok, as his mid-downtube Schnee chassis did its job quite nicely. The second spill ended the evening of NHRA pro-stock bike racer Chaz Kennedy, who was making his initial sprint car foray in the BOSS house car belonging to series founder Aaron Fry. The only racer to make all BOSS events in series history, Middaugh earned a $50 Hard Luck Award from Dayton, Ohio's Lynn Cook, one of a laundry list of unique prizes offered.
With rain falling on Friday and mid-day Saturday, by 3 PM the Montpelier staff was not certain that they could pull off the event. Rolling the dice by moving forward, they were once again rewarded with a full house of fans who had to endure a pair of surface revamps. However, the resulting racing was well worth it, as a solid 25-lap feature contained several lead swaps. Pole-sitter J.T. Stapp paced the first seven circuits in his ex-Sammy Swindell Big Game Maxim, but it would be May Montpelier MSCS winner Shane Cottle taking over on lap eight with an inside attack at turn three. Up front for five rounds, Cottle was overhauled by BOSS point leader Shawn Westerfeld, who surprised The Throttle with an outside sweep of corner four. After shadowing The Guilford Gasser for three laps, Shane returned the favor again in turn three, leading the final ten tours for his fourth win of the season, sweeping 2015 Montpelier sprint car combat. In addition to the $1,500 first prize, Cottle claimed a new right rear tire for car owner Paul Hazen, as he was the highest finisher riding on exclusive American Racer rubber.
Swanson amassed $900 for his second place showing, earning him an extra fifty bucks from Hochstetler Truck and Auto Repair for being the highest finishing steel block. Justin Grant galloped from ninth to third in Kenny Baldwin's 5 and earned $700, snagging a new Hoosier right rear as he was the highest finisher wearing four Hoosiers. Stanbrough started seventh, was as high as third, but settled for fourth while Westerfeld faded to fifth. Sixth through tenth included Cody Gardner, Waynesfield champ Luke Hall, Dallas Hewitt, Landon Simon, and J.T. Stapp. After spinning early, Hewitt hailed the $50 Hard Charger bonus from Sidney, Ohio's Bridge Restaurant.
The following Friday found me in Terre Haute for the combined Tony Hulman/Jim Hurtubise Classic, a rescheduled round from the Wednesday of Indy 500 week. Paired with Saturday's $10,000 to win Haubstadt Hustler, this crucial weekend twin bill served as the two minute warning for USAC national sprint car championship contenders Chase Stockon and Dave Darland, both within striking distance of leader Robert Ballou but running out of time in their quest for the crown. After being rained out on October 3rd, Lawrenceburg's Fall Nationals is the final Midwestern stop, rescheduled for October 17th after the scheduled round at Kentucky Lake Motor Speedway was canceled for the oddest of reasons – eminent domain for the expansion of Interstate 69. So much for my attempt to visit a new track...
After a full day of work there was no possible way to make it in time for 6 PM hot laps, arriving mid-qualifying for the 27 car contingent. Friday morning showers were no longer evident as black streaks showed in Bob Sargent's surface, surprised to see the cushion pushed to the wall so early. Replacing Chad Boespflug in the Amati 66, Thomas Meseraull nearly got tripped up by the lip that bit Canadian Lee Dakus and Robert Bell, both of them cracking concrete. Two cars from the end of the line, 2013 Hulman Classic winner Jerry Coons, Jr. displayed his terrific Terre Haute form by clocking quickest at 20.490 in Monte Edison's Spike. Aiding their attack, Darland and Stockon gained a few points on tenth-quick Ballou after timing third and fourth. However, Ballou gained it back when bagging the first of three heats, as Darland could only drive to second while Stockon was swallowed by an odd Stanbrough spin.
1993 and 2014 Hulman Classic winner Darland fired from fifth in the thirty-lap finale. Following the bottom to fan three wide in the first set of corners, by the time he reached the back chute he had already propelled to P1, officially up front for 23 tours in his usual Phillips Motorsports DRC/Foxco. Truly a tale of two races for Diamond Dave, he built a full straight advantage by lap four and was in his own zip code. Lapping big names like Terre Haute Sprint Week winner Aaron Farney and Brady Short before the halfway mark, his gargantuan advantage was eliminated when Mario Clouser crashed hard in corner two.
The resulting restart and final 17 laps were an altogether different deal, as Darland suddenly could not shake second and third place runners Windom and Ballou. With nine laps left, congestion became a serious issue and allowed Chris and Robert to further close the gap. Three laps later, Windom pulled alongside the leader in turn one and created his own hole with a last-minute slider. Dave subsequently bounced off the boards, dropping one spot further when Ballou swept to his outside one lap later. However, had it not been for Windom's turn two concrete contact on lap 28, Robert would have had to settle for second. As it was, he seized the day and took home his tenth USAC trophy of 2015, including a pair of Winchester rifles as part of the 45-year Hulman Classic tradition.
Windom, Darland, Stanbrough, and Coons took home top-fives while Thomas, Stockon, Leary (from 18th), Bacon, and Courtney (from 21st) were sixth through tenth at the 9:57 PM checkered flag. Heading to Haubstadt, Ballou's advantage increased to 44 over Stockon and 55 over Darland.
Back to Indy on Friday evening, once Saturday chores were complete I was again a solo pilot pointed southwest to Haubstadt. Employing a slightly different route of 465/70/231/67/57/50/241/41 with a requisite stop in Washington for a strawberry shake at Mason's Root Beer Stand, the end of the rainbow was a conglomeration of 30 sprint cars for this USAC/MSCS union. Given that this race is the baby of Tri-State Speedway operator Tommy Helfrich, MSCS rules reigned supreme, resulting in feature points only for USAC regulars and a boatload of unexpected drama all night long.
After Ballou's Terre Haute tally, suddenly the momentum of this September two-minute drill swung in favor of Darland and Stockon after Robert fell victim to first heat Haubstadt calamity, due in part to the MSCS blind draw. Ballou scaled a wheel and landed on his lid (also eliminating Shane Cottle) after front row starter Nick Johnson swung sideways. This being the second attempt at a start, the first connected pole sitter Mike Terry with second row starter Justin Grant (Grant later received an accidental wheel from underdog Robert Bell). USAC's point leader had to come from behind all night, hustling from 11th to 4th in the B and 20th to 7th in the A. With Chase Stockon and Dave Darland finishing just ahead in fifth and sixth, the damage was minimized as his point lead shrunk by six.
Thankfully the second heat was much cleaner than the first and served as a feature preview, as Princeton's Kyle Cummins had Chris Windom believing that he was a bottom-feeder, only to step upstairs to steal the win from fourth in Hank Byram's Mach 1/CRE. In action for the first time since early May, last year's Haubstadt Hustler winner Daron Clayton returned in his familiar number 92 Spike and with inboard brake glowing, finished directly behind third heat winner Brady Bacon. Fort Branch's Donny Brackett and his Eagle chassis soared above the competition in heat four, unaware of the heavy contact involving Carson Short, Kent Schmidt, and Hunter Schuerenberg (Walker 11) that sent Hunter to the sidelines. Carson became a B-main casualty after inverting, as did Jeff Bland, Jr. after his altercation with Jon Stanbrough. His second race since splitting with long-time wrench Daryl Tate, Jon's evening was a nightmare, needing to swap smashed nerf bars and headers in between B and A. Thanks to a thrash from Chris Hoyer and Marc Girard, Jon was able to cash in a provisional pass but fared no better after colliding with Schuerenberg. Chad Boespflug (Krockenberger 21) scored the final transfer.
After a redraw of the top-six in passing points, a rather intriguing front row was comprised of local favorites Clayton and Cummins. Due to incidents involving Windom, James Lyerla (assisted by Jason Knoke), and Grant, two attempts at the original start failed. The third time was the charm, but it didn't do Daron any favors, as his machine was still a handful. Nearly spinning on the first attempt, Clayton touched wheels with Brackett on the back chute and immediately pulled to the infield, exiting his ride to inspect the front end (broken sway bar). Motivated to race in memory of his son Kinser who sadly passed away a few days after Daron won this race one year ago, another dramatic victory was not in the cards.
An initial USAC victory was also not in the cards for Kyle Cummins, despite leading 35 of 40 feature laps. Cummins was clearly the class of the field and even though 12th-starting Brady Short made it interesting with ten laps left, Sweet Feet still had a ways to go when the unthinkable occurred. Aaron Farney's front stretch spin blocked half of the track and while Kyle's last minute decision to veer left appeared to be correct, he didn't have nearly enough room to avoid Aaron, ending his night due to heavy right rear contact. Instead of parking in victory circle, it was heartbreak hotel for Kyle and his faithful followers. One of these days, he'll get that USAC win, proving that his late-season speed was no fluke by scoring his second Haubstadt MSCS victory of the month on September 26th.
In the right place at the right time, Short inherited the lead and held off tenth-starting newlywed Kevin Thomas, Jr. for the $10,000 score, his 16th of a career year for the Bedford, Indiana native. Rose-Hulman Institute of Technology sophomore Dakota Jackson enjoyed the drive of his life in his family-owned Bullet chassis, starting third and finishing in the same position after mixing it up with the best in the business. Like Cummins, Jackson is extremely stout at this speedway and will be a future threat. Bacon and Stockon secured fourth and fifth while Darland, Ballou, Windom, Leary, and Meseraull populated the second half of the top-ten. Immediately heading for the exits to get a jump on traffic, I missed a heated post-race altercation involving T-Mez and 11th-place finisher Shane Cottle. Given their size differential, I wonder how that fared. Nonetheless, the on-track festivities were extremely exciting, extending another thank you to "Railroad" Joe Higdon for reserving my seat and providing some entertaining commentary. Next up for Tri-State is its season-concluding $3,000 to win Harvest Cup for MSCS sprints on October 10th. Brady Short is already the series champ, so this race is all about cash and bragging rights.
Missing out on the World of Outlaws portion of the Eldora Four Crown Nationals for a Fort Wayne wedding, my consolation prize was a late-night snack at the iconic Powers Hamburgers, my first time to sample this tiny 75 year-old Fort Wayne institution that is famous for extremely tasty sliders. As for Saturday, I would not be denied in my quest to celebrate a milestone 30 year anniversary of my first-ever Four Crown and initial visit to Eldora Speedway. Meeting up with Cleveland area camper Tom Percy, while on our way to the main grandstand we had to stop and inspect Phil Poor's stunning restoration of Steve Butler's 1989 Four Crown winning Gambler sprint car, sending me back in time to that '85 edition when Phil's sprinter was piloted by winner Larry Rice. Almost unheard of on daytime surfaces, Rice asked to have the very same right rear tire attached to his LeFevre Silver Crown ride and won yet again. Maintaining my interest in this kind of action after three decades, that certainly indicates the massive impression that the '85 Four Crown had on my life. Always wondering what the future may hold, call me a creature of habit but it seems unfathomable to be anywhere else in late September. One of my favorite events of the entire year as it is the only occasion when USAC's primary open wheel divisions share the same billing, Eldora's Four Crown Nationals is my own two-minute warning to truly start savoring what little racing time is left in the season.
After making his name household to NASCAR faithful after claiming July's Mudsummer Classic for the Camping World Truck Series, in his third Four Crown attempt Norman, Oklahoma's Christopher Bell finally drove up the ramp for USAC laurels after dominating all 25 midget and 50 Silver Crown circuits. Just 20 years old, Bell joined Steve Kinser, Larry Rice, Rich Vogler, Jack Hewitt, Tony Stewart, Dave Darland, J.J. Yeley, Tracy Hines, Kyle Larson, and Chris Windom on an elite list as multiple Four Crown feature winners on the same day/evening. In between midget and Silver Crown matches was a thrilling sprint car round claimed by former San Jose, California resident Thomas Meseraull. T-Mez was tagged as the 74th different USAC sprint car victor at Eldora, his first-ever with the legendary Speedway, Indiana sanctioning body.
Ninety-four cars filled the pit area, broken down by 21 midgets, 20 Silver Crown, and a whopping 53 sprinters. Midget and Silver Crown turnout was again a disappointment but not a shocker. However, that sprint car collection, aided by an abundance of Waynesfield and BOSS regulars, was flat-out impressive, even bringing Du Quoin hero Aaron Pierce in A.J. Felker ammunition and aligning Chad Boespflug with Gene Nolen and Davey Jones. Normally a haven for multi-tasking, this year the Four Crown only had two drivers trying all three Saturday divisions, namely Kevin Thomas, Jr. and Brady Bacon, but I counted 21 men who took part in two. Tanner Thorson and Dallas Hewitt were two of those 21, later subbing as Silver Crown chauffeurs for KTJ and Kent Wolters. Filling a Felker midget, Bacon was the lone combatant to partake in four divisions after his Friday winged foray.
Taking home $200 for their efforts, Bryan Clauson (16.886 in a Dooling Spike/Mopar SR-11), Chase Stockon (16.204 in his own DRC/Fisher), and Christopher Bell (17.125 in a Gormly JEI/Foxco) were quickest in midget, sprint, and Silver Crown disciplines. Posting much slower times than I expected, especially given Saturday's cooler temps and overcast skies, I have to admit that I was disappointed by the drier than normal conditions that would have been better suited to a winged war. Let's be honest: USAC men and machinery need moisture and a chunky cushion to put on a proper show. Despite that miniscule cushion that kept most in the middle to bottom lanes, those who bravely tempted fate on the top shelf were ultimately rewarded for their efforts as exhibited by Bell and Meseraull. However, teetering on the edge of disaster also bit some like Bryan Clauson, who manhandled his midget up to third but crashed atop turn four, also throwing away what would have been his first Eldora sprint car score after mauling the turn two wall. Eldora isn't for everyone and that was clearly evident on this evening, as a vast majority of those sprint car contestants congregated around the bottom.
Owning unreasonably high expectations for Eldora slide jobs and intense action, although preliminary events were far too tame for my liking, the sprint and Silver Crown features were definitely not duds by any means. If anything, the ultra-smooth and slippery surface kept the calamity to a minimum, which allowed this jam-packed program to move forward at a rapid pace and end at a reasonable hour (11:21 PM). The imminent threat of rain, which arrived during the Silver Crown finale, also meant that normal surface maintenance was not conducted.
Starting with sprint heats, the only unexpected drama came when Boespflug belched out some serious flames from an oil fire, sending him from second to fifth. After timing fourth, last year's Four Crown winner Brady Bacon had his sprint car fortunes take a turn for the worse, spinning while sliding for fifth on the white flag lap. Winning the consolation and starting seventh in the A, Brady blasted the wall between turns one and two on three separate occasions, the second of which flattened a tire and junked a Jacob's ladder. With everyone transferring out of the three midget heats, the only excitement was watching each of the Keith Kunz combatants come from the third row to win, as Thorson, Rico Abreu, and Bell did the deed.
The 21-car sprint car C-main proved to be a test in patience, stopped for separate turn one flips involving Riley VanHise and Aaron Pierce, the latter being disqualified from qualifying after timing 26th. Cooper Clouse surged from 13th to 3rd while C.J. Leary scored second. Given that C.J. came within a lap of winning the last USAC race here, since then his sprint car program has suffered severely, going from the penthouse to the outhouse so to speak. Eight cars came out of the sprint car consolation, including fifth place Tyler Courtney whose Chuck Eberhardt Maxim severed its right front shock tower. Inserting a softer right front torsion bar for the feature, Courtney came from 22nd to 11th. Jarett Andretti and Dickie Gaines enjoyed solid B-main efforts, charging from 14th and 20th to snag 7th and 8th. Luke Hall, Boespflug, and Leary were the first three on the outside of A-main status (Leary would later pop a provisional). Continuing his frustrating runs in Kenny Baldwin's 5, Justin Grant pulled in on the white flag lap, missing the show entirely. Much like Leary, Grant's Four Crown fortunes were ironic as he was the most recent USAC Eldora victor.
As always, the midget feature was up first and after firing from fourth, Bell blew by front row starters Kevin Thomas, Jr. and Tracy Hines through turns three and four to lead the first of 25 laps, never to be seen again. The lone pause came on lap 14 when Clauson had his fourth corner incident. Last year's Four Crown winner spun, tagged the wall, folded the front end, and lost a wheel, probably the lone hope to offer a lead threat. Restarting in fifth with 11 to go, Rico Abreu suddenly came to life. Picking off cars one by one, with just a couple of laps left he used the north end to aggressively slide a conservative Tracy Hines who uncharacteristically manned the middle lane. Far too close for comfort, there was no contact but Tracy immediately crossed over, only to be slid yet again on the back chute. At the end, Bell rang up his 16th career USAC midget triumph as the rest of the top-five contained Abreu, Hines, Thorson, and Thomas, with four of those top-five falling under the Keith Kunz Bullet/Toyota banner. ARDC regular Steven Drevicki was solid in sixth while Spencer Bayston, Tony DiMattia, Thomas Meseraull (Heffner 27) and Ryan Greth secured seventh through tenth. Hines exited with a 25 point lead on Thorson and a 31 point margin on KTJ as they head to Wayne City, Illinois on October 23rd for the Jason Leffler Memorial.
As uneventful as the midget main was, the thirty lap sprint car finale was entirely the opposite. Pole sitter Kody Swanson (DePalma 63) immediately slid his fellow front row mate Jerry Coons, Jr. and paced the first three tours, only to be overtaken on the fourth by quick-qualifier Chase Stockon. A brief volley of sliders were exchanged by Bryan Clauson and Swanson, with Bryan stalking Stockon after a lap seven caution for Dickie Gaines. Like Bell in the midgets, BC bravely rode the rim and swept to the lead with a turn four attack, interrupted by a red flag for a high-flying Kevin Thomas, Jr., who landed hard on all four wheels but was able to walk to the ambulance.
Leaving 18 laps to determine the outcome, Bryan's tempting of fate bit him big when collecting the wall off turn two at the halfway mark, flattening his right rear tire and causing caution. Stockon, Meseraull, Swanson, Darland and Coons brought the field back to green but in the span of half a lap, T-Mez emulated Clauson's bold line and wound up with the lead. Flirting with the fence as he finessed Shane Wade's DRC/Dynotech, Meseraull built a big advantage. But, in that last half of the affair, Clauson was clearly the show, moving all the way from the rear to fourth, his final move a meat-in-the-sandwich split of Scotty Weir (Keen 18) and Stockon. Had the race been a 40-lapper, Clauson could have won but as it was, drifting expert Meseraull made off with the big money, his eighth score of a memorable season and second with Amati Racing. Swanson settled for a solid second while Darland, Clauson, and Weir filled out the first-five. Sixth through tenth included Stockon, Dallas Hewitt, Robert Ballou, Chris Windom (from 23rd), and Coons.
Always bold in his driving and commentary, Thomas's first words afterwards amounted to a dig at one of his former car owners, asking, "How do you like me now Kenny Baldwin?" Discussing the key moment in the race, T-Mez added, "Before the race, my crew chief Donnie Gentry didn't do what I wanted him to do. That's why we were a fifth place car. So, I told him to jack some weight into it under the red."
All that was left of the Four Crown was the 50-lap Silver Crown contest. Featuring a front row of Christopher Bell and Kody Swanson, the two briefly dueled side by side until Bell earned the advantage, thanks once again to his unflinching assault of the tiniest of cushions. Interrupted by separate spins for Chris Fetter and Dave Darland, Bell was clearly the class of the field, building over a full straightaway lead over Swanson. Using the concrete as his cushion and in attack mode for all fifty laps (bouncing off the wall as late as two to go), Bell's drive was reminiscent of Kyle Larson's 2011 effort. Given Christopher's bright future in greener pastures, one might have expected him to play it safe. But, it was obvious he came here to do one thing and one thing only: win. Lapping up to ninth place and nailing down his first career Silver Crown score, in addition to his Rob Hart led RPM crew Chris was aided by series veterans Steve and Brad Fox.
Kody Swanson settled for second in his usual DePalma 63 and wrapped up his second consecutive series championship. After competing in a Kentucky Speedway ARCA event earlier in the day, Chris Windom made it a two car RPM podium with his third place run. Shane Cottle continued his solid runs in the Williams Maxim with a fine fourth while Brady Bacon bagged fifth in the Martens DRC. Justin Grant, Shane Cockrum, C.J. Leary, Steve Buckwalter and Jerry Coons, Jr. were sixth through tenth.
In between the sprint and Silver Crown mains, promoter Roger Slack had huge Four Crown news to report for next year, as Tony Stewart's All Star Circuit of Champions would serve as the fourth crown, replacing the World of Outlaws. Roger did not announce if the All Stars will be a full program on Friday, but I have to wonder if the format will return to days of old when qualifying and heats were held on Friday and features only on Saturday. Slack did reveal that significant bonuses are being earmarked for anyone who can win all four crowns. In addition, more money is available to anyone who can equal Kyle Larson's triple from 2011 or simply claim a wing/non-wing double. Bringing much optimism and excitement, it appears that Tony Stewart is serious about reviving interest and creating a true crown jewel in motorsport events.
Finally finishing this September summary one week after the Four Crown, unfortunately it was with an extremely heavy heart in the aftermath of the tragic plane crash that took the lives of four significant men on Friday afternoon, October 2nd. Learning of the incident while heading home from an epic contest concluding Gas City I-69 Speedway's season, I was once again reminded that life is short and could end at any moment.
Flying from Warsaw, Indiana to Clemson, South Carolina for Saturday's Notre Dame/Clemson football match, piloting the plane was 71 year-old Charlie Smith, a Warsaw city councilman who made his name from building a Tippecanoe Valley High School football program from scratch and winning a state championship within four years (1979), amassing an impressive 101-19-1 record over 12 years at two schools. Eventually moving on from teaching and coaching to become an executive at the Warsaw-based Lake City Bank, he was a seven-year veteran of aviation and was included by the FAA in the Airmen Certification Database. However, under cloudy conditions and flying with instruments only, his Piper PA-32 aircraft mysteriously went down in a remote area along the shores of Lake Hartwell, extremely close to the intended runway. Passengers included Charlie's 44 year-old son Scott (a Warsaw attorney), another former Tippy Valley football coach in 51 year-old guidance counselor Scott Bibler, and two-time United States Auto Club sprint car champion and Indiana racing icon Tony Elliott.
With my wife's family connected to the Smiths and Bibler, this incident cut even deeper when considering my 30 year association with Elliott, enjoying frequent interaction with the legend since beginning these blogs in 1999. As everyone reading this is fully aware, Tony was a truly special individual, much more than just a racer and businessman as he was a larger-than-life personality who still loomed large among long-time fans, even after he faded from regular sprint car competition in the mid-2000s. Tony remained active with annual Little 500 participation, but his highly successful trailer and golf cart business took him to races all over the globe and allowed fellow racers and fans to regularly interact with the man who was always smiling, joking, laughing, and pulling pranks when allowed the opportunity.
For as long as I have known him, Elliott had a unique energy and enthusiasm for life, so contagious that it simply made people want to be in his presence. To paraphrase a statement from my friend Brent Goodnight, Tony did a lot of living in his 54 years, always in search of a good time. The youngest 54 year-old I have ever encountered, nobody had more fun and his Facebook updates were frequent, detailing his extensive travels for business and pleasure.
Feeling an emptiness when he stopped competing regularly, that emptiness becomes infinitely vast when knowing that our interactions have suddenly ceased. For once in my life, I truly have no words to encompass my feelings. With my heart still pounding and stomach churning, shocked, numb, depressed, and devastated are adjectives that come to mind but just aren't adequate enough to express my level of despair. There are no two ways about it: Tony Elliott had a huge impact on my life and I am going to miss him dearly. In addition to his legion of supporters that number in the thousands, I can't imagine how his wife Cindy, three sons, and one daughter are coping right now, let alone his mother, one brother, and two sisters. It tears me up just thinking about it but when considering just how many people are affected by this tragedy, it should speak volumes on this man's character and legacy.
One of the absolute best open wheel racers I have ever had the pleasure of witnessing, it didn't matter when, where, or in what kind of car - Tony would figure out a way to win, especially in those final five laps when he would literally come out of nowhere to steal a feature victory. Much like Ron Shuman, Tony was a true "money" racer, a professional who kept his equipment intact and knew his way to the payoff window. Owning a huge desire to compete in the memory of his father Jim who was a three-time Warsaw Speedway sprint car champion, Tony was just 12 years of age when he lost his hero to a March 1973 accident, mauled by a car while straddling his motorcycle. Starting his own career at Warsaw as a street stock racer, it wasn't long until the teenager was lured to sprint car competition. Eventually joining forces with car owner Paul Hazen, the same man with which his father enjoyed significant success, they dominated the local scene in no time flat. Tony and Paul had a slew of incredible seasons, but it was Elliott's 1997 pairing with childhood friend Jeff Walker that sent him into another stratosphere, winning just about every big race from coast to coast from '97 to 2004, including two USAC national championships, an Indiana Sprint Week title, and the famed Western World Championships at Manzanita. Twice a Hoosier Hundred and Sumar Classic winner for Gene Nolen, he was also a 1999 Ted Horn 100 winner at Du Quoin. Taking home some serious hardware after claiming huge midget and sprint events in both Australia and New Zealand, the Elliott name was worthy of worldwide respect, no doubt a future National Sprint Car Hall of Fame inductee.
However, it was his Sunday night Kokomo Speedway duels with Dave Darland and Kevin Thomas that served as my all-time favorite memories, to this day attempting to equal those ultimate highs experienced after each one of those epic battles. Feeling fortunate to have been a part of this era, despite my overwhelming feelings of sadness, the lone solace I can take from Tony Elliott's untimely passing aligns with the theme for this particular article. Given life's ultimate unpredictability, just like Tony we should be living and enjoying life as if the two minute warning has already been given. Rest in peace my friend – you will be missed but my countless fond memories will never be forgotten.
Volume 17, Number 12
Drama Kings
As the seventh of eight siblings, naturally there are numerous advantages to having so many brothers and sisters. One disadvantage; however, is that it is very rare to be free from some sort of conflict during the holiday season or for any kind of family get-together. Confirming that we are indeed a dysfunctional group after observing how normal families are able to conduct themselves in the simplest of settings, when it comes to my own affairs I have forever been a fan of peace and tranquility.
These days, I tend to arrive home from the gym and find my wife engrossed in reality television programs that feature far too much fabricated drama from wealthy women who have nothing better to do than bicker, easy to see that such dissention sells in Hollywood. Not my cup of tea when it comes to quality entertainment, I prefer the real life drama from the on and off track antics of rival sprint car drivers and crews, adding some much needed spice and intrigue to a scene that has otherwise grown dull and drab. And nowhere is such a spectacle more evident than Kokomo's Speedway's USAC Sprint Car Smackdown, hard to believe that 2015 accounts for the fourth edition of the titanic three day struggle.
For the last three seasons, this event certainly has offered its fair share of drama, the tension so thick that one could literally slice it with a knife. Recalling the heated Levi Jones/Jon Stanbrough on-track incident of 2012 that turned even more ugly in post-race debate, then there was the 2013 Kevin Thomas, Jr./Chase Stockon slam-fest that would boil KTJ's blood and cause him to miss his post-race weigh-in, resulting in a war of words with USAC officials and local law enforcement that led to his team's costly expulsion from the finale. Last year, the drama had everything to do with a relentless Mother Nature, forcing the O'Connor family to pull out all the stops and pump thousands of gallons of water from the grounds after receiving eleven inches of rain. So, it should come as no surprise to learn that 2015 would offer its share of hair-raising antics, as there's just something about the marriage of Kokomo Speedway and United States Auto Club competition that puts everyone on edge. Controversial post-race interviews, bone-crushing crashes, big-time thrashes, heroic over-the-cushion expeditions, hard charges from the rear, wars of words, pit lane scuffles, expulsions, and yet another threat of wet weather - this year had a little bit of everything, proving that Kokomo combatants are indeed the true kings of drama, especially come late August. But at the end of it all, the most low-key guy would rise above the noise to become a three-time champion of this prestigious and pressure-packed event. Read on to find out why this was such a trying, drama-filled four days for the people's champion, "Diamond" Dave Darland.
Smackdown version 4.0 unofficially kicked off on Wednesday night with the resumption of Indiana Sprint Week's previously rained out round, needing only to complete the final ten laps of the B-main and all thirty laps of the A. Backing up one day, my big week would actually begin on Tuesday evening when Tear-Off Heaven Fotos principal Steve Lafond came all the way from Campbell, California to knock on my door for the second time in six weeks. Both of us being creatures of habit, to commemorate the occasion naturally we ventured northeast to the tiny town of Perkinsville, where only the best in laid-back atmosphere, hospitality, and cuisine exists at a little slice of heaven better known as Bonge's Tavern. If you are a regular reader and still have to ask why I would drive so far out of the way for food and drink, honestly, you need to find out for yourself. Angie, Dawn, Amanda, and chef/owner Tony once again rolled out the red carpet, amazed to learn that Tony quickly baked up a batch of my all-time favorite cherry and pineapple dump cake dessert upon learning of our impending arrival. But before I could sink my spoon into that delicious dump cake, there were a couple of Kentucky Bourbon Barrel Ales to sip and savor. Beginning with their world-famous tomato soup (made with locally grown Red Gold tomatoes, of course), I opted for an additional starter in the lettuce wedge, coated in the best bleu cheese dressing in the universe, believing that it could even make cardboard edible. So difficult to choose my entrée, I went with the creamy bayou chicken topped with shrimp and sausage, all served over cheesy grits. A literal taste explosion, my mouth is still watering as I type this! Just a reminder, Bonge's only takes reservations for parties of 10 or more, so if you plan on attending with a smaller group, feel free to bring lawn chairs, snacks, and maybe even a few drinks, as tailgating in the parking lot is a welcomed part of the experience.
Drama-free during our Tuesday night Bonge's bonanza, that only masked some serious issues incurred by Steve on the Sunday before his Indy excursion, taking a spill on his mountain bike and cracking a rib on what was supposed to be a low-key birthday morning trail ride. While I was working Wednesday morning, my guest was relaxing on my couch, quite a departure for a guy who oozes with energy and enthusiasm. Soon joining forces for our fifty minute Kokomo commute, we found freshly painted concrete walls and a parking lot full of campers who would be living it up in the shadows of the Kokomo Grain Company for four straight days. Ten less machines showed for the B-main that would now transfer seven, as feature starter Josh Hodges was back in school in New Mexico. As it turned out, those that finished the affair would punch their feature ticket, frustrating for Kyle Robbins (flip), Josh Spencer (DNF), and Thomas Meseraull (flat right rear in the Keen 18).
Outside front row starter Chris Windom would wind up leading all thirty tours in Rick Pollock's Maxim, a brand new piece constructed specifically for the Smackdown. Pole sitter Dave Darland would naturally offer the biggest threat to Windom's win, as Dave first had to fend off Kevin Thomas, Jr. and Brady Bacon before making a bold move to the inside of a clogged front chute, this coming one lap after halfway. Completing the overtaking by setting a backstretch pick on Kyle Cummins, the legend's lead was short-lived as Bacon made heavy contact with Thomas exiting turn four, wondering if the move was in any way a payback for a February East Bay incident. Naturally, KTJ was extremely agitated, pulling in front of car 69 to remind who was number one. Reverting to the last scored lap, Darland was moved back to second as Windom was a scant .067 seconds ahead on lap 16 according to the story on www.usacracing.com. From my vantage point, it sure looked like Dave had the lead for two laps but the use of transponders removes such doubt.
Enduring the pressure of two more restarts, Chris successfully kept the king of Kokomo in his wake, claiming his first USAC sprint car trophy since Eldora Four Crown of 2013. Speaking with Rob Goodman afterwards, Windom said, "This is obviously one of my favorite tracks. When you hold off Dave for 30 laps, you're doing something. He threw about everything he had at me. I knew if we could get rolling after the restarts we'd be ok. Rick Pollock has spent the last few weeks getting this thing ready. He basically built a brand new car. If it wasn't for him, I wouldn't even be here. This is cool to come out and win on the first night but we're really looking forward to winning on Saturday night."
After blowing an oil line and having to settle for second, Darland was extremely irritated, shoving his safety gear into his seat and taking a shot at USAC officiating in his interview with Goodman. Darland said, "It's like I get screwed by restarts and shit all the time. It's starting to make me mad. But, it's just the way it is and with USAC, it must be right. It's just getting old."
Despite the damp surface that never really went away, passing was still possible as Brady Bacon moved up three spots to claim third while fourth and fifth place finishers Chase Stockon and Robert Ballou rocked it from 15th and 17th, respectively. Sixth through tenth at the 9:09 PM checkered flag included Scotty Weir (Walker 11), Aaron Farney (from 14th), Brady Short, Tracy Hines, and Shane Cottle. With free general admission, Wednesday's crowd was indeed thick, much better than Thursday.
A field of 44 showed for Smackdown's official opener on Thursday, with notable appearances from All Star regular Parker Price-Miller (who rented Kokomo late Wednesday night for testing), Hollister, California's Ryan Bernal (Walker 11), Dallas Hewitt, Chris Phillips (in a coil-front Maxim from the Fred Gormly stable), ARDC's Tony DiMattia, Frank Flud (teaming with Cole Ketcham in a Stensland 41), Colten Cottle (Jackson 42), Dustin Smith (backed by former Mark Cassella pal Louie Gagliardi and his Dom's Gulf service station), England's Tom Harris, and Silver Crown standout Kody Swanson (Marshall 32).
Thomas Meseraull found work in a yellow 29 belonging to Robin Dawkins, an extremely colorful 60 year-old winged sprint car racer coming all the way from Tasmania, which I was reminded is an island state associated with the Commonwealth of Australia. Fielding a Maxim with a Speedway Engines Mopar mill formerly found under hood for Kasey Kahne, Robin's potent piece is kept in Tom Miller's Clermont, Indiana shop, with its owner recently achieving a goal of competing without a wing at Paragon Speedway, finishing one spot ahead of Bloomington "Mayor" Jon Sciscoe on July 25th. Dawkins has been a United States visitor for 29 years, spending quite a bit of time with Brent Kaeding in his early excursions. His most interesting journey; however, came in 2013 when he not only got married in Times Square, but he also raced on American soil for the very first time at the baddest track of all - Eldora Speedway! Here with wife Jo, Robin relayed a story of how he used up a majority of his nine lives with a vicious sprint car spill endured ten years ago. Breaking his back, tearing his sternum, and having a piece of his roll cage come through his helmet, with only 15% of his T3 vertebrae left he has since recovered well enough to compete, still loving every minute of it.
After sprint cars completed their wheel packing, the end result left a nasty little lip at turn one's entry, the imperfection accounting for three of four of the evening's flips and the majority of Thursday's drama, as countless machines toured on less than four wheels through this north end. The worst of the incidents was a qualifying spill from Chris Phillips, who flung his machine into the turn one fence. The abrupt stoppage after several snap rolls initially left me concerned, but Chris somehow emerged from his mangled mount unharmed, without question a miracle as this may have been the most violent crash that I have witnessed on these grounds. After qualifying seventh and starting third in the feature, C.J. Leary attempted to outdo Chris. Clipping that same curb, he executed another equally dizzying set of snap rolls that chucked his tail tank, back the next evening with a completely different ride. Benefitting from the assistance of "Big" Al Scroggins, Tyler Courtney timed 11th but earned the pole for the feature in Chuck Eberhardt's Maxim. Occupying the runner-up slot early on, a turn two tilt on two wheels caused Courtney to climb the wall and invert, ruining a solid shot at a win which collected Kevin Thomas, Jr. in the process. KTJ would recover to claim ninth at the checkered.
Thursday's tricky conditions mandated a cautious approach through qualifying, as a majority chose not to tempt fate with a lower approach to turn one. Kyle Cummins was one of those, winding up at the top of the time sheet with a 13.269 second tour in Hank Byram's Mach 1. After dusting out the infield between turns one and two and flying over the turn one bank in his trip back to the pits, Robert Ballou may have initially appeared miffed, but his fifth-quick time would serve him well later. Michigan's Joe Bares and Camby, Indiana's Max McGhee both rode out some massive bike rides in turn one, feeling the energy of the event when Chad Boespflug (Amati 66) secured second-quick time just two cars from the end of the order. Out for just one lap after his Mark Hery 40 shut off on his first attempt, 2015 Kokomo standout Justin Grant timed 14th.
Each of Thursday's four heats were claimed from the front row, but a big sack was required to transfer due to the gnarly cushion. Stepping well above the ledge in corner three, Grant got the job done. Landon Simon, however, was not as fortunate, hooking the curb in one and two which led to direct concrete contact, ending his Smackdown altogether. Aaron Farney decided go four wheels in the turn one fluff but wound up slapping the wall, choosing to use a provisional pass for A-main access. With five of the top-ten qualifiers at the front of the B, big-time names such as Shane Cottle (encountering engine issues in qualifying), Brady Short, Ryan Bernal, and Kody Swanson missed the cut, Short able to tag the tail thanks to provisional status.
Starting outside of row one, Chase Stockon led the first 24 laps on opening night, still in search of his first Kokomo trophy. With all eyes upon Chris Windom's over the cushion exploits, Chris had been making steady progress in his ascent from 17th, up to seventh by the halfway mark. Thanks to early reds for Brian Karraker, Leary, and Courtney plus another caution for Jarett Andretti, Cummins and Ballou remained in close proximity. A short green flag stretch in which Ballou bagged second was again interrupted by a red flag for an enflamed Andretti. Once back to green, Robert needed just four laps to snare the top spot, using a tacky bottom lane to cleanly work his way past. With his former crew chief Jimmy Jones in the house to advise, the Mad Man notched USAC win number nine on the season. Stockon, Bacon and Cummins followed, as did Short who impressed with his supreme surge from 24th to 5th. Coons, Windom, Meseraull, Thomas (from the tail after a lap 8 red), and Weir (Baldwin 5) completed the second half of the top-ten. 2013 and 2014 Kokomo Smackdown winner Dave Darland began 19th but could only come forward to 14th.
Afterwards, Ballou told Rob Goodman: "Believe it or not, we're actually trying some things. This is a test car. It's totally different from anything we've been running and this is the third night on it. It's pretty good. I've got to dedicate this win tonight to Cale Shields. He's up in the stands there somewhere. This one's for you buddy. We're just getting one closer to Dave Darland's record there."
Continuing his lengthy speech, Ballou commented, "This place is awesome. I think they missed the setup on the racetrack a little bit, but it just goes to show you, most of the places we go to don't try to do anything to rework it, but the O'Connors always step up when it has to happen. They made it racy. It hadn't been won on the bottom all year until tonight. I've got to thank them. I've got to thank Derrick Bye for all his hard work. Jimmy Jones and my dad flew in to help me because we're way behind. I've also got to thank all you fans for spending your hard-earned money."
While waiting in the Turn Five Pub for the Sprint Car Snackdown wing-eating contest for Thursday's top-five finishers, the primary source of 2015 Smackdown drama was occurring in the pit area, as a mass of Darland supporters took exception to Ballou's post-race comments. I wasn't there to see it, but was able to observe some of the drama through a Periscope video. Appearing to be nothing more than a lot of hot air that escalated into a brief scuffle, I was shocked to learn that the incident led to a Kokomo Speedway ejection for Dave Darland's wife Brenda. Neither of the two drivers who were at the center of the controversy were actually involved and whether it is words or punches thrown, I still believe that rivalries only make the sport better for the fans and promoters.
Another epic meal was enjoyed mid-day Friday, traveling to downtown Indy's Virginia Avenue so that Steve could experience brunch at Milktooth. Named one of the ten hottest new restaurants in the country by Bon Appetit magazine, we tried a little bit of everything, with my main entrée consisting of a hearty ribeye steak adorned with some of the best scrambled eggs I have ever experienced, and that's saying a lot because I am generally not a fan. Steve chose the cranberry and walnut raclette grilled cheese as his main dish, coated in a black truffle honey that indeed mixed savory with sweet. Additional meal highlights included a fresh oyster starter plus sides of sour cream biscuits and sorghum glazed bacon, ordering a batch of cinnamon sugar donut holes complete with lavender peach jam and peanut brittle crumbles to enjoy later. Such an incredible edible experience, I'm looking forward to going back to sample additional inventive dishes.
Friday's Smackdown field dwindled to 41 but upped the ante in the drama department when Ballou snapped a rear axle on his first qualifying lap and helicoptered atop the turn two concrete wall, contacting a fence post and tearing out a large area of fencing. Rendering his three-race old Maxim out of commission with left side cage damage (the same car that was ruined in its initial Bloomington outing several weeks ago), Robert and his team hurried to ready a backup car for the first heat. However, this only came after USAC gave their point leader the green light to compete. But, with the medical staff spending an inordinate amount of time hovering around him at the scene of the accident, this left many to wonder just how serious the incident truly was, as word got around that he had been briefly knocked unconscious. Talk about a change in racing luck, could Ballou recover and keep his championship hopes alive?
Darland was the quickest qualifier on night number two in his Phillips DRC/Foxco combo (12.642), a huge turnaround from Thursday when the best he could do was 21st. After his fifth place finish on Thursday, Brady Short's high hopes for Friday were effectively dashed when his engine died at the conclusion of his first qualifying lap. Like Ballou, Short reverted to a backup. Both Robert and Brady offered the most Friday intrigue, sprinting from the back of the C to claim the top two spots. Beginning 17th and 18th in the B, they were third and fifth at the end of just 12 tours. And, at the 30-lap A-main conclusion, Short was scored sixth and Ballou ninth, the dynamic duo driving past 15 and 13 machines, respectively. If you only watched these two, you certainly got your money's worth.
Thursday night's turn one ledge reappeared on Friday and tilted Ryan Bernal on two wheels during time trials, just enough to kiss concrete in corner two. Ryan finally stuck the Walker 11 in the show after winning the first heat but could only muster a 23rd place feature finish after tangling with Kyle Cummins. While coming to yellow after a Tony DiMattia heat race spin, Muncie's Cole Ketcham caught that same cushion and gained some big air, the massive spill ending his weekend one day early. Friday's final incident involved Hunter Schuerenberg, who biked and flipped atop turn three with just two laps left. Elevating ten starting spots to third, he dipped into his Kokomo bag of tricks (ala 2008) with an awe-inspiring over-the-cushion attack in Tony Epperson's Spike. Proving that he can still cowboy a real sprint car with the best of them, after his involvement in an early B-main yellow he worked his way into transfer contention, dramatically stealing the final spot on the final lap from Kevin Thomas, Jr. KTJ was forced to take a provisional pass for Friday's feature, netting his Mike Dutcher Motorsports squad a sub-par 21st.
Friday's feature was all Chris Windom, leading the first 27 laps from his outside front row perch. Seemingly having the race in the bag until misjudging a slew of lapped machines in turn three, he rapped one of them in the rear, throwing away a certain win with a spin. Although he did not cut a full 360 degree donut, he was still under power and headed in the opposite direction, leading to what USAC termed an inadvertent yellow and allowing him to reclaim fourth on the ensuing restart. A rather peculiar rule, USAC mandates that if a driver completes a 360 degree spin, the yellow flag is thrown and the guilty party must revert to the rear of the field. Although I agree that Chris did not perform a 360 degree revolution, I wonder how a 180 degree spin is any less dangerous with the remainder of the field bearing down upon him. Rules are rules however, making me glad that I do not have to enforce them.
Handing the lead baton to sixth-starting Chase Stockon, Chase had to endure a pair of restarts for a Hunter Schuerenberg red and Chase Boespflug yellow to hold back the advances of Dave Darland to claim his first-ever Kokomo triumph, polished off with a Polish victory lap. Darland strutted from seventh to second while Windom, Hines, and Stanbrough rounded out the first-five. Short, Bacon, Meseraull, Ballou, and Cummins would be credited with sixth through tenth. A pre-race Smackdown favorite, Justin Grant finished last on Friday after connecting with Scotty Weir on the back stretch. Waving his steering wheel in anger at Weir, in an interesting bit of irony Scotty's car owner Kenny Baldwin stated the next day that Justin would be his hired gun for the rest of the season.
Securing his second USAC national victory of 2015 and fourth overall this season, the native of Sullivan, Indiana who now calls Elizabethtown home spoke to Rob Goodman about his monumental triumph. "I can't even describe it. It's an awesome feeling. This place is one of the hardest places to win at in the world and to beat Dave on top of that is huge. The racetrack tonight wasn't necessarily my forte. A big cushion like that seems to suit his style. We were able to hold him off and hopefully we can do the same tomorrow. Those late race restarts killed me last night. My crew chief D.J. told me to run as hard as you can – that's the only way you're going to beat him. We were on our game tonight. We weren't as good as I wanted to be, but it was definitely good enough to get the job done."
Enjoying Friday's post-race concert from the Flying Toasters, while listening to the tunes and socializing with the large throng, I searched my phone to find the list of the top eight points producers locked into Saturday's finale. In order, the elite eight included Stockon, Bacon, Windom, Cummins, Stanbrough, Darland, Meseraull, and Ballou.
Choosing to spend our Saturday afternoon strolling the streets of downtown Carmel and its impressive assembly of antique, classic, muscle, and exotic automobiles, for the fourth year in a row Artomobilia preceded Smackdown's finale. As if the plot needed to thicken any further, Chris Windom's bike ride and resulting turn three flip in Saturday hot laps tacked on even more drama to this crazy Smackdown story. Tearing out fencing and forcing his team to scramble in assembling a backup car for the feature, what a thrash it was, as Pollock and a cast of thousand hands started with a bare frame that only had a front and rear axle pre-installed. Not the most ideal ride with its rear birdcages crafted for winged competition, the all-out thrash was worth it as Chris would later manage a fourth place finish in the finale.
With its field slimming to 37, Saturday's four qualifying races moved the top-two finishers to the big show. Essentially paying $1,000 to transfer, these were without question the most competitive, intense, and entertaining events of the week. Boespflug and Schuerenberg's back and forth slide-fest for second was a thrill, as was Cottle and Andretti's similar duel for the same spot. Chad and Shane claimed those brief battles, as Coons, Courtney, Grant, and Thomas took top honors. Leary and Hines made the cut in the other two qualifying races.
Eyeing some threatening skies to the west; that only raised the bar for unnecessary Saturday drama as the three lap, two-car King of the Hill contests were next on the agenda, ultimately determining the first four rows of the huge forty lapper. In the first round, Stockon soundly defeated Ballou, Cummins eked out a slim .005 second win over Stanbrough, Bacon manhandled Meseraull, and Darland won by default over Windom as he and his crew were still working feverishly. Round two saw Stockon clip Cummins while Bacon held off a determined Darland. Thanks to a dramatic last turn, last lap lunge on the low side, the Macho Man was King of the Hill, earning him the pole, $400, and a Traxxas radio-controlled truck.
Saturday's consolation affair ratcheted up the stress and intensity several notches, as did the impending weather, with fellow fans predicting doom and gloom from their smartphone radar. Worried that Saturday night would ultimately lead to a Sunday conclusion and force Steve to miss the show, I could only hope for a minor miracle at this point. In that race for the final six spots, several noteworthy altercations added to Smackdown theatrics. Aaron Farney's bike ride and resulting flip in three and four confirmed that there are few Kokomo crashes that are mild. Farney collected Ryan Bernal who would have to try again from the rear. Thanks to a pair of red flag periods, in such appropriate dramatic fashion, Ryan swept outside of turn three on the final go-round to steal the final transfer. The first of those reds involved Jarett Andretti and Brandon Mattox, who were vying for the same piece of turn four, top-side real estate. Andretti high and Mattox low, the squeeze play resulted in a vicious ride into the wall and fence for Andretti, who somersaulted and shortened his Beast chassis. Brandon was also removed from battle, venting his frustrations to Jarett afterwards. Travis Hery's flip atop turns one and two further delayed A-main driver introductions, as a sixth-running Colten Cottle had his Smackdown hopes simultaneously deflate along with his right rear tire pressure. Short, McGhee, Schuerenberg, Weir, Robbins, and the aforementioned Bernal would finally punch their Smackdown tickets. Ted Hines, Josh Spencer, Kody Swanson, and Tom Harris just missed the cut.
Noticing in Saturday hot laps that Thursday and Friday's challenging cushion was much more manageable, my immediate synopsis was "advantage Darland". Starting fourth in the finale and leading the last 34 tours, my premonition proved all too true, resulting in a third Smackdown title in a row for Dave and his Steve and Carla Phillips squad. The $10,000 win was rather drama-free for Double D, which after his frustrating finishes the previous three nights plus Thursday's extracurricular activities, served as an ironic twist for the entire week.
Outside front row starter Chase Stockon paced the first five laps, during which pole sitter Bacon clipped the backstretch wall and flattened the right rear on his Hoffman Triple-X, causing a caution on the fourth tour. Two laps later, Kyle Cummins moved to first but both Kyle and Chase would yield to Darland's high-side heroics on lap seven. With the cushion on the wall and the bottom and middle lanes wearing thin, that race for first was essentially over. As Dave constructed a half-straight advantage in just four laps, all eyes moved to the fantastic fight for fifth that contained seven men, namely 16th-starting Cottle, Courtney, Windom, Stanbrough, Thomas, Grant, and Short. A spin from Courtney and an early exit by Meseraull allowed Stockon to pull to Darland's rear bumper on lap 22. Cottle worked as high as third before yellow laundry was displayed for lap 27 debris. In those final 13 trips around this quick quarter-mile, the winds and rain began to swirl as Stanbrough made hay around the extreme bottom, briefly moving to third. However, much like Shane, Jon would drop several spots as top shelf tactics eventually won out.
Stockon and Cummins waged a fine war for runner-up status, as the final lap featured Kyle sliding for the position through turn four. Always digging, Chase successfully countered with a crossover and scored second. After 12 years of sprint car competition, Cummins continued to open eyes with a solid third for Hank Byram while Windom and 12th-starting Kevin Thomas took fourth and fifth. Stanbrough, Grant, Short (up 9), Leary, and Tracy Hines completed the second half of the top-ten. National point leader Robert Ballou struggled to a 15th place finish, still ahead of Stockon by 24 markers. As the series heads to Terre Haute and Haubstadt on the 18th and 19th, Darland is now in the hunt in third, just 52 points in arrears.
Sitting in the spot normally reserved for Lafayette-based railroad lifer Arba Richardson, the forceful winds and driving rain didn't seem to faze Arba's buddy Joe Higdon one bit, basking in the glow as he watched his favorite pilot roll into victory lane for the 57th time in USAC competition. Pulling off the improbable Smackdown hat trick, Darland told Rob Goodman, "I love this place. The Kokomo Speedway is an awesome racetrack and I hope you fans enjoyed that race tonight! I've got to thank my team – they gave me a great racecar. They worked their ass off all week long to get us here and here we are, in victory lane on the big night at the Smackdown. When it comes to the Kokomo Speedway and when the money is on the line, they go the extra mile. It wasn't anything different that we do any other night. It was just circumstances. When the cushion is close to the wall like that, it's what I love to do. The O'Connors – my hat is off to them for the racetrack."
Slathering some additional icing on his winning cake, Dave finished off his Saturday interview with a special tribute of his own, adding, "My wife Brenda, she couldn't be here tonight so I just want to dedicate this win to her. She works her ass off for me day in and day out. She has a regular job that she works during the week and comes to the races with me all weekend. She's dedicated to my career and I appreciate everything she does."
In this age of reality television featuring families and friends constantly quarreling for the most ridiculous reasons, I will never understand the attraction to such artificial entertainment. A peace-loving individual growing up in a warring household of hotheads, I do, however, grasp the concept that there is something so fascinating about the trials and tribulations of super-competitive personalities attempting to outdo one another both on and off the racetrack. In the span of four straight days of Kokomo Speedway USAC sprint car competition better known as the Sprint Car Smackdown, at no time during the season, not even Indiana Sprint Week, is such a spectacle of craziness and drama exceeded. And although Kokomo might be home to racing's ultimate drama kings, Dave Darland proved that no matter how hard people try to rattle his cage and distract him from his task at hand, when the big money is up for grabs, he simply puts his head down, blocks out all the noise, and gets to work. Tried and true, there is nothing artificial about this man. The ultimate king of Kokomo, he is still the real deal, and there's nothing wrong with that.
Volume 17, Number 11
Strange Days
Ever since I joined the workforce full-time, mid-August has never felt quite right. Twenty-one years later, it's still an odd time for my head and heart.
Just as the rainiest July in history had finally come to a conclusion and temperatures began to feel like summer, school buses started their morning routine once again, an eerily familiar sight that still serves as quite a shock to the system. Back in my younger years, these were without question the most gut-wrenching days, signaling the end of ultimate freedom and the beginning of far too much work and worry. Substituting homework, quizzes, tests, and papers for an income-earning career, nowadays I'm not quite sure whether to be happy or sad when the middle of August rolls around. Happy that the weather is finally decent, I don't have to get on that school bus, and there's still another month and a half of racing remaining, it's sad to think that summertime's freedom is actually slipping away.
But is this time of the year truly summer, or is it just fall, simply in disguise? Strange days indeed, August remains a difficult month to process, always leading me to think back to what I was doing ten, fifteen, twenty, and even thirty years ago and often wishing that I could go back and do it all over again with the knowledge that I now own. Foolish to even ponder such a silly scenario, eventually I come to my senses and realize the things I should presently be thankful for.
Speaking of the present, I was more than grateful to end another workweek with a fine Friday of sunny weather, as on August 14th I was Bloomington bound for the first time since July 17th. Joined in a two-car convoy with my nephew, we avoided State Road 37 restrictions south of Martinsville, finding old State Road 37 a rather pleasant alternative. Enjoying the natural canopy of the Morgan-Monroe State Forest and hundreds of scenic twists and turns, we eventually exited in the shadows of IU's Memorial Stadium. South and east on Dunn, south on Indiana, west on 10th, south on Walnut, and east on Fairfax, eventually we were re-introduced to the famous red clay, provider of thrills and chills since 1923. Just a pair of sprint car contests were left in Bloomington Speedway's seemingly brief season, tonight's battle being an MSCS meet touting an $11,375 feature purse, $3,000 on top and $200 on the bottom.
In the seven sprint car races conducted in 2015, strangely enough B-town could only boast two winners: Bryan Clauson and Brady Short. On a three race win streak and already tallying 12 triumphs, could anyone stop Short? Clauson was of course in Knoxville, Iowa, eventually claiming his first winged sprint car victory on the sport's biggest stage. However, 28 other competitors hoped to stub Sweet Feet's toes, at least for one night. At the top of that list was Indiana Sprint Week king Robert Ballou, who like Brady was also in the midst of a career year, dazzling with a dozen wins of his own against the stiffest of competition. Joined by a host of heavy hitters like Darland (Epperson 2), Stanbrough (Batcheldor/Fox 53), Grant (Baldwin 5), Leary (Pedersen 4), Cottle (Hazen 57), and Coons (Nolen 20), optimism for a new winner was abound.
Shading our eyes from the setting sun, I caught heat races from the pit bleachers with 2004 Kamp Motor Speedway MSCS victor Danny Williams, Jr. In between the four events (each won from the front row) we reminisced about the golden sprint car years of 1990 to 2005, recalling a 2001 season in which DWJ's Dynamite chassis collected four track titles, namely Eric Shively (Gas City and LPS), Troy Link (Haubstadt), and Scott Townsend (Paragon). Most impressed by Jeff Bland, Jr.'s surge from seventh to second, it was clearly evident at just how difficult it was to overtake on the hammer-down surface. Last-starting Dave Darland could not advance even one position and had to work extra hard in the B just to make the main, aided when leader Chase Briscoe suffered a serious flameout in his grandfather's legendary 5. Terre Haute terror Brandon Mattox missed the show by one spot.
Featured first were the winged 305 sprinters and in my hustle to reach the front stretch side, I missed Luke Bland's titanic tumble to the staging lane, requiring a ride to the hospital for the 40 year-old sprint car rookie who had not only landed in Bloomington's victory lane on May 22nd, but was coming off a runner-up showing at Chandler. Extremely sore and requiring some stitches on his right elbow, Luke's wife Jennifer reported on his condition the next morning.
That 305 feature was claimed in flag to flag fashion by hometown hero Kevin "Pup" Huntley, just his fifth attempt in a 1991 Gambler chassis for track owner/operator/car owner Danny Roberts, the same guy who provided his $50,000 Mopar Thunder race-winning ride from 2004 as well. Certainly the oldest sprint car on the grounds, mechanic Kevin Pemberton transported the piece in what might have been the oldest enclosed trailer as well, an early model Chaparral that would have been in vogue with the early to mid-1980s Outlaw scene. Only Scott Pedersen's open trailer, initially constructed by A.J. Watson, was older.
While speaking to Kimb Stewart on the front chute, the 1992 and 1993 All Star Circuit of Champions title winner (sharing the crown in '93 with Frankie Kerr) noted at how nervous he was in this particular outing, nearly being taken out by a spinning Jadon Rogers late in the affair. Always dreaming of ending his career on the highest of notes, after winning at Atomic Speedway on August 1st, tonight's triumph led him to abruptly announce his permanent exit from the sport. Rather appropriately book-ending with Bloomington victories, this was the site of his very first score way back in 1986, the same year he collected a track championship as well. As a fitting salute, Kevin gave back to the fans by tossing not only his gloves into the grandstands, but his shoes as well. Speaking as a fan, I wished that I would have caught one of those souvenirs as I have thoroughly enjoyed his performances over the last thirty years, playing a pivotal role in an early 1990s All Stars era that will always be my favorite. In the 1990s and early 2000s, aside from Jack Hewitt, there was probably no one more dominant at Eldora Speedway than Huntley, securing seven All Star mains and five USAC unions, including a 1997 Silver Crown show. Unfortunately, it was also the place where he broke his back on April 10th of 1999.
Out of action since finishing 6th in the 2008 Four Crown Nationals for Silver Crown owner Stan Courtad, Kevin celebrated his 50th birthday in May and certainly had nothing to prove in his brief return to racing. Operating a thriving excavation business during the day, in his spare time he is an aviation enthusiast, having earned his pilot's license in January of 2007 and later achieving both his instrument and multi-engine rating, often using his plane for short excursions (as a for instance, he recently flew to Madison, Indiana on an odd Thursday to enjoy an evening at the casino).
Happy that the "Pup" produced the noteworthy win but at the same time sad to see him go, his huge announcement made me feel old, emotional, and extremely nostalgic, helping me to recall the 1990 Ohio Sprint Speed Week finale at Eldora when he nearly defeated a then-dominant Sammy Swindell. Remembering my thought that this young but fairly established talent was on the verge of greatness, in short time he indeed lived up to such stature, emphasizing just how significant the Bloomington Speedway is to sprint car history, as so many great ones have honed their craft on this red dirt road. The mixed feelings experienced upon his retirement only upheld the notion of August's complexity. Thanks for the memories Pup – it was indeed a blast!
An eventful thirty-lap sprint car finale was next on the card, featuring a front row of 2004 Sheldon Kinser Memorial winner Shane Cottle and USAC Triple Crown champ Jerry Coons, Jr. It too offered a strange variation, something that the experts could never predict.
The first of six cautions flew immediately when fourth-starting Donny Brackett spun his Spike in turn one, cutting a 360 but surprisingly getting his spot back for the complete restart. Once green, Coons drove Gene Nolen's Spike to the top shelf and was trailed by Cottle and Brackett, the latter gaining a fourth corner shove from Ballou. Commencing ninth, white-hot Short was already embroiled in a fight for fifth with his buddy Bland, Jeff giving way once he exceeded the sizeable third turn curb.
Despite a black streak just beneath the ledge, the high road was the way to go on both ends, offering plenty of grip from start to finish. Continuing his forward march, the Mad Man briefly deviated from the preferred path as he cleanly slid Cottle for second through turn two, seeing Stanbrough duplicate the maneuver the next lap. Bedford's limestone lord moved Kokomo's carpet layer back one more position just before yellow laundry was dangled for Matt McDonald, the first of two for the Putnamville regular.
Before amber bulbs illuminated a second time for Brackett, Ballou's bonzai blast by Coons produced P1 in turn one, Stanbrough immediately following suit to snag second. Once back green, Short stole third but in an odd twist of August fate, Ballou blasted the curb and spun in turn four, sliding down the bank and collecting Stanbrough, whose nerf bar became one with his right rear tire. Mentioning afterwards that he had no idea of the size of his lead, Robert was simply trying to pick up the pace and seal the deal. His first bit of bad luck since the fourth of July in Putnamville, Ballou soldiered home to an 11th place finish, the left front corner of his brand new Maxim chassis mangled from the contact. The Silent Gasser was unable to resume battle, continuing to be victimized by some horrible racing luck.
Gifting first place to Short, despite a late race lunge from the yellow 20, Brady could not be beaten. Collecting his fourth consecutive victory in a record-setting 13-win campaign, this was his seventh of the season in MSCS meetings and sixth at Bloomington, as always piloting Cam Pottorff's potent Maxim/Spec. The last ten tours offered two additional cautions and an outstanding joust for third between Cottle and 16th-starting Jordan Kinser, a highly entertaining fight in which the two swapped the position a handful of times. The Throttle shot as high as second but Coon Dog kept his nose to the ground and regained the spot two turns later. At the thirty lap conclusion, Short, Coons, and Cottle were trailed by Kinser (a fine drive in the Hurst Brothers Racing Maxim) and tenth-starting Max McGhee. Grant (up 12 spots), Darland (up 13), Nick Bilbee, Leary, and Carson Short claimed sixth through tenth.
Rather than taking a seat for main event action, I stood in front of the concession stand alongside B&W Auto Mart proprietor Bill Wever, a long-time Bloomington Speedway and Randy Kinser backer who currently funds USAC's hard charger award. Watching his recently turned 15 year-old nephew Jordan drive to his first modified victory, Bill's extreme emotions exemplified why we get so intimately involved in racing. It's that thrill of victory that's so elusive, so satisfying, and so addictive. I suspect we'll be hearing much more from this young gasser in the years to come.
The next evening, I was happy to be back at the Lawrenceburg Speedway for the first time since July 12th. The $3,000 to win Dick Gaines Memorial was the main attraction, round number five of six in the Jackslash.com Indiana Sprint Car Series. Sad that it might be my last trip of the year here as I have a binding commitment elsewhere on the October 3rd USAC date, I therefore intended to savor the evening in every way possible. With competition for cars coming from Putnamville, Paragon, Fremont (BOSS), and Flora (MSCS), just 21 showed in this southeast corner of the state, not a bit worried as some of the heaviest hitters were in the house, so many of the same faces from Bloomington.
Slightly slim car counts eliminated the need for B-mains in all four classes. After a trio of clean and green sprint heats were claimed by the recently-engaged Kyle Robbins (from 2nd), Jerry Coons, Jr. (from first in Monte Edison's machine), and Jon Stanbrough (from second after moving to the front row when C.J. Leary's Spike jumped out of gear on the warm-up lap), I waited out modified heats but considered taking a trip to the pits to check on the status of Leary's ride, as Chuck Leary and Brian Cripe were on-hand to assist Scott, Ryan, and Red Pedersen. Climbing up a row to head for the steps, I immediately encountered longtime KO's Indiana Bullring Scene reader Rich Hollmeyer, deciding to take a seat and catch up as Rich is still active as both a fan and participant, campaigning a go-kart for his grandson at the mini-Lawrenceburg Speedway.
Hearing later how Cripe commandeered a spare rear end from Kyle Robbins, less than an hour after sprint heats were complete old-fashioned driver introductions allowed newbie fans to place a face with a name. With the green flag flying at a little past 9 PM, if Friday's B-town bash wasn't strange enough with its Ballou blunder, Saturday's 25-lap finale would take the cake for odd occurrences. Heading to green, front row starters Stanbrough and Robbins met at the exit of turn four, as Jon's right rear climbed Kyle's left front. The heavy contact bounced K-Rob askew and blocked the top side of the track, as his horse was promptly hammered by Ballou, who also had Coons climbing aboard his rear bumper. Both Robbins and Ballou suffered too much damage to continue, both expressing high emotions as Stanbrough slowly circled the speedway. Coons, meanwhile, got a reprieve and would restart 17th. As for Ballou, the awfully strange days of August continued, but I'm positive he would much rather get this sour luck out of the way just in time for serious USAC championship implications at Kokomo's upcoming four race Smackdown.
Now moving Rushville's Garrett Abrams from the outside of the fourth row to the front, Dickie Gaines also advanced four rows to the outside of two in the Soudrette 44. Commanding his Foxco horses to carry him to the front, Stanbrough exited the first two corners with the lead in the iconic number 53 DRC chassis. The rest, as they say, would be history, but there was certainly more to the story. With two laps complete, C.J. Leary chucked his driveline components along the front stretch and caused the second of four cautions, ending a forgettable evening for the Greenfield grenade.
Stanbrough led Darland (Walker 11), Abrams, Joss Moffatt, and Gaines back to green and in just five laps, the two veterans put some significant distance between themselves and Moffatt. Just past halfway, Dave had closed to within a car-length of Jon, both riding the rim around the supremely-prepared Lawrenceburg bowl that offered some bodacious bite and a large ledge on which to lean. Nearing the ten to go signal from flagman Tim Montgomery, a hard-charging Coons showed that the bottom lane was equally effective, picking a podium placement from Joss. Back up front, a slew of sleds (six to be exact) served as lapped traffic and in that mess, Stanbrough would have to dodge yet another bullet. Grant wound up colliding with Abrams and Gaines, spinning Kenny Baldwin's five in corner three. For the second night in a row Jon was unable to avoid calamity as again his right rear tire was the target, the inevitable contact removing the mud cover from the wheel. Fourth place Joss Moffatt was also collected in the mess, which moved Jarett Andretti to that same position until he pulled pit side after realizing he had no more brakes.
Restarting with right rear rubber that still held air, perhaps the dark cloud that had been following Stanbrough had disappeared, as the last seven circuits saw him hold off Darland despite having to endure one more caution. Securing his second victory of the season, it was the first since reuniting with Mark Batcheldor, Steve and Brad Fox, and midget master Tim Mehner. Extremely apologetic, gracious, and forthright in his victory lane speech, this was Jon's first win in car 53 since October 8th of 2011 at Haubstadt. It may not have been the Knoxville Nationals, but this was truly a special win for all parties involved. Behind Jon and Dave came Jerry Coons, Jr., who completed his sterling run from the rear. After starting ninth, Aaron Farney flew to fourth while Abrams annexed a solid top-five. Sixth through tenth included Gaines, Drew Abel, Moffatt, Travis Hery, and Max McGhee.
Southward bound for the second Friday in a row, Bloomington Speedway's 27th annual Sheldon Kinser Memorial was on the agenda for August 21st, thankfully rescheduled from a June 26th rainout. The sixth and final chapter in the Indiana Sprint Car Series, there was significantly more on the line than the usual $3,000 first place prize. Jon Stanbrough held a slim lead over Robert Ballou in the driver standings while Jeff Walker's name was at the head of the class in owner points, both winners guaranteed a healthy package of products and services and some super-cool custom metal artwork created by Jeremy Farmer's Hogdidit (www.hogdidit.com).
Crawling through the suffocating State Road 37 rush hour traffic, I again challenged myself to make up time on the curvaceous old road 37, giving my John Cooper Works MINI some well-deserved exercise. Arriving for the third of four hot lap/qualifying sessions, unfortunately a necessary swap of work clothing meant that only my ears could sample the sensory overload. Strange to imagine that this was my final time to be greeted in 2015 by the always-cordial Leslie Prince, I had plenty of time to patrol the pits before heat races started. Finding a solid field of 29 machines, I have to admit that I was more than a little disappointed with that number, not surprised though as it has been difficult to attract Friday night competitors all season long.
The reason for my disappointment has everything to do with the stature of this event. More than just a race, the SKM has always represented the best that local Indiana sprint car racing had to offer in terms of purse, prestige, talent, and car count. At least the purse and prestige are still present, but I can vividly recall a field of 55-plus machines for that first one back in September of 1989, my senior year of high school.
Eyeing 2006 event winner Daron Clayton assisting Jeff Walker, three of the most notable absentees included Jerry Coons, Jr., Kevin Thomas, Jr., and Indiana Sprint Car Series championship contender Robert Ballou. With his equipment sitting idle back in his Cicero, Indiana shop, Ballou was actually here to help Aaron Farney but was admittedly still agitated over the turn of events the previous Saturday in Lawrenceburg, openly conceding the Indiana Sprint Car Series crown to Stanbrough. Call me strange, but I still don't get why Robert would not take a crack at three grand and all those prizes, unless he was conserving inventory for the Smackdown and a planned tow to California Sprint Week. As far as that gift to Jon, Friday proved that there are no sure things in traditional sprint car racing, as Stanbrough's Foxco mill broke a connecting rod in his heat. Graciously given a shot at claiming that title when Brandon Mattox gave up his feature-qualified ride, Jon would have to begin from the tail, never an easy proposition in B-town. Definitely an odd occurrence, when was the last time you saw an engine in a Fox-prepared ride give up the ghost?
Catching up with former SCIRA competitor/board member and current day Paragon Speedway owner/operator Keith Ford (he says Paragon is still for sale), on Bob Kinser's 84th birthday Keith and I enjoyed some eventful heat races from the pit grandstand, watching Darland, Cottle, Bilbee, and Courtney claim $50 STIDA.com prizes from second, fourth, first, and third. Continuing the strange days theme, Brady Short also showed signs of smoke and pulled up lame on the last lap, victimized by a blown power steering hose. Brady easily claimed the nine-car B-main from mid-pack and wrapped up another Bloomington Speedway championship, his sixth in the last seven seasons. Rather than the Bedford Blaster, his nickname should be Bloomington Badass.
Wheeling the Eaton, Ohio-based JP Motorsports 24, Chase Briscoe tapped Nick Johnson into a wicked set of front stretch 360 spins, Nick awfully lucky not to land on his lid. With the red clay oozing with grip, Aaron Farney seriously titled on two wheels through turn two while Kent Christian did the same in four, but KC was unable to bring his machine back to earth without serious implications. Resulting in a brutal set of barrel rolls over the bank, one of the final impacts dented the top of the roll cage. Kent's KC Chassis was otherwise straight, saying a lot about the veteran's welding and fabrication skills. Appearing slightly dazed by the big ride, the otherwise coherent Christian noted that it dove on the right front but didn't really know what happened, commenting that it had been a long time to take a ride like that.
Like last week, the 305 cubic inch winged Racesaver sprint feature was first on the card. Third in points and back to feeling normal after his huge ride, Luke Bland and mechanic Steve Rone had a busy week filled with acquiring and replacing a laundry list of bolt-on components. Also on-hand after last week's victory was Kevin Huntley, whose ride was commandeered by mini-sprint racer Evan Pemberton. Brian Gerster was also in the house for the second week in a row, finding work in Bill Throckmorton's second red rocket. Prior to last week, Brian's most recent dirt outing came at the 2006 Gas City Indiana Sprint Week contest. Purchasing a Jackslash.com subscription to study previous Racesaver rounds, Brian's investment paid dividends after leading all twenty feature laps, quite an improvement over last week's eighth-place effort. Series champ Eric Smith scored second and Tom Busch took third in his 1991 flop-tube rear J&J, equaling the age of Huntley's winning Gambler chassis. The next evening, Brian doubled his pleasure by winning a Must See winged asphalt sprint car assignment in Berlin, driving Dick Myers's Hoffman chassis that was ironically also constructed in 1991. I have to wonder - when was the last time anyone won with a wing on dirt and pavement in consecutive outings?
Once a forty-lapper that was now just thirty tours, the Sheldon Kinser Memorial aligned a front row consisting of recent Lincoln, Illinois and Hartford, Michigan winner Chris Gurley and Springville's Jeff Bland, Jr. Indiana Sprint Car Series title contenders Darland and Stanbrough were set to jet from sixth and 20th positions while Short started 16th. As sad as it was to think about concluding a sprint car campaign on August 21st, if it had to come to an end, this was certainly the way to do it, perhaps one of the best Bloomington features I have ever witnessed in my decades of attendance.
Always one of his better tracks, Gurley got the jump to the healthy turn one cushion, as northern Indiana's Tall Cool One led Courtney, Bilbee, fifth-starting Shane Cottle, and Bland. Kiwi Stephen Taylor spun Jeff Walker's other 11 into the infield, but no yellow was necessary. Back in Chuck Eberhardt's Maxim/Wesmar (tuned by Claxton), "Sunshine" found the low lane to his liking, launching off the second bend to pilfer the premier position on lap two. However, the operator of Merrillville, Indiana's Team VW/Audi dealership refused to lose, staying true to the top shelf and taking over the number one spot with a big-time blast through three and four. Reverting to his extensive AMSA mini sprint Bloomington experience back in the early '90s, Cottle toured the high road to briefly take third but soon became embroiled in a bitter battle with Bilbee and Courtney for runner-up rights. Shane's turn two slider came with contact, as the right rear of the Hazen 57 brushed Bilbee's left front.
The top six positions remained tight as the former Flying Illini pulled even with Gurley through one and two, attempting a slide for life on Chris on three consecutive circuits through three and four but each time, Gurley got the upper hand. Meanwhile, like a sweat bee waiting to sting, Bilbee was still hanging around, returning the favor on Cottle with a slider through the south end to snatch second. Battling both high and low, Courtney, Cottle, Bilbee, and Bland all managed to fit under one snug blanket, seeing Shane squeeze Jeff over the bank in two. Nick led the way in this battle for second-best and with Gurley's DRC well within sight, he authoritatively executed yet another breathtaking slider through two. Chris countered with an immediate crossover and continued his command, thwarting another takeover one lap later.
Just past halfway, Courtney's bottom-feeding was beginning to pay off, inching even with Gurley and Bilbee through turn three and just ahead at turn one. Nick tossed one more slide job on Chris through corner two, securing second as Shane smelled blood in the water and pounced with a bold move of his own. Staying upstairs, Bilbee would eventually eliminate the gap to Courtney and steal the lead with a supreme squirt through one and two, unthreatened the rest of the way. Ending Bloomington's streak of same winners for 2015, Nick also closed out B-town's 2013 campaign with a trip to victory lane.
Cottle made a late race move to score second while Max McGhee also turned up the heat in the eleventh hour, marching to third from ninth. Courtney settled for fourth while Darland maintained his starting position in fifth. Sixteenth to sixth was Brady Short while Jordan Kinser collected seventh after starting 13th in the Hurst 9. Chase Briscoe, Gurley, and Aaron Farney rounded out the top-ten. Jon Stanbrough soldiered home 12th, good enough to take the inaugural Indiana Sprint Car Series driver championship which also included that super-cool trophy from Jeremy Farmer plus a Butlerbuilt seat, Hinchman suit, and custom helmet paint job from RockStar Paint. Jeff Walker's solid runs with Darland and Hunter Schuerenberg landed him the car owner laurels which also awarded a Hogdidit trophy plus a DRC chassis kit, a set of Wilwood brakes, and four FK shock absorbers.
The last two weeks of Hoosier sprint car competition were some rather strange days for men like Ballou, Stanbrough, and Short, all of them proving that they are not immune to ill fortune. Robert's bad luck in Bloomington and Lawrenceburg defied his incredible 2015 campaign in which he's won nearly everything. Seemingly intertwined with Ballou, Jon Stanbrough's luck was extremely sour in this stretch, costing him a feature win at Bloomington's Summer Doubler and nearly a series championship after a rare blown engine. Despite this difficult stretch, the Silent Gasser managed to rise above with a big win at The Burg and after finding another feature ride at the Sheldon Kinser Memorial, secured the coveted ISCS crown. As for Short, a power steering hose ultimately cost him a shot at claiming the Sheldon Kinser Memorial and although his Bloomington streak was stopped, his sizzling end of summer stretch continued the next night in Brownstown for win number 15 of '15.
An odd time of the year, August still manages to tug at the heart strings. Although I may no longer have to worry about the stress that is associated with the arrival of the school year, such reflections continue to remind that the things I cherish most are slipping away with time, best evidenced by Bloomington Speedway's early sprint car finale. Now that the calendar shows that Kokomo's four-day Sprint Car Smackdown is upon us, cooler than expected temperatures and additional time away from work makes this period feel even more odd than usual. Secure in my status with relationships, career, and health, I truly have nothing to worry about and yet here I am, feeling like something is missing. Some strange days indeed, August will do that every time.
Volume 17, Number 10
Stoking the Fire
As they say in the scheme of interpersonal relationships, passion may be fleeting, but true love is everlasting.
If this realm of relationships expands to include feelings for open wheel action, in the introductory stage of our unhealthy addiction there is an overwhelming desire to satisfy an insatiable need for speed. Placing everything else in our lives at risk to temporarily eliminate this urge, such an obsessive, fanatical following is indeed categorized as passion.
But, like everything else in life, passion fades away and as it diminishes, even the most ardent midget, sprint, and champ dirt car supporters would like to believe that they have the power to walk away at any time with no regrets. The truth is, we simply cannot quit cold turkey as there are some massive withdrawal symptoms to overcome, eventually luring us back for another onslaught of guilty pleasure. Naturally the associated feelings may no longer be as fiery as that introductory phase, but a fondness and desire is still present, signifying true love.
After spending the last thirty years around this scene, my true love status is still evident, confirmed through regular attendance and columnist contributions. However, I can honestly say that my passion for local Indiana competition has been fading into the sunset, enough that a standard sprint car contest can indeed go on without me.
Maybe it is the pressure of perpetuating this state's rich history with this sport that curbs my enthusiasm, but my heart tells me that there is simply something lacking locally. Whether it be car counts, drivers, personalities, quality of competition, or level of excitement, like a loaf of bread with its bag left open to the elements, the scene has grown stale and moldy. Thankfully there have been no permanent closures, but it should be noted that nearly every Indiana venue has cut back its unsanctioned schedule, leaving Lincoln Park Speedway as the only one hosting consistent weekly contests from April through September. With USAC's expanded slate requiring its sprint squads to conserve inventory and budget, the miniscule purses found on the local level tend to curb participation from these big dogs. However, it is these big dogs who I want to see compete, hence my regular Sunday night Kokomo Speedway attendance. Although car counts have risen to respectable levels of late, the influx of new competitors has not exceeded the natural attrition, leading to future concerns.
Once an inferno, if the flames of the Indiana bullring scene are now reduced to a smoldering pile of ashes, leave it to an enthusiastic Sean Buckley to stoke the embers and attempt to get those flames flying high once again. Announcing his six race Indiana Sprint Car Series prior to this season's start, the key aspect of Sean's concept was television coverage, specifically half-hour, tape-delayed productions aired on MAV TV. In this age of instant gratification available through handheld devices, there is still something significant about the exposure gained from national television, a huge tool that teams can still use to lure sponsorship. Piggybacking special unsanctioned events, although Buckley didn't add anything to the purses except for additional heat race and B-main money, feature winners do get a new right rear tire while both the championship winning car owner and driver stand to collect some substantial prizes. The car owner scoring the most points after six races earns a new DRC chassis kit, a full set of Wilwood disc brakes, and four Factory Kahne shock absorbers. The number one driver receives a Butlerbuilt seat, a Hinchman HTO suit, plus a wicked Rock Star paint job on the helmet of his choice.
Starting the series with 37 cars at Kokomo Speedway on the fifth of July, it's been a long while since that many machines populated Kokomo's pits for a just a regular program. Initially convinced that Buckley's series reinvigorated and united the local scene, unfortunately the second stop at Lincoln Park Speedway's 28th annual Putnamville Clash challenged that theory. Only 25 sprint car chauffeurs showed for $4,000 to win, with competition for cars coming from nearby Paragon, Lawrenceburg, Plymouth, and Waynesfield (Ohio). Beyond that mammoth first place prize, Putnamville's purse was otherwise standard, business as usual for the Clash. And, as has been the case for more than a decade, budget-minded sprint car racers go where they think they can be most competitive. With the USAC contingent on holiday, naturally the top talent was expected to populate in Putnam County. Regardless of such rare television exposure, the threat of the big dogs ultimately impacted the number of participants.
Back to Kokomo one night later for Indiana Sprint Car Series round three, a solid field of 27 showed for the Bob Darland Memorial, ten less than the series opener when the winner's share was $1,600 less. Remaining encouraged that the local torch was still lit, before the imminent showers arrived Justin Grant (Hery 40) was quickest from three groups of hot laps/qualifying. Chris Windom (Pollock 21), Tyler Courtney, and Scotty Weir (Baldwin 5) gained heat race glory while Cole Ketcham scrambled to scoop the remains of his sprint car into his trailer after clobbering the concrete and a fence post in between corners one and two. With no hope of waiting out the weather, the BDM was moved to Sunday August 2nd.
The third stop of the Indiana Sprint Car Series was now the following Friday in Gas City, the fifth of six events in the track's limited 2015 campaign. With USAC midget and Silver Crown regulars confined to Kansas, again that impacted Indiana driver and car counts, eliminating mainstays like Grant, Coons, Leary, and Cottle. Still able to gather 25 respectable machines, where were all the racers from south of I-70? If this were 2005 and Bloomington were dark, there would have been 15 to 20 more in the house, many of them from a great distance away. Say what you will, but times have changed in ten years.
Despite the notable absences, it was still an outstanding feature made possible by an even better I-69 Speedway surface. With top, middle, and bottom in play, action was intense for this Gas City Shootout. Beginning heat three winner Chris Gurley and Hunter Schuerenberg (Walker 11) from front row seats, once Hunter immediately slid sideways at the exit of the fourth corner, fourth-starting Robert Ballou suddenly found himself in first place, a lead he would never relinquish. However, such a story would be too boring to tell for an Indiana sprint car contest, even without USAC sanction.
Starting seventh and eleventh respectively, Jon Stanbrough (Batcheldor/Fox 53) and Tyler Courtney (Eberhardt 23) added the proper seasoning to make the final Friday of July flavorful. After an early caution for heat one winner and third-running Travis Hery, Jon jumped to fifth after Thomas Meseraull (Hazen 57) wagged his tail in turn three. Despite tilting on two wheels, Tyler immediately elevated to eighth thanks to a recent Jeff Claxton under hood overhaul. Stepping upstairs, Stanbrough gathered fourth from Gurley while Courtney slid to sixth past Meseraull. The Silent Gasser showed vintage Fox 53 flash when aggressively overtaking Logan Jarrett for third, soon securing second once Hunter Percent overextended turn one's cushion.
With the top-five operating on top and thick pockets of traffic looming, Jon began to explore other avenues. With just a few laps left, Ballou had a brief moment overtaking Todd Gnat, allowing Stanbrough to completely close the gap. Slipping off the exit of two on the final tour, as if he sensed Jon's presence, Robert chose the bottom of three, barely holding off the veteran at the 9:47 PM checkered.
Courtney claimed the final podium position and despite receiving a post-race ramming, Schuerenberg held off Jarrett for fourth. Sixth through tenth included Meseraull, Casey Shuman (up ten spots), Gurley, B-main winner Tyler Hewitt (up seven), and Max McGhee. Gas City's next go is also its final of 2015, taking place on Friday September 4th.
The exciting feature capped a satisfying evening, made even better when spending quality time with the Columbia City brotherly trio of Jason, Scott, and Aaron Orr. Back in Gas City's glory days of the late '90s/early 2000s, Jake and Scott were Gas City sprint car regulars, now aiding their younger bro who nearly stole the modified feature from Randy Lines.
For the first time in eight years, I was thrilled to bump into master metal crafter John Hajduk, Jr., a former sprint car shoe who with his brother Larry fielded midgets, sprints, and champ cars for a number of talented chauffeurs, owning the distinction of setting the final one-lap record at the old Kokomo Speedway with Dave Darland (2004). Recently moving back to Westfield from Peru, he still builds body panels for John Godfrey, hauling them to the west side with his ex-Team Automotive '97 Toyota T-100 pickup that proudly shows 390,000 miles on its odometer. Currently working his English wheel and applying his collection of hammers and dollies to vintage Ferrari metal, John's recent Motorkraft, Ltd. projects included crafting a fuel tank for a Bobby Marshman roadster, also massaging a former Greg Weld champ dirt car powered by Plymouth. I remain in awe of John's talents as his line of work, made famous by guys like Jerry Weeks, Don Brown, and all those roadster builders from the '50s and '60s, is truly a lost art.
Saturday August 1st saw 138 traditional sprint cars spread out at six different speedways, but just 23 of them made their way to Kokomo Speedway in an attempt to complete an entire Bob Darland Memorial and earn more MAV TV exposure. The fourth chapter in this Indiana Sprint Car Series novel, much like Gas City, there might have been a shortage of competitors. However, one more outstanding Kokomo finale continued to give reason to believe that the flames from the local Indiana scene had not been extinguished just yet. Thirty thrilling laps for $3,000 and an early exit – what more could you ask for in Sunday night entertainment?
First heat winner C.J. Leary (family 30) and Logan Jarrett represented two of Indiana's up-and-coming gas men, sharing the front row with their DRC/Claxton combinations. Separated by a complete restart after a Lukas Smith/Kyle Robbins altercation, a pair of turn two sliders from Leary were immediately answered by Jarrett. Up front for six laps, Logan overcooked turn four and smacked the wall, falling to third. Transferring the lead to Leary, by lap 13 his advantage measured a half-straight over fourth-starting Justin Grant. Five laps later, C.J. had lapped up to 12th, but Justin was now in his wake. Operating around fifth, Jarrett scaled the right rear of New Zealand newcomer Stephen Taylor (Walker 11) and took a nasty tumble in turn four. After extricating himself from the wreckage, Logan marched to Taylor's parked machine and out of frustration, slapped his visor shut.
Restarting with 11 to go, the advantage was all Grant, as he is an expert in sensing where the cushion ends and wall begins, especially when the surface starts to get slippery. Two laps into the final sprint, Justin sized up his competition and successfully slid for the premier position through turn two. Never challenged the rest of the way, he built a half-straightaway buffer upon reaching the 9:16 PM checkered flag, taking his third Kokomo trophy of 2015 and second in the Bob Darland.
With Brian Cripe assisting, Leary settled for a solid second while Chris Windom produced third for Rick Pollock. Ballou and Darland (from 10th in a second Walker 11) rounded out top-five. Cottle, Weir (from 13th), Stanbrough, Robbins, and Shuman secured sixth through tenth.
Early Sunday night excitement saw Parker Frederickson fold the right side Maxim downtube of the Wee3 in a qualifying crash. Previous night Plymouth winner and fast qualifier Tyler Courtney flipped in his heat after some contact from Kyle Robbins. With the B-main scrapped, all hands were on deck in repairing Tyler's ride. I counted as many as nine men from five teams replace a front axle, right rear birdcage, Jacobs ladder, and a few shocks in short time. Unfortunately, Courtney succumbed to steering issues in the A-main.
Kokomo's next contest is Wednesday August 26th, the makeup B and A-main from the July 11th Indiana Sprint Week show. For those not in attendance on July 11th, the best news for the fans is that general admission is free! Thursday, Friday, and Saturday encompass the titanic Sprint Car Smackdown, certainly one of the most anticipated events in all of open wheel racing.
Much like Sean Buckley and his Indiana Sprint Car Series, Lincoln Park Speedway owner/promoter Joe Spiker has been doing his part to stoke the local Indiana sprint car fire as well. The only local sprint car venue to offer a consistent weekly program, on the sixth anniversary of his taking the reins at LPS, he and his wife Jill went out on a limb to celebrate the occasion with a true fan appreciation night. Boldly opening the gates on August 1st with a free general admission offer, the Spikers were rewarded with the largest crowd in the track's history, as the fire marshal literally had to send people away. With an estimated five to six thousand people filling every piece of the property, including laying in the grass in turn one to watch from underneath the signs, concession and souvenir sales were literally through the roof. Such a wildly successful experiment proved that there is indeed fan interest in local dirt track action, especially if you give people a reason to get their butts off the couch.
You will find very few promoters who are as gung-ho as Joe Spiker, constantly making major improvements to his facility, adding race dates, and making minor tweaks to bring in new fans while keeping his loyal customers satisfied. Willing to roll the dice, Spiker added an odd Friday night program for August 7th, as no other tracks were in action. A smaller than usual crowd attended while just 21 sprinters came calling. Outside of Bloomington regulars, perhaps the rest of Indiana's blue-collar racers have resigned themselves to work a full day on Friday and hold out for Saturday? Listening to Joe discuss his future plans on a recent Racin' with D.O. podcast, it's easy to be optimistic if you gauged local Indiana energy and enthusiasm off Spiker.
Friday's top-three included Brady Short, Shane Cottle, and Jeff Bland, Jr. Ironically that exact trio finished in the same positions during Saturday's MSCS meeting, which attracted 29 and paid a tasty three grand to the winner. The king of the Southern and Western Indiana bullring scene, Saturday's score was Short's 12th of the season, six in MSCS action and third in a row.
Bland and Mitch Wissmiller secured Saturday's front row, which was a result of a redraw of the top-six in heat race passing points. If heat race passing is emphasized with points, why not ultimately reward the one who works hardest by starting them straight up?
With the surface slightly slick despite a thirty minute revamp, how in the world could anyone stop Short? His buddy Bland held him off in the heat and nearly got it done in the feature, leading the majority of laps in the eye-popping Burton-mobile. Jeff nearly got swallowed up by a spinning Mario Clouser, allowing Brady to close the gap from his third starting spot. Over the cushion in two, Jeff's lead shrunk even more. Short looked low in three and four several times, his third time being the charm. Brady's brief lead held up despite a caution for fifth-place Friday finisher Stephen Taylor, who passed the most cars of all in Saturday heat race action. Restarting with 11 to go, third-place Cottle tried three times to execute a turn two slider on Bland, finally finishing the deal but simply running out of time to make a dent in Brady's lead. Posing on the front chute in front of another sizeable Saturday crowd, Short and car owner Cam Pottorff must be loving life right now.
Following in the footsteps of Saturday's podium placers, Brent Beauchamp bagged fourth while A.J. Hopkins hailed fifth. Casey Shuman, Nick Bilbee (from 13th), Brandon Mattox, Donny Brackett, and Scott Hampton secured sixth through tenth.
After three decades of tracking tail tanks across the Hoosier state, it's admittedly tough to maintain the same level of passion in this unreasonable pursuit of open wheel satisfaction, especially as times change and the scene becomes stale. After so many years of strength in this hotbed of traditional sprint car activity, those once robust flames have actually begun to flicker, almost to the point of extinguishment. Thankfully, there are people in this sport who still care and are willing to do something about it, boldly taking a big stick and trying to stir those red-orange embers into a roaring fire once again, thereby allowing longtime fans to maintain their everlasting love. As much as I state that the Indiana scene is no longer the same and envision a day when I might have the courage to completely walk away, thanks to those inextinguishable flames inside my soul, I am not quite ready to give it up just yet.


Gorgeous – A Central Indiana sunset after our second trip to Bonge's

Volume 17, Number 9

Dream Destination

From my experience, vacation preferences for men and women are worlds apart. Literally.

A sophisticated lady whose passion involves traveling to exotic locales where warm weather, breathtaking views, and incredible cuisine are par for the course, my wife recently spent her summer vacation on a two week Mediterranean cruise that stopped in Spain, France, Italy, Turkey, and Greece. On the other hand, her counterpart is a motor head whose primary passion is absorbing open wheel action, also quite the homebody. In a slight bit of irony, by the time said wife arrived on home soil, my own summer vacation had officially begun, owning a simple plan of chasing sprint car tail tanks across the Hoosier state, feasting at unique eateries along the way, and sleeping in my own bed each evening.

Action Track – Chad Boespflug scored his best Sprint Week finish of 4th in Terre Haute

Allowing outsiders to scoff at such pedestrian vacation plans, the polar opposite of exotic is USAC's Indiana Sprint Week. My dream destination of choice, judging by the usual healthy assembly of campers and motorhomes that continue to caravan from track to track, I am not alone in my odd taste of getaways. Fans from England, Germany, Australia, and New Zealand share my sentiment, as do a trio from Holland who toured Sprint Week for the very first time. Introduced to flying Dutchmen Jerome Heijmans, Mark Frenken, and Peter Sijben thanks to across the pond resident Stephen Cording, it's crazy to think that so many people from so far away have a keen interest in this stuff, let alone spend a ton of time and money traveling to see it in person.

As much as I yearn for and cherish the freedom of summer vacation, by the time Tear-Off Heaven Fotos photographer Steve Lafond and his daughter Korie suddenly appeared at my doorstep on Sprint Week eve for a requisite celebratory kick-off at Bonge's Tavern, as busy as I had been in the preceding weeks I was in absolute disbelief, unable to comprehend and appreciate its arrival. Equally unwilling to deal with the aftermath of its departure, that dreaded sick to my stomach feeling that comes from vacation's end plus the painful separation anxiety of having to say goodbye to such great friends, I can't begin to describe the sadness that comes with Sprint Week's conclusion. Year after year, it's still the same exhilaration and agony all in a week and a half's time. Sigh…but on a much brighter note, a special thank you goes out to Steve and Korie's photographic contributions to this blog, as their passionate pursuit of excellence literally added tons of color.

These are without a doubt the quickest nine days of the entire year and unfortunately I was unable to get into a solid Sprint Week rhythm in that first weekend because of Saturday and Sunday's threat of rain and the unfavorable forecast for the next seven days. As so many know by now, Kokomo's Indiana Sprint Week date is my absolute zenith, a day that easily exceeds Thanksgiving, Christmas, and even my birthday. Rain should be outlawed on such a special day, but we were indeed interrupted during Kokomo's B-main and despite a valiant effort from the O'Connor boys, the remainder of the program was moved to Monday evening. Sunday's forecast for Lawrenceburg was even more dreadful than Kokomo, but we still made the hour and forty minute drive on a wing and a prayer, crossing our fingers the whole way. Luck was on our side as storms stayed away, but it still took a big effort for Dave Rudisell and his crew to make it happen as an inch and a half of rain fell on the day of the race. Continuing the trend, Monday's make-up was also washed away by a massive mid-day storm, rescheduling the feature events to the Wednesday preceding Smackdown. It wasn't ideal for Sprint Week visitors, but it's not a bad consolation prize for those returning in August.

At least when the sun is shining, it's always hot and humid sitting in the Lawrenceburg grandstand and once the series resumed on Wednesday in Terre Haute, it was back to this typical Indiana Sprint Week weather. Quite a contrast to Gas City's chilly opener when I desperately needed additional outerwear once the sun sunk into the sky, I sweated through t-shirts at both Putnamville and Bloomington long before hot laps ever commenced. Finally getting into the groove after two consecutive evenings of sprint car drama, Sprint Week momentum was spoiled yet again in Bloomington when an ugly mass of black clouds swept in from the northwest. The checkered flag had just fallen on the B-main when it began to pour and after hustling to the car and heading for home minus yet another main event, before I knew it we were making that lengthy haul to Haubstadt for the finale. As I ask every year - where in the hell did the time go?

Big Daddy – Seventh in points, Chris Windom led 15 laps at Haubstadt and finished 3rd

Not since 2006 had we lost two complete shows to rain, but at least this time we got to see more than half the programs at Kokomo and Bloomington. Regardless of the untimely weather and the interruptions that spoiled my usual Sprint Week state of mind, my summer break was still an enjoyable time filled with good racing, great food, and even better friends, easily eclipsing my best day at work. Always beginning with so much optimism thanks to a 46 car field at Gas City, car counts were solid all week long. Kokomo also collected 46 while Lawrenceburg landed 39. For the second half, Terre Haute surprisingly attracted 37 and Putnamville produced the week-long high of 47, but Bloomington could only boast 37 while Haubstadt slipped to 34. Averaging just over 40 machines, a total of 78 different drivers competed, only bringing one west coast USAC-CRA competitor in the form of Jake Swanson, who performed for veteran car owners Tom and Laurie Sertich.

Having a rough go of it in his first Sprint Week, Jake joined every one of the seven consolation events and it wasn't until Putnamville that he took part in an A-main, ultimately flipping in the feature after folding his front end during heat race combat. Also making the field at Haubstadt, Swanson was seemingly on the cusp of A-main status every night, surprised that that the CRA provisional rule was not in effect as in years past.

Aside from Swanson, special Sprint Week appearances came from Hunter Schuerenberg (back for another go with Tony Epperson), Scotty Weir (with Jeff Walker, who had help from former competitor Kurt "The Rooster" Hawkins), Chris Windom (with Rick Pollock), ARDC midgeteer Tony DiMattia (wrenched by Frankfort's Brian Cripe), and defending Silver Crown champ Kody Swanson (with Dave Stensland at Gas City and Lawrenceburg).

Bonge's Babes - Angie, Amanda, and Dawn always make for a special evening at Bonge's Tavern

Satisfaction – Bonge's Tavern owner and chef Tony Huelster is the man responsible for all these smiles

Perkinsville – Far from exotic, this is one of my favorite places in the world

One rather noteworthy appearance came from Banbury, Oxfordshire's Tom Harris, a 26 year-old BriSCA F1 stock car driver who teamed with Bob East for an albeit brief summer break. Never before had I witnessed a Brit strapping into a sprint car but Tom certainly carried some heavy credentials, as over the last five seasons he acquired nearly every accolade in F-1 stock cars, a full-contact sport that competes on all kinds of surfaces. Son of another stock car racer Mick Harris, Tom is also a car builder, as his Tom Harris Motorsport chassis are highly coveted, with customers often put on a waiting list for his pavement pieces. Hoping to broaden his horizons on a more international level, he attended the Smiley Sitton sprint car school and was recommended to East, with the two teaming for the 2015 Chili Bowl. Whetting his appetite enough to formulate a three-race Indiana Sprint Week slate, Tom acquired both a chassis and engine from Bob. Used to much heavier, tube-frame machines with 700 horsepower, F-1 stock cars ride on rock hard rubber mounted to 18 inch wheels, so naturally this was an altogether different experience for Harris, having never driven a sprint car without aerodynamic aid. Literally thrown to a pack of wolves while attempting to figure out how the thing handles, Tom was involved in numerous skirmishes at Gas City. Undaunted by the enormous challenge, he eventually found comfort and speed in Kokomo's qualifying race (C-main) but just as he was approaching a transfer position, he crushed turn four concrete and flipped. Landing right-side up, Tom might have missed the next night of activity in Lawrenceburg but he was more enthused than ever, acquiring another chassis for a forthcoming Smackdown assault.

Even though we missed two of the seven A-mains, Sprint Week still had a lot to offer for 2015. The biggest item on the agenda was crowning a new king, as two-time and defending series champion Bryan Clauson had moved on to greener pastures, only making one Sprint Week appearance this year at Lincoln Park. Sure, we still had all-time ISW feature winner (18) and three-time champ Dave Darland in the fold, not to mention Jon Stanbrough, a two-time champ and the man closest to Darland in series wins. But, the last Indiana Sprint Week champion prior to Clauson and now-retired Levi Jones was Chris Windom back in 2011. Would we see Darland and Stanbrough continue their stranglehold, or would we see someone like seven-time 2015 USAC winner Robert Ballou, national point leader Chase Stockon, last year's national champ Brady Bacon, or three-time 2013 ISW winner Kevin Thomas, Jr. step up and assert themselves as the new Mister July?

Bacon Bit – Preparing for Terre Haute, Brady Bacon came awfully close to his first ISW title

Some sixty miles from Indy's northside is Gas City I-69 Speedway, host of the Sprint Week opener for the umpteenth time. Stockon initially appeared to be the one to assume the role of Mister July, as he started the feature fourth and ran down early leader Jerry Coons, Jr., whose Monte Edison Motorsports squad assembled an older Spike to replace their destroyed unit from the previous Sunday. Battling side by side with Jerry, Chase led at lap 8 and took over for good on the 13th tour, challenged by a super soft surface that over time developed all kinds of character. Besieged by serious storms in the days leading up to Sprint Week (as evidenced by the flooded farm fields on the way up north), unfortunately there wasn't much that the O'Connors could do to remedy the situation. A photographer's dream as countless cars bicycled, flipped, or executed massive wheelies, Stockon handled the unpredictable imperfections like a champ and started his Sprint Week in style with his first-ever Sprint Week score, also his first USAC victory of 2015. Steering his usual Superior Tank and Trailer DRC/Fisher, Showtime was shadowed by Hunter Schuerenberg, who circled a bicycling Coons on the second to last lap to snatch second. Robert Ballou and Kevin Thomas, Jr. chased Coons for fourth and fifth. Positions six through ten included pole sitter Scotty Weir, Shane Cottle, Dave Darland, hard-charger Brady Bacon (up from 19th), and Brady Short.

Just fifty minutes north of my humble abode is Kokomo, Indiana, the shortest trip in this dream destination. Exotic only in name, there is no tropical paradise that the Beach Boys sang of in the late '80s, but rather the most badass bullring in the world – Kokomo Speedway. Before B-main rain ruined my zenith, I enjoyed a lengthy conversation with competitor Steve Thomas and some delicious barbeque bites from a Half Moon Brewery spread in the Spencer Racing pit thanks to super fan Frank Daigh, undoubtedly one of the most benevolent souls in this sport. Pro Source qualifying was without question a thrill-a-minute endeavor, but opening night winner Chase Stockon and Robert Ballou (going out last) dug themselves a huge hole after timing 20th and 23rd. Eventually earning a reprieve thanks to Ma Nature, Sprint Week points were not counted. 25th in the qualifying line, Justin Grant earned the $100 bonus for his heart-stopping 12.805 second tour of the tacky quarter-mile. However, that $100 would only cover a fraction of the cost to repair the damage that occurred to Mark Hery's DRC chassis when he was swept into a turn three mess, ignited when C.J. Leary cracked concrete and tumbled, taking fifth-quick qualifier Meseraull along for the ride. All three cars inverted, but Grant's ride was toast after suffering serious frame damage on the right rear corner. In addition to the thrash found in the Leary and Meseraull pit, second quick qualifier Tyler Courtney had his employer Bernie Stuebgen jumping in to assist after "Sunshine" packed his right rear wheel with mud, the vibration so severe that it obliterated the right rear bird cage.

California Cool – Complete with Ascot hat, Chad Boespflug sports the California look

After biting his tongue and injuring a rib during a humongous Gas City bike ride, a less than 100% Dave Darland dominated his Kokomo heat and would have started from the pole of the feature, but he'll have to wait until August 26th to capitalize. With rain 45 minutes away, the C-main from hell effectively drove the final nail into this evening's coffin. First, Nathan Moore massacred the turn one wall and tore out fencing in two. On the next start, Tony DiMattia cracked the concrete in between one and two and helicoptered down the bank, swallowing Jamie Frederickson. And then there was the aforementioned Tom Harris tumble, which left very little time for the B. Once rain subsided, the Kokomo crew nearly got the track back, but the plug was eventually pulled as more wet stuff was on the way.

Located along the Ohio River in the extreme southeast corner of the Hoosier state, Lawrenceburg, Indiana effectively served as the location that concluded Chase Stockon's Sprint Week title hopes after he cartwheeled during the B-main, the second consecutive night for a rare three-car calamity. Jake Swanson and Tracy Hines were also involved, the impact breaking a rib for Hines and ending his Sprint Week altogether. It was abnormally rough stretch for Tracy, who was not completely healed from the broken collarbone (clavicle) suffered a month earlier in a Lawrenceburg Midget Week incident, also going on an upside down excursion in Sun Prairie one week prior to this ordeal. As for Stockon, he would have to revert to his backup car and utilize a provisional to start the feature, with those points not counting towards the ISW title. Far from any kind of vacation, Sprint Week was quickly turning into a nightmare for "Showtime".

Pole sitter Kevin Thomas, Jr. led the first Lawrenceburg lap, but Aaron Farney bravely stepped upstairs to circle him through turns three and four, pacing the next five circuits. Timing second and starting sixth, Brady Bacon used a lower line to eventually work his way underneath Farney, officially leading the final 24 laps. It was far from simple task for Bacon, who encountered heavy lapped traffic around the halfway mark. With just under ten to go, Brady blasted the rear of Landon Simon's ride in turn four and allowed second place Robert Ballou to briefly bag the top spot. However, Bacon immediately recovered and split both Simon and Ballou to retake the position at the start/finish. Better through traffic than Robert in this edge-of-your-seat affair, Brady bagged his first Indiana Sprint Week win and his fourth score of 2015. USAC win number 90 for the Hoffmans, it was their first Sprint Week triumph since Bloomington 2008 with Jerry Coons, Jr. The big bounty also moved Bacon to within one point of Ballou for the Sprint Week lead while Thomas was still within striking distance, some 13 in arrears. Behind Ballou and Bacon at stop number three came Justin Grant and Dave Darland, both overtaking Farney on the final lap. Thomas, Jarett Andretti, Jon Stanbrough, Chris Windom, and Hunter Schuerenberg were scored sixth through tenth.

Back Home Again – Kyle Cummins came from 16th to 7th at Tri-State Speedway

After Kokomo's second cancellation, a Racin' with D.O. radio show and post-show feast at North End Barbeque and Moonshine were leisurely Monday highlights for Steve, Korie, and myself, also enjoying a serious lightning show and Todd Frazier's triumph in the home run derby (yes, I am still a Cincinnati Reds fan despite a miserable 2015 campaign). Tuesday's bright spot was the second Sprint Week trip to Bonge's Tavern when in addition to our bleu-cheese wedge salads, world famous tomato soups, and assorted entrees (I enjoyed Loup de Mer – an exotic and delicious Mediterranean Sea Bass), we enjoyed a Perkinsville Pork appetizer and my all-time favorite dessert of cherry and pineapple dump cake specifically prepared by owner/chef Tony Huelster based on a Thursday evening request. I can't thank the staff at Bonge's (www.bongestavern.com) enough for making these two outings extremely memorable. As if the amazing food and awesome atmosphere weren't enough, the owner and his friendly crew truly went out of their way to treat us like royalty. Even though White River was well over its banks in Perkinsville, there were no rain outs at Bonge's, which remains as my favorite place to eat and hang out – anywhere! It is a truly special place.

The next stop in my dream destination was the famed Terre Haute Action Track, just seven miles from the Illinois state line and site to some of the most legendary battles in the history of this sport. My first trip here in 2015, ride-hopping was the name of the game in this Don Smith Classic. Sprint car musical chairs had C.J. Leary moving back to his family-owned number 30 while his mechanic Derek Claxton stayed on with Kenny Baldwin, Claxton noting that the split was simply a "parting of the ways". Justin Grant's car owner Mark Hery could not make these final Sprint Week rounds, allowing Justin to temporarily fill the seat in his former ride (a permanent replacement would come post-Sprint Week). After Lawrenceburg, Thomas Meseraull was in search of a ride, as his Todd Keen 18 was suddenly out of commission. It only took T-Mez a day to find work, as Matt Goodnight offered a seat in his potent DRC/Kistler combo. Seen adjusting his throttle linkage pre-Terre Haute, Thomas stated, "I'm not quite as picky as Tracy Hines, but I do like my throttle a certain way." Finally, Shane Cottle subbed for a sick Max McGhee, as a second Paul Hazen 57 (the one involved in the recent Paragon Speedway crash) would be ready in time for LPS, with Paul not wanting to test his less potent bullet on the Action Track's huge half. After hitting a hole and losing his steering in Lawrenceburg qualifying, Cottle's turn four impact tried to pull the engine out of Hazen's DRC, which was at Joe Devin's shop for repairs to its lower frame rails and front motor mounts.

Big Mover – Robert Ballou's Putnamville surge from 13th to 6th was a key moment

With just sprint cars on the card in Terre Haute, it was certainly a nice change of pace. As I have always stated, this is not Indiana modified week but rather Indiana SPRINT Week. Due to the absence of back gate boredom, time was allotted for interviews with heat race winners. Robert Ballou used a last lap slider on Hunter Schuerenberg as an opportunity to blast track operator Bob Sargent on the subject of track prep. One of the few who speaks with no filter, the old-school Ballou boldly stated, "The track did the exact opposite of what USAC told them." Truth be told, Terre Haute's surface was definitely dry, much more so than any other Sprint Week stop. And although Sargent did apply plenty of water throughout the evening, the parched playing field didn't stop the racers from putting on a supreme show. A prime example was the B-main, when Thomas Meseraull came all the way from 17th to win, also enjoying a 9th to 2nd run by Shane Cottle. That was indeed some good stuff!

Terre Haute's feature was all Aaron Farney, quite a shock as I really had not expected him to win on such a slick surface with a thin cushion, truly a track that benefits the seasoned veterans. Leading all thirty laps from the pole, he easily held off his mentor Robert Ballou who had blasted from 9th to 4th on the first tour and actually assisted on the race winner's feature setup. Even after a lap 17 red flag for Thomas Meseraull, Farney built over a straightaway advantage on Ballou, a dominating display in which he not only flirted with the fence, but also negotiated lapped traffic like a true professional. Operating on the edge and occasionally over, the 19 year-old farmer from Brookston, Indiana shocked the world. On July 15th of 2015, it was all car number 15, scoring not only his first USAC victory, but also his first sprint car win of any kind. In my era, I can only think of Cary Faas pulling off the same feat when he scored a win at the October 1992 Tony Hulman Classic. Faas was one of my all-time favorites to watch, so that's some good company there.

Fruits of Labor - Robert Ballou relaxes in the rocking chair after claiming his first Indiana Sprint Week title

Behind Farney and Ballou were Darland, Chad Boespflug, and 16th-starting Chase Stockon, who continued to fight the good fight for that national title. Jon Stanbrough started 10th and claimed sixth, with Brady Bacon (from 17th), Justin Grant, Jerry Coons, Jr., and Shane Cottle (from 21st) rounding out the top-ten. ISW points now had Ballou ahead of Bacon by 16 and Darland by 22.

Just who is Aaron Farney? Now a third-year sprint car driver, he is the son of Loren and Theresa Farney, a farming family hailing from Brookston, the small town just north of Lafayette that is home to Camp Tecumseh, site of overnight school trips for yours truly in fifth and seventh grade. Loren Farney is the brother in-law of Dan Brettnacher, whose family was nearly unbeatable in 1990s mini sprint action. As for Aaron, he started in junior sprints at the tender age of 4 and a half, eventually moving to 600 cc and 1000 cc mini sprints, winning on a regular basis as well.

Foreign Soil – British F-1 stock car racer Tom Harris found comfort and speed at Kokomo

As neighbors to Kenny Baldwin, Aaron and Kenny had a friendly wager going in the winter of 2013. The agreement was, if Aaron enjoyed continued mini sprint success in Florida, Kenny would give him a ride in his full-size sprinter. That ride became reality in an early 2013 Gas City show, but Robert Ballou was the full-time driver. In a key life decision, when asked if he wanted to go to college or race sprint cars, Aaron chose the latter, with the family purchasing equipment directly from Ballou. Extremely competitive in a Paragon practice session directed by the Rocklin Rocket, Robert has literally taken Aaron under his wing, providing priceless setup and driving advice. Going for USAC's rookie of the year honors in 2015, he's been strong at Eldora (fourth) and Lawrenceburg, with Terre Haute providing proof that such consultation is indeed paying huge dividends.

Also situated along the National Highway, some 37 miles east of Terre Haute is the tiny town of Putnamville, named after Revolutionary War hero Israel Putnam. More famous for being the place where Abraham Lincoln stayed overnight while en route from Washington D.C. to Springfield, Illinois, Putnamville is also home to Joe Spiker's Lincoln Park Speedway. This vibrant facility enjoyed the largest Sprint Week car count of 2015 and perhaps their largest crowd of all-time, as every available parking spot was filled. Stop number five of seven, by now the Sprint Week picture was finally coming into focus, with Brady Bacon ready to exorcise his Lincoln Park demons with an outside front row start.

Circular Reference – Steve Lafond shoots his daughter Korie who in return is shooting Steve

Starting alongside Max McGhee, Bacon immediately seized the lead but once out front, he wisely pointed his Triple-X/Williams-Mopar to the bottom, as conditions were very similar to those found on the Fourth of July. Slick through one and two but sporting a much healthier curb in three and four, after a dismal 17th place showing just 12 days earlier, many would never expected such a strong showing from Brady. Fifth in ISW points and firing from fifth, Kevin Thomas, Jr. finally began to show his Sprint Week mettle. After an early caution for Carson Short and Chad Boespflug, KTJ became embroiled in a scuffle for second with McGhee and seventh-starting Jerry Coons, Jr., the winner of that 7/4 affair. One lap after a red for Jake "from State Farm" Swanson, Coons snuck underneath Bacon and led lap 13, but the Okie immediately circled the Triple Crown champ in turn two. One more caution came a few laps later for Shane Cottle, allowing a hungry Thomas to climb upstairs in three and four to make a serious bid for first. Hauling it deeper and deeper into the heavy cushion, Kevin would inch ever-so-close at the line, but he couldn't find any kind of bite on the slippery south end to pull off the pass.

In the end, it was Sprint Week win number two for the Broken Arrow, Oklahoma native, topping Thomas, Coons, quick-qualifier Hunter Schuerenberg, and Brady Short, the latter going the alphabet soup route. Advancing from C to B to A, Short was literally shot out of a cannon when charging from 19th to 4th in the B. Touring from 22nd in the A, in just a few more laps who knows how much further he could have advanced. Sixth through tenth included Ballou, Stanbrough (up from 16th), Windom, Darland (from 17th), and Stockon (from 23rd). Tightening the Sprint Week belt once more, Ballou now held a one point advantage over Bacon. Thomas was 29 out of first while Darland and Schuerenberg trailed by 31.

Slinging Clay – Bryan Clauson's lone Sprint Week appearance came at Putnamville

Silent Gasser – Sixth in points, Jon Stanbrough climbed from 16th to 7th at Putnamville

Macho Man – Brady Bacon scored his second win of Sprint Week at Putnamville.

KTJ – Finishing second in the last two outings, Kevin Thomas, Jr. came within 17 points of his first ISW title

Hunter Percent – Hunter Schuerenberg started the week 2nd at Gas City, was quick-time at LPS, and ended the week fifth in points

With the battle heading south on 231 and east on 46 to the home of the Hurryin' Hoosiers, Bloomington Speedway played host to round number six. Momentum was clearly in favor of Bacon, who was first in line for qualifying and proceeded to rip the lip for a new USAC one-lap record (10.854), topping the charts for six key points while his nearest pursuers Thomas and Ballou tripped the loop for third and sixth. While challenging for fourth in his heat, Brady blew turn one and was relegated to B-main status. Tit for tat, Ballou also missed the cut, but Thomas did not. Heavy storms finally turned into reality when the B-main was checkered, spoiling a front row A-main opportunity for Chad Boespflug and Aaron Farney.

After quite a bit of debate, by Saturday morning it was decided that Bloomington's feature would not be finished, leaving Haubstadt to crown another Indiana Sprint Week king. Requiring some crazy scenarios for Thomas, Darland, and Schuerenberg to secure a championship, the title would realistically be decided between Bacon and Ballou, who were separated by a mere three markers. KTJ was the only one of contenders to qualify in the quick-six and after the heats were run, Robert was able to gain a point on Brady, with the pair beginning the thirty lap finale from eighth and tenth.

Beginning Brady Short and Chris Windom from front row seats, Big Daddy reached the backstretch first after fanning three-wide with Short and Thomas. Hoping to bookend Sprint Week with wins, Chase Stockon moved Sweet Feet back to fourth while a championship scan found Ballou bursting at the seams, already up to 8th while Bacon retreated to 9th. One by one, Robert continued to will his way forward, scored sixth very early.

Cowboy Up – Robert Ballou rode out a big bounce in Kokomo qualifying

Back up front, a fine high/low battle pitted Windom against Thomas, Chris still holding the position as they hit lapped traffic a third of the way through. Side by side for a handful of circuits, Cullman (AL) slayed Canton (IL) with supreme scoot off the turn two cushion, moving Mike Dutcher's Maxim/Fisher to the premier position at lap 16. With the groove inching further towards infield tires, naturally Brady Short re-emerged as a contender, showing how low one can go with ten laps left. Two tours later, Kevin was boxed out by a half-spinning Hunter Schuerenberg, allowing Short to squirt by on the bottom. Brady eventually built a half straightaway advantage by the end, taking the checkered first in the all-green flag affair that just took over seven and a half minutes to complete. Short's first USAC win since Brownstown Sprint Week of 2010, it was also the first USAC win for Cam Pottorff, owner of the flaming Maxim/Spec. Thomas settled for second-best two nights in a row, with Windom enjoying his best run of the series by collecting the final podium placement.



While Brady Bacon dropped one more position to 11th and came three cars from being lapped, Robert Ballou scaled six spots to flag fourth. Chase Stockon landed inside the top-five for the third time in five Sprint Week attempts while Hodges, Cummins, Grant, Stanbrough, and Leary earned sixth through tenth place money. Speaking of Cummins, he did it from 16th in his familiar family-owned Spike. Suffering a blown engine in Hank Byram's similar numbered Mach-1 at Lincoln Park, it was quite a thrash to assemble the machine in enough time, having to borrow an engine from Rick Pollock in the process.

Given Ballou's clutch performance, he easily scored enough points to secure his initial Indiana Sprint Week crown, mentioning afterwards that he changed a front axle and radius rods before the finale, as his trusty Maxim chassis just didn't feel right after some Bloomington wheel-banging. Thomas actually leapfrogged Bacon to secure second in the series standings, with Darland and Schuerenberg staying fourth and fifth. Stanbrough, Windom, Stockon, Grant, and Boespflug were a distant sixth through tenth.

Domination – This is the view everyone had of Aaron Farney in Terre Haute's feature

Remembering a Robert Ballou Indiana Sprint Week t-shirt of old that stated "Arrived on vacation, left on probation", this time of the season is hardly a vacation for the competitors, a true grind that drains every imaginable resource. But for a guy like Ballou who's been a series veteran since 2007, I'm quite certain that he'd want to be nowhere else than the heart of the Hoosier state, spending a week and a half traveling to and from Indiana dirt tracks while somehow squeezing in nearly a full day's work prior to each event. Robert and his mechanic Derrick Bye are extremely well-versed in how to survive the nine day thrash, calling in extra help from Keystone state racer Jon Stewart as Bye pulls a 7 AM to 3 PM shift at his normal job as well. Arriving second in points, they not only left ISW as the national point leader, but they also exited as a first-time Indiana Sprint Week champion, a huge feather in Ballou's cap as he is calling the shots, doing things his way with his own team.

Seven times a winner in USAC competition prior to Sprint Week, Ballou's series championship certainly didn't come as a shock, but the fact that he wasn't able to win in the five features was. A model of consistency, he generally drew poor qualifying pills but still timed inside of the top-ten on five of seven occasions. Enduring just two B-mains, he impressively passed 26 feature cars to finish fourth, second, second, sixth, and fourth from starts of eighth, fourth, ninth, thirteenth, and tenth. Compared to years past when he had to thrash by swapping engines at the track or burn the midnight oil to construct cars from bare frames, the Mad Man's 2015 Sprint Week had to seem like a vacation of sorts, enjoying a clean week free from serious mechanical ills with his Maxim chassis and Don Ott engines. USAC might have been in search of a new Sprint Week king, but it was Ballou who stood tall and stepped up to become the successor. After decimating the competition in Pennsylvania's Eastern Storm tour, Robert is making this a career year.

Filling In – Ending the week in Kenny Baldwin's 5, Justin Grant finished 3rd with Mark Hery at Lawrenceburg

Just 17 points behind the champion was Kevin Thomas, Jr., coming on strong in the last two showings with runner-up finishes. The only one to qualify inside of the top-ten at all seven stops, unfortunately a sub-par showing at Terre Haute where he retreated from 3rd to 12thproved to be his undoing, that coming after an impressive 15-minute pre-heat race thrash to replace an engine and rear end by his Mike Dutcher Motorsports army. Fifth at Gas City and sixth at Lawrenceburg (where he led one lap), had Kokomo and Bloomington run their features, the Sprint Week standings could have been different as Kevin was slated to start fourth and fifth. But for the second time in three years, instead of a thrilling vacation ISW proved to be another disappointment for KTJ.

It was an up and down Sprint Week for Bacon, such a surprise that he fell from 8th to 11th at Haubstadt, a venue where he and his Hoffman 69 clearly performed up to task in April. Charging from 19th to 9th at the Gas City opener and claiming The Burg from 6th, at Terre Haute he elevated from 18th to 7th before producing at Putnamville. Timing inside of the top-ten in five outings, the two times he didn't absolutely buried him at Gas City and Terre Haute and cost him the crown. Much like Thomas, one has to wonder if the standings would have changed had he started Kokomo and Bloomington from sixth and seventh.

Still in search of USAC victory number 100, Dave Darland had a respectable Sprint Week showing in Steve and Carla Phillips's DRC/Foxco, his fourth place in points reflective of 8th, 4th, 3rd, 9th, and 12th place finishes. However, his qualifying performances were too inconsistent to keep him from contending for the championship, timing 6th, 11th, 14th, 4th, 21st, 10th, and 18th, having to switch cars at the last minute at Haubstadt. Naturally a pole position at Kokomo could have resulted in a win, as Dave was flat-out hooked up in his heat race and any up front start at his home track is like a trip to the ATM. After all these years, the fact that Darland is still a Sprint Week factor night in and night out is still an amazing feat. As they say, they just don't make 'em like they used to.

Double D – Dave Darland was 4th in Sprint Week points, taking third and fourth at Terre Haute and Lawrenceburg

Beginning on a high note at Gas City (just his third wingless start of 2015), it was an otherwise quiet Sprint Week for Hunter Schuerenberg and car owner Tony Epperson. Taking 10th at Lawrenceburg, 11th at Terre Haute (from 19th), 4th at Putnamville (after clocking quickest), and 15th at Haubstadt, those up and down finishes were good enough for fifth in points.

Sixth in the standings was 2006 and 2010 series champ Jon Stanbrough and aside from Lawrenceburg where he timed 3rd, the rest of the series was a qualifying struggle. Clocking 20th, 14th, 10th, 19th, 18th, and 12th at the other rounds, that generally put him behind the eight-ball come feature time. Unable to capitalize on that third-quick time at The Burg when he could not avoid a stopped Kody Swanson in his heat, he flattened a right front tire and bent a front axle, having to come through the B. Claiming an uncharacteristic 17th at Gas City, the remainder of his finishes were a consistent 8th, 6th, 7th, and 9th. If only he had started further forward…

For seventh place Chase Stockon, it was quite the opposite week enjoyed by Ballou, far from a dream and definitely not a vacation. Gathering the Gas City opener, it all went downhill at Lawrenceburg, where his B-main blunder forced a provisional start. Salvaging 16th, he began from that same spot at Terre Haute after a late qualifying draw. Elevating eleven spots to 5th, he had to work overtime to keep his championship hopes in check. The next stop continued his Sprint Week struggle, as his Charlie Fisher mill was not up to par for LPS qualifying. Swapping the piece after failing to transfer through his heat, it still wasn't quite right for the B. Finding the problem to be a clogged fuel filter (the first time he has an encountered such an issue), for the second time in three outings he would have to utilize provisional status to start the A, hustling to take 10th. Ending the week fifth at Haubstadt, he still exited his challenging week within shouting distance of Ballou, some 40 markers out of first. A character builder for sure, I'd fully expect Chase to be a contender for next year's ISW honors.

Crowd Pleaser – As expected, Thomas Meseraull mashes the gas at Haubstadt

I'm quite sure many believed that C.J. Leary would have achieved his initial USAC triumph in this seven race stretch, but given his trying week, it is a sure sign of just how humbling this sport can be. Climbing through the cage of five different cars for three different owners, the first half of the week he was still employed by Kenny Baldwin, taking 12th at Gas City, flipping in his Kokomo heat, and landing 18th at Lawrenceburg. After moving back to his family-owned 30, he missed the show at Terre Haute and finished a dreadful 23rd at Putnamville, where engine issues were eventually diagnosed. Picking up a ride in Scott Pedersen's Spike for the final two outings, he made the A at Bloomington and finished 10th in the finale. Without Derek Claxton turning wrenches on his number 30, it will be interesting to see if the talented youngster can achieve the same results. Either way, he's still a gasser and such a blast to watch compete.

Say what you will about winged and traditional sprint car racing, but for organizations that stage two-lap, single-car qualifications, it is still key to one's success on any given night. Such solitary Indiana Sprint Week success was achieved by Chad Boespflug, Justin Grant, Shawn Westerfeld (at his home track in Lawrenceburg), Mitch Wissmiller (first in the qualifying line at Terre Haute), Hunter Schuerenberg, Brady Bacon (also first in line at Bloomington), and Grant again (first in line at Haubstadt). Although Kevin Thomas, Jr. missed out on his initial Sprint Week championship by 17 points, he was the king of qualifying, timing inside of the top-ten in all seven outings, five times within the coveted quick-six. Ballou, Bacon, Stockon, and Grant clocked inside of the top-ten in five of seven outings. Chad Boespflug reached the top of the charts at the opener for Chuck Amati Racing, earning top-ten times at three more Sprint Week stops. With Bob East and Tipton's Kyle Dautrich assisting on the Superior Auto Beast/J&D, Jarett Andretti showed top-ten qualifying prowess on three occasions. Coons, Darland, Windom, and Courtney were in the same boat as Andretti.

B-town Hustle – Despite no series wins in 2015, Dave Darland still drove the wheels off the Phillips 71

Despite heat races that seemed to lack the intensity of Sprint Weeks of old, it was still a difficult task to earn a direct transfer to the main event. With all seven contests completing their heats, just two men did not have to face the stress of a B-main, namely Chad Boespflug and Chris Windom. Ten guys made all five A-mains without the aid of a provisional, and they included: Ballou, Thomas, Bacon, Darland, Schuerenberg, Stanbrough, Windom, Boespflug, Weir, and Meseraull.

A few years ago, USAC changed their rules so that the six fastest qualifiers who transferred through their heat would only be eligible for the feature inversion, differing from years past when one of the quick qualifiers could come through the consolation and still be eligible for the invert. Nowadays, it's interesting to keep track of just how far back in the qualifying field one has to go to earn the pole. At Gas City, it was Scotty Weir, who was 12th best from time trials. At Kokomo, it would have been 11th-quick Dave Darland. Lawrenceburg pole sitter Kevin Thomas, Jr. timed 9th while Terre Haute pole man Aaron Farney clocked 8th. At Putnamville, Max McGhee was 10th in the qualifying rundown but earned P1 while in Bloomington, 11th-quick Chad Boespflug was slated to start from the premier position. Given the thinning of the Sprint Week herd at Haubstadt, only one of the quick-six couldn't make it through the heats, leaving 7th-fastest Brady Short with the pole.

The five feature winners came from fourth, sixth, first, second, and first, definitely not an indicator of just how competitive wingless competition is. However, passing was still plentiful further rearward, as the hardest Sprint Week chargers were Stockon (up 11 at Terre Haute and 13 at Putnamville), Bacon (up 10 spots at Gas City and 11 at Terre Haute), Short (up 17 at Putnamville), Darland (up 7 at Lawrenceburg and 8 at Putnamville), Ballou (up 7 at Putnamville and 6 at Haubstadt), Stanbrough (up 9 at Putnamville), and Cummins (up 9 at Haubstadt). Putnamville's abundance of overtaking certainly shows that its feature was most entertaining of all, but I truly enjoyed Haubstadt's green to checker sprint, also enthralled by Bacon and Ballou's battle at The Burg. As far as providing the biggest thrill and most exhilaration, Aaron Farney's surprising decimation of the field was hard to top. You just can't beat the excitement of a first-time winner, you know?

On The Bike – Jarett Andretti made four of five Sprint Week features, scoring a solid 7th at Lawrenceburg

In addition to hard charges, seven sprint car contests had its share of spills. Gas City's challenging surface resulted in a serious Josh Hodges cartwheel and some big-time qualifying bikes from Travis Hery, Kyle Cummins, and Colten Cottle, also inverting Mike Gass, Jarett Andretti, and Travis Welpott. Naturally, Kokomo's titanic three-car tumble and three major qualifying race incidents will make the highlight reels of Loudpedal Productions. Lawrenceburg started with a serious Shane Cottle qualifying shunt and was followed by another three-car calamity in the B plus some Bill Rose gymnastics in the A. Robert Bell and Thomas Meseraull landed on their lids in Vigo County, but Cole Smith's massive turn three tumble at Lincoln Park might have been the most violent incident of the week, temporarily knocking him unconscious. Andretti, Grant, and Swanson were also Thursday night flippers, minor in comparison to Smith. Landon Simon ended his Sprint Week upside down in Bloomington, as did Chris Babcock, Lee Dakus, and Nick Bilbee. Last but not least, Donnie Brackett bit the Haubstadt boiler plate and called it an evening.

Family Tradition – Korie Lafond catches her father Steve in action at Terre Haute

My dream destination is as much about the people as it is the racing. Plenty of names and faces from the past were spotted in Sprint Week grandstands and pit areas, some of whom I have not seen for years. I managed to bump into former sprint car shoe Bart Grider at Gas City. West coast crewman Joe Godoy, ex-Justin Marvel assistant "Big" Mike Thacker, and driver/car owner/chief mechanic/team manager extraordinaire Jim Whiteside (along with wife Cindi) all shared conversations with me in Kokomo. I saw Little 500 king Eric Gordon (and son Jake) at Lawrenceburg but didn't want to be rude and interrupt his conversation with the Hoffmans. I enjoyed a lengthy post-race Putnamville analysis with former car and track owner Kent Evans, the brains behind today's Indiana Sprint Week concept. And finally, while her Man of Steele remained back in Florida, there was Lynn Bunn Steele sitting in the pit grandstand at Haubstadt, not far from her original Olney, Illinois home where her sister's wedding plans were surprisingly scrapped. A couple of new names I encountered included the extremely polite and well-spoken Bloomington Racesaver competitor Luke Bland (thanks to his mechanic Steve Rone for the introduction) and former Kasey Kahne webmaster Doug Larsson, a blast from the past who calls Seattle, Washington home.

Whether they be far away or close to home, vacations, like all good things, must come to an end. Returning to the grind where an inbox full of e-mail, performance reviews, and endless paper trails had to be endured, there was no more time to sleep in as long as I would like, missing out on the ultimate independence of coming and going as I pleased. All that zigzagging across the Hoosier state racked up nearly 1,500 miles on Steve's rental car, wearing me down to the point where I nearly needed another vacation to recover. After saying goodbye and offering heart-tugging hugs to my guests, upon arriving back to my employment several individuals inquired as to my vacation destination. My response of "all over Indiana" may have seemed cheap, mundane, and far from adventurous, but unless you've experienced an entire nine days of Indiana Sprint Week for yourself, you may never understand its worthiness of dream destination status, filled with freedom, fun, and extreme levels of excitement and enjoyment, completely removed from the stress and worries of everyday society. Worlds apart from an ordinary vacation that most outsiders could never comprehend, this week simplyisn't for everyone. But, after so many years of trying to justify to others its lofty status in my life, I'm actually ok with such exclusivity. Counting down the days to next year, I am more than ready to take this same trip all over again.



Opening Night – Chase Stockon reaches for the sky and passes Jerry Coons, Jr. for the win at Gas City

Character Builder – C.J. Leary started the week with Kenny Baldwin, ran his own car for two races, and ended with Scott Pedersen, taking 10th at Haubstadt

So Close – Had it not been for his 12th place at Terre Haute, Kevin Thomas, Jr. could have made things even more interesting

Southern Man – Shown at Bloomington, Brady Short ended a five-year USAC win drought at Haubstadt

Steve and Korie – Sharing Indiana Sprint Week with these two made it extra special

Stomp and Steer – Scotty Weir made all five Sprint Week features in Jeff Walker's 11

The Other Short – Illinois' Carson Short is hard on the hammer at Haubstadt

T-Mez – Thomas Meseraull won Terre Haute's consolation race from 17th

Touching Moment – Aaron Farney poses with his parents in Terre Haute's victory lane

Walking the Tightrope – Chad Boespflug needs only one wheel to get through Kokomo's turn one

West Coast Rep – Making two of five features, Jake Swanson's first Indiana Sprint Week was an adventure

Winning Combination – Mechanic Derrick Bye and driver Robert Ballou relax at Kokomo






Volume 17, Number 8

Prep Time

Let's be honest: without passion, life really isn't worth living. However, as much as we would wish to spend every waking hour pursuing our desires, this is just not realistic, as the best of part of our days are expired earning wages to acquire the most basic necessities, but also indulge in these outright obsessions.

Luckily for me, and perhaps unlucky for those close to me, I own many passions that completely fill the remainder of my days and nights. As a kid, it was trains, Hot Wheels (not any other brand, because they simply weren't cool enough), basketball (Hoosiers), and baseball (Reds) but over the years, the list has been expanding. Naturally, there is my fanatical following of short track open wheel racing that dominates, but I also enjoy anything to do with classic cars, photographing old buildings (preferably railroad depots), collecting antique petroleum signs and cool timepieces (Tag Heuer will only do), listening to the legendary rock trio Rush, maintaining a manicured lawn, and physical fitness, to name just a few.

The primary reason the latter would ever make the list is only because it allows me to indulge in yet another one of these preoccupations without blowing up to the size of a blimp – and that is tantalizing my taste buds with outstanding food and drink. Forever in search of the ultimate sprint, midget, or Silver Crown feature event, I am also always trying to one-up my most epic meal. However, not just any food and drink will do and if given the choice, it will never be a national, corporate chain, preferring the mom and pop originals. This has resulted in a lengthy list of places I wish to sample as the Indy food scene has simply exploded in the last five years. Clearly preferring to dine out rather than eat in, if I were to try and duplicate these meals at home, it would require far too much prep time (work), frustration, and ultimate disappointment to make the overall experience enjoyable.

If the seven race in nine night Indiana Sprint Week is akin to fantastic food, then just like the daily grind of those operating the mom and pop eating establishments, our beloved sprint car chauffeurs, mechanics, and track operators must put in their prep time to get ready for their biggest week of the year. A decade or so ago, the period leading up to Sprint Week was very quiet. Not so in recent years, as tracks and teams now take full advantage of the time to perfect their craft before the spotlights burn bright.

Besieged with rain since the final night of Midget Week, June's Indiana bullring scene was virtually silent for the majority of the month. Sampling a scintillating Ohio Sprint Speed Week stop at Eldora Speedway on father's day weekend (featuring a fantastic three way fight for first between Danny Holtgraver, Steve Kinser, and eventual winner Greg Wilson), my 25th Sheldon Kinser Memorial (missing only two since 1989) would have to wait until August 21st thanks to more showers. Dodging raindrops for essentially two full weeks, a Saturday morning surprise signaled a green light for Paragon Speedway's Chuck Amati Classic, moved one week from June 20th. My first trip to Keith and Judy Ford's slice of Morgan County heaven since this event two seasons ago, Paragon is unfortunately no longer be a part of Indiana Sprint Week. Although it wasn't a true test and tune for USAC regulars, its $3,000 to win, old school 68-lap affair was simply too much fun to turn down for a handful of the state's finest. Despite competition for cars from Haubstadt MSCS (22) and Lincoln Park (39), the Amati still attracted 34, showing signs that the local sprint car scene might just be alive once again.

Three inches of overnight H2O meant that Mr. Ford had to put in some serious prep time to keep from pulling the plug on this particular contest for the second week in a row. Reaping the rewards from his work, the grounds and surface were in prime shape for this speedway's signature event and the crowd was solid. Perhaps the first time for such a sight at the legendary 3/8ths mile, Keith even enlisted his trusty road grader to smooth undulations found in turns three and four.

Paraphrasing post-race text messages from my 28 year-old nephew, it was a rather appropriate perspective on the evening that I thought I would share. Speaking of Paragon's seclusion and simplicity, he mentioned how a visit here allows veteran race fans to truly feel at home, more so than any other venue in this state, offering a unique ambience for what the Indiana scene is supposed to be like. A time capsule where virtually nothing has changed in the last 30 years, thankfully Paragon still remains untarnished and unblemished in that respect as there are no billboards, no scoreboards, and no corporate suites. Simply put, it's pure dirt track racing and it is good to know that such a place still exists in this modern world.

Four heat races and twin B-mains conformed to Paragon's peaceful, laid-back atmosphere, even though Amati Racing's Chad Boespflug managed to defeat Dave Darland (Walker 11) by winning his heat from fourth, feeling increased intensity when Jon Stanbrough slipped past Shane Cottle to claim his from fifth. Amidst a field of Saturday night regulars, these men stood tall and set the stage for the fever-pitched finale.

The lengthy 68-lapper supplied a front row containing Bloomfield's Chris Babcock (guided by Brian Cripe) and perennial Paragon champion/2012 Amati winner Josh Cunningham. Chris led early while Stanbrough, Cottle, and first heat winner Andrew Prather fanned three wide, interrupted by Brandon Mattox mayhem in corner two.

Restarting second to Babcock, Cottle pulled even at the flag stand and found supreme forward bite off the bottom of two, placing Paul Hazen's famed 57 in the coveted P1. While Boespflug's ex-Steve Kinser mill blubbered and backed him up to tenth, Stanbrough slid Babcock and immediately caught Cottle. Dueling through traffic very early, The Throttle successfully defended his turf until contacting the lapped machine of Jeremy Potts at the exit of corner four. That left the door wide open for The Silent Gasser, whose MP Environmental Spike surged to first. Meanwhile, Boespflug's bullet began to clear and allowed him to find his rhythm on the top shelf, blasting past Darland and Prather for fourth and third.

Despite the loss of the lead around the halfway mark, Cottle refused to lose, pulling even and pilfering the premier position a few laps later. However, Stanbrough immediately returned the favor and even after a brief caution for Brazil's Nate McMillin, Shane was still not done, as the veterans jousted lap after lap in extremely tight, wheel-to-wheel combat. With Shane staying low and Jon manning the middle, unfortunately the thrilling duel came to a dramatic and frightening conclusion on lap 41 when the two locked wheels on the back stretch. Like a punted football, Cottle was launched high into the sky, wildly riding out a set of gyrations to the concrete blocks that guarded the pit area. Stanbrough's ride was equally brutal, enduring a vicious set of end over end tumbles, landing close to the pit entrance near turn three. With a little help, both were able to exit their tattered remains, both fuming at the loss of not only a certain victory, but all important inventory at such a crucial juncture of the season. Depending on which camp you talked to determined who was at fault. I honestly did not see the start clearly enough to make such a statement, but the end result was that this terrific race was ruined.

As it was, Chad Boespflug inherited first place and led the final 27 laps to easily produce his first Paragon triumph in only his second attempt. More importantly, it was his team's first Chuck Amati Classic score in six years of trying, significant as team owner Shane Wade is the grandson of the late legend, who I watched dominate the 1988-1990 southern Indiana scene in Daryl Tate's 66. With tons of family, friends, and sponsors on-hand, it was an opportune time to showcase this squad's talent, dedication, and renewed commitment to traditional sprint car competition. Switching from Shane Cockrum and briefly employing Daron Clayton and Thomas Meseraull (who won at LPS on the eve of the Indy 500), their latest find is Boespflug, who quickly became available after exiting Kenny Baldwin's 5 in the middle of Eldora's Mother of All Weekends. Recently putting Ethan Barrow on the payroll to maintain their fleet during the week while Donnie Gentry calls the shots at the track, the combination has clearly clicked, putting in the proper prep time for Indiana Sprint Week.

Elevating from eighth, the 2005 SCRA 360 champ and 2011 Lawrenceburg lord was chased by seventh-starting Dave Darland, tenth-starting Chris Phillips, Babcock, and Bub Cummings. Sixth through tenth included Prather, Jordan Kinser (up from 14th in the Hurst 9T), Josh Cunningham, Kent Christian, and Camby's Matt Brannin.

Off to Kokomo Speedway to complete the month of June, amazingly this would be the first regular program here since Memorial Day weekend. Needing to get back into a sprint car groove just in time for Indiana Sprint Week, it is doubtful that the O'Connor clan forgot how to ready a dirt course for fierce competition over the span of a few weeks.

Nevertheless, the significant gap in contests (thanks to rain) resulted in some pent-up demand for the racers, as 28 heavy-hitting sprint car combatants vied for 20 feature spots. Perhaps the most surprising of the stout entries came from an extremely familiar combination, as Steve and Brad Fox bolted their power plant into a DRC chassis belonging to Monticello, Indiana's Mark Batcheldor, who admitted that he had an idle ride that he was tired of looking at, thus getting the band back together one more time. Sticking Jon Stanbrough in the saddle, they will race whenever and wherever they please.

Still appearing weary after Saturday night gymnastics was Stanbrough, but so too was Cottle, nursing a huge headache after a serious bell ringing. Shane's condition was worsened when breaking a rocker arm in his qualifying session, also having to miss his heat. Preparing to kick some B-main booty by devouring a cheeseburger and Payday candy bar while washing it down with a blue Powerade, this must have been proper medicine as he was a man on a mission. Successfully slipping beneath a titanic front stretch tumble from Nixa, Missouri's Devon Huff, after banging wheels with "The Savage" Kurt Gross (first time he's been out in a long while) he slipped past leader Brian Karraker when BK broke in the final corner, blitzing the field with an 11th to first burst. Playing through the pain, nobody can ever claim that Cottle is not old-school.

Kokomo's Sunday night soiree was one rough and tumble affair. Punctuated by six upside down excursions, the first was a double-dipper when Chris Gurley served a slide-for-life to Lynsey Ligouri during the second heat. Chris pulled off the bold move without contact, but he couldn't keep his DRC from crushing concrete. Bouncing off the boards, of course he rebounded directly into the path of Ligouri, who likewise inverted and tweaked her Spike chassis. Upon exiting, Gurley hustled to the push off lane to respond to some taunting, but didn't get too far thanks to timely track personnel. Ligouri might have been finished but Gurley was not, as a recently engaged Brian Cripe, Robert Ballou, and Scott Ronk assisted in swapping out a rear end, drive shaft, torque tube, and Jacob's ladder just in time for the B, also making the A from deep in the B. Michigan's Joe Bares and Aussie Gary Rooke dumped during the third heat, while the aforementioned Huff and Jarett Andretti performed acrobatics in the B and A.

The finale to June 2015 Indiana sprint car competition was also appropriate preparation for Indiana Sprint Week, as the primary players were in the house. Jon Stanbrough and Brookston's Aaron Farney pulled front row pills for the 25-lapper, with the Silent Gasser drawing first blood. After the early red for Andretti, Stanbrough made the middle lane work while Dave Darland and Robert Ballou flew by Farney to make it a three car corral. After Ballou bounced through turn one and fell to fifth, Justin Grant (Hery 40) moved to the show position and put his name in the contending hat.

With a thick cushion on both ends, it was only natural for Darland to head upstairs to rip the lip in Jeff Walker's Maxim/Claxton. Just before the halfway mark, he swept past Stanbrough on the front stretch but not before the two rubbed wheels, mangling Dave's left rear. Grant's patented diamonding of three and four sent him to second through the next set of corners, but a Josh Spencer stoppage sent him back to third, leaving eleven laps to decide the deal.

Grant again had to get by Stanbrough for the runner-up spot on the restart. One lap later, massive momentum from the top of turn four sent C.J. Leary (Baldwin 5) past car 53 with a lengthy slider, leaving Jon with the unenviable task of holding back Kevin Thomas, Jr. and Robert Ballou. The last five laps were déjà vu for Grant, rewinding back to last year's Indiana Sprint Week and Smackdown features as he applied all kinds of heat to the king of Kokomo. Even through one and two on laps 23 and 24, Justin diamonded three and four to wage a wheel to wheel war under the white flag. Pulling alongside on the north end, lapped traffic loomed to the south, with the Lincoln legend choosing to carve through the congestion via the middle lane. Grant crawled through an opening on the bottom and nearly stole the win, pulling alongside at the thrilling conclusion.

Completed by 9:13 PM, after Darland and Grant came Leary, Thomas, and Ballou. Stanbrough settled for sixth while Jerry Coons, Jr., Cottle (up 8 spots) and heat race winners Max McGhee and Aaron Farney filled the top-ten. With Sprint Week and Smackdown approaching, I would expect that each one of these men will make some serious noise in these next two months, as they proved on this particular evening that they are more than prepared.

Working later than I wished on Thursday, so much that a trip to Terre Haute was simply not feasible, common sense prevailed in my passing on the Sumar Classic, thinking I wouldn't be missing that much after last year's Kody Swanson shellacking not only at the Action Track, but almost all dirt dates. Boy, was I ever wrong, as Shane Cockrum's second series win turned out to be fine show from everything I've read. Luckily, a full Indiana sprint car holiday weekend would serve as a superb substitute, spending the next two evenings at Joe Spiker's Lincoln Park Speedway for the first annual Bill Gardner Sprintacular.

First introduced to Bill about 15 years ago by fellow friend Joe Snyder, Bill was of course crewing for Brian Hayden, who had just helped form the MPHG Promotions conglomerate to keep his sprint car dreams alive. I was recently informed by team principal Dallas Mulvaney (the M in MPHG) that the first time Bill openly discussed a website to bring traditional midget, sprint, and Silver Crown fans together was at Jo Godby's wedding (the G in MPHG) back around 2000/2001. Taking a while to transform his vision into a reality, by now of course we are all familiar with the former usacfans.com and current indianaopenwheel.com, the go-to site to find out what's happening in our world. It is indeed the people and friendships that make our sport so wonderful, so many of them cultivated thanks to Gardner's vision of a harmonious racing fraternity. All of us are bound by the same insatiable pursuit of information regarding our preferred pastime, with Bill's legacy living through not only his site, but the camaraderie that currently exists in our community.

Friday found 29 MSCS sprint cars populating Putnamville's pit area for the $4,000 first prize, with competition for cars coming from North Vernon and Bloomington. Saturday's count increased to 40 for a $5,000 to win USAC union, with Paragon providing the only opposition. This Sprintacular was prime Sprint Week prep time, as surface conditions turned slick on both nights, par for the course in the 7 race/9 night grind. Slick was not all bad however as passing was plentiful, spotting so many hard charges from the rear on both Friday and Saturday.

Polar opposite in formats, MSCS meets line up heats by the draw and award passing points, sending the top-16 accumulators to the feature while pulling pills once again for the first six spots. USAC still stays old school with two-lap qualifications to line up heats, sending the top-four to the main where the fastest six who initially transferred are inverted. With back to back nights, this offered an excellent opportunity to examine which provided premier action. My feeling is that USAC's format produces more heat race drama, as from a fan's perspective, it is nice to know when a pass is imperative for a feature berth. Although each MSCS overtaking could be vital, without keeping score it is nearly impossible to know when it is noteworthy.

Nine times a winner in 2015 prior to Friday, it was quite apropos that long-time MPHG pilot Robert Ballou would claim night number one of the Bill Gardner Sprintacular, impressing in his MSCS heat when he sliced from sixth to second on the first tour. His MPHG predecessor Hayden was in also action in the mods, putting four wheels in the turn one fluff to move from the back to third. I counted no more than four men on night number one who eclipsed three or more machines in their heat. However, Saturday's early action was far more entertaining, spotting heat wins from first (Max McGhee), sixth (Robert Ballou), fourth (Chad Boespflug), and third (Chase Stockon). Only two of Saturday's top-six qualifiers made the cut (quick qualifier Carson Short was not one of them), having to go all the way back to 13th (Jerry Coons, Jr.) to snag the sixth fastest A-main transferee. Last year on this date at this venue, Coons led 29 of 30 from the pole to lay claim to Monte Edison's fourth USAC victory. This year, Coons again commenced from the pole and one-upped last year, leading all thirty tours for Monte's fifth USAC score.


Backing up to the consolation events, both Friday and Saturday offered last lap drama for the final feature ticket. Friday's frolic saw Aaron Farney steal the final pass from Brandon Mattox thanks to a low side lunge off turn four on the final tour. After Saturday's extensive post-heat race tilling, positions four through seven fit snugly under one sweaty blanket. Tracy Hines just missed the key sixth place position, even after spreading three wide on the back stretch in an attempt to overtake Chris Babcock and Tyler Courtney. Other notables missing the cut from Saturday's super-stacked consolation included Lawrenceburg winner Logan Jarrett and C.J. Leary, whose Claxton engine coughed and sputtered in qualifications. Timing 38th out of 40, digging such a huge hole ultimately left him five positions from a transfer.

Despite the differing formats, MSCS and USAC feature action was similar, thanks in part to drier than usual conditions and the absence standard two foot Putnamville curb service. Friday was definitely the more entertaining of the two features, with the shaded turns three and four offering far more grip than the bone-slick one and two. On Saturday, the aforementioned pre-B feature rework helped some, but by the time the A-main pushed it was even more slippery than Friday, the victim of back to back showings and a sun-splashed afternoon.

Darland drew Friday's pole and shared front row seating with Mike Gass. A Lincoln Park legend known best for his top shelf tactics, on this night Dave was a bottom feeder in Jeff Walker's 11, up front for 17 circuits until Robert Ballou climbed upstairs to track him down. Immediately pointing to the bottom once he seized the lead, Ballou had just survived a serious threat from eighth starting Max McGhee, who advanced to third fairly early but climbed Robert's left rear in between corners one and two. In the ensuing mess, Mitch Wissmiller could not avoid contact and turned over. Given his thrilling heat race joust with Tyler Courtney and an outstanding out of the gate feature performance, McGhee laid claim to a special "Hero Award" organized by Brian Hayden. Netting him a cool $1,030 and a new right rear tire, Max could thank Hayden, Joe Spiker, Jerry Shaw, and a number of fans who donated dollars.

Ballou would lead the last 13 tours on Friday, but it simply wasn't that easy. Once the bottom was blown off, 14-starting Kevin Thomas, Jr. stepped upstairs and made some serious noise. Kevin's super-sized slider through three and four on the final go-round did not nearly have enough mustard on the hot dog to get the job done, but it sure made for an exciting ending. Robert reached ten wins with his premium Putnamville performance as Darland settled for third. Paragon protagonists Jon Stanbrough and Shane Cottle were fourth and fifth. Stanbrough again steered the Fox/Batcheldor 53 and used the middle lane to move from 13th to as high as third. Primarily playing up top, Cottle was second at one point in the Hazen 57. Boespflug, Leary, Coons, Courtney, and Farney secured positions six through ten at the pay window.

Coons dominated Saturday's feature and displayed the veteran finesse and patience required to maneuver around the infield tires, putting an end to what has been a frustrating campaign for Monte Edison's Spike/Claxton backed by Crume-Evans Insurance. Robert Ballou was again a factor, up to third early and was challenging for second when he broke a left rear torsion stop and spun in turn three, unable to make repairs in the work area. Saddled with a 23rd place finish, when coupled with Chase Stockon's sterling sprint from 14th to 3rd (through the middle), Robert exited Lincoln Park with 12 point deficit.

Princeton's Kyle Cummins fired from fifth in Hank Byram's Mach-1/CRE and offered a brief threat to Coons in the waning stages. Unable to further close the gap, he equaled his best-ever USAC finish of second. Stockon, Boespflug, and 17-starting Jon Stanbrough (he was last in the qualifying line) placed inside of the top-five. Tyler Courtney, Casey Shuman (Krockenberger 21k), Darland, Cottle, and Hines (hauling from 23rd) were scored sixth through tenth.

After plentiful Putnamville prep time, the final pre-Sprint Week test came in Kokomo, a post Fourth of July fireworks extravaganza that also lit the fuse for the Jackslash Indiana Sprint Car Series, televised on a tape-delayed basis via MAV TV. The first of six rounds, additional dates include the $4,000 to win Putnamville Clash on July 25th, Kokomo's $3,000 to win Bob Darland Memorial on July 26th, the $2,000 to win Gas City shootout on July 31st, the $3,000 to win Dick Gaines Memorial at Lawrenceburg on August 14th, and Bloomington's $3,000 to win Sheldon Kinser Memorial on August 21st.

Series creator Sean Buckley is not adjusting the feature purses, but instead has gathered prizes for both the championship car owner and driver, also offering heat race and B-main bonus money. The winning car owner gets a new DRC chassis kit, a full Wilwood disc brake kit, and a set of FK shocks. The winning driver receives a Butlerbuilt seat, a Hinchman HTO suit, plus a Rock Star paint job on the helmet of his/her choice.

Thirty-seven cars showed for this first-time affair, a huge shot in the arm for not only Kokomo Speedway but local racing as well, as some non-standard Sunday night faces appeared for the first time this year. Throw in the ambience from a huge crowd, Rob Klepper microphone work, and some balls-out heat racing action, and what you had was an Indiana Sprint Week feel.

Talking about that feeling in the air, those Sunday night heats sure felt like we had fast forwarded six days to Saturday's Sprint Week bout. Hard driving, especially for the second and final redraw position was especially evident in the fourth contest, as Robert Ballou, who spends the majority of his time prepping his and others' cars for battle, was the center of attention. First meeting with Logan Jarrett, the second incident came when Robert's right rear met the left front of Josh Hodges on the back chute. In this intense combat for second, Hodges, who is guided by mechanic Jake Argo, slid sideways near the pit exit, leaving a rapidly approaching Jerry Coons, Jr. with nowhere to go. Slamming the left side of the New Mexican's Maxim, Coons endured a rough ride, with a couple of shots to Kokomo clay permanently rearranging the front half of Monte Edison's Spike. As Doug Wolfgang once said, "One day you're a hero. The next day, a zero." Unfortunately for Monte and his group of volunteers, Indiana Sprint Week prep time would be ramped up a notch or two.

After a pair of B-mains were claimed by Muncie's Cole Ketcham (posting the night's quickest qualifying lap of 13.204 before blasting Kokomo concrete) and Jon Stanbrough (Batcheldor/Fox 53), Max McGhee led the first 20 laps from his pole starting spot, earning a full-straight advantage in the early stages while a white hot war was waged between fellow front row starter Landon Simon, Tyler Courtney, Thomas Meseraull, and C.J. Leary. After a brief T-Mez/Leary slide fest, slight contact between Courtney and Leary and then Leary and Meseraull sent C.J. to third. Literally driving the wheels off of Kenny Baldwin's DRC/Claxton, Leary was fearless in his turn one attack, challenged by a slight hump at corner entry. Catching second place Simon in no time, another volley of slide jobs eventually shot the Greenfield Grenade to runner-up status. Landon then had his hands full with Meseraull for third, the two of them trading the position five times before Thomas finally solidified the spot.

McGhee's full straightaway advantage was halved just past the crossed flags, reduced even further when Leary could not avoid a spinning Kyle Robbins in turn four, clobbering Kyle and ending his winning bid. Setting up a McGhee-Meseraull-Grant seven lap sprint, unfortunately for Thomas his right rear tire lost air pressure under caution. Once green, he pulled to the infield, yielding his position to Grant. Getting through turn one better than Max, Justin served a rather patented and clean slide job on the north end, building a half-straight advantage at the end of 25 tours.

Grant parked on the Kokomo front stretch concrete ramp for the second time in 2014 for Mark Hery, defeating McGhee, Darland (from 8th), Courtney, and Ballou (from 12th). Farney (up from 14th), Stanbrough (up from 18th), Josh Hodges (only his second time to Kokomo), Jarett Andretti, and Chad Boespflug (from 16th) made up the second half of the top-ten. Aside from the usual first place prize, Grant and Hery hauled a new Hoosier right rear tire and a super cool metal trophy created by Jeremy Farmer's Hog Wild Motorsports back to Piqua, Ohio, extremely prepared to defend their turf when Indiana Sprint Week pays a visit.

A special shout out goes to "Sunshine" Tyler Courtney, pairing ninth and sixth place performances at Putnamville with a fourth at Kokomo, only his third outing with Wisconsin-based owners Chuck Eberhardt and Fred Zirzow. Many may not realize, but this was the same squad that fielded a machine for Bryan Clauson's 2014 local Indiana outings, debuting late in the '13 campaign. Notching a Kokomo Speedway track championship with this same Maxim/Wesmar combination, this particular Maxim was part of the fleet during Bryan's Mike Dutcher regime while the Wesmar mill once belonged to Coleman Gulick. While his driver Kevin Thomas, Jr. was competing with Keith Kunz at Angell Park Speedway, Dutcher advised and assisted in this Kokomo collaboration.

With so many in action over an extremely busy holiday weekend, Monday through Thursday evening maintenance added even more prep time for the upcoming grind of Indiana Sprint Week that would begin on Friday in Gas City. However, much like my feeling of satisfaction after enjoying an epic meal at a recently discovered Indiana mom and pop original, that feeling of conquering the world when a victory or top-five is achieved against the stiffest of competition is the intended reward from Sprint Week warfare. If one does not succeed in the first round, thankfully there are six more nights to get it done. Unfortunately, the endless hours of prep time in this passionate pursuit of excellence never ends. But without such passion, could we ever imagine a life where we are passing the hours just going through the motions? For us racing folk, this is just not a likely scenario. Now that Sprint Week has reached the halfway mark, I will see you at the final four rounds. Enjoy!

Volume 17, Number 7

Jam-Packed

Have you ever tried to squeeze ten pounds of "stuff" into a five pound bag? This happens most often when I am packing for vacation, as I prefer to be prepared for any possible weather condition, no matter the climate or time of season. After narrowing my selections to what I consider the bare minimum, no matter how hard I try to make it fit, all of that "stuff" is inevitably spilling out the top and sides of my trusty suitcase, enough that the zipper won't begin to think about budging. Simply stated, it's just not going to work and adjustments have to be made.

Truth be told, after pulling into my driveway at ten minutes till 1 AM after night one of the United States Auto Club's eleventh running of Indiana Midget Week, that's exactly how I felt. Trying to force five nights of midget and local sprint car doubleheaders into a schedule that required 8 AM to 5 PM duties from Wednesday through Friday, judging from my arrival time I knew that this just wasn't going to work either. Already mentally and physically drained from the thought of how much fatigue I would be feeling at work on Thursday, my condition was made even worse from an apparent stomach virus, nursing all day ills after an odd Wednesday morning breakfast meeting clearly didn't agree with my insides. Still feeling down for the count when I awoke for work several hours later, for the first time in nearly ten years I waved the white flag and called in sick, hoping that the additional rest would allow me to cleanse my system and recharge batteries for the rest of the hectic week. Unfortunately, that plan didn't come together either, as even though I began to feel better by mid-Thursday, I was still feeling weak and wiped out with zero appetite. Forcing nourishment in order to achieve energy for Midget Week round two in Putnamville, that was a huge mistake, as just a few hours later I was feeling even worse, miserably making it through the midget feature, but just barely. Unwilling to sit through a modified main before sprint cars came calling for their finale, for the first time that I can ever remember I enacted my own curfew, making for the longest hour and ten minute ride in history, counting each mile with the lone hope that I could make it to my home base without retching. Also missing work on Friday, there is something to say about having one's health because when you don't, not even the best racing action nor the most entertaining company could magically make things better.

Sensible folk might wonder why I didn't just stay at home when I couldn't even make it into work, especially with the recent arrival of traditional Indiana summertime heat and humidity. Well, this is Indiana Midget Week and aside from Indiana Sprint Week or the days leading up to the Indianapolis 500, this is just something that I don't miss and won't, unless I happen to be on my death bed. Well, I felt pretty damned close to such lowly status, so to say that I might be crazily obsessed with this mini-series would be an understatement.

Aside from semi-regular meetings in Montpelier, the buzz of midget madness is such a rare and exotic treat in this state. If I were to miss Midget Week, I'd literally have to wait another year or travel several hours into another time zone to get my fix. And to be quite honest, it just wouldn't be the same, as the international ambience provided by the countless visitors from across the globe make this a must. I have come to know a great many of these travelers thanks to tours conducted by former driver and New Zealand native Bryce Townsend, so to miss the opportunity to say hello and renew acquaintances would be an unforgivable sin. The only problem is that Midget Week's sheer excess of open wheel action has never been and never will be suitable for a working man's regimen.

Such was my dilemma for 2015, thanks in part to the timing of month-end financials and the healthy fields on-hand. Beginning with 41 midgets and 35 sprints at Gas City, 42 and 25 of the same variety gathered for Thursday's Putnamville production. Friday found a week-long high of 44 midgets and 24 sprints accumulating on Bloomington's south side while Saturday saw a week-long low of 24 midgets and 27 sprints landing along the Ohio River in Lawrenceburg. Simply stated, it takes a huge chunk of time to conduct sprint and midget doubleheaders, even if fields are reasonable in size. Figuring up the time it takes for hot laps, heat races, and features for each class (midgets even required a C-main at the first three showings), the real time crunch comes from USAC's traditional single-car, two-lap qualification session for the midgets. As much as I enjoy this singular spectacle of man and machine versus the clock, the hour-long endeavor is just not feasible with a heaping helping of midgets.

Adding in time for accidents (it happens with hard-charging midget chauffeurs), issues with the surface (Gas City and Putnamville required extra ironing), and odd delays for an ambulance exit (Bloomington) or inefficient tow truck (Putnamville), this is time that you just can't make up later, ultimately infringing on one's sleep, health, energy, and mood the next several days. The first three evenings had heat races commencing around 8:30 PM, pushing the midget feature checkered flag to an unsavory 11:38, 11:29, and 11:15 PM, further emphasizing the need to be ready to roll at the advertised start time. Sprint car main events were held last on every night except the first, going well into Friday morning at Lincoln Park. For those having the luxury of a camper or motorhome in the parking lot – of course it's a non-issue. But for the average patron who has to punch the clock the next morning, unfortunately it requires a painful decision to prematurely exit stage left. The unpredictable nature of this form of racing has always been a deterrent, something I have lived with for thirty years. Sometimes it's not a problem but sometimes that law of averages bites you in the rear end. If Midget Week fields continue to burst at the seams, similar to reducing the number of items I can stuff into my suitcase, perhaps some program adjustments have to be made in the interest of supplying a manageable show that can neatly fit into a four hour window.

Midget Week has traditionally produced healthy front and back gate receipts, leading me to question the need to schedule a third division for such a special event. Whether it is a couple of heats of modifieds or a baker's dozen of 305 winged sprints, time is still such a precious commodity in this game and the 15 to 20 minutes it takes to hot lap and run heat races is simply not what the majority of paying customers want to see, often times resulting in a trip to the pits, restroom, or concession stand (perhaps the latter is the intended goal). Some say this extra class is needed to allow those double-dipping drivers a chance to get ready for their next contest, but that number was no more than a handful (6 at Gas City was the highest of the week), so that theory is effectively null and void. If I had my choice, Midget Week would just be sprint cars and midgets. It's a simple formula that works, so why water it down?

Despite its inherent issues of cramming too much content into a tight time window, Indiana Midget Week remains an awe-inspiring five day festival, jam-packed with thrills and chills. Unfortunately this year's series was reduced to four rounds after rain ruined the Kokomo finale on two separate Sundays, truly a shame as this particular evening is one of the most highly anticipated in my fifty race campaign. One of three periods when the sport actually seems alive and well (counting Chili Bowl and Illinois Speed Week), cars literally come out of the woodwork for Indiana Midget Week when they would otherwise sit idle. As usual, special appearances were of the international variety, namely a New Zealand contingent of Brad Mosen (Buckley 1), Brock Maskovich (Daum 5) and Hayden Williams, not to mention Aussies Nathan Smee, Brett Thomas, and Nick Rowe (in another Daum 5). Josh Ford Motorsports hauled a pair of TCR/Esslingers from the golden state for Brady Bacon and Trey Marcham, with Bacon's ride lasting just two-thirds of the way through Gas City's feature until laying down some serious fluids. Additional left coast cars were controlled by Ryan Bernal (a BOSS/Toyota directed by Jack Yeley) and Chase Stockon (a Breka/Ed Pink Toyota for Jerome Rodela). A Kansas contingent consisted of Tucker Klaasmeyer and Chris Cockran while the Keystone state contributed Brenden and Alex Bright (the latter in Shane Hmiel's 56), Steve Buckwalter (only for first 3 nights), and Tony DiMattia. Closer to home, Jeffersonville's A.J. Felker dusted off a pair of home-grown FSC/Esslingers for twice-west coast midget king Ronnie Gardner and Oklahoma's Chett Gehrke. Those making cameo appearances included local hero Dave Darland (only the first three nights in Mark Bush's 2 – with limited Esslinger ST horsepower), twice Midget Week champ Shane Cottle (Ecker 57), Davey Ray (Putnamville and Bloomington), and Justin Grant (4th in the Gas City opener, piloting Larry Gardner's ancient but still potent Stealth/Gaerte combo).

All of the aforementioned, including national championship contenders Tracy Hines, Darren Hagen, and Jerry Coons, Jr., scrapped for Midget Week supremacy against a slew of black bandits from two separate squads. Of course the biggest and baddest black attack came from the omnipotent Keith Kunz Motorsports, so tough to dethrone these last few seasons. Keith and his partner Pete Willoughby carried as many as four Bullet/Speedway Toyotas to the track and as few as two. Series regulars Tanner Thorson and Plymouth winner Kevin Thomas, Jr. led the brigade, but a pair of heavy hitters were brought in for backup, namely Christopher Bell and Rico Abreu, the two most recent USAC national midget and Indiana Midget Week champs. After Thorson led laps 1-30 at Gas City to nail down his first USAC victory in two years of trying, his violent front stretch tumble at LPS landed him in the hospital overnight and knocked him out of rounds three and four. Moving his number 67 to Bell for Bloomington to protect owner points, Christopher promptly responded with a win. When Bell had to be in Madison, Illinois on Saturday in preparation for his NASCAR truck debut the following week in Newton, Iowa, Abreu annexed those same digits for Lawrenceburg and appropriately produced his second consecutive Midget Week score on the 3/8ths mile high banks.

Bryan Clauson and ace mechanic Rusty Kunz, older brother to Keith, made up the second half of the black brigade, armed with a single Spike/Mopar SR-11 for Joe Dooling. Elevating from eighth to second on opening night, he took the trophy from tenth in a perfect Putnamville performance. As high as second but settling for third behind Bell and KTJ at Bloomington, he scratched and clawed for the same show position at Lawrenceburg, using every trick up his sleeve to stay in the fight. And what a fight it was, truly a dramatic display of how awesome midget racing can be. If you haven't watched midgets at Lawrenceburg, you just don't know what you're missing.

Although Bryan had the best average finish of the 33 different drivers that competed in Midget Week's four features (2.25), Rico Abreu took home his second consecutive crown with his average finish of 3.5. Leading nine feature laps, Clauson's finishes of second, first, third, and third compared favorably to Abreu's fifth, fourth, fourth, and first, with Rico up front for 29 tours total. The difference ended up being better qualifying and heat race performances from the St. Helena, California native. Rico timed inside of the top-six every night (2nd, 3rd, 1st, and 1st) while the best Bryan could do was 4th, 14th, 2nd, and 2nd. BC also had a couple of heat race issues that relegated him to B-main status at Gas City (touching wheels with Brett Thomas and spinning) and Lawrenceburg (a freak DNF) while Abreu successfully transferred through all four of his heats. Had the series finale took place at Kokomo, who knows what could have transpired, as both excel on Indiana's baddest bullring.

Keith Kunz Motorsports currently has midget racing by the jugular, as they arguably have the best setup man, the most potent power plants, and a bevy of top talent behind the wheel, a lethal combination if there ever was one. However, as I wrote about in my Kokomo Grand Prix column earlier this year, there are no more midget super teams to provide adequate and consistent competition. Case in point: Bob East is no longer involved in midget madness, spending his time directing Jarett Andretti's sprint car effort. Don Fike has effectively mothballed his stable of once-potent equipment. RW Motorsports is idle, not to mention long-time participants Greg and Mark Wilke. Aside from part-time competitor Clauson, where does Keith's competition come from?

Normally, I would be quick to answer with Tracy Hines, as he led USAC points after the last round in Plymouth. Beginning the week on a high note with quick time at Gas City, he ended the night with a disappointing ninth place. Clocking fourth and finishing third at Putnamville in his usual Parker Machinery Spike/Stanton-Toyota, the second half of the series was a complete role reversal, literally turned upside down in Bloomington after being victimized by a Trey Marcham heat race spin. Recovering with a B-main score and an eighth in the A, the week only got worse for the 2001 National Midget Driver of the Year. Timing tenth at The Burg, lady luck again frowned upon the man who is still searching for that elusive USAC midget championship to round out his 2000 Silver Crown and 2002 sprint car titles, colliding with Spencer Bayston in the feature. Wildly flipping through turn four, the impact not only ruined his ride, but it also broke his collarbone. Despite the rough week, Tracy still holds a slim 9 point advantage on Kevin Thomas, Jr. in the national standings, wondering if he'll be ready for the next round in Angell Park on July 5th.

Perhaps the biggest ray of sunshine to result from Midget Week was the performance of Collinsville, Oklahoma's Tyler Thomas. Entering Indiana's series with a win at Belle-Clair, T-squared wound up third in the IMW standings, the highest ranking "non-black" machine (although his American Racing Wheels Spike does sport black on its top half). Garnering the B&W Auto Mart hard charger award at three of the four stops, the lone exception was Lincoln Park. Surging from 17th to 8th at Gas City, he propelled from Putnamville's pole after Brad Mosen was late to staging, leading the first two laps before biking over the turn two curb, settling for seventh. Winding up the week with a 17th to 7th blast in B-town and a 15th to 2nd lurch at Lawrenceburg, that impressive second place showing served as his best career USAC finish to date. Tyler's rock-solid runs certainly gives reason to believe that a family operation (with Esslinger power) can still make some noise in this division. Thinking in terms of Clauson, Larson, Bell, and Abreu, could he be the next big thing?

Cullman, Alabama's Kevin Thomas, Jr. entered IMW with great optimism after tallying his first USAC midget triumph in Plymouth. One of the four feared Bullet Boys, he was the only one of the four to not score a win. Opening the week in disappointing fashion after qualifying 15th and finishing 13th, his second effort was only marginally better, timing 8th and taking 10th at LPS, where he was the sprint car victor for Mike Dutcher. Bloomington's third place timing light tango was a step in the right direction, pacing the first 21 tours before giving way to teammate Bell after a brief volley of sliders, still frustrated and dejected to end second-best. Seventh after Lawrenceburg time trials, Kevin was one of several in the hunt for the win on Saturday. Leading the first eleven laps, he was fourth at the conclusion, the same place he was positioned in final Midget Week points. Second to Hines in the national standings, Thomas licked his IMW wounds with another righteous sprint car stroll atop Lawrenceburg's skyscraper banking, winning a wicked-fast rubber-down deal for his second score of the week.

2007 Indiana Midget Week king Jerry Coons, Jr. had a fantastic four race series and like Tyler Thomas, was another pleasant surprise, giving hope for anyone wishing to combat the Keith and Rusty Kunz juggernaut. Jerry finished fifth in the mini-series and had it not been for a flat left rear tire at Lawrenceburg, it could have been even better. Elevating eight spots to seventh at Gastronomical City in Todd Heffner's Triple-X/Esslinger, he clocked second quickest at LPS but had to come through the B, scored fifth at the end of thirty. Seventh quick in B-town, Coon Dog corralled the pole but immediately lost the lead to fourth-starting KTJ in turn two, forced to settle for a top-five for the second consecutive evening. Again earning the pole at The Burg, much like the previous evening he lost the lead to Thomas, gaining it back on a lap 12 restart and holding it for nine more until Rico Abreu slid him for good in three and four. Unfortunately that flat left rear rubber left him dead in the water, but he sure showed he still has what it takes. Now fourth in national points, he's only 17 markers out of first.


Midget Week positions six through ten included Chase Stockon, Tracy Hines, Spencer Bayston, Chris Bell, and Brad Mosen. Stockon had super consistent finishes of 10th, 8th, 9th, and 5th while young Bayston impressed in his first Midget Week with solid 3rd, 9th, and 6th place showings in his first three outings. By the way, that third place performance was Bayston's career-best in USAC circles. Bell began ninth at Gas City and was preparing to take third before scaling Bayston's right rear. Going for a rough ride and spoiling my Kiwi Tour Sweepstakes trophy chances (more on that later), Chris countered with a stout 16th to 2nd lunge at LPS before bagging Bloomington. Late to staging, Brad Mosen missed out on a golden opportunity to blast off from Putnamville's pole, saddled with a less than stellar 18th place result after landing on his side in a late-race scrum in corner one. Brad's other three battles netted placements of 15th, 10th, and 8th.

Mosen's Kiwi counterpart Hayden Williams had a respectable initial Indiana Midget Week, qualifying mid-pack or better (13th, 16th, 16th, and 17th) despite having never raced on any of these ovals. Making each of the four features (using a last lap pass to get it done in his Gas City heat), his first three finishes of 17th, 13th (suffering a flat right rear at LPS, also involved in the same incident as Mosen) and 15th (flipping in Bloomington) were just ok. However, he saved his best performance for last, moving past ten Lawrenceburg machines to claim seventh at the conclusion.

If asked to pick my favorite evening of the four, the answer was easily Lawrenceburg, despite the sweat-inducing sunlight reflecting off aluminum bleachers and resulting daytime conditions for qualifying and heat races. Leading off with a dominating performance from Tanner Thorson, the features only got better as the week progressed. Putnamville was all Rico Abreu early on, only to be overtaken in the final third by Bryan Clauson. Just like Putnamville, Bloomington had Kevin Thomas, Jr. lead most of the way, only to be surpassed by his teammate Bell, again in that final third. Lawrenceburg's wicked slide-fest was simply an edge-of-your-seat thriller, counting 13 attempts at the lead, two of them of the two-for-one variety from third place. In the last seven laps, I counted ten overtaking maneuvers in the raging roust for second and third. But those first 23 tours – holy cow, what a show! Interrupted by separate, bone-chilling spills involving Hines and Bayston and then Alex Bright, who nearly landed in the turn one grandstands, laps 14 through 22 were the best I've seen, containing the majority of those 13 shots taken at the leader. Again, for anyone thinking Lawrenceburg is too big for midgets, you don't know what you're missing! Trust me!

As mentioned earlier, the sprint car winner on night two and four was Kevin Thomas, Jr., of course sporting primarily black livery. Bryan Clauson, teaming with Max McGhee in a second Sam McGhee Motorsports Maxim, won the other two rounds in Gas City and Bloomington. If you had to guess his color and you sensed a recurring theme for winners, yes, it would also be black. Starting third in Gas City, Clauson collected the lead when Shane Cottle slipped over the edge of a thinning turn two cushion around the tenth tour, building a full straightaway advantage on Cottle by the end. KTJ, Thomas Meseraull, and Kyle Robbins completed the first five. I was around long enough to write down Thursday's sprint car lineup at Putnamville, but I couldn't afford to wait until Friday morning to watch, reading afterwards that Kevin Thomas, Jr. claimed the 25-lapper from second. Brady Short surprisingly settled for runner-up status while Chad Boespflug blasted from 12th to 3rd. Dave Darland (Walker 11) and Brady Bacon (Hoffman 69) followed the Hanford Hornet. After witnessing two-time All Star champion Kevin Huntley chase Sondi Eden to the 305 checkers, Friday's 410 sprint car main offered a front row of Bryan Clauson and Nick Bilbee (another black car), with four-time 2015 Bloomington victor Brady Short (this time in a red car) firing from sixth. Aside from a turn four slide job from his front row mate, Clauson led the whole thing, beating Bilbee, Darland, Short, and C.J. Leary (Baldwin 5). Much like the midgets, Lawrenceburg's sprint finale was easily the best, counting four slide jobs, plus contact, in the first two laps between front row starters C.J. Leary and Kevin Thomas, Jr. Two cautions came in the first three tours and after that, rubber began to adhere on both ends of the banks, still stacked by mountains of clay. I'm not sure if I have ever seen a surface so quick come feature time, so wild to watch the top three of Thomas, Leary, and Meseraull weave through the field of 27 (yes, all started), nearly wide open as they abused those lappers and the cushion, battling like this thing paid $10,000 to win rather than $1,500. At the end, nobody had anything for the Alabama assassin, but T-Mez truly put on a show to score second, the absolute master of the Lawrenceburg slide job. Jerry Coons, Jr. (Nolen 20), Leary, and Shane Cottle completed the top-five.

For this scribe, Indiana Midget Week would not be complete without a visit from Townsend Tours, led of course by two-time New Zealand TQ champ and Western Springs World 50 lap winner Bryce Townsend, an Indiana Midget Week competitor as recently as 2007 and a complete dominator of a whirlwind Indiana TQ midget tour of 2000 when he waxed the best that the UMRA had to offer (including the entire Goff clan), winning six times in nine starts. Bringing 21 of his fellow Kiwis for a nearly two week tour of Indiana, Illinois, and briefly Missouri and Kentucky, the centerpiece was of course POWRi's Illinois Speed Week and USAC's Indiana Midget Week. Stuffed into two vans manned by Townsend and semi-retired stock car racer Dean "Oogie" Mulholland, these folks are the all-time kings of jam-packing a maximum amount of fun and entertainment into a 24 hour period. Trying to follow Townsend in a van filled with tourists can be quite a challenge, perhaps serving as practice for Deano who still competes in off-road buggies. Eyeing a 1,000 kilometer event (500 KM over two days, making ten laps of the island) in September, Mulholland always seems to be having the time of his life – so enjoyable to be around.

Townsend and Western Springs announcer/midget car owner Aaron Drever arrived a few days early to take in a two-night USAC midget meet in Plymouth, living it up at Tony Elliott's lakeside digs in Warsaw. Campaigning Tracy Hines in the 2014/2015 International events at the Springs, Drever recently sold his squad to Seamount Racing's Brett Morris, New Zealand's equivalent to Steve Lewis who once fielded as many as four cars for Townsend, Michael Pickens, Tony Elliott, and Dave Darland. Raising the bar for preparation and professionalism, his empire also constructed Breka chassis and became the only authorized rebuilder of Ed Pink Ford engines outside of Southern California. Brett abruptly exited the sport in 2006 to focus on business interests, as he is New Zealand's primary contractor for distributing and warehousing glass bottles. For this two-car Seamount reincarnation, Townsend was named team manager and Drever the marketing and PR manager, sliding Taylor Clarke (a former Seamount quarter-midget shoe) through the roll cage of an Aggressor chassis powered by Esslinger. The other driver will be named later.

Many may know Aaron as "The Voice" (also the "Rolls Voice") of New Zealand's Western Springs Speedway, now the third longest tenured announcer at the world's most famous midget racing venue. When not assisting Brett Morris in reconstructing midget racing royalty, Drever is a real estate agent by day for a Ray White franchise, selling well enough to become the sixth-best agent out of 1,400. Recently building a brand new house of his own, it features a three car garage complete with bar and finished concrete flooring, walls plastered with a massive mural of Western Springs Speedway. Parked inside that garage will be a former Steve Lewis Beast/Pink Ford that Kasey Kahne and Jason Leffler drove to a respective nine and two victories each, one of them being Kahne's 2000 Belleville Nationals score. Also parked in Aaron's midget racing museum will be the last-ever LTC chassis constructed by Red Caruthers, driven to three USAC wins over a period of 1981 to 1987 by Lonnie Caruthers. Then, there is an ex-Larry Howard Challenger/Pontiac once driven by Stan Fox. Simply stated, there might not be anyone more passionate about midget racing in this universe than Aaron Drever.

After an opening night dinner at Rick's Boatyard Café on Indy's west side, the second night of the tour sent the group to a Kokomo World of Outlaws war, indeed an incredible way to ring in this celebration of American dirt track combat as six cars (including Kyle Larson, Christopher Bell, and Rico Abreu) battled under a blanket for the majority of the forty tours, thrilled by a late race slider from Joey Saldana that finally dethroned Donny Schatz. Pointed west for midget madness in Quincy, Jacksonville, Macon, and Belle-Clair, some, like travel agent/racer Tim Malone, only sampled the Illinois portion. Offering endless sightseeing in between the Illini affairs plus two full days in Chicago, I lived vicariously through these passionate people, following their every move via Drever and Townsend's hilarious Facebook posts (the master of manipulating photos, Bryce even shot pool with Michael Jordan in Chi-town). If there was a mall or obscenely large retail establishment along the way, the tour would take the time to stop and shop, winding up with truckload of goodies to take home. Some rather obscure sights were enjoyed at Kirby Smock's Speedway, Indiana residence (an old Steve Lewis Beast chassis rests in a mulch bed in his front yard) and a classic muscle car junk yard near Springfield, Illinois, but of course there were numerous visits to racing shops, museums, wineries, breweries, and distilleries, awarding a well-rounded view of the Midwest.

On tour last year and back for another, one of the 21 tour members was Graeme "Drumbo" Drummond, a former sprint car chauffeur who still offers a midget for son Ben. And, back after a two year tour hiatus were Steve and Pam Shanley. Townsend acquired their last midget for his Open Wheel Driving Experience (http://openwheel.weebly.com/), but since 1985, Steve and Pam both owned midgets, one piloted by Pam for 18 seasons! Arguably the biggest fan of Michael Pickens, female midget racing fanatic Lee Williams was also back on tour for a second consecutive summer. Could we see Lee for a third next year?

Many new faces joined the group for 2015. One of them was veteran radio and television broadcaster John Cardwell, owning nearly four decades of experience covering a wide spectrum of sporting events, including the Olympic games. John was also the voice of Western Springs Speedway for five sporadic seasons, the last two under the Willie Kay regime. A lifelong fan of midget car contests, John even remembers being carried up the hill at The Springs as a toddler.

Another newbie was the always jovial Trevor Panapa, who met Townsend through his driving school, having leased a car from Bryce and joking that he was his longest-serving pupil. Introduced to midget racing through driver Wayne Green, Trevor has crewed on cars and has two boys who follow in their father's footsteps. Quarter midget, TQ, and midget car owner Stu Taylor was yet another who took in these two weeks of midget mania for the first time, having fielded a midget for his son Jarred until an untimely accident sent him to the sidelines. Stu has had other people pilot his quarter midget and TQ, having just purchased a vintage early 1980s Buck Buckley sprint car chassis for himself.

Speaking of car owners and first-time Townsend Tour members, 78 year-old Ray Bull had an extreme desire to visit the United States for the first time. Joined by son-in-law Ray Guilford and 13 year-old quarter midget racing grandson Max, Ray owned midgets for famed drivers Brett Horrobin, Barry Butterworth, and Calvin Bonney. Despite having trouble with his breathing after recently quitting smoking, one could easily observe that Bull was having the time of his life.

Outside of Townsend and Drever, perhaps the biggest character of all was the ageless Ron Bow, a former car dealer who simply bubbled with personality and side-splitting stories. A former TQ racer who owned and drove his own machine, talk about a late bloomer, but his start in the sport came at the age of 49! Considering purchasing a full midget even after a hard crash in the TQ, although his time behind the wheel was brief, at one time Ron also managed the New Zealand team effort against the United States.

Delightful couple Tony and Anna Cross were also enjoying their initial Open Wheel Speed Sport Tour, Anna disputing the claim of Lee Williams about being the number one fan of Michael Pickens. Before Michael became a midget racing maestro, he had considered purchasing a trailer from Tony and Anna for a pending mini sprint purchase. However, the Cross contingent convinced Pickens to forget about mini sprint racing and instead step up to a full midget by acquiring their 1992-1993 Canaday/Cosworth combination. These days Tony is proud owner and pilot of a rather historic Formula Ford – a Lola T340 that is actually chassis number one, adorned in striking John Player Special livery. Looking like a mini-F1 machine, this pristine piece has claimed four New Zealand and two historic titles, as Tony has proudly campaigned this car for the last 13 years.

Joining the expansive list of first-time tour members was Deon Antsy, a former TQ racer who once claimed third in the New Zealand championship, now welding up Aggressor and Breka chassis at BSL. Deon had Michelle Starns alongside, Michelle's claim to fame coming from her New Zealand female heavyweight boxing title, having never lost a round to a woman from her native land.

One of the most intriguing Midget Week conversations came at the tour's last supper, supplanting the highly-anticipated yet washed-out Kokomo finale. Meeting Matthew Percival for the first time, Matt, who brought his sister Suzy along for this adventure, is essentially the New Zealand equivalent of yours truly, having so much in common. During the day, Matt is a Manager at the Marley Loft accounting firm but by night, he is a racing columnist and internet forum moderator. Blaming his grandparents for his midget racing introduction, he's been attending events for his entire 32 year existence, spending the last ten authoring articles for New Zealand Dirt Track Racing magazine and contributing written work to Percy's NZ Speedway (http://speedwaynz.awardspace.com/), also moderating the Macgor's Speedway Forum site (http://macgor.proboards.com/). This was not, however, Matt's first time to North America, having attended the 2014 Chili Bowl, also spending several months working in Toronto, Canada.

Having attended all but one of Bryce Townsend's tours of the Midwest, Alf Bidois was just an honorary tour member this year. Arriving in the states at the same time as Bryce and Aaron, this year he assisted Tracy Hines's efforts as a crew member. Starting with Plymouth and doing the full Eastern Storm sprint car slate, he of course played a role in Tracy's Midget Week assault. Dropped off in downtown Indy by Zach Daum's team after Hines broke his collarbone at Lawrenceburg, naturally Alf had an absolute blast and learned a ton from midget racing's number one driver/mechanic, a true perfectionist if there ever was one. Laughing about his numerous trips to Wilkinson, Indiana's Pizza King, Alf's sense of humor is also a hallmark, as he constantly had to endure the ribbing from his fellow Kiwis, labeled the "spanner to the stars".

And last but not least, there was James Selwyn, the absolute king of all crammers who jam-packed more racing and sightseeing into 28 days than most humans could ever imagine. Having met James way back in 2000, 2001, and 2003 when he attended the NAMARS 5-Crown with his uncle Mike Nicholson, it was Mike who actually connected me to the New Zealand racing scene. A professional photographer, graphic designer and video creator by trade (check out his awesome work at http://www.jamesselwynphotos.com/), Selwyn even creates album covers for various New Zealand musical artists. Attending 17 events in these 28 days, he hit seven in the five that surrounded the Indianapolis 500, including the Hoosier Hundred, Carb Day, Plymouth All Stars, IRP Silver Crown, Little 500, Indy 500, and Kokomo. Fully credentialed at each speedway in his itinerary, it would have been eight in six for the extremely articulate Selwyn had Terre Haute not rained out.

After Indy, James set out on his own adventurous expedition, doing a circular 3,500 mile, ten state tour of the western United States, driving as far west as Pikes Peak and as far south as New Mexico before arriving back to join Townsend Tours for Kokomo WoO and Illinois/Indiana Midget Weeks. Commenting that the Little 500 was indeed the coolest contest of all this tour, he felt that the POWRi tracks were a tad too small, enjoying the more spacious USAC venues, so honored to walk across the clay of Bloomington and Lawrenceburg, noting that The Burg's lighting was out of this world. Thrilled by the rush of standing so close to Silver Crown cars nearly rubbing the inside rail at the Indy Mile, he traded his orange vest for blue at the Indianapolis Motor Speedway, able to shoot outside of the concrete walls in the short chutes, so in awe of such speed.

Perhaps the number one aspect of James's lengthy tour was the fact that he was crowned the Kiwi Tour Sweepstakes champion for 2015. Finishing third, third, first, and sixth in the four outings, he easily outdistanced Stu Taylor and Bryce "Scooter" Townsend for the honors of having his name attached to the famed trophy, an ex-RFMS racing nose piece that resides at Alan Rush's Speedway, Indiana residence. Drawing grid number 15 for the Kokomo finale, Selwyn was truly relieved by the second consecutive Kokomo cancellation. Honored to be the two-time and defending champ, my draws simply stunk this year, happy to hand over my crown to James.

Hanging out with the Kiwis before their last supper, they agreed that the best feature of their tour was without question Lawrenceburg midgets, with the best overall evening coming in Jacksonville. The worst evening was Macon – way too many classes of cars (six, including a race for pastors!). The best track food was found in Lawrenceburg (Drumbo loved the chicken wings) and the best commentary was provided at Bloomington (Cardwell and Drever truly enjoyed Brad Dickison and Pat Sullivan). The best racer to watch all tour was Tyler Thomas while the best and worst looking rides belonged to Dave Darland (best – for his Jeff Walker sprinter) and Brenden Bright (worst - they didn't like his eye-popping purple and green). The Kiwis were also not keen on the Indiana Midget Week format, as they mentioned that it was too late to start heat racing at 8:30 PM.

Despite that format, everyone, including myself when I wasn't feeling ill, had so much fun. Looking back, I only wish that I had unlimited vacation time, as I too would like to sample the same sights, sounds, and overall experience of one of these Open Wheel Speed Sport Tours put on by Bryce Townsend. Extremely fiery and competitive when it came to his TQ and midget racing endeavors, I learned that BT is equally on target with a pool cue, cleaning my clock by sweeping all five eight-ball games when he and Alan Rush paid a visit a couple of days after the rest of the group had flown home.

Townsend's tours are all about jam-packing as much entertainment into a two week span. Trying to cram as much racing into an extremely limited amount of time, much like packing a suitcase for vacation or typing this blog, this is indeed the essence of Indiana Midget Week as well. Somehow surviving this short burst of maximum sensory overload while attempting to maintain my usual routine, it still wears me out just thinking about it. However, when next year's series rounds the bend, once again I will of course be more than willing to tempt fatigue and illness with such a daunting endeavor, as it feels like such a victory to make the impossible possible.

Volume 17, Number 6

I Remember

I readily admit that my interest in blogging continues to wane with each passing season, but the fact that I can still find inspiration in the strangest of places manages to keep KO's Indiana Bullring Scene alive for yet another installment. Case in point: I was headed west on Interstate 70 on an odd Thursday afternoon in mid-May, destined for the Gateway to the West where the fourth night of Rush's R40 Tour would celebrate 40 years of work from this legendary Canadian trio. Immediately outside of Terre Haute and virtually the rest of the way to St. Louis, heavy I-70 construction slowed my pace, more than once to a complete halt. Feeling stress as I feared the delays would destroy my grand plan for a pre-concert feast at Pappy's Smokehouse, concert tunes of old continued pumping from my iPod, helping to maintain a positive outlook.

When pulling up to the rear bumper of a semi-trailer in one of those construction zones, I couldn't help but notice its tag from Quebec. Ultimate irony should have found me behind a truck from Ontario, which of course is the home of Rush, but as it was, Quebec's license plate mottowas "Je me souviens", which when translated to English is "I remember". From my years of high school and college French courses, sadly I could not remember such a simple phrase, but naturally the remaining miles to my destination gave metime to research that statement and ponder its significance to this time of the year.

Some say that I have a great memory, but I counter that statement with the notion that I only remember things that are meaningful. Between the highs of the Indianapolis 500 (and all of its surrounding events) and the lows of my mother's passing four years ago, the month of May will always be a time I will remember.

My solo flight to St. Louis was indeed memorable, as everything went to plan, including the bodacious barbeque from Pappy's, a little pre-show sightseeing (Busch Stadium and the old Union Station), and an obligatory t-shirt purchase for what many are saying is Rush's final tour of this magnitude. Eagerly anticipating the show from my 20th row floor seating, I remember quite well the first time that I recognized the band's music on the radio. Either 1980 or 1981, I was outside of the Noblesville McDonald's when a late '60s Pontiac LeMans or GTO came rumbling by, hearing "The Spirit of Radio" cranking from some serious speakers. Right then and there, I just thought that was the epitome of cool, still maintaining such a stance to this day.

As for the concert, any Rush fanatic would naturally state that their performance was out of this world. Of course I was in agreement. Reveling in the fact that the playlist went chronologically in reverse, their second set hit that 1981 to 1976 sweet spot. Although I would have preferred that the usual tunes be skipped for those more obscure, the mere fact that they played "Jacob's Ladder" for the first time in a long while (perhaps 1981) made this a trip to remember. Staying the night in nearby Collinsville and making the leisurely drive home on Friday morning, I was still amped up, a rather nice change of pace as I usually sink into a funk at this time of the year, remembering all those dreadful days leading up to my mom's death and wishing I had that time back.

Arriving home just in time to leave for the "May Meltdown", this USAC sprint car contest at Gas City I-69 Speedway was the second effort from Jim O'Connor's family. Getting off to a slow start as excessive moisture could not be adequately packed by lightweight sprint car footprints, hot laps commenced about an hour later than planned – just fine with me as the rest of the show ran like clockwork. In all honesty, the incredible Gas City surface that resulted truly revived my interest and enthusiasm for this speed plant, as this was unquestionably my favorite place to be in the early 2000s. Three of the four heat races were outstanding (Six cars raced under a blanket for the win in heat two!) and the feature was without question one of the most exciting I have ever witnessed in my 18 years of attending, helping me to remember my first trip here in August of 1997 when Terry Pletch laid claim to his first career sprint car score, celebrating the momentous occasion by tossing nearly every item of his racing gear into the crowd.

No, we didn't have a first-time USAC feature winnerin the 28-car field, but this was about as close as it could get. Pole-sitter Thomas Meseraull got the jump on Jon Stanbrough and led the first 12 tours in the Keen 18, setting a blistering pace in the low to middle groove before a lap seven caution for Kyle Robbins restacked the deck. As action resumed, both Meseraull and second place Dave Darland began to slip in that lower lane, but T-Mez's missteps were enough to allow the all-time USAC sprint car feature winner to procure the premier position at the bottom of turn three some six laps after that last yellow. Meanwhile, quick-qualifier Brady Bacon (11.855) climbed the stairs and said hello to Fonzi, circling Stockon for fourth and slipping past Stanbrough and Meseraull with little trouble. However, an ill-timed caution at lap 14 came for Casey Shuman, sending the Hoffman 69 back to fourth.

Once green lights glared, Brady again rode the rim and blew by Stanbrough and Meseraull, dipping beneath Darland with a shocking turn two dive bomb. A corner four counter from The Deputy was no good, but Dave did manage to hang with the Union City, Indiana resident the rest of the way. With the surface now slicking-off through the middle, passing was plentiful, seeing C.J. Leary to surge from 16th to 5th.

Lapped traffic finally came into play in the latter stages of the 30-lapper, moving a hard-charging Meseraull immediately back into consideration. T-Mez took the high road in three to drive past Dave. Nearly burning Bacon with his turn two top shelf tactic, had it not been for a pair of lapped machines Meseraull would have found first. Tossing a bold but effective slider on both back markers, the former BCRA midget champ suddenly had a sniff of first as the white flag was waving. Following the leader through one and two, Thomas turned to the bottom of three and considered a cutthroat move to the top of four, pulling up early when Brady moved down a lane. At the 9:29 PM checkered flag, last year's national sprint car king laid claim to his third score of this young season. Meseraull maintained my epic weekend with his thrilling thrust to runner-up status. Darland settled for third while Stanbrough and Leary landed inside the top-five. Positions six through ten were owned by Robert Ballou (recovering from an early race shunt), Chase Stockon, Tracy Hines, Shane Cottle, and Kevin Thomas, Jr.

Much like that Rush concert the previous evening, Friday night went by in a flash, taking only one quick tour of the pit area where I spotted future hall-of-fame mechanic Phil Poor assisting usual one-man band Robert Bell while journeyman sprint and midget campaigner Dean Franklin lent a hand to fellow Okie Frank Flud. Spending the rest of the efficient outing atop turn four with Roger and Barb Tapy, not only was I thrilled to beat impending storms with such a scintillating finale, but I also shared an enjoyable extended conversation with former Indiana bullring bandit Marvin Deputy, who just so happened to be situated to my right. Reliving the glory days of mid-to-late 1970s Saturday nights at Lawrenceburg, when not wheeling his own equipment, Marvin recalled strapping into the Brewer 14 (with Chevy power) along with occasional stints in hardware provided by Dizz Wilson, Mike Gross, and the Law Brothers, who happened to be stationed in the same tiny town of Commiskey in rural Jennings County. After retiring from driving duties in the mid-1980s and ending his 31 year employment at Cummins, Deputy still stayed active in the sport by driving the Law Brothers hauler to the race track.

While making my way to the parking lot, I couldn't help but notice those GYATK (that's "Get Your Ass To Kokomo" for the uninformed) t-shirts in the Gas City souvenir shop. After this epic outing, I had to wonder if the O'Connors would also be printing up some GYATGC shirts as well, as this show really has me looking forward to their next outings, Indiana Midget Week on June 10th and Indiana Sprint Week on July 10th. Yes indeed, you also need to get your ass to Gas City!

All available sprint car meets for Saturday May 15thwere a no-go, so naturally a trip to Bonge's Tavern(www.bongestavern.com) with my wife, nephew, and his wife was a perfect way to spend a damp, overcast evening. Sampling such incredible cuisine and atmosphere twice in the last two weeks, it simply doesn't get much better than that.Those who have taken me up on my tip have thanked me later.

Perhaps the only thing that is better than a Saturday at Bonge's is a Sunday at Kokomo Speedway. On the way up north, I had the radio dial locked on to 1070 AM for Indy 500 qualifying, biting my fingernails in hope that three cars would time slower than Bryan Clauson. My wish was not granted and by the time I got to the track, all 33 spots had been filled. A half hour later, the final row, plus Buddy Lazier, would have to go through one final meat-grinding shootout to determine who would make the race. Thankfully I did not have to endure the anxiety of listening to such session, relieved to hear the good news while sitting in the Kokomo grandstand. After the disappointment of his 2012 500 crash, I hungered for better fortunes for Bryan, not only to prove ABC announcers Eddie Cheever and Scott Goodyear wrong about USAC racers, but to also solidify his stance as one of the world's best wheelmen. From an outsider's perspective, it would appear that the teams he has been matched up with are unable to give him a setup that helps him exude the same confidence he has at places like Kokomo Speedway.

Naturally with all of the panic and chaos at the big track, there were no new one-lap track records and the thought of an all-time qualifying mark being achieved for the 100th running seemspretty far-fetched. But back up at Kokomo, they nearly set a new record for the completion of a sprint car feature. Standard Sunday night outings are always efficient, but an 8:11 PM exit was pretty impressive. Pushing the program forward to beat Mother Nature, had it not been for the wet roads on Kokomo's south side, I could have gotten by without turning on my headlights the whole way home.

Bending the ear of former car owner Rodney Reynolds who just so happened to be sitting a couple of rows beneath me, we passed the non-sprint car time recalling his racing life and unique observations on the sport for a future Flat Out column. As for the on-track sprint car product, 22 chauffeurs were split into three heats (claimed from the front row by Shane Cottle, Logan Jarrett, and Casey Shuman), no B-main necessary. Shoving off an A-main front row of Jarrett and Cottle by 7:50, Cottle reached the top of turn two first, his sprint to the finish interrupted only once for a turn four tip over by Conner Donelson.

Exclusively riding the rim in Paul Hazen's DRC/Kercher, the hometown hero skillfullycaressed the cushion and paced all 25 tours.Briefly held up by Dustin Smith's DRC (once belonging to Chris Hoyer) in the last half of the affair, Shane endured serious heat from front row mate Logan Jarrett, who searched high and low for a way around. Logan's threat was thwarted after he crushed corner two concrete. Cottle went unchallenged the rest of the way but as for Jarrett, he immediately relinquished second to fifth-starting Kevin Thomas, Jr., temporarily tossing third to eighth-starting Justin Grant. Grant wound up fourth and C.J. Leary, who also waxed the wall in two, settled for fifth, this after exchanging fourth four separate times with KTJ. Operating as high as third, Dave Darland (Walker 11) fell from fourth to sixth in the final few circuits. Jerry Coons, Jr., Casey Shuman, Jarett Andretti, and Max McGhee settled for seventh through tenth.

I'm not old enough to remember Kokomo Speedway conquering from Paul Hazen and Jim Elliott, nor was I around to recall if Hazen achieved any K-town triumphs with Louie Mann, but I do remember so much Sunday night success with Tony Elliott, Kevin Thomas, Robbie Stanley, Jon Stanbrough, Billy Puterbaugh, Casey Shuman, and most recently before this evening, Thomas Meseraull (9/5/2010). Adding Shane Cottle to this elite list only seems natural, noticing how luck was on their side as their right rear tire went flat while being pushed back to the pits.

Always a feel-good feeling when exiting the front gate, I couldn't help but grin when remembering Rodney Reynolds's statement as the checkered flag fell. "This sure beats a Sunday night bowling league, doesn't it?" Yep – you've got that right Rod!

Terre Haute's Hulman Classic for Wednesday was a wash, so Thursday's 62nd running of the Hoosier Hundred rang in my Indianapolis 500 week. My initial Indy 500 came in '85, as did my first Silver Crown experience at the Indiana State Fairgrounds, but that was the Hulman Hundred. I remember my first Hoosier Hundred from '86, when Jack Hewitt and Bob Hampshire were embarrassing some stiff competition with their Stanton chassis nicknamed "Gussie". Nearly thirty years later, although Hewitt and Gussie have long been retired, Hamp and his number 63 are still alive in the form of an equally potent Maxim owned by DePalma Motorsports, driven in dominating fashion by last year's series champ and defending Hoosier Hundred winner Kody Swanson.

Winning the opening match of the 2015 Silver Crown slate in Toledo, Kody was quickest on the one-mile sand box, his 33.223-second clocking nearly two seconds off of Johnny Parsons, Jr.'s 1995 mark. Kody's lap came second to last in the order, sad that we have to wait for rubber in order for this oval to come alive. Proving that the faster cars came near the end of the line, Shane Cottle (Williams 81) timed last and was second best while A.J. Fike was third after going out fifth from last. Unfortunately for Cottle, he had to have a push to get fired and could only begin the feature from 14th.

Remove their American Racer tire advantage and it still doesn't matter, as Swanson and Hampshire have this deal figured out. Once the racing groove widened to a car and a half, Kody tiptoed past race-long leader A.J. Fike, on the outside of turn one no less, and led the final 33 laps to take his second consecutive Hoosier Hundred, duplicating what Hewitt did for Hamp in '88 and '89. The last to win back to back was Jerry Coons, Jr. in 2011 and 2012.

After Brian Tyler's Classy Chassy entry failed to take time (succumbing to an oil leak from what I was told), he started dead-donkey (27th) in Randy Bateman's 55. In old-school fashion, Tyler found his way to the front. Tenth by lap 39, he found the top-five at lap 54, taking third on the 74th circuit. With five laps left, Brian slipped underneath A.J. Fike to score second. Overtaken with a very bold outside move in turn three by Aaron Pierce, he fell to fourth after yet another turn three outside attack, this time from DuQuoin winner Shane Cockrum. However, Cockrum's right rear rubber gave way on the final tour, allowing Tyler to salvage third. Maybe my memory is slipping, but I don't remember such a dramatic charge through the field at this Hoosier Hundred in my thirty years of attending.

Behind the podium of Swanson, Pierce, and Tyler came Fike, Justin Grant (Carli 8), Cockrum, Rickey Hood (Fox 56), Patrick Lawson, Jacob Wilson, and Brady Bacon (also losing a right rear late). Dave Darland (Longworth 19) and C.J. Leary swapped Hoosier right rears under the open red for Steve Buckwalter and were subsequently docked a lap, claiming 11th and 12th. Notable retirees included Tracy Hines, Russ Gamester, Levi Jones (Rogers 57), Shane Cottle, and Jerry Coons, Jr. (up as high as 4th in the Nolen 20). With the caution flying on lap one for Chris Fetter, Kenny Jacobs's 1987 100-mile mark still stands.

Already mentioning Rickey Hood in Galen Fox's 56, it made me wish it were 1986 all over again. Nonetheless, even though the field of 29 was several cars short of an entry list that showed 34, the reemergence of Hood, Tyler, and Jones gave hope for the return of even more big names. Of course I remember Silver Crown fields being a who's-who of racing, with qualifying races eliminating the field fillers that currently make up the last several rows. Happy to see a better crowd but still hoping for more, I again applaud the work of USAC's Andy Hillenburg in breathing new life into this series. Although I would like to see more "names" in the field, the fact that several new dirt chassis were constructed over the off-season is indeed positive (I counted new Maxims for Cockrum, Byrne, and Cottle, plus a new DRC for Leary). If I have one last request, it is this: can we please return to two-lap qualifying instead of just one? Without a qualifying race, why the concern for time savings?

Friday evening sent me south for Bloomington's second annual Josh Burton Memorial, an MSCS meet that also added King of Indiana Sprint Series status. A huge event for this community, of course the large turnout and superb weather made it hard to find grandstand seats, especially at my less than desirable arrival time of 7 PM. Bumping into Bill Baker for the second time in two nights, with a half hour until heats started I took a rare tour of the pits where a healthy contingent of 38 sprinters had accumulated.

Immediately spotting Jim Mills's sharp looking 305 winged car, it was pushed to the chute by long-time wingless wrench Jim Forman. Enjoying conversations with Kevin Briscoe (guiding305 racer Kendall Ruble), Kent Christian assistant Kelly Greeson (back after heart issues), car owner Jeff "Oly" Olson, and longtime KISS coordinator/track scorer Dawn Moss, intriguing B-town pairings included Chad Boespflug/Amati Racing and Joss Moffatt/Hurst Brothers.

Heading back to the hill just in time for some dramatic pre-race tributes, I found a seat five rows from the bottom of turn four, remembering this exact vantage point from my 1982 Bloomington indoctrination. Sitting so close to the action for heat race activity, a massive ride by Michael Koontz over the banking in three and four (and all the way past the ditch) once again opened eyes to sprint car violence. Father of Josh, Jerry Burton's iconic 04 sprinter was wheeled once again by Jeff Bland, Jr., who unfortunately had a rough go on the red clay. Bland had been mired outside of a transfer position in his heat, eventually claiming fourth and was approaching third until spinning on the final lap. Things got no better in the first of two B-mains. Saddled with an unsavory eighth starting spot, the substantial ledge that stacked on both ends allowed Jeff to jump to third on the last lap, nearly stealing second from Logan Hupp through the final corner. Perhaps not realizing that the checkered flag had already fallen, Bland's wicked slider in turn one sent him into Hupp and over the edge, too little too late as it was.

Absorbing the action with Little 500 Hall of Fame inductee Max Dolder and Jim LeConte from the asphalt just in front of the concession stand, this is indeed the best Bloomington vantage point, remembering posting up here with Paul Wilson as far back as 1998. B-main number two came complete with two nasty tumbles, the first by Bradley Sterrett (Krockenberger 21) as he was sweeping past Cole Smith for third on the north end. Smith was the second victim after banging wheels for the final A-main ticket one too many times with Brandon Mattox.

Offering a four-wide salute for the thirty lap finale, a premature jump by pole sitter Nick Bilbee was called back. Who could blame Bilbee for taking the chance when five-time track champ Brady Short, who had already won the previous two outings here, sat beside him on the front row? As it was, Brady took the lead and after an early yellow for Brandon Morin, waved goodbye as he built an insurmountable half-track advantage by the time a lap 23 caution came for Shane Cottle. In a fierce fight for fifth, Cottle was on the receiving end of a ruthless Robert Ballou slider that enraged the former AMSA mini sprint champion, climbing Robert's right rear before exiting. With two lapped machines between himself and second place Bilbee, Short would not be shortchanged, tallying his third consecutive Bloomington bounty and second KISS collection of the season. Bilbee was second-best, earning the position after an intense race-long war was waged with Shuman, Cottle, and Darland. Darland was third in Jeff Walker's Maxim, edging 11th-starting Chad Boespflug and Kevin Thomas, Jr. Securing sixth through tenth were Shuman, Stanbrough, Ballou, Christian (up from 15th), and Babcock. After winning the next Friday from tenth, the big question is: can anyone stop Brady Short in Southern Indiana? Right now, that answer appears to be no.

Bypassing the Tanner Swanson IRP Silver Crown benefit in favor of my niece's high school graduation celebration in downtown Indy (held in conjunction with the Indy 500 parade), my nephew, his wife, and myself made the short bike ride from Washington and Meridian to Virginia Avenue artisan distillery Hotel Tango, where we sipped on an early afternoon craft cocktail and shared an interesting conversation with Steve Conforti, who admitted his father-in-law was a member of the National Sprint Car Hall of Fame. After prying a little further, Steve stated his wife's father was the late Elmer George, 1957 USAC sprint car champion. Only in Indy does such a thing take place.

After riding back to Dan's pad at 13th and Central, the 67thLittle 500 was next on the agenda, truly one of the most cherished events on my extensive racing calendar. One of only a few pavement contests that I attend each year, it's still the wildest and most exciting format ever conceived: 33 sprint cars starting three-wide on a tight, high-banked quarter-mile, circling 500 times with two mandatory pit stops thrown in for good measure (and some wacky push truck drivers adding to the insanity). Enjoying old-school ingenuity with its run-what-you-brung rulebook, I will always be in love with the sheer chaos that ensues in those first 125 laps. Another positive aspect of the Little 5 is the people, enticing attendance from my brother Greg, "Coach" Randy Moss, Greg Koons, Fred and Ande Possman, and Gerry Olson, who noted that he will be promoting a huge $12,000 to win ASCS national contest at Sedalia, Missouri on August 23rd.

Seated in turn one with Alan Rush thanks to the generosity of Kroger advertising assistant Kevin Kotansky, I chose not to take notes until the very end, wanting to take it all in just like I did in my early years of attendance. Remembering my first Little 5 from 1988, it was a struggle to follow as I was unable to identify the majority of Michigan, Ohio, and Florida based competitors. Much like '88, I spent the first half of this edition familiarizing myself with the unknowns. Each year, the Little 500 field only gets stronger, noting that names like Donnie Adams, Jr., Russ Gamester, and Brian Gerster were unable to crack the starting lineup because of mechanical gremlins.

With such a strong field and such an unpredictable event, of course there are a number of stories that unfold and eventually eliminate the long list of contenders. A huge turn one pileup on lap 83 took out eight, started when Jerry Coons, Jr. spun in his own oil and backed Gene Nolen's Beast into the turn one wall. Big names like Cottle, Pierce, Hollingsworth, Helberg, and Elliott were either wounded or eliminated altogether. The next ordeal came on lap 161 when pole-sitter Bobby Santos, III and Caleb Armstrong, operating in first and second at the time, were swept into the turn three wall after two-time winner Brian Tyler again had engine issues in the Contos 44.

After Santos and Armstrong exited, Kyle Hamilton (Klatt 5) dominated the middle stages, leading laps 178 through 347. After finishing fifth last year, Kyle noted afterwards that a radio problem cost him crucial time on his second pit stop. Floridian Mickey Kempgens pitted early in the second segment and would up with the lead after Hamilton's second stop. Mickey worked overtime to fend off Dave Steele and Hamilton, both of whom were attempting to get back on the lead lap, reminding me of similar charges from Eric Gordon, Bob Frey, and Bentley Warren. Kempgens stayed up front until Chris Windom (Goacher 51) slipped underneath in turn three on lap 427, thrilled that the top-four were on the same lap. Kempgens tangled while lapping Ryan Burdette on lap 448, effectively creating a three-car, fifty-lap dash for the big prize.

Expecting Steele or Hamilton to challenge, the threat never materialized, still a surprise that the "Man of Steele" was even in contention after battling engine issues all week long (the problem turned out to be a kinked fuel hose). Like David, Chris was now a two-time winner, giving local car owner Jason Goacher his first, a dream come true for Jason who along with his father Bill have been trying to win this race since 1983. The true definition of perseverance, nobody can question Goacher's passion for the Little 500, thrilled that he was able to achieve a life-long goal all these years later. Outside of Windom, Steele, and Hamilton came fourth place Jacob Wilson, whose race was ruined on lap 37 when he had to pit for a flat left rear tire, losing six laps in the process. The two-time and defending champion wound up two laps in arrears. Three laps down in fifth and sixth were Shane Hollingsworth and Davey Hamilton, Jr., the latter landing rookie of the year honors. The rest of the top-ten included Kody Swanson, Kempgens, Nick Hamilton, and Jimmy McCune.

Heading to the pits with Mr. Rush to soak up post-race atmosphere with photographers Steve Remington, David Sink, Robert Gill and New Zealand visitor James Selwyn, this was my first time to see James since he last landed for the NAMARS 5-Crown with Mike Nicholson, sacrificing crucial luggage space to bear gracious gifts from his home country. There are no better race fans in this world than Kiwis.

Easily arriving at my Indy 500 parking at 38th and Georgetown by 9:30 AM the next morning, I made the 1.3 mile trek to my turn three seats where I was joined by father Drew (his 69th season at IMS), brother Jeff, and nephew Danny. Despite all the media negativity from week-long crashes caused by aero kits and parts failures, this 99th Indianapolis 500 was again a fantastic affair. Slightly soured by Conor Daly's pace lap fire and Bryan Clauson'slap 62 turn four crash (after slipping in the marbles), the last 15 laps saw one of the best Indy 500 battles I can ever recall. In the past, I remember a bunch of two way wars – Mears and Johncock, Mario and Sullivan, Emmo and Little Al, Michael and Mears, Little Al and Goodyear, Lazier and Jones, Danica and Wheldon, Marco and Hornish, Franchitti and Sato, Castroneves and Hunter-Reay, just to name a few. This year's three-way joust between Montoya, Power, and Dixon was truly one to remember. Say what you will, but these last several years of Indianapolis 500s, dating back to Wheldon's improbable 2011 win, have indeed upheld the statement that this is the Greatest Spectacle in Racing. Truth be told, as much as I despise the looks and sounds of these cars, they do put on an unbelievable show on this massive oval. However, if I have one request like I have with the Hoosier Hundred, please bring back a recording of Jim Nabors signing "Back Home Again in Indiana". Yes, I might have still received those same goose bumps when Straight No Chaser sang this year's rendition, but the tears did not flow as in years past.

Making that long walk back to the car with my nephew, even with two stops we still made it in time for 7 PM Kokomo hot laps, continuing my Indy 500 double tradition that dates back to 1992. In addition to the huge holiday weekend crowd that filled the grandstands, two busloads were here for Bryan Clauson, the first driver in my time who raced a sprint car the same day as the Indianapolis 500. (Although, I have to wonder if his Jonathan Byrd Racing forerunner Rich Vogler did the same with a midget or sprint car. Where is Kevin Eckert's database when I need it?) Thirty sprinters showed for the $2,000 to win and $200 to start Kokomo Klassic, an impressive turnout given that a KISS contest was held four hours away in Haubstadt.

Having the feel of a huge event, of course all eyes were on Clauson, who was quickest in his hot lap session but could only muster a fourth place finish in his heat, imagining the transition from Indycar precision to sideways sprint cars on a heavy track (complete with cushion) had to be challenging. Electrified by a Chris Gurley two-for-one overtaking for first place on the final lap of heat four, for the first time this year a sprint car B-main was held at Kokomo, with new father Josh Spencer taking the final transfer, thanks to assistance from Scott Benic and Scotty Weir as father Jerry was ailing.

Starting an hour later to accommodate Indy 500 fans, the sprint car feature wave lap came at an appreciated 10:22, even with four other classes of hot laps and heat races. Redrawing the top-two from each heat, the first four rows contained Coons, Cottle, Andretti, Thomas, Gnat, Gurley, Leary, and Darland. Clauson commenced from 13th.

Previous week winner Cottle reached the turn two cushion first, up front for the first six frenetic laps before a Travis Hery spin brought caution. In those six laps, Kokomo KISS victor Justin Grant had already advanced six positions to fourth while ninth-starting Thomas Meseraull, a SaturdayLPS MSCS winner with Amati Racing, was up to sixth.

Coons and previous evening Angell Park producer Kevin Thomas, Jr. engaged in a multi-lap, side-by-side duel for second, with KTJ finally procuring the position with a low side launch off four. Kevin soon saw the lead when The Throttle hammered the healthy cushion in turn two. Smelling blood in the water, Monte Edison's man, who was still limping after his Little 500 incident, challenged for second while Grant lurked in fourth. After Darland climbed the curb in two and plummeted to eighth, Grant scaled the same mound of dirt a lap later and slowed to a stop, moving Clauson all the way to fourth.

C.J. Leary threw his name into the hat when he briefly coaxed fourth from Clauson on the restart. After Clauson and Cottle split a slowing Coons, Bryan bolted to second and brought Leary with him. KTJ built another big lead, but the advantage was halved when he overextended turn two.Led by Frankfort's Brian Cripe, Chris Babcock's turn two tumble with ten to go only thickened the plot, leaving room for a storybook ending.

Bouncing through turn one on the restart, Bryan yielded second to Leary. Five laps later, the man of the hour had regained his rhythm but yet another yellow, this time for Brian Karraker, restacked the deck and added even more drama and intrigue. As expected, Thomas was strong around the rim in Mike Dutcher's 17, but after a brief battle with Leary, Clauson had solidified second and was closing quickly. KT sensed BC's presence and switched to the bottom of one and two. Coming to receive the white, Clauson inched closer through three and four, surging slightly ahead as the duo exited turn two. Thomas hauled it into the high side of three while the Indy 500 hero stuck to his guns on the bottom. The dynamic duo reached start/finish in side-by-side fashion; however, thatstorybook ending just wasn't meant to be, as Bryan had to settle for $1,000 second place money after his sterling surge from 13th. Leary, Darland, and Cottle completed the first five at the 10:44 PM finish. Jarrett, Gurley, Andretti, Spencer, and Hery were sixth through tenth.

Sad that yet another Indy 500 weekend had come to a close, Kokomo's thrilling conclusion was a fitting end to what has traditionally been a memorable week and month in many respects. By no surprise, 2015 added yet another chapter to an already overflowing vault of archives. Beginning with the "rush" of an audio extravaganza from my favorite trio and ending with a surge from a scintillating sprint car contest in Kokomo, as I say goodbye to spring and hello to summer, good and bad this continues to be a time that I will always remember, as it truly defines my existence.

Volume 17, Number 5

Worlds Collide

In the spirit of the late Earl Baltes, leave it to movers and shakers at Eldora Speedway to still be able to dream up a one-of-a-kind promotion and turn it into reality.

Billed as the "Mother of All Sprint Car Weekends", Eldora Speedway's Mother's Day weekend pairing of World of Outlaws and United States Auto Club sprint cars wasn't completely unique, however. Aside from sharing alternating evenings of a Four Crown billing since 2007, the last time the two groups worked together was in 1989, when USAC's winged sprints were scheduled for a co-sanction with the World of Outlaws at the brand new half-mile dirt oval constructed at Canada's Mosport Park. USAC midgets were also on the card at this "Ascot of the North", but unfortunately the huge stones that littered the clay surface were deemed too dangerous, resulting in a complete cancellation of the program and an immediate paving of the oval. The only other time that USAC and the World of Outlaws sanctions were offered at the same track on the same day came in 1982 at the Springfield Mile, but Silver Crown cars were the USAC flavor of the day.

When Ted Johnson formed his fledgling World of Outlaws organization in 1978, I would imagine most racing folk didn't give it much of a chance to survive in an open wheel world that was dominated by the almighty United States Auto Club. As many are aware, back in those early WoO days they competed winged or wingless based on the track's local rules, a cool concept that I believe would be insanely popular in current times. Up until the mid-1980s, outlaw drivers could still be found moonlighting with USAC on rare off-nights, especially those aforementioned Silver Crown contests that paid bigger money than most WoO programs. However, somewhere along the way Ted deemed it necessary to protect his brand by imposing restrictions and penalties if his drivers chose to race elsewhere. So much for outlaws being outlaws, right?

Since that point in time, there has been a distinct division between winged and wingless chauffeurs and fans alike. Thanks to the advent of internet message boards, fans suddenly became extremely vocal and defensive regarding their preference, hard to find those that simply enjoyed sprint car racing in the general sense. By the late 1990s, most wingless enthusiasts, or at least the ones I interacted with, had completely turned their backs against the winged world because of the single file racing, the tendency for dusty, dry-slick race tracks, the overabundance of open red flag periods, and the preference given to high-dollar traveling squads.Believing that their favorite traditional drivers had more talent because of the absence of aerodynamic aid, over the years I have heard so many state that they wouldn't walk across the street for a winged sprint car contest. Proponents of the winged warriors often argue that wingless racing is too slow, too dangerous, and that the drivers, teams, and equipment are inferior. Given the difficulty of dragging unusually stubborn fans to a racetrack to see the reason for opposing preferences, this rare opportunity for the two biggest sanctioning bodies to be featured on the same evening allowed these two separate worlds to briefly collide. The big question was: could those hardcore aficionados from each side of the fence be convinced to attend an event of the other variety after this weekend?

In the last 25 years, the number of venues hosting both winged and wingless exploits on a national level have shrunk considerably, but Eldora Speedway has always been one. Leading up to Friday's fling, since 1962 there had been 187 USAC sprint car contests at the Big E, with 72 different winners in 53 years. As for the WoO, 150 races have been held along highway 118 since 1978, with only 37 different victors in those 37 years. Right away, the comparison indicates that USAC action is clearly more competitive, as Eldora outlaw activity has traditionally been dominated by Kinser, Swindell, Wolfgang, Haudenschild, Blaney, and Saldana. I have to wonder, without Eldora dates, would either series have flourished as much while on the flip side, without USAC and the WoO, would Eldora be as famous and successful? Either way, the crowds were strong for both Friday and Saturday showings, as a plethora of campers laid stakes in the ground despite unfavorable Saturday afternoon weather. While waiting out those Saturday showers, I'm sure the campers rehashed the age-old debate about which brand of sprint car competition was superior. The remainder of this blog will analyze the pros and cons of each, at least in terms of this Mother of All Sprint Car Weekends. At the end of the day, it's all about personal preference, but it's still fun to draw the comparisons.

Eldora has always separated the men from the boys, so car counts in recent years have reflected the fact that there aren't as many of those boys who are willing to tame the beast. Friday's car count favored the wingers by nine (39 to 30) while Saturday's difference of 13 again favored the cars wearing cowboy hats (34 to 21). Saturday's less than stellar turnout of traditional equipment further highlights the Indiana/Illinois/Ohio issue that exists when multiple wingless sprint car venues within a reasonable drive are all in action. Sad to say, in all of my years here (30 to be exact), I can never recall a lower count for a USAC sprint car contest than the one on Saturday. On a side note, one name missing from the winged roster was Jac Haudenschild, having to ask his wife Patty the last time he wasn't in an Eldora WoO field. The answer: the spring of 2003. Said to have been contacted by Jeff Walker for a wingless ride, Jac had already committed to helping son Sheldon, so he had to turn down the offer. As a result, Walker was watching the action from up top.

If speed is your thing, then wings at Eldora are your cup of tea. Once the mile tracks disappeared from the outlaw schedule (Springfield '98 was the last appearance), other than Florida's Volusia County there hasn't been a faster track on the circuit than this Western Ohio speed plant. Craig Dollansky's April 2002 all-time mark of 12.707 seconds (equating to 141.654 MPH) surprisingly still stands after this weekend, despite the fact that both nights of qualifying conditions were smooth, sticky, blindingly fast, and around the bottom. Paul McMahan (fourth in line) was the first to use a wide arc around the inside wall to top Friday's charts at 12.913 seconds while Rico Abreu (three cars from the end of the line) lit up the scoreboard and crowd with the number one mark on Saturday, tripping the timing loop in 12.989 seconds. Both McMahan and Abreu were the lone 12-second bracket busters each evening, with the top-ten separated by .324 seconds on Friday and just .147 on Saturday. Perhaps the Outlaw scene is more competitive these days (everybody has lightweight cars and stout power plants), or it's a breeze to keep your foot to the floor and run a clean line under "locked-down" conditions.

Also motivated by high horsepower but further emphasizing large attachments, USAC qualification times were naturally two-and-a-half to three seconds slower than the WoO, but with the traditional machines going first the surface was still greasy, especially on Saturday when wheel spin was an issue, evident when Aaron Farney's wounded engine allowed him to clock second best while ultimate low-buck racer Brandon Whited was credited with fifth. An aggressive Chase Stockon was number one on both nights, 15.587 on Friday and 16.432 on Saturday in his DRC/Fisher combo. USAC's top-ten times from Friday were separated by a half-second while Saturday's variance was well over full second. As always in USAC circles, there is a huge gap between those who aren't afraid to flirt with Eldora's fence and those who would rather operate a lane or two lower.

Akin to Formula One on dirt where overtaking rarely comes after the first lap, winged heats were essentially an afterthought, but that aspect has not changed in the last two and a half decades, especially on half-miles. On Friday, Kody Swanson, Kerry Madsen, and Gary Taylor won from the front row, but Rico Abreu provided a favorable change of pace with his scintillating score from fourth, aided by a caution for a Jacob Allen engine explosion. Saturday's super sticky soil saw McMahan, Jamie Veal, Donny Schatz, and Shane Stewart hit pay dirt from the front row. WoO heat winners are locked into the trophy dash, but additional dash participants are comprised of the fastest qualifiers who transferred through their heat, a highly irritating aspect from a fan's perspective, as is the slim four car heat race invert, which clearly promotes qualification prowess. My plea to WoO officials: why not just take the top two from each heat and keep it simple so that the average fan caneasily follow the format? Honestly, I think this would help make the heat races much more exciting too. But, what do I know?

Unless you enjoy parades, the most entertaining of the Mother of All Sprint Car Weekend heats was without question the wingless variety. Inverting six as usual, on Friday Chase Stockon and Jerry Coons, Jr. scored from 6th while Dave Darland and Chris Windom (Pollock 21x) won from 3rd. Although two of Saturday's three heats were claimed from front row positions, action was still air-tight, as one of the heats even fanned three-wide at the finish.

Unfortunately a lack of USAC quality and quantity made Friday's B-main a disappointment, as the front row of C.J. Leary and Brady Bacon could have lapped the field in just a few more circuits. Kent Wolters was the first outside of Friday's wingless A while Kraig Kinser (overtaken on the last lap by Chad Kemenah), Lee Jacobs, Danny Holtgraver, Craig Dollansky (first ride in the Roth 83), and Sheldon Haudenschild were a few of the well-known names missing Friday's winged cut. The first to miss Saturday's winged main event was Kevin Thomas, Jr., one of three men to double-dip on both evenings. Brady Bacon (timing 8th with the wing on Friday after nearly winning the previous Sunday in Haubstadt) and Kody Swanson (scoring the previous weekend with Silver Crown in Toledo and wingless at Waynesfield) were the other two, which brings to light that thirty years ago, there would have been so many more who would have shed wings (and vice versa) to make more dough. Hopefully this event returns next year and if so, could it be possible to revive the notion of sprint car versatility by dangling a $10,000 or $15,000 carrot to someone sweeping both events in one night? If so, then worlds would truly be colliding.

Sporting a cushion one groove off the wall on Friday and another further down on Saturday, the danger factor of wingless racing was almost a non-issue all weekend. Almost – unless you ask Brandon Mattox, who nailed the turn three wall in Friday qualifying and helicoptered down the banking. Almost – unless you ask Jarett Andretti, whose horrific Eldora Speedway fortune continued with a high-flyer through turn one in his Friday heat. Almost – unless you ask Logan Jarrett, who flirted with disaster after connecting with Travis Hery in turn one of his Friday heat. Spinning, tagging the wall, and somehow continuing on his way, Jarrett was absent the rest of the weekend. Almost – unless you ask Brady Bacon, who received an ill-timed turn one heat race slider from Dallas Hewitt that resulted in a ride to the concrete and resulting flip atop Hewitt's machine. Bacon began Friday's A from 11th and was up to 5th before blasting backstretch concrete, ending a dynamic drive in the Dynamics 69. On the flip side, aside from a few tire issues, wings were clean all weekend.

Given Friday's heavy surface, wingless and winged features weren't exactly what the fans had hoped for concerning overtaking, as both were essentially runaways for the win. Robert Ballou obliterated the competition, up front for all thirty tours after beginning from the coveted outside front row spot. Jon Stanbrough was a distant second, best in class as Ballou was literally in his own area code, fearless in his cushion-crushing expedition. C.J. Leary also likes a curb, strutting from seventh to third after trading multiple slide jobs with fourth place finisher Thomas Meseraull (Keen 18). Tracy Hines hauled from tenth to fifth, with Jerry Coons, Jr., Dave Darland (up from 13th), Shane Cottle, Aaron Farney, and Chase Stockon (involved in a turn three incident with Grant and Meseraull) securing sixth through tenth.

If the feature looked like easy work for Ballou, it was a far cry from the effort that went into presenting his car for the feature. Needing to change an engine after his heat race, a huge dilemma ensued as Robert's only spare bullet was in his backup car. Removing engines from the primary and backup car and re-installing the good mill – the thrash was complete by the time the horn sounded for the feature, barely enough time to get heat in the engine. Leave it Ballou and his crew chief Derrick Bye (with the assistance of supporter Dan Clifton and a host of others) to figure out a way to complete an impossible task, even under the most pressure-packed conditions.

Benefitting from a third quick qualifying time, a third place finish in the heat, and a second place finish in the dash, Donny Schatz needed 14 laps to initially work past Kerry Madsen on the south end. Kerry would immediately counter in three but Donny returned the favor in four, all she wrote for win number seven on the season. Fourth-starting Shane Stewart did have Schatz in his sights but with 11 to go but could not exceed the lapped machines of Jamie Veal and Craig Dollansky (Roth 83), essentially costing him any chance at victory. One final caution with four laps left saw a single-file restart that sealed the deal for the six-time Outlaw champion, tallying his first Eldora triumph since the King's Royal of 2009. Stewart held off Rico Abreu, Paul McMahan, and 12th-starting Greg Wilson. Madsen survived late race contact with McMahan to score sixth, with Dale Blaney (up seven spots), Daryn Pittman, Jason Sides, and Brady Bacon filling out the top ten. Perennial Eldora stud Joey Saldana was uncompetitive in his 24th place finish, burying himself early with a 30th place qualification effort that resulted in an immediate engine swap.

Operating under even heavier conditions than Friday due to a 3 PM shower, Saturday's features truly showcasedthe positive aspects of USAC's wingless sprinters, as this traditional Branson/Larson Memorial was a literal barnburner. C.J. Leary fired from the pole and brought fellow front row starter Justin Grant in tow, as the two best Sunday night Kokomo cowboys showed how to run the ragged edge against a large ledge. For the majority of the first half, Grant was all over Leary and even attempted a slide for the lead in turn one with 12 to go, as Tracy Hines watched from the catbird seat in third. With ten to go, C.J. successfully cleared a gaggle of lappers that held up Justin, enough that the son of the 1997 Hoosier Hundred winner seemed destined to claim his initial USAC triumph on the series' biggest stage. But, leave it to Grant to not give up as five laps later, he was suddenly in the game once again. Heavy congestion was again an issue with two laps remaining and as the lead tandem ducked under the white flag, Justin dove low and used Chris Windom's machine as a pick, pulling off a daring and dramatic three-abreast slider in turn one to steal the win in his DRC/Claxton-Chevy.

Also in a DRC/Claxton (but a Mopar), Leary had to swallow the bitter pill of another second place finish, but he is more than ready to kick in the door to that first national score. Hines was right there in third in his DRC/Stanton while Aaron Farney had his best USAC run to date in fourth, holding off his mentor Robert Ballou. Sixth through tenth included Dave Darland (up four spots), Jon Stanbrough, Brady Bacon (also up four spots), Chase Stockon, and Kevin Thomas, Jr. (he too was up four). The thrilling finish more than renewed my enthusiasm for wingless racing at Eldora Speedway, as like chocolate and peanut butter this is truly a match made in heaven. Not only can these machines race close and competitive on a huge, fast half-mile, but they can do so in dry and wet conditions. One thing I've always liked about wingless competition is that the field is filled by a majority of blue-collar squads like the one belonging to winning owner Mark Hery, truly emphasizing the amount of talent with wrenches and steering wheel and not the size of one's bank account.

Saturday's winged feature was nearly a runaway by Donny Schatz, who is turning the World of Outlaws series into his own playground, clearly in a class of his own. Only timing 11th best, "Tequila" Schatz did what he needed to do in his heat, winning it to earn a spot in the dash where he drew the pole after a six invert was drawn. Naturally, he won that and claimed pole position for the thirty lap finale, sharing the front row with Aussie Jamie Veal, who is doing a fine job subbing for Jason Johnson. The only cautions of the entire Saturday evening (going green to checker for seven heats, a dash, two B-mains, and the 30-lap USAC main) were in the WoO main event, caused by a slowing David Gravel (early) and tire issues for both Shane Stewart and Logan Schuchart (late). Donny had driven to a full-straightaway advantage by lap 21, but the underdog effort of Gary Taylor managed to close the gap and keep the "decimator" honest, especially at the green/white/checkered conclusion, which was a minor miracle in itself as Taylor had to pit for safety reasons after dragging debris during that final caution.

As it was, Schatz ruled the roost in that final two lap sprint, earning win number eight of the season. Taylor, McMahan, Saldana, and Madsen (up seven spots) took second through fifth while Sides (up five), Abreu, Pittman, Veal, and Christopher Bell (up five in the Keith Kunz 67) scored sixth through tenth.

Amidst a slight chorus of boos as he exited his nearly perfect Tony Stewart Racing/Chevy Performance/Bad Boy Buggies J&J/Shaver, despite the dominance Schatz actually sounded pretty humble in his winning interview. He and crew chief Ricky Warner are unquestionably in that zone like Steve and Karl Kinser were in 1987 and Doug Wolfgang and Davey Brown (Sr. and Jr.) in 1985. Unable to see anyone except Shane Stewart who can put up a consistent fight, in my mind, you might as well write him another championship check, as we haven't even gotten to August yet! The bright spot to the winged side of the ledger was without question Gary Taylor and his Jason Fausey team. Reminding me of the late '80s and early '90s efforts of Lee Brewer, Jr., this small squad operates on a fraction of the budget as Schatz and TSR, certainly having the heart, smarts, and ability to get the job done. We did not see David slaying Goliath on this evening, but how many times has that happened in big-time winged racing at Eldora in the last 25 years?

So, did the Mother of All Sprint Car Weekends determine which type of action is superior at Eldora Speedway? Under wet and heavy conditions, given the excitement provided by Saturday night's USAC feature, it could easily be determined that wingless is way better. But, when traction is limited, I've seen some unbelievable winged wars here as well. Overall, the answer to that question is "it depends". Hardcore fans aren't easily swayed by one or two races, so stubborn and stuck in their ways. As I mentioned earlier, it's all about personal preference. This weekend was an extremely rare opportunity for these two segregated worlds of fans to briefly collide, producing an electricity in the air that I last felt for the Mopar Million of 2003. Now, if we could only promote more crossbreeding with the competitors, then I believe we would truly know the answer to that long-debated question. Given their ability to turn a vision into reality, I can only dream that Eldora Speedway will make that happen as well.

Volume 17, Number 4

Crossroads

I despise traffic - always have, always will, as it is a major impediment to progress and pleasure. Any attempt to escape north side Indianapolis gridlock is an enormous test in patience, especially on Friday afternoons when dreams of reaching a dirt oval seem all but unattainable. Such was the case on this first Friday of May, as a less than desirable 5:45 PM exit from my Castleton employ reminded that in order to get to Gas City, I really needed a half day of vacation or else a helicopter ride. Making matters worse, I first had to detour northwest to Carmel, hard to imagine that I would ever see the 7:30 PM first heat green flag given my inability to make any of the stoplights on a heavily traveled 146th Street. At this frustrating stage of the trip, I had actually considered giving up and turning around, as my appetite for racing isn't what it once was, at least not when I am subjected to so much pain and punishment beforehand.

Relieved to finally reach state road 37, unfortunately this highway narrows from four lanes to two just north of Noblesville, so it wouldn't be until the outskirts of Elwood when I could finally operate my vehicle at my own chosen pace. While impatiently waiting behind a line of seven cars, I again began to wonder why I still go to such great lengths to chase races, believing that I may have actually reached a crossroads in my life as the rewards from such stressful excursions have thoroughly diminished. However demoralized my state of mind had become, something still pushed me to that "sprinter in the sky" along U.S. 35 and state road 22, as this would be the O'Connor family's first foray in their six race 2015 Gas City I-69 Speedway experiment. If they were willing to stick their necks out for owner Jack Himelick to save his racetrack from extinction, then I should be willing to suck it up and deal with some untimely traffic. Reaching their own crossroads over the off-season when choosing the promotion and operation of this Grant County quarter-mile over the legendary Terre Haute Action Track, let's hope Jim O'Connor and his family's roll of the dice comes up big again.

My usual scenic route of 37/26/500 East/35-22 ended in the tall grasses of Gas City's back forty, easily in enough time for the first heat as Reece O'Connor was slowly circling the speedway with a tractor and sheepsfoot. After sprint cars completed their packing of an abundance of H2O, hot laps rolled off an hour later at 7:48, perfect for this late arriver. But once underway, the remainder of the evening went non-stop, with no further interruption from farm implements. Even with four heats, one B-main, four support classes, and four major B and A-main incidents, the thirty lap finale checkered less than three hours later. Despite the difficulties with the super heavy surface, a decent crowd showed up and even stayed for the modified feature. The new staff's second attempt is a big USAC sprint car bout in just two weeks (May 15th), so things get serious in a hurry.

This second King of Indiana Sprint Series round of 2015 collected 31 sprint cars, a rather respectable assembly but still a much lower number than hoped given that Bloomington Speedway was dark some two and one-half hours south. It seems like it wasn't that long ago when KISS conventions attracted fields of 40 to 50, but truth be told, somewhere between 2006 and 2015 the numbers began to take a dive. Indicative of a changing local sprint car landscape, teams rarely stray from their comfort zone these days, even if KISS contests still incent with a $2,500 to win and $250 to start carrot. A couple of rare exceptions on this evening included Bedford's Brady Short and Mitchell's Dickie Gaines, with Dickie's Jason Soudrette Racing ride coming all the way from Cincinnati. However, it is still my belief that this KISS format came to a crucial crossroads several seasons ago, having remained virtually unchanged since its 2001 inception. Unfortunately, even at this stage a format alteration would have little or no impact on participation, as nothing seems to be stimulating car counts these days.

Given that it is already May, it seems as though the local scene has reached its own crossroads where a field of 20 to 30 is the best we can expect. The lower numbers might not signal an end of the universe, but on nights like Saturday when Waynesfield, Montpelier, Lawrenceburg, Putnamville, and Chandler were all in action, the effects of this year's lower numbers were clearly evident, especially with the population of 15 Montpelier MSCS sprinters. Yes, it might have been an all-star cast of 15, but wouldn't we all still enjoy some heat race and B-main drama?

Friday's feature winner was Jon Stanbrough, who by my calculations collected sprint car victory number 185 and his first as a car owner since sometime in the mid-1990s. Beginning the feature from the inside of row two, the Silent Gasser snatched the premier position on lap two when Logan Jarrett toured turn two on just two wheels (Wow - that's a lot of twos!). After scaling from fifth to second, Max McGhee clipped an infield tire in that second bend which sent him on his lid, upsetting his younger brother Sammy who serves as crew chief. Powered by an ex-Damion Gardner Shaver, New Castle native Kyle Robbins then moved to the runner-up slot and in the mid to late stages seriously closed the gap as the leader had issues putting Chris Gurley and final B-main transferee Frank Flud (the Oklahoma mini-sprint ace making his first Indiana sprint start for Dave Stensland) a lap down. One final caution for a Shane Cottle bike and subsequent center punch from Gurley set the stage for a two-lap showdown between brief 2014 teammates Stanbrough and first heat winner Kevin Thomas, Jr. JRS tilted on two wheels in two, allowing KTJ a golden opportunity to seize his first Indiana feature of the season. However, Kevin hauled it into turn three a tad too hard and handed KISS triumph number 22 to Jon, who led Robbins, second heat winner Thomas Meseraull, Dickie Gaines, and Robert Ballou (elevating from 11th) to the checkered. Sixth through tenth included Jarrett, Thomas, Weir (Pedersen 4P), Darland (Walker 11), and Boespflug (from 18th).

Reaching a crossroads at the end of last season when a dream matchup with Mike Dutcher dissolved after a less than satisfying campaign (they still wound up with 8 wins), in order to stay alive Jon began the bold and arduous task of building his own team from scratch. Starting with veteran Bloomington mechanic Daryl Tate, he also attracted maintenance and at-the-track assistance from Chris Hoyer, Kevin Price, and Chad Smith, the latter lending a financial hand as well. With backing from MP Environmental, A.E.D. Motorsport Products, MPHG Promotions, Dan Pace, the aforementioned Smith, and a boatload of product sponsorships, Jon and his wife Melinda are somehow making it work. An up and down 2015 campaign suddenly turned satisfying with Friday's smooth and steady drive on a tricky track, as local scores like this are not easy to come by when slim fields are still stacked with talent.

When not watching the action from the top row of the third turn bleachers with Joe Higdon, I spent the bulk of my Friday evening reminiscing with three generations of Mosleys (Chuck, Aaron, and mini sprint racer Evan, who claimed fifth place with just a stock 600), long-time Mosley assistant "Diamond" Dave Bromer, Paul Hazen, and six-time USAC sprint car champion, two-time USAC Silver Crown champion, and one-time All Star champion crew chief Phil Poor. In speaking with an enthused Hazen, who is feeling extremely revived after a second hip surgery last winter, Paul was also excited to note that he has a new backer for this season who prefers to be anonymous, supplying a second DRC rolling chassis and a very stout mill to fit between the frame rails. It was a rough Friday for Hazen and his chauffeur Shane Cottle, who also led at Terre Haute the previous Sunday before a front shock became detached. Saturday was much smoother for this combo, claiming their first triumph of 2015 at Montpelier. A few pits down, long-time Gas City supporter Roy Jackson installed his 17 year-old grandson Seth in his familiar 42. With just three practice sessions under his belt and no other racing experience, it was a wild night for the youngster, spinning a 360 in his heat and tumbling over the turn three bank while trying to avoid a huge calamity involving Spencer Bayston (Clauson 7) and Dallas Hewitt. Flipping wildly into the catch fence that guards the pit area, Jackson emerged unscathed, but it was a rude awakening to just how lethal these machines can be.

Skipping all Saturday sprint car options for yet another enjoyable trip to Perkinsville's Bonge's Tavern on a picture perfect evening (I enjoyed their unbelievable key lime pie for the first time in four years), a second weekend KISS would be collected at Kokomo Speedway on Sunday night. The World of Outlaws were also in action at Haubstadt's Tri-State Speedway, but having to choose between a 50 minute or three hour drive home with a busy work week ahead was not a difficult decision, even though I do enjoy the jetfighters in a gymnasium aspect of winged sprint cars on quarter-miles. People might advise that you can sleep when you're dead, but at my age, I just can't afford to live on four hours, as it just ruins the rest of my week.

In this season's Indiana Bullring Scene blogs, I have literally worn out the topic of car counts, further beating the dead horse with the discussion regarding the long-unchanged KISS concept. Naturally, I was not the least bit surprised to learn of a 22 car turnout for Kokomo's first Sunday night of the season. As long as the major players were in the house (which they were), I was fairly confident that the feature event would be worth the small investment in time. Par for the course in K-town, I was not disappointed in any way, preparing to hit the road at 8:45 PM and sending final results to my nephew as he relayed information on Steve Kinser's first heat at Haubstadt.

Watching Kokomo heats with former sprint car shoe Josh "GQ" Slone and Max McGhee (showing no ill effects from his Saturday night concussion at Putnamville), reigning KISS champ Shane Cottle, Brady Short (with assistance from Brian Cripe), and C.J. Leary each rode the rim and won from front row starts. Gas City heat winner Conner Donelson climbed the wall between turns one and two and inverted, but his crew, led by father Randy, was able to get the machine back in order for the thirty lapper. Third the previous night at Putnamville, Austin Prock was not so fortunate in his heat three incident, snagging the backstretch wall and going for a wicked helicopter ride to the bottom of the third turn. The damage to his Wingo brothers Maxim was substantial, nearly clipping the entire front half of the frame at the radiator, wiping out all bolt-ons, and even shearing the studs in the cover for the quick-change gears. Prock hung his head in disgust as his squad figured out how they were going to get the tattered remains into their enclosed trailer. Dan Pace came to the rescue and allowed the use of his open trailer, but the horrid Wingo luck at Kokomo continued.

With no B-main necessary, the A-main wave lap came at 8:34 PM, again finding a seat next to Lafayette antique archaeologist Joe Higdon. With the top-two from each heat redrawing for the first six spots, those initial three rows were assigned to Short, Grant, Cottle, Thomas, Stanbrough, and Leary. Joe's driver Dave Darland began from the outside of row four, alongside 2013 Kokomo KISS winner Robert Ballou. Always asking for my feature prediction, I advised Joe to look out for Leary, as the cushion was the way to go, having won the last two times here. However, I also needed to give Justin Grant consideration, as he has been the best against a healthy Kokomo curb for the last several seasons.

Third on Kokomo's opening night, Grant galloped past Short and Cottle through the first set of corners, entertained by a seven car scrum for second as high, low, and middle lanes were equally effective. A rocket around the rim, Justin constructed a full straight advantage in just a few laps, growing to half a lap on Short in the mid to late stages as the race pace was frenetic, all green to that point. Literally stinking up the show, Grant was essentially gone, focusing on a fine tussle for third between Leary, Stanbrough, and Thomas. Out of the corner of my left eye, a white car had spun a 360 in between turns three and four, incredulously identifying that machine to be that of Grant. Nearly collecting second place Short, Justin gave up the top spot to the 2009 and 2013 KISS champ and also surrendered second to Leary. C.J. and Justin swapped the position three more times in an attempt to keep pace with Sweet Feet, but in doing so Grant also had to deal with the adversity of a right front wheel that was bouncing uncontrollably due to a dislodged right front AFCO by Benic shock, impairing both vision and control.

After blowing two engines thus far and spinning from second the previous night at Lawrenceburg, it has been a trying 2015 season for Justin Grant and car owner Mark Hery. With this particular race seemingly in the bag, misfortune again was the name of the game with the spin and shock issue. But, perhaps Justin and Mark had reached their crossroads, as Short's engine suddenly expired with two laps remaining. Logan Jarrett also blew up in a big way, as the entire speedway was now enveloped in a thick fog of smoke, with a distinct ode of fried Chevrolet invading my nostrils. Amidst the extreme chaos, Grant had inherited first but was immediately overtaken by Leary at the white flag, but not before flagman Brian Hodde waved a caution for Jarrett's stoppage, gifting Grant the premier position once again. With attrition now taking its toll, Kevin Thomas, Jr. exited at turn one with a flat right rear, also noticing Dave Darland's Jeff Walker ride parked in the infield.

Leaving two laps to go, Justin withstood a last lap surge from a bottom-feeding Jon Stanbrough to take the breakthrough win in his DRC/Claxton, with Thomas Meseraull sweeping past C.J. to take third. Leary limped home with just three pounds of air in his right rear, edging Robert Ballou for fourth. The second half of the top ten contained Cottle, Chad Boespflug, Coons, KISS point leader Kyle Robbins, and Thomas, whose Mike Dutcher led-crew swiftly swapped right rear rubber. If you haven't gotten your ass to Kokomo thus far in 2015, they are open for business the next two Sundays (May 17th and 24th).

On a weekend that began with a frustrating trip through traffic that nearly sent me back home before I ever got close to Gas City, all that reflection, self-doubt,and thoughts of serious life changes had been erased with yet another thrilling Sunday night convention in Kokomo. Reaching my own crossroads on that peaceful drive home, I was thoroughly revived and refreshed, ready for a two-night twin bill of USAC and World of Outlaws at the legendary Eldora Speedway. Simply put, there's not a better feeling in the world than the glow that is achieved from an epic dirt track open wheel adventure. As much as I want to believe that I will be able to one day walk away from this stuff, I know that I'm not quite ready for that exit just yet.

Volume 17, Number 3

Gung-ho

As veterans of the English language, we have become extremely familiar with the term "gung-ho", often using it to describe an enthusiastic or overzealous individual. The amazingly handy Wikipedia claims its origin comes from China, as gōng hé is a shortened version of gōngyè hézuòshè, which when translated comes to mean "Chinese Industrial Cooperatives".

The term was picked up by United States Marine CorpsMajorEvans Carlson from his New Zealand friend, Rewi Alley, one of the founders of the aforementioned Chinese Industrial Cooperatives. Going all the way back to 1943, Carlson hoped to instill the same sort of working spirit he had seen in China where all of the soldiers dedicated themselves to a common goal, relaying to his men about the motto of the Chinese Cooperatives (Gung Ho).

Oddly enough, the idea for this week's theme came from a conversation with retired CSX Railroad employee Joe Higdon. Upon my Haubstadt, Indiana arrival for what was my third USAC sprint car outing of 2015, I naturally asked Joe how many sprint cars were in the house. After hearing the number to be 24, I was a tad bit shocked, especially this early in the season. Joe agreed, firmly believing: "If you were a gung-ho mother f-----, you'd be here at Haubstadt." Judging from this particular assembly of open wheel equipment, I suppose that there aren't as many gung-ho sprint car racers in this state as I would like to believe, at least compared to years past when early season USAC pit areas were flooded with eager participants.

USAC's other two Indiana sprint car meetings for 2015 collected 36 (Lawrenceburg) and 35 (Bloomington) contestants. It just so happened that those rounds had no competition for equipment while Haubstadt's stop had to split cars between Putnamville (20), North Vernon (16), and Lawrenceburg (22). Attracting the most machines of the four Saturday selections, Haubstadt's feature purse exceeded the other three Hoosier haunts by a whopping $14,750, $14,150, and $13,175, respectively. So, why weren't more at The Class Track?

For anyone who has been around the Indiana bullring scene for the last 15 years, he or she might initially believe that money is a de-motivator for the average Indiana sprint car racer. Simply looking at 10th place on back, Haubstadt paid $4,870 more than Lawrenceburg, $5,175 more than North Vernon, and $5,425 more than Putnamville. Other than the longer drive to this southwestern corner of the state that burns a lot more fuel, what's the deal with the not-so-gung-ho attitude towards USAC and MSCS sprint car competition at one of the finest facilities in the country?

Could it be USAC's temporary permit (entry) fee of $40 that keeps racers away? Could it be the fact that $100 is deducted from one's winnings if the owner or driver collecting the check is not a USAC member? Could it be the hour time difference for the majority of teams making the long tow, as Haubstadt is on Central time while the rest of the state is Eastern?

Even if a team were to burn $100 additional fuel for their tow rig, incur the $40 entry fee, and have $100 deducted from last place feature pay, assuming that all of these factors were in play my math shows that they would still come out ahead of where they would be at either of the remaining Saturday stops. All four choices essentially paid the same if you didn't make the main, so perhaps it's the mindset of believing one can win or place inside of the top-five when the big dogs are absent. I suppose I would have to take a poll of every participant that wasn't at Tri-State Speedway to find out the real reasons. Either way, the situation continues to needle me, but it's a free country and racers have every right to do what pleases them most.

With Bryan Clauson and Hunter Schuerenberg defecting to the winged wars for 2015, it's only natural to compare USAC's standard feature purse to that of the All Stars, NSL, and MOWA. I could not find a standard MOWA payout on the web, but a standard $5,000 to win All Stars show offers a total feature purse that exceeds USAC by $2,720 while a standard $3,000 to win NSL show only exceeds USAC's feature purse by $150. Dangling a carrot in an attempt to entice loyalty, when races are held outside of the Hoosier state, USAC's AMSOIL Dominator Incentive program offers a $150 bonus, a free pit pass for both driver and car owner, and an entry fee waiver for the top-twelve in points. Inside of Indiana, the $150 bonus goes away and the free pit passes and entry fee waiver only apply to the top-ten in points. Both of these scenarios assume that you have paid your annual membership fee and that you have not blasted the sanctioning body in interviews or social media.

Despite all the questions and number crunching, there are still a dozen (substituting one or two) teamsthat regularly follow the USAC circuit, essentially the same number as last year. If that's the case, then the perceived reduction in the number of competitors I have observed in 2015 could be a direct result of a diminishing local scene, which I seem to crow about each week. Thus far, people are either slow at having their cars ready for action, they are picking and choosing events close to home, or they simply aren't bringing their equipment out at all. If the latter is the case, where is the new blood to replace them?

Say what you will, but those dozen or so followers are still pretty gung-ho, especially guys like shoestring racer Robert Bell, who has towed to all events on an open trailer from Colfax, Iowa. Talk about gung-ho, Saturday's winning team of Hoffman Auto Racing has been a USAC loyalist since 1988, still passionate about their pursuit of feature wins and championships. Then there are all of the mom and pop squads that continually find a way to scrape by, forever in pursuit of the perfection that will reward them with supreme levels of satisfaction. Those mom and pops are spending a lot of money and given their sacrifices, they certainly qualify as gung-ho. It just would be nice if there were more of them, but this stuff only gets more expensive as the years roll by.

The Bloomington/Haubstadt USAC/MSCS double required 500 miles of windshield time to travel back and forth from my humble abode. Any reasonable human being would have considered crashing in B-town to cut back on gas and mileage, but my dad was only wishing to partake in Friday's round, thus requiring my return to Indy's north side. Thankfully Bloomington's efficient evening offered a 9:53 PM sprint car conclusion, easing me into that mental grind that would hit me square in the face post-Haubstadt.

Disappointed to see so much unnecessary butchering of beautiful and rugged Southern Indiana landscape along state road 37 to make way for a wider Interstate 69, the green grass and bright red-orange clay of Bloomington Speedway was without question a sight for sore eyes, arriving just in time for hot laps despite a stressful suicide mission through rush hour traffic. No time for a pit lane stroll, a jammed grandstand found me rubbing elbows with gung-ho sprint car chaser Gary Parker (cousin to Bill Rose). I also happened to be stationed directly behind 2000 Lincoln Park and Tri-State Speedway champion Eric Burns, with fellow Brazil battler Jared Chastain flanking him to his left. Burns again has plans of competing locally on a limited basis, first in a Stealth belonging to Bill Gasway and then in the nearly world-famous $1,300 Craigslist car of Doug Rolison with which he won the second King of Non Wing feature at LPS two seasons ago. As if to spread his wings a bit, Burns even mentioned he has a Bob Pierce modified chassis that may see some action this summer. In attempt to upgrade his power plant, Rolison has acquired numerous engine components from Shawn Krockenberger, who has said he has retired from sprint car competition. "Burnsy" may not race as much as he used to, but you can never claim that his optimistic outlook is not gung-ho.

That sticky Bloomington soil was in top shape for the track's 92nd season opener, with Brady Bacon's 11.056 second circuit (third in line) topping the timing charts. KTJ, Bryan Clauson, C.J. Leary, Shane Cottle, and Chase Briscoe (back after Brownstown engine issues) comprised the quick six, nice that USAC had its portable scoreboard in operation so that I could record qualifying times as they clicked off. Top-ten pleasant surprises included Brandon Mattox and Carson Short, but the Terre Haute terror broke a piston in his heat and eliminated himself from further weekend action. Proof of how much grip the red clay had, Jeff Bland, Jr. could not keep his Josh Burton Racing DRC on four wheels, tumbling over the turn three and four bank. The same corner bit Daron Clayton in heat four, as the 2006 Sheldon Kinser Memorial winner executed three or four barrel rolls in Tony Epperson's Spike. Both drivers were ok, but only Bland would return to battle in Haubstadt on Saturday, which was certainly a shame as DC is definitely worth that three hour drive.

If those lightning-quick laps turned during qualifications didn't already get the juices flowing, Bloomington heats did the deed. The best of the bunch was the first, when Brady Bacon sizzled from sixth to steal a win from Kyle Cummins with a last turn, last lap blast around the top. I kept my eyes glued to Kevin Thomas, Jr. in the second, involved in three separate skirmishes that sent him to the semi-main and cost him a third row feature start.

I caught my first glimpse of Bloomington Racesaver 305 winged action on Friday, as a field of ten was reduced by one when Brownsburg's Eric Crouse had a big "off" into the turn four earth embankment during his heat race. Although I didn't stay for the feature, eventual winner Ryan Tusing had a fine tussle with Ethan Fleetwood in one of two heats, making the downtime for USAC action disappear very quickly. Enjoying the fact that this class will elevate hornet drivers like Luke Bland, it is of slight concern if it cannibalizes wingless competitors such as Fleetwood and Fox (Jared). Hopefully these guys bring two cars on regular shows.

Observing a thinning of the meaty cushion as the night progressed, it was still a factor for Friday's thirty lap finale when Marion, Illinois' Carson Short used it exclusively to pace the first dozen circuits. After an early caution for Aaron Farney, the top-five all rode the rim until third row starter Bryan Clauson began to experiment with the bottom, as the absence of infield marker tires have made radical lane changes that much easier. Taking third with a south-end slider on Bacon, a low-side launch off corner four hoisted him past Hines to second. Soon finding first with a similar slider on C. Short through one and two, the rest, as they say, was history, as BC built up a big enough lead that a last lap, over the cushion expedition did nothing to diminish his huge margin, earning the top prize with his Priority Aviation Maxim/Parker.

After firing from the inside of row five, Jon Stanbrough appeared extremely comfortable and confident when employing high, middle, and low lanes to score second in his Spike/J&D, his best effort in his new role as owner/driver. National point leader Chase Stockon extended his advantage with a sterling sprint from 11th to 3rd, squeezing underneath of Hines late in the going to procure a podium in his DRC/Fisher. Tracy took fourth in his DRC/Stanton while Bacon bagged fifth in a Triple X/Williams Precision Mopar. Securing sixth through tenth were two Shorts (Carson, then Brady), Ballou (from 15th), Cottle, and Darland (from 18th).

Friday was USAC win number 67 for the former California kid uprooted to Noblesville, Indiana. Cutting his hardcore sprint car teeth at Bloomington 11 years ago, he's appeared extremely happy (maybe even gung-ho) doing this short track stuff for the past six years despite his taste of the big time at Daytona and Indy. Scheduled for well-over 100 races this year in everything from Indycars to midgets to winged and wingless sprinters, it was good to have him back in the USAC fold for one more evening.

Unusually warm and bathing in bright sunshine, a gorgeous Saturday afternoon was spent strolling to the faraway land of Haubstadt, leaving early enough to employ my preferred route of 67/57/50/241/41 and stop for a coney dog, onion rings, and pineapple shake at Mason's Root Beer Drive-In, celebrating its 64th season on the east side of Washington, Indiana. Disappointed to hear another Reds loss to the Cardinals on the radio, this journey to the furthest corner of the state did manage to brighten my spirits. Truly savoring the scenery and even slowing down to snap a few iPhone photos, I paid particular attention to Newberry's pair of iron bridges over White River that are soon to be extinct. One of my favorite portions of this tour, one could say that I'm a little gung-ho regarding Indiana two-lane highways that deposit me at dirt tracks, as there's always so much to see in those small towns.

Since I flew solo for this excursion, I again spent the majority of my evening with "Railroad" Joe, without question the most passionate Dave Darland fan outside of the Darland family. Slightly surprised and disappointed by the low car count, we were even more surprised by Dave's quick qualifying time of 13.677, as both of his laps seemed somewhat ragged. If there was ever a track that gave the People's Champ fits, it would be Tri-State Speedway, as year after year he seems to struggle come feature time. A winner here back in 2005 with Jeff Walker, despite the chart-topping qualifying time, it was more of the same scenario in 2015. Going through all 20 of his helmet tear-offs in his heat, after starting the feature in sixth he soldiered home seventh, still in search of that magical setup to move him forward.

Haubstadt heat winners came from fourth (Ballou), third (B. Short), and sixth (Bacon), with each of the quick-six qualifiers making the cut. I was most impressed with the pride of Princeton Kyle Cummins and his third place run in heat three. Exhibiting strength in all three lanes, such diversity most certainly made him a feature favorite as he would begin from the coveted pole position, still looking for his first USAC feature victory. Hooked up with Hank Byram's Rock Steady Racing, Kyle's own engine (three years from a rebuild) was bolted between the frame rails of Hank's Mach 1 chassis while a new Rock Steady power plant was awaiting completion, with Kyle's father Mark doing the construction. Hailing from nearby Fort Branch, Tim Spindler still spins wrenches on the 3R.

Cummins was joined on Saturday night's front row by Tracy Hines, who for the second evening in a row would enjoy such honor. After breaking a rear end in his Friday Bloomington blunder, Jeff Bland, Jr. rebounded as second quick on Saturday but was moved back two rows for being late to feature staging. On this picture-perfect 69 degree evening that did not even demand a sweatshirt, an 8:45 PM wave lap led to an efficient 9:03 PM checkered flag, with extremely limited track preparations necessary between events.

In between the green and checker, Hines paced the first two tours while Cummins collected the premier position with a turn three slider on the third circuit. Bacon and Ballou were hot on the lead duo's heels and immediately pounced on Hines, sending the 2002 Haubstadt USAC victor back to fourth. The next time by, Bacon's Hoffman 69 got a good bite through the lower regions of three and four, propelling him to the premier position. By the time they reached turn two, Ballou had bounced Cummins back to third with a solid launch off the bottom. At lap ten, Robert was all over Brady, who suddenly had serious congestion ahead of him. Slicing through those lappers with a surgeon's precision, Bacon still held the lead at the crossed flags. Things got extremely heated on lap 19, as Ballou and Bacon went three wide while putting Logan Jarrett a lap in arrears. Dipping his left front below the infield markers on the exit of turn two on lap 22, the Mad Man escaped with first place for a short while, only to have Macho Man regain the spot on the front chute. Third-running Kevin Thomas, Jr.'s 360-degree spin while lapping Logan Jarrett caused the second caution of the feature at lap 23, but in that final sprint Ballou was unable to make a move on Bacon, especially after pushing the front end with five to go. He got close, but that only counts in horseshoes, hand grenades, and slow dancing. As it was, it was an entertaining battle for the lead on this tight little bullring, nearly everything I expected it to be.

Officially up front for laps 4 through 30, Brady bagged USAC win number two of 2015 and on my walk to the car, I overheard Robert's comment that an unaddressed brake issue from Friday cost him $2,500 on Saturday. Still looking for that first USAC triumph, Cummins was still solid in third. Brady Short and Chase Stockon (maintaining his point lead from 12th) scored fourth and fifth while Hines, Darland, Thomas (recovering from that spin), Leary, and Carson Short completed the top-ten.

Refueling mind, body, and machine at the Fort Branch Huck's, I first encountered Scott Granby (son of John who took care of the Bowen Oldsmobile sprint and champ cars) and the aforementioned Doug Rolison, both on their way back to the Terre Haute area. Scott and I drove Doug's non-downtube Stealth at Paragon in 2005, with Rolison confirming his purchases from Shawn Krockenberger. Inside of the store, I saw high school music teacher Dave Nearpass, who moonlights as racing photographer and writer for Sprint Car and Midget magazine. On the way out, there was Cicero's Ryan Uhrick, who assists Robert Ballou and naturally follows in his father Jason's footsteps of being intimately involved in the sport. I can remember Ryan as a young buck in the Putnamville pit area on July 4th of 1999, when his dad's car, driven by Ande Possman, narrowly defeated Tony Elliott and Dave Darland. Mentally bracing myself for the long journey home, while headed east to I-69 I couldn't help but think of Joe Higdon's statement that started the evening. To consistently stay this interested in sprint car racing for this long, weall might be a little crazy, but in the end, we are just gung-ho.

Volume 17, Number 2
April Showers
April showers might bring May flowers, but if you happen to be a dirt track fanatic who maintains a home in the Midwest, you know firsthand that it also brings its share of rainouts. Because of that dose of reality, we have learned to loathe Mother Nature, especially in this fourth month when we are raring to get out of the house and spend some long-awaited quality time at the track. History has shown that about half of April's events might actually go off as planned, as wet weather seems to most commonly arrive just in time to spoil weekend plans.
This particular second week of April featured several of those iconic Indiana thunderstorms, pounded by two days of relentless rain that would eventually force O'Connor family hands in pulling the plug on night number one of its season-opening Kokomo Grand Prix. Thankfully, Saturday was still a go, halving what would have been a heavenly weekend double-double of sprints and midgets. But, one is better than none, as was the case back in 2013 when the Grand Prix was nixed altogether, again thanks to that early season overhead faucet being left on too long.
In addition to May flowers and rain outs, those April showers often bring soft surfaces filled with character, showcasing the bravery of those young bucks who without a second thought will don a set of spurs and cowboy their car against or above a huge cushion of clay. Much like watching The Masters to see who will be the next Tiger Woods or Jordan Spieth, the dawning of a new season, especially at the Kokomo Speedway, tends to showcase who just might be the next to make some big noise. In the last dozen years, Bryan Clauson, Brad Sweet, Brady Bacon, Cole Whitt, Hunter Schuerenberg, Justin Grant, Christopher Bell, and Rico Abreu are just a few who aggressively attacked this quarter-mile early in their career and opened eyes to their potential.
Despite all of the pre-Grand Prix rain, Kokomo's facility and surface were actually in superb condition for Saturday night's lid lifter, certainly no surprise given the miracles worked during last year's Smackdown. Bypassing a rare chance at a B&K Root Beer coney dog and ice cream float in favor of hot laps (it's never open on Sundays), once inside of the main gate the only sign of storms was a set of undulations that would eventually develop atop turn one, as the quarter-mile was otherwise wide, tacky, fast, and dust-free all night long. Those who dared to tempt fate and hammer through this rough spot were ultimately rewarded while those who chose to play it safe had to settle for second-best.
That was indeed the case for Kokomo's first two feature winners of 2015. Outside front row starter Justin Grant and third-starting C.J. Leary battled for the title of "king of the cowboys" in a superb 25-lap sprint car clash, both employing the same strategy of diamonding turn three to exchange the lead position four times before their race-long wheel-to-wheel joust was ultimately interrupted by a gigantic two wheel tilt by Grant at lap 15. Essentially gifting the win to 18 year-old Leary who kept fourth-starting Kevin Thomas, Jr. in his wake, "The Gunslinger" is quickly developing a reputation for having the heaviest right foot on the circuit. Looking so comfortable and confident courtesy of his Derek Claxton setup and AFCO by Benic shocks, C.J. hammered his family owned DRC/Claxton through that treacherous turn one as late as the white flag flap, taking a bow atop his roll cage as this was his second trip to Kokomo's victory lane in successive attempts. After Leary and Thomas came Grant, Dave Darland (who had a sniff of the lead on multiple occasions in Jeff Walker's 11), and pole sitter Jerry Coons, Jr. Sixth through tenth included Logan Jarrett, Kokomo sprint car newcomer Zach Daum, Chris Gurley (back in his own 12), Josh Spencer, and Isaac Chapple. On an evening when Lawrenceburg landed 22sprint cars while Putnamville produced 27 (for $4,000 to win MSCS), Kokomo's collection of just 14 was the lowest I can ever recall since the 2005 reconfiguration. Ten years ago, there could have been over 100 sprint cars competing in this state on Saturday night. These days, that number is not realistic, truly a sign of the times. Nonetheless, whether that number is 14 or 44, there is never a concern with regard to intensity, entertainment, or quality of competition.
As for the Grand Prix's primary course, 2012 USAC national midget king Darren Hagen (Brown 17) fired from fourth and emulated Leary's aggressive line at turn one's summit for thirty tours. Thanks to the second upside down excursion of the evening from Alex Bright (Hmiel 56), The Hawk had ample opportunity to apply pressure to early leader Davey Ray, serving a big long slider through turns one and two to procure P1 on the seventh circuit. After an excellent back and forth frolic between Ray and pole sitter Zach Daum, a lap 12 pause for Tyler Thomas bunched the field and supplied quick qualifier Kevin Thomas, Jr. (13.175 in the Keith Kunz 67k) with a shot at the runner-up slot. Six swaps of second place ensued between KTJ and Daum before yellow laundry was again displayed, this time for Lebanon's Spencer Bayston. The Cullman, Alabama charger then took his fight to first and traded the position four times, never once leading at the line however. A turn two half-spin, much like Grant's sprint car gaffe, cost KT a victory, as he was promptly drilled in the left front by Daum and wound up with too much negative camber.
Despite a trio of bobbles from Hagen, two of them in the treacherous turn one, plus a late race red flag for ARDC visitor Ryan Gerth, Tracy Hines could never offer a serious threat. Armed with BOSS/Esslinger ammunition, a hungry and aggressive Hagen was top dog in this initial USAC midget meeting, slaying Hines, 11th-starting Tanner Thorson, Steve Buckwalter, and Ray. Darland (up from 14th in the Rusty Kunz 63), Tyler Thomas, Jerry Coons, Jr. (Heffner 27), and Tyler Courtney (having to swap his Kenny Irwin, Sr. ride with Robbie Parish after hot laps) secured sixth through tenth at the 10:12 PM checkered.
Notably absent from action were USAC's two prior midget champions Chris Bell and Rico Abreu. Subtracting these two from the regular scene results in a completely different scenario for competitors, opening the door for so many and possibly even giving the little guys a shot once again. Wide open for a new star to emerge such as Tyler Thomas or Spencer Bayston, naturally this year offers a unique opportunity for full-time Keith Kunz combatants Kevin Thomas, Jr. and Tanner Thorson to step into the shoes of the aforementioned absentees and produce. It also gives Tracy Hines great odds at finally notching that elusive USAC midget championship that keeps him from Triple Crown status. Scanning the 30-car field for would-be series regulars, I couldn't help but notice the wide array of cars from all over, namely: Illinois, Indiana, Iowa, Kansas, Missouri, Ohio, Oklahoma, Pennsylvania, and Wisconsin. Just how many of them will show for the remaining 17 rounds is a question that begs to be answered.
Some people prefer midgets at Macon or little Belleville, but my preference is right here in K-town. Preliminary action was prime proof for my stance as three of the four heat race wins were scored from sixth (KTJ, Felker, and Hagen). The only one that was not was actually taken from fifth by Steve Buckwalter, offering a four-wide fan for first through turn two and a swap of second three times on the final lap between Justin Grant (in an old Stealth/Gaerte for Larry Gardner) and Tyler Courtney. Whenever midgets are on the card at this racy joint, this is what I consider must-see entertainment.
As always, it felt great to be back in Kokomo, but local hero Shane Cottle probably could not say the same thing after his awful evening. His initial 2015 pairing with Paul Hazen (he actually drove for Paul on one occasion several seasons ago) started off rather unceremoniously, first with some slow hot laps (idling around the bottom) and then pulling pit-side without taking the green in his heat. A no-show for midget qualifying and the heat race in the Bill Ecker 57, just when he was in contention for a feature transfer, Shane was forced to retire to the infield, suffering a similar fate in the sprint main after elevating to eighth. Let's hope the second weekend is altogether different for The Throttleas he's a true crowd pleaser, especially in his adopted hometown.
Unfortunately my Kokomo Grand Prix started off on a sad note when immediately learning of the passing of Larry Shively, father to one of my all-time favorite sprint car chauffeurs Eric Shively. In a bit of irony, it was here at Kokomo in June of 2000 when I was first introduced to Larry and Eric through Brian Cripe, taking an instant liking to both given their extremely laid-back and modest personalities. A literal jack-of-all-trades, Larry most certainly had a love for anything mechanical, constructing his own modified midget chassis back when he and Eric were a part of that scene in the mid-1990s. After gigs of farming and punching the time clock at Caterpillar, the senior Shively eventually opened his own welding and repair shop in his barn, exhibiting an iron-clad work ethic and an innate skill for creating things with his imagination and bare hands, two qualities that were clearly passed to his son who gave up the thrill of racing sprint cars for the sensibility of a thriving mini-sprint engine building business. Learning of Larry's serious health issues a year and a half ago, I would hope that his declining health did nothing to dampen his positive outlook and outstanding sense of humor, as those were two of his most endearing qualities. An extremely generous man who in just a few weeks of friendship allowed me to fulfill a life-long dream of driving a sprint car just so that I could gain a better perspective on the sport, the years I spent around him were indeed some of the best of my life. At just sixty-three years of age, Larry Shively most certainly left this Earth far too soon. I can only hope that the hearts of his wife Joyce, son Eric, and daughter Lisa will soon feel whole. Rest in peace my friend - you will be missed but never forgotten.
Getting back to those April showers, they are without question a necessary evil, one of those rites of spring that eventually yield all things green, namely grass, trees, and green flags at Indiana dirt tracks. The extremely soft surfaces that are often a result of these deluges might not yield perfect conditions, but they most certainly showcase who has the largest set of attachments and who may be the one to keep our eyes on for several years to come. April rainfall is not often ideal in its timing, but it sure beats that other alternative in the precipitation department.




Volume 17, Number 1

Priming the Pulse

Wintertime, downtime, dormancy, hibernation mode, the offseason - whatever you want to call it, it's an agonizingly extended break from the thrills, chills, and potential for fulfillment that comes with Indiana sprint car contests. If you do the math, it's 162 days between Kokomo's Klash and Brownstown's No Way Out 40, 20 days short of half a year.

Pressing the rewind button to recall every major event endured between those dates, of course there was a ridiculous Thanksgiving day gorging, the hustle and bustle of the Christmas season, an unusually eventful New Year's Eve (as I was a groomsman in my nephew's wedding), and finally the pressure of the number one Hallmark holiday of all: Valentine's day. Then there were all kinds of work demands, including fulfilling hours upon hours of continuing professional education, surviving a year-end close and subsequent audit, and the selection and implementation of a new credit card processor, with those ten hour days in the office followed by two more at the gym, five to six nights a week. Thankfully, there were two mini-vacations to warmer climates in that 162 day span, otherwise I might have mentally imploded from the monotony.

However you wish to slice it, the overall weight of this winter break was a great one to carry, as the feeling of freedom from daily stress was in extremely limited supply. Content to get through my workouts to reach a warm bed, unfortunately once the alarm buzzed at 6:30 AM, it was time to do it all over again. With all of that time spent on the treadmill, elliptical, stair climber, and stationary bike, naturally my resting pulse rate again registered fairly low for my February health screening. But, was it any surprise given the circumstances? A new season of IMSA and NASCAR (yawn) had just begun, soon to be followed by NHRA, Indycar, and Formula One. None of the above had the pizazz to get the blood pumping. Heck, not even a live Chili Bowl telecast could get the job done.

Much like adding water to prime a pump or squeezing the bulb to squirt fuel into a carburetor, what I needed to prime my pulse was just a small dose of outdoor open wheel entertainment, preferably traditional sprint cars slinging sticky Hoosier clay. Unfortunately my work schedule mandated that the earliest such a mood lifter could come was late March or early April, when warming temperatures, budding trees, and greening grass not only signal springtime, but race time as well, and I'm not talking about the dumbed-down versions served to television audiences on Saturday and Sunday afternoons. What I'm referring to is sprint car racing, one of the last bastions of genuine motorsporting madness, allowing one to go as fast as his or her bravery, skills, and equipment will allow with fairly limited intrusion from politics, rules, and regulations.

Despite some desperate, last minute overtures from Old Man Winter, late March finally arrived and just like last year, the lid lifter better known as Brownstown's No Way Out 40 morphed from a Saturday evening to a Sunday twilight affair, this time because of temps that were expected to tumble into the twenties. However, with Sunday afternoon's foreboding forecast for showers and cool temps, this certainly didn't do the Brownstown Speedway staff any favors, as both the front and back gates took a beating (51 sprinters showed for last year. This year: 28.) With such a hefty purse to pay, a wise businessman would have pulled the plug because of such questionable conditions, but amazingly the dice were rolled anyway. Unfazed by post-race news that the sprint car purse was adjusted beyond the $7,500 first place prize, hindsight is always 20/20, but I am quite certain that most people would have understood the reason for such a cancellation. As it was, it was a noble effort from the Brownstown bunch to make an attempt. But man oh man, those wide open spaces in the grandstand were painful to see, easily the sign of a potential financial bath. As we say in accounting, the numbers never lie.

Regardless of the risk of traveling nearly two hours to get wet, I filled my gas tank, plopped down my $25 admission fee, and finally broke out of my boring routine, hoping to converse with some long, lost acquaintances, sniff some methanol fumes, have my eardrums blasted by small block sounds, and feast my eyes on more than a few slide jobs. As it turned out, my own roll of the dice resulted in a jackpot, as Brownstown did indeed beat the rain with an efficient show that was completed in about two and a half hours, effectively priming my pulse for the following Saturday's USAC Midwestern opener in Lawrenceburg. Along with last year's POWRi midget meeting, this was undoubtedly one of the most exciting features I've witnessed at this facility, aided by the ample moisture and massive cushion. This wasn't your father's Brownstown dry slickie by any means.

Aside from an epic fourth corner bike ride from Dave Darland (enjoying another cameo in Jeff Walker's Maxim/Claxton) and a titanic tumble through the same corner by Logan Hupp (own 94), preliminary action was fairly tame, as each of the three heats were claimed from the front row by Jeff Bland, Jr. (Burton 04), Kevin Thomas, Jr. (Dutcher 17RW), and Brady Short (Pottorff/Short 11P). Slightly entertained by a pair of modified heats in which Hurst Brothers sprint car shoes Bradley Sterrett and Devin Gilpin showcased their versatility, after a brief 8-car sprint consy and a couple of TQ heats, the big forty lapper rolled off at 6:20 PM. Thanks to a feature redraw, the first four rows aligned Thomas, Bland, Short, Chase Stockon (own 32), Casey Shuman (Barnhill 2x), birthday boy Robert Ballou, Darland, and C.J. Leary.

The first nine laps were reeled off before Michael Koontz and Brandon Morin accounted for the only two cautions. Prior to the illumination of amber bulbs, KTJ constructed a full straight advantage on Ballou, who scooted from sixth to second and pushed traditional Brownstown bad ass Brady Short back to fourth and front row starter Bland to fifth.

The final 28 tours went uninterrupted and those first few laps of this green flag segment were worth the 162 day wait. With the top shelf proving to be the quick way around this super-wide quarter-mile, Ballou tossed his Maxim/Ott underneath Thomas's Maxim/Fisher for the lead in turn one. Kevin countered with a similar strategy in three, only to be squashed by a Mad Man crossover in four. KT didn't waste any time with another turn one attack, but there was Ballou again, slipping underneath at the exit of two. In this insane volley of sliders, Kevin made yet another move for first through three, only to be bounced to second when Robert returned the favor in four, this time with a slight rub. In just two laps, the lead was exchanged seven times! Pushed to the edge of my seat while attempting to jot all this down in my notebook, I had to crack a smile, forgetting how alive this stuff can still make me feel after all these years. This is what I call living!

Taking a lap or two to regroup, KT hurled another massive slide for life through one and two but couldn't keep his car from scaling that massive mountain of clay stacked atop the second bend. This left the door wide open for Ballou to bag the premier position, but not without contact as the two so desperately wanted the same piece of prime real estate. That was lap 17 of 40 and by lap 26, Robert completely ruled the roost with a full straightaway advantage. With two to go, tenth place Dave Darland became lapped traffic, prime evidence of just how hooked up the leader was on this afternoon. The former Rocklin, California resident who now calls Westfield, Indiana home celebrated his 26th birthday in style with a $7,500 score. Thomas, Bland, and Short secured second through fourth, with ninth-starting Jon Stanbrough edging Stockon, Leary, Kyle Cummins (up from 11th in the Rock Steady Racing 3R), Shuman, and Darland at the 6:37 PM checkered. After Ballou had checked out, that battle for fifth through eighth was the only one to watch.

Afterwards, KTJ parked on the front stretch, gesturing to Robert and walking to victory lane to discuss the supremely intense joust. I'm not quite sure what was said between the two combatants, but handshakes were eventually extended, making me believe that 2015 will be a similar scenario as this opening afternoon, as both drivers appeared awfully hungry. Either way, it was one heck of a way to shake off the rust.

Less than one week later, I was strolling southeast on Interstate 74, exiting at state road 1 for the most scenic 15 miles en route to any race course in this state. Lawrenceburg Speedway was of course the destination for USAC's Midwestern sprint car opener, still basking in the glow and momentum of the Brownstown bash. Much like Brownstown, Lawrenceburg's ultimate potential finally showed its hand come feature time, as the preliminary on-track activities proved to be fairly tame due to a surface saturated by a Southern Indiana deluge two days prior.

Quickest of 36 machines was Jon Stanbrough at 14.081 seconds, his time posted nearly halfway through the order. Acting as silent partner on Jon's MP Environmental/AED Spike is Dan Pace while Daryl Tate again plays a major role, serving as chief mechanic at the track, also towing his red DRC chassis as a backup. Getting the old band back together, Jon's crew once again has a Frankfort, Indiana feel, as Chris "Flash" Hoyer and "KP" Kevin Price assist Tate. Back when Jon fielded his own 81 in his formative years, he actually held the Lawrenceburg USAC record for seven years (1992 to 1999) in his trusty '85 Gambler.

Second through sixth quick qualifiers included Chase Stockon, Bryan Clauson (back in a Maxim prepared at his BCI shop with backing from Priority Aviation), Travis Hery, Tracy Hines, and Dave Darland. Hery definitely impressed with his timing light tango, as did top-ten surprises Landon Simon and Ted Hines. Exemplifying just how challenging it was to complete a pass in the heat, only two of the top six qualifiers (Hery and Darland) transferred while just four from the top ten could make the cut, stacking the B-main with heavy hitters. Darland's heat race run did not come without drama, as a leaky left side valve cover spewed oil onto hot headers and led to several spectacular flashes of orange and red.

Stanbrough's crew was put to the test in the first heat after a half-spin from Aaron Farney swept Casey Shuman, Tracy Hines, and JRS into one fine mess. Only Stanbrough was able to continue but couldn't find fourth, first having to swap a left rear tire and right front shock. Reverting to a backup after his primary steed suffered frame damage, Hines started from the rear of the consy but came just three spots shy of the A, needing to pop a provisional to take part in the finale. After landing on his lid, Shuman came back to claim one of six B-main transfers, as did Stanbrough.

That first heat was without question the most active of the four, first with a Scott Hampton (Ottinger 4J) oil down and then a C.J. Leary spin, assisted heavily by KTJ. Even though Kevin took the checkered first, third place C.J. was quite eager to remind him who was number one. By no surprise, all four heat race winners came from the first two rows, including a new pairing of Daron Clayton and Tony Epperson.

Ted Hines was the first car to miss the B-main cut, another being Indiana State University senior J.J. Hughes, whose first race in three seasons broke in a brand new Roger Williams power plant. Clocking 32nd out of 36 cars in qualifying, Chris Windom's first Indiana outing in Hans Lein's DRC/Stanton was a disaster, battling engine issues all night long to take 16th in the B. Like Tracy, the guy they like to call Big Daddy had to cash in a provisional pass to continue his evening.

One lane heat race conditions led to 12th quickest qualifier Kyle Robbins securing the pole for the 30-lap finale while 11th-best Logan Jarrett joined him on the front row. A number of teams, seven to be exact, were late to staging and were hit with penalties that adjusted the lineup. Most notably, Landon Simon and Travis Hery were scheduled to begin from rows two and three, moving Dave Darland, Robert Ballou, and Chase Stockon up to fourth, fifth, and sixth.

Gaining the green at 10:13 PM, Jarrett earned the advantage in turn one when Robbins slid sideways. Almost immediately, Logan's task became a bit easier when Bryan Clauson retired to the infield on the second tour. With the surface sporting some "character" through the middle lane, it was basically a fight for the bottom for most of the field. Jarrett was not in that majority, able to traverse the rough stuff thanks to a forgiving setup applied by driver-turned-crew chief Scotty Weir, who also built the AFCO by Benic shocks attached to all four corners of Logan's DRC.

Jarrett enjoyed a full straightaway lead by lap seven, his nearest pursuers being Ballou and Darland, as Robbins had already been shuffled back to sixth. The J&J Trucking number 29 encountered back markers at lap 12, the same tour that saw Ballou nail a marker tire between turns three and four, having to cut the infield just to keep second. Lap 13 had Dave drive by Robert in turn three, but Ballou refused to go quietly and retrieved the runner-up spot in turn one, only to relinquish the position again at the exit of two. By lap 18, Dave had reached the same straightaway as the leader but a caution on lap 21 for Travis Hery allowed him to pull all the way to the back bumper.

A rash of three cautions, two of them from Landon Simon, only enabled the race to advance one circuit, but the pauses allowed plenty of time to analyze who had worked the hardest. None had moved up more than 2013 track champ C.J. Leary, who had been toiling above the rough stuff and was found in fifth after starting 17th. All those cautions did not do Darland any favors, as each time he had to find a way around the lapped machine of Chad Boespflug (Baldwin 5). Meanwhile, the air pressure in his right rear had been rapidly decreasing because of a slice, causing the veteran to switch to survival mode.

In that last eight lap dash Jarrett was still in his own zip code. Once again building a full straight lead, he was never seriously challenged over the 30-lap distance. The intensity of the battle behind him was cranked up several notches, as Darland did his best to preserve his position with that troublesome tire. Leary's diamond of one and two bounced Ballou back to third while a last lap scrum for fourth had Kevin Thomas, Jr. taking the position over Darland, Stanbrough, and Stockon. However, KTJ was disqualified for missing the post-race scales (similar to Kokomo's 2013 Smackdown), spoiling an excellent elevation from 11th. Brady Bacon, Tracy Hines (from the final row), Justin Grant, and Jerry Coons, Jr. (from 19th) were paid for seventh through tenth.

But getting back to the man of the hour, into his fifth sprint car season the 2011 National Sprint Car Hall of Fame and Museum rookie of the year laid claim to his first career USAC national sprint car victory – his first of ANY without a wing – at a track that bit him badly after a taking a vicious 2012 tumble in turn three. Showing extremely well at the end of last year when he led a majority of the BOSS finale at Eldora, the only previous sprint car triumph on Logan's resume came from a 2013 winged war in Plymouth. Afterwards, the elated son of former Kokomo Speedway champion Tony Jarrett had this to say to Dillon Welch: "I don't even know if it has set in yet. I can't believe it. It's a dream come true. (Starting out front) It was a big key tonight. The track was kind of rough and you just had to hit your marks. I got lucky a couple of times there – I about dumped it over but thank goodness we didn't and we're right here in victory lane."

After giving some props to the winner and his father, a verbose and openly critical Robert Ballou ruffled more than a few feathers with his assessment of track conditions and USAC rules allowing electronic tire bleeding technology, earning a chorus of boos from the robust Lawrenceburg crowd on the chilly 43 degree evening. Outside of USAC contests, it will be interesting to see if Robert returns for battle at The Burg, as there are numerous solid paying events sprinkled throughout the 2015 Lawrenceburg regular schedule.

After Brownstown's appetizing serving of sliders, Lawrenceburg's first-time winner, hard charges from deep in the field, and post-race controversy confirmed that my pulse was completely primed for the 2015 Indiana sprint car campaign. Revved up and ready to roll to the next contest, spring time in Indiana also means race time, so those dark, depressing days and restrictive schedule of the offseason seem like ages ago. Officially a thing of the past, it feels so good to be back!




Volume 16, Number 13

Take Me Home

Say it isn't so! Like a silent assassin, October snuck up from behind and wrenched the last remaining visages of summer from my heart and head, abruptly flung head-first into an autumnal frame of mind.

Let's be honest - once a jacket becomes requisite attire for the morning drive to work, the fun and freedom from warm weather activities are a thing of the past. Of course it's not the end of the world just yet, as there are plenty of positive forecasts to treasure before old man winter becomes a permanent fixture, enjoying the eye candy of fall foliage before those mature maples and oaks shed their summer coats and create a massive mess. Trading a lawn mower for a leaf blower and rake and swapping outdoor open wheel action for non-stop football from my favorite lounge chair, October is certainly all about change. A season for sweatshirts and Sunday night soup and grilled cheese sandwiches, I instantly associate this time of the year with apple cider, chili cook-offs, the scent of burning leaves, and Reese's Peanut Butter Cups, as this was my favorite item to achieve from a night of trick or treating.

High school and college homecoming football games are another October mainstay and although springtime is the homecoming for open wheel addicts, this tenth month of the year does indeed take me home – not back to Hamilton Southeastern or Ball State, but rather to the place where I merely slept, showered, mowed the lawn, and did my laundry for the last six months. Returning to a life of normal existence, it is always nice to have a place to call home, but if I needed any more comfort from this bittersweet conclusion to my 2014 outdoor campaign, it's that my October excursions came at two venues that have served as my home away from home for the last three decades: Eldora Speedway and Kokomo Speedway.

Any trip to the Big E is automatically special, as this was THE place that cemented my passion for this sport. In the late '80s and early to mid-'90s, any scheduled sprint car contest, whether it be USAC, World of Outlaws, and especially the All Stars, meant mandatory attendance, making the 184 mile round trip an average of a dozen times each season. But, once my preference for sprint car entertainment eliminated aluminum airfoils, those trips to Eldora were severely slashed, leaning more towards Kokomo where wingless sprint cars never went out of style. First experienced some three seasons after my Eldora indoctrination and truly earning favor in the early '90s, this venue was the source of my sprint car driving dreams, wishing to earn a college degree and make a decent living so that I could go head to head with Tony Elliott, Dave Darland, Kevin Thomas, Gary Fisher, Mike Mann, and Tray House. Undergoing significant ownership and configuration changes since that first visit back in 1988, Sunday nights are even harder to miss these days, so thankful the track is only 45 minutes from my front door.

On Saturday, October 11th, Speed Ball and I made that oh-so-familiar trek across U.S. 36 for the second time in three weeks, wondering just how many times we've duplicated this Eldora excursion since 1985. It has to be in the hundreds, logging tens of thousands of miles in the process, ultimately amazed that our appetite for such habitual activity has yet to diminish. Motivated by the season-ending University of Northwestern Ohio Sprintacular, an all-you-can-eat smorgasbord of sprint car activity that was easily one of the best events in all of 2013, it closed the campaign for the All Star Circuit of Champions, the NRA 360 winged warriors, and the traditional Buckeye Outlaw Sprint Series. Their respective counts of 34, 25, and 53 machines might have fallen short of last year's 37, 29, and 54, but the fun and excitement failed to disappoint.

Celebrating the 135th All Star appearance at Eldora, it came as no surprise when twenty-time 2014 winner Dale Blaney topped the time charts at 12.990 seconds in his George Fisher wrenched/Tony Kennedy owned 14k. Having completely dominated Buckeye area sprint car proceedings this season, all Blaney had to do was take the feature green flag and he'd be guaranteed a record-setting fifth series crown. Moving from sixth to fourth in his heat, the former Los Angeles Lakers draft pick flew from third to first in the trophy dash, setting up a start from the pole for the thirty lap finale. Fully expecting an additional score for the tall cool one, the final results certainly proved the point that nothing is a given in this sport, as one of today's most thrilling chauffeurs one-upped the veteran and again added to the legacy of Eldora exhilaration.

The young man I am speaking of is 22 year-old St. Helena, California native Rico Abreu, who qualified sixth and began the feature from fifth, able to stay with the leaders thanks to an early caution from Derek Hagar and a wicked red flag for a failed Lee Jacobs slide job on second-quick qualifier Gary Taylor. Jacobs flipped wildly but was able to exit under his own power, immediately sprawling out on the ground and writhing in pain as he was later diagnosed with fractures to his T11 and T12 vertebrae in his lower back. Given my own back issues, I have to feel for Lee.

Restarting fourth behind Blaney, Randy Hannagan, and Greg Wilson, Abreu made quick work of Wilson with a north end slider and immediately set his sights on The Hurricane, boldly threading the needle between Hannagan and the turn two wall to snatch second. Halfway through the thirty lapper, lapped traffic aided Abreu in eliminating the gap to Blaney's rear bumper. While Dale astutely picked and chose his passes, Abreu's attack was more like a machine gun, automatically going where the back markers weren't. With Jim Nier and Paul May serving as the moving pick, Blaney cleared both with a bodacious two-for-one slider through turns three and four, surely a tough act to follow. However, Abreu's tremendous run off the turn two cushion provided ample turn three momentum, firing his own two-for-one slide job that included not only Nier, but also leader Blaney! Twelve laps remaining, Dale was ready to return the favor as they lapped Jac Haudenschild (Miller 6), but during the overtaking he brushed the turn four wall, allowing Rico a brief respite.

Traffic continued to keep things close for the two front runners over the remaining ten tours. Numerous times the Hartford, Ohio hot shoe would pull even at the exit of turn two, but Abreu's high side momentum maintained a slim margin. With two to go, an approaching gaggle of cars containing Danny Smith, Travis Philo and Dean Jacobs (Leidig 59) would be the deciding factor. Rico circled Smith through one and somehow stole the bottom of three from Philo, brushing his right rear against Travis's left rear. Exiting turn four three abreast, Abreu pointed to the top and dipped underneath the white flag, able to cruise to his second career All Star victory and his second tally of the weekend after taking top honors in a MOWA match the previous evening in Lincoln, Illinois.

After a disastrous weekend at the Four Crown Nationals when he flipped both his winged sprint car and midget, his second visit to Eldora's victory lane served as redemption for the 2013 Four Crown midget winner. Climbing atop his wing with steering wheel in hand, I haven't heard Eldora cheers this loud in a long time, his noise exceeding that of mentor Kyle Larson's incredible Four Crown sweep of 2011. (Bear in mind, I haven't attended a Kings Royal since 1996 or a World 100 since 1986.) As a fan, I was caught up in the moment as well, distinctly feeling that same rush of adrenaline that pumps through your system when you know you just experienced something special.

When asked what it was like to beat Dale Blaney at this place, Rico exclaimed, "Yeah, that's pretty damned cool. Dale's been the guy to beat all year long – him and Donny. We haven't raced against them much this year but to get him here at Eldora – I had a terrible Four Crown and crashed a lot of stuff. I was just really timid all night until the feature. I got my confidence built back up in those first seven laps. I knew my car was really good. I just kept getting my wing back and made sure I was patient and had really good restarts. I got to Dale and was just judging where he was going to go. It's so awesome to win here at Eldora in a sprint car and a midget. I'm just so happy with this team. I've gotten so many great opportunities this year. You've just got to take advantage of them."

Continuing to reflect on his memorable score, Abreu added, "I knew Dale was right there. When you pass him, you know he's going to step it up. I just tried to get through traffic as well as I could. It was tough with those guys running side by side and then I got into the side of Philo. I apologize for that. I just got really excited there at the end. It could have ended really bad but it didn't. Thanks to all these fans for coming out tonight. It's a great event that draws a lot of cars and hopefully they keep it going in the later years."

With win number 23 of 2014, Abreu joins an elite list of individuals who have claimed Eldora victories in both midgets and winged sprint cars, as Jack Hewitt, Kasey Kahne, Tony Stewart (360 winged), and most recently Brad Sweet have also done the deed.

Blaney settled for second while Hannagan, Wilson, and Knoxville points champion Ian Madsen rounded out the top five. Fourth-quick qualifier Christopher Bell (Fox 53), Chris Andrews (up 15 spots from 22nd), Travis Philo, Danny Smith, and Dean Jacobs scored sixth through tenth. It was a tough road for the 57 year-old Smith, who broke an axle in his heat and slammed the turn one wall, needing to come through the B where he just squeezed the final transfer. Like Smitty, those suffering hard luck in their heats included Ryan Myers (climbing the wall in three and four while leading heat two) and Rob Chaney (blowing an engine during the fourth heat while running second).

Disappointed with his runner-up finish but happy to be a five-time All Star champion, Dale Blaney appeared to have the car to beat, commenting, "I was pretty good but it's hard to be good here. On this track, you try to run straight and smooth – get it as much as you can around the top, but not enough where you are going to wear the tire out. Maybe I was a little bit too patient. I think I maybe got the wing back a little bit too far and got tight getting into three. I really struggled with getting through the center of three after that. Rico did a great job. He's been really fast all year. He did a great job here and he got the win. But five (titles) is really neat. To be able to do that, it's a testament to the guys I've driven for. I've had great cars. George has been with me now for 12 years. He gives me a great car every night. Five is pretty special. We'll savor that for a little bit and try to get six next year."

After the All Stars came a 20-lap NRA feature, with all eyes focused on six-time Eldora winner Randy Hannagan, again proving to be the man to beat after qualifying quickest (14.154). Slated to start from the outside of row three, by the sixth circuit Hannagan had caught fourth-starting Butch Schroeder, who had been out front since the second lap. Patiently shadowing Schroeder over the next four laps, Randy made his move on lap 11 in turn one. Despite his extensive Eldora experience that dates back to the mid-to-late '80s, there was nothing Butch could do to catch the Dennis Yoakam 22, as Randy ruled the Eldora NRA roost for the second time in 2014 and seventh time in his career. Dustin Daggett, Greg Wilson (in the Ron Hammons 6 normally piloted by 2014 NRA champ J.R. Stewart), and Ronnie Blair rounded out the first five while pole sitter Hud Horton, Mitch Brown, Devin Dobie, all-time Eldora 360 winner Tim Allison, and Knoxville visitor Jon Agan completed the top-ten.

Leaving the BOSS 410 wingless sprinters to close out Eldora's 61st season, that impressive 53 car field was narrowed to 24 through six heat races and a pair of B-mains. Initially impressed by Thomas Meseraull's 9.4 second gapping of second place Derek Hastings in heat one (T-Mez was in Todd Keen's DRC/Claxton), C.J. Leary also scored high marks with his win from ninth while Dallas Hewitt also opened eyes with a seventh to first squirt in Jim Simon's double-deuce. Also claiming a win was a resilient Jarett Andretti, who flew from fifth to first in his familiar Superior Auto Beast. Under the guidance of mechanic Mike Dutcher, this came one night after flipping high and hard at Waynesfield. Additional heat winners included Brandon Spithaler (from fourth) and Landon Simon (from second) while Bill Rose (Kissel 320) moved from 9th to 3rd to take one of the 18 heat race transfers. Six more were sent through the consolations, won by Travis Berryhill (doing it on less than eight cylinders) and Kent Wolters, the second contest seeing an outstanding two-by-two tug of war between Wolters, Steve Irwin, Joss Moffatt, and Huston Hewitt.

Logan Jarrett and Travis Hery fired from the front row of the BOSS 25-lapper, with championship contenders Dustin Smith and Mike Miller beginning 15th and 9th respectively. Already a BOSS champ in 2012, Russiaville, Indiana's Smith held a slim seven point advantage entering the feature, needing to finish just one spot behind Miller to sew up his second crown. Difficult to pick an all-out favorite for the feature, former Eldora wingless winners Justin Grant, Matt Westfall, and Luke Hall blasted off from 11th, 16th, and 18th.

Grant was the first to exit the affair after ramming the rear of the Meseraull's machine in turn three of the first tour, nailing both the outside and inside walls after losing his steering linkage. After a complete restart, Jarrett again got the jump to the top of turn one, with third-starting Dallas Hewitt securing the runner-up slot on the second tour. While Travis Hery and Derek Hastings were falling backwards, sixth-starting Leary, Miller, and eighth-starting Meseraull were on their way up, slipping and sliding, dipping and diving for third and fourth on the smooth and slick surface that still held some dark dirt on top of the north and south ends. Miller was as high as third but could not contain either Leary or Meseraull, who extended their battle to include Hewitt. Taking a page from Abreu, T-Mez moved from fourth to second with a slick two-for-one slider in turn one. C.J. tried to counter in three and four, pulling even yet failing to complete the pass.

It took no time for Meseraull to run down leader Jarrett, who had it his way for the first half of the affair. Pulling to Logan's tail tank with ten laps remaining, Thomas teed up yet another patented turn one slider. Using the entire corner to make his move, he even sprayed some loose dirt at the exit of turn two for added style points. Leary followed with a slide job on the opposite end, securing the runner up slot before the second caution flew for Andretti.

The scoreboard showed nine laps were left and a top-five that contained Meseraull, Leary, Jarrett, Hewitt, and Miller. Dustin Smith was mired back in ninth and desperately needed to make something happen but immediately after restarting, he slipped too high in turn one and kissed concrete, ruining any chances at that championship. Back up front, Leary tried to move past T-Mez in three and four but was far too courteous, allowing Thomas to ride the tight rope and circle him through a treacherous turn four. Just a little bit further back, the battle for sixth through twelfth was an absolute free for all, seeing Spithaler, Fischesser, Hastings, Irwin, Rose, Westfall, and Smith scattered from top to bottom.

But when it was all said and done, T-Mez made it three for three for Northern California natives at the Sprintacular, besting Leary, Hewitt, Jarrett, and Miller, the latter dialing up his first BOSS championship in a clutch performance. Fischesser, Spithaler, Rose, Irwin (up 13 spots from 22nd), and Westfall secured sixth through tenth at the 9:52 PM checkered. Dustin Smith had to settle for an unsavory 12th.

Afterwards, an animated Meseraull commented, "Every time I come here, I tell everybody I suck, because I do. I kind of figured out how to go straight. I was over there talking to Stan Courtad. Courtad – he's won some races here – he said, 'Just drive it straight. I know you can't do that, but drive it straight.' Well, how was that Stan Courtad? I just want to thank Todd Keen and Scotty Weir. Scotty and him fell apart a couple of weeks ago and let me be in the car. Todd's got a nice car and his son was sick and couldn't make it out today, but I've just got to thank all the help: Triple-A, Spirit, Claxton Engines, DRC chassis. Thanks to all the fans who stayed and watched. Please drive home safe."

"Thanks to the winged cars, we knew it would be really slick and smooth to the fence. It was nice. Usually in the USAC shows, I'm in the back, so I can't see that good. It was nice being up in front and having clear vision. It was pretty awesome to race with C.J. Leary. He's kind of a rookie. He's been racing the last four years but he's come a long way. It was a pretty awesome night."

Unfortunately I missed the interview with Wapakoneta's "Magic Man" Mike Miller, formerly a 2002 Lawrenceburg champion who can proudly add hardware from a hard-fought 2014 BOSS championship to his trophy room. Hidden talents like Miller have the perfect stage on which to play with Aaron Fry's BOSS series, as a family man who consistently punches the time clock from Monday through Friday can still make some noise without spending a fortune.

Rewinding a bit back to Eldora hot laps, an interesting evening had just begun to unfold for Jason Holt, who returned to the cockpit of Dave Stensland's 41 after a three year absence from the sport. While slowly circling this same speed plant where his father Boyce's famed number 51 set a one-lap USAC track record with Johnny Heydenreich in August of 1997, Jason spread his father's ashes into this sacred soil, this coming just a few weeks after delivering the eulogy following his September 24th passing. Emotionally charged by the experience, Holt attacked Eldora's infamous banks with fury and fervor, undoubtedly the best he's ever appeared here. Unfortunately, his night would come to a premature conclusion when pulling to the pit area as he was promptly t-boned by a push truck, the damages proving to be beyond racetrack repair. Remembering back to that August of 1997 evening when Boyce's car was the favorite to win the feature, unfortunately bad luck befell the number 51 when the hood flew off just as it was preparing to take the lead. So ironic that Jason would have the same sort of luck as his father at this same venue, both had to be left wondering what might have been. Either way, I have to believe that his extremely hard to please father would have also been impressed with that brilliant hot lap performance.

Eldora's efficient proceedings certainly served a good purpose as temperatures had indeed dipped throughout the evening, but an even bigger bonus was sending us home with enough time to take a detour through Greenville, as Maid-Rite's drive-in was open until 11 PM. The last time for a sack of loose-meat sandwiches in 2014, if I had to go home, it might as well be with a happy tummy. Such an easy drive across U.S. 36, I certainly was in no rush for it to end.

Six days later, the eighth edition of the Kokomo Klash would serve as my 17th and final visit to the City of Firsts in 2014. Recalling how difficult it was to fathom that the Brownstown opener had arrived in late March, I was in equal denial about the Indiana outdoor farewell. Enjoying a warm and sunny downtown Indy lunch, by the time I was exiled from my sales and use tax seminar it was overcast and blustery, a rather rude greeting for this final go. Clearly indicative of the evening ahead, those wicked winds from the west would of course be hitting me face-first while stationed in Kokomo's front stretch grandstand, an unpleasant proposition for even the most hardcore follower.

Loading up on layers of outerwear, a much bigger surprise than the plummeting temperatures was the sight of 2001 track champion A.J. Anderson holding court in the parking lot. Tanned from staying an extra week in Florida after his sister Leslie got hitched, it's been ages since A.J. last competed in Kokomo, suddenly reminded at how the young group of racers that I first wrote about are now no longer a part of this scene. When you've spent your life savings and been burned out in more ways than one, I suppose it is much easier to walk away from sprint car racing than someone like me who has very little invested.

Observing hot laps/qualifying for the 34 sprint cars with Renaissance man Brent Goodnight, while raining sticky clay I still managed to record the quickest times from the four sessions, reminded of Brent's early season donation of City of Kokomo leaves that were then mulched into the surface over the most recent off-season. 2010 Klash winner Scotty Weir (Simon 23S), Justin Grant (quickest overall at 12.752), 2007 Klash winner Brady Short, and C.J. Leary topped each of the four groups, with the fastest four inverted as usual.

Indiana's season finale has a history of some interesting pairings, and this evening was no different. Three former Klash kings exchangedchariots, as Jon Stanbrough completed his Hoosier campaign with Daryl Tate, Shane Cottle worked the pedals of the Wingo 77, and Dave Darland drove for Jammin' Jeff Walker for the second weekend in a row, reuniting for a Waynesfield win one week prior. Bob Darland Memorial victor Robert Ballou also wrangled a ride with Ray Marshall in his Buckeye Machine Maxim. In addition to providing hardware for Weir, Covington, Ohio's Jim Simon maintained a Maxim for Dallas Hewitt, with Dallas's deal towed old-school style on an open trailer pulled by Steve Simon's pickup. With two separate tow rigs, that late night haul back to Ohio on desolate two-lane highways meant twice the opportunity for infamous "deer dog" sightings for the Simon set.

Friday's night's Klash docket was completed with 24 midgets, a slim collection of 600cc mini sprints, and a full array of Detroit iron. Notable midget maniacs included last year's winner Cottle (Ecker 57), Darland (RW 17), Thomas Meseraull (Sandy 16), Shane Hollingsworth (family owned 85), Chett Gehrke (Moore 10), 2014 Montpelier champion Tate Martz (Alexander 2), Roselawn, Indiana's Kurt Mayhew (aided by Crankin' Craig Dori), and a pair of BCI Spike Esslingers for Trey Marcham and Spencer Bayston.

Ditching the wind by abandoning my usual up-high vantage point, I moved down to the first ten rows and found the sprint heats quite entertaining, conducted on an extremely heavy surface that has become par for the course in this season-ender. Cottle was the winner of the first from fifth, flirting with the infield marker tires as he distanced himself from Stanbrough, who actually lost the redraw position on the final lap after a turn one front end push. Donning some spurs, Dave Darland dominated his heat from third, putting all four wheels in the fluff in true cowboy fashion. Behind Darland, Chad Boespflug had secured a feature transfer until his Kenny Baldwin 5 caught fire, having to exit the event to extinguish flames. Additional sprint heat stars included A.J. Hopkins and Chase Stockon (in Chris Gentry's DRC), seeing current Kokomo track champ Bryan Clauson (Eberhardt 7) get on the bike and have to come through the B. Midget heats contained Austin Nemire gymnastics and an unexpected Shane Cottle shut off in the final turn of the final lap while leading. Gifting a win to Spencer Bayston, that sent a steamed Cottle to the consolation. Twin sprint B-mains were no picnic, as the challenging surface kept Jarett Andretti, Max McGhee, Chad Boespflug, and Josh Spencer out of the A, the latter two earning provisional passes thanks to late season Kokomo kindness.

With World of Outlaws microphone maestro Johnny Gibson finding a seat prior to Indiana's ultimate sprint car finale, heavyweights Darland and Cottle earned front row starts thanks to the luck of the draw. Given Dave's dynamite heat race performance, how could anyone not pick him to win?

However, just like for Eldora's All Star event, the consensus favorite failed to "park it". Dave did lead early, but when Shane slipped sideways in four it triggered a chain reaction that collected last year's Klash conqueror Jerry Coons, Jr., who bounced like a basketball and scaled the infield tractor tire, flattening left rear rubber. Also gathering Justin Grant, both Coons and Cottle pitted and were required to retire, as a special rule change for this evening eliminated the work area.

Darland was chased by Leary, Meseraull, Stockon, and Hopkins when amber bulbs were exchanged for green. While eyeing Stockon's tussle for third with T-Mez and fight for fourth with the Silent Gasser, Leary emulated Grant's patented turn three diamond to slip underneath Deputy Dave. After the action was paused for an errant marker tire, Meseraull would move past Darland with a surprise backstretch sweep. Attempting to keep pace with the leader, Thomas joined Leary in a four-wheel cushion trampling exhibition, an Eldora role reversal from the previous week.

Slowed for one final caution at lap 15, Double D soon slid Thomas in turn one, swatting the Keen left front with Walker's right rear. However, there simply was no catching C.J., who was in full-attack mode all feature long. So hooked up these last few weeks of the season thanks to Derek Claxton, the teenager easily sliced through lapped traffic and constructed a full straight advantage, obtaining his fourth score of '14. Darland, Meseraull, Ballou (up 10 spots from 14th), and Stockon tallied top-fives while Clauson (up 12 from 18th), Stanbrough, Jarrett (up 9 from 17th), Grant, and Boespflug (up 11 from 21st) secured sixth through tenth.

Discussing his first career Kokomo sprint car score with Rob Goodman, C.J. said, "This is a dream come true for me and my team. Derek (Claxton) has really been wanting to get a win here again. He and my dad set the car up great. It was on kill all night. This is one of my biggest career wins and it's very prestigious. Dave is one of my biggest heroes – I grew up watching him and all. I've got to thank my dad and my mom. She couldn't make it tonight but hopefully she can make the next one." Given the exclamation point Leary put on this conclusion to the Indiana campaign, I wouldn't be surprised if that next one comes in California.

After an extensive surface restoration to eliminate the colossal curb, midgets were available for their 25-lap conclusion, finding first heat winner Shane Hollingsworth as the pole manin his Spike/Esslinger with Darland again earning a front row start thanks to his win in heat two. Number two in the hearts of Hoosier racing faithful, midgets were actually number one for those Kokomo Klash customers who stuck it out in the unfriendly weather, putting on an outstanding show that featured three lead changes, a tight three and four car formation at the front, and a hard charge from a hometown favorite who nearly pulled off a win from deep in the field.

Hollingsworth's initial lead might have been short-lived thanks to Darland's low-side launch off turn four at the conclusion of lap one, but a five-car pile-up in that same corner (involving T-Mez) re-racked cars numbered 17, 85, 39, 10, and 2. (If you are keeping score, those numerals equate to Darland, Hollingsworth, Bayston, Gehrke, and Martz.)

Once back green, Shane and Dave engaged in a wheel to wheel war for first, soon joined by Bayston and Cottle who in just seven laps had advanced to 4th from 16th! Choosing the shortest distance possible around the quarter-mile, Hollingsworth lurked in Darland's shadows, just enough to offera surprise attack at the exit of turn two to pilferthe premier position. The front four could fit under a snug blanket with ten laps left, but two tours later Darland's Spike/Fontana somehow found a hole beneath huggy pole Hollingsworth in turn one, taking the lead for good.

With Cottle now third, the scoreboard showed six laps were left when he slithered into second after an inside attack of turn three. However, not even lapped traffic for the leader could aid his further advance. Darland's second midget victory of the season amounted to overall win number 15, leading a top-five of Cottle, Hollingsworth, Bayston (who half-spun from third in the final corner of the final lap), and Marcham. Gehrke, Martz, Meseraull, Walker (Gage), and Watson (Alex) completed the second half of the top-ten.

Kokomo Speedway's victory lane has been Dave Darland's home away from home, visiting this cherished piece of real estate for the sixth time this year. Quizzed by Rob Goodman on his thoughts of the midget action, the king of Kokomo observed, "That was a great race! This place was great again tonight. It's great every week. With all the rain we've had this week, the track preparation was just great. Every chance they had, they were working on it. It started out good and it just kept getting better and better. The O'Connors do a great job with it. It's too bad 2014 is coming to a close."

"These guys gave me a good midget. The Steve Weirich RW 17 was great tonight. Even Avart, Craig, and all the guys back there working on it did a good job. They gave me a great setup and the car was fast all night. I'm glad to be here in victory lane."

After bumping into Aaron Mosley on the way out, I extended the evening for a few more minutes by watching Todd Kirkman claim the 600cc mini sprint main over Kyle Schuett (also 11th in the full midget main), Cole Bodine (son of Kevin Bodine, former Eric Shively sprint car assistant), Corey Smith (yes, the former Kokomo Speedway sprint car feature winner), and Kyle Lock. Following The Outlaw and his five-time U.S. 24 Speedway feature winning son Evan to the parking lot, given the dramatic change in weather and chilled bones that would require several minutes to properly thaw, I could sense that this was it for my season. Taking me home one final time, there would be no trips to Fremont, Chillicothe, or Perris, but for one final gasp of air, there might just be a night or afternoon under the Fort Wayne Expo roof in December.

On one of my drives into work after my season had concluded, thanks to the variety of musical offerings found on satellite radio, I unearthed "Take Me Home", a 1986 gem from Phil Collins. Written about a patient in a mental institution, while absorbing an uninterrupted listen in the parking lot, my interpretation of the lyrics had more to do with my current frame of mind that comes with October's massive changes that have accordingly shocked my system.

Returning to a standard existence where work, workouts at the gym, dinners and movies with my wife, and televised football and basketball take center stage, it's a long time to be locked up until April. Aside from a vacation or two and the multiple holidays, there's honestly not much to look forward to. However, it's certainly not all bad, as that extended wait makes me thirst for and appreciate the equally massive changes that come with springtime's arrival.But if it's anything like last winter, I could be in for a rude awakening and a bad case of cabin fever, longing for the rekindling of friendships and racing action of any kind. However, no matter how dark that end of the tunnel may appear, there is always optimism, maintaining hope that a microscopic ray of light will soon return.

Sipping on an Old Fashioned and savoring some incredible morsels at Nora's North End Barbeque and Moonshine on the last evening of October, that bit about continual optimism was put to a serious test. Peering out the window in disbelief at the blizzard-like conditions, not only did this confirm that it was officially the off-season, but I suddenly recalled the mental anguish of the most recent winter. Indiana reality is often so harsh, requiring me to zip up my coat, brave the wet and windy weather, and remove sticky snow from my car's windows thanks to a scraper donated by Terre Haute First National Bank president Don Smith. Cranking the defroster and seat warmers to full blast and pointing my motor carriage back to Carmel, in search of some level of comfort all I could think about was reaching my humble abode, heading straight for bed, and hope that I would wake up the next morning and find that it was already April.

Of course there would be no such miracle, but nonetheless, at least I was home. There is indeed no place like it in this world and no better feeling when I reach it.

Volume 16, Number 12

Swan Song

Sadly seeing the glass half empty in these waning stages of the season, the weather is far too nice to be pondering the prospects of readying my snow blower for such frequent use. Truth be told, I wouldn't mind the upcoming respite from racing so much if the Farmer's Almanac prediction for this coming winter was more agreeable, as I can find plenty of things to do with my downtime.

Attempting to thread a common theme between the final three Midwestern USAC sprint car contests and a trio of World of Outlaw wars, the only thing that popped into my head was "swan song", which is not only a record label founded by legendary rock band Led Zeppelin, but also a metaphorical phrase for a final gesture, effort, or performance given just before death or retirement. Yes, these final few races are indeed some of the best of the year but also some of the most painful, as I know with few exceptions that these are my last visits to these facilities, the last time to visit with these friends for six and a half months. I might have plenty of things to do come wintertime, but I do honestly miss these escapes from everyday life.

Wondering where the term swan song has its origins, I thank Wikipedia for such instant gratification, as it refers to an ancient belief that swans sing a beautiful song in the moment just before death, having been silent during most of their lifetime. This belief, whose basis in actuality is long-debated, had become proverbial in ancient Greece by the 3rd century BC and was reiterated many times in later Western poetry and art.

The third week in September is an odd time of the year to be stockpiled with some massive meetings. Just as hectic as Indy 500 week and Sprint Week, this particular six race in eight day grind might just be the best possible rendition of a swan song that I can think of. Beginning with September 13th's Haubstadt Hustler and ending with Eldora's Four Crown weekend, in between there was a Tuesday WoO war in Kokomo followed by WoO and USAC sprint car spectacles in Terre Haute on Wednesday and Thursday. Finally finishing the Four Crown on Sunday due to untimely Saturday showers, I was able to take in everything except for the pair of Terre Haute trips. (A chip off the old block, my nephew Danny did it all, reminding me of my younger days.) One week later, a half-day of vacation allowed me to spend a gorgeous Friday afternoon with Danny, basking in Bloomington sunshine at Upland Brewing while awaiting Steve Kinser's windup as a World of Outlaws regular. The next night, my September was silenced with Lawrenceburg's Fall Nationals, ultimately closing the USAC Midwestern sprint car campaign.

Two of the six contests consumed over these three weeks truly resonated with the nostalgia of the 1980s and ultimately influenced this swan song theme, as Jack Hewitt's Four Crown return in 6-R Racing's final fling and Steve Kinser's Bloomington, Indiana finale to his Salute to the King tour soothed the eyes, ears, and soul, flooding the brain with so many great memories. However, far too many of these other September showings were simply the same song and dance, as Daron Clayton (Haubstadt) and Bryan Clauson (Lawrenceburg) dominated USAC action, just as they have in the past at these very venues. And when speaking of domination, Donny Schatz simply took the cake. Although Joey Saldana broke up "Donny decimation" with back-to-back triumphs at Eldora and Lernerville, the North Dakota nightmare truly dulled the senses after cleaning clocks in Kokomo, Terre Haute, and Bloomington, taking four of five Outlaw outings in the Hoosier state. Looting the tour much like The King in the '80s and '90s, Schatz and his TSR squad are clearly the cream of the crop, leaving the rest of the pack to scratch their heads and find an answer. The way it looks right now, they are a long way from finding that solution.

Making a withdrawal from the memory bank in going all the way back to Saturday the 13th, my solo flight to and from Tri-State Speedway made for a very long day, as that ride home is always so mentally and physically fatiguing. Deviating from my usual 67/57/50/241/41 route to the southwest corner of the state, instead I chose State Road 37 to Bloomington, parked in agonizing construction traffic in Martinsville. Making my way over to the new 69 via the scenic twists and turns of State Road 45, I was hoping to see daylight construction progress as one brief stretch of 45 overpasses the new road. However, it still looks like they have quite a bit more work to do. Say what you will about speeding up the Evansville drive time, but there may not be a more boring stretch of Indiana highway than these sixty some-odd miles on 69. There's still something to say about taking the road less traveled, as my stint on 69 completely bypassed the scenic double-spanned iron bridge over White River near Newberry, eliminated a stop at Washington's Mason's Root Beer drive-in, and prevented any possibility of locating one of those world-famous Decker melons, of which the chilled juice served as the source of an incredible Decker Melon Soupsavored at high-end Indy eatery Recess back in late July. Nonetheless, I easily made it to my destination on time, not a bit surprised that just 32 cars would go for ten grand to win.

I was, however, happy to see a reuniting of Hud Cone and the Hurst Brothers, as aside from Clayton there may not be anyone more exciting to watch on this tight paperclip than "Mr. Pretty from Oakland City". Still calling Salem, Indiana home, 77 year-old Dave Hurst was Hud's equipment provider, aided by his 49 year-old son John while 53 year-old son Dan took Andrew Prather to Putnamville. Starting his racing career as a jalopy driver way back in 1959, Dave's duties morphed to mechanical when assisting car owner Marion McCord whose chauffeur just so happened to be Orval Yeadon, winner of Eldora's first 500-lapper in 1965. Celebrating his 50th sprint car season in 2014, Hurst began fielding his own cars in 1965, so 2015 will be his golden anniversary of sprint car ownership. Still flying beneath the radar in this age of store-bought equipment, the Hurst 9T has seen its share of drivers come and go, but the resourcefulness and resilience of this family shines through each time they arrive at the speedway. Building a unique Buick-headed Chevy for their 2013 Maxim that was recently acquired from Jeff Walker, they traded 32 year-old red oak lumber (retrieved from Salem's 1982 airport runway lengthening) for credit on sprint car parts owned by close friend Karl Kinser. Quickest in his hot lap session, sixth in the fourth heat, third in the semi, but falling from the feature, handling problems plagued Hud's evening, but he was still a thrill-a-minute sight in his heat and B, flirting with the boiler plate each and every lap. Regardless of the end result, it's a great feeling to know that the old-school Indiana sprint car scene is still alive.

My solo status allowed ample access the pits, where I bumped into likeable seven-year sprint car veteran Brandon Mattox. A twenty-eight year-old Terre Haute terror employed by Vigo Landscaping and tutored in sprint car competition by former driver/mechanic Travis Thompson, Brandon is one of just a few sprint car racers left from an area that was once a hotbed of open wheel activity. Receiving ample support from Mattoon, Illinois' Don Searles, Searles was instrumental in the team's engine upgrade, allowing them to spread their wings and strut their stuff at such high-horsepower haunts as Eldora, Kokomo, and Terre Haute.

Much like Cone, Mad Dog Mattox had a night he'd soon rather forget, folding his front end after heat race contact with Shane Cockrum. Spinning sideways during the B, the slip triggered a three car incident that swept up Hunter Schuerenberg and left both on the outside of A-main status. After popping a provisional, Brandon was unable to avoid a spinning Mitch Wissmiller, tumbling three or four times through the third turn. Miraculously landing on all four wheels, he rolled his machine into the trailer, ending an eventful evening that introduced Evansville energy drink company Liquid Ninja to the sport of sprint car racing. With plenty of samples available for consumption, my early morning drive was fueled by Liquid Ninja, allowing me to stay alert as I scanned both sides of the road for wildlife.

Another intriguing Haubstadt combination paired Jerry Coons, Jr. with Chris Gentry. Offering a DRC chassis wearing specially-crafted gas-charged Pro shocks and powered by a potent Don Ott Chevy that underwent $12,000 in upgrades, the Gentry deuce is certainly no slouch after winning at both Eldora and Putnamville with Chase Stockon behind the wheel. Jerry took full advantage of the opportunity, overtaking Daron Clayton for a heat race win and operating in the top-three for the majority of the forty-lapper, ultimately settling for fourth at the conclusion.

Leading the last 16 laps to score the $10,000 paycheck, it was yet another huge Haubstadt score for Daron Clayton, who by my estimate has taken home 12 trophies from Tri-State, five of them falling under the USAC banner and second this season. Elevating from 11th, his mid-race, side-by-side duel with leader Kyle Cummins lasted several tours, but lapped traffic and an excellent lap 25 restart helped Daron pull away. One would have thought Clayton would be on cruise control the rest of the distance, but with ten laps left he managed to tangle with lapper Nick Hale, who wound up on his head. A second threat came from Robert Ballou, who poured on the coal and applied heavy heat until one final caution at lap 34. Daron uncharacteristically slipped sideways with four to go, but a fourth corner front end push from Ballou sealed the deal. Stabbing and steering his usual Spike chassis propelled by a J&D Chevy, Clayton actually turned down a ride in Scott Pedersen's machine because he had bills to pay and didn't want to share his race winnings. Going from the highest of highs to the lowest of lows two days later with the tragic loss of his young son Kinser, I can never begin to fathom the gut-wrenching pain and never-ending grief that Daron and his family continues to endure, but my heart bleeds for them in these trying times. Why these things have to happen, one will never know.

After leading the first 24 laps, it just wasn't meant to be for third place Cummins, who is still in search of his first USAC win at his home track. Impressively scoring a heat race win from sixth, he began from the outside of the front row and appeared to have the winning car for most of the race. Pressured heavily through chaotic lapped traffic by third-starting Kevin Thomas, Jr., KTJ got extremely close on lap 17, so close that he tapped Cummins and spun from contention, the first of three cautions for Kevin who again had help from Californian Jimmy May. Strapped into his family-owned Spike/CRE, Cummins collected his second consecutive USAC podium at Tri-State, proving two weeks later that his hometown speed was no fluke after scoring his second MSCS victory here in as many years, wrapping up a fourth MSCS crown in the process.

As previously mentioned, Coons was fourth at the 10 PM checkered while pole sitter Chase Stockon (now wearing Factory Kahne shocks) fell to fifth. Sixth through tenth included Jon Stanbrough (up as high as fifth until scaling the cushion), Bryan Clauson (up from 13th), Brady Bacon, Tracy Hines (up from 15th), and Brian Karraker (up from 21st). Entering Haubstadt as the point leader by five markers over Brady Bacon, after finishing 11th Dave Darland exited in second, some three points in arrears. Despite the fact that his Phillips squad received some at-the-track technical assistance from both DRC and Super Shox, Dave's Tri-State struggles continued, unable to move forward from his ninth place start. Sixth at Terre Haute before his dismal Eldora weekend, one could say that September has generally not been kind to the king of Kokomo, as this particular month cost him last year's title. A special thank you again goes out to Darland super fan Joe Higdon, who saved me a spot high atop turn one.

Up next was the World of Outlaws in Kokomo, their 23rd visit here since 1978. A reschedule from early June, the healthy 38 car contingent featured the seven winningest men from 2014's open wheel arena, namely Donny Schatz, Rico Abreu, Christopher Bell, Bryan Clauson (Stuebgen 71x), Dale Blaney, Derek Hagar (Destiny Motorsports' new driver), and Daryn Pittman.

Going after Sammy Swindell's two-year old track record of 10.950 seconds, Cody Darrah's quick lap of 11.050 came the closest, but the extremely heavy surface resulting from Monday rain wreaked havoc on the winged warriors. Sixteen year-old Quentin Blonde nearly went for a ride during his qualification attempt, biking big and hitting hard when landing on all four wheels. In an attempt to ease the pain, the road grader removed the curb after time trials, but try as they may to pound it into submission, that same old ledge returned with a vengeance. Say what you will, but these particular drivers, cars, and teams just aren't accustomed cowboy conditions and with most tentatively playing around the middle to bottom, all night long I simply wished someone would step upstairs and boldly put all four wheels in the fluff.

A midget regular and winged part-timer, Christopher Bell was the most aggressive on this particular Tuesday. Stepping slightly above the cushion in turns three and four in his heat, Bell was preparing to steal the final transfer from Steve Kinser with an outside sweep, but Steve's right rear met Christopher's left front. The resulting damage sent the Fox 53 to the B, where Bell utilized the same move on the final lap to steal the win from Brady Bacon, seeing 1996 Kokomo winner Dave Blaney snag the final transfer in Joe Gaerte's 3G.

Come feature time, dash winner Kerry Madsen might have led the first two laps and David Gravel the next three, but by no surprise the smooth and steady Donny Schatz would prevail, taking over on the sixth circuit. Wearing SST "black widow" Pro Shocks on all but the right rear, Schatz's only threat came late from ninth-starting Shane Stewart, who had two shots at the lead within the final few tours but failed to complete the pass. Dale Blaney, Gravel, and Madsen were third through fifth while Abreu (up from 11th), Darrah, Paul McMahan (up ten spots), Pittman, and Joey Saldana secured sixth through tenth. Christopher Bell copped 11th while Steve Kinser served as lapped traffic in 19th, a huge disappointment in what may have been his final Kokomo contest. I counted seven cautions and one red in this calamity-filled forty-lapper, the lone stoppage coming for Jac Haudenschild's wall climb and resulting entanglement in the turn two fence. Unfortunately for car owner Bernie Stuebgen, the impact killed both ends of the car and zinged the engine to 10,500 RPMs, requiring a thrash of epic proportions to be ready in time for Eldora as they not only had to construct another car, but the engine had to be hauled to Paul Kistler's shop for a quick rebuild.

Not knocking the Outlaws as they are indeed the most professional sprint car program in the business, but this particular event highlighted just how great we have it in this wingless world and how much talent truly exists in the usual Sunday Kokomo convocations. A heavy surface such as this is fairly common, routinely producing the most breathtaking action you could ever imagine. Not everyone caresses the cushion, but there are still a few cowboys left who aren't afraid to attack it. To each his own, but that's what floats my boat when it comes to sprint car action.

On to the Big E for the Friday portion of the Four Crown, high school pal George Robertson played chauffeur, meeting up with California transplant Tom Percy for a highly enjoyable evening. If you're going to catch the Outlaws on a half-mile, Eldora is definitely the place to be as the all-out speed, ample room to race, and resulting slide jobs provide an optimal formula for fun.

With the cushion well off the wall for qualifications, Rico Abreu was first in line and nearly equaled Craig Dollansky's 12 year-old track record time of 12.707 seconds with his own tour of 12.733. Kings Royal winner Kerry Madsen continued to flex his Eldora muscle by securing the second best time of 12.764. Dollansky made a rare appearance outside of Knoxville to earn 8th, with Donny Schatz one spot behind in 9th. Steve Kinser just missed the heat race invert in 17th, and that invert is the lone hope of salvaging a decent evening with this group unless you post a time near the top of the charts. Fifteen of the 36 cars dipped beneath 13 seconds, blistering fast to say the least.

Sending Schatz to the front row of his heat, naturally that translated to a victory and placement in the dash, where he advanced from 5th to 3rd. Donny has never been the guy to beat at Eldora, but it still took a nearly perfect night from Joey Saldana to interrupt his winning ways. Joey qualified fourth, finished third in his heat, and claimed the dash after the "four" inversion put him on the pole. Up front for all thirty tours, this would be Saldana's fourth Four Crown win, quite appropriate given that he was once a USAC regular (1991) and that this was the site of his father's final race (1985 Four Crown). Notching Eldora Speedway victory number 23 (actually 24 if you count an April of 1998 WoO Preliminary score), 13 have come under WoO sanction while 11 were with the All Star Circuit of Champions. Either way, he's number three on the Eldora World of Outlaw win list behind Steve and Sammy and number two on the Big E All Star list behind Kenny Jacobs. Regarding Ted Johnson's ridiculous rule that did not count preliminary feature wins towards career "A-main" totals, my friend Tom Percy made an excellent point: "I never saw them race any easier on Friday compared to Saturday."

Far from a cakewalk, the Brownsburg Bullet first had to contend with both Kerry Madsen and Donny Schatz, as the trio moved in tandem through thick lapped traffic. Enduring restarts for a Brad Sweet caution at lap 12 and separate red flags for Sweet (again) and Abreu at laps 20 and 22, the most serious threat to Dan Motter's 71M came in the last five laps, as Schatz shortened up turns three and four to no avail. Dale Blaney disproved the theory that you have to make the dash in order to reach the podium, as he elevated from 11th, even stealing second from Schatz on the final restart with 8 to go. Settling for third, Blaney was chased by Madsen and Gravel, who reversed their finishing order from Tuesday. Shane Stewart, Paul McMahan, Greg Wilson (up 8 spots from 16th), Cody Darrah, and Tim Shaffer crossed sixth through tenth. Wearing special Bowers Coal colors for Bernie Stuebgen, the two day thrash didn't pay off for Jac Haudenschild, who bolted from 20th to 9th in just two laps before blasting the turn two wall, the first to retire from battle.

The traditional United States Auto Club portion of the 33rd annual Four Crown Nationals was next on my lengthy list of September swan songs. Assembling 18 midgets, 39 sprints, and 20 Silver Crown cars, the impressive number of sprints was aided by an odd assortment from Indiana, Illinois, Ohio, and Michigan. Always one of my must-sees as this event is the ultimate showcase of talent, I have only missed one Four Crown since my 1985 introduction. For 2014, six did triple duty, namely Chris Windom, Bryan Clauson, Shane Cockrum, Tracy Hines, Brady Bacon, and Dave Darland. Given Clauson's Friday night ride, he was the only one to attempt all four true open wheel divisions.

Perhaps the biggest reason for this race's must-see status was my instant connection and fascination with "Eldora's Favorite Son" Jack Hewitt, who was truly tailor-made for this particular event. Winning 19 different features, including four in his mind-blowing 1998 sweep, it's an amazing statistic that will probably never be equaled in my lifetime. Returning for 6-R Racing's Silver Crown swan song, this would be Jack's first Silver Crown event since his July of 2002 accident at North Vernon, Indiana. Attempting to end his career on his own terms in an October of 2004 Fun Fest sprint car feature at Lawrenceburg, it wasn't long until he was found behind the wheel of a winged sprinter at Skyline Speedway, also partaking in his own Jack Hewitt Classic two years ago in Waynesfield. In between those three contests, he's logged countless laps in his two-seat sprint car, even starting at the back of several Waynesfield features and passing a few cars before pulling in.

Amongst a sea of photographers, friends, and general well-wishers, I got to spend a few minutes with the legend before he suited up for battle. Here's a quick question-and-answer session from Saturday, with more quizzing coming post-race on Sunday.

KO: A lot of people have probably asked you the same question that they have asked me – why do this again?

Hewitt: I just love it, you know? When you get older, you get a little crazy thinking you can do things that make your body start laughing at you. We've been driving the two-seater and it's been teasing me. With it being Eldora – like I said, it's just because you love it. But as I've been telling everybody, it's just like watching porn. You can only watch it so long and then you want to have sex. Well, I've been watching for what, 12 years now, and I'm ready to go and do the real thing.

KO: Eldora Speedway – it's been kind to you and mean to you over the years. What's the first thing you think about when you hear the name Eldora Speedway?

Hewitt: Don Hewitt – my dad. He was the first one here. I grew up here, so that just made the place that more special. And, then we were fortunate enough to win a race or two here.

KO: When you're lying there in the hospital bed in Indianapolis getting worked on back in 2002, did you have a lot of regrets, specifically about not getting to run Eldora again? Is that part of the reason why you are here today?

Hewitt: No. That has nothing to do with it. I knew the risks going in, so I was good with them coming out. I tell you, if I ever have any regrets, it's that there wasn't enough of me to go around when I ran Indy. I turned around and missed Eldora Speedway that night because I just didn't want Indy to end. If I regret missing one race, it was that one night after Indy.

KO: So what's a bigger deal to you – the Four Crown sweep in '98 or Indy that same year?

Hewitt: It would be a toss-up. I'd hate to think. They've both meant a lot to my career. I guess when you've got to go out, if you can go out with a little bit of a bang, it's something for people to remember. Both of those were definitely highlights.

KO: So what's the goal for tonight? Is it to be competitive and run up on the wall or just to get the juices flowing and see if you want to do this some more?

Hewitt: I'm here to have fun. No pressure.

KO: Ever since I've been coming here, they have called you Eldora's Favorite Son. I started coming here in the mid-80s and I didn't know anybody, but just from the fan reaction, I knew you were somebody special. What does that mean to you when they call you Eldora's Favorite Son?

Hewitt: Well you know, this is home to me. This is my home track. I'm 35 miles from here. Terry Baltes and I grew up together. We're the same age and everything. I started racing when I was a kid. Terry – he just figured he'd be the promoter here, but he became the announcer. He's the one that actually came up with Eldora's Favorite Son. That's an honor to be a part of that here. To have my name in any form with Eldora Speedway is just fantastic.

KO: You're back with 6-R Racing. I don't know how much longer they are going to be doing this. Some say this is their last race – with Darryl and the boys. Hamp is just down the road in the pits. But, how cool is it to do this with 6-R?

Hewitt: Well, this is where I was at when I got hurt. So, I'm back home again and we've even had Hamp down looking over the racecar and giving us a few pointers. If I don't turn a lap right now, I've had the best night going.

KO: How did the test go at Waynesfield last Saturday?

Hewitt: We had to make some adjustments on the car for comfort. Throttle and the brake. I wasn't real happy but we found some things wrong with the car. We'll see what it does after hot laps. I'll have a lot more answers after hot laps.

KO: Any other fond memories of Eldora other than the Four Crown sweep? I remember the spin and win with Larry Rice back about '88 or so. I remember the Kenny Jacobs deal in '86 which may not be the fondest memory, but it was an honorable thing to do or say afterwards.

Hewitt: If I had a choice, I would like to have said that I won the World 100 because that is the Daytona, the Indy, and the Knoxville for late models. Probably one of the neatest things was the night when we stole the ambulance here. My dad – he was drinking – and he was in the driver's seat. We ended up taking the ambulance home that night. That was in Earl's book. We got 'er back the next day, but we got a butt-chewing. Those are some stories that you just can't make up.

KO: If it goes well tonight, what does the future hold for Jack Hewitt?

Hewitt: I'll just have to keep my upper lip moist, because I'll be grinning all of the time!

Sprint car hot laps and qualifications were up first and perhaps the biggest shock of all came when Dave Darland broke an axle while coming to green. Returning for one lap at the end of the qualifying line in his backup car, he slapped the backstretch wall and ruined another rear end, coasting to the line to clock the slowest time. With the cushion already pushed to the wall in three and four, nearly everyone flirted with the fence and got away with it. The lone exception was local boy Luke Hall, who climbed the concrete and rearranged his front end. Saturday's sprint car quick six consisted of Bryan Clauson (15.557), Tracy Hines, Brady Bacon, Jerry Coons, Jr., Justin Grant, and Robert Ballou (aided again by Oklahoma's Jimmy Jones). Brandon Mattox and Shane Cockrum also impressed with ninth and tenth best times.

During midget hot laps, things went from bad to worse for Darland when the Fontana engine in his RW Motorsports Beast expired, done for the rest of the weekend in that division. As if things couldn't get any worse, he was the second of two Silver Crown cars to invert in hot laps, Russ Gamester being the first after tripping over the turn two cushion and tagging the wall. Darland's gymnastics in Marc Longworth's Beast/Toyota were much more dramatic after his steering broke at the exit of turn two. Cracking concrete and launching high into the air, the crash landing drew the curtain on his Silver Crown weekend as well.

Call me an old-school traditionalist, but I can vividly remember when the Four Crown was one of the most prestigious midget races on the calendar. Now only able to attract a miniscule field of 18 machines, as expected the quickest three came from the Keith Kunz stable. Abreu (16.369), Bell, and Thorson led the way in qualifying, with Darren Hagen (Hmiel 56), Clauson, and Hines following. Illinois visitor Terry Babb blew up on his second circuit, further reducing the field to 16.

Silver Crown practice and qualifications were next and only 17 of the 20 entries took time. Surprised at how hard these big cars were being hauled into the corners for hot laps, they were pushed even harder for qualifications, with Christopher Bell's time of 16.448 (Gormly 99) initially topping the charts. However, his time would be disallowed as his machine measured too wide in the rear. Brady Bacon (McQuinn 14) suffered the same fate as Bell and after the Saturday night rain, his team chose to head back home. Bell's teammate Jerry Coons, Jr. (16.513) inherited the number one starting spot, joined on the front row by point leader Kody Swanson. Bobby East, Tracy Hines, Chris Windom, and C.J. Leary made up the next two rows.

Reverting back to the September swan song theme, just how did Jack Hewitt look? In one word, it would be respectable. Although he briefly tested the top in hot laps, he generally played it smart by conservatively running right through the middle. His qualifying time of 18.391 was just a tick off of Robert Ballou (suffering a sick engine in the SET 53) but was so much smoother than Patrick Lawson.

With a humongous crowd on hand, what a huge difference one night and the absence of aerodynamic aid makes when it comes to the art of overtaking. Again, not knocking the WoO, as it's a completely different animal for heat race action, but wingless sprint cars were simply made for Eldora Speedway. The first heat from Saturday offered more passing than all four from Friday, as Clauson charged from 6th to win while C.J. Leary and Kevin Thomas, Jr. swapped too many sliders to count. Hunter Schuerenberg won his heat from 5th while a desperate Dave Darland put on a passing clinic in romping from 10th to 4th. As awesome as this style of racing is here, it's still dangerous as hell. Just ask Mitch Wissmiller, who wiped out his ride after he blew through the turn two cushion, slammed the wall, and flipped wildly. Jarett Andretti shortened up his chassis after he tagged the wall between three and four and tumbled end over end.

As for the two midget heats, the first one was noteworthy given Rico Abreu's hustle from sixth to first by third turn of the first lap! Unsure if Rico was running full tilt the entire distance, Clauson nearly chased him down. Unfortunately, all of this awesomeness was put on pause when the winds suddenly changed direction and storms rolled in, resulting in a four hour delay that had my antsy father asking me to drive him home. Fearing a repeat of the 2006 all-nighter, rather reluctantly I pulled out of the parking lot at 12:40 AM, praying for more rain. Sometimes prayers do get answered, as twenty minutes into the drive the plug was pulled on Saturday night. Previously committed to a golf scramble with my wife and in-laws the next day (because it's been 20 years since they ran a Four Crown during the day), how could I possibly convince them that I HAD to be at Eldora on Sunday afternoon to watch Jack Hewitt do it one more time?

After some begging and pleading, I was reluctantly headed east the next morning, just like it was 1994 all over again, the last time they actually ran the Four Crown during the day. Damned if I do and damned if I don't, unfortunately I couldn't be happy in what should have been a feel-good drive, knowing that I disappointed three very important people. As a raceaholic, this has been the circular story of my life.

It's been ages since USAC played a part in an Eldora Speedway Sunday matinee – June of 1997 if I remember right and Kevin Huntley was the sprint car winner. Out of the entire field of 2014's Four Crown competitors, I counted only four who would have been around in that era to own daytime Big E experience: Dave Darland, Jon Stanbrough, Tracy Hines, and Russ Gamester.

After a dusty sprint car B-main, midgets were up first and due to further attrition from Saturday, only 13 machines would make the start. Beginning 1996 Four Crown midget winner Tracy Hines from the pole with Bryan Clauson flanking his outside, Clauson drew first blood and exited turn two as the pilot dog, fending off an immediate turn three threat from The Hawk. Scooting from sixth to fourth, Rico Abreu dive-bombed the bottom of turn one on lap two, somehow squeezing underneath Tracy Hines. The thin cushion could not contain number 97 however, as Rico crushed the concrete and tumbled down the bank. Snagging Hines, Tanner Thorson piled in and inverted, as did Brady Bacon. Christopher Bell and Chris Windom were also involved, nearly taking out half the field, not to mention all three Keith Kunz combatants. Bacon returned to battle and with right front wheel askew, Hines did as well. After a major thrash, Bell was back, but not Abreu, Thorson, or Windom.

Sadly, just ten cars contested the rest of the race, leaving Bryan Clauson as the leader and eighth-starting Christopher Bell as the big question, wondering if his car was up to the task. By lap seven, that question was already answered as he was up to third, needing nine more tours to slip into second. A two horse race for the final nine circuits, the closest Christopher came was a failed slider through three and four on lap 23. Armed with Spike/Esslinger ammunition from Joe Dooling, Clauson would find Eldora's victory lane for the third time, the first in a midget. BC outgunned Bell, Hagen, Daum, Cockrum, Bacon, Isaac Chapple, Hines, and Steven Drevicki.

A grueling thirty lap sprint car contest was next, the 187th time this series has taken to these daunting high banks. Unfortunately, the lack of daytime experience was clearly evident in this one, littered with three yellows and four red flag periods. Lots of equipment might have been damaged or destroyed, but thankfully no drivers were seriously injured.

The calamity ensued immediately as they were preparing to take the green, as pole sitter Jon Stanbrough connected with front row mate Robert Ballou, bouncing his Dutcher 37 to a stop. The next attempt had Logan Hupp spinning in turn two, attracting Dave Darland and Matt Westfall. This being the first of three incidents for Dave, after being towed to the pits he had a new right front attached and was able to rejoin the fray. The third and final attempt had Tracy Hines sneaking to the lead from his second row start, falling to third by the exit of two as Ballou and Brady Bacon streaked by. At the conclusion of the first lap, Brandon Whited scaled the right rear of KT, Jr., literally setting off a bomb that sent Whited, Thomas, and a late arriving Stanbrough on their heads, also sweeping up Landon Simon, Scott Hampton, and yes, you guessed it, Darland. Both Kevin and Dave would give it another go.

Finally clean and green for ten laps, Ballou, Bacon, and sixth-starting Bryan Clauson solidified their up-front status, interrupted by a titanic tumble from Chase Stockon, whose turn two slider on Hunter Schuerenberg turned bad after smacking the wall, chucking the tail tank from his DRC.

Clauson sprinted to second once green lights were aglow, moving to the middle of turns three and four as rubber had officially adhered to the clay. Bryan tossed a big slider on leader Ballou on lap 17, only to be countered by a turn two crossover. However, everyone was seeing red when KTJ clobbered the wall and flipped in turn two, his second time to invert in one feature. That's quite a dubious distinction, as it's rare to walk away from any Eldora acrobatics.

Leaving eleven laps to determine a winner, Bacon worked on Clauson until a Brandon Mattox spin restacked the deck once more. This time, Brady did manage to slip underneath in turn one. While Bacon battled Ballou (whose right rear was failing), Clauson cranked up the volume, hazing his right rear and bouncing off the backstretch wall with four to go. With the top three bunched tight, Ballou finally slipped enough in turn two to allow the Hoffman 69 to seize the lead. Clauson connected with Ballou which caused the Mad Man to connect with concrete and land on his lid. Darland and Westfall were again victims, crazy to think just how much bad luck Dave had at one of his best venues.

A three lap dash to the checkered could not keep Bacon from bagging his first USAC win at Eldora, taking two in a row after beating Ballou on the final tour of Terre Haute. Clauson, Grant, Hines, and Schuerenberg secured top-fives while Coons, Leary, Windom, Cockrum, and Swanson soldiered home sixth through tenth, a true test of endurance.

If the sprint car contest could be considered a meat grinder, then the Silver Crown finale was for sure a tire grinder. Seventeen of the 20 cars started the 50-lapper, a one-lane rubber-down parade that mandated patience and precision to keep a right rear tire alive for the entire distance.

Pole sitter Jerry Coons, Jr. paced the first 12 laps before point leader Kody Swanson slipped underneath on the front chute, unable to stay in the rubber as he reached turn one. Coons kept the lead for the next six circuits until slipping out of the turn two groove, allowing the famed number 63 to snatch the premier position. By lap 22, the tire parade commenced when Caleb Armstrong slowed with a flat right rear, wearing his American Racer rubber all the way through thanks to the abrasive surface. Davey Ray also exited at this stage with a broken rear axle.

This being the first of six separate yellows for ruined right rears, four laps later Christopher Bell was the next victim. Two more laps and fifth-place Chris Windom slowed for the same reason, as did Jacob Wilson at lap 33. The ring around Bryan Clauson's right rear meant that it was only a matter of time until he would have to pit, mandating yet another caution without completing a lap. Patrick Lawson's subsequent spin and tommy tipover turned green lights to red. Once back to green though, C.J. Leary caused the final tire-related slowdown, leaving just five more laps.

Up until this stage, Swanson was absolutely the class of the field, so similar to his Springfield performance. Leading Coons, East, Hines, and Pierce back to green, sixth-place Caleb Armstrong began to explore the lane above the rubber, sweeping past Hines and East to third. Coasting past Coons through the same lane, his fresher rubber propelled him past Swanson on lap 47. Kody's American Racer right rear tire was now toast, blowing it to smithereens on the final tour.

Armstrong appeared to collect his first-ever Silver Crown score in dramatic fashion, initially topping Coons, Windom, Hines, and Cockrum. The reason I say initially is because afterwards, USAC officials learned that Armstrong's team changed a left rear tire in addition to the right rear. Violating a specific rule that does not allow a non-flat tire to be changed without penalty, unfortunately this stripped Armstrong of the win and sent him back to 11th place when most of the fans were already headed for home. Reminding me of the early '90s when fuel disqualifications were quite common, one such infraction took place during the midget portion of the 1990 Four Crown when apparent winner Wally Pankratz was disqualified, handing the victory to Stan Fox. Although it would have been nice for Armstrong's penalty to have been enforced during the race, in the future I'm hoping that the sanctioning body will be prepared to police this rule each time a car enters the pits.

Inheriting the pole the previous day, Jerry Coons, Jr. nursed his right rear and was rewarded with a feature win, his first Silver Crown score this season and second at the Four Crown. The third to pit for new rubber, Windom moved up to second while Hines, Cockrum and East (all three with original right rears) were top-five material. Six through ten included Clauson, Pierce, Wilson, Swanson, and Gamester.

Operating in 13th for the majority of his race, Jack Hewitt completed 16 laps before he chose to pull pit side after developing a right rear blister. Catching up with him afterwards, here's the word-for-word account of his day.

KO: So what happened out there today?

Hewitt: We were geared up for soft tires and we had seen it was taking rubber in the sprints. We made a mad dash to put all of our hard tires on and set the stagger, but we just didn't pay attention. I'm sure the rest of 'em were geared up for the hard stuff and we weren't. We didn't divot our tire and we blistered it. We got it out of balance. I wasn't going to tear the rear end out of it and try to hang out there long enough. We just brought 'er in. It'll load up. We did what we had to do and we had a ball doing it. Man oh man! We didn't look like an idiot anyway. I was pretty happy. Pretty happy.

KO: How did it feel before the tire started to blister?

Hewitt: I was riding. I knew we had a good setup and a good car. The two guys in front of me were going here and there. I was just kind of waiting on them. I knew the tire parade was going to happen. I was just trying to save as much as I could do. I wasn't trying to win it at that time. I was just going for a good finish. Our tires – they looked good. They've got a lot of rubber left. We just didn't do the right thing with the right rear.

KO: How long did it take to get used to it here at Eldora?

Hewitt: Today, the track came down (off the wall). God took care of me when he made the race go from last night to today because I was done. I'd say Jesus and Tony Stewart made my dreams come true today. Matt Westfall was going to drive the car last night because I know I can't do tear-offs. I've never came to a racetrack where I had to be smart but this was the one. If I had come up here and got hurt or anything like that, it would have proved a few people right but then it would have ruined the whole weekend. People might have said 'I was here for the Four Crown and I was there when he got hurt there the last time'. Well, now they don't have to worry about that.

KO: How many people were urging you not to do this?

Hewitt: Well, Jody was of course, until Cody bought a motorcycle. Well, that got me out of the heat of the kitchen. But, my biggest problem was Tracy Hines. He was calling up USAC. There were a couple of owners here, and Tracy comes goes up and tells me, "What happens if you crash and you get hurt or if you do something stupid and take me out." And I said, 'Well, what about last year when you flipped, leading two features?' And today, he took three midgets out, including himself. So, I said to Tracy, 'Everyone makes mistakes and I'm capable of making mistakes, but not this weekend.'

KO: Does this day give hope and promise or is it just satisfaction, for a while?

Hewitt: Well, I'm satisfied, definitely for a while. With the sprint cars, I try to get in and run with kids and I can't because these kids are definitely braver than dirt today. Like I told them last night, if I could only be 50 again.

KO: Is there any hope to get the two-seater around Eldora? Is that an insurance deal or is it a possibility after this deal?

Hewitt: That's entirely up to Tony Stewart. I would love to have it up here. If we had this track rented for a week, eight hours a day, I couldn't take everybody who wanted to ride here. We could charge 'em a thousand dollars. If Tony and I had the late model and the two-seater up here, just taking rides, it would be unbelievable for everybody. People want to run Eldora Speedway and then if they get to take a ride with somebody special – it would be the ultimate for any race fan.

KO: With this being the swan song for 6-R Racing and Jack Hewitt being in the seat – do you have any thoughts about that?

Hewitt: No. But I tell you what, it was like old home week. When we got hurt, that's who I was driving for. Not in the sprint car, but they were my Silver Crown owners. For me to come back and do it with them was that much more special. And the neat thing about it, they had as much fun as I did. The fans had as much fun as I did. Well, I take that back. They came close to having as much fun as I did. I don't think anyone could have the feelings that I have right now.

KO: Does it compare to sex?

Hewitt: I tell you what, it's been so long and I haven't had any, so it's hard to tell. You've got to have some to have a comparison.

KO: What was the Toyota like? You ran a little with the Toyota in the two-seater, but this was the first time in the Crown car. What did you think?

Hewitt: Definitely not short on horsepower. I had it in the two-seater for a while and they teased me with it. Then I got to come here and run it. It definitely does run. I wouldn't have no trouble running a Toyota in anything I've got.

KO: You're a true-blooded American guy. You've run Chevys and some Fords your whole life. And now, a Toyota. How does that fit with your image?

Hewitt: I'm not going to eat sushi, but I will run a Toyota motor.

KO: Any final thoughts?

Hewitt: I'm glad everyone came out. They made my weekend that much more special. It's kind of like Indy. I didn't want the weekend to end. But it has, and now we'll go on to whatever we dream up next.

Five days after the Four Crown came Steve Kinser's equally moving swan song in Bloomington, as both Hewitt and Kinser truly embody everything that has endeared me to this sport. Laying down chairs in the early afternoon hours for fear of the mob of fans who would be wanting one last piece of The King, Danny and I encountered Greg Staab, who was assisting Indy Race Parts' Bernie Stuebgen in his co-promotion of this affair. Battling brutal throat cancer treatments since his springtime diagnosis, after fighting the good fight day after day Staab was in great spirits, announcing that he was cancer free and would be able to have the apparatus around his neck removed in three weeks. Consistently positive in his outlook and in superb health thanks to his years of being a gym rat, Greg convinced me that attitude has a lot to do with the success of that uphill battle. I can't begin to tell you how fantastic it was to hear such uplifting news!

Heading back into town for a bite to eat, we arrived in plenty of time for hot laps, utterly shocked at the lack of paying customers, especially given the importance of this evening in the realm of sprint car history. Naturally, this day/evening had all of ingredients for a massive turnout: perfect weather, Steve Kinser's final showing at his hometown track, not to mention zero Friday night racing conflicts. A unique World of Outlaws co-promotion with Bernie and Betsy Stuebgen, these two extended a ton of effort, time and dollars to make this happen, literally sweating out details and weather for nine months. Renting the track, paying the purse, and tacking on advertising, insurance and other assorted items, a WoO show is essentially a $100,000 nut, a huge sum for any successful promoter or businessman. However, the last two times this series was in Bloomington, literally every seat and piece of grass was filled with fans, making this a good gamble. But, the glaring facts showed that tonight's crowd was significantly less than 2011 and 2012, told that this evening's attendance came in at 2,859, some 1,100 short of the record crowd from three years ago. Perhaps a victim of too many races in too short of time, thankfully the visibly stressed Stuebgen just managed to break even, driving home the point that there is no sure thing in racing.

This being the 26th World of Outlaws appearance on Bloomington's south side, the evening started off with a bang as a superbly prepared surface allowed Joey Saldana's 15 year-old one-lap record to finally fall. Established on 4/14/1999, Joey's 9.380 second lap was topped twice, as David Gravel's 9.304 became the new standard. White-hot since winning Knoxville, Donny Schatz was the other to dip underneath the old mark at 9.361. Twenty-eight of the 38 cars in attendance registered in the 9-second bracket, with bonus participation from non-wingers Christopher Bell, Bryan Clauson, Brady Bacon, Hunter Schuerenberg, Kevin Thomas, Jr., Mike Terry, Jr., and Chris Babcock.

This particular swan song had all the makings to be a huge hit, as tonight's honoree timed 13th, putting him on the pole for the first heat. Taking the checkered first over son Kraig, not even a problem with the front stretch lights could squash his storybook evening. Unfortunately, a six invert screwed Steve for the trophy dash, as he would begin the 40-lap finale from eighth.

Adding even more stress to an already pressure-packed evening, co-promoter Stuebgen fielded two cars. Jac Haudenschild won the third heat in his usual 71 while Bryan Clauson fired from the pole in the other 71, spinning after clipping the cushion when chasing leader Chris Bell. Clauson restarted and salvaged a transfer after a late race surge, but how cool could it have been if Indy Race Parts had both of its entries into the trophy dash? As it was, Haud won that dash and would begin the big show from the pole, flanked by the potent underdog – the Fox 53.

After a Cale Thomas B-main blunder directly in front of our turn four hillside seats (preceded by a massive wingless mini sprint crash of the same caliber), with fog beginning to roll in from the north end, it was time for the moment of truth. Putting my notebook and pen in my pocket so that I could completely soak in this final Steve Kinser showing, The King may not have collected that coveted feature win for the ultimate storybook conclusion, but he came home an extremely competitive sixth. Pole sitter Haudenschild was up front for four laps, yielding to a cushion-crushing Christopher Bell who paced the next 15. As good as Chris was against the curb, one bobble would allow the feature winning robot better known as Donny Schatz to take over and lead the rest of the way, tallying number 23 on the season. Bell moved low to match Schatzbut had issues with a pack of lappers clogging the bottom half, ultimately sealing his fate. Except for Haubstadt, Schatz cleaned house in the Hoosier state, making me wonder who will step up to add excitement to this series and provide a realistic threat to his dynasty. Bell bagged second, Daryn Pittman took third, Brad Sweet scored fourth, while the Wild Child slid back to fifth.

The Midwestern USAC sprint car swan song came the next night in Lawrenceburg, where a field of 32 assembled to contest for the $10,000 Fall Nationals top prize. Regardless of competition from Haubstadt MSCS and Putnamville (where both Jeff Bland, Jr. and Max McGhee were victorious – Max impressively winning his first-ever from 18th), naturally the Burg attracted the heaviest of hitters.

One of those included Jac Haudenschild, his second ride in Jeff Walker's Maxim in consecutive weeks. After splitting with Destiny Motorsports, it's been an interesting last few weeks for the 56 year-old Wooster, Ohio veteran, finding work with familiar winged chariots belonging to Bernie Stuebgen and Jamie Miller, both of whom were on-hand to hang with their hero. Never a dull moment with these three, the off-season is going to be quite a bit busier for Jac and Bernie as they are headed to Australia for eight races, the first time Haudenschild will have competed down under in at least 15 years. Focusing on activities at Sydney Speedway, their adventure begins on December 26th, taking them all the way through the Grand Annual Classic. As for this particular evening, Jac was seventh-quick in qualifications, took fourth in his heat (after sliding completely sideways), but was only able to manage an 11th at the conclusion. Regardless of the finish, as usual he was a thrill to watch on such a challenging race track.

Cutting to the chase, the end result of this final September sprint was all too familiar. So similar to the last two seasons, this pressure-packed period of the calendar is when Bryan Clauson shines brightest. Qualifying sixth, scoring second in his heat, and lining up on the outside of the feature front row, after beating fellow front row mate Chase Stockon to turn one and surviving an exciting exchange on the opposite end, Clauson would lead all thirty tours, his fifth win of the season and amazingly, number 30 of his career. Now 51 points behind leader Brady Bacon in his quest for a third consecutive championship, it should be an entertaining final four shows to say the least.

The box score may have displayed a dominating performance from the driver of Tony Stewart's Chevy Performance Beast/Kistler, but it was anything but easy. Requiring both aggression and precision on a slick but character-filled surface, complete with a chunky cushion stacked against the concrete, Bryan had plenty of pressure applied by third-starting Brady Bacon. In the middle stages of the affair, Bacon was able to hang extremely close, but each time he pulled even Clauson would work his magic through traffic, once again manufacturing a healthy margin. Two late race cautions, one at lap 25 and the other at lap 28, led to further threats through turns three and four from the pilot of the Mean Green Hoffman 69, but it wasn't enough.

Tracy Hines took third, April winner Justin Grant grabbed fourth, while Jerry Coons, Jr. jerked fifth from Jon Stanbough on the final lap, this after starting 14th in Monte Edison's Spike. Sixth through ten included Stockon, Stanbrough, Ballou (up from 16th after a post-heat race engine swap), Chris Windom (up from 19th), and Dave Darland, who suffered a flat right rear at lap 25.

Compared to an awesome August capped by his 53rd career USAC sprint car score at Kokomo's Smackdown, September simply stunk for Dave Darland. Exiting Kokomo atop the point standings, after finishes of 11th, 6th, 13th, and 10th, he is now mired in third, trailing Brady Bacon by 89 as they head west. After his demoralizing Four Crown weekend, things began much better at the Burg when the new resident of Atlanta, Indiana topped the timing charts for the sixth time this season (13.985 seconds). Third in his heat thanks to some authoritative overtaking, he lurked around the top-five for the majority of the feature. However, much like the rest of the month, the night ended in disappointment after losing his right rear tire, needing a caution, some quick pit work, and several miraculous moves to salvage a tenth. Not out of the championship picture by any means, Darland will need some bad luck from Bacon and Clauson to secure his second national sprint car crown.

Referencing an ancient belief that previously silent swans sing a beautiful song before their death, a more widely known definition for swan song is a final act or performance before retirement. Appropriately defining a hyperactive three weeks in September that appropriately put an exclamation point on the sixth full month of this season, this period was highlighted by huge home track appearances from Jack Hewitt and Steve Kinser. Taking me for a pair of pleasant yet emotional spins on a memory go-round that recounted countless evenings of excellence, at the end of it all I'm once again feeling nostalgic about the mid-to-late '80s and early 1990s, crediting the role that these two men played in my overnight obsession for open wheel action. Still unable to break free from these chains some three decades later, season-ending events are still bittersweet affairs. However, if you've got to go out, do it in such a way that will leave a lasting impression. After all, I'll need something to hang my hat on for those truly glass-half-empty days when I'm pushing my snow blower, smacked in the face with the hopeless reality of Indiana winter.

Volume 16, Number 11

Retro Rewind

Traditional sprint car supporters hailing from the Hoosier state have had it awfully good for the last decade and a half. Living high on the racing hog, the multitude of quality options, all within a reasonable drive, have certainly spoiled us. Able to pick and choose to the point of becoming jaded, such plentiful supply hasn't always been the case.

With this year's premature closing of Gas City's I-69 Speedway, the infrequent August activity in Bloomington, and the quieting of Kokomo Speedway after Labor Day weekend, experiencing a shortage of options in this first September weekend was analogous to a retro rewind to the late 1980s and early '90s. In an era when Sony Walkman cassette players, high-top sneakers, and hair bands still ruled my world, Gas City had shuttered after only three brief seasons, Warsaw had permanently locked its gates by 1990's summer conclusion, while Bloomington switched to specials-only programs for that same campaign. Back then, Bloomington, Paragon, Lawrenceburg (often flooded-out for half of a season), and Haubstadt were all winged sprint car haunts. Terre Haute was closed from the mid-point of 1987 through 1989, leaving Putnamville and Kokomo as the only two tracks in the state that stayed traditional, but it's not like car counts and quality of competition were all that stellar. For those who weren't around in that era, they just don't realize how good we truly have it in this day and age.

Heading back to the future, my goal on September the 5thwas to take in the final points-paying program of Bloomington's 2014 campaign. My first trip south since Sprint Week, miraculously I made it in one piece after a suicide mission through rush hour gridlock, taking a huge risk as I made a last second exit from 465 at state road 37 to avoid a mile-long backup. Nearly getting t-boned after cutting in line and crossing two lanes of traffic, such a bone-headed move was more common to my testosterone-charged teenage years.

Much like the early '90s, this was the only Friday night option, thus expecting more than the 28 car contingent and surprised at the absence of so many Gas City regulars. The most notable exceptions making the tow included I-69 champ Chris Gurley, C.J. Leary, Chad Boespflug (Elson 27), Aaron Farney (assisted by Robert Ballou), and Max McGhee, with Chase Stockon serving as the most recognizable outsider. Pondering a "what if" regarding Gas City's future, if by chance they chose not to re-open, was tonight an indication that the majority living north of Indy would choose to stay home on Fridays?

Missing hot laps altogether, I was allowed a leisurely pit lane stroll while locals exercised Detroit iron, spotting Casey Shuman and his assist in an engine change with car owner Shawn Krockenberger. Hiking to the other side as I prefer the pristine view from the hill, I found a turn four blanket rolled out in my honor thanks to my nephew and his fiancée. This turn four vantage point reminded me of the same scene in the fall of 1982 when my oldest brother first introduced me to this stuff.

Acting as Bloomington bandits, visitors Boespflug, McGhee, Simon, and Gurley came away with heat race victories, punctuated by a massive Kevin Chambers tumble over the turn two bank after snapping a rear axle. With track still lightning-quick, a super-stacked third heat sent four-time track champ Brady Short, Tyler Courtney (Pedersen 4), and Aaron Farney to the B. "Sweet Feet" stubbed his toe with a flat left rear tire but somehow scampered to the win and produced his fifth track title, capping off a dominating campaign on Southern Indiana soil. Even more dramatic was Casey Shuman's surge from the rear to a transfer, this after missing his heat race because of that engine exchange. Courtney's twin spins kept him from collecting an A-main pass.

At the 9:56 PM feature wave lap, Bloomington's surface was reminiscent of those late '80s and early '90s, stacked by a substantial curb on both ends. Moving just below the scoring tower for the most optimal view, I took notes as Team Audi/VW sales consultant Chris Gurley beat Landon Simon to turn one. Simon's second lap bike ride benefitted Chad Boespflug, who soon had pressure from seventh-starting Chase Stockon. With Gurley and Boespflug working in the attic, Stockon stayed in the basement, all three operating under the same toasty blanket. Spoiling the party for only a brief moment, Nick Bilbee's stoppage illuminated amber bulbs at lap ten.

The lead trio fanned three-deep after the restart and for a brief instant, Stockon stole the premier position from Gurley by gutter-balling turn two. However, a huge mess unfolded behind them, spotting Brady Short soaring skyward. Tagged mid-air by Bub Cummings, Short was joined in the altercation by Shuman, Dakota Jackson, Ethan Fleetwood, and Braxton Cummings, who scored his first career victory the next night in Paragon.

After another restart, northern Indiana's "Tall Cool One" had his hands full with Stockon once more. Staving off a turn one threat by staying low, Gurley chose the top shelf in turn three and allowed "Showtime" a shot at the lead. However, yet another spin, this time by third place Chad Boespflug, restacked the deck for one final time.

Gurley led Stockon, 15th-starting C.J. Leary, Jeff Bland, Jr., and Max McGhee to the green laundry but by the time they reached the third bend, they were already three abreast. Chase chose the low lane and Chris manned the middle, but C.J. stormed the cushion to authoritatively steal the top spot, seemingly shot out of a cannon. Encountering issues with his steering gear, Gurley soon exceeded the generous turn four curb and plummeted to sixth and while lapped traffic allowed Stockon to get close on the final go-round. However, it wasn't enough to prevent Leary from landing in victory lane for the third time this year, the first time he's done it outside of Lawrenceburg. Impressively getting it done from 15th, C.J. was chased by Stockon (who ironically claimed a Lawrenceburg victory last month in the Leary 30), McGhee, ninth-starting Chris Babcock, and Nick Bilbee, who recovered nicely after causing that first caution. Kody Kinser (from 16th), Gurley, Bland, Jared Fox (up from 20th), and Dakota Jackson rounded out the second half of the top-ten.

As I've forever maintained, a two-groove Bloomington surface is indeed something to get excited about and this final regular showing of the season certainly gives great hope for a solid 2015. Back here for Steve Kinser's final Indiana farewell as a World of Outlaws regular on Friday September 26th, I suspect my feelings upon exiting that affair won't be quite the same as this evening, fearing the finality of the most storied career in the history of the sport. As far as I'm concerned, sprint car racing will never hold the same weight without a competitive Kinser in competition.

Unlike Friday, this initial September weekend actually had more than one Saturday night option, with King of Non-Wing at Putnamville, a season-closer at Paragon, the Buckeye Outlaw Sprint Series at Montpelier, and a $15 rain check for a POWRi midget twinbill two and a half hours away in Macon. After an eleven year absence and in search of something different, Montpelier Motor Speedway was my pick, preceded by a mandatory pit stop at Ivanhoe's, Upland, Indiana's ice cream institution where 100 shake and sundae combinations make for one difficult decision.

Given my singular Montpelier meeting of 2003, the bridging of that eleven year gap resulted in yet another retro rewind frame of mind, essentially treating this as a first-time visit. Reminding me of my first Gas City go in September of 1997, the tiny, ten row bleacherswere filled to capacity, joined in the lower rows by longtime car owner Jason Goacher. In hindsight, I probably should have ponied up an extra $15 to join my nephew and enjoy increased seating options in the pit area. Given the size of the crowd, anything bigger than a BOSS battle will require a grandstand upgrade. However, if the demand is present, it's a great problem to have, so rare in this day and age.

My nephew immediately headed for the pits to help push Scott Pedersen's Spike, as Scott's son Ryan is one of Danny's best friends and the team does not have the use of a four-wheeler. Truthfully, they don't have the room to haul one either, as their ex-A.J. Watson open trailer is one of the last of its kind outside of Paragon. Having a vested interest in how the squad would fare, it was upon Danny's suggestion that Ryan and Scott get in touch with 2003 Montpelier sprint car champion Scotty Weir, as the deal was brokered at 10 PM on Friday night. Pre-2003, Scotty and Ryan were dirt go-kart competitors.

With racing history dating all the way back to 1903, Montpelier is indeed one of the oldest speed plants in the nation. Operated since 2009 by Harold and Lori Hunter, they have definitely pumped some money into the facility, most notably with transponder scoring and some first-class fencing and concrete barriers that protect front stretch fans and pit patrons. Reconfiguring the quarter-mile with added banking in turn one, thatfeeling of being at a foreign facility wasexperienced for an entire evening, so rare as there are only a couple of dirt tracks in my home state that I have not visited. Checking out the track's informative website (www.montpeliermotorspeedway.com) that's filled with all kinds of information including ancient newspaper clippings, there are several photos showing the old covered grandstand, packed to the gills of course. There's also a satellite photo from 2012 that shows the outline of the old half-mile configuration, so fascinating to gauge how small the current layout is compared to the original. Call me a racing geek, but I always enjoy learning how things used to be in their true heyday.

A fine field of forty sprint cars clashed to become the BOSS of Montpelier, bolstered by big names like Andretti, Stanbrough, Ballou, and Weir, who by no surprise were winners of four of five heat races. BOSS regular Brandon Spithaler (Burkey 57) claimed the other, highlighted by a last turn, last lap final transfer schooling of Dallas Hewitt by Matt Westfall. Twin B-mains were bagged by Joss Moffatt and Mike Miller, but most impressive was Logan Jarrett's jolt from last to second, also enjoying a last turn, last lap swap of the final A-main ticket between Steve Irwin and Adam Byrkett.

Losing my seat after seeking a sweatshirt, had it not been for some kind souls near turn one, I would have resigned myself to standing room only status for the feature. After an intermission for tilling, watering, and packing, the 25-lap finale was ready to rock, offering Michael Fischesser and Todd Keen an unobstructed view of the green flag. Keen conservatively paced the first circuit around the bottom, but Brandon Spithaler aggressively hauled it high into turn one the next time around, leading the next three tours until the tacky turn one bit him in a bad way, flipping from first place.

Third-starting Jon Stanbrough inherited the top spot but was unable to develop any rhythm when Keen and Josh Spencer met in turn one, resulting in an odd double-flip that landed Keen on all four wheels. Hot under the collar and painfully limping to express his displeasure with Josh, Sammy had to be checked out later at a local hospital.

As always in Mike Dutcher's 37, Stanbrough sailed away to a huge advantage just past the halfway mark, but his first encounter with lapped traffic proved disastrous after tagging the left rear of Derek Hastings while entering turn three. The contact sent Stanbrough into the spin cycle, passing the lead baton to seventh-starting Scotty Weir. Try as he may, Scotty could not contain ninth-starting Robert Ballou, whose high-side heroics resulted in his eighth feature win of the season. Weir held on for second while Jarett Andretti annexed third from tenth. Logan Jarrett looked good all night, passing more cars than anyone after climbing from 19th to fourth. Midget and sprint journeyman Travis Berryhill found fifth from 11th while Cooper Clouse (from 13th), Dustin Smith, Fischesser, Joe Liguori, and Stanbrough secured sixth through tenth at the 10:20 PM checkered flag.

Offering an efficient program and a solid two-groove feature surface, if by chance the folks at Montpelier Motor Speedway were forced to pick up the local Indiana sprint car slack, I feel fairly confident that they could get the job done. If not, then there's always a healthy contingent of modifieds and stock cars, with a semi-regular offering of midget action that has indeed begun to revive a dying form of competition in this state.

Up and on the road by 7:30 Sunday morning, Danny and I were again headed west for the Tony Bettenhausen 100 (Take Two) at the Illinois State Fairgrounds in Springfield. After meeting Wendell Smith in Decatur, like last time, we all rode in together but this time, the weather was at the opposite end of the spectrum. Sun-splashed with absolutely no humidity, much like Jackie Stewart would say, it was a fine day for a motorcar race. Driving in through the main gate of the Fairgrounds, this was my first time to see this place outside of the state fair, completely void of congestion as we were able to find parking directly along the humongous grandstand. It was certainly an unusual feel without a Ferris wheel outside of turn one, no stage set up along the front stretch, and no food trailers hawking huge corn dogs and lemonade shake-ups.

Regardless of the less than traditional Springfield scene, if there's anything that sends me back in time, it's a champ dirt car race on a one mile Fairgrounds dirt oval, today being no exception. Down just one car from the previous attempt in August, the assemblage of 24was actually respectable given that DuQuoin's century was conducted one week prior. Still, it's a far cry from pre-2006 when forty car fields were the norm. Maybe one day I'll get my wish, but it's going to take time and stability with both rules and purses in order to attract more competitors. But, given the rumblings of a return to battle for the vaunted Plastic Express, not to mention new efforts from Robert Galas and one more former California car owner, there is indeed hope.

Winner of dirt drives in Terre Haute, Indianapolis, and Belleville, aside from an uncharacteristic 13th at DuQuoin, Kody Swanson and his Bob Hampshire-led DePalma Motorsports 63 have ruled traditional Silver Crown proceedings this season. Serving as a source of nostalgia, the white 63 Maxim/Hampshire Chevy absolutely dominated the day in Springfield, much like Jack Hewitt did with Hamp back in '86 and '87 when they sent ol' Gussie (a Stanton chassis) to victory lane. Qualifying quickest at 31.999, Kody led all 100 tours and lapped up to ninth place, preparing to put Dave Darland a lap in arrears until backing off on the final go-round. Building a nearly half-track advantage on second place Tracy Hines, there was zero drama for the American Racer-shod Swanson, who exited the fourth corner so much straighter than everyone else. The 14th different driver to score on the miles at Indy, Springfield, and DuQuoin, Swanson was the 18th man to claim the Bettenhausen from the pole. Trailing Kody and Tracy at the end of the 100 mile grind were Bobby East, two-time TB winner A.J. Fike, and Chris Windom. Bryan Clauson, Jerry Coons, Jr., Dave Darland, Levi Jones (his second ride back from retirement in Galen Fox's 56), and Brady Bacon made up the second half of the top-ten.

Passing was extremely difficult on the daytime surface, as the groove was only a car and a half wide at best. The biggest movers and shakers were Illini chauffeurs Windom and Jones, who advanced six and seven spots respectively. Sixteen cars took the checkered, counting nine that bolted on American Racer rubber. The end result had Swanson maintaining his point lead, up 27 on Hines and 54 on Bobby East as they entered the second to last show at Eldora's Four Crown, where car number 63 has clearly dominated over the years.Will this retro rewind continue for Swanson and Hampshire, or will Eldora high-side experience pay huge dividends for someone like Hines? Needless to say, I'm very much looking forward to the entire weekend.

Frequently thinking of the pastthirty years and wondering where they disappeared, there is a constant wish to relive those days when sprint, midget, and champ dirt car racing was far more innocent and simple. As much as I lived, ate, and breathed this kind of action in that influential era of the late '80s and early '90s, there's still something to say about the benefits of current times when quality competition and numerous venue options abound. Amidst all of the noise and negativity found on internet message boards, Facebook, and Twitter, it's easy to lose sight of just how good we have it as born and bred Hoosier racing fans. So many people from so far away would give their right arm to be in our position but despite such optimism,it's scary to fathom such distinct possibilities of losing any one of our current speedways. As much as I enjoy reminiscing about my own golden days of open wheel activity, twenty years from now I'm almost certain that I will be doing a retro rewind to these twenty-teens, wishing that I appreciated everything that this era had to offer. So instead of longing for the feelings that have been lost, perhaps it's time to start appreciating the present for what it is. Yes, I am spoiled and perhaps I am jaded. But at the end of the day, it's only natural to hope that the opportunity to be so choosy will remain indefinitely.

Volume 16, Number 10

System Reboot

Give me the good news first.

That's all I ask for, as lately the only news I tend to receive is bad, awaking in disbelief to the stomach-churning report of "the incident" that completely rocked the racing world on the night of August 9th. Fearing a full-court press from the media, my deep concerns were justified when every available outlet offered their opinion on a subject for which they had little or no credibility.

Telling myself to ignore any computer and television for fear of instant enragement; I unfortunately could not avoid such contact, as Tony Stewart and Kevin Ward, Jr. were front page news everywhere I turned. In an uninformed world where NASCAR and all forms of auto racing are synonymous, even the so-called experts had no clue as to what they were talking about. Rather than be the first to get the story out, it would have been nice if a veteran sprint car driver could have been interviewed to provide some intelligent insight into what it is actually like to pilot one of these machines.

As sprint car diehards we stick out like sore thumbs in mainstream society, so I'm sure most of you were inundated with questions from co-workers on what might have actually happened. Naturally, only one person knows, so there is no point in speculating any further. Still feeling horribly sick for both sides of this ugly equation, such negative news is clearly a black eye for all of us, as the only time our sport gains national attention is when a guy like Tony gets hurt or someone is killed. Akin to a simultaneous punch and kick to the groin, in the days that ensued I truly felt like my world of 30 years was quickly crumbling. Of course I'd be giving in to the pressure to conform if I decided to back away from my most passionate pursuit, so naturally I would never consider it. But, why is it that we always have to justify our unreasonable love to people who just don't get it? What is wrong with being so caught up in something that provides hope, endless excitement, and a reason to live life to its fullest?

This unsettling feeling of anxiety and anger was quite a contrast to my standard mood that exists in early August. Normally a peaceful time reserved for reflection and relaxation after Indiana Sprint Week, I generally desire two full weeks to decompress and catch up with my writings, also needing the time to generate demand for any kind of racing activity.

After some serious sensory overloads, in order to recharge those racing batteries sometimes you just have to hit control, alt, and delete, rebooting one's system by engaging in some altogether different activities. Pre-Sprint Week, it was my first trip to a Cincinnati Reds game since June of 1996, my first-ever at Great American Ball Park which included a post-game feast at Mount Lookout's The Wurst Bar in the Square, a fantastic find that pays homage to two traditional German Cincinnati favorites: beer and sausage. Post-Sprint Week and in the days surrounding the Brickyard 400, in celebration of my wife's birthday a trifecta of epic eating adventures ensued, including Greg Hardesty's Recess, The North End Barbeque and Moonshine, and a rare summer Saturday at the jam-packed Bonge's Tavern. Two weeks later, instead of the Knoxville Nationals or MSCS at Putnamville, I was committed to a Friday afternoon wedding in Chi-town, spending the next day at the friendly confines of Wrigley Field for the first time since 1981.

In between, the first weekend in August actually served as an effective racing restart, benefitting greatly from a Buckeye Outlaw Sprint Series bout at Liberty, Indiana's Whitewater Valley Speedway and Kokomo Speedway's postponed Bob Darland Memorial. With far too many Saturday options on this particular weekend, I actually decided to stay dark as no fewer than four tracks fought for the same cars and drivers. So instead of sprint car combat, another excellent meal was substituted at Delicia, devouring some outstanding Latin cuisine in the same building where my grandfather once practiced dentistry.

Rewinding the clock to our Friday evening excursion to Liberty, my nephew and I exited the pedestrian and abnormally rough Interstate 70 at state road 1. After crossing U.S. 40 and slipping through Milton, we selected state road 44 at Connersville. Once part of the ambitious Whitewater Canal, rampant with railroads this river city is ripe with history in not only the automotive sector, but also Oldham heritage as apparently a lot of them settled in this area after a lengthy journey that began at the Cumberland Gap. Regarding Connersville's automotive heritage, it was once known as "little Detroit" as the Auburn, Cord, Duesenberg, Ansted, Empire, Lexington, and McFarlan were all constructed here, not to mention the Willys MB Jeep body and the Roots blower.

Crossing the west fork of the Whitewater River, some five to ten minutes later we climbed the ridiculously steep concrete path that leads to Whitewater Valley Speedway, finding a parking lot at the peak that gave even the best of off-road suspensions a serious workout. Making it just in time for 7:30 PM hot laps, waiting in the ticket line was 2008 Liberty Indiana Midget Week promoter Tony Barhorst, who was on his way home from Cincinnati, stopping to see how the evening would turn out. For those in attendance here in August of '08, Barhorst was the man who gave the most brutally honest and impassioned speech of all time after USAC pulled its sanction due to safety concerns. Some six years later, although the steel rebar that protruded from concrete had been cut and rusting hulks of heavy equipment had been moved from their precarious positions, the concrete footer was still showing along the inside wall and no catch fence had been constructed outside of turns one and two.

None of them were of concern to Aaron Fry's Buckeye Outlaw Sprint Series, attracting some 35 cars that consisted of a bevy of BOSS regulars who would do battle against a few USAC runners and an odd assortment of locals who call Lawrenceburg, Paragon, Bloomington, Waynesfield, Flora, and even Michigan's MTS series home. Dare I ask, but where else will you find a pair of Beabers (Johnny and Tony) and Brannins (Matt and Dillien) in competition on the same night?


Given a new lease on life by promoter Bill Wagner, Liberty sports a pristine concrete concourse area, some newer aluminum seating, and a nice scoring tower/concession stand. Those seats offer the most scenic view of Indiana countryside in the state, not to mention a highly intimate setting to sample some intense sprint car competition. Unfortunately, it tends to be a little too intimate, as we had to dodge our share of rocks all night long. And, with a sizeable crowd bunched together, that intimacy meant inhaling far too much second-hand smoke, as for some reason a majority of Whitewater Valley's paying customers dangle a cigarette in one hand and cradle a Bud Light or Mountain Dew in the other.

Regardless of the inconveniences and the lateness of hour (the feature was completed at 11:52 PM), it was still a memorable, thoroughly enjoyable evening highlighted by a well-prepared surface that was stacked with a massive cushion on both ends. Serving up a sizzling feature battle between Logan Hupp (Marshall 2M) and seventh-starting Kevin Thomas, Jr., their edge-of-your-seat slide-fest provided a royal feast for the eyes, as there were far too many to count in a contest that was ultimately decided by lapped traffic. Columbus comet Hupp claimed his second BOSS battle of 2014 over KTJ, 2002 Lawrenceburg champ Mike Miller, Andretti, and Garrett Abrams. Local boy Brandon Whited, Aric Gentry, Scott Hampton, Dallas Hewitt, and Steve Irwin were scored sixth through tenth. After winning his heat with a flat left rear, Chase Briscoe was my pick to win but was eliminated early. Thankfully the feature didn't go past midnight, as Danny and I were able to place a phone-in order for a Pizza King take-out in Connersville, enjoying our own royal feast for the taste buds on our late night return.

Two days later, the $3,000 to win Bob Darland Memorial brought 24 cars to Kokomo Speedway while I brought my nephew and long-time friend Dean Caldwell along for the ride. Serving as a Smackdown preview, all the heavy hitters except for K-town point leader Bryan Clauson were in the house, including Bob's son Dave in his Phillips 71 USAC weaponry. Given that this race was postponed one week, track championship points were not being awarded.

Aside from a three-wide squeeze play that sent last year's winner Justin Grant to the B, preliminary action was fairly tame, that is until the thirty lap conclusion that required four separate starts due to a pair of red flags and one yellow. In un-Jon Stanbrough-like fashion, Jon immediately two-wheeled turn three and promptly inverted Mike Dutcher's Maxim. The second stoppage came when third-starting Dalten Gabbard biked Kenny Baldwin's 5 at the first turn entry, sending the orange crush into concrete and eliminating fourth-starting C.J. Leary. Kevin Thomas, Jr., Lee Dakus, Shane Cottle, and Travis Hery were also swept into the altercation. The third attempt to begin the "BDM" was no better, as tenth row starters Adam Byrkett and Josh Spencer tangled in turn one. Unable to post a qualifying time and finishing fourth in his heat, Dave Darland was originally slated to start 11th but after the early race shakeups advanced to sixth before a lap had ever been completed. Likewise, Justin Grant was now 10th after starting 17th.

Finally clean and green, first heat victor and recent Waynesfield winner Scotty Weir (Keen 18) leapt to the lead as Chris Windom (Walker 11), Robert Ballou, Darland, and a white-hot Justin Grant dueled for runner-up rights. Working the lower lane to perfection, Ballou kept Darland in his wake and soon waxed Windom for second. Just before the halfway mark, Robert burst to first with a supreme squirt off the bottom of two while Justin continued his magnificent march, stealing second from Scotty.

With a dozen laps left, the Mad Man and his Maxim may have owned a sizeable margin but just four laps later, the driver of Mark Hery's DRC had whittled that distance down to miniscule proportions. In dealing with lapped traffic, Ballou's lead had completely evaporated, allowing JG to pull even on the front stretch with just four laps left. Just as Justin was making his move, Robert drifted up the track and squeezed him into the wall, effectively sealing the deal for the former Rocklin, California resident.

Seven for 20 since acquiring a new Don Ott power plant, Ballou's summertime streak continued, taking the 8:45 PM checkered flag first ahead of Grant, Darland, Weir, and Windom. Cottle, Coons, Thomas, Logan Jarrett, and Jarett Andretti secured sixth through tenth. Had it not been for the inadvertent contact, it certainly would have been a highly interesting ending.

Waiting nearly two weeks for my next racing adventure, I had to bypass Bloomington's outstanding MSCS feature (claimed by a last lap Kyle Cummins slider) in order to be fully rested for my longest day of the year. Originally setting my alarm for 5:30 AM in order to leave by 6:30, a late revision to the Springfield USAC Silver Crown schedule had hot laps commencing at 10 AM Illinois time, leaving me an extra hour of precious sleep. Planning on a Macon POWRi nightcap, as I recall from last year my arrival home was 2:30 AM, making for a 21 hour day. Little did I know at the time, but I shouldn't have skipped Bloomington.

After the demoralizing week of Stewart-gate, I had hoped to reboot my system with a potent combination of one-mile dirt Silver Crown action and a pair of Macon midget features. Even though the weather forecast was clearly not in our favor, because my ticket was supplied for the second year in a row by Sullivan, Illinois' Wendell Smith, I rolled the dice in hope that the storms might break up or simply take longer to get to central Illinois.

Wendell, Danny, and I were rudely greeted by light rain at Sangamon Avenue, but thankfully the showers weren't enough to stop hot laps or qualifying for the Silver Crown contingent. Unfortunately the opening laps of practice, arguably the most entertaining portion of the program, were missed by all of the grandstand ticket holders, as no one was on-hand to sell or take tickets, making me wonder if management's expectation was a complete washout.

With point leader Kody Swanson clocked beneath Tracy Hines's one-lap record of 29.305 seconds, hope for a new mark went unfulfilled when the chart-topping circuit was only 30.646 (also set by Hines), interesting that just one lap of qualifications was offered to the 25-car field instead of the standard of two. Given the short fields that don't require a qualifying race and the limited bang for the buck in terms of on-track action, it would be nice to see two laps of qualifications once again.


Excited that Bryan Clauson (fifth quick), Brady Bacon (ninth quick), and Christopher Bell (unfortunately a DNQ) were part of the Silver Crown cast, champ dirt car qualifications and stock car heat races were complete by 12:30 PM, leaving at least an hour of downtime before opening ceremonies for the Tony Bettenhausen 100. With such a small window of favorable weather, I had honestly hoped for a greater sense of urgency to pull out all the stops and complete the show, rewarding Silver Crown diehards who showed up early and gambled with Mother Nature. But as luck would have it, steady rain started to fall during the pace laps and eventually ended the day, resulting in a mini-meltdown for this particularly disappointed and frustrated fan who really needed some feel-good entertainment. Several days later, news of the first Springfield rain date since 1996 came as a very pleasant surprise.

This being my nephew's first trip to the Illinois State Fairgrounds since 1992, when coupled with another cancellation in Macon one might believe that six hours of driving was a complete waste of a day, but at least we were not alone in our unsuccessful quest. A rare opportunity to spend some quality time with one another, we also got to speak to people like Wendell Smith, Todd Amstutz, Levi Jones, Ben Andres, Brent Goodnight, Fred Zirzow, and Waukesha, Wisconsin's Chuck Eberhardt, learning that the latter two are the primary owners of Bryan Clauson's local Indiana sprint car. Still, this road trip didn't quite cleanse the soul and purge the poison of the previous week's detrimental news. Thankfully, Kokomo's third annual USAC Sprint Car Smackdown was right around the corner.

If there was anything that could restore the luster of sprint car racing and return to my world to normalcy, it would be a three-day show in Kokomo. But even something as routinely automatic as Kokomo satisfaction faced some serious challenges, threatened by an untimely eleven inches of rain that fell from Wednesday through Sunday. Requiring a monumental effort from the O'Connor family in order to complete the full Smackdown schedule, aside from the 2006 Four Crown Nationals at Eldora, never have I been more impressed with the sheer desire and all-out effort of any race track operational team, ultimately restoring my faith in mankind.

Requiring a full Thursday to recover from robust morning showers, upon my 7 PM opening night arrival the entire O'Connor crew was still hard at work attempting to get the show started. However, all that exertion was for naught, as some rather ominous radar proved to be reality for my third racing event in a row. Heavy storms arrived just after qualifications and with just enough time to complete two of four heat races, thunder, lightning, and a torrential downpour sent most of the crowd huddling underneath the grandstand, just waiting for a break in the weather to make a mad dash to their vehicles.

Pooling massive amounts of water in every nook and cranny of Kokomo Speedway, extensive pumping played a pivotal role in making Friday racing a reality. Thankfully the second show was run without a hitch, the only day of the original Smackdown schedule unaffected by weather. Planning an ambitious Saturday with a mid-afternoon continuation of Thursday's festivities followed by a sweeping of the stands and a complete surface revival, before the finale could ever get started yet another storm spoiled the party. Watching the clouds roll in and rain begin to fall at Ray's Drive-In, unfortunately Saturday evening was pushed to Sunday afternoon.

In speaking with an exhausted Reece O'Connor before Sunday's show, four more inches of rain fell overnight, requiring the crew to toil until 11:30 PM just to keep the water to a reasonable level. Reece returned at 1:00 AM to pump the "pond", arriving back at the track by 8 to find even more water in the office and concession stand. Not only was this excess H2O removed, but the walkway underneath the grandstand was power-washed to eliminate mud and grit. Again, I can think of very few tracks that ever would go to such extremes to make an event happen. Recalling the mantra of ultra-positive Park City, Illinois sprint car chauffeur Tim Cox, his "gottawannawin" became "gottawannarace" for the O'Connors who also hail from the Illini state. Despite a lower than expected crowd and car count, they pressed on regardless and refused to let the weather win, setting the bar awfully high for expectations in unfavorable conditions.

Thrilled by Saturday afternoon's feature that offered a tacky track and chunky cushion despite the impossible combination of heat, humidity, and bright sunlight, Sunday afternoon's twilight show was more of the same, sporting an excellent surface that needed just one revival. Even more amazing was the fact that I didn't even have to wear goggles, as both Saturday and Sunday's daylight conditions were dust-free! Given that their weekly Sunday shows are often completed before darkness, one could say that it's par for the course here. Offering so much praise for all the work that went into removing water from these grounds, somehow the surface did not get ignored.

If such amazing and impressive O'Connor effort didn't serve to reboot my system, then the record-setting performance of ageless sprint car stalwart Dave Darland certainly should have done the job. As I grew up in awe of so many impressionable sprint car standouts who owned larger than life personalities, were as strong as steel, and could literally walk on water, the common denominator in all of them was their age compared to mine. Turning 48 on September 4th, Dave is one of the few racers remaining from that era, maintaining such hero status in my eyes. To be witness to his tying and breaking of Tom Bigelow's record for all-time USAC sprint car wins, one that has been the benchmark since the summer of 1981, it was indeed a rare and special scene, as accomplishments like that just don't happen in this day and age, simply because the longevity of sprint car competitors is not what it used to be.

I was there for Dave's very first USAC score at Terre Haute's Tony Hulman Classic in May of 1993, studying during the downtime for a Finance final the next day at Ball State University. Some 11 years after his initial sprint car season (1982), it took 21 more to reach the summit with a record that may never be equaled, again because of the longevity factor. Introduced to this virtual unknown when he claimed the 1987 Putnamville Clash, in the midst of his titanic 19-win campaign in 1991 he received a great deal of fanfare after capturing an Indiana Sprint Week contest at Kokomo. Wondering then if this local stud had the stuff to make it on a national level, although it took a handful of seasons to truly make his mark outside of Indiana, it is amazing that he has remained a winning force for four decades.

USAC sprint car victory number 52 came in the Saturday afternoon matinee, a thriller that saw Dave track down pole-sitter Justin Grant, who led the first 23 laps atop the healthy cushion that had accumulated from all that rain. One bobble by Grant against the turns three and four curb was all it took for Darland to snatch first place, brushing the pride of Ione, California as he squirted past in corner four. However, it wasn't like Dave could coast the rest of the way, narrowly avoiding a stopped Kyle Cummins in turn one which set up a six lap shootout. Darland might have gotten the restart jump, but Grant dug deep with his usual diamonding of turns three and four to inch ever closer. And, as if we had rewound the Sprint Week clock, they were once again side-by-side at the waving of the white flag. Just like in July, Grant tried a slide job through turns one and two but left enough room around the top for Darland to squeeze by. Giving it one more try through three and four, Justin had to settle for another second place finish.

$5,000 richer and trying Tom Bigelow's record, after doing some turn four donuts Dave was doused with a cool bottle of water thanks to wife Brenda, explaining to Rob Goodman, "(To tie the record) It's an unbelievable task. Lucky for me, he retired when he did, otherwise he probably would have won 30 more. It's truly an honor and a privilege to have done this."

Beating Bryan Clauson and Chase Stockon to reach the finals of Sunday's unique three-lap King of the Hill match races that determined the first eight starting positions for the $10,000 to win 40-lap finale, for the second year in a row Darland was runner-up, unable to beat Brady Bacon to claim the pole, $400, a Traxxas R/C truck, and a case of Amsoil. In the iconic Hoffman Auto Racing Mean Green Triple-X Mopar, Bacon would lead the first five laps of the feature but the very next circuit saw the Lincoln legend surge past on the front chute, opening up a half-straightaway advantage before reaching lapped traffic. Even though the first five runners were in close proximity thanks to congestion, a lap 26 caution for Casey Shuman made this a whole new ballgame.

Restarting Darland, Bacon, Stanbrough, Ballou, and Leary, Dave promptly ran off and hid while Robert rushed to second, flinging his right rear wheel cover into the northwestern horizon. Hot on Darland's heels and ready to make his winning move, Ballou's bid was initially denied when a final caution flew for C.J. Leary. Permitted three more tours to find first, try as he might, but he couldn't get it done, as a climb of the turn four cushion sealed the record-setting win number 53, also creating a two-time Kokomo Smackdown champion.

Earning a hug from Tom Bigelow as booming fireworks blasted eardrums, feeling right at home at the very place where he began his career some 32 years ago, a relieved Darland told an excited Rob Goodman, "It is absolutely special. We couldn't have done it any better than this. It's a fairytale story. Tom Bigelow is here. He was the one who set the bar for me. The only thing I'm sad about is that he said it only took him 12 years to get 52 wins. It's taken me twice as long. But, we got here and I've got to thank a lot of people. Obviously – my Phillips team. They gave me a great racecar tonight and the night before and the night before and the year before. I'm just having a great time with this team. They do a great job. I've got to thank the O'Connors for their track preparation. With all the rain we've had, to have the track in this great of condition says a lot about them. It doesn't matter if it's a dry summer or a wet summer, they do a great job with this racetrack. I'm just glad to be here. I've got to thank my sponsors for supporting us, including Steve Stroud, as we couldn't do it without them."

When talking about the need to put 40 perfect laps together, Darland added, "I've made a lot of laps around here and there's always someone breathing down my neck, whether it's Bacon, Clauson, Ballou, or Justin Grant – he's on my ass every time. I can't get away from him as he's always putting pressure on me. There were 25 good cars here tonight and it could have been any of them."

When asked if he could have done anything different to defeat Darland, runner-up Robert Ballou told Dillon Welch, "Yeah, I needed a mud cover that would last 30 laps around Kokomo Speedway. We gave it our all. We got beat by the best guy in the business. He's been doing this a long time, longer than I have been alive. Hats off to him and all the guys on that team that make that thing win. We were a second place car and we were third the other two nights. This ain't what I come here for. I come here for wins. I felt like if we didn't have that caution I could have gotten it done, but that's why they call it racing. I've got about 30 or 40 more years left and Dave Darland will be in Bigelow's position here when I'm still racing, so hopefully I'll be challenging him for wins if we keep this number 12 going."

Rattling off his laundry list of backers, Ballou noted, "They're all little, but they all mean a lot to me and keep this thing on the racetrack night in and night out. Derrick Bye busts his butt. Scott Ronk is the best boss in the world – he lets me leave to go racing whenever I want. I've also got to thank the Farney family. They cooked food for us all week so we could stay hearty and upright. It's been hard because we had some motor issues. And, hats off to the O'Connor family. Nobody else would have put up with this crap."

Third place finisher Bryan Clauson commented, "We struggled all night just to get it under control. I can't thank everybody on the Curb Records, Chevrolet Performance number 20 enough. We tried hard but we just needed about 30 more laps. We did everything we could. We took a couple of shots late but it wasn't quite good enough. I can't thank the O'Connors enough for their hard work. They fought a lot of adversity just to get this race in. Hopefully everybody appreciates that and enjoyed the show. It was a tough weekend on everybody."

Further digesting the details, the undisputed king of Kokomo continued his home track qualifying prowess for the pair of Smackdown prelims. Quickest in a field of 36 on Thursday (12th in line at 12.791 seconds), on Friday evening Darland's 12.712 second tour (5th in line) was again number one out of 34 machines. The only other individual to time within the top six on both nights was Robert Ballou, with Clauson, Coons, Leary, Grant, Bacon, Cummins (Pollock 21x), Stanbrough, and Meseraull representing a mixed bag of top qualifiers on Thursday and Friday. For T-Mez, he did not have a ride for night one but used the second night to make his debut in the Wingo 77.

Darland's dynamic weekend didn't start off that way, as he needed to reach Friday's A through the B after banging Robert Ballou's left front in his heat race. Starting seventh, he was quickly up to third, utilizing bottom, middle, and top grooves to pick off cars. After a lap two caution for Casey Shuman, he lurked around the bottom of turns three and four until Shane Cottle abruptly exited high. The resulting collision wiped out Dave's front end, returning to the race some three laps down. Cottle appeared to have some issues of his own, pitting soon thereafter and limping home 12th.

After this incident, Friday was essentially a two horse race between pole sitter Bryan Clauson and fourth-starting Jon Stanbrough. Bryan paced the first 28 laps but could never shake Stanbrough from his shoulder. Jon appeared to be better in three and four, but Bryan was clearly superior in one and two, entering through the middle and exiting high. As Stanbrough stalked, in an odd twist of fate Clauson missed his mark and entered turn one a tad too high on the 29th lap, bobbling on the massive mountain of mud that never budged all night long. The Silent Gasser seized the rare opportunity, leading the last two laps for his fourth USAC victory of the season, his first of any kind at Kokomo since June of 2010. Mike Dutcher Motorsports literally went bananas, with hugs aplenty and high-fives flying. After Stanbrough and Clauson, Friday's first ten finishers included Ballou, Cummins, Bacon, Stockon, Short, Leary (from 14th), Windom, and Jarrett. Speaking of Stockon, despite being the smallest in stature he was the first of five contestants to devour twenty boneless wings on Thursday night, claiming the infamous inaugural crown of "Snackdown" champ.

Saturday afternoon's resumption of Thursday contained the third and fourth heat, B-main, and A-main, enjoying a spirited heat race joust for fourth between Shane Cottle and Landon Simon, chock full of bumping and banging, wheelies, and sliders. Qualifying third on Friday but scratching for mechanical gremlins, throttle psycho Thomas Meseraull tagged the tail of Saturday's B but took a big ride in turn four, flinging his Wingo wagon skyward and tearing out some fencing. The race also resulted in a Jarett Andretti inversion, a Trevor Kobylarz front end folding, a three-wide finish for second between Cummins, Max McGhee, and Tracy Hines, and a swapping of sixth between Hollister, California's Ryan Bernal (Elson 27), Parker Price-Miller, and Chad Boespflug. After firing from 14th, Boespflug got the spot, having to hustle all weekend long due to some persistent under the hood issues on Paul Hazen's 57. Not going unnoticed, Boespflug earned a $500 cash bonus for becoming the weekend's "Passing Master" while Hazen claimed the $300 Bill Gardner "True Grit" award.

Saturday and Sunday no-shows included Scotty Weir and Daron Clayton. After terminal engine failure on Thursday, Hunter Schuerenberg was painfully forced to sit out Friday, Saturday, and Sunday.

With skies threatening to the west, Saturday's feature was undoubtedly the best of the three, with side-by-side and three-abreast action quite common from front to back. At the start, pole man Justin Grant reached the top of turn one first. However, his drive off the turn two cushion chopped fellow front row mate C.J. Leary. C.J. partially spun and forced fourth-starting Bryan Clauson's stoppage. Using the rest of the race to recover, it just wasn't BC's day after suffering a flat left rear tire with six laps left.

Featuring an outstanding scuffle for second between Jerry Coons, Jr., Robert Ballou, and eighth-starting Shane Cottle, Shane got as far as first place, actually taking the lead at the line in Tony Epperson's Spike before a caution waved for Brian Karraker (Byram 3R). Continuing to give grief to Grant in the early-to-mid stages, unfortunately one costly mistake eliminated Shane from contention.

Storming from 12th and 14th, Chris Windom and Brady Short made a lot of noise with their impressive top-five charges near the midpoint. At the end, Chris settled for fourth, sandwiched between Robert Ballou and Jon Stanbrough. Sixth through tenth on Saturday included KTJ, Bacon, Cottle, Short, and Stockon.

With his two third place finishes, Robert Ballou was the top point man heading into the finale. The select seven who were also locked into the forty-lapper included Stanbrough, Bacon, Darland, Clauson, Windom, Cottle, and Stockon.

After hot laps commenced on a hot and sweaty Sunday afternoon, three heats sent nine more to the feature. With help from DRC chassis constructor Joe Devin, Brandon Mattox attempted to go three for three in Smackdown heat race wins but slid sideways in turn four. Turned straight by Chad Boespflug, Mattox's luck soured worse in the B after sailing high at the turn one entry. Bouncing into the wall and taking a tumble, the Terre Haute terror's weekend was over. Jarett Andretti also earned big air in the B, flipping high atop the turn four fence. Appearing slightly dazed on his ride back to the pits, Jarett was otherwise ok.

After turning a long turn three bike ride into a Sunday heat race flip, Max McGhee, his team (backed this weekend by Kenny Baldwin), and a host of others (including welding services from Jon Stanbrough) thrashed to repair his Maxim in time for the B. Max managed to score one of five feature transfers, as Chad Boespflug again eclipsed his share of competitors by winning from 7th. Tyler Courtney, Landon Simon, and Josh Spencer also punched their A-main ticket through the consolation, worth a healthy $1,000. Spencer's run for the final transfer saw him gallop past Chris Gurley late in the going, made possible when Pennsylvania visitor Trevor Kobylarz (the $500 winner of the best appearing car) tagged Brian Karraker, spinning both from contention.

In between heats and B were the King of the Hill match races, pairing the top-eight in Smackdown points in three lap match races, beginning side-by-side to a white chalk line laid out on the front stretch. Pitting the highest against the lowest seeds, the high point man had lane choice and each time, they chose low. High drama ensued during Bacon's second round battle with Jon Stanbrough. Battling wheel to wheel to the checkered, Jon was squeezed into the outside wall, spun, and nearly turned over, suffering a flat left front tire in the process.

Sending off the feature drivers in style with old fashioned driver introductions in front of the main grandstands, drivers tossed autographed t-shirts and assorted gear into the crowd as they marched past, an entertaining and thoughtful gesture to reward the fans for their patience and persistence. One lucky fan who caught the t-shirt from the feature winner not only got to stand in victory lane, but also earned $100 in cash and free Smackdown tickets for 2015. Not a bad deal, eh?

As the setting sun provided a beautiful backdrop to the wild celebration in honor of Dave Darland's incredible accomplishment, Bacon and Stanbrough just missed podium placements but enjoyed solid top-five finishes. Scored sixth through tenth were Grant, Cottle, Thomas, Stockon, and Cummins (who collected $500 for being the event's "Newcomer of the Year"). Officially closing the book on this third Smackdown weekend at 8:22 PM, O'Connor patriarch Jim along with daughters Jill and Chris stood outside of the front gate and personally thanked each fan for attending. I returned the favor, thanking them for actually going through with it, as I know that the weather kept fan count down while the slimmer than expected car count remained a mystery.

Paying the top-five for all weekend feature laps, outside of the $5,000 and $10,000 amounts for the winners, the most impressive Smackdown dollar statistic is the $1,000 prize offered to start the finale. That alone should be incentive for any team to give this deal a shot, as history shows that attrition takes its toll by the end of the weekend, allowing little guys like Josh Spencer and Brian Karraker a realistic shot at making some decent dough.

The fact is, there is not another race on the USAC calendar that offers more incentives, as USAC's staff again went out of their way to gather a plethora of cash and product sponsors for countless awards, the majority of them designed for hard chargers, those suffering hard luck, and those not even making a feature. Understanding that August might be a time when budgets are worn thin, without any competition for cars for the first time in its brief history (aside from Paragon), I still don't understand why more racers have not jumped on the Smackdown bandwagon. Hoping that the word gets out extremely early in 2015 regarding the available prizes, this Knoxville Nationals-style event deserves an overflowing pit area and grandstand.

One week removed from the Smackdown, I concluded my month of August with Kokomo's last regular season event: the Vince Osman Memorial. Still a Sunday night, the holiday weekend and fireworks actually attracted a bigger crowd than the previous weekend. In brainstorming with Edison Motorsports helper Craig Heathcoat on ideas to attract more fans, we both agreed that fireworks should be a more frequent offering, at least once the weather gets warm. They do cost quite a bit more money, but if it fills the bleachers like it does at every track I have attended, it might be a worthwhile investment.

With a pit area consisting of 24 sprint cars, 14 thunder cars, 12 street stocks cars, and 26 UMP modifieds, given the consistently strong contingent of mods that appear on the holiday weekend shows, like fireworks perhaps they too should be a more frequent attraction. With competition for sprint car talent coming from Haubstadt's $3,000 to win program and DuQuoin's Ted Horn 100, Bryan Clauson was unquestionably the biggest name in the Kokomo house, here to reap the rewards of a season-long track championship. For a guy who has started the Indianapolis 500, sat on the pole at both Indianapolis and Daytona, enjoyed brief NASCAR success, claimed three USAC national driving championships, a pair of USAC national midget and sprint car titles, a pair of Indiana Sprint Week and Midget Week titles, laid claim to the Chili Bowl, Turkey Night Grand Prix (twice), the Belleville Midget Nationals (also twice), and the Sprint Car Smackdown, the fact that he placed so much emphasis on this Kokomo championship speaks volumes as to the quality of competition that exists each Sunday night from May through August.

The fastest qualifier (13.394) from three timed hot lap sessions, Bryan ran second in his heat to Shane Cottle, who returned to the seat of Monte Edison's machine as regular driver Jerry Coons, Jr. was down in DuQuoin. Clauson, Cottle, and first heat runner-up Justin Grant were the three primary players come feature time, engaging in an outstanding battle that highlights the benefits of attending these weekly contests. Surprise heat winners for this final Sunday of the season included Kokomo rookie of the year Garrett Miller and Joe Liguori. Biking in the first heat and landing tail-first in the turn two fence, Canadian Lee Dakus ended his initial Kokomo campaign on the hook. Even earlier, Max McGhee tumbled in turn three qualifications and experienced deja-voodoo for the second time in one week, putting an exclamation point on his evening.

Enjoying a brief chat with former Kokomo throttle stomper Kurt "The Rooster" Hawkins in between the heats and B-main, that B was bagged by Chad Boespflug, with Texas visitor Payton Pierce picking up the final transfer position, just beating out Illinois veteran Steve Thomas. Showing extremely well in the feature (climbing from 20th to inside of the top ten before exiting), aside from a Putnamville appearance the previous evening, this was Pierce's first racing trip to the Hoosier state.


Grant and Miller comprised the front row for the 25-lap tribute to Vince Osman, a contest that was littered by six cautions and one red flag. In between all of the pauses existed a highly satisfying feature, doling out three distinct grooves, two separate cushions, and one thrilling finish claimed by the current king of Kokomo cowboys. Yes, you read that right: two separate cushions, as one existed about a third of the way down the track while another was cut by Justin Grant in never-never land.

Fourth-starting Cottle, Grant, and fifth-starting Clauson provided first-class entertainment with their extreme showcase of talent. After a brief four-wide fan for first at the start and an initial caution for Cooper Clouse, Cottle two-wheeled turn two, recovered to find bite at the bottom of turn three, and narrowly slid Grant through turn four to produce P1. With Shane positioning the Crume-Evans Insurance Spike on the standard cushion, Justin immediately tested the waters elsewhere, stepping even further upstairs on both ends to stay within striking distance. Manning Chuck Eberhardt's unsponsored Maxim (a.k.a. the family car), Clauson chose the middle lane and eyed the outstanding battle for first. At one point, Cottle biked turn two for the second time and successfully recovered, but not before Grant squirted beneath to take first. Unfortunately, a Josh Spencer spin nullified such a slick move.

Near the halfway mark, Cottle again flirted with disaster against the unruly cushion that had been pounded flat during the intermission. Biking for the third time in turn two, that third time was not the charm for "The Throttle". Careening off the concrete and coming to an abrupt halt, he ended his evening the same way for the second year in a row, in this very race. Enduring quite a bit of pain from the crash in the following days, it still looked like Cottle had a blast in his reunion with his longtime buddies.

After a Logan Jarrett spin (having earlier elevated from 12th to 4th), a seven lap dash would award Sunday night bragging rights for the final time in 2014. Grant continued his exploration of upper regions while Clauson smoothly attacked the equally effective but less treacherous middle. Each time, they would meet at the turn two exit, coming oh-so-close to touching lap after lap after lap. Building a fairly substantial margin at the white flag, Grant's high line was suddenly blocked by lapped traffic as he approached turn three, forcing him to go low. Spotting third place Joe Liguori flipping in turn two with one eye, the other caught Clauson sneaking beneath Grant to steal an apparent win.

Although the checkered flag and red lights appeared simultaneously, officials concluded that they needed to go back one lap, as only three cars took the checkered. Amping up the intensity even more, Justin juked Bryan as they took the green and white flag together. Although Grant chose his effective turn three and four diamond, Clauson pulled tight as they approached the flag stand, just missing the win by a nose. Grant gathered his second straight Vince Osman victory, an all-out thriller on what was just another Sunday night in Kokomo.

Clauson settled for second while Scotty Weir worked from tenth to third in Bill Elson's 27. After having a flat left front tire swapped at lap ten, newly crowned Gas City champion Chris Gurley charged through the field to take fourth, annexing the position from Jarett Andretti. Spots six through ten included Adam Byrkett, Josh Spencer (recovering from a lap ten spin), Logan Jarrett (also recovering from a late race loop), Travis Hery, and 2002 track champ Dustin Smith.

Landing in Kokomo's victory lane for the third time this season with car owner Mark Hery, afterwards the ever-popular Grant commented, "I've been a part of so many races that have been the best race of the year and come up second in every one of them. So, it's good to finally win a good race. Bryan raced me clean coming off of turn four to the checkered. He could have let that thing go and gave me a wheel, but he didn't, so I appreciate that. We caught a break there at the end. We got into lapped traffic and Bryan actually beat me to the line when the red came out. He would have won that race but as many yellows and as many chances as he had, I'll take one break for myself."

Scoring second and his first Kokomo championship, Clauson received quite a bit of appreciation for his feat, stating, "It's awesome man! I looked down the point standings here at Kokomo Speedway a couple of weeks ago and they're the same guys that are battling it out on the national circuit! This is definitely the baddest bullring in the country and I definitely love coming here. The O'Connor family does so much for our sport with all the races they put on for us. To have the opportunity to come out here every Sunday night and run the best racetrack in country, that's a lot of fun. I wish we could have ended with a win, but we gave it everything we had. We didn't need a lot of those cautions. He was a little better in the short run and we just ran out of time."

Beginning my usually peaceful August on a high note with a throwback BOSS battle in Liberty, Indiana, this memorable meeting effectively restarted my sprint car system after another epic Indiana Sprint Week experience. The month ended on an even higher note with an unexpected Vince Osman Memorial thriller in Kokomo. But in between, any benefit from that first race back was negated by some serious negativity generated by the non-stop Tony Stewart witch hunt. The ultimate shock, anger, and frustration was more than I could stomach, searching for any kind of a mental break from the stinging reality of a world turned upside down. Hoping that a road trip to Springfield and Macon would reboot the system once again, a rare double rain-out only intensified the internal strife. Believing that a three day USAC Sprint Car Smackdown could make me forget about everything that was wrong with the world, Mother Nature and her eleven inches of rain intended to continue my misery. However, even she had no clue as to just how much resilience and desire some people have.

Thanks to the superhuman efforts of the entire Kokomo Speedway staff, not only did they prove that the impossible might just be possible, but they also reaffirmed the reason why I became a sprint car fan some thirty years ago. Turning bad news into good, by the time Dave Darland was celebrating his record-setting 53rd USAC sprint car victory I was certainly feeling better, but this fragile soul had already taken a serious beating from such a sickening rollercoaster of emotions. I don't ask for much out of life, but in order to continue the healing process, could you please just give me the good news first?
---
A Hosehead Production ko
Copyright © 2015 by "Hosehead's Sprint Car Photos & News." Do not reproduce anything from these pages without the permission of the photographers writers or webmaster.
Hosehead's Sprint Car Photos & NewsPO Box 42 Drums PA 182220042