Check Out These Other Pages At Hoseheads

Bill W's Knoxville News Bill Wright

KO's Indiana Bullring Scene Kevin Oldham

From the Grandstand Ron Rodda

Wagsworld Ken Wagner

Keeping Track Dino Oberto

Tri-State Outlook Duane Hancock

Runnin The High Groove Paul Kuyawa

Hoosier Race Report Danny Burton

INot Just Another Racing Column Pastor Dudley Balmer

Dirt Divas Camisha Miller

Central PA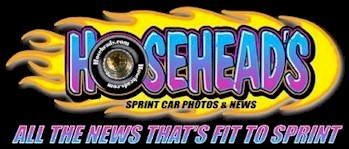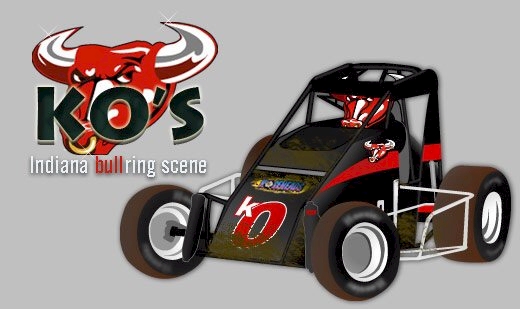 Volume 21, Number 2
Supply and Demand
Too much power, too little control, and too much expense. Of course, I'm speaking of sprint car racing, a rather extreme sport that's all about excess. When considering the potential for reductions inlife expectancy (as a driver), draining of cash reserves (as a car owner), and the inability to maintain normal relationships (as a fan), as we know from experience, those who become intimately involved in this sinfully addicting activity toss all common sense out the window.
Many things associated with this sport just don't add up, as in order to make a fortune, one must first invest a fortune. Purse moneywill never be able match the rising cost of equipment and hitting especially close to home, one of the most glaring discrepancies comes when Indiana promoters actually do offer substantially larger purses, as they are rarely rewarded with a noticeable increase in entrants. However, when three straight April weekends severely hindered the supply of 2019 Hoosier sprint car contests, the most basic laws of economics suddenly restored order to this unruly world. At least for a couple of weekends, the limited supply of events created a huge demand for both fans and racers alike, making me feel like it was 1999 all over again.
Through the first weekend in May, 17 of the 25 traditional Indiana sprint car conventions were cancelled because of Ma Nature's unwillingness to play nice. Two of them came on the first Friday at Bloomington (Bob Kinser Memorial) and Paragon (Johnson Memorial). Additional H2O accumulations from Thursday storms and an otherwise gloomy Friday were not going to stand in the way of Gas City I-69 Speedway promoter/operator Jerry Gappens, Jr., who lost his original season opener on April 26th. Despite objections from track owner Jack Himelick, Jerry rolled the dice and made a bold statement by moving forward with his first event of the year.
With an annoying mist hovering over the speedway for the better part of four hours, despite these less than ideal conditions a respectable front gate gathering supported Jerry's "Spring Fever" showing. Even more impressive than the fan count was the number of machines packing the pit area: 117 across a dizzying array of six classes. The headlining sprint car contingent counted 35, which these days is an outstanding number for just a standard paying unsanctioned program, no doubt a product of supply and demand. With USAC enjoying an off-weekend, several national names were in the house, namely Kevin Thomas, Jr., Justin Grant, Brady Bacon, Dave Darland, Chad Boespflug, Jarett Andretti, and Isaac Chapple.
If choosing to look back on this date, the items most prominent in my memory bank will be the extremely wet, heavy, and character-filled surface and the absolute feature dominance displayed by defending track champion Clinton Boyles, who racked up yet another win for 81 year-old car owner Paul Hazen. Impressively winning his heat from fifth (after a blind pill draw), Boyles opened eighth in the 25-lap finale, needing no time at all to make his presence felt up front. Already tracking third at the conclusion of the first circuit, he split Boespflug and pole-sitter Darland in turn three of lap two, inching ahead just past the flag stand. From there on out, it was all Clinton, all the time. Refusing to relent in these treacherous cowboy conditions, he nearly threw it all away on numerous occasions, including the third turn of the final tour. Lapping inside of the top-ten, Boyles was never challenged in the non-stop, physical affair that saw several big names pull pit side, including Thomas Meseraull (winner of 1 of 2 B-mains) and Boespflug. Justin Grant started sixth and scored second while fifth-starting Kevin Thomas, Jr. took third from fifth. Brady Bacon bagged fourth in Marc Longworth's 410 while local boy Tyler Hewitt found fifth from 14th. Early leader Darland slipped over the edge in three and dropped several spots, settling for sixth. Seven though tenth included Andretti (guided by Donnie Gentry), Matt Westfall, Scotty Weir (from 19th in Scott Pedersen's 4P), and Paul Dues. Impacted by so much rain, the soft and rutted surface was definitely not your standard Gas City go, but Boyles's dominating drive ultimately left me awestruck as I walked back to my vehicle. The risk of a rough racetrack was clearly a chance that Gappens was willing to take, but he advised the crowd in pre-race ceremonies about just how difficult of the decision was to move forward on Friday morning. The flip side of the problematic playing field was a golden opportunity to showcase his facility and willingness to put on a show when all others were dark, as the demand was definitely there.
Even with the challenging conditions, only one sprint car inverted, that being Shane O'Banion's tumble over the bank in turns one and two during hot laps. Nearly tearing off the left front shock tower on his ex-Brady Ottinger 2013 DRC, Shane's father Jeff (a 1996 Lincoln Park Speedway champ) surveyed the damage that also included a right rear bird cage, left rear wheel, left side nerf bar, and numerous radius rods. Unable to tell if the left side down tube was tweaked, the damage was relatively minor in the grand scheme. Switching from flat-track motorcycles to four wheels with roll cage protection, Shane's first crash allowed him to walk away without worry of being nailed by another rider. Eyeing Paragon Speedway results from May 10th, it was good to read that the O'Banions were back in action one week later.
Another newcomer to the wingless sprint car scene was 16 year-old Brayden Clark, son of veteran go-kart and sprint car competitor Mark Clark. Seasoned in winged 602 cubic inch crate engined sprints at Plymouth, Brayden's first ride in a 410 cubic inch powered machine came courtesy of veteran car owner Roy Jackson, with long-time tuner Mike Fisher available for consultation. Clark's debut wasn't without drama, having survived a big-time bicycle in his heat race. Beginning from the pole of the second B-main, Brayden was two spots shy of feature status. Other notables missing the main included Dallas Hewitt (Keen 18), Dustin Smith, and Zane Hendricks (Goodnight/Benic 27).
Aside from Boyles, Gas City opening night heat winners included Chapple, Grant, and Apollo Beach, Florida transplant Anthony D'Alessio, who is employed just up the road at Benic Enterprises. Going to work for the former All Star and World of Outlaw crew chief last July, D'Alessio's victory was notable as he held off Dave Darland in only his second wingless dirt sprint car start.Just 19 years of age and owning experience in Florida's Top Gun series for winged 360s, Anthony's first start sans airfoils came last October at the season-ending Kokomo Klash, using the off-season to purchase and construct his own Spike chassis. Guided by Jimmy Elliott and parked next to his boss and fellow Benic staffers Tyler Hewitt and Scotty Weir, D'Alessio scored a 17th in the feature after starting fourth.
Already mentioning Thomas Meseraull's B-main victory and early feature exit, the 2010 Gas City champion was wheeling a gorgeous number 47 for new car owner Tom Eades. I was able to spend a few moments between events talking with Tom, a former Kokomo Speedway sprint car competitor from the early 1980s. Now calling Sharpsville home and having known Meseraull sponsor Dave Stensland, Jr. (Physical Medicine Consultants) for years, Eades bought and supplied an engine early last season when Thomas's primary mill was damaged on the dynamometer. Now adding a sprint car roller to the mix, his 2019 plans include Gas City and Kokomo with T-Mez installed in the seat. The recently widowed Eades says he thoroughly enjoys his current existence of chasing sprint car tail tanks, adding just how much he appreciates the raw and unfiltered nature of his driver. With no hopes of getting remarried as he nears his 70th birthday, Tom says he is happy spending his money on sprint cars instead, landing in victory lane two weeks later.
Speaking briefly with both Stenslands named Dave (Sr. and Jr.), Junior says he plans on displaying his completely restored 2003 Paul Hazen Stealth later this year, perhaps during Indiana Sprint Week. This particular piece is the one that Jon Stanbrough drove to 19 Indiana feature victories during a memorable 2003 campaign that was otherwise dominated by USAC Triple Crown winner J.J. Yeley. Having purchased the rolling chassis from Hazen shortly after the '03 season, the Stenslands campaigned several drivers in the car, having scored their first feature victory with Steve Ott.
Saturday showers spoiled any hope of heading to Haubstadt for the World of Outlaws, resigning myself to a King of Kokomo collaboration on Sunday night. Thankful for the opportunity to attend my usual Sunday night service, picture-perfect weather and Saturday's statewide sprint car cancellations resulted in a healthy assembly of high-class competitors (33), proving once again that the racers were demanding action due to a severely limited supply. Sunday's front and back stretch population was respectable but not over the top impressive, proving that significant Sunday night crowds require sanctioned events and or holiday weekends.
With such warm and sunny weather making me feel like it was already summertime, as I bemoaned the impending removal of a basal cell cancer from the back of my neck on Tuesday, I liberally applied sunscreen on the drive up U.S. 31, arriving with ample time to meet and greet with long-time acquaintances. The field of 33 proved to be top-heavy on talent and attracted 2010 and 2018 Kokomo Speedway champion Chris Windom and defending USAC sprint car king Tyler Courtney for their first sprint car showings at the Howard County quarter-mile of this year. Both wearing NOS Energy Drink colors for separate squads (Goacher Racing and Clauson/Marshall/Newman), the third NOS nomad in the house was of course Justin Grant (Topp Motorsports), winner of the most recent Kokomo convocation. Rather appropriate, all three would wind up playing a role in the final outcome.
Four hot lap/qualification sessions, four heats, one big B-main, and a 30-lap, $3,000 to win feature (up 5 laps from the usual) were on tap. Naturally, the NOS trio made their presence felt in each of the preliminaries. Windom and Grant (quickest overall at 12.736) were at the top of the timing charts and won their heats while Courtney was at the other end of the spectrum, qualifying poorly and only able to claim fourth in his heat. Grant led the majority of the finale from his pole position start but three early cautions (involving Meseraull, Jerry Burton's Joe Stornetta, Zane Hendricks, Dustin Christie, Coby Barksdale, and Hendricks again) kept him honest.
With seven laps in the books, Grant led first heat winner Dave Darland (winning a three-wide heat one race to the finish with Boyles and Meseraull), eighth-starting Shane Cottle (subbing for a vacationing Shane Cockrum in the Paul 24), 10th-starting Scotty Weir, Windom, and 14th-starting Tyler Courtney back to green. In usual Kokomo fashion, action quickly began to boil when Cottle and Darland exchanged sliders on both ends, allowing a bottom-feeding Weir a whiff of second. Meanwhile, Tyler Courtney maintained his forward momentum with top and bottom assaults, engaged in a big-time battle with Windom, Weir, and Darland. The People's Champ and Sunshine sparred for a few circuits, Darland of course riding his usual rim while Courtney looked low. While Grant had his hands full with lapped traffic, the foursome of Courtney, Weir, Darland, and Windom began to erode his magnificent margin.Ten laps were left when Tyler pulled to Justin's rear bumper and once Chris scooted away from Scotty, it was a NOS-fest up front. Lapped traffic grew thicker for the leaders and once Windom worked in second, he began exploring lower lanes. Screened by Chapple and Brazil's Nate McMillin (aided by former Paragon champ and fellow Brazil native Doug Heck), Grant lost the lead to Big Daddy just before a final caution flew for Jarett Andretti, who lost a left rear wheel on the front chute.
The final three lap dash contained a brief exchange of the podium position between Weir and Courtney, but the results after thirty tours showed Windom winning over Grant and Courtney. Weir and Darland took hometop-fives. Cottle, Chad Boespflug, Travis Hery, Kevin Thomas, Jr. and Isaac Chapple (from 19th) scored sixth through tenth. Clinton Boyles was scheduled to fire from eighth but scratched Paul Hazen's 57 after diagnosing a bent valve during his drive back to the pit area after his second place heat race run. Those failing to crack the feature lineup included Cole Ketcham, Jadon Rogers, Brayden Clark, Steve Thomas, Michael Roehling, Chayse Hayhurst, Dave Gross, Corey Smith (out of fuel), Parker Frederickson, Bryar Schroeter, Ben Knight, and Michael Clark (first heat flip victim).
Fifth place money might not have been enough for Darland's car owner Mike Dutcher, who confided that he's been working five hours a night at FedEx, primarily for insurance purposes. Stuck with a fleet of six sprint cars and several engines that require rebuilding, the longevity of the Dutcher/Darland combination hinges on top-five finishes and expected sponsorship from Mike Curb. Otherwise, it becomes quite a tall task for Mike to stay involved as a car owner, as a sprint car statement of cash flows always indicates that the amount of cash used for operations exceeds the cash generated from winnings. Despite skyrocketing costs, with car counts remaining relatively unchanged, unfortunately track operators/promoters have little motivation to pay more. Of course, this is a direct detriment to car owners like Mike Dutcher, who are truly a dying breed.
Meeting 24 year-old Guilford, Indiana mini sprint graduate Michael Roehling for the first time, Michael's ninth time in a sprint car came in a number 43 that sported Wolf Motorsports decals. The main man behind Wolf Motorsports is Aurora, Indiana's Barry Tibbits, who pays homage to his lifelong mentor Greg Staab. Knowing Staab since he was 13 and assisting in his racing endeavors, both Barry and Greg worked for the city of Cincinnati at the same time. Greg once campaigned a USAC sprint car under the Wolf Motorsports banner and was known for offering opportunities to younger drivers. His legacy continues with Tibbits, who provides equipment for Roehling, TQ terror Callie Wolsiffer, and Scott Mead, the latter spanning 20 years between sprint car rides. Michael's machine was an aging 1996 Competition Welding, powered by an ex-Taylor Andrews/Sport Allen 360 cubic inch steel block once utilized by B&L Motorsports and Bryan Clauson. Planning on putting a fourth car together, Tibbits's goal is to become the Keith Kunz of local sprint car racing.
Five days later, I was making a late afternoon dash to Eldora Speedway for their highly anticipated Let's Race Two weekend. Exiting Indy's northside at 4 PM and hoping to arrive by 6, there was literally no room for error if I wished to catch the green flag for hot laps. Perhaps the impact of the supply and demand of sprint car contests can best be exemplified by the monumental anxiety experienced as I sat in I-70 gridlock between the New Castle and Connersville exits. In this modern era, Eldora only supplies two weekends of traditional sprint car racing and knowing that I would be missing a portion because of a traffic jam (and my inability to use smartphone technology), that meant I'd have to push on the pedal even harder in an attempt to make up for lost time. Extricating myself from the madness at State Road 1, my plans were further altered when I was stopped by a Norfolk Southern freight train, using the downtime to change from work clothes to race gear. Unable to fully complete the switch, some hard driving was done in my socks, trying to keep my speed overage to a reasonable level. Arriving in one piece and in enough time to catch USAC sprint car qualifications, my reason for this hardcore hustle was my hunch that a new one-lap record would be produced in the cool and cloudy conditions. Learning my lesson, I'm either leaving earlier or utilizing U.S. 36 as soon as possible. In my 34 years of Eldora attendance, never once have I encountered a traffic snarl on this trusty two-lane.
Sending notice to camping hosts Tom Percy and Trevor Valentine to wrap up my dinner and save it for later, once on the grounds Isprinted to the credential window and power-walked to my usual front stretch/turn one vantage point. The limited supply of Eldora sprint car contests influenced my irrational behavior, also impacting the overabundance of Friday night contestants. Full fields of USAC (37) and World of Outlaw (49) machines were ready for battle and outside of the Kings Royal, that WoO figure was the largest Eldora winged sprint car count in 15 seasons according to microphone maestro Johnny Gibson. The USAC number was significant in that a new rule was in place when car counts exceeded 36. With that rule, the qualifying field would be split into two groups, the first aligning heats one and two while the second aligning heats three and four. Even with iffy Saturday weather, USAC's count only dropped by four while the WoO only lost six.
Despite such ideal conditions for record-setting circuits, Jerry Coons, Jr.'s USAC mark of 14.712 from September of 2006 and Craig Dollansky's World of Outlaw standard of 12.707 from April of 2002 still stood tall after the weekend was over. Eighth in line in the first group on Friday, C.J. Leary's lap of 15.203 seconds (Reinbold/Underwood 19AZ) was the best of the USAC bunch. Fifth from the end of the order, Brady Bacon's 15.347 (Hoffman 69) was number one in the second group and number two overall. Going out 15th on Saturday, Leary once again logged quick time at 15.546 seconds, his third such feat in a row. Zane Hendricks's initial Eldora sprint car outing resulted in a nasty backstretch tumble during Friday qualifying, this after blowing the cushion big-time through turn two. After scratching from the remainder of Friday's activities, Zane returned with a repaired ride on Saturday and nailed the ninth-best lap from qualifying, clearly showing that he's not afraid of climbing back on the horse at such a daunting venue.
The Outlaws were also separated into two qualifying groups on Friday. Shane Stewart (CJB 5) came closest to the record with a time of 12.825, using the bottom half of the juiced-up surface. Kokomo's Parker Price-Miller was best in the second group in Bernie Stuebgen's 71, sporting a stout 12.881. From Friday, 11 cars slipped beneath 13 seconds, with the vast majority clocking between 13.0 and 13.2. Saturday's Outlaw times were even better with David Gravel's 12.773 (Johnson 41) coming in the first half. Christopher Bell (Swindell 39) 13.025 was best in the second. Pondering why the WoO record can't be topped some 17 years later despite significant gains in horsepower, many were pointing to the lack of a minimum weight rule in 2002. In addition, we all remember the top groove being banked a lot higher. Single car qualifications might be time for others to hit the concession stand or t-shirt row, but for me it's all about the thrill of witnessing history, which is a rare thing in any kind of racing these days.
As always, bringing together these two ends of the sprint car spectrum for two nights highlights the stark contrasts between these sanctioning bodies. Without question, the winged warriors are breathtaking at Eldora, especially come feature time when the top dogs thread impossibly thin needles at breakneck speeds. However, I will never understand the lack of inversions in World of Outlaws heat races, completely emphasizing qualifying as overtaking is extremely rare after the first circuit. An up-front heat race start will often lead to a similar finish, with the only pre-feature wildcard coming during the draw for the trophy dash lineup. True to form, five of Friday's six Outlaw heats saw the top two finishers come from the front row. The lone exception came in the fifth heat, when most recent Eldora WoO winner Christopher Bell slid pole-sitter Daryn Pittman through turn two on the final lap for the all-important second position.
USAC's heat race format inverts the fastest six qualifiers, recalling that it wasn't that long ago when heats were totally inverted (oh how I wish we could go back to those days). Nevertheless, Friday's USAC heats offered plenty to see, as winners came from third (Chad Boespflug – who hurt an engine in the process), fifth (Tyler Courtney), and sixth (Brady Bacon and Carson Short). On Saturday, three of the four heats were won from sixth, with Kevin Thomas, Jr.'s last lap slide for life on Eldora expert Chris Windom serving as a huge surprise. Friday's ass-kicker Courtney caught the wall on Saturday and miraculously escaped a wild ride.
The WoO C-main offered further proof of how crucial qualification performance is in the winged world. This super-stacked contest contained 2018 Four Crown WoO winner Brent Marks along with traditional Eldora heavyweights Paul McMahan, Dave Blaney, Jac Haudenschild, Gary Taylor, and Chad Kemenah. Sadly, the latter five loaded up far too early. Say what you will about the modern multi-groove Eldora Speedway that allows for side-by-side action, but something ismissing when the world-famous Wild Child tries the top but literally goes nowhere.
I already let it slip about Tyler Courtney's killer feature performance. Starting seventh, last year's Four Crown winner needed six laps to stealthe top spot from Kevin Thomas, Jr. After that overtaking, he waved bye-bye, aggressively attacking the top shelf in vintage Eldora fashion with what appeared to be a large left rear tire attached, ala Jack Hewitt. While Sunshine was half-tracking the field, all eyes turned to the hotly contested scrum for second in which C.J. Leary worked overtime to wrench second from KTJ, exchanging the position no fewer than five times. Leaving just 12 laps and over a straightaway to track down the leader, instead Leary had his hands full while attempting to fend off Brady Bacon and 10th-starting Chris Windom. Despite the heavy pressure, that's exactly how they'd finish, with Courtney collecting his first USAC sprint car score of the season. Leary, Bacon, Windom, and Short were top-five material. Thomas, Chase Stockon, Justin Grant, Jason McDougal, and hard charger Isaac Chapple secured sixth through tenth. Courtney was so dominant that just six cars finished on the lead lap, with pole sitter Grant overtaken by Sunshine late in the going.
Dave Darland broke a rear axle on the third tour and flipped high and hard through turn four. Tossing his steering wheel aside and somehow figuring out a way to exit Mike Dutcher's mangled mess, after getting checked out by doctors, the black and blue veteran was a Saturday no-show. Eighth-fastest Robert Ballou made his Eldora Speedway return but was a feature DNF. 2017 Let's Race Two runner-up Dallas Hewitt finished one spot out of the A-main.
Indiana pals Kyle Moody and Robert Cain arrived in my same section for feature action, joining Tom, Trevor, and Tom's western PA friends Matt and Joe, reinforcing the notion that Eldora remains the ultimate venue for renewing open wheel acquaintances. Hamming it up before Friday's festivities came to a close, with Donny Schatz drawing the pole for the first of two trophy dashes, as expected he would claim the victory and start alongside Carson Macedo (Larson 2) for Friday's 30-lap finale. While Schatz stayed low on both ends of the first lap, Macedo constructed some significant momentum up top. That momentum allowed Carson to serve a timely slider through one and two, only to be countered by a similar move from Schatz in three. The second circuit would be the only occasion Donny gave up rights to first place, building a full straightaway advantage on fifth-starting Logan Schuchart at the crossed flags. But, it was Logan's high side heroics that allowed him to completely close the gap by lap 25. However, once Logan returned to the bottom, Schatz sealed the deal. For the third time in a row in this Let's Race Two tussle, Schatz and Schuchart ran one-two. Macedo took third while David Gravel got fourth. Jacob Allen impressed in his drive from ninth to fifth. Bell, Tim Kaeding (Sides 7), Price-Miller, Gio Scelzi (from 14th), and Ian Madsen completed the top-ten. Looking deeper into the results, Kraig Kinser started 24th and finished 12th. Additional notables missing the main event included Brady Bacon (7th in B), Dale Blaney, Sheldon Haudenschild, Greg Wilson, and Cole Duncan. After claiming the C and taking 12th in the B, Marks popped a provisional pill to earn 18th. Bacon was the only one doing double duty on Friday while Bill Rose added his name to the list on Saturday after arriving with a pair of machines, aided by Doug Porter.
Camping overnight with Tom and Trevor and arising for breakfast at Ansonia's Whistle Stop (where two CSX trains thundered by), since I was doing the driving an obligatory stop for a sack of Maid-Rite sandwiches became an option. Bumping into long-time Eldora attendee Kevin Lindley along with PA pals Matt and Joe, Maid-Rite is indeed an institution. On the way back, we meandered by Earl Baltes's old mile-track configuration on McFeely-Petry before I got to work on the Gas City and Kokomo portions of this article while Tom and Trevor took a walk. Saving the Maid-Rites for Sunday, Monday, and Tuesday, a quick pre-race snack of similar loose-meat sandwiches was concocted earlier in the week by Tom's wife Carla. In an attempt to beat impending rain, hot laps were set for an hour earlier at 5 PM, allowing me a 90 minute tour of the pit area.
My first stop came at Dave Blaney's number 98, curious about his chassis of choice. As it turns out, Dave designs and builds his own cars, noticing his bell-crank/cantilever configuration that activates longitudinally mounted coil springs located between the frame rails. Harkening back to a design perfected by Gary Stanton with his sprint and Silver Crown cars from the mid-1990s, Dave noted that his brother ran this type of car back in 2001.
After saying hello to long-time sprint car competitors Corey and Dustin Smith (active in sprint cars since 1994 and 1995, respectively), St. Paul, Minnesota attorney Brian VanMeveren was the next stop, wondering how he felt about his initial Eldora appearance. Despite having little or no stopping power in the feature, Brian's first outing was deemed a huge success, starting 23rd and finishing a respectable 16th. Earning mechanical assistance from Mike and Jimmy Wingo for 2019, VanMeveren owns this year-old DRC chassis purchased from Kevin Thomas, Jr., who used it to win last year's Oval Nationals. With more than 50 races planned for this season, Brian is searching for sponsorship (his lone sponsor paid for two barrels of fuel) and an experienced local crew, as the Wingo brothers are only available on NHRA off-weekends since their bread is buttered as crew members for the Torrence and Schumacher squads. Before the rains came on Saturday night, Brian qualified a solid 15th and transferred through his heat race.
USAC's new point leader after Friday was C.J. Leary, who in the off-season insisted that Davey Jones be the one who calls the shots on his 2019 ride with Reinbold/Underwood Motorsports. Hooked up with C.J. since last year's Indiana Sprint Week rounds, Jones is extremely optimistic about this New Year, lauding both his extremely focused driver and generous team owner. Formerly a driver who claimed the title as the world's tallest sprint car chauffeur, Reinbold providestwo of the lightest and most-bad ass machines Davey has ever had the opportunity to construct. Carbon fiber and titanium components were abundant on C.J.'s car, with the only aluminum piece being the belly pan. Despite finishing second to Tyler Courtney on Friday, Davey noted that he had one more trick up his sleeve for Saturday. Still receiving input from his father Bubby and longtime friend Doug Wolfgang on how to go faster, Wolfgang went out of his way to locate a special right front Hoosier tire that would provide just a tad more stagger. And when asking about the condition of Davey's dad who was recently diagnosed with lung cancer, Davey opened up and offered that Bubby's first round of chemo came one week earlier. The chemo had essentially "kicked his ass", as he was down to just 98 pounds and had lost his head of hair in the process. But, in the days leading up to Eldora, he began feeling better and had actually gained eight pounds. Having lost my mother to cancer eight years ago, it was tough talking about such an uphill battle, but one can only hope that Bubby can dig deep and find a way to beat the odds.
At the end of my Saturday afternoon stroll, I bumped into Kokomo's Kevin Smith at Robert Ballou's number 12. Having been employed the last two seasons for Clauson-Marshall Racing, I immediately noticed that Kevin was wearing a non-descript sweatshirt and in speaking with the former mini-sprint driver, he confided that they had parted ways earlier in the week over a difference of opinion. Smith was on-hand to keep his name out there and explore any available options.
Sadly, Saturday's 200th USAC sprint car race at Eldora was not meant to be. Hot laps actually began at 4:45 PM but after qualifying 76 sprinters and running five of eight heats, the light rain that began to fall ultimately called an end to the weekend. This USAC-WoO doubleheader was postponed to Wednesday July 17th, the night before the Indiana Sprint Week opener which also serves as the opener for a huge Kings Royal weekend. Given the limited amount of Eldora USAC offerings, I was already evaluating the need to rearrange my Sprint Week PTO request at work.
Removing my belongings from the camper and bidding a premature farewell to Tom and Trevor, the early evening drive at dusk proved to be bittersweet. Following Brady Bacon's merchandise trailer into Union City and spotting his sprint car at the car wash, once reaching Lynn, Indiana on U.S. 36, spitting rain turned to a brief downpour, needing to intermittently run the wipers the rest of the way and justifying the cancellation. For nearly two hours, I had ample time to reflect on the number of times I have traveled this route for trips to and from Eldora Speedway. Instantly craving a return to the late 1980s and early 1990s when so much enthusiasm and excitement came from these early season excursions, back in the day I would have attended a handful of Eldora events by now. These days, my supply is sadly limited to just two or three times each year, thus accounting for such aconsistently strong demand.
Although sprint car racing continues to defy most avenues of logic and reason, rather surprisingly the most basic law of economics does manage to apply. Some 25 years removed from my Ball State studies, I'm still trying to use my head to comprehend why I continue to chase these races with such inexplicable frequency. Rather appropriate,it comes with little shock that I've come up empty-handed in my conclusions.
Volume 21, Number 1
Winter Thaw
Equating to my final outdoor outing of the 2018 season, it's been nearly six months since my last internet installment. If you've grown accustomed to gaining your open wheel insight from this outlet and you're still in search for the latest update, then I salute you for your loyalty and dedication.
For someone who once considered himself the voice of Indiana sprint car racing, six months is a long time between writings. However, since I started blogging back in 1999, so much has changed with the availability of open wheel information. Originally wishing to offer a detailed alternative to the blurbs found in National Speed Sport News, the advent of message boards, Facebook, Twitter, Instagram, and live on-demand programming have rendered my writings obsolete, often wondering why I still struggle to get something out there for the masses. Unlike the professionals who can pound out a piece in an hour, it literally takes me days to sift through my notes and come up with the same words, resulting in a mind-boggling time commitment that feels more like work than pleasure. Pondering the day when I might gain the guts to sign off for the final time, I'm not sure if it's the warmer weather, my desire to stay involved, or my obsessive compulsiveness to maintain unreasonable traditions, but here I go again. With ever-increasing work demands that ultimately drain creativity, I cannot promise how many of these I will publish this year, but for now I'm thinking one per month.
The last six months of my world have indeed been eventful – some things good, some not so much. The highlights included an awesome Arizona vacation (Grand Canyon, Scottsdale, and Apache Trail) and some obligatory family time during the holidays. However, there were far too many lowlights, as another lousy Indiana University men's basketball campaign dominated my dissonance. A Victor Oladipo injury (costing the Pacers a realistic chance at going deep into the playoffs), my own injury (a torn bicep that I'm still rehabbing), and a stressful busy season at work nearly drove me insane. Surprisingly, my only racing diversion in the last six months was the first night of the Fort Wayne Rumble, bypassing golden indoor opportunities in St. Louis and Du Quoin. Although I was not enthused about returning to the internal pressures of writing on a regular basis, I did long to get out of the house and do something different. One week after a planned voyage to Twin Cities Raceway Park was eliminated, the open road finally called on March 23rd, as Brownstown's $7,500 to win and $400 to start No Way Out 40 was too tempting to pass up.
After spending the better part of the gorgeous sunny afternoon troubleshooting an electrical issue on my '67 Firebird with Hut 100 and Turkey Night winner Warren Mockler, there was no time to make any special stops for food, beverage, or sweet treats. Reaching the Jackson County Fairgrounds in about 100 minutes, rather than adding an additional $15 pit pass I chose to keep costs low by opting for a $25 covered grandstand seat. With daytime temps at or near 60 degrees, I still loaded up on clothing layers and by the time the feature concluded at 10:23 PM, I'm glad I did.
I never did get an official count of sprint cars on the evening, but my notes showed 34, offering an interesting array of national stars, locals, and newcomers. I expected a few more, as this purseis always the highest in the state for non-sanctioned shows. Despite the same day USAC Silver Crown asphalt assignment in Memphis, Brownstown biggies included reigning USAC sprint car champ Tyler Courtney, Dave Darland (debuting his own DRC/Claxton combo), Robert Ballou, Kyle Cummins (Byram 3R), Jason McDougal (Pottorff 11), Chad Boespflug, Shane Cottle (Dutcher 17), Carson Short, Isaac Chapple, Matt Westfall, and Joe Stornetta (Burton 04).Brady Short (in another Pottorff 11), A.J. Hopkins, Jordan Kinser, Dakota Jackson, and Colten Cottle represented the best of the locals.
One would think that the sound of sprint cars for that first hot lap session of the season would get my juices flowing and knock off the rust, but to be quite honest, it just didn't get the job done. Perhaps I've been desensitized by such endless off-season mind-clutter and ablack cloud that I cannot seem to escape, but group qualifying and heat races (all won from the front row) failed to move my needle. However, I was jarred from my wintertime slumber when Brady Short took one of the worst rides in recent memory during heat three. After hitting a turn one rut and snap rolling four or five timesover the banking, somehow Sweet Feet was able to exit his Maxim under his own power. Action finally started to heat up in the first of two B-mains when Colten Cottle surprised Joe Stornetta with a last turn, last lap sweep for the final transfer. Call me old school, but whatever happened to meaningful B-mains filled with more than ten cars?
With minimal support class clutter (just 10 crate late models, 10 street stocks, and 15 modifieds), the evening rolled along with respectable efficiency, leaving enough time for old-fashioned front stretch driver intros. Emceed by the unmistakable voice of longtime late model expert James Essex, my frozen soul started to thaw, aided by the positivity of my nephew and his boisterous posse. An uneventful evening was about to do a 180, as the action-packed 40-lap feature was one for the ages.
Carson Short, Stephen Schnapf, Kyle Cummins, and A.J. Hopkins, all heat winners after front row starts, also began from the feature's first two rows. After escaping the early grasp of Hopkins, the other Short attempted to make a mockery of the proceedings by leading the first 36 laps. But, when there were two reds, four yellows, and Delaware double-file restarts, 40 laps allowed all kinds of opportunities for recoveries and overtaking. Just ask Kyle Cummins.
After opening third, Kyle's first lap, first turn tilt on two wheels sent him back to seventh. Quickly recovering, he was back to fourth by the time of Isaac Chapple's big-time bike on lap nine. Sent pit side, Chapple's left front torsion arm was sitting underneath the axle. As if you couldn't tell by now, Brownstown's springtime surface was soft, wet, and heavy.
Soon after the green laundry was displayed, Cummins had a heated joust for second with Hopkins. When A.J. turned from top to bottom through turn four of the 12th tour, Kyle was directlyin his path, forcing the Rock Steady racer into a spin. Tyler Courtney had already advanced to third after opening 11th, slipping into second after the restart. But, a couple of quick cautions for Braxton Cummings and a red for Chad Boespflug had Cummins back in the mix: fifth with 16 laps remaining.
Once again, the Flying Illini flexed his muscle with a strong restart. But behind him, Hopkins, Courtney, and Cummins aggressively sliced and diced in an attempt to get close to the leader. Similar to their lap 12 altercation, Hopkins and Cummins again made contact through the north end on lap 35. This time, it would be A.J. who was spinning sideways. Hammering the throttle on his Jeremy Ottinger 4J, Hopkins's 360 degree spin turned into a wheel stand and wicked hydroplane blow-over/pirouette.
Low right rear air pressure for second-running Courtney opened the door for Cummins to offer an up-front challenge in the final six-lap dash. Tackling the tricky and choppy top shelf, Kyle made big gains and once pulling even, it didn't take long for the Princeton pilot to find his way to the promised land.Even a final lap bike could not faze him, such an emotionally satisfying score in his first race back with his old squad. Short, Ballou, Courtney, and McDougal rounded out the top-five. Westfall, Darland, Jackson, Shane Cottle (from 18th), and Andrew Prather (from 20th in the Knight 16) scored sixth through tenth.
Capping the outstanding opening night feature with a late-night feeding frenzyat Freddy's Frozen Custard and Steakburgers in Seymour, I was joined by Danny, Joey, and Socko as we recapped the solid start to our Indiana outdoor agenda. Yes indeed, it felt good to be enthused about something once again, and that In-N-Out style burger, fries, and mint chocolate concrete mixer tasted even better than imagined.
Projected wet weather for the following Saturday resulted in an earlypostponement of Lawrenceburg's March 30th USAC sprint car round to April 20th (which has since been cancelled altogether). At least in Indy, it was correct call, especially when rain turned to a heavier than expected accumulation of snow. Thankfully, the white stuff was no longer evident when Friday April 5th arrived. Easily the earliest Kokomo opener I can remember, the two-night Kokomo Grand Prix of USAC midgets and local sprints was only the third such event in its brief history when weather has not intervened on at least one evening. Still reeling from the news that this year's Hoosier Hundred would be the last auto racing event held at the Indiana State Fairgrounds, my fear is that this will become the new norm in my world, as so many long-standing traditions and places that are near and dear to my heart (Nickel Plate Railroad, Nickel Plate Bar and Grill, the Indiana Transportation Museum) are disappearing at a far too rapid rate. The fact is, racing is a business and only the strongest tracks and series will survive this era when margins and interests are thin. If anything, I should be thankful that we still have as many options as we do in Indiana. However, I get the distinct feeling that they won't be around forever, as nothing is sacred anymore.
Needing just 45 minutes to make it from Castleton to Kokomo thanks to an appreciated absence of traffic, my hustle to change from work to race clothing beside parked railroad cars was quite the surreal experience, hard to imagine that these excursions were becoming a regular thing once again. Also surreal was the opportunity to take in a race with Auckland, New Zealand's Bryce Townsend, his Hoosier host Alan Rush, and Florida refugee Mark Frazier. Townsend was in town to tidy up details for his upcoming 30 person Indiana Midget Week tour, convenient that it coincided with a pair of midget/sprint twin bills in Kokomo.
A tale of two completely different evenings, this particular Grand Prix offered something for everyone. After all-day Thursday and early Friday morning rain, a soft, wet, and narrow surface was the end result on opening night. On the cool and crisp Friday, crashes were common, and overtaking was challenging but not entirely impossible. Saturday started much warmer and with drier conditions, the wider surface offered a pair of jaw-dropping conclusions for which Kokomo Speedway has been famous since its 2005 reconfiguration. Well worth the six month wait, shows like Saturdayare why people plan their vacations around Kokomo's schedule, fortunate that there are passionate people like the O'Connors who are willing to invest such time and money to provide such a pleasant diversion.
Grand Prix midget counts of 32 and 29 were extremely healthy. Saturday midget defections included Justin Peck (off to win a winged Atomic sprint show), Tyler Nelson, and Tony DiMattia. Midget super teams were in the majority, giving reason for the quality-filled field. Keith Kunz carried five Bullet-Spike/Toyotas for reigning national champion Logan Seavey, Tucker Klaasmeyer, Tanner Carrick, rookie Jesse Colwell, and another rookie in Holley Hollan. Clauson-Marshall fielded four Spike/Stanton SR-11x combinations for Tyler Courtney, Chris Windom, Zeb Wise, and Andrew Layser. Scott Petry provided Spike/Toyotas for Kevin Thomas, Jr., Cole Bodine, Jerry Coons, Jr., and Sterling Cling. Tucker/Boat boasted three Spike/Toyotas for Chad Boat, Dillon Welch, and Karsyn Elledge. Dave Darland and Thomas Meseraull were RMS teammates while Jake Neuman and Ace McCarthy came from the same Neuman stable. Justin Grant (RAMS Racing), C.J. Leary (FMR), and Jason McDougal (Steve Reynolds) represented the best of one-car efforts. As I have stated in the past, when one team is not dominating the midget win column, it influences participation from so many more.
Compared to midgets, sprints were somewhat thin at 23 and 21. Jarett Andretti and Brady Bacon were Friday fliers but left for Lawrenceburg on Saturday. Even after a highly successful Friday, Chad Boespflug bolted to Atomic for a FAST winged war. Saturday-only specials included Scotty Weir (Pedersen 4P), Corey Smith, and C.J. Leary (Reinbold-Underwood 19). Those doing double-duty on both nights included Darland, Meseraull, Thomas, Grant, and McDougal. Leary added to that list on Saturday.
Friday sprint car competition was all about Chad Boespflug. Back with 2016 and 2017 owners Fred Zirzow and Chuck Eberhardt, Chad's dream evening was an absolute clean sweep, clocking the quickest overall qualifying lap (12.559), scoring a heat race win, and eventually landing in victory lane after a green to checker feature romp. Beginning from the pole position and with sun visor flapping in the breeze, Chad rocketed to an early advantage over first heat winner Darland. From start to finish in the non-stop affair, nobody could offer number 98 a challenge. Owning a full-straightaway advantage at the conclusion, the victory would be Boespflug's first at Kokomo Speedway in well over a decade of trying. Jason McDougal (Phillips 71P) started sixth and methodically moved his way forward, stealing second from Darland just past the halfway mark. Grant also overhauled the People's Champ while second heat winner Jarett Andretti (with father John on site) rounded out the top-five. After failing to post a qualifying time, 2018 Gas City champion Clinton Boyles elevated from 11th to 6th in Paul Hazen's 57. Kevin Thomas, Jr. (Hayward-Thomas 19), Brady Bacon, Thomas Meseraull, and Cole Ketcham were seventh through tenth.
With mechanical expertise from veteran Tray House helper Chuck Castor, Dave Darland's family ride harkened back to an era when Dave was just a local competitor hoping to make a name for himself. These days, his ownership of equipment came out of necessity due to uncertainties surrounding his ride with Chase Briscoe. Originally purchasing a Mopar-Claxtonmill from Kenny Baldwin with hopes of teaming with Mark Hery, once it was determined that Hery couldn't commit to a significant schedule, Dave also acquired Baldwin's raised-rail DRC. Hard to imagine that we've come to a day when a living legend must control his own destiny to stay active, much like that Hoosier Hundred tradition, what is the next item on the chopping block?
If speed is your thing, then Friday's midget preliminaries were right up your alley. In this age when most major racing disciplines are dumbed-down, it was great to hear Rob Klepper's rendition of "it's a new track record" not just once but four times. Initially, it was Logan Seavey breaking Rico Abreu's former record (13.009) twice.Next, it was Tyler Courtney's turn. Finally, it was part-time driver Dillon Welch, moonlighting from his full-time MRN announcing gig. Dillon's time of 12.665 will serve as the standard when midgets make the final Indiana Midget Week stop in June. Upside down excursions were quite common on night one, with Chad Boat (hot laps), Justin Grant (heat), Tyler Nelson (semi), Tony DiMattia (feature), and Andrew Layser (feature) going for some serious rides. Boat was the lone one of the five who was able to continue after the carnage.
Ninth-fastest qualifier Kevin Thomas, Jr. shared Friday's midget feature front row with Thomas Meseraull. Last year's Midget Week winner was up front for the first 14 laps, but it came as no surprise that second heat winner Tyler Courtney would offer a threat from his sixth starting spot, as he's always so stout at Kokomo. After a brief battle with teammate Chris Windom anda caution for Justin Peck, Tyler's early apexing of both ends netted him the lead. Despite two moreyellows, one red, and one last ditch effort from a high-flying McDougal, Sunshine scored his third series victory of the season in four 2019 attempts. Closing with superb style points, McDougal's massive wheel stand resulted in a solid runner-up in his Flea Ruzic designed and wrenched Ripper by Jetson chassis. Windom, Zeb Wise (from 12th), and Thomas tallied top-fives. Seavey, Meseraull, Welch, Leary, and Carrick (from 16th) were sixth through tenth.
Saturday's pit walk allowed me to catch up with master fabricator Flea Ruzic, proprietor of Millennium Components (bumpers and axles) and the man behind McDougal's impressive Friday night showing. Having campaigned Karter Sarff for the past year with owner Steve Reynolds paying the bills, Ruzic wished to further evaluate his Ripper by Jetson chassis by employing McDougal in this high-profile affair. Once holding a management position with Stealth Motorsports, heading up Loyet Motorsports with Rusty Kunz, and designing the F-5 midget chassis, more recently Flea built BOSS chassis for Kenny and Austin Brownand wrenched on their stuff as well. Ruzic's designs have resulted in the sale of 190 BOSS midgets over the past several seasons. This Ripper by Jetson is all his own creation, initially just wanting to build a car that wouldn't bottom out with heavier drivers. With different tube heights and pickup points, even the body is the result of his own handiwork after fabricating the original aluminum panels. As old school as they come and owning a wicked sense of humor, the former dirt late model and midget chauffeur names each one of the cars, paying homage to a racing name he once employed as a joke: Rip Jetson, from Cornbelt, Iowa. As an example, Flea's two creations in the Kokomo pit area carried the monikers "Sally the Ripper" and "Jack the Ripper". By the way, his Ripper Chassis can be purchased directly through BOSS.
While lunching at Wheeler's Café near Perkinsville on Saturday, the RAMS Racing Twitter account provideda pair of pre-race posts that would set the tone for the remainder of the day. Making an average person believe that Justin Grant's ride was in jeopardy, I'm still not certain if those posts were made in jest or if they were meant to motivate, but Justin certainly stepped up his game on night number two and served as the overall story in both divisions.
Qualifying quickest overall in the sprint cars (13.108) and fourth in a backup midget, he secured second in both sprint and midget heats. Leading most of the sprint feature, he fell victim to late-race full-court press applied by pole-sitter Kevin Thomas, Jr., who pounced following a lap 22 restart. Far from finished, Grant willed his way underneath Thomas in the first turn of the final lap and stayed hard on the hammer, making a beeline to the backstretch wall and refusing to give his nemesis an inch. KTJ held his ground and proceeded to climb the concrete, catching a fence pole with his right rear wheel which dangerously stopped the number 19 DRC chassis in its tracks. After crawling from the wreckage, an irate Thomas hailed a four-wheeler and took a ride up to Grant's machine in turn one. My view of the ensuing discussion was blocked, so I could not see if KTJ landed any punches, but of course the controversy ratcheted up the evening's intensity. The remaining one lap shootout was claimed by JG, who defeated Thomas Meseraull, Jason McDougal, C.J. Leary (up from 8th), and Dave Darland. Just as he did in his heat race win, early leader and outside front row starter Scotty Weir encountered rear brake caliper issues in the feature and settled for sixth. Aaron Farney, Travis Hery, Matt Westfall, and Clinton Boyles (from 19th) rounded out the top-ten finishers.
While standing in victory lane, Justin Grant said that he didn't see Thomas on the backstretch and was in the process of setting up for his signature run off the cushion in turn three, so any outside maneuver in that area was not a good move. In a very matter of fact and old school manner, he reminded us that Topp Motorsports and NOS Energy Drink hired him to win races, and that's what he was here to do. Like it or not, this is exactly the type of action, attitude, and drama that hardcore fans thirst for. I for one love the passion and fire from the two protagonists. If there's a chance I'll witness a similar ending the next week, you can bet yourbottom dollar that my butt will be in the seats.
As luck would have it, Grant and Thomas would start side by side in the midget finale and would ultimately decide the outcome through the final corner of the final lap. As I tweeted later that night, NASCAR, let alone any sanctioning body, could only hope for such a script!
Prior to that epic ending, Chris Windom and Jason McDougal shared front row seats for the 30-lapper. McDougal got the jump to turn one but Thomas immediately made his presence felt with a bold bomb tossed in turn three. McDougal's dip and dive maintained his position out front until caution came on lap eight for Holley Hollan and Cole Bodine, the latter earning a hard-fought final transfer from the semi-feature. The resulting restart saw the second-running Grant make his move for first while behind him, fifth-starting Tyler Courtney was using a machete to knife his way through the jungle. First disposing of KTJ, a see-saw battle with teammate Windom resulted ina third place exchange – no fewer than five times in just a couple of circuits. However, a mysterious crater in the middle of turn one caught Courtney by surprise. Flipping but able to be rolled back to the pits, after minor repairs Sunshine was back in business.
Over half the race was left, but three cautions and one stoppage (Ethan Mitchell) allowed plenty of opportunities for overtaking on restarts. McDougal was able to hang with Grant, but it would be fourth-running Thomas who mounted momentum for a late-race surge. Attempting a third-turn slider on J-Mac with five to go, Kevin manned the middle on the opposite end to snag second. One final caution for Cole Bodine set up a two-lap showdown and a rehashing of the crazy sprint car conclusion. Although Grant appeared to have the upper hand as he exited the second corner on the final tour, Thomas put it all on the line with a humongous turn three slide for life. While KTJ explored the upper limits of turn four, Grant performed the obligatory crossover as they dueled wheel-to-wheel to the line. Too close to call by the naked eye, electronic scoring showed KTJ claiming the win by a nose hair (0.015 seconds) in his Petry Motorsports Spike. Grant settled for an unsavory second while quick qualifier Zeb Wise (13.542) was in the mix at the end, just waiting to pounce from third. McDougal and Leary were fourth and fifth while Windom, Klaasmeyer, Seavey, a recovering Courtney, and Meseraull scored sixth through tenth place money.
Thomas received a hearty round of applause while telling Rob Goodman just how bad he wanted to win that race, appreciating how Grant had run him clean on that last lap despite their earlier mishap. Giving credit to his team for cooling him down after the heated sprint car conclusion, this was Scott Petry's first USAC victory as a car owner.
If you liked the sprint and midget endings, you'll no doubt want to be in the same place for the Indiana Midget Week finale in a couple of months. Sooner than that, Kokomo hosts a unique doubleheader with the FAST winged sprint cars and BOSS traditional sprints on April 28th.
Continuing my trend of celebrating fantastic features with a post-race snack, once again I followed my nephew's lead with a trip through the Cone Palace drive-through on the south side of Kokomo, opting for a couple of corn dogs and a pineapple shake. No doubt about it, I was feeling good on this early April evening.
Less than one week later, I was bound for Bloomington, Indiana for the USAC sprint car Larry Rice Classic, the first race in which the United States Auto Club was both promoting and operating the 96 year-old Bloomington Speedway. Leaving work at a frightening 5:15 PM, the task of getting through Friday rush hour traffic was daunting at best. Actually making good time despite stop and go conditions on I-465, 90 minutes later I was changing clothes in the Bloomington parking lot while sprint cars were mysteriously silent.
As I would learn later, the reason for suchsilence was Brian VanMeveren's massive flip over the bank in turns three and four, landing cage first in the infamous drainage ditch. As far as I knew, Brian was not injured in the incident, interesting to observe crewmembers searching for something in that ditch an hour or two later. Able to catch the last eight or nine cars of the 26-car qualifying order, I had unfortunately missed a new one-lap record being recorded by C.J. Leary. 10.685 seconds is the new mark, remembering when that was a good time for a winged sprint car some thirty years prior. In total, nine cars dipped beneath 11 seconds, a sure sign that the red clay was plenty tacky.
While hustling up the hill, the most noticeable impact of USAC's takeover was the temporary grandstands erected on the ancient concrete slabs that had been buckling for the last several decades. Arriving far too late to grab one of those precious seats, I instead stood at the first utility pole at turn one, eventually finding Bryce Townsend and Alan Rush on the turn four side of those new stands. Quite a contrast to the old Bloomington that I have known since 1982, gone were the options of standing in the second level of grass just south of the tower, not to mention my favorite vantage point along the asphalt in front of the concession stand, disappointed that those views were completely blocked by those imposing stands. The first track where I attended a dirt sprint car contest, the first track where I was ever employed, the first track where I served as a public address announcer, and the first track where I was stranded by both my brother and parents (long before cellphones were common), obviously this place offers many special memories. Due to the distinct possibility of Bloomington Speedway going permanently dark, these are minor gripes that I hope and expect will be addressed in the coming years. I have no idea how massive Indiana Midget Week and Sprint Week crowds will deal with the obstructed views, but I am thankful that a group is willing to put some time, money, and effort into keeping a long-standing southern Indiana tradition alive.
Minimal back gate clutter (one modified heat and three winged RaceSaver sprint car heats) meant that the three USAC heat races, semi-feature, and 30-lap finale would be finished by 9:12 PM, spending more time driving to and from the track than I was there in-person. Needing to drive home in anticipation of another trip to and from Haubstadt the next day, I appreciated the early evening.
Aside from VanMeveren's miscue, Chris Windom's exit while leading the third heat provided the only other bit of drama, forced to switch to a backup car for the B in which he climbed from ninth to second. For the first time this year, I spotted all three NOS Energy Drink sponsored rides of Windom, Justin Grant and Tyler Courtney on the track at the same time, wishing for more variations of the black, blue, and orange schemes to better tell them apart. With two of the quickest six qualifiers missing the heat race transfer (Chase Stockon and Josh Hodges), that meant eighth-fastest Brady Bacon would begin from the pole position. Exhibiting excellent maneuverability in his last lap pass of Jordan Kinser for the heat race win, could Bacon end his career-long Bloomington dry spell?
The answer to that question came less than seven minutes later as he would go wire to wire in the all green flag contest. Skillfully operating both pedals inside of his Triple X chassis, Brady wore the familiar Hoffman Auto Racing number 69 with which he claimed national titles in 2014 and 2016, earning their Mean Green money for 2019. Beating front row mate Kevin Thomas, Jr. to the top of turn three on the first lap, Bacon built a full-straightaway advantage by circuit number six, entering lapped traffic two tours later. With a meaty ledge promoting a path around the perimeter, congestion was extra-heavy all feature long. Although Thomas would occasionally close the gap due to the lack of a solid bottom groove option, an ultra-patient Bacon managed to find openings at the most opportune times, building an even bigger advantage by the end. With the slight scent of rubber wafting in the air from my turn four view, Thomas, Jason McDougal, Tyler Courtney (from 9th), and Leary trailed the winner, having battled under one snug blanket for the last half of the affair. After operating as high as third, Justin Grant slid back to sixth. Chad Boespflug, Stockon, Windom, and Ballou were seventh through tenth. Struggling to gain the handle on his new Tony Epperson ride in the early stages, last year's winner Dave Darland started 20th and finished 15th. Much like Kyle Cummins and his reuniting with Hank Byram, there must be something about the Hoffman mojo that sits well with the quiet yet productive Bacon, who seems to fly under the radar almost every year.
Finishing this first blog of 2019 on a picture-perfect Easter holiday, like most springtime and summer Sundays I had a lot to get done before I could relax and truly enjoy the day. After several loads of laundry, my first outdoor jog of the season, and the usual yardwork, instead of a late afternoon dirt track date, the ultimate goal was a traditional family fling. Even though I've missed out on more than a handful of events these last few weeks due to cold and wet conditions, after such a productive Sunday I confirmed that my internal defroster couldfinally be switched off. With tons of upcoming weekend sprint car options in Paragon, Gas City, Montpelier, Putnamville, Lawrenceburg, and Kokomo, if by chance the weather doesn't completely pan out, I will still be ok, as a moral victory has been achieved by being back among the living once again.
Volume 20, Number 15
Night Driver
When pondering the myriad of polar opposites, much like hot and cold, high and low, or fast and slow, yet another example exists with my daytime drives in route to a racetrack versus my return trips home in the dark of the night.
These days, my world is as hectic as it's ever been. Every minute of every day is accounted for, so much that it is quite often a thrash to depart for a dirt track at my originally intended hour. Normally behind schedule, any attempt to make up for lost time usually results in a stress-filled journey, wondering and worrying if I will be pulled over for speeding while wrestling with the anxiety of what I might be missing if I don't press harder on the pedal. However, much to the benefit of my blood pressure, that return home is a completely opposite experience. Calmed and content after the satisfaction of my racing fix, the pace is much more relaxed. With satellite radio serving as my highway companion, I continuously toggle through my favorite stations in search of long-lost gems. Alertly scanning the edges of the road for the gleaming eyes of wildlife and the occasional cop, the goal is always to get home with as little drama as possible. And as is the case when the end of the season becomes all too apparent, there is an unfulfilled wish that these evening excursions may never come to an end.
In addition to the heart-pounding action and the feel-good interactions with long-time acquaintances, these relaxing drives will be sorely missed as I slip into wintertime mode. Counting five October opportunities to bask in the glow of dashboard lights, the moody Mother Nature slashed my slate by 40%, cutting Kokomo's All Star and WAR extravaganza in addition to the USAC portion of Terre Haute's Wabash Clash. Leaving Haubstadt's Harvest Cup, Eldora's Last Call for World of Outlaws, and the Kokomo Klash's open wheel evening, Illinois midget meetings in Marion and Wayne City were completely off my radar, as they are just too far to fly solo. Despite the Kokomo cancellation on October 6th, I still considered it a big-time score after obtaining Steve Kinser's signature on a 1992-1994 Valvoline arm guard. When asking how life was treating The King these days, Steve stated that he had a lot of grass to mow and grandkids to take care of. Waiting out an impending K-town cloudburst at Tin Man Brewing's northern outpost located in the circa 1910 Lake Erie and Western freight house, I slowly savored a $5.00 pint of "Marvin The Marzen" Oktoberfest but preserved my appetite for an 8 PM engagement at Fishers' Ale Emporium for world-famous Hermanaki wings and deep-dish pizza pie.
Forced to wait another week for the rumble of racing engines, when hauling to Haubstadt I was hoping for an exception to what has become my frenzied norm. On this occasion, my southwesterly stroll included a stop in Greenwood to visit John Crist, my brother-in-law who suffered a heart attack and fell down his stairs in the early hours of Wednesday morning. Thankfully my sister was downstairs when the incident occurred, as she was able to perform life-saving CPR. After being rushed to the hospital and offered just a 50/50 chance of surviving, by the grace of God John awoke from his induced coma on Thursday and by Friday (his 52nd birthday) was able to breathe on his own and get out of bed. My Saturday visit started 30 minutes later than intended due to excruciating delays encountered for U.S. 31 paving, so naturally I wound up leaving 30 minutes later, ultimately accepting a challenge to reach the northern tip of Evansville in a little over two hours. Stopping for fuel in Waverly and with zero time to spare, the lightly traveled Interstate 69 was easily the most efficient and obvious path to follow. Averaging a little over 80 miles per hour, I won my personal race by pulling into Tri-State Speedway with just minutes to spare.
Exiting my automobile and immediately feeling the chill of a brisk wind out of the west, I donned a few more layers before heading for the pit grandstand. Noticing an extremely thin crowd for usual "Class Track" standards, the cool and cloudy conditions no doubt kept attendance in check. On tap was the season-ending Harvest Cup, a $5,000 to win co-sanction from Tommy Helfrich's Midwest Sprint Car Series and Casey Shuman's POWRi WAR Wildcard. Of special note was the $20,000 Bell Helmets Triple Crown challenge bonus available to Kyle Cummins if he could win the feature, having triumphed in the previous two meetings in Missouri (Lake Ozark on 8/18 and Wheatland on 9/22). After previous cancellations on October 6th, first at Fairbury and then Kokomo, thankfully Shuman was able to preserve Kyle's shot at claiming the cartload of cash.
But to earn that $25,000, the Pride of Princeton would need to slay a stacked field. Twice a 2018 Tri-State winner (7/14 and 8/13), C.J. Leary was in the house and was joined by Chase Stockon, who tallied a TSS triumph on 5/27. Serious threats would also come from Dave Darland (the Indiana Sprint Week winner in July), Robert Ballou (victorious on 9/2), Jason McDougal (third here one month ago), Tyler Courtney, and Justin Grant. Kevin Thomas, Jr. was mysteriously absent. 34 sprint cars made roll call, which happened to include Saturday afternoon Brownstown Fun Fest winner Josh Cunningham. While playing huggy pole, Josh was able to overtake Brady Short (Pottorff 11P) on the final lap after Brady missed his marks and slipped over the edge of turn one. Spending some rare time inside the cockpit now that he is spinning sockets for Chase Briscoe Racing, Short recovered to take third and arrived in time to lay his hands on the blue five which would be manned by 2018 MSCS champion Carson Short (no relation). Ninth place Brownstown finisher and WAR Wildcard champion Landon Simon did the daily double in the Burton 04, as did Daylan Chambers and Buddy Cunningham. After scoring sixth at Fun Fest, Thomas Meseraull headed in the opposite direction for a BOSS battle in Montpelier.
As expected, Leary was the man to beat on Saturday, leading all but the first two tours of the thirty-lap finale and thus continuing a trend that dates to the 2017 edition of this same Harvest Cup. Qualifying quickest overall from his timed hot lap session (13.136), winning his heat from fourth (with inboard brake rotor sparks), and opening third, he slid pole sitter Kyle Cummins through the south end of the speedway and would never be headed for his sixth sprint car score of 2018. However, unlike last year's annihilation, victory was anything but automatic as seventh-starting Kent Schmidt kept it close the entire distance. Following a lap nine restart for a Brandon Mattox red flag (that also eliminated Jason McDougal), Kent easily cleared two lapped cars and kept C.J. in his sights before another caution came two laps later when Kyle Cummins corrected his corner two fishtail. Although Kyle was able to point his Triple X chassis in the right direction, Tyler Courtney, Dave Darland, Donny Brackett, and James Lyerla connected. Darland was the only one unable to restart, with Courtney pitting for a fresh left rear. Sunshine would eventually retire to the infield.
Once green laundry was displayed, Schmidt stayed glued to the bottom lane in his silver Spike chassis and soon pulled even on the back chute. Leary maintained a slim advantage and headed for higher ground when Landon Simon's inversion set up a 16-lap dash to the checkered. Similar to the Spring Showdown and Haubstadt Hustler when Leary lost out to eventual winner KTJ, lapped traffic became an issue in the waning stages. Cautiously threading needles in the final two circuits, C.J. was able to keep Kent in his wake, accepting Tom Hansing's checkered flag at 8:34 PM.
Hailing from nearby Owensville, Schmidt had to be ecstatic over his near-win. Justin Grant gathered third after starting sixth, continuing his late season sprint car resurgence in the Topp Motorsports Maxim. First heat winner Kyle Cummins claimed fourth after falling to sixth in the early to middle stages. Finally finding the handle in the last third, had the race been 40 laps he might have had a chance at the $25K. Wearing Doc Dunseth/Greg Weld baby blue and gold livery, Jarett Andretti found fifth from 12th, guided by Haubstadt expert Donnie Gentry. Robert Ballou (the second heat winner), Chase Stockon (the fourth heat victor via a monster slider on Sunshine), Chet Williams, Donny Brackett (recovering from his earlier incident), and Aric Gentry rounded out the top-ten.
Trey Gropp and Josh Hodges were involved in separate first heat flips that also knocked the front end out of Brackett's machine. After a big-time battle with Gropp, recently crowned WAR series champion Riley Kreisel was the first to miss the cut from the B-main. Josh Hodges (no-show) and Josh Cunningham were two other notables failing to crack the feature lineup.
In the winning interview, Leary noted that this was his special Haubstadt DRC chassis (a 2014 model) which crew chief/chief mechanic Davey Jones earlier advised was nothing special. Special or not, this particular piece just seems to work here, earning a nickname of the Haubstadt Hatchet. Joining the Leary family at the start of Indiana Sprint Week, Jones is loving his new gig and is a huge fan of his jockey, who he says has been completely locked in since he came on board. His biggest challenge might just be imparting patience to counter such youthful exuberance, but at the minimum this combination has been blindingly fast and anticipates a few more wins to close out the season.
Even with a pair of support classes and a short intermission, the show was still efficient at three and a half hours in length, thus allowing the continuation of a Sandy's Pizza tradition with former Daron Clayton and Robert Ballou benefactor Dan Clifton. Dan was once again joined by Mt. Zion, Illinois mini sprint racer Michael Brummitt and his entourage, with our party of five unsuccessfully attempting to consume a 30-inch giant-sized pie for the second year in a row. Reflecting on the evening's results, recent racing controversies, and yet another end of season, it was the perfect way to unwind before another three-hour tour in the opposite direction. Going up and down my radio dial in search of the most appropriate audio, as usual the 92 miles to Bloomington expired fairly quickly. The more familiar 90 minutes to Indy's north side came even quicker, such a surreal sensation to know that with every mile marker the solitude gained from these nighttime drives was fading further into my rearview mirror. After arriving home and finally settling down enough to fall asleep, I arose the next morning with purpose, as an Eldora World of Outlaws excursion awaited.
Feeling extremely nostalgic as Eldora Sundays harken back to springtime World of Outlaw weekend conclusions and daytime Four Crown finales, I even recall an October All Star closer from 1987 that was rain delayed by one day, conducted on a similarly cool and cloudy afternoon. Listening to yet another disappointing Indianapolis Colts performance on the way over, my father and nephew joined me in this journey, amazingly the first time the three of us have hooked up for a racing run in 2018. Originally attempting to allow enough time for a Greenville Maid-Rite Sandwich Shoppe stop, once we reached Lynn, Indiana it was determined that we'd have to put a cap on our craving for a few hours, as engine heat was beginning in 30 minutes. Thankfully, the 84-year-old institution was open until 10 PM on Sundays.
Dropping off Danny and Speed Ball at the ticket booth, I lightly jogged to the back gate for my credential, meeting up in section I just as hot lap action roared to life. Those oh-so-familiar Eldora acoustics of 410 cubic inch small blocks operating at full song was music to my ears, instantly warming my soul on such a blustery fall afternoon. With hot lap times approaching the 12-second bracket, I was pleasantly surprised to find the surface so wet and tacky after the final two days of the World 100 were conducted the previous day/night. An impressive 40-car field was split into two qualifying flights, wondering if Craig Dollansky's 2002 record run of 12.707 might become ancient history after a 19-year-old one-lap Terre Haute record was shattered on Saturday.
Operating one of three black and green Indy Race Parts machines for Bernie and Betsy Stuebgen, teenage sensation and recent Williams Grove National Open prelim winner Gio Scelzi wound up coming closest to the mark at 12.778. Scelzi's clocking came halfway through the first flight, as teammates Parker Price-Miller and Joey Saldana each timed third best from the first and second groups. Second place All Star points producer Carson Macedo was the best of the bunch in the second flight (12.899), joining Jason Johnson Racing for another go after a highly successful week at the Knoxville 360 and 410 Nationals. Trailing Macedo in that second session was Christopher Bell, who was moonlighting on an off-weekend from his higher profile stock car gig. Earning 11th the previous evening in Terre Haute, Bell was assigned to an Arctic Cat J&J from the Tony Stewart Racing stable. It came with no amount of surprise that Christopher would be in the mix on Sunday, always a threat at Eldora. Additional noteworthy appearances came from Chad Kemenah (subbing for Lee Jacobs in the Simcox 81), Spencer Bayston (Swindell 39), Cap Henry (Neumeister 11), and ASCS national point leader Sam Hafertepe.
Four heats, a C-main, trophy dash, B-main, and two modified heats were completed in an hour and 13 minutes. Price-Miller, Tim Shaffer, Macedo, and Bell boasted heat wins, all coming from the first or second row. Shaffer hustled from the furthest position (fourth), also taking top honors in the trophy dash after drawing the pole. Equally dramatic as Shaffer's heat race slider was Bayston's last lap lunge on Hafertepe, earning him the final transfer from the first heat. Longtime wingless warriors Brady Bacon and Hunter Schuerenberg moved from C to B, the latter contest containing a dandy duel for the final feature ticket between Kemenah and Cory Eliason (Roth 83). Utilizing every ounce of his Eldora savvy, Chad held off the high-flying Cory. After enjoying such a stout performance in his most recent Eldora outing, Kraig Kinser's driveline failure during his qualification attempt had to be hugely disappointing, forced to scratch from his heat and only making minimal laps in the C before loading up.
At the time of the famed four-wide salute (7:15 PM), my phone indicated that New Weston, Ohio was 53 degrees. Despite being under the roof with a healthy turnout of hardcore fans, it felt much cooler as outside turn three flags were sharply pointing northeast. Those brisk winds polished a smooth and slick surface from top to bottom. Sporting a much more substantial cushion in turns one and two, crumbles of clay were pushed all the way to the wall in three and four. When it came time to rumble, Shaffer moved from bottom to top through the first set of corners. However, Tim's time in the premier position was short lived when outside front row starter Price-Miller pulled alongside in turn four. Nearly making contact, the Kokomo kid led at the line. Eighth-starting Donny Schatz finagled fifth from Saldana on the second circuit, with Joey slipping another position one lap later when fifth-starting Bell lofted a turn one bomb. By the tenth tour, fourth-starting Macedo had snatched second from Shaffer and was making serious gains on the leader. Turning my attention to the white 14, the outstanding Okie was already up to third and preparing to pounce yet again. By lap 13, Chris swiped second from Macedo after a smooth slide for life through one and two. Maintaining his massive momentum, one lap later Bell blew by PPM for the lead via a similar slider. Carson quickly recaptured runner-up rights as he tried to keep pace, but in just a handful of circuits Christopher had constructed a full straightaway advantage. The lone caution came shortly thereafter when All Star champion Aaron Reutzel pounded the wall at the exit of turn two and came to a stop.
Leaving a nine lap dash to the conclusion, Bell chose the low lane for the ensuing restart and chopped Macedo's nose as they entered turn one. Carson soon found himself in a three-car scrum for second, as Schatz and Price-Miller applied heavy heat. Bell was once again in his own area code but his teammate eventually made it a TSR sweep, truly a dream day for car owner Tony Stewart as his NASCAR equipment also took the top two spots at Talladega. Trailing Tony's tandem were an ever-improving Price-Miller, Macedo, and Ian Madsen. September winner Brent Marks marched from 12th to 6th while Saldana settled for 7th. Sheldon Haudenschild elevated from 18th to 8th, Logan Schuchart nailed 9th from 20th, and Brock Zearfoss took 10th. After opening from the pole and leading briefly, Shaffer was a late-race DNF. Completed at 7:26 PM, the show was quick (at three hours in length) and satisfying, truly enthralled that the entire field operated around the extreme high side during the feature. Blistering fast and right on the wall – that's the way I have always enjoyed Eldora.
Leaving more than enough time to take the long way home through Greenville, a Maid-Rite stop was of course mandatory. Scooping up a sack of the loose meat sandwiches and a chocolate malt, my nephew nearly did the same, albeit adding cheese to his order. Devouring a majority just past the state line, this standard route across U.S. 36 was as comforting as my meal. Trying to recall another Sunday night trip home from Eldora that required headlights, other than holiday weekends I'm not sure if it has ever occurred until now. With the radio left off to allow my father some sleep, the silence was actually ok. Having traversed this same highway hundreds of times to and from Eldora and Winchester, I came to realize that the countless conversations shared with my father on those journeys were a big reason we were able to develop a bond, even with our 38 year age difference. For that reason alone, nighttime drives on 36 will always be meaningful.
A request for four hours of afternoon PTO on Friday October 19th would surely allow enough time to reach my season-ending Kokomo Klash without stress or anxiety. But, for the umpteenth time, congestion from U.S. 31 paving was encountered north of State Road 38. Calling an audible and exiting on 256th street, I eliminated further frustration by employing State Road 19 instead. With Tipton, Indiana's picturesque 1894 county courthouse in sight, I stayed straight on Main Street to snap photos of the old Nickel Plate depot where the Indianapolis to Michigan City line once met their Sandusky to Peoria mainline. Prior to 1933, this Tipton junction was also the site of a major rail yard, roundhouse, and division offices, all long gone by now. Continuing north on 19 to State Road 26, I headed west until seeing the sign for the tiny town of Center. Deciding to do a little more exploring and hanging a right, as I later learned Center was originally named Tampico but had to change its name because there was another Tampico in Jackson County. Once intersected by the Cincinnati to Chicago mainline of the Pennsylvania Railroad (an old bridge over Kokomo Creek still exists), Center was also the home to the Evans Bottle Shop sprint car, piloted and maintained by three-time Kokomo Speedway champion Gary Fisher.
Eventually reaching Kokomo Speedway where a Paul Hazen tribute was taking place, 18 of his current and former chauffeurs gathered underneath the grandstand to mingle with fans. Paul's list of pilots is a literal who's-who of sprint car racing, and those making appearances on this drizzly Friday included Butch Wilkerson, Mark Caldwell, Brad Marvel, Johnny Parsons, Tony Ploughe, Bill Rose, Aaron Mosley, Derek Davidson, Jon Stanbrough, Dave Darland, Matt Hardin, Josh Spencer, Jon Sciscoe, Chad Boespflug, Scotty Weir, Travis Welpott, Shane Cottle, and of course Clinton Boyles. Enjoying an initial conversation with Matt Hardin, Matt was embarrassed to admit that after a race or two he turned down Paul's offer to continue driving his famed 57, wanting to honor his previous commitment to Chris Hoyer and Kevin Price.
Speaking with Derek Davidson for the first time in a long while, the 1996 Bloomington Speedway champion is currently a crew chief at Rahal Letterman Lanigan Racing, recently earning quite a bit of TV time after Takuma Sato claimed a big win for the squad in Portland. When Derek is not traveling the circuit or putting in serious hours at the shop, he is directing the go-kart career of his daughter Ava. Never forgetting his thrilling 1995 season-ending Kokomo Speedway feature victory from deep in the field, on that day Derek was driving the Snow White Services/Lone Star Welding number 33 of Frank and Earl Faurote. These days, Earl is one of the backers on Ava's go-kart, as is Graham Rahal.
Meeting Mark Caldwell for the first time, Mark's memory of being behind the wheel of the famed 57 was quite vivid, noting that the year was 1978. Rather than USAC, Hazen and Caldwell chose to run locally and with the World of Outlaws, as Mark commented that any team wishing to run races outside of USAC had to have their cars magnafluxed each time they wished to return to the fold. Now 74 years old and having raced as late as 1982, Mark says he never really retired from competition. It's just that the phone stopped ringing for available rides.
Similar to the July reunion but some 30 to 40 degrees cooler, Josh and Shannon Spencer organized the affair and awarded Hazen a plaque to pay respect to his outstanding achievements and longevity. Speaking as a fan, I'm hoping they can continue these entertaining Kokomo Speedway promotions to link the present with the past.
Leading right into hot laps/qualifications for this 12th edition of the Kokomo Klash, as is the norm for this event a massive amount of automobiles were scattered throughout the pit area. Kokomo's bread and butter sprint cars accounted for 27 of the 121 machines, battling for a $2,018 top prize. Midgets, micros, and thunder cars numbered 22, 29, and 43. Sprint stars included 2018 track champion Chris Windom, recent Smackdown stud Justin Grant, all-time Kokomo feature win leader Dave Darland, 2015 track champ C.J. Leary, four-time track champ and four-time Klash winner Shane Cottle, 2008 and 2012 track champ Scotty Weir, Jarrett Andretti, and Chad Boespflug. All were in their usual rides except for Weir, who pushed the pedals in Scott Pedersen's DRC that saw night number 23 on its homebuilt bullet. A host of others made special appearances, including modified/late model standout Brian Ruhlman and Ted Hines, rumored to be Ted's final ride. Scott Benic and Matt Goodnight brought a trio of Maxim/Claxtons for "Goody", Floridian Anthony Dalessio, and of course Darland, whose chassis featured a new front clip after its August Terre Haute tumble. As always, timed hot laps lined up sprint car heat races, this time with no inversion. Darland, Grant, and Windom led the way, with Grant's 12.833 serving as the ultimate chart topper.
The midgets were mostly of the D-2 variety, but Clauson-Marshall Racing pulled out a pair of potent Spike/Stanton Mopar SR-11s for Zeb Wise and Cole Bodine. As expected, these two thoroughbreds led the way in their respective hot lap/qualifying sessions, with Wise's 13.397 topping them all. Defending Kokomo Klash midget maestro Shane Cottle was once again in the Bill Ecker 57 but again encountered issues early, missing his heat altogether. Recently running 10th at Montpelier (one spot behind Mike Streicher), 1989 USAC national midget champion Russ Gamester made a rare dirt midget start in a GRP/Gaerte-Chevy, wrenched as always by his brother George. After his car owner Davey Ray headed home prematurely, Chase Jones was suddenly appointed chauffeur of the impeccably prepared and engineered Cornell Racing Stables Stealth/Volkswagen. Recent victors at Montpelier with Ray, the Cornells have a long history of hiring some outstanding wheelmen, including Mel Cornett, John Batts, Bobby Grimm, Jack Calabrase, Tom Bigelow, Larry Rice, Ken Nichols, Sonny Ates, Gary Ponzini, Pancho Carter, Rich Vogler, Tommy Astone, Jim McElreath, Bruce Field, Chuck Gurney, Bubby Jones, Kevin Olson, Rick Ferkel, Steve Chassey, Johnny Parsons, Bev Griffis, and Rich Corson, among others. Spending many minutes admiring this beautiful ride, of course the gorgeous hand-painted lettering and gold leaf numerals caught my attention, but so did the bell crank actuated rear shock absorbers and that old school VW engine.
Using the remainder of practice sessions to thaw out in the Turn Five Pub, I was joined for heat races atop the main grandstand by Kiwi export Alan Rush and ex-Kroger marketing man Kevin Kotansky. Despite the fact I was wearing countless layers on my upper half, some unusually stout winds from the southwest made 50 degrees feel more like 30, chilling me to the bone. Wishing I would have donned an extra layer for my bottom half, I nonetheless toughed it out, observing sprint car scores from Darland (enduring a last lap wheel to wheel war with Andretti), Grant, and Windom, while Bodine and Wise mastered the midgets once again. From front to back, both sprints and midgets showed some humongous differentials in speed.
Roaming the pits one final time prior to the sprint car B to get out of the wind and keep my joints lubricated, I briefly spoke to Russ Gamester about his recent acquisitions from the Don Smith auction: his former Beast combo Silver Crown car and a two-race old ex-George Snider Eagle Chevy, the latter to be utilized as asphalt Silver Crown weaponry in 2019. Russ's 1989 championship winning Beast/VW was also a goal, but was mysteriously removed from the auction at the last minute.
Catching a crazy sprint car B alongside Ryan Pedersen from the outside of turns one and two, Lafayette's Chris Miller climbed a wheel and tumbled, soon to be followed by Anthony Dalessio's tour of the spin cycle while leading. Topping them all was Korbyn Hayslett's scaling of the wall and fence directly in front of me. Instantly recalling the sight of his underside as I instinctively sprinted to safety, Hayslett's wild ride was the closest I have come to such calamity, with the incident folding his front end and wedging a radius rod into the track surface. Dustin Webber bagged the B while Guilford, Indiana's Michael Roehling held down the final transfer.
Similar to how heat races were aligned straight-up by qualifying time, the feature line ups were determined directly by heat race finish. That meant Darland, Grant, and Windom would occupy the first three spots, with Andretti, Leary, and Boyles beginning from fourth, fifth and sixth. Saving one of the year's best races for last, this was without question Kokomo's most exciting sprint car feature of 2018. Words simply cannot do this 25-lap finale justice, urging you to find the Speed Shift recap on the internet so that you can see for yourself.
As Larry Rice used to scream on ESPN's Thunder telecasts, "Slip and slide, dip and dive!" This would certainly be the most accurate description of the first four laps before a Dustin Webber spin. Darland, Grant, Windom, and Leary put on a spectacular show, fanning three and sometimes four wide with all kinds of slicing and dicing. Chris, Justin, and Dave each held the lead on the opening lap, duplicating the feat on the second and third circuits as I counted nine swaps of the premier position! Holy cow – are you kidding me?
After that initial caution, Grant led Darland, Leary, Windom, and Andretti back to green before amber bulbs were twice illuminated for Tyler Hewitt/Matt Goodnight and then debris. For a brief bit, Justin enjoyed a slight advantage while Dave and C.J. jousted for second. The People's Champion circled the Greenfield gunslinger and quickly gave Grant some grief. With the top-two operating in the attic on both ends, turns one and two required absolute precision as the cushion and wall were one in the same. Dave's slow slider on the north end allowed him to grab the lead baton with ten to go. JG continued to give chase and returned the favor four laps later in the same spot, only to be simultaneously crossed by his nemesis. Shadowing the Lincoln legend for the next three tours, the impact of Grant's turn three grenade launch was completely nullified by a Darland diamond. But with just two laps left, Justin refused to relent as he heaved another bomb through one and two. This time, Dave's drive down the bank could only pull him even at the middle of the back chute. The pilot of the Topp number 4 led to turn three and accepted the white flag as the undisputed leader. Pulling away through the next four corners, Justin laid claim to his second consecutive Kokomo conquest. After some tasty celebratory donuts, he excitedly told Rob Goodman that he's been involved in a lot of battles with the undisputed king of Kokomo, feeling good to finally come out on top. Dave had to settle for a hard-fought second while Leary, Windom, and ninth-starting Shane Cottle rounded out the top-five. Sixth through tenth place finishers included Andretti, Weir, Cole Ketcham (from 13th), Boespflug, and Boyles.
Midgets were up next for another 25-lap finale, starting Cole Bodine and Zeb Wise from the front row. Justin Dickerson, Nick Speidel, Russ Gamester, and Trey Osborne made up the second and third rows. Recently celebrating his 20th birthday, Bodine led the first lap around the bottom but promptly looped his machine as he entered the second corner on the second circuit. Nick Speidel also spun to a stop in a separate incident and retired to the infield.
That handed the lead to 15-year-old Wise, one that he would never relinquish. Building a full straightaway advantage by the end, after coming so close too many times in 2017, Zeb would finally earn the right to head up the ramp to the hallowed ground better known as BC's victory lane. Bodine would use the next 24 laps to carefully carve his way through the field, choosing middle and lower lanes to eventually claim second and solidify a Clauson-Marshall sweep.
Despite the runaway win by Wise, close racing was contested for second, third and fourth between Dickerson, Gamester, and Shane Cottle, the latter having to come from dead last (20th). Cottle followed Wise's lead by traversing the very top of the track and wound up a respectable third. Gamester and Alex Watson filled out the first five finishers. Dickerson, Jon Steed, Chett Gehrke, Chase Jones, and Aaron Leffel (despite spinning on lap 16) were scored sixth through tenth at the 10:22 PM conclusion.
Dominated by the brutal weather conditions only appropriate for the hardest of hardcore fans, this Kokomo Klash served as a reminder why most Indiana ovals close shop by the end of September. On the plus side, with its thrilling sprint car finale it was also a reminder of just how lucky we are to have the opportunity to observe such top-of-the-line talent and world-class action with such great frequency. Celebrating the end of its 14th year of reconfiguration, Kokomo Speedway and its traditional sprint car competition continues to be the benchmark of all things awesome.
Sadly, after one final pit walk it was time to get in the truck, defrost my body, and make the relatively short 45-minute jaunt to the north side of Indy. For nostalgic reasons, I extended the evening and satisfied a late-night craving with a detour through the Wendy's drive-thru, utilizing the stoplight-infested 931 to try and make it feel like this was any other summertime Sunday night. Without much time for reflection, as usual I searched my satellite radio dial for something soothing and calculated that the break between outdoor events would be five months. In the grand scheme, that's not that long and in all honesty, absence does make the heart grow fonder. So, as the days become shorter and the nights grow longer, on those rides home from work when headlights have to be employed, I can at least imagine that I'm in the final stages of a lengthy haul from Haubstadt. Although I won't nearly be as calm, content, and satisfied after a day in the office, I will at least be heading to my humble adobe where I can find the same level of comfort as those dashboard lights on these cherished journeys. Call me a simple man, but I know what keeps me happy.
Volume 20, Number 14
Fight to the Finish (Part II)
Picking up where I left off in my last installment, lately there has been an overall unwillingness on my part to accept the fact that this racing campaign is all but over. It just doesn't seem that long ago when week after week, I was waiting for the weather to break so that outdoor activities could finally commence. In my mental struggle to embrace another changing of season, I had to remind myself that there is no sense in worrying about something that is out of my control. Thoroughly enjoying a second half of September consisting of significant United States Auto Club contests at Eldora, Kokomo, Gas City, and Lawrenceburg, I guess we might as well go out with a big bang in this fight to the finish.
Familiarity and tradition serve as my modern-day security blanket and in the continual search for comfort, there's no way I would ever skip a September stop at Eldora Speedway while traveling this highway to hibernation mode. A trip to the Big E in this ninth month means only one thing in my world: the Four Crown Nationals. A smorgasbord of enticing open wheel entertainment filled with multitasking from the world's bravest wheelmen, at the minimum it takes my mind off the fact that serious alterations to my routine and mindset are just weeks away. Always enjoying a look back in time at the event's previous winners to stoke the embers of a smoldering memory bank, this 37th Four Crown Nationals weekend would be my 32nd, only missing one (1986) since my initial exposure.
To relieve this year's congested Saturday schedule, USAC Silver Crown cars would practice and qualify with the World of Outlaws on Friday. As always, the champ dirt cars served as the fourth and final crown in a dizzying array of activity that also included practice, qualifying, heat races, semi-features, and features for USAC midgets, USAC sprint cars, and the All Star Circuit of Champions winged sprint cars. The winged warriors even needed a pair of trophy dashes, with the number of Saturday racing contests totaling 20. Some may disagree, but it is still my opinion that the current slate for Saturday is far too full, as a seven-plus hour show and Sunday morning finish has now become the norm. Unfortunately, the lateness of hour once again resulted in many heading for the exits rather prematurely. Sadly those people missed out on a Silver Crown finale that wound up being one of the best races in the history of the event. Choosing not to visit the concession stand and limit my liquid consumption so there would be no need to visit the restrooms, call me Four Crown crazy, but I just didn't want to risk missing any of the on-track action.
Even with the open wheel overkill, the Four Crown is a must-see, as USAC and Eldora are such a rare pairing these days. One of only two annual USAC weekends at the Darke County speed plant, back in my earlier days of fandom it wasn't uncommon for the Speedway sanctioning body to schedule as many as six Eldora dates in a season. A long-standing partnership that has survived since 1962, the Four Crown reminds me of just how much better the action is on a half-mile when you eliminate aerodynamic aids from the equation.
Still glowing over some of the most awe-inspiring Four Crown contests in recent memory, even the BeFour the Crowns Showdown and its World of Outlaws finale contained edge of your seat action that assisted in digesting the painful reality of Greg Hodnett's previous night incident in Susquehanna. Still numb to the news, I have no idea how to process yet another high-profile tragedy, as there have been far too many these last few years. Angry that this sport continues to take and take until I cannot take any more bad news, no matter how many kneejerk reactions will attempt to make cars and tracks safer, it's still a ridiculously dangerous sport that chooses no favorites. That doesn't make it any easier to accept, as ever since he was a late 1980s sprint car newcomer, Greg was someone I completely admired and respected. Leaving behind loved ones and a legion of fans and friends, sad doesn't even begin to tell the story.
Taking up Tom Percy's generous offer to camp on Friday and Saturday evening, for the second time this year I joined Trevor Valentine and Doug Kililea as guests in the "Grey Wolf". Thursday evening's unfolding of the horrific Hodnett news was a bitter pill to swallow, but being around racing folk the next two days made it a little more bearable, easing the pain with a slightly improbable first-ever Eldora triumph by former central Pennsylvania participant Brent Marks. Brent's third career WoO score was no fluke, as he flexed some serious muscle all night. Just eighth-best in his qualifying flight, Marks was the only one from the heat races to earn a dash starting spot who did not begin from the front row. Opening the feature from the inside of row two, he stayed true to his top shelf tactic and hung with heat winners Logan Schuchart and Kraig Kinser. Following a lap 14 stoppage for Daryn Pittman's turn two tumble, Marks and Schuchart exchanged the lead three times on the 23rd tour, with Brent's fourth corner sweep propelling him to P1. It was at this point when the bright blue Pete Grove 70 belonging to 13th-starting Dave Blaney began to make some serious noise. Struck with a surge of adrenaline as the 1995 WoO champ stole second from Schuchart, his third turn dive underneath Marks with three laps left briefly awarded him the premier position. However, Brent once again defended his position by threading the needle between his nemesis and the fourth turn concrete, driving away to score a highly emotional victory over Schuchart and Greg Wilson. Starting all the way back in 23rd, Wilson was once again a bottom-feeder, employing the same strategy as his 2015 WoO win during the Four Crown weekend. Blaney backed up to fourth while outside front row starter David Gravel gathered fifth. Scoring sixth was Kraig Kinser, who claimed the first heat, started the feature from fifth, and operated as high as second in his DRC chassis. Quickest qualifier overall from the second flight (12.987), Hunter Schuerenberg scored seventh. Sheldon Haudenschild, Rico Abreu (from 21st), and Jason Sides (from 17th) earned eighth, ninth, and tenth.
Perhaps the biggest Friday shocker was the lackluster performance of 2018 Kings Royal winner Donny Schatz. Timing tenth out of 20 cars from the second qualifying flight, Donny missed the cut by one spot in both heat four and the Last Chance Showdown, nearly collecting the turn one wall in that LCS. Relegated to cashing in a provisional pass, the Minot Missile could only collect 13th at the end of 30. Jacob Allen (joining Schatz in the 13th row), recent Calistoga WoO winner Cory Eliason (Thone 59), Brady Bacon, Randy Hannagan (May 71M), and Buddy Kofoid (making his Eldora debut in the Neumeister 11N) were a few names looking from the outside-in. Indy Race Parts czar Bernie Stuebgen brought a pair of 71s for Parker Price-Miller and Gio Scelzi and although both showed supreme speed in flight A (Scelzi was quickest while PPM was 4th), their feature fate was not as fortunate. Parker lost a left rear wheel while Gio was involved in the Pittman skirmish, suffering frame damage at the right rear fuel cell mount.
Out of the Silver Crown contingent, Shane Cottle (Williams 81) was the qualifying chart-topper at 16.764 seconds. Jerry Coons, Jr. made it an all Maxim front row for the second race in a row. Just by signing in, fifth fastest qualifier Kody Swanson copped his record-setting fourth series championship, putting him in a league of his own as Jimmy Sills and Bud Kaeding each own three.
Camping at the Club E remains one of the greatest of escapes I can ever envision. But, when Tom, Trevor, and Doug wanted to call it an evening fairly early on Friday, I wasn't ready to follow suit. Friday was the last official day of the summer season and waking up to chilly Saturday morning temperatures, fall had definitely arrived in more ways than one. After obligatory stops in Ansonia (for a Whistle Stop breakfast along the CSX double tracks) and Greenville (Walmart for Tom, McDonalds for Doug, and Maid-Rite for me), we were back at the campsite in plenty of time to tour a packed pit area containing 24 midgets, 39 USAC sprints, 41 All Stars, and 23 Silver Crown chariots.
The USAC sprint car cast contained quite a few notable Eldora wingless sprint car virgins, namely Jacob Wilson, Jason McDougal, and Dakota Jackson. Paragon king Josh Cunningham even made the journey, his first since the Mopar Million. After wounding his Silver Crown engine at Du Quoin, Joe Liguori only brought his sprint car, receiving some key coaching from living legend Jack Hewitt when Jack was not critiquing the bold graphics on Dick Mahoney's machine. Mahoney's man was Mike Burkin, who wound up three spots shy of A-main status while Liguori was ninth in his heat and a semi-feature no-show. Next door to Mahoney was car owner and metallurgist Jim Simon, who on October 30th celebrates his 60th year of employment at Collins Aerospace. Scotty Weir strapped into the 22s but missed the feature by one position. Richmond's Brandon Whited made a rare Eldora appearance but could only earn eighth in the semi. The same could be said for Bill Rose, whose Four Crown history goes all the way back to 1985 when he was wheeling a USAC late model. Rose's first ride in George Kissel's DRC chassis resulted in an 11th place semi-feature finish. While encountering long-time Eldora employee Larry Boos who just two weeks prior had his kidneys flushed, I also heard from Eric Gordon, the 1991 Four Crown Silver Crown runner-up who is scouting a Chevy engine for his son Jake, already laying claim to a former long wheelbase Benic/Goodnight Maxim.
Four Crown history is flooded with heroic efforts from a laundry list of legendary names. Although they were already winners in 2017, Tyler Courtney and C.J. Leary cemented their status in the Four Crown fraternity with some extra special 2018 efforts. Boldly flirting with the fence all night long, Courtney's conquests in the midget and sprint portion allowed him to enter an elite group of men who have mounted multiple victories in one day/night. This association boasts a bevy of bad-ass members including Steve Kinser (1981), Larry Rice (1985), Rich Vogler (1986), Jack Hewitt (1991, 1996, 1997, 1998), Tony Stewart (1995), Dave Darland (1999 and 2004), J.J. Yeley (2001), Tracy Hines (2006), Kyle Larson (2011), Chris Windom (2013), Christopher Bell (2015), and now Tyler Courtney. Overtaking teammate Justin Grant on a lap 10 midget restart to lead the rest of the distance, Tyler took advantage of a second lap sprint car restart to slide leader Robert Ballou, staying out front for the remainder of that affair as Clauson-Marshall Racing went two for two. Courtney's chances of sweeping all three USAC open wheel divisions seemed highly likely given his Silver Crown score in 2017 with the same Hans Lein DRC. However, his concrete climbing between turns one and two and eventual upside-down excursion kept him from joining an even more exclusive league.
As for last year's sprint car winner C.J. Leary, his early engagement with Courtney for the second spot in the sprint car feature resulted in backstretch concrete contact and a scary spin in front of the field. Coming out of it clean, that incident failed to rattle his chain, using the next 29 laps to march through the pack to score a scintillating runner-up finish. Already earning stud-status for such a stout performance, C.J.'s eventual Silver Crown score (back in his family owned DRC) shot him into another stratosphere. The lead position officially exchanged hands eight times in 50 laps, but unofficially I have no clue as to just how many times Leary and Kevin Thomas, Jr. inched ahead of one another. In the overall realm of this racetrack and event, I am also unable to offer an accurate description of just how thrilling it was to watch Leary's high-wire act, reminding me of those good old days when Jack Hewitt ruled the roost. If my memory is correct, those final 20 tours were the most exciting that I have ever experienced in Silver Crown competition as the lead duo were unrelenting in their attack of one another. Eighth-starting Leary would inevitably bang the boards (six times I counted) and lose the lead to middle man Kevin Thomas, Jr. (Fox 56), but somehow he would find a way to dig even deeper to pass him back, wearing out the right rear bead lock and the Jacobs ladder as the miniscule cushion had been pushed all the way to the wall. Equally enthralled was my grandstand neighbor Cale Seitz, a Celina, Ohio open wheel addict with whom I exchanged several high-fives afterwards.
Countless Four Crowns share space in my memory bank for various reasons, but never do I remember more thrilling on-track action than this one. Aided by highly improved surface conditions over last year, the features were indeed fantastic. But early on, five of the seven USAC sprint and midget heats were won from sixth, with the other two taken from fifth and second. Quick qualifier Justin Grant (15.607) sprinted from third to first on the final lap of his sprint car heat while C.J. Leary needed far less laps, surging from sixth to first in the span of four corners. After Jason McDougal was overtaken for first in his heat, he pounded the first turn concrete but somehow survived to take third. The sprint car semi-feature was claimed from seventh by Dickie Gaines, who used a last turn, last lap lunge to squeeze past ninth-starting Shane Cottle for the win. After clocking fifth fastest in qualifying, Jacob Wilson hung on for the final transfer. A special shout-out goes to the sprint car squads of Tyler Courtney and Brady Bacon, each of whom had to thrash to exchange engines before heats were held.
The Four Crown crunch for time resulted in midget qualifying being conducted during hot laps. Any potential for time savings went out the window when Chris Baue spun in the turn three groove and left Rico Abreu with no time to react. Center punching Baue at full song, Abreu took an extremely hard shot and once extricated, had to be helped down the banking. For the second year in a row, Rico left the premises via ambulance but would return to watch the remainder of the event. It is not my place to preach, but perhaps the group qualifying process should be reconsidered, especially when novices and those with equipment inequities are attempting to make their debut at such a daunting venue as Eldora. Speaking as a well-informed fan in the stands, single car qualifying is much more intriguing and dramatic but for those not so enthralled, it conveniently serves as a break to visit the concession stand or bathroom. Benefitting from Gary Stanton Mopar SR-11 horsepower, Tyler Courtney wound up clocking quickest at 16.475 seconds.
Unfortunately, the Abreu accident served as an appetizer of Four Crown incidents. Still active with his broken leg, last year's Four Crown winner Spencer Bayston took a nasty ride through turn one during the feature event. After exchanging a pair of sliders/crossovers with second place Tyler Courtney, Bayston nearly made contact in turn one but slid sideways and connected with the cushion instead. Tempting fate with similar contact two laps earlier, this time he was not so lucky. Somehow, Spencer emerged from the wreckage relatively unscathed, taking a trip to a local hospital where he was later released.
Thankfully the USAC sprint car feature did not result in any inversions, but concrete contact was quite common. First up was Leary, miraculous that his second lap wall slap and resulting spin did not result in colossal calamity. Next was Robert Ballou, who while battling Justin Grant for second mimicked Leary's miscue on the backstretch. Unlike C.J., Robert was unable to restart. In the waning stages, Grant closed on leader Courtney by aggressively attacking turns one and two, smudging the letters from his right rear Hoosier. But, he too became victim to that turn two exit, spoiling an all-too-certain podium placement. Silver Crown calamity came in the form of David Byrne and Tyler Courtney cartwheels. As for the All Stars, Frankie Nervo mauled Mitch Harble in his heat and suffered a big spill. Entering Eldora just 16 points out of the lead, Carson Macedo junked Joe Gaerte's 3G in turn four while operating in fifth, essentially sewing up the crown for Aaron Reutzel. After Cory Eliason's meeting with the turn one wall, Reutzel slid Parker Price-Miller for first place through the south end of the speedway, leading the last 16 laps to garner his ninth All Star win of the season and second-ever score at the Big E, having won an NRA Sprintacular feature in October of 2016.
Top-five midget feature finishers beyond Courtney included Justin Grant, Logan Seavey (from 13th), Kevin Thomas, Jr., and Tanner Carrick (from 12th). Sixth through tenth contained Holly Shelton, Tucker Klaasmeyer (from 15th), Ryan Robinson, Jason McDougal and Brady Bacon. Hats off to Isaac Chapple, who manned the middle lane to secure his best USAC sprint car feature finish of third, trailing only Courtney and Leary. KTJ again finished fourth while 2013 Four Crown sprint car winner Chris Windom was fifth. Chase Stockon, Dave Darland (from 14th), Nick Bilbee (from 19th), Dickie Gaines (from 16th), and Brady Bacon (after suffering a flat on lap 13) scored sixth through tenth. Although Reutzel ruled the All Star roost, the Indy Race Parts tandem of Parker Price-Miller and Gio Scelzi (from 11th) completed the podium. Travis Philo (from 15th) and quick qualifier Cole Duncan (12.845) were fourth and fifth. Sixth through tenth included Dave Blaney (from 18th), Brady Bacon, Ryan Smith (McGhee 11), Max Stambaugh, and Shawn Dancer. Ending of course with the sterling Silver Crown show, after Leary and Thomas came Cottle, McDougal (Dyson 9), and Swanson. Coons, Grant, Bacon, Kyle Robbins, and Wilson rounded out the top-ten. The only one to compete in all four classes, Bacon earned top-ten finishes in each one.
Despite a highly memorable Four Crown Nationals, I still owned a melancholy mood upon my Sunday morning exit. Fall was permanently the air, easily able to count the remaining contests in this racing campaign. Nonetheless, I hope to make my final run to Rossburg for the World of Outlaws on Sunday October 14th.
Five days after Eldora, the Kokomo Sprint Car Smackdown finale arrived for the third and final time. Finally graced with great weather after ridiculous amounts of rain on August 25th and September 9th, of course the big buzz between the Four Crown and the Smackdown was the news of Robert Ballou's suspension from USAC contests and a trio of tracks after his war of words with Eldora Speedway owner Tony Stewart. Despite the numerous warnings Robert received from the sanctioning body regarding the tone and content of his social media rants and at-the-track interviews, he refused to back down. Not wishing to add any further fuel to the fire by offering my opinion, I honestly do not know all the facts behind the suspension, but I suspect that there is more to the story as the punishment sure didn't appear to match the reported crime. The bottom line is that USAC and the other parties involved did what they felt was necessary to get their point across. Constructive criticism is never an easy thing to deliver or receive, but if there is a lesson to be learned here, it's that these words are far more effective when delivered with tact, thought, care, and respect, not to mention in the proper setting. It is my belief that racing always needs a villain, so I'm hoping we'll eventually get to see Mr. Ballou back where he belongs. At the end of the day, the whole thing equates to even more negative energy that confirms my sour stance on the confluence of the racing world and social media. Can we just go back to the days when all venting was done face to face or through letters to the editor in National Speed Sport News?
Kokomo kicked off a massive three-day slate of USAC sprint car racing in the Hoosier state, proving that the show can indeed go on without any one of us. Arriving to find grandstands that were much emptier than I would have expected for such a significant event, I had to ponder the impossibility of attendance for so many who had traveled from afar in late August. Sprint car count was respectable for a Thursday night, especially the BOSS portion that attracted 31 machines. However, aside from the top-eight who were locked into the 40-lap, $10,000 to win and $1,000 to start finale, USAC racers reporting for heat races numbered just 16, losing a whopping 13 cars from the August 24th show. No semi-feature became necessary when Matt Westfall scratched after being stricken with food poisoning.
But as is always the case with Kokomo Speedway contests, quality trumps quantity. The 25-lap BOSS feature was a barn burner with Wapakoneta, Ohio's Mike Miller making the winning move underneath Cincinnati's Michael Fischesser while the white flag was waving. A 2002 Lawrenceburg Speedway and 2014 BOSS champion, Miller collected a $1,500 check for his initial Kokomo appearance. An extremely competitive and gratifying contest, the first seven machines were tightly bunched for the entire grind, with a plethora of position swapping occurring throughout the field. The two-time and defending BOSS champion, local boy Dustin Smith immediately moved from third to first but was quickly overhauled by Fischesser, eventually settling for the show position in his new DRC. Tyler Gunn galloped from 12th to gather 4th while 2018 Paragon champ Jake Scott found fifth. Steve Irwin, Andrew Prather, 2018 Waynesfield champ Dallas Hewitt, Cole Ketcham (from 17th after bagging the B), and Bill Rose rounded out the top-ten. Although the results did not show it, Travis Hery and J.J. Hughes had some great runs going before encountering issues. Hery was inside of the top-five when he spun on lap 15 while Hughes worked as high as third before slicing a right rear tire. Paul Dues (feature) and Luke Harbison (hot laps) accounted for the only two red flags of the evening. Recently reinstated by World Racing Group after a failed substance abuse test from July, Justin Peck (Burton 04) found the wall in his heat and ended his evening.
The box score of the USAC finale appeared to be dominated by Justin Grant, who after emerging as the winner of the highly entertaining King of the Hill match races started from the front and stayed there for the duration. However, the box score failed to show that he had heavy pressure the whole way, first from outside front row starter Dave Darland and then fifth-starting and defending Smackdown winner Tyler Courtney. One single caution came at the three-quarter mark for Chris Windom's flat right rear tire, with that lone yellow keeping the Ione, California native honest as the final dash to the checkered had Courtney pull even on at least one occasion. However, Justin and his Maxim/Claxton steed had too much speed to be denied his time in the limelight, alternating between low (three and four) and high (one and two) lanes on the multi-groove, lightning quick surface. Sunshine closely followed in second while C.J. Leary landed third from tenth, gathering a $550 bonus for hard charger and B&W Auto Mart Passing Master honors. Jason McDougal continued to impress with a finish of fourth while Brady Bacon settled for fifth. After his flat tire, Windom rallied to score sixth while Dave Darland backed up to seventh, victim of a pinhole in his right rear tire. Tyler Thomas, Chase Stockon, and Kevin Thomas, Jr. completed the top-ten at the 10:32 PM checkered flag.
In this fight to finish the USAC campaign, Tyler Courtney leapfrogged Kevin Thomas, Jr. as the point leader, holding a slim margin of seven points going into Gas City. Chris Windom was still third, but a black cloud continued to rain on his parade as he was now 58 points in arrears. Having struggled in the sprint car ranks since the middle of last year and feeling rather low after a string of September engine failures, I felt great for Grant, who tallied his first-ever Kokomo USAC triumph and second sprint score of the year. Clearly, 2018 has not gone as planned for the Grant/Topp Motorsports pairing, but there's nothing like a $10,000 score to right the ship. The season is far from over in K-town, as the Kokomo Klash comes on October 19th.
While readying for work on the Friday morning after Smackdown, I received a live video notification originating from Gas City I-69 Speedway. Touting his Inaugural James Dean Classic which now fell under USAC sanction, promoter/operator Jerry Gappens was being interviewed from the racetrack on Fort Wayne's ABC morning news, as track lighting shone brightly on Matt Goodnight's machine. Never have I been witness to such a promotion for a sprint car race, so excited to see the positive exposure given to this venue and the sport. Perhaps Jerry's promotions have begun to pay dividends, as by the time I arrived at the speedway a Sprint Week sized crowd was on-hand, helped by the fact that the weather was downright delightful. The Gas City grounds were buzzing with energy, such a shame that this was their last event of the season. But with an excellent surface, some extremely close competition, and a sprint car conclusion well before 10 PM, Gappens and Gas City mounted some serious momentum heading into 2019.
Working only a half day allowed just enough time to make a first-time stop in Fairmount for the annual James Dean Festival. Hoping to catch more than just a glimpse of some incredible automobiles, I managed to find a parking spot just south of the closed-off downtown streets, meandering my way through a show containing hundreds of incredibly cool classics and customs. Intrigued by an exhibit showcasing James Dean's first car (1949 Ford) and a Minneapolis Moline tractor owned by his family, I thoroughly enjoyed everything about the event and would easily make time to return in the coming years. Fairmount is a neat little town filled with all kinds of treasures, including a top-notch restaurant and brewery (Grains and Grill/Bad Dad Brewery).
A fine field of 33 USAC sprint cars were showcased at this James Dean Classic, with all the usual suspects accounted for. With seating slightly cramped, I watched qualifying from outside of turn four with Merrillville Al Longiny. Searching for redemption with his recent run of rotten luck, Chris Windom wound up topping the charts with a 11.988 lap, getting it done just three cars from the end of the line. Although his Smackdown showing was no doubt disappointing, Isaac Chapple rebounded with sixth-quick time, also impressing in his heat race win from fifth. The other three heats were won from the front row, which included Lima's Dustin Ingle. Justin Grant spoiled his fifth-quick qualifying time by failing to make it through his heat, but he rebounded with a semi-feature score. Garrett Abrams and Shane Cockrum were the first two to fail to make the feature cut, noteworthy that they were 2018 track champs at Lawrenceburg and Lincoln Park.
Speaking beforehand with legendary car owner Paul Hazen, I congratulated him on his 2018 Gas City championship with newcomer Clinton Boyles. Over the years, this I-69 Speedway has been very kind to the Columbia City resident, taking the first two titles in 1987 and 1988 with Tony Elliott and annexing another with Thomas Meseraull in 2010. In attempting to keep track of Paul's lengthy list of career accomplishments, I am certain that he owns at least 16 track championships in the sprint car ranks, split between Jim and Tony Elliott, Louie Mann, Jon Stanbrough, Meseraull, and Boyles. Feature wins are much more difficult to determine, as so many went undocumented. I have dates for 180 triumphs, but between Jim Elliott and Louie Mann, Hazen believes there should be at least 70 more. Providing potent equipment to a long list of celebrated chauffeurs, the one stat Paul is most proud of is his role in Robbie Stanley's 1992 USAC championship. In this push to get Paul's name on the National Sprint Car Hall of Fame ballot, I would hope that the panel members would come to realize just how much influence he has had on the sport over the last six decades, winning with a myriad of veterans while also mentoring so many to legendary status.
Watching heats and feature action from the turn three bleachers alongside Lafayette's Joe Higdon, I unfortunately missed out on the James Dean themed activities occurring in the main grandstand and concrete concourse. However, as a hardcore sprint car colleague, I was quite satisfied to see the surface held up nicely for the 9:30 PM green flag. With Jason McDougal and Isaac Chapple holding front row seats, Chapple immediately turned to the bottom and found first place. An MSCS winner here in May, fourth-starting Kevin Thomas, Jr. stole second from McDougal and shadowed Chapple for the first 25 laps. Interrupted by separate spins for Dallas Hewitt and Tony DiMattia, the final ten tours went uninterrupted as Thomas finally made his top shelf tactic work, inching ahead on the exit of turn two to lead the 26th circuit. Restarting fifth after that final caution, last year's Sprint Week winner C.J. Leary also made hay on the high side, immediately circling Windom and using the last two laps to power past McDougal and Chapple. On the final go-round, the latter two locked horns as they approached turn three. Jason spun his Daigh/Phillips 71 and attracted Josh Hodges, but Isaac somehow extricated himself and crossed the line behind Chris Windom and Chase Stockon. But with Thomas and Leary taking the checkered while the yellow flag was flying, USAC's split scoring allowed Chapple to produce his second podium in less than a week, pimping Windom and Stockon. Yellow laundry was swapped for red when Dallas Hewitt dumped on the east end.
Hot and cold in this fight to the finish, KTJ collected his sixth USAC sprint car victory of the season and snatched the point lead from Tyler Courtney, who had a definite off evening. Courtney qualified 17th and won his heat race but had to begin the finale from 17th. After passing a bunch of cars early, an over the cushion expedition in turn three threw it all away. Winding up where he started in 17th, Tyler now trailed KTJ by 37 points. With split-scoring reverting to the last scored lap for those not receiving the checkered flag (and those not involved in last lap incidents), sixth through tenth place finishers included Dave Darland (from 12th), Kyle Cummins (from 18th), Grant, Tyler Thomas, and Clinton Boyles (from 20th).
Sad that a fantastic Friday had to come to an end, Saturday's spectacular weather spawned even more energy and enthusiasm. A lot to see and do before leaving for Lawrenceburg's Fall Nationals, I was unable to exit Indy's north side until 4:45 PM. I tried my best to make up for lost time and covered the 107 miles (plus one fuel stop) in just 95 minutes, arriving as qualifications commenced. Missing an extremely rare Chris Windom time trial tumble, after reverting to a backup Baldwin DRC/Claxton combo the Canton, Illinois charger came out at the end of the order for one lap, claiming the 20th best time in a field of 26. After hustling from the sign in shack to the turn two bleachers, I was able to observe C.J. Leary's clocking of quick time (13.877). All the usual suspects wound up in the top-six, which for the second night in a row consisted of Isaac Chapple. Tyler Courtney was also included, but that did not come without work and worry as the Clauson/Marshall/Newman crew was forced to swap engines before hot laps ever began. Much like Windom, Brandon Spithaler (Gagliardi 77) and Justin Peck bounced through turns three and four but did not invert.
After Dave and Kim Rudisell bestowed the honor of "Legend of Lawrenceburg" to the retired Jon Stanbrough, only three heats were held. But, just like qualifications, they served up their own share of drama. Leary and third-quick qualifier Brady Bacon were bold in their surges from sixth, using high-side heroics in the latter stages. Tyler Courtney suffered a flat left rear tire, spoiling a certain feature start near the front. On the final lap of that same heat, second-quick qualifier Kevin Thomas, Jr. and Chris Windom connected for fifth, with KTJ snagging the spot. Like Courtney, Chapple was unable to capitalize on a superb qualifying time, having to come through the 11-car semi-feature. That semi sent seven more men to the finale, with Nick Bilbee nipping Minnesota's Brian VanMeveren for the final ticket. Tony DiMattia, Garrett Abrams, and 305 racer Frank Rodgers trailed Big B.
Needing just 30 laps to decide who would cash the $10,000 Fall Nationals check, Dave Darland and Smackdown stud Justin Grant held front row seats for a hotly contested finale. Grant held his ground and came away with the lead as they exited the first two corners. Sixth-starting C.J. Leary gained two positions on the first round but titled on two wheels at the start of the second. Flipping and landing on all fours, C.J. later complained of soreness in his back and neck. X-rayed and tested the next day, Leary's Twitter feed claimed that he was cleared for the following weekend's contests in Kansas and Missouri.
Restarting with just one lap in the books, fourth-starting Bacon now sat second and seized the day with a dynamic diamond of the first set of corners. Shot out of a cannon down the back chute, he was thus able to beat Grant to the opposite end. Justin immediately retaliated with a slider through one and two, but number 99 answered with a clean crossover. The top two proceeded to put some distance between themselves and third place Darland, who at the one-third mark had to contend with a Tyler Courtney slide for life. Dave drove down the bank and was able to retain the spot, soon to be followed by the lone caution caused by Brandon Spithaler.
With the scoreboard indicating that 19 laps were left, Grant immediately showed his hand with a turn one overtaking. Bacon's inclination was to return fire but JG still reached turn three first. Meanwhile, Courtney had already corralled third as Darland drifted to sixth. Justin would extend his advantage as the war for second and third was waged between Bacon, Courtney, and 19-starting Chris Windom. In the final six circuits, Bacon rapidly reduced the distance to Grant's rear bumper courtesy of lapped traffic. Giving it all he had with his inboard brake rotor glowing, Brady's unexpected last lap bike between turns one and two sealed the deal. In the span of one weekend, Grant, crew chief Mark Shambarger, and Topp Motorsports completely turned their year around, tallying their second $10,000 bounty in three days. Finished by 9:45 PM, Bacon, Courtney, Windom, and Thomas took top-fives. Darland, Andretti, Stockon, Chapple, and Hodges represented the second half of the top-ten. Looking to Terre Haute on October 12th after Lake Ozark and Lakeside were washed out, Thomas holds a 37-point advantage on Courtney. Windom is still third, needing to make up 62 points.
Now that October has occurred and less than a handful of outdoor contests remain on my calendar, I have accepted the fact that it's time to start thinking about modifying my mindset and routine. No longer feeling stress for what is out of my hands, I am thankful to have witnessed so many meaningful events in this month of September. Remembering my 1992 Jac Haudenschild t-shirt that so boldly stated "go big or go home", hopefully I will be able to absorb even more action in Terre Haute, Haubstadt, Eldora, and Kokomo, as I would much rather go big until it is time to go home.
Volume 20, Number 13
Fight to the Finish
Since joining the working world some 24 years ago, the flipping of my Paul Oxman Sprint Car Racing calendar to the month of September remains an all-too-alarming event. Replacing the stress and dread of performing well in school with the fleeting feeling of freedom in this rapidly declining summer season, this sunset on yet another racing campaign offers zero time for reflection as this last full month is chock full of highly-anticipated annual events. Basking in a blanket of warmth in this fight to the finish, most often the climate and conditions are favorable but as we have been so unapologetically reminded by the weather Gods, there are always exceptions to the rule.
Due to an increasingly hectic work schedule, exercise routine, mid-week events, weekends filled with travel, multiple birthday parties, and the overall desire to give my brain a break, I have clearly fallen behind on my September blogging. Rewinding back to the beginning of the month, it all began with an early alarm clock and my first-ever excursion to Auburn, Indiana for its famed Labor Day Weekend classic car auction conducted by RM Sotheby's. This aspect of the celebrated Auburn-Cord-Duesenberg Festival came courtesy of my father-in-law, whose key connection came with primo passes and a golf cart. Eyeing some excellent equipment with much more realistic pricing than Barrett-Jackson and Mecum, I even observed former Dave Darland car owner and auctioneer Brent Earlywine handling the main microphone and doing this thing. Giving the accompanying swap meet a look and deliberating over the purchase of several old signs, for once I was able to exercise some willpower over my issue with impulse buying. Ending the day with a stroll around the DeKalb County courthouse square where numerous Auburn boat tail speedsters, both real and reproductions, served as eye-candy, I'd definitely come back another year, perhaps even to place a bid. However, I sadly doubt that a Grabber Blue 1970 Ford Mustang Boss 302 formerly owned by Bill Elliott will come across the block once again. Selling for $58,850, I would have gladly sacrificed many possessions to own this dream ride.
Riding four hours the next day to Du Quoin, Illinois for the traditional Ted Horn 100, with my nephew handling driving chores I was able to focus on finishing my most recent blog. Leaving an hour earlier to allow time for a stop in downtown Du Quoin at St. Nicholas Brewing Company, the ambience and romance of this ancient hotel along the famed Illinois Central "City of New Orleans" route was undeniable. As usual, Du Quoin's Magic Mile in the evening hours was spectacular, thrilled and satisfied that the primary groove for the 100-mile finale was on the outside wall rather than along the rail in the rubber.
Equally pleased that two-lap qualifications made its return to the program, two-time Little 500 champion and noted asphalt expert Jacob Wilson surprisingly clocked the quickest lap at 30.214 seconds, well off the 29.138 record set by Tyler Walker back in 2004. A fine field of 38 made the call, offering the first Du Quoin semi-feature in over a decade. This last chance affair served as a heartbreaker for Steve Buckwalter, whose long haul from the Keystone State was wasted with a DNF while operating in second.
With the feature event taking the green at 8:54 PM local time (nearly 10 PM Indy time), rather than look at my watch and worry about the time we would arrive home, I soaked up the scene as outside front row starter Jerry Coons, Jr. led the first six laps in Gene Nolen's 20. Coons gave way to fourth-starting Brady Bacon (Klatt 6), whose Beast-Ford combo rocketed past on the outside of turn two to lead the next 28 laps. In his second race of driving a DRC for Mickey Meyer, third-starting C.J. Leary also made some early noise after collecting second from Coons and breaking away with Bacon. A lap 16 turn three tumble for J.C. Bland (snapping a rear axle) saw Coons pit, with Jerry having to work extra hard in his eventual return to the top-ten. The second and final stoppage came on lap 35 when rookie Austin Mundie mauled the turn one concrete, flipping all the way to the inside guardrail where trigger-happy photographer Chris Pedersen refused to flinch. Serious incidents were the norm on this Sunday, as hot laps began with a bang when Chris Fetter crashed Craig Dori's former Beast, aided by contact from another competitor.
Bacon was the best early on, but clutch problems prevented him from restarting after that Mundie miscue. Handing the lead to Leary, the Greenfield gasser and 11th-starting Tyler Courtney set a blistering pace for the next fifty tours. I cannot adequately describe just how much of a treat it was to watch these two aggressively attack the thinning cushion, burping the throttle on turn one entry while canvassing the concrete perimeter. Forgetting that Silver Crown affairs favor endurance, after a lap 86 slip in turn one Leary mysteriously slowed, later learning that he was running out of fuel. Sunshine slipped into first with 13 to go, but his time up front was only good for seven circuits, as he too had issues with fuel consumption. Clearly, running the top-side of a one mile oval takes more than 75 gallons of fuel to make 100 miles, made worse when there were no caution flag periods (just two reds). Leary and Courtney's balls-out, rim-riding antics ultimately bit them in the end, with C.J. somehow coasting to seventh while Tyler was a DNF.
Employing a more conservative strategy of running a lower line and slower pace, Springfield winner Chris Windom might have been the tortoise versus the pair of hares, but in the end he wound up sweeping the Illinois miles in Gene Nolen's Maxim/Tranter. Firing from fifth, Kevin Thomas, Jr. scored second in Galen Fox's 56, finding out their Eagle chassis was supplied by longtime Foxco customer Don Fike. Local favorite Shane Cockrum cruised from 14th to 3rd, with Justin Grant and last year's winner Kody Swanson (from 12th) making due with top-five finishes.
As is the case with 100-mile contests, heavy favorites fell to the wayside. 1990 winner Jeff Swindell (Swanson 21) exited on lap 10, credited with 30th place. 1997 victor Russ Gamester was next, joined by 2008 winner Brian Tyler (Galas 12) on lap 18. After charging back through the field to obtain a certain top-ten, Jerry Coons, Jr. finally gave up the ghost with 12 to go, still searching for that first Southern Illinois score. After starting 16th and operating in the second half of the top-ten, 2007 winner Shane Cottle was also eliminated in the final ten tours. As a result of such attrition, David Byrne, Austin Nemire, Joey Moughan, and Kyle Robbins captured finishes of sixth, eighth, ninth, and tenth.
Traditional one-mile Silver Crown contests seem to be the best places to bump into long-time racing groupies. Formerly calling the Chicago area home, a culture-shocked Russ Creason was located in the turn one stands. Now hailing from Carbondale, he reluctantly punches the time clock at a Rural King. In those same open stands, I also encountered Paragon photogs Kevin Plummer and Dudley Green, former sprint car star Robbie Rice, and USAC super fan John Nolan, who formerly made overnight Du Quoin drives all the way from Darlington, South Carolina. Carrying on the proud tradition of his father Randy, when not fighting fires Drew Mortland also finds time to make the expedition from East Alton. Former promoter and school teacher Brian Thompson was even on hand, undoubtedly capturing some spectacular crash footage of Fetter and Mundie as he enjoyed a spot along the inside rail between turns one and two.
A 4 AM Indy arrival from DQ made Labor Day a non-event for yours truly but after a rare Tuesday trip to Bonge's Tavern to enjoy an excellent meal with Bryce Townsend's New Zealand tour group, the much anticipated Driven2SaveLives BC 39 at the Indianapolis Motor Speedway was finally available for consumption. Several weeks removed, I'm still in awe of this event, particularly for the incredible action on Wednesday and the teamwork and effort involved in recovering from Thursday's multiple rain showers. Working full days in the office and relegated to being a paying customer, even though I was forced to miss half of hot laps on opening night I was clearly not alone, parking next to 16th Street Speedway opening night winner Brian Gerster and walking in with former Indianapolis Raceway Park GM (now a Senior VP at Don Schumacher Racing) Mike Lewis. As much as I loved everything about this event, if I could change just one thing, it would be pricing. $35 and $45 tickets, plus $10 on-site parking, seemed far too steep for just a midget show.
Such a rare opportunity to witness an opening night at a brand-new venue, I admit that my first impressions were way off base, as I was initially concerned by the tight confines and rough surface present in the final six practice sessions. Any concerns went out the window after track preparer Reece O'Connor worked his pre-heat race magic, packing the imperfections with his trusty water truck. Reece's relentless pursuit of perfection paid huge dividends once the racers finally figured out how to navigate those paperclip corners, as my Indy expectations for excitement were easily exceeded.
The massive list of 118 entries was reduced to a realistic 110, with Wednesday's 12 heat races and singular Australian pursuit completed by 10:38. The two biggest things I will always remember about that opening night were: 1) the electricity generated from all that IMS ambience, and 2) all those oohs and aahs emanating from the grandstand, undoubtedly from fans who have never previously observed short track open wheel action. Each one of those 12 heats had something for everyone, beginning with a dramatic spin and win in the first heat from Tyler Courtney which was immediately followed by a heat race victory from Keith Kunz Motorsports newcomer Maria Cofer. Using a passing points format to line up Thursday's qualifying races, Alex Bright ended the opening night on top after nailing a win from ninth. Several others claimed victories from fifth and seventh, impressed by second place performances from Zeb Wise, Brian Karraker (only his second midget drive), Terry Babb, Korey Weyant, Brayton Lynch, and Travis Young, as each came from deep in the field. The volley of sliders between Steve Buckwalter and Jason McDougal got the crowd going, worked into a frenzy after a last turn, last lap pass for the win by Tyler Thomas. Fifteen-year-old Zeb Wise wrapped up the evening with a dramatic win from 18th in the 25-car Stoops pursuit, sliding Alex Bright while accepting the white flag. Wearing the same numerals as Clauson, Wednesday's finale could not have been scripted any better.
With everyone raving about Wednesday, how could Thursday even come close to topping such an outstanding opening night? As rain continued to fall while impatiently waiting at the intersection of 25th and Georgetown, my wife and I seriously doubted that we'd see any action whatsoever. I was feeling some serious stress that those $45 tickets would go to waste, as the listed rain date was the following day – a day that I was scheduled to be at work. The grim weather forecasted for Friday and USAC's hectic weekend schedule meant that the only available window would be Thursday evening, if they could even get the track in operable condition. Frequent twitter updates eventually influenced our entry, promising midgets on the track by 8 PM. Behind the scenes, I had zero clue as to just how daunting that challenge was. The second set of showers between 5 and 6 PM made the grounds and racing surface a muddy mess, so much that any sane operator would have pulled the plug and waited for another day.
As principals in the construction of this venue and operation of this event, Levi Jones, Reece O'Connor, and Scott Petry (an excavation expert who also had three cars entered) had their backs firmly placed against the wall. Aided by a bevy of USAC officials who worked their tails off, some excellent equipment donated by Westside Tractor, and Petry's gallop back to Greenfield to grab additional skid-steer loaders, cars were indeed on the track around 8, requiring two hours of wheel packing and hot laps just to be ready for the scheduled eight qualifying races. Already announcing that multiple E and D mains would be scrapped, eventually the C and B mains had to go bye-bye as well, as noise and curfew ordinances had IMS President Doug Boles on the phone, promising that the races would be over any minute.
Forced to call an audible, USAC officials determined that the top 24 points producers after Thursday's eight qualifying races would compete in the 39-lap finale. I'm sure the decision disappointed many of the competitors who needed those alphabet soup contests to make the main event, but there was no way that racing could be conducted until the wee hours of Friday morning. Speaking as a fan in that tightly-packed main grandstand, I'm glad that I got to see any kind of a finale. Concluding at a weary 12:25 AM, the majority stayed to see seventh-starting Brady Bacon (FMR Beast/Toyota) beat tenth-starting Chad Boat and pole-sitter Kevin Thomas, Jr. (leader of laps 1-30) in a thrilling three-car free-for-all. 26 cars competed on the tiny track, with front row starter Tyler Courtney settling for fourth as NASCAR star Christopher Bell charged to fifth from 17th. Alex Bright, Justin Grant, Holly Shelton, Jerry Coons, Jr., and Ryan Robinson were credited with top-ten finishes in this initial Indy outing.
Impressed with the enthusiasm of the fans and participants, the extreme effort from principals and series officials, and the overall entertainment value offered by IMS midgets, I was ecstatic to read Robin Miller's Racer.com report that this first-time event was deemed a home run. Hoping that it at least becomes an annual event and helps make the Brickyard week a little more sustainable, although Boles squashed the idea of a Night Before the 500, naturally I wonder if this dirt bullring will get utilized more than once a year. Measured at 1,200 in distance some ten feet beneath the outside wall, Levi Jones says that USAC sprints currently run at smaller venues, so sprint cars could be a possibility. However, a big part of me hopes that the BC39 is the lone event held each year. Creating another IMS tradition, it also builds big-time anticipation and elevates midget racing to another level.
In this September weather anomaly, the remainder of the USAC events scheduled that weekend were of course awash, moving Gas City to September 28th and Kokomo's Smackdown conclusion to September 27th. However, the wait for USAC sprint car action was only temporary, as Friday the 14th found me traveling west on I-70 to Terre Haute's Jim Hurtubise Classic. Frustrated by the ridiculous amounts of rush hour congestion in the fast lane of this supposed superhighway, unfortunately road construction around exit 7 cost me hot laps. Catching qualifying for the slim 24-car field with former midget and sprint car competitor turned flagman Steve Parkes, just three heats, a 30-lap feature, and a short field of modifieds resulted in a respectable 9:45 PM sprint car conclusion.
After the Sprint Week letdown of which I was highly critical, to promoter/operator Bob Sargent's credit these last two Terre Haute surfaces (including August 12th) were completely up to snuff, offering moisture and a substantial cushion the entire evening. At the end of it all, BC39 winner and fifth-starting Brady Bacon remained white hot. Capitalizing on an early yellow flag and a subsequent sixth lap C.J. Leary turn three/four bobble to lead final 25 feature laps, Brady laid claim to his fourth USAC sprint car conquest of the season. Bacon had to execute perfection in in his time up front, as he was heavily pursued in this fight to the finish by first heat winner and quick qualifier Robert Ballou (19.621), who just so happened to debut another chassis massaged by BOSS builder Flea Ruzic. Never faltering, the superior setup applied to Bacon's Triple X chassis by FK shock constructor Matt Hummel allowed him to set the fastest lap of the race on circuit number seven (20.550). Winning Indy the previous Thursday, becoming a father for the third time on Monday, and taking Terre Haute the following Friday, it was a whirlwind but highly exciting nine day stretch for the two-time USAC sprint car king.
Afterwards, both Bacon and Ballou noted that their rides were a tad on the tight side, as the track only began to blow off in the second half of the feature. Trailing in third was Chris Windom, salvaging a decent point night as he gained a few on Kevin Thomas, Jr. and Tyler Courtney. Biking and bobbling a few more times, C.J. Leary landed in fourth. And, after cutting a tire on his qualifying lap and forced to start the feature from 12th (even though he timed 7th), Thomas took fifth. Positions six through ten were populated by pole sitter Shane Cottle (Goacher 5G), Tyler Courtney, Chase Stockon, Stevie Sussex (Dutcher 17), and 17th-starting Jason McDougal (Daigh/Phillips 71). Like KTJ, Courtney had a far too eventful evening, slowing and stopping around lap 14 after a nozzle line came loose. Quick infield work from his crew allowed him to restart from the rear and soldier home 7th, albeit a far cry from his THAT tallies in May and July.
Others having issues at the Action Track included third heat winner Dave Darland, who after starting eighth encountered issues under the hood when his power plant puked its oil contents midway through. Darland overtook Nick Bilbee on the final lap of the heat thanks to a slice in Bilbee's right rear tire, unable to be seen from my infield vantage point as I stood alongside Eric Burns. Turned by Bill Rose three laps into the feature, while Nick was sliding backwards into the turn one wall he was blasted by Josh Hodges, the contact requiring servicing by DRC's Joe Devin. With sore ribs and a ruined racecar, the only consolation for the welder/fabricator was the comfort from family and a cold Miller Lite. After suffering engine issues for the third race in a row with his Topp Motorsports Maxim/Claxton, I could sense some serious dejection within the voice of Justin Grant as he was making the post-race walk to his personal vehicle. The lone competitor unable to make the call for the feature event was Nate McMillin, whose heat race entanglement with Jarett Andretti ended his evening.
Traveling to and from Terre Haute on my own, the same could be said for my lengthy Saturday haul to Haubstadt as my nephew had to excuse himself for a sudden sickness. Allowing me to leave a little earlier than planned and employing my usual 465-231-67-57-50-241-41 route, I nervously calculated that I had just enough time to make a first-time stop at a one-of-a-kind, out-of-the-way eatery: Ohana Hilltop Tavern in Hazelton, Indiana, which is just a few miles off route 41 and not too far from the world-famous melons that are still sprouting in Decker, Indiana. Learning about the place via a Jonathan Vennard Facebook post, the simple fare from this mom and pop establishment did not disappoint, as manager Lucy Adkins won me over when she advised that her steaks and chops are supplied by Haubstadt's much-heralded Dewig Meats. Always a sucker for a flavorful ribeye, I chose the ten-ounce version with sides of German potatoes (appropriate for Gibson County) and buttered corn as I caught the end of the Notre Dame/Vanderbilt game with a few Hilltop regulars. Ten ounces seemed more like 16 and as my first and as only true meal of the day, it hit the spot. Leaving enough room for one of Lucy's homemade desserts, I decided on coconut pie but wondered about the myriad of other options. I guess I'll just have to come back another time.
After my meal had vanished and my tab was taken care of, for posterity purposes I snapped some obligatory exterior photos. Turning to the north, I couldn't help but notice that State Road 56 made a hard right at another eating establishment (White River Inn), observing some overgrowth and a dead-end sign. Astonished that I had finally arrived at the abandoned U.S. 41 bridge over White River, it's a place that I had always wanted to visit since my first trip to Haubstadt, as for years I mistakenly believed this was an old railroad bridge (visible from the current highway). Built in 1923 but closed to all traffic for a few decades, I hope to come back when I have more time to explore.
Sacrificing a prime parking spot on the U.S. 41 side of Tri-State Speedway for that Hilltop stop, this $10,000 to win Haubstadt Hustler already had a huge crowd on-hand, forced to park way outside of turn two, not far from the Helfrich pond. Feeling the magnitude of the event due to the slow pace with which I waited in line to find my spot, it's hard to imagine that it has been ten years (2008) since this first Haubstadt Hustler was hosted, remembering signs of Southern Indiana farmers in support of Barack Obama on that long-ago journey. Ten years gone, the Hustler still draws strong numbers at the front gate and the back gate, as 36 sprinters signed in for duty. MSCS rules again reigned supreme, offering a format very similar to Kokomo Speedway's standard shows. Timed hot laps lined up heats that inverted the fastest four. Those four heats transferred the top-four, but the top-two would redraw for the first eight feature starting positions. The other two finishers from each heat were lined up according to their finish, in order of their heat. As an example, Kyle Cummins finished third in the first heat and earned the 9th starting position while Robert Ballou (fast qualifier for the second evening in a row, but in a different car from Friday) finished third in the second heat and earned the 10th starting position. The final six starters came from the semi-feature.
Ending a 15-race dry spell in the USAC win column, just as he did in April national point leader Kevin Thomas, Jr. wrenched victory from the hands of C.J. Leary, tallying his third Hustler honor since 2013. Exactly like April, Leary appeared to have the dominant car from the get-go. Qualifying quickest for his heat, C.J. spun while avoiding an errant Donny Brackett, yet still came back to claim second to Brady Bacon in a photo finish. Drawing the outside pole for the 40-lap finale, the Greenfield grenade gathered the lead from pole sitter Kent Schmidt on the second circuit and led through lap 36. Similar to the spring showdown, the third-starting Thomas used lapped traffic in the waning stages to pull even and ahead with a low-side launch off turns one and two. Up front for the final four tours, it was good enough for Kevin's fifth series win on the season and a 21-point advantage heading into Eldora's Four Crown. Not without drama, Kevin was unable to avoid post-race calamity as his Mean Green Hoffman 69 DRC piled into a pair of lapped machines that had spun (Isaac Chapple and Chet Williams) and blocked the middle of the track between the first and second corners. Although second place Leary managed to avoid the mess, third place Jason McDougal could not.
A brand-new venue for Jason, despite the incident his night was incredibly solid, starting eighth and shadowing his landlord the entire distance. Meeting the 21-year-old for the first time thanks to car owner Carla Phillips, I was impressed with the kid's humble nature, as he mentioned that his primary reason for arriving in Indy earlier this year was for a real job (he welds part-time for JRS Fabrication). Landing top-notch rides in all three USAC disciplines, he was tabbed to drive Chris Dyson's bad-ass Beast Silver Crown car at the Four Crown, also scheduled to run a Reinbold-Underwood 19 on the upcoming west coast swing.
Although he did not win like the last time, Dave Darland enjoyed another excellent Haubstadt outing with his fourth-place feature finish, as Scott Benic has him feeling comfortable and confident on this tacky paperclip. Out of a three-car Briscoe-Pottorff-Reinbold stable led by Brady Short, Carson Short (no relation) was the only one to earn a feature berth, flogging from 15th to 5th in the CBR Maxim. Chad Boesfplug (Reinbold Spike) and Josh Hodges (Pottorff Maxim) finished eighth and ninth in the semi-feature and were unable to utilize provisional starting spots.
Positions six through ten showed Tyler Courtney (putting four wheels in the fluff to advance ten spots), Robert Ballou, Chase Stockon, Kyle Cummins, and Donny Brackett. After qualifying quickest for his heat and winning it from fourth, fourth-starting Chris Windom mysteriously slowed on the sixth lap and was immediately pushed to the work area. Breaking a stud in the left front control arm, his Baldwin bunch was unable to enact repairs by the time the field restarted. Windom would eventually return two laps later when Kent Schmidt and Stephen Schnapf met in turn four but was only able to salvage 17th, losing more ground in his quest to defend his national championship. Still just 54 points in arrears of KTJ, Big Daddy was planning to pounce at the Four Crown.
After his Terre Haute tally, Haubstadt was anything but a cakewalk for Brady Bacon. Climbing an errant wheel on an unlucky lap 13, Brady bounced upside down but was somehow able to return, collecting 14th place pay. In addition to bigger names like Boespflug and Hodges, others failing to make the feature cut included Dakota Jackson, Stevie Sussex, Chase Hayhurst, and Shawn Arriago. Just his third time in a sprinter, Hayhurst is of course son to former Haubstadt mainstay Gary Hayhurst while Antioch, California visitor Arriago was here to pay tribute to the recently deceased sprint car supporter Jim Fuchs.
Always a treat to take in a Tri-State show, driver introductions, pre-feature fireworks, and animated announcers truly made this feel like a special evening. Still a comfortable 80 degrees at 8:15 PM, I was on the road by 9:40 PM local time. After making one stop in Fort Branch for both car and body fuel, I was pulling into my driveway at 1 AM, still reasonable in the realm of late-night drives. I hope to do it all again on October 13th for the MSCS/Powri Harvest Cup, a season-closing contest paying $5,000 to win.
Continuing my next column with the second half of September in this fight to finish 2018, the high points from Eldora's Four Crown Nationals, Kokomo's Sprint Car Smackdown, Gas City's James Dean Classic, and Lawrenceburg's Fall Nationals will be covered. Stay tuned for those details.
Volume 20, Number 12
Unfinished Business
After losing the first three weeks of the 2018 Indiana outdoor open wheel calendar to the terrible trifecta of ten inches of snow, frigid temperatures, and relentless rain, one would think that the weather Gods would have given the racing fraternity a free pass for the remainder of the campaign. Although conditions in late April, May, June, and July have mostly been favorable, I have still missed my share of shows as wet weather inevitably occurs on Fridays and Saturdays rather than Mondays and Tuesdays. Ultimately reminding me why I never got into the business of operating a dirt track, the ugly four letter word even returned in August, a month that's traditionally hot, humid, and dry.
Wishing to stay close to home on this third week of August despite an enticing 43 car entry list for Springfield's Bettenhausen 100, I still felt a nostalgic need for speed. Choosing instead to attend unsanctioned events in Bloomington and Lawrenceburg that honored Indiana sprint car titans and bitter rivals Bob Kinser and Dick Gaines, this pair of extremely special events would attempt to satisfy my never ending desire to go back in time. Set to be Bloomington Speedway's final event of the season, unfortunately the aforementioned wet weather spoiled the first annual Bob Kinser Memorial, rescheduled for August 31st. Although Lawrenceburg Speedway did manage to get their 15th annual Dick Gaines Memorial completed, it wasn't without its share of stress for promoter/operator Dave Rudisell, as Mother Nature challenged both he and his staff with a monsoon about an hour before hot laps were ready to roll. Fast forwarding to Kokomo Speedway's Sprint Car Smackdown, I even found heavily saturated grounds upon my arrival on Wednesday August 22nd. The first three evenings went off without a hitch, but ridiculously stiff Friday winds prematurely parched its normally soaked surface, requiring razor sharp precision from the racers and forgiveness from front stretch fans who were subjected to such unusual sandblasting. However, torrential Saturday storms similar to 2014 and 2016 flooded the grounds and moved the finale to September 9th. That rescheduled Bob Kinser Memorial for the 31st of August was subsequently called off despite a valiant attempt by the Bloomington staff to get the show in. Choosing to wait out the BKM decision at Janko's Little Zagreb at 6th and Morton, Rachael and I encountered the omnipresent super fan Chris Jockish. After a late afternoon bridging of State Roads 67 and 37 via Paragon Road to dodge I-69 construction congestion, I soon realized that such a strategy was no longer appropriate as my entrance to State Road 37 was completely cut off. Remembering a June 1991 journey from a rained out Bloomington All Star show to a standard winged Paragon program (yes, Paragon ran opposed to Bloomington on Fridays), we used Paragon Road to watch Bob Kinser beat Allen Barr, perhaps one of the last times I saw Bob win. Just like the transfer of Paragon Speedway power and Jon Stanbrough's retirement, my inability to fully utilize Paragon Road was yet another end of an era.
So aside from the events surrounding the Indianapolis 500, it certainly feels like the rest of 2018 has been an uphill battle against Mother Nature. As a result of her wrath, the middle of August resulted in an inordinate amount of unfinished business for both participants and patrons.
Despite Springfield's Silver Crown contingent and Putnamville's $3,000 to win Midwest Sprint Car Series, the Gaines Memorial still managed to attract 23 sprinters, with Chase Stockon (Hoffman 69), Paragon champion Jake Scott, Isaac Chapple (Pedersen 4P), Jake Gordon, Daylan Chambers, Stevie Sussex (Dutcher 17), Jarett Andretti, and Robert Ballou serving as deviations from the Lawrenceburg norm. Perhaps a similar $3,000 to win and $300 to start purse was the added incentive for such attendance, but the homage to one of the sport's all-time greats was the sole reason that Steve Thomas made the long tow from Ludlow, Illinois. As an impressionable 18 year-old in his second year of competition, Steve raced in the same 1977 Champaign, Illinois feature in which Dick Gaines had his career-changing crash in Karl Kinser's lightweight number 11, remembering the white blur of the Gaines tail tank soaring through the air. Gaines and Steve's father Al were close friends, and as long as there's a race in honor of Dick and Steve has a car, he says that he will be there to support it. Speaking of the senior Thomas, he finished 13th the evening prior in Lincoln, Illinois. 83 years young and set to turn 84 on August 25th, Mr. T. had a stent replaced in early June, otherwise he would have raced many more times in 2018.
The term unfinished business and the Dick Gaines Memorial is an automatic association for Dick's son Dickie, who finished second in the inaugural running way back in 2004. That's his best result in the event's 15 years, also taking fourth, fifth, sixth, seventh, and ninth. Back in John Soudrette's DRC, tonight he also enjoyed the assistance of Jared Fox, with whom he partnered for a solid 2008 season consisting of six victories, a Bloomington track title, and a surge from 16th to 3rd at the Four Crown. Fox noted that his ride across U.S. 50 with Gaines was quite hairy, as Dickie was running late as usual. Thankfully, the 40-minute delay to the start of hot laps allowed both to decompress from the drive, allowing Dickie to refocus his energies on winning this all-important battle. Qualifying third in his timed hot lap session and scoring a heat victory from second, Gaines would later draw the third starting position for the 25-lap finale. Would fate finally intervene and allow him to finally take home this coveted trophy?
Producing Indiana Sprint Week's number one time trial performance at The Burg, Nick Bilbee would also clock the quickest overall time (13.802) from the three hot lap/qualifying sessions in his family-owned DRC, easily winning his heat from fourth. After connecting with Tony McVey while leading the last Lawrenceburg outing and requiring the services of Pat Giddens to repair his one race old DRC chassis, Joss Moffatt was the quickest in his group (13.972), boasting that this particular piece was easily the best non-wing car he's ever had the pleasure of piloting. Robert Ballou topped the charts in the final group despite bouncing into the turn one wall on the final lap, also going on to claim a heat race win. After qualifying third in that same group, McVey biked and blasted the turn one wall as well.
In between heats and the feature, for the fourth time this season I was entertained by a lengthy conversation with 1988 Lawrenceburg track champion Leon Thickstun, who says he has not towed a car to this track since the late 1990s. Admitting that it would take a miracle for his machine to run in the top ten on tonight's heavy surface, Leon still loves a place like Paragon where his $8,000 engine (assembled by Scottsburg's T.J.'s Machine) is adequate, claiming yet another track championship in 2018. Thus continuing his successful legacy of grooming young drivers, in the last two decades the Nashville resident has directed the championship winning efforts of son Rocky Thickstun (now a New Orleans fishing guide), Steve Rone, and current driver Jake Scott. Brothers Brandon and Travis Spencer have also been heavily advised, with Brandon's skills showing significant improvement in 2018. Reminiscing about Leon's head-first dive into the sprint car spectrum in the early 1970s, he was so confident about his abilities that he took out a $4,000 bank loan to finance the purchase of one car and all the necessary equipment from Dizz Wilson. A far cry from today's spendy sport, at the end of that first season his savings account showed a positive balance of $10,000. Co-owning his current Spike chassis with wife Karen, the two of them met while employed at Cummins in the late 1980s. Achieving a variety of degrees from Duke, Virginia, and Butler, even though she is employed as a music professor at Butler and is passionate about the arts, she has also acquired a taste for the entirely different world of sprint car competition. Recalling those days in which they were dating, Karen's indoctrination to the sport came right here at Lawrenceburg, where Leon impressed with a rare clean sweep of an evening. A true Indiana treasure who has countless stories to share, any time spent with Thickstun is indeed well spent.
Originally planning on competing at Gas City and Montpelier (BOSS wing), Mt. Vernon High School senior Jake Gordon dropped out of his heat race after continued poor performance from his power plant. Mostly magneto related according to his famous father, the annoying issue has plagued the team three times since early June, one of them when Mr. Little 500 was wishing to compete against Aaron Mosley in an August 4th clash at Lincoln Park Speedway. Relaying his frustration while swapping a fuel pump, Eric even incurred mag maladies in his recent Silver Crown start at Salem. Unfortunately the fuel pump was not the issue, as Jake was one of the first to pull to the infield after the feature took the green flag. A few days after Lawrenceburg, the Mopar engine and former Hoffman Auto Racing USAC championship winning Triple X chassis were up for sale on the internet, with Jake confirming that both were traded to Scott Benic for a Dave Darland backup machine that will be available later this year.
The action-packed 25-lap finale to this Gaines Memorial was worth its weight in gold. Wild, thrilling and unpredictable, the edge of your seat affair featured some big-time bounces, bike rides, banging of wheels, and a squeeze play or two, supercharging my psyche for the hour and forty minute drive home. Indianapolis's Nick Bilbee led the first 13 laps from pole position in his family owned DRC but outside front row starter Jarett Andretti found a way underneath in turns three and four on lap 14. Jarett was able to construct a full straightaway advantage and was clearly on his way to victory before a caution came on lap 23 for a stopped Danny Teegarden. Restacking the deck for a three lap shootout, second place and sixth-starting Robert Ballou suddenly had new life. With Donnie Gentry now spinning sockets on his DRC, Andretti showed supreme speed on the top but chose to go low on the final circuit, allowing his opponent to build some high side momentum. Robert got a great run off turn two and circled Jarett through the exit of turn four to score the shocking victory. Career win number seven at The Burg, Ballou's second Gaines Memorial victory in consecutive seasons made him the only two-time winner in 15 years.
Point leader Garrett Abrams, Bilbee, and Dickie Gaines took third through fifth, each one surviving numerous bikes, bounces, and scrapes. Gaines operated as high as second and looked to be running down the leader on lap 12 until a turn three rut spoiled his shot. Aside from the winning pass, the most jaw-dropping move of the race came when Bilbee, Gaines, and Ballou fanned three-wide on the front stretch while negotiating lapped traffic. Although contact between Nick and Dickie sent the former into the front stretch wall, thankfully the incident was not more serious. Chase Stockon (Hoffman 69), Stevie Sussex (from 13th), Isaac Chapple, Joss Moffatt, and an impressive Dustin Webber landed sixth through tenth at the 9:33 PM checkered flag. Afterwards, many including Bilbee and Chapple noted that they were far too tight for the unusually heavy conditions.
The inability to finish the finale to Kokomo Speedway's seventh annual Sprint Car Smackdown was a big-time bummer, silencing the momentum that had been bubbling to the surface since Wednesday. Unfortunately we'll have to wait until the 9th of September to see whose name is scribbled on the $10,000 feature-winning check, wondering if the fireworks will be equally intense some two weeks removed. Reflecting on the three nights spent in Kokomo, upon reading the final results from Wednesday and Thursday one could surmise that it was business as usual, as winners Chris Windom and Tyler Courtney have seen the most success of late. But for Friday's victor Tyler Thomas, it was all about redemption and taking care of some unfinished business from one year ago.
Fresh from his Springfield Silver Crown score, Windom started his Smackdown in fine style by qualifying quickest in his group, winning his heat from fourth, and leading all 27 feature laps from his pole position redraw. Wednesday's win would be Chris's sixth at this speedway in 2018 and tenth overall in the sprint car realm, continuing what could be considered another "career" year. After claiming the fourth heat and redrawing an outside front row feature start, Tyler Courtney chased the Baldwin DRC/Claxton the entire distance. Just when you thought Sunshine was ready to pounce, twice he hit a rough spot in between turns one and two and upset his Clauson/Marshall/Newman Spike/Rider, ultimately costing him the win. Justin Grant started third and finished in the same spot while Dave Darland drove from 9th to 4th. Brady Bacon fell from 4th to 5th. Positions six through ten were populated by Robert Ballou, C.J. Leary (from 11th), Shane Cottle (Goacher 5G), Kevin Thomas, Jr. (falling from 6th), and Jarett Andretti.
"Get Your Ass to Kokomo" night (#GYATK) offered free pit passes for drivers (thanks to All Star Performance), generous incentives for first-time Kokomo traditional sprint car participants, and an allowance for American Racer rubber, influencing an impressive back gate assembly. Front and back stretch grandstands were heavily populated as well thanks to free admission. Speaking of those first-timers, I counted 14 who were accepted the GYATK challenge, which offered a top prize of $1,500 cash ($250 less if they were not an organ donor) thanks to the O'Connors, Rob Goodman, and assorted benefactors including Tim Clauson. Additional cash and prizes were also available for the second and third best performances from Kokomo novices. When it all shook out, Bloomington, Paragon, and Lawrenceburg regular Braxton Cummings wound up with the big money after finishing 13th in the B-main. Former modified chauffeur Dustin Webber finished one spot in arrears from Cummings and collected $200, a set of gauges, and a pair of Chalk Stix torsion bars. Cap Henry made a rare appearance outside of the winged world in Chad Wilson's 14 and after battling power steering gremlins hauled in $100 and a pair of Chalk Stix. Pennsylvania's Carmen Perigo was running away with the GYATK challenge until spinning from 6th in the B, costing him not only a feature starting berth, but also some cash. Additional GYATK challengers included Luke Harbison, Rick Rhodes (Frederickson 58), Jeff Nanny, Korey Weyant (Liguori 44), Brandon Spencer, Buddy Lowther, Jackson Slone, Adam Wilfong, Evan Mosley, and Pat Giddens. Even though they were not eligible for the bonus, additional fresh faces such as Josh Cunningham, Jake Scott, Matt Cooley, David Hair, Dallas Hewitt, Colin Parker, and Paul Dues made the event feel like a Sprint Week from the 1990s. Smackdown prizes were too many to mention, but on this evening Hoosier Tire did award the highest non-transfer from the B and C-mains a new Hoosier right rear tire, so long as they were already wearing Hoosiers on all four corners. A special event paying zero USAC points, Kokomo's format and rules applied.
Beginning hot laps about an hour later than normal (6:45 PM) for a massive 54 car field, no support classes and very few breaks allowed the program to move at a rapid pace. Six hot lap/qualifying groups, six heats, and one each C, B, and A-main were finished by a respectable 10:32 PM. Only one inversion was observed on opening night, as Matt Westfall landed on his lid after connecting with heat race lapper Bryar Schroeter while battling for a final transfer with Chad Boespflug.
Wednesday's C and B-mains might have provided the best racing of the week, highlighted by Carson Short's (Briscoe 5) surge from 15th to 1st in the C-main, even more impressive in his 19th to 2nd B-main massacre. The battle for runner-up rights to Wednesday's B was just like an Indiana Sprint Week round, with a handful or more engaged in some rather cutthroat combat.
Joined in my night two journey by Dave Argabright and seated alongside Aaron Mosley, son Evan Mosley, and Rollie Helmling, we enjoyed some outstanding heat races from the new back stretch bleachers. LPS promoter Joe Spiker was even spotted in those new stands, giving me a wave. The best of those heats involved a Timmy Buckwalter/Jason McDougal slide fest and although both made the main, the battle was further punctuated by Buckwalter's post-race pounding of turn two concrete and his resulting inversion.
As simple and appropriate as a third consecutive Tyler Courtney USAC sanctioned Smackdown feature victory sounded on night number two, the end result was anything but automatic. Third best in time trials, third in his heat, and firing from fourth in the 30-lap finale, Courtney spent the early stages engaged in a three-wide tussle with Tyler Thomas and Darland. Sliding to second by the seventh lap, Sunshine scoured the top shelf of the wider and slicker surface and eventually tracked down pole sitter and race-long leader C.J. Leary. Two consecutive cautions for Kevin Thomas, Jr. (flat right rear while operating in 7th) and a Dakota Jackson/Isaac Chapple entanglement gave Tyler ample opportunity to make a bid for first. Immediately going for the gusto after the green laundry was displayed, Courtney captured P1 but faced some serious heat through three and four, where Leary overcooked the corner and rode the wall. C.J. would fall to fourth as the final caution came for a Buckwalter/Ballou get-together. The final sprint to the finish was quite chaotic, as second place Justin Grant mauled second corner concrete and overextended the cushion on consecutive circuits, falling to fourth as Leary lunged for second. Grant had just enough in the tank to fend off a determined Windom, as the two pulled out all the stops in their last lap brawl. Courtney crossed under the checkered flag at 10 PM, leaving Leary, Bacon (from 8th), Grant, and Windom (from 10th) in his wake, nailing down a series leading 8th win of the season. Darland was as high as second but slipped to sixth. Jason McDougal, Kyle Cummins, and a pair of Thomases (first Tyler, then Kevin) were seventh through tenth.
Thursday's sprint car contingent shrunk from 54 to 35, as the GYATK challengers and American Racer contingent did not return. Justin Grant enjoyed a $200 bonus for qualifying quickest in the Topp Motorsports machine (12.643), with Dakota Jackson claiming a new right rear tire for the 13th best time thanks to Roger and Barb Tapy. Friday's field grew to 37, adding Joe Liguori, Gabe Griffith, Dustin Smith, and Cole Ketchum while subtracting Josh Hodges (losing his last engine) and Chad Wilson.
After parking his number 98 mid-way through Sprint Week, Chad Boespflug signed up for Smackdown duty in the Reinbold/Underwood 19 out of Arizona. Relegated to 19th on Wednesday, he timed 8th on Thursday but became the meat in a Dave Darland/Carmen Perigo sandwich during the fourth heat. Flipping high and hard and initially landing on the front end, the jolt not only did serious damage to the driveline, but it also jarred Chad's head and left him feeling less than stellar on Thursday night. Taking a short stroll on his bike mid-day on Friday, he felt the same symptoms and was suddenly unavailable for action. Although Parker Price-Miller was listed in the number 19 for night two, the car never attempted a qualifying lap.
Friday saw the reemergence of the family-owned 77 belonging to 2002 Kokomo Speedway champion Dustin Smith. Although Dustin already had an engine in his possession, the brand new DRC chassis was purchased by his father Bob, who at 71 years of age had managed to stay away from racing since 2009. Taking Monday and Tuesday as additional vacation days to complete the assembly on the car, Dustin finished a few odds and ends on the car Wednesday and Thursday. It's hard to believe, but Smith has been racing sprint cars since 1994, which is an eternity in the current sprint car community.
Similar to Sprint Week, Tyler Thomas toiled in Tony Epperson's white deuce, but this time they had a new Maxim chassis prepped for battle. Tyler also arranged for a set of Advanced Racing Suspensions gas shocks to be delivered by Bobby Barth, who agreed to assist normal mechanic Gary Ooley. Their Wednesday outing was cut short after a sterling sixth to second heat race run, showing terminal smoke signals on the final lap. After a run back to Indy to install a 15 year-old Justin Henderson World of Outlaws engine (twice a Kings Royal starter), they returned to clock fifth fastest in Thursday time trials. The Okie was unable to take advantage of an outside front row feature start, dropping to 9th at the conclusion because of frustrating fueling issues that only became evident when letting up on the loud pedal. After timing fourth in Friday qualifications, former Epperson employee Hunter Schuerenberg advised on fuel settings for the heat race in which Thomas took third. Firing from grid number four for the Friday finale, after an immediate advancement to the runner-up position Tyler bided his time on a tricky track that flipped five in turn two, as the outside concrete served as the cushion in vintage 2005-2007 Kokomo fashion. One of those inversions just so happened to involve leader Robert Ballou on lap 16. Despite receiving heavy pressure from the last year's Smackdown champion Tyler Courtney, Thomas kept turn two wall whacking to a minimum and held on for his first career USAC sprint car score, a victory that should have been his last August. T-squared received some key coaching from Bobby Barth and Gary Ooley under one of those early red flags, advised to drive straighter at corner entry to preserve an already blistered right rear tire.
Courtney, Grant, Bacon (from 9th), and Darland (from 10th) completed the first five finishers from night number three. Leary, McDougal, Windom (recovering from a rare lap 11 spin), Stockon (from 17th), and Short (from 16th) scored seventh through tenth. After C.J. Leary's driveshaft pulled out of the rear end in his heat, crew chief Davey Jones and several helpers rushed to ready a backup car for the semi-feature. C.J. Leary charged from 20th to 7th but still needed a provisional to access the A. Starting 22nd and finishing 6th, the Gunslinger indeed had both barrels blazing.
Punctuated by four red flags and two yellows, Friday's calamity-filled feature delayed the start of the post-race Flying Toasters concert. The first of those reds was started by Paul Hazen pilot Clinton Boyles, who collected Shane Cottle and influenced Isaac Chapple's scattering of turns one and two photogs. Without the services of Donnie Gentry for this weekend, Jarett Andretti performed second corner acrobatics while operating in third that also collected the luckless Kevin Thomas, Jr. Stevie Sussex was the final flipper, ending his eventful evening as car owner Mike Dutcher had to revert to a backup machine for the feature after incurring engine difficulties following their second place heat race run.
Car owner Tony Epperson was all smiles afterwards and for good reason, as you'd have to go back to the days of Epperson-Lester and Eric Gordon when Tony last took top honors in a USAC union. Ooley mentioned it was his first USAC win in 24 years and for Barth, it was the first time he's worked on a car other than his son's since the Tony Stewart Racing days, dating back to 2009. Bobby was equally enthused that his employer's shock absorbers were attached to the TQ winning ride of Tate Martz.
Friday qualifications were topped by Kevin Thomas, Jr. (12.740), who appeared more than ready to right his sinking ship during the feature. Winning heats in all three Smackdown showings, his finale performances were not up to his usual standard: 9th on Wednesday, 10th on Thursday (recovering from a flat RR), and 14th on Friday (after his flip). Still, Kevin accumulated the sixth most Smackdown points and was just 23 points shy of first in the national standings.
Par for his recent course, Robert Ballou endured an eventful three evenings in Kokomo. Starting with Wednesday, due to the fact that his fuel injection nozzles were not adequately tight, he was unable to post a qualifying time. Working extra hard in his heat, Ballou battled from 9th to 2nd, later scoring sixth in the feature. Rear-end shifter issues were encountered in his Thursday heat but after quick repairs were made, he was able to earn an A-main pass. However, an expected top-ten feature finish was spoiled when tangling with a slowing Timmy Buckwalter. A solid sixth place qualification effort on Friday was put to good use when leading the first 16 feature laps, but the resulting flip might have killed his venerable 2006 Maxim chassis that was already 8 inches out of alignment in the front. Although Robert isn't known for having the best appearing equipment, the numerals on this particular machine's tail tank were prudently painted by Reading, Pennsylvania's Paige Davidheiser, who specializes in fire truck graphics and hand-laid 23 karat gold leaf letters and numerals. Owning a mutual friend in Tom Buch, Davidheiser is a die-hard wingless fanatic who has previously applied his handiwork to equipment belonging to Donnie Kreitz, Jr. (sprint cars and Busch Grand National) and modified kingpin Kenny Brightbill.
Much like Indiana Sprint Week, the Smackdown normally produces several special combinations but this year, there were few, if any, surprises. Perhaps the biggest shocker was that Thomas Meseraull didn't have a ride outside of his own double-zero. Injuring an engine and taking 22nd on opening night, T-Mez was absent from on-track activities on Thursday on Friday. Speaking as a fan, that's a sad state of affairs, as Thomas is one of those drivers who is always worth the price of admission. For a guy who's won the last two Kokomo Sprint Week rounds, how can he possibly not have a ride?
One of Meseraull's former options was Chase Briscoe Racing, which fielded a pair of Maxims for Logan Seavey and Carson Short. Seavey was five spots shy of making Wednesday's A-main while Short crashed in his heat and had to come from the rear of both the C and B-mains just to make alphabet soup. After his 19th to 12th performance on Wednesday, Carson copped 14th and 10th place feature finishes on Thursday and Friday. Seavey did not look like the same world-beater who landed on USAC podiums at Bloomington and Haubstadt in April, finishing just 15th and 11th in Thursday and Friday's features.
The most anticipated combination making its debut at the Smackdown was that of Jason McDougal and Daigh/Phillips Motorsports. Jason fell one spot shy of A-main status on opening night, but it wasn't for a lack of effort. Timing 12th on Thursday, McDougal already had fans frothing at the mouth after his heated battle with Buckwalter. Elevating from 11th to 7th in Thursday's A, Jason nearly duplicated his Thursday performances on Friday. Once again qualifying 12th and coming from 11th to 7th in the A, the only difference from one night to the next was a heat race win sans cutthroat sliders. Needless to say, Jason's car owners were ecstatic and energized by the results, planning a Labor Day weekend triple play at Granite City, Pevely, and Kokomo. Their Pevely and Kokomo victories were particularly encouraging, as it no doubt pulls Steve and Carla back into a more regular mix of entrants.
Scotty Weir's lengthy association with 60-year B.F. Goodrich employee Jim Simon continued in this year's Smackdown. Jim was slated to finally make it to the track on Saturday and in his absence the team placed 14th, 13th, and 16th. Dakota Jackson subbed for Kody Swanson in the Rock Steady Racing Mach 1 and although the results weren't quite what they wanted, it was good to see the soon-to-be Cummins employee getting a look from car owners. Making all three features but only able to finish 18th, 17th, and 17th, a Friday heat race wall-climbing/fence-hanging excursion in corner two eventually inverted the 3R.
Sunday September 9th is rapidly approaching, leaving heat races and consolation affairs for those not locked into the finale, King of the Hill two-car match races for the top-eight points accumulators from Thursday and Friday programs, plus a completely separate offering of BOSS wingless sprint cars. Those eight men vying for their feature starting spots include Courtney, Grant, Thomas (Tyler), Bacon, Darland, Thomas (Kevin), Windom, and McDougal. All gates are set to swing open at 2 PM while hot laps are set for 5. Even if we've lost the momentum from those first three nights, when such big money and bragging rights are on the line at this locale, high drama is almost a given. I don't know about you, but I can hardly wait!
Aside from the Saturday morning Smackdown deluge, unusual August weather continued when a jacket became requisite attire on both Wednesday and Friday. With those stiff Thursday and Friday winds blowing, sadly they were also representative of the impending changing of season. Already into September as I finish this piece on the ride down to Du Quoin, this is indeed the waning stages of my open wheel agenda. But with life's uncertainties and so much unfinished business from that skittish start to the season, I can't help but feel some anxiety. Anticipating wintertime's loss of freedom and inability to engage in these frequent mental vacations, the attempt to absorb as much awe-inspiring action as humanly possible in these last few weeks is of course business as usual. Crossing my fingers and toes, I can only hope that Ma Nature will be kind enough to allow it.
Volume 20, Number 11
End of an Era
Quite content to enjoy their isolated existence, open wheel addicts aren't the most open to change. At an early age, racing quickly became a way of life for these folks, happily spending their best years completely absorbed and unwilling to make allowances for anything that might interfere. Despite the one-track mind, there comes a time when the thrill has gone. Once that shocking realization occurs, what might be the next move? Is it gradually unwinding that interest, to the point of being able to eventually walk away with no regrets? Or, is it simply quitting cold turkey? As I have unsuccessfully tried on more than one occasion, any extrication from the racing world is no simple task.
For the longest while, any random stroll through a sprint, midget, or Silver Crown pit area could easily identify individuals who had been a part of the scene for decades upon decades. However, as time rolls on, such a feat becomes increasingly difficult, as one by one attrition has quietly taken its toll on the docket of long-time legends. The statistics will back up the notion that there just isn't the same longevity in the current crop of participants, whose passion is quickly pummeled by the almighty dollar and the skyrocketing costs to compete.
The thought of retiring even more Indiana icons over the course of one August weekend is not only unimaginable, it's earth-shattering, completely rocking my world. Feeling like we reached a definitive end of an era, after August 12th of 2018 we would no longer be able to enjoy a Paragon Speedway sprint car contest hosted by Keith and Judy Ford, nor would we be able to witness Jon Stanbrough in competition. The exits of these key members of the Indiana sprint car community permanently alters the landscape, infiltrating my resulting Monday morning commute with some sobering thoughts. Who will be next? And, how much longer am I willing to stick around when my idols have all but left the building? Secretly, I have always concluded that once guys like Stanbrough, Dave Darland, and Shane Cottle have called it quits; that would be my signal to move on to something different as well. Thankfully, Darland and Cottle are still going, so that buys me some time. But, it's only temporary, as nothing lasts forever.
After all these years, what else can I possibly write about Keith, Judy, and Jon? For the last 32 years, the Fords have kept the little guy alive by providing him a place to race, revolutionizing the sport with the multi-feature format back in 1995 that also served to save the track from sprint car extinction. Keith's racing days go back much further than 1986, and in a 2002 interview I conducted for an unpublished Sprint Car and Midget article, he stated, "My conviction is that you need to cater to the smaller guy. I was always a small guy. I couldn't afford to race. I did it. Probably shouldn't have but I did. I didn't have what the other people did. I guess that's why when I won or run good with my own stuff I felt rewarded. Back then, there was nobody to cater to the little guy. If you wanted to run, you had to run with the hotdogs and grow up fast."
Beginning his driving days in 1968, Ford fought in one of the toughest eras ever, duking it out with hall of fame headliners Dick Gaines, Bob Kinser, Sheldon Kinser, Butch Wilkerson, Bobby Black, Calvin Gilstrap, and Larry Miller on the rough and tumble South Central Indiana Racing Association circuit. Building and maintaining his own car and engine, assisting in the day-to-day operations of the SCIRA, and working full-time for General Motors, Keith was a top-five contender on an extremely limited budget. Qualifying quickest and winning several trophy dashes along the way, he even defeated an extremely young Steve Kinser on one occasion. Satisfied to know that he was a candidate to take the reins of Karl Kinser's number eleven after Dick Gaines got hurt and cherishing a charge from last to 9th in a 150-lap World of Outlaws outing at Paragon, Ford hung up his driving gear for good after the opportunity arose to purchase the speedway at the end of 1986.
A rollercoaster ride over these last 32 years, Ford weathered the storm when weekly winged sprint car racing nearly put him out of business. Although he endured endless criticism for his 1995 format change to traditional sprinters, lower purses, and multi-features, he enjoyed an outstanding 12-year span when sprint car counts hovered right around 50. But, what goes up, must come down, as the rotten economic times of the late 2000s dramatically slashed his number of participants. In addition, several people who did come to race, particularly in his stock car classes, literally drove him nuts, as he told me seven seasons ago. Hanging on as long as he could, Keith confessed in June of 2018 that this would be his last year to operate the speedway, as it was finally time to do something different. When the world seems to be changing with every second, I still marvel at the fact that a place like Paragon Speedway has somehow survived, as pure as the day when the Fords were first handed the keys to the property.
Back in '02, Keith Ford was quick to thank his family and especially his faithful companion Judy, emphasizing, "She's supported the track, my ideas, and stands behind me 100%. I really couldn't have done it without her. I take care of the dirt and the equipment and she takes care of everything else. My family, my two daughters, my two sons-in-law, and grandkids – it's just been a family mom and pop operation."
Eight weeks ago, I sweated through a muggy Johnson Memorial at Paragon Speedway, a special event that was ironically claimed by Jon Stanbrough. Sprint car triumph number 188 in a career that spans to 1989, my attendance at Jon's final score was rather appropriate given that I was there for his first, skipping my younger sister's high school graduation to experience the May 31st, 1991 Non-Winged Sprint Car Classic at Bloomington. Paragon was quite the contrast to B-town, which required a police escort upon exiting the grounds after incidental contact with Bob Kinser resulted in a near riot.
When counting quarter-midgets, mini sprints, and late model stock cars, Stanbrough's racing years numbered 38. Oddly enough, the very first time I witnessed such Hoosier lightning came on May 2nd, 1986: a USAC late model stock car bout at the paved Jeffersonville Sportsdrome Speedway. Just 18 years old at the time, Stanbrough finished 14th against some stiff competition: winner Billy Moyer, Charlie Sentman, old school NASCAR veteran Charlie Glotzbach, C.J. Rayburn, Bill Kimmel, and Ray Godsey, to name a few.
Perhaps the two most significant things that come to mind when mentioning Jon Stanbrough's name are the manner in which he conducted his business and the ultimate respect he earned from everyone. In the comfort of close friends, Jon enjoys cracking jokes and sharing funny stories, owning a uniquely sharp sense of humor. But to outsiders, he is extremely quiet, polite, and reserved, so hard to approach in those early days. Whether he is among friends or strangers, once he dons his driving gear and straps in for battle, nothing will break that steely-eyed stare of the most serious game face you will ever encounter. Sure, there might have been some occasional squabbles and rubs with his fellow competitors, but they were few and far between. At the end of the day, when Jon was confident and on his game, whether he was the underdog in the Hazen 57 or favorite in the Fox 53, there might have been no one more difficult to defeat.
Other than those first and last victories, many Stanbrough sprint car moments stand out. First introduced when he was a welder/fabricator for Bob East, I remember one of his very first sprint car outings in the spring of 1990 at Eldora when he finished 7th. Just into his second season, I recall his 1991 CRA Midwest Tour, showing well against such studs as Jack Hewitt, Bubby Jones, Ron Shuman, Lealand McSpadden, Richard Griffin, Billy Boat, Rip Williams, Brent Kaeding, and Frankie Kerr. Wheeling his own '85 Gambler, his one-lap USAC record around the old Lawrenceburg layout in 1992 stood for seven summers. He eventually found work with the Law Brothers, winning almost immediately at The Burg's USAC sanctioned Robbie Stanley Memorial just days after his friend's passing. Also claiming a pair of 1996 Paragon USAC rounds in just 21 days for the Laws, after two sub-par seasons ('97 and '98) with John Davis, it's hard to imagine that he was ready to hang it up for good, but it nearly happened.
After some serious soul searching, he returned in his own ride for 1999, befriending the Frankfort tandem of Chris Hoyer and Josh Uitts who no doubt raised his spirits considerably. At the end of '99, three solid showings with Paul Hazen set the stage for a career-changing four and a half seasons that were accompanied by 37 thrilling triumphs. Their first came at the Kokomo Speedway, a place that Stanbrough had previously despised. Quickly becoming the king of K-town, he and Paul proved to be equally potent at Terre Haute, winning five times which included the 2002 Tony Hulman Classic. An absolutely golden 2003 season saw them take 19 feature wins, even slaying the almighty J.J. Yeley in high-profile USAC action at Eldora and Lawrenceburg. In the middle of '04, he would indulge in a brief Hoffman opportunity but found better chemistry with Roger Tapy and Jim Whiteside, winning 13 of his 15 2004 contests in the Truckers 10. A less than satisfying 2005 season resulted in just four victories, but two of them came in his initial outings with Steve and Brad Fox. Beginning a magical six-year span in 2006, in what was originally planned to be a limited effort until inventory and or funds were depleted, they wound up posing with the first place trophy 96 times, which also included an August of 2015 victory lane reunion in Lawrenceburg. If you do the math, that's an average of 16 tallies per season for this talented trio, all of whom attended the same high school in Avon, Indiana.
Since the start of 2003, Jon captured 158 of his 188 wins, truly a staggering statistic. His best season was 2007, when he won an amazing 30 times which included a sizzling June streak of seven in a row. Aside from those aforementioned years of '03, '04, and '07, he tallied 21 wins in '06, 13 in '08, 11 in '09, and 20 in '10. Even after the dream team disbanded at the end of 2011, Jon still enjoyed solid seasons with Bruce Leer and Danny Roberts (7 wins in '12) and Mike Dutcher (8 wins in '14). Returning to his own ride for '15, '16, and '17, even if the wins were scarce, that didn't make them any less sweet, especially that last one with the Wingo Brothers. Thirty-five times he was a USAC sprint car winner, twice claiming its Indiana Sprint Week crown ('06 and '10). Four times a Hoosier Auto Racing Fan Club Driver of the Year ('04, '06, '07, and '10), he was the King of Indiana Sprint Series champ six times (and its all-time leading winner), not to mention twice a Midwest Sprint Car Series title winner and twice a Kokomo Speedway champion. All those accolades are great; but knowing how Jon is such a serious student of the sport, the respect from his fellow competitors simply meant so much more.
Stanbrough is truly a throwback to the earlier days of sprint car racing when real men let their on-track results do the talking. The ultimate class act, he was never one to brag or boast. Winning never changed him and even when he did not taste success, he was still gracious for every opportunity. An excellent fabricator much like a Don Brown or Jerry Weeks, he was easy on equipment, wisely knowing when he could take a risk and when to settle for second-best. As far as drivers and personalities go, they just don't make 'em like they used to, and that certainly applies to Jon. Feeling so fortunate to be in his inner circle for so many years, I rued the day when I would have to endure his exit, but who can blame him for feeling the need to do something different? Becoming a grandfather and a father (for the second time) at the age of 50, what more did he have to prove on the racetrack? Always thinking big-picture and trying to do the right thing, that is Jon Stanbrough in a nutshell.
Knowing well in advance that this particular August weekend would be my last to enjoy a Ford/Paragon pairing and a Stanbrough showing, naturally I had to be at both outings to soak it all in one last time. Sweltering under some bright Morgan County sunlight on a late Saturday afternoon (August 11th), 32 sprint cars gathered for this finale to the Ford era at Paragon Speedway. A slightly somber mood was cast over the pit area, as nobody truly knew if anyone could save their speed plant.
A weekly gathering place for families like the Cunninghams, Scotts, Johnsons, and Hairs, for this season finale five Cunningham cars were fielded. Father Buddy brought a trio for Andrew Prather, David Truax, and Arin McIntosh, who had only run one sprint car contest since her October 2008 accident at Lawrenceburg. McIntosh would be wheeling an extremely rare 39 inch 2004 Gambler, acquired all the way from Nebraska and just four races old. A six-time track champion and perhaps the track's most recognizable name, Josh Cunningham brought his own DRC, with protégé and rookie Jeff Nanny pitting next door in an older Stealth. Prior to the evening's action, Josh was extremely laid back and enjoyed a few laughs with Jake Scott, calling him the Paragon People's Champ and the High Side Hustler. Still winless here in 2018, Cunningham commented that he wanted to go out on a high note, as he's only been shut out of the Paragon win column in 1999 (his rookie season) and 2002.
Three generations of the Scott family were in attendance. Long-time driver and former fielder of five Paragon entries himself, patriarch Glenn Scott was here to soak up some Southern Indiana ambience one final time. Glenn's son Jake was here to compete, as was his grandson Jackson Slone, son of another former competitor Josh Slone. The elder Scott still commutes from Morgantown to Chicago for his General Manager position with Mitsubishi, looking to retire early next year. Describing the relevance of these grounds, he called it a place where a normal guy could actually run a sprint car feature. If Josh Cunningham is the recent "King" of Paragon, then Jake Scott is the "Prince", having claimed three track championships and in a position to take his fourth after this evening's proceedings. Now employed by CraftMark Bakery in Indianapolis, the former Marian University football player has two young sons: Lucas (5) and Jhett (1), having nervously coached Lucas's team to a win earlier that day over Beech Grove. Just another regular guy, Jake says that Paragon has its rightful place in the sport. Coming here just for fun, despite the limited purses he said he's earned nearly $4,000 in winnings this season. As always, Scott was steering a Spike chassis for the legendary Leon Thickstun, a two-time track champion and long-time Paragon fixture who has mentored many to additional titles. Leon's wife Karen is co-car owner of the red number one, still employed as a music professor at Butler University.
Parked just across the aisle from the Johnson family was the father/son combo of Dennis and Kevin Chambers, who have been racing for 35 years. Dennis noted that despite Johnny Johnson being in the hospital the previous day (kidney issues), that couldn't keep the 86 year old from this Ford finale. Johnny's son Randy was making his final drive, yet another noteworthy moment as the Johnson family played a key role in keeping the speedway operational. Enjoying a lengthy conversation regarding Bloomington Speedway, I learned that Dennis literally grew up next to the track at the corner of Walnut and Fairfax, now living behind the speedway on Schact Road. With his father working at the speedway selling tickets, it was only natural to find work there for himself, picking up bottles as a kid and later serving as general manager. A two-time AMSA mini sprint champion, son Kevin has competed there in mini and full size sprints. Following the family course, granddaughter Cindy has of course joined the ranks, anxious to get behind the wheel of the black and yellow 18.
Next door to Chambers was Palmyra's Troy Link, who after all these years still maintains his sprint car avocation when not tending to details of his dump truck firm. A business boasting three trucks and two drivers, unlike his father, Troy noted, "I'm not a trucker". Identical to my last conversation on June 16th, the talkative veteran wonders why he continues to compete, as the rewards just aren't the same. Nevertheless, he was here for this final Paragon production and had recently purchased $1,800 in Hoosier tires, noting that it was time to finally make the switch from American Racer. Planning on mounting them to a newer Maxim raised rail chassis, he remains a diehard Ford fanatic, one of just a few sprint car contestants who can boast such a claim. Commenting that tonight's engine block was new in 1993 while the heads originated from 1986, he owns two newer Ford engines acquired eight years ago from Kevin and Danny Miller, strong runners in the late '90s and early 2000s. Still feeling fortunate to feel young enough to strap into his 2000 Dynamite chassis, if he had just one more wish, it would be to take a trip in any high-profile military aircraft, preferably an F-15, F-18, or B-29 bomber.
When Keith Ford changes from his customary white work t-shirt to yellow track official polo, you know it's time to get serious at Paragon Speedway. For this final fling, the standard format was in effect that allowed everyone to race in one of two features. But before those finales, four ten-lap or ten minute heats would be held (the time limit actually expired on heat four). Braxton Cummings, Andrew Prather, Josh Cunningham, and Pat Giddens were the winners, and that third heat was easily the best of the bunch, as fifth-starting Cunningham fanned three-wide with Brandon Spencer and Kevin Chambers to steal the third heat victory with a thrilling last turn, last lap sweep. Making the long journey from the hill to the pit area to snap a photo of the feature lineups, I also captured a rare photo op with Keith Ford and Dennis Rose, the latter being a longtime Paragon participant in his familiar number 270 sprinter, always powered by a Buick. Paragon's annual sportsmanship award is named in honor of Dennis's uncle Bob.
On this special evening, a pre-feature intermission allowed fans an opportunity to walk the track, get up close to some equipment, and meet several of the drivers. Most milled around the front stretch, where Keith and Judy were awarded a rather unique parting gift: the hood from Drew Tarr's car! Nearly anyone and everyone had the opportunity to sign the hood, which also contained a special message in big and bold graphics: "Keith and Judy Ford – 32 years of fun – ParagonSpeedway.com". Although Judy was tearing up, Keith appeared to be basking in glow. However, both were touched to see that so many acknowledged their efforts.
Being able to walk the full length of the track, it was the first time I had done so since the morning of November 5th of 2005, which was prior to my first-ever Paragon sprint car laps. As I looked down that long front stretch I also remembered that same view from the cockpit. With every lap, the machine dared me to drive it in deeper and although I managed to spin out several times during my second session (on an extremely slick surface), I nonetheless had the time of my life.
After the fans returned to their hillside perch, I had to hustle from the backstretch to front to catch those twin features alongside my nephew, his wife, and their young son Graham. Beginning first heat winner Cummings and Jim Tribby from front row seats of the first 25-lapper, Braxton led through the first corner before sliding too far sideways through the second. Such a slip allowed fourth-starting Josh Cunningham to bolt to first while third-starting Steve Hair and fifth-starting Brandon Spencer also found a way underneath. The rest of the race was dominated by the rim-riding Cunningham, whose rear inboard brake sparked like it was the Fourth of July. Despite a pair of cautions, Josh made it look like child's play in claiming Paragon victory number 51, relieved to be able to maintain a 15-year streak of victories on his backyard playground. With the track just starting to rubber-up in the waning stages, Steve Hair, a hard-charging Parker Frederickson (coming from 7th), Arin McIntosh (from 9th), and Brandon Spencer took top-five finishes. Positions six through ten were taken by David Hair, David Truax, Dave Peperak, Jeff Nanny, and Tribby. Truax was the only one in the second half of the top ten to not spin. In his winning interview, Josh mentioned the winning move actually came the previous night in his garage, when he broke out his tape measure and got a few more things figured out on his nearly new Ranard's Collision Center DRC chassis.
Much like that first feature, the second was completely dominated by Bowling Green, Indiana's Daylan Chambers, nephew to 2000 Lincoln Park and Tri-State track champion Eric Burns. Blasting off from the outside of the front row, he quickly circled pole sitter Ben Knight and never looked back. Three cautions kept Chambers honest, but third-starting Pat Giddens never had an answer, forced to watch as Daylan did some celebratory front stretch donuts. Andrew Prather started sixth and finished third in a chassis of his own design, with tenth-starting Jake Scott (forced to start there after winning two features in a row) and Troy Link rounding out the top-five. After a pair of heat race spins, Jackson Slone smoothed out in the feature, finishing sixth after starting ninth in his 305 Race Saver sans wing. Randy Johnson ended with a credible seventh, as Knight, Anthony Leohr, and Brian Cahill rounded out the top-ten. Even though the surface attracted even more rubber, the racing was actually more intense in the second contest. Prather, Link, and Scott went at it hot and heavy, counting six times that the fourth position changed hands between Troy and Jake. At the end of the night, Scott scored his fourth track title, edging Andrew Prather by six points. Brandon Spencer, Steve Hair, and Randy Johnson were third, fourth, and fifth in the season-long standings.
Upon completion of the companion vintage sprint car feature, I was extremely slow and deliberate in my steps down the hill, aiming for the amber illumination of the tiny ticket booth. After reaching the parking lot and noticing all the stars up in the sky, I couldn't help but recall an unusual Brent Goodnight Paragon Speedway anecdote from 1983 regarding Johnny Parsons, Jr. According to Brent, JP casually gazed into the heavens above and oddly observed, "It looks like it would be a nice night to die!"
Having no thoughts of concluding my life on this overly bittersweet evening, I must admit that a part of my sprint car soul managed to expire with Keith and Judy's exit. My lone hope is that this particular end of an era simply signaled the beginning of another. But regardless of who takes the reins, I will forever associate this historic hillside with Keith and Judy. Two outstanding representatives of Southern Indiana, thankfully they were also some supreme custodians of Indiana sprint car history, doing their part to keep that little guy involved.
The next day, Jon Stanbrough closed the book on an absolutely stellar career with a rare Sunday outing in Terre Haute. With sanction from the Midwest Sprint Car Series, this meeting attracted an impressive 30 chauffeurs from seven different states. Perhaps even more rare than the Sunday date was the fact that the surface was old-school heavy, only beginning to blow off midway through the 25-lap, $3,000 to win feature. Given the appearance of Tri-State Speedway's Tommy Helfrich, it was entirely appropriate that the Action Track dirt was finally in tip-top shape, a huge improvement over Indiana Sprint Week.
Also appropriate was the site where Jon chose to call it a day, as Terre Haute was one of the first places where the world got a glimpse of what a rejuvenated Jon Stanbrough was capable of accomplishing. Scoring second to an omnipotent Jay Drake in the daytime finale of the 2000 Non-Wing World Championship, later that same season Jon twice triumphed at the Action Track. Firsts not only for himself, they were similarly meaningful for car owner Paul Hazen. After digging through my records, I counted 12 Terre Haute triumphs for Stanbrough, 5 of them falling under the USAC banner. Particularly meaningful for me was his 2002 Hulman Classic victory, as I own the helmet he used in that event.
Jon's final drive started out like those good old days. After qualifying third in his group and finishing second in his heat, he was able to redraw fifth for the main event. In between heats and B, I finally had a chance to catch up with the man of the hour, busting out my trusty digital recorder to ask Jon Stanbrough a few final questions. Here's how the conversation went.
KO: How and when did you know that it was time to do something different?
JRS: I think I knew two or three years ago, but didn't really want to admit it. And then when I hooked up with these guys (Wingos), I knew over the winter that this was going to be it. We had motor issues several weeks ago and wasn't sure what was going to happen. I had a couple of opportunities to run for some other people, but I really wanted to run this car because I had some sponsors that came on this year. So we rented a motor from Ryan Freeland, who works for J&D Performance and it worked out good. Like I said, I'm comfortable in this car and I have all the sponsors on it. So, I had all that time to ponder what I was going to do. We had maybe a handful of shows on our schedule anyway and there wasn't anything big. I thought, 'Let's just do it at Terre Haute and call it good.'
KO: Did that Paragon win in June kind of seal the deal, allowing you to wrap this up sooner?
JRS: No, not really. If we hadn't have broken the motor at Bloomington, I'm not saying that I wouldn't have changed my mind. But that definitely persuaded me to do what I'm doing tonight. I'm glad that we've run as good as we have all this year. I think the worst finish we've had was seventh.
KO: I recall that Bloomington race in late May where you started on the front row and fell back to seventh. Even that wasn't a horrible night, as you held off KTJ to make the redraw.
JRS: That was the night.
KO: Thinking of Terre Haute, when you got into Paul Hazen's racecar, it became a very special track for you. Was that the tipping point for Terre Haute? Or, did you always like Terre Haute?
JRS: I have always liked Terre Haute. But, either I didn't know how to set my car up, or I wasn't driving it right, or both. Obviously when I got into Paul's car, I had a little more driving experience and obviously he had a helluva lot of experience with the racecar. It just came together. Everywhere we went, it gave me a lot more confidence just being with him, especially at Kokomo. I'd never won a race at Kokomo and truthfully, I was pretty intimidated by it. But, I knew his car had won a lot of races there so when we went, it just worked.
KO: So that time with Paul, would you say that changed your career? After the John Davis deal, you were ready to hang it up, right?
JRS: Yeah. 1999 I drove for Paul – I think two times. We made a deal over the winter to go for the next season. If it wasn't for Paul letting me run his car, I wouldn't be sitting here right now. Definitely – a lot of thanks to Paul.
KO: Is there one win that stands out as your biggest? Would it have been the Hulman Classic in 2002? Would it have been beating Bob Kinser for that first one? You won a ton with the Fox Brothers, including some big money shows. Is there one that really stands out?
JRS: There are so many of them that mean so much to me. It is hard to pinpoint one. For sure, the very first one that I ever won at Bloomington, obviously it was a great win. But then all the drama that went along with it, people still remember that. Not that I would ever forget it, but it's hard to forget that at all, with all the people that know what went along with it.
KO: What did Bob Kinser say after that race? Did he come down afterwards?
JRS: He didn't say anything. He came walking over, because at that time, you had to run weight on the car if you had an aluminum motor. We were at the scales, and here he comes walking over. He walked right up to me and actually, he did say something. He asked me if I hit him on purpose. I said no. He took a swing at me and that's all that ever happened. It was like a riot there. The crowd that was around, obviously they were all on his side. I had a few other people say some things to me. And then we finally got back to the car and got loaded up. We actually had to have a police escort out of Bloomington.
KO: Man, that's pretty memorable! So from start to finish, when you started running quarter midgets, how many years has it been?
JRS: It's 38 years this year.
KO: So as they say, you've been there and done that.
JRS: Yeah. I know I gave some races away and didn't win every race that I wanted to win. But, I won a lot and I'm satisfied. I don't have any regrets. Maybe there's a little bit of disappointment at the ones that I lost or gave away, but I don't have any regrets. All the people that I've met, all the sponsors I've had, and all the places I've gotten to go – none of that would have happened if I wasn't racing. So, it's all been good.
KO: And tonight, it felt pretty good in the heat race?
JRS: Yeah, it was good. Hopefully we can go forward in the feature, get a good finish tonight, and walk out of here with our head held high.
KO: I guess that's about all I've got. I'm still wondering how you close the book on such a great career.
JRS: I don't know. You can think about it and maybe you'll figure it out in a couple of months.
KO: Alright. I'll leave it at that.
Inverting the fastest four qualifiers from the three timed hot lap/qualifying sessions, Dave Darland (Goodnight 36D), Justin Grant (Topp 4), and Chris Windom (fastest overall at 20.071) were the best of the bunch. Serving as a sign of things to come, Donny Brackett took a huge ride to the concrete wall through turns three and four, perilously connecting with the top of the blocks. Thankfully Donny exited ok but his was the first of four big flips. After bicycling big time, Dave Darland's heat race tumble through turn two twisted his Maxim frame and left the driver both shaken and stirred. B-main victor Garrett Aitken (by an impressive 5 seconds) took a trip over the turn one wall seven laps into the main event. Prior to that, Stanbrough's Wingo teammate Travis Berryhill bounced into an inversion but would later restart. Brandon Mattox, Grant, and Windom were heat winners.
Tough B-main luck kept local boy Brandon Morin out of the A, showing serious smoke while operating inside of the top-five. Morin's misfortune turned into a nice surprise for low buck racer Tony Main, who scored the final feature transfer spot.
With a four-wide feature salute offered at two minutes until 9 PM, Carson Short (own 21) and Chris Windom held front row seats. Knowing just how strong Chris has been at the Action Track over the past few years, most would have just handed him the trophy and check without any resistance. However, if it were that simple, we'd have no reason to pay money to watch.
Although Short served as the early pilot dog, shortly after the Berryhill blunder Windom would procure P1 with a west end slider. Behind the Baldwin 5, Robert Ballou had already advanced to third from his seventh starting spot and quickly stole second from Short. After Aitken's acrobatics, it only took one lap for Robert to rule the roost before one final caution waved for Shane Cottle (Goacher 5G), who had flattened a left rear while fighting for a top-five. The last 18 laps went uninterrupted, with Ballou blasting his way around the top to secure his third win of a difficult 2018 season. Speaking with his crew chief Jimmy Jones, Jimmy noted that this was their usual 2006 Maxim that wore a pair of twin-tube, double-adjustable CSI shocks on the rear. The same car that's been clipped five times, its front end was moved over eight inches after a Bloomington Sprint Week inversion, forcing the team to make hasty repairs in Tommy Helfrich's barn for the ISW finale. Always having to work hard for his wins, on this outing Ballou encountered throttle linkage difficulty in combined hot laps and qualifying. Thus unable to turn a time and requiring him to toil from tenth to third in his heat, he somehow survived a big-time bike ride in turn one.
Windom settled for second while ninth-starting Chase Stockon scored third. Short was shuffled back to fourth while Stevie Sussex reunited with Mike Dutcher to find fifth from tenth. Justin Grant, Jon Stanbrough, Daron Clayton, Isaac Chapple (from 13th), and Koby Barksdale secured sixth through tenth.
In a special post-race front stretch interview with Jason Adams, after fighting back some genuine tears Stanbrough was able to regain his composure. He apologized to his team for going the wrong way on the setup, far too loose for the racing surface that resulted. Still, he noted that it was a good night overall, as he didn't tear anything up and was able to finish the feature in seventh. With a long line of well-wishers coming out to the front stretch to offer their appreciation, I was one of them, providing a handshake and a hug for so many outstanding memories. Feeling the weight of the occasion, I too became choked up with emotion. There from the beginning when he was the low-dollar underdog, I completely understood just how special all those years were when he was considered the favorite. Despite my attempt to be unbiased, I'm not afraid to admit that this guy was one of my all-time favorites. Going one step further, he was also one of my heroes, completely admiring the way in which he handled his business both on and off the track.
Ever since I can remember, the concept of change was something I never could quite embrace. Becoming a routine-oriented individual very early on in life, any alteration to my world was completely upsetting, needing lengthy periods of time to adapt. Having been a sprint car fanatic for more than three decades, naturally I have grown accustomed to all of the people and places that made the Indiana scene quite incredible. Foolishly believing that all of this could last forever, the mere suggestion that three key individuals from my beloved pastime would suddenly conclude their careers in one weekend seemed not only preposterous, but also devastating.
This is indeed the end of an era and whether I was prepared for the sudden departures of Keith and Judy Ford and Jon Stanbrough, it simply didn't matter. They had already determined that the time was now to make a major change in their lives and given their current status, it seemed like a logical time to do so. Eventually, I will have to make that same difficult decision but for now, the thrill of staying involved has not gone away, not yet at least.
Volume 20, Number 10
Moving the Needle
There is little question that the net result of fanatically following short track open wheel action for the last 33 years has dulled my senses, as these days it takes something extraordinarily special to get my heart racing. Fondly recalling the plethora of personalities and the endless talent and ingenuity that have been wiped from the sport, it may sound cynical, but no amount of facts or logic can convince me that today's buttoned-up, money driven, politically correct scene is superior to the innocence of yesteryear.
Indiana Sprint Week is no exception, as I often long for the unbridled enthusiasm that came with the first ten years of USAC sanction, especially those early editions in which 60 to 70 car fields, pressure-packed non-qualifier races, and a hefty assembly of local and west coast talent seemed to be the norm, completely capturing my attention. However, such a sentiment should not imply that the current version of Sprint Week is no longer significant, intriguing, or entertaining. Annually scheduling vacation time and revolving my anal-retentive routines around this grueling exercise in insanity, it has continued to do its part to make me feel that life is worth living. However, like so many things at my age, overexposure has taken its toll, shocked by the miniscule impact this 2018 edition had on me.
For someone who eagerly anticipates its arrival, savors each minute, and considers this the absolute zenith of my calendar, how can such a statement be possible? Did I still have a pulse? What could have happened to moderate my mood so dramatically?
Except for a rainy first Friday and Saturday, weather was thankfully not the issue, as the remainder of 2018 Sprint Week conditions were picture perfect. Car counts increased to an average of 41 and crowds swelled to record proportions, giving good vibrations about modern day affairs. And then there was the arrival of week-long guest Steve Lafond, who brought an endless dose of energy, enthusiasm, and positivity. Combined, all those items would indicate that everything was right with my world as of 5 PM on July 19th. Unfortunately, one major item was missing.
As they say, if you don't have your health, then what do you have? The number one kicker that spoiled my Sprint Week was an illness that I contracted in the pressure-packed days leading up to the series opener. After finishing my assignments on late Thursday afternoon, I was utterly exhausted and drained, summoning just enough strength for our annual Sprint Week kickoff at Bonge's Tavern in quaint Perkinsville. Even though I was down, I was not completely out, as I still managed to hit every race plus the obligatory stops at some of Indiana's most excellent eateries and brew pubs. Unfortunately, when you feel like lying in bed all day long as I did on the first several days of my summer vacation, even the best racing, world-class cuisine, and ultimate feeling of freedom cannot be fully appreciated or enjoyed. And now that Sprint Week and my summer break are in the rearview mirror, I truly feel like I got robbed. Back to work and still not feeling 100%, good health is one of those things that is taken for granted all too easily.
Much like the movement of the tachometer when the overly exuberant Lafond stands on the gas in our rental car, Sprint Week has always moved my needle in a similarly positive direction. But this year, enthusiasm and energy was not felt until the Haubstadt finale when an awesome surface, tense heat races, a frenetic semi-feature, an amped-up announcing team, some parade lap pyrotechnics, and a surprise winner made this feel like a momentous occasion. Adding to the excitement for that finale was a first-time trip by Bryce Townsend's Motorsport Tours, as the group of New Zealanders simply raved with regard to everything about Tri-State Speedway. By that seventh and final race, I was feeling halfway human, albeit with far too frequent coughing fits and big-time blows of the nose that could fill a facial tissue. So, was it my poor health that was clouding my perspective on my favorite time of the year? Was burnout finally becoming an issue? Or, was the overall quality of racing, intensity, and drama simply lacking? I expect Saturday's rainout and Monday's off day also had something to do with just how long it took to catch the fever, plus the fact that the series did not start in its usual locale. Even if I can't put my finger on what it was, I still maintain that Sprint Week wasn't packing the same punch as usual.
After all these years, Indiana Sprint Week expectations are of course abnormally and unreasonably lofty, so it is only natural to feel some amount of disappointment when cutthroat action and barnburner finishes fail to take place. Most features were won in dominating fashion, as three of the seven races had the victor leading all 30 laps, with two more pacing the final 28. But as I was so astutely reminded by veteran observer Brent Goodnight, not every evening can be epic.
Yes, there is more to Sprint Week than the on-track product, as a bulk of that undeniable atmosphere is derived from the throngs of people who come from lands afar just to caravan in their campers. Until this year, I've never seen the parking lots and grandstands in Terre Haute, Putnamville, Bloomington, and Haubstadt so jammed for a traditional sprint car contest. Along the way, I lost count of how many from the west coast stopped to talk to Steve. I encountered quite a few interesting individuals as well, some of whom I had not seen or spoken to in years. Off the top of my head, there was Plymouth announcer Scott Stine, former Madison, Indiana sprint car shoe Eric Davis, ex-Eric Shively crew member Kevin Bodine (father to up and comer Cole Bodine), Leon Kinser (father to Jordan and second cousin to Karl), Kentucky sprint car standout Hud Cone (here to assist Mark and Kyle Cummins for the final half), hall of famer Galen Fox, Leon Gentry, and Mat Neely (who has raised two daughters and one son while operating four enterprises from his Robinson, Illinois home). Despite my illness, my spirits were raised after seeing and speaking to so many, but it also made me miss the days when I knew literally everybody in the pit area.
Extremely consistent in qualifying, heat race, and feature performances, the end result had Chris Windom capturing his second Indiana Sprint Week crown in seven seasons for car owners Kenny and Margo Baldwin and chief mechanic Derek Claxton. Owning a 21-point advantage over Kevin Thomas, Jr. after the Haubstadt conclusion, Chris's average feature finish was an amazing 3.29. (As a reference, back in 2003 J.J. Yeley scored top-fives in all eight races and averaged a feature finish of 1.625.) Securing three runner-up placements (Plymouth, Putnamville, and Haubstadt), one third (Bloomington), two fourths (Lawrenceburg and Kokomo), and one sixth (Terre Haute), his biggest mountains to climb came at Lawrenceburg and Terre Haute, where he started features from 15th and 14th. Drawing second to last for a sub-par Terre Haute qualifying surface, after Claxton swapped headers to cut 50 horsepower and minimize wheel spin, they could still only muster the 17th best time. Otherwise qualifying in the top-ten on five occasions, Windom impressively earned feature transfers from all seven heat races. Aside from a feature scrape with A.J. Hopkins at Putnamville, he never put a wheel wrong, even surviving a deflating right rear tire in the Kokomo feature. And, thanks to Claxton's solid setups and iron clad maintenance schedule, the car was on the money when it needed to be, with zero mechanical issues. Having competed in these contests since 2007, Windom joins Randy Kinser (1988), Gary Trammell (1990), Bob Kinser (1991), Tony Elliott (1999), Levi Jones (2004, 2008, and 2012), Robert Ballou (2015), and Brady Bacon (2016) as those taking this title without the benefit of a feature win. It can be said that a championship without wins may not move a fan's needle, but it still gets the job done and that's just par for the course for this potent combination. "Big Daddy" now leads the national points by a scant eight markers over KTJ, with Tyler Courtney falling from first to third, some 54 in arrears. Envisioning some drama-filled outings involving these big three at Kokomo's upcoming Smackdown, I'm already licking my chops at the mere mention of that event.
Coming seven laps from claiming victory in the Haubstadt finale, it is nearly impossible to comprehend how Windom is still winless in ISW action since Terre Haute 2011. Even more surprising was the fact that this year's biggest winner Kevin Thomas, Jr. was shut out of victory lane as well. Heck, if anyone would have predicted that these two would be held without a win during Indiana Sprint Week, I would have told them that they needed their head examined. Averaging a feature finish of 4.71, Thomas was also consistent, amassing two runner-ups (Lawrenceburg and Bloomington), one fourth (Putnamville), two fifths (Kokomo and Terre Haute), one sixth (Haubstadt), and one ninth (Plymouth). Qualifying inside of the top-six on six occasions (quickest in B-town and The Haub), his lone outlier came at LPS where he was still ninth. Aside from slightly lower feature finishes than Windom, KTJ's heat race runs paled in comparison, having missed the transfer in the first three shows. Recalling a Plymouth incident with Robert Ballou that nosed him into the back stretch concrete; that certainly set a negative tone for the week and required a semi-feature thrash. With Thomas and crew chief Davey Jones parting ways in the weeks leading up to ISW, Brad Alexander called the shots on Kevin's Hoffman Auto Racing/Mean Green DRC, just as he did when Kevin hauled the Bridgeport rocking chair home in 2017. It wasn't a bad week by any means, but given how much Kevin has become accustomed to winning, I'm sure he had to be hugely disappointed with his lack of success, leading just two feature laps (Terre Haute) all week.
Feature winners Dave Darland (Putnamville and Haubstadt), C.J. Leary (Bloomington), and Tyler Courtney (Lawrenceburg and Terre Haute) took third, fourth, and fifth in the final Sprint Week standings. Positions six through ten were procured by Chase Stockon, Brady Bacon (opening with the win in Plymouth), Justin Grant, Thomas Meseraull (collecting again in Kokomo), and Carson Short. Eight men started all seven features without the aid of a provisional, namely: Windom, KTJ, Darland, Leary, Courtney, Stockon, Bacon, and Short. Four more made all seven A-mains, but needed a provisional. They included Grant, Robert Ballou, Timmy Buckwalter, and Isaac Chapple.
After taking a win and a third in the first two outings, Bacon led the points entering Kokomo. But, a 12th place finish in K-town would yield the top spot to Windom. Winning two of the first four races, Tyler Courtney led the standings after Terre Haute but a serious qualifying flub at Lincoln Park (31st) put him behind the eight ball, starting and finishing 21st despite winning the LPS USAC union a few weeks ago. Handing the lead baton to Windom after Putnamville, just call Chris the closer, as he knows how to get the job done when the heat is on.
The highest car count of the week came at Lincoln Park, where a fine field of 47 assembled. With entries numbering 42, the biggest surprises came at Terre Haute and Haubstadt. For TSS, that was their largest Sprint Week roll call since 2007. The lowest accumulation of 37 came at both Plymouth and Kokomo. In chronological order, feature checkered flags were waved at 10:44, 10:22, 10:39, 10:19, 11:02, 9:46, 10:46 (Central time), with all tracks respectful of Sprint Week patrons by only offering one support class. Finished well before 10 PM, Bloomington definitely gets the nod for the most efficient outing.
Looking at those having a solid Sprint Week, let's begin with Dave Darland. Wheeling his usual Goodnight owned Maxim/Claxton wrenched by Scott Benic, Dave's Indiana Sprint Week experience was truly a roller coaster ride. Starting strong with an eighth to third romp in Plymouth, he was second quickest in Lawrenceburg qualifying, enjoying a sniff of the feature lead before fading to sixth. Topping the Kokomo qualifying charts, he missed his heat race transfer and could only advance one position in the feature, settling for another sixth. Terre Haute essentially took him out of the running for his fourth ISW title after finishing 10th, one lap down to the leader. Despite qualifying 14th at Lincoln Park, Diamond Dave earned the outside of the feature front row, rim riding around the completely slicked off surface. Leading all 30 tours, the tally resulted in a record-setting 6th USAC sprint car score at this 5/16ths of a mile paperclip. Baffled in Bloomington after winning there in April, he could only collect 15th after a poor qualification performance. Rebounding with the most awe-inspiring run of the week in Haubstadt, The People's Champ timed fifth and hounded leader Chris Windom for the first 23 laps. Launching a lap 24 bomb through turns one and two; that pass sent him to the front stretch for feature winning photos. Admittedly one of this worst tracks, this was the first time Darland had triumphed at Tri-State since May 1st of 2005, when he mauled an MSCS field with Jeff Walker. Taking two wins and a third in points, it's good to know that the three-time Sprint Week king still has the touch, upping his ante to 20 Sprint Week scores. Staying out of the saddle while consulting with Josh Hodges, Jon Stanbrough, who says his career-ending drive will take place at an MSCS meet at Terre Haute on August 12th, is next closest with 16. Just for comparison purposes, modern day mainstays have a long way to go to catch Dave, as KTJ has 5 wins, Ballou 4, Bacon 3, Leary 3, Courtney 3, Cummins 2, Stockon 2, Meseraull 2, Grant 1, and Windom just 1.
Similar to Darland, C.J. Leary had a mixed bag of Sprint Week showings in his DRC/1-Way, but it was a better week than many could boast. Providing the biggest buzz at the Plymouth opener when Davey Jones appeared with Donnie Gentry to create an absolutely all-star crew, when you throw in C.J.'s father Chuck, Leary Construction was actually a three-headed beast. Setting a new one-lap record in that initial round, they missed the mark come feature time and only earned eighth. Third quick at Lawrenceburg and embroiled in a brutal battle for the big banana with Courtney, a last lap bounce backed him up to fifth. Advancing from 14th to 9th at Kokomo, falling from 4th to 11th at Terre Haute, and scooting from 17th to 7th at LPS, the Gunslinger blitzed a Bloomington field to lead all 30 tours. Once again showing strong at Haubstadt, after starting 10th C.J. sprinted to 5th, well within earshot of the leaders. Leary was one of three men who made all seven feature transfers through his heat.
Tyler Courtney clearly left a lot on the table with his fifth place points finish. Sailing from 12th to 5th at Plymouth, two evenings later he boldly held back Leary for the Lawrenceburg win. Scoring 7th at Kokomo after starting 12th, he led all but the first two laps at Terre Haute, again fending off a late race charge, this coming via a last lap turn one lunge from Robert Ballou. In the driver's seat to take the ISW title just as he was in 2016, unfortunately it all unraveled with the sub-par qualifying and feature performance at Lincoln Park. Had he not come from 8th to win his heat, Tyler would have started on the pole of the C-main. Finishing 5th from 9th at Bloomington (after biking in his heat race and connecting with Robert Ballou in the feature) and plummeting from the pole to 9th at Haubstadt, much like Indiana Midget Week (2017 and 2018), Sunshine just hasn't been able to cash in his championship chips. Perhaps such a painful ending to Sprint Week will offer serious motivation to claim the season-long title.
Examining some others who enjoyed a quiet yet respectable week, Chase Stockon qualified in the top-ten on six occasions (quickest in Terre Haute), led the first 15 laps at Plymouth, and scored a 2nd at Kokomo and 3rd at Haubstadt. Sub-par showings of 13th at Lawrenceburg and Terre Haute kept him from climbing further in the standings. Sporting sponsorship from Haubstadt's Dewig Meats, Chase transferred through his heat race in all seven outings. Campaigning his own Triple X with wrenching from Matt Hummel and support from the Tony Elliott Foundation, 2016 Indiana Sprint Week champ Brady Bacon was five for seven in top-ten qualifying performances, topping the charts at Lincoln Park. He backed up his Plymouth win with a 3rd at Lawrenceburg, 4th at Terre Haute, and 6th at Bloomington. Kokomo (where he was turned on the 2nd circuit), Putnamville (where he was also turned while operating around 7th), and Haubstadt resulted in outside top-ten finishes.
Despite a couple of blips in the radar, Justin Grant had a solid week of feature performances with Topp Motorsports. Finishing 3rd (Kokomo and Terre Haute), 4th (Plymouth), 5th (Putnamville), and 6th (Haubstadt), he advanced nine spots at the Burg and seven at THAT and LPS. One of those blips came at the Burg, where he biked from the 6th spot on the second to last lap of the semi-feature. Another came in Bloomington, where he tumbled in trying to avoid a Ballou/Courtney dustup. Now that he and crew chief Mark Shambarger appear to be on the same page and gathering momentum, perhaps the former Kokomo cowboy will return for the Smackdown.
Several others enjoyed some noteworthy Sprint Week stats. Carson Short was one of them, making every feature on his own merit. Earning a pair of sixths at Plymouth and Putnamville, he spun into the Lawrenceburg infield while operating in 4th and tumbled over the turn two bank in Bloomington. Timmy Buckwalter opened some eyes, making five of seven A-mains without the aid of a provisional. Buckwalter qualified fourth at Kokomo and finished 8th at the Action Track after starting 15th. Isaac Chapple made six of seven A-mains before popping a provisional at Haubstadt. Firing from the pole at Plymouth, after qualifying 33rd at Kokomo Chapple chugged from 9th to 4th in his heat and earned a $120 bonus from ISW photographers in honor of the late Rex Staton. As already mentioned, Josh Hodges received valuable guidance from two-time Sprint Week champion Jon Stanbrough, making six of seven features and scoring three-top ten finishes, saving his best run for last (8th at Haubstadt). And, Shane Cockrum operated equipment for Mike Dutcher (who also had Jerry Coons for three shows), Daigh/Phillips Motorsports, and Tony Lawrence, making three of the four features he attempted.
Thomas Meseraull had another event-filled Sprint Week in Chase Briscoe's 5. Opening 10th at Plymouth and suffering a DNF at Lawrenceburg, another convincing Kokomo Speedway victory offered a glimmer of hope for a Sprint Week title. However, those plans were spoiled by a sub-par 16th on a tricky Terre Haute skating rink. The next night at Putnamville, he had just taken the white flag for his heat race after stealing the final transfer. But, he hooked the cushion a tad too hard in turn two. Landing his Maxim on its lid, he missed the semi-feature cut by two spots. Finishing 4th at Bloomington and 23rd at Haubstadt, his Sprint Week ended on a sour and sore note after climbing a wheel and launching into the turn four catch fence, one of the hardest tumbles of the week. Win or lose, T-Mez always manages to move the needle.
Several special Sprint Week chauffeurs were expected to peg the excitement meter, but most of their plans fizzled out far too early. Napa, California's Joe Stornetta, Jr. joined forces with Tom Miller and Robin Dawkins, qualifying 16th and finishing 17th at Plymouth. However, the pairing proved short-lived after a massive Lawrenceburg qualifying flip into the turn one wall folded the 4M. Making his USAC sprint car debut with a third at Putnamville on July 6th, Jason McDougal would have to wait until Lawrenceburg to make his second USAC sprint start in Shawn Krockenberger's 21K. Surging from 7th to 2nd in his heat, he would only score 17th later. Credited with 19th at Kokomo and an impressive 7th at Terre Haute (from 13th), Jason's threading of the needle in his Putnamville heat race squeezed him into the front stretch concrete. The violence of the ensuing gymnastics called a premature end to his Sprint Week, set to take the controls of the Daigh/Phillips 71P at Gas City on the 17th. Tyler Clem made his second Sprint Week showing, this time behind the wheel of Rick Pollock's 21. Missing the first three features, his Terre Haute heat race tumble bent the right front torsion tube, absent from the final three shows. Tyler Thomas found work in Tony Epperson's Spike chassis for his first ISW attempt. Making five of the six features he attempted, although Thomas's best finish of 8th came at Kokomo, he was second quick at Putnamville and had elevated from eighth to third before a flat right rear tire deflated his winning drive. Last but not least, three-time Sprint Week victor Daron Clayton picked up a two-race ride with Kent Schmidt, taking on his two best venues in Terre Haute and Haubstadt. Fed a wheel by Tyler Courtney and taking a big-time ride in his Terre Haute heat, his lone feature appearance came at Tri-State, where he wound up 14th.
Noteworthy one-off Sprint Week appearances came from Nick Bilbee (Lawrenceburg), A.J. Hopkins (Putnamville), and Kendall Ruble (Haubstadt). Operating at his usual Saturday night haunt and flying beneath the radar, Bilbee qualified quickest, spun in his heat, but still came back to claim a feature transfer. Pulling to the infield early on, Nick was credited with 22nd. Finishing second in a July 6th USAC bout at Lincoln Park, A.J. Hopkins hoped for more at his lone Sprint Week stop. Qualifying sixth and operating as high as second in the feature, a late race slide job from Windom sent him over the bank and back to 5th, recovering to claim 3rd in Jeremy Ottinger's black and green machine. Who knows what would have happened had the contact not occurred, as A.J. seemed to be the only one owning an answer for Darland. Winged Race Saver veteran Kendall Ruble made his first USAC feature event in his initial outing, replacing an anemic 305 with a Rich Brannan bullet. Kendall held back a fierce pack of five men in an insane semi-feature, eventually earning 15th in the A. In that semi, Critter Malone (from the C-main) and Robert Ballou were included in that six car scrum, both spinning while coming to the white flag.
Under the spotlight for seven races, Indiana Sprint Week has a way of humbling even the best. Case in point: 2015 series champ Robert Ballou. Sprint Week emphasizes consistency in qualifying, heat race, and feature performance, and only twice did Robert time inside of the top-ten, highlighting his titanic 2018 struggle. Qualifying 27th at Plymouth, Ballou started the feature 22nd and was up to 9th before spinning, winding up 18th. Timing 21st at Lawrenceburg, in true Sprint Week fashion he surged to 7th, earning hard charger money from B&W Auto Mart's Bill Wever. Again qualifying poorly in Kokomo (24th), he wound up making the feature but was the first out after a second lap flip. Second from ninth at Terre Haute, Robert made it quite exciting with a last lap slider for first that came up short. Behind the eight ball yet again after Putnamville qualifying (34th), after claiming second in the C he was one spot shy of the final transfer in the semi after starting 16th, needing a provisional to finish 14th. Beginning 10th and ending 8th at Bloomington, his Haubstadt performance was hindered by yet another sub-standard qualifying result (29th). Spinning in the semi while battling for the final transfer, a second provisional pass allowed a feature finish of 22nd. As they say in this game, qualifying is everything.
Twice a Sprint Week winner in consecutive seasons, after his Bloomington win on Friday July 13th, Kyle Cummins had hoped to rekindle some of that same magic in 2018. Unfortunately, it just wasn't meant to be, missing the first two features at Plymouth and Lawrenceburg, also failing to make the cut at Terre Haute. After qualifying 14th and propelling from pole position at Kokomo, he led two laps but fell to 11th. Earning two more 11th place finishes at Putnamville and Bloomington, his LPS effort was noteworthy in the number of positions he advanced: 11. Ending the week on a positive note at his home track in Haubstadt, Kyle qualified 6th and finished 7th. Such late week momentum continued to the following weekend when Cummins claimed his third win of the season in a WAR round in Wilmot, Wisconsin, a venue with rare proximity to his car owners Chuck Eberhardt and Fred Zirzow.
Indiana Sprint Week was far from kind to Shane Cottle. Beginning the series as pilot of the Daigh/Phillips 71P, by the fifth stop he was reuniting with longtime friend Jason Goacher, the Anderson, Indiana car owner who aided Shane in becoming a household name in the wingless sprint car world. Besieged with mechanical issues at both Plymouth and Lawrenceburg in the 71P, he was actually running 4th at the Burg when he locked horns with Justin Grant. After a disastrous last month, the Cottle/Phillips combination was ancient history after the Burg. The grass isn't always greener on the other side of the fence, as Cottle and Goacher were a long way from making main events in Putnamville and Bloomington. Finally figuring things out in Haubstadt, they made the feature but appropriately ended Shane's week from Hell with a DNF.
Several others had Sprint Week results that failed to make the mark. Passing on Putnamville, Jarett Andretti made four of the six features he attempted, but his best finish of 15th (Plymouth) was a far cry from his supreme performance in last year's series. Scotty Weir only made three of seven main events in the Gass 17, highlighted by an 8th place effort at Lawrenceburg. Splitting time between Mach 1 chassis belonging to Hank Byram and Brian Karraker, Silver Crown stud Kody Swanson made just two six finales. Dakota Jackson's initial run at the entire Sprint Week slate was a nightmare. Competing in just two of seven features, he ended his week upside down in the Haubstadt semi. Clinton Boyles made just one of five main events. Piloting Paul Hazen's 57 at Plymouth, Kokomo, Terre Haute, and Putnamville, he earned a shot in the Reinbold/Underwood 19 at Haubstadt but was unable to stick it in the show. Matt Westfall made his first substantial Sprint Week appearance in a long while, making just two of six shows in the Ray Marshall 33. Brandon Mattox and his Fitzpatrick Autosports squad needed the majority of Sprint Week to hit their stride, but Brandon appropriately put the car in the Putnamville feature after holding back a huge semi surge from Robert Ballou. Unfortunately, that was the lone main event appearance for this pairing of Americans and Aussies.
Back in the day, a stout west coast Sprint Week presence moved my needle. These days, the impact of Brody Roa, Jake Swanson, and R.J. Johnson was light years away from that of Griffin, Kruseman, Cline, Kirby, Faas, Gaunt, Rutherford, and Sherman. Roa's 9th place finish at Lawrenceburg was the best of the USAC-CRA bunch, making four of the seven features which also included a 10th at LPS. Swanson made three of seven features, with two 12th place finishes (Lawrenceburg and Terre Haute). Despite earning valuable track time during Indiana Midget Week, Johnson started just one feature in his Reinbold/Underwood 19, bagging a 19th at Bloomington.
Indiana Sprint Week continues to find a way to tear drivers and teams apart, but in keeping with my 2018 theme, even the implosions were not as frequent or fiery. As already mentioned, the combination of Shane Cottle and Daigh/Phillips Motorsports (with backing from Roger and Barb Tapy) was terminated after just two rounds. Daigh/Phillips skipped Kokomo and went with Shane Cockrum for Terre Haute, but did not compete the rest of the week as a result of complications with one of their cars and engines. Operating his own number 98 for the first three rounds, Chad Boespflug finished 19th, 20th (after propelling from the Lawrenceburg pole), and 17th (after using a provisional at Kokomo). Before making the trip to Terre Haute, he pulled the plug on Nine-Eight Motorsports, at least for now. Hopping into a second Reinbold-Underwood Spike on Wednesday, it was renumbered 11P for Cam Pottorff, who had his Maxim ready for the rest of the week. Finishing 14th at the Action Track, 8th at LPS (after earning the pole), and 12th at Tri-State, Chad came up spot shy of Bloomington's main event.
Those late 1990s/early 2000s Indiana Sprint Week editions featured a massive number of low buck, local Indiana players who had a huge love for the game. Still longing for those days, they weren't exactly dead in 2018. An excellent reference was the effort and enthusiasm of 2001 MSCS rookie of the year Travis Thompson, who strapped into Brandon Maddox's ride and made it to every one of the seven stops. His reason for doing so: he had never before campaigned the full Indiana Sprint Week slate because of limited funds and equipment, viewing this as a once in a lifetime opportunity. Grounded in his goals, it was to simply get better each night, as he had not been in a car in over six years. Travis and his wife are in the process of building a new house, but once that house is completed, a sprint car is next on the list. Currently in pieces, once the machine is ready to roll his ambition is equally simplistic. Serious but smiling, he noted, "I just want to be the new Aaron Mosley and run Putnamville every week." Although Travis was C or B-main material each night, he never crashed and even looked like he might move on from Bloomington's C before scaling the cushion between turns one and two. Given how good he looked at Bloomington, he did indeed accomplish his original goal. Honestly, I admire a guy like Thompson who had the guts to run down his dream under the bright lights of sprint car racing's biggest stage.
Harley Burns and his father Eric towed two cars from Brazil to the Terre Haute Action Track. Eric was once again in Bill Gasway's Stealth while Harley had a completely different car than usual. Harley and a group of six men consisting of his grandfather, PDF Supply, Youngblood Farms, and Steven O'Dell purchased a coil-front Twister chassis that that had been sitting in Dusty Wright's garage for the past seven years. Buying the car for next to nothing, they want to take the running gear and apply those components to a recently purchased chassis from Levi Jones. As for Eric, his aluminum block engine finally came to life at the Action Track, but not before tossing a connecting rod out of the bottom end in hot laps. Harley gained his first tours around the Action Track but felt far more at home at Lincoln Park. Even though he was essentially fed to a pack of hungry wolves, like Thompson he chose to play an active role in Sprint Week rather than sit in the grandstands.
Even though I'm STILL dealing with the aftermath of my illness, I can think a little more clearly now, surmising that each Sprint Week stop did have its share of special moments even if the usual aura was not evident for most of the week. My first-ever trip to Plymouth Speedway came with a rather stressful drive up U.S. 31, delayed twice for construction and requiring a slight detour due to some serious stoppage around State Road 28. Ultimately rewarded with a rare defeat of Mother Nature, a tip of the fedora goes to the track crew, USAC, and the competitors for pulling together. We were indeed fortunate to get the show completed as those ominous clouds dumped their share of precipitation all afternoon and evening. Not enough for a downpour, it was just enough to keep the surface moist until the start of the feature. Enjoying the outstanding grandstand vantage point alongside Valparaiso's Rob Goodman and Lafayette's Joe Higdon, I learned from announcer Scott Stine that the seating for 3,400 formerly existed in Charlotte, Atlanta, and Daytona (backstretch) while the press box was once Bill France's suite. As for the lighting, it was Goodman who noted that it arrived from Illiana. Although the surface did manage to get slick and blow some feature dust, the racing was still respectable. No question – Plymouth is a work in progress and has tons of potential. I'm ok with it being on the Sprint Week schedule, but I still feel that a weekly wingless venue like Gas City also deserves a date.
After Friday's doubtful forecast and Saturday's washout, Sunday's outlook for Lawrenceburg was also iffy. However, promoter/operator Dave Rudisell made the difficult decision to move forward, putting in the effort to make racing a reality. Despite starting with a choppy surface that required an extensive rework, "Rudy" was rewarded with the best feature battle of the week when C.J. Leary and Tyler Courtney slugged it out over the final few laps with six bold exchanges. I know the majority of drivers dislike the dip going into turn one, but from my vantage point in Section B (row 15), I'm not sure if there is a more awesome view in all of racing. Watching qualifications from the edge of my seat as these bad-asses either dodged the hole or drove straight through, it helped me develop a whole new respect for these cowboys. Brave is indeed an understatement.
Kokomo Speedway's Tuesday reschedule nixed our second appearance at Bonge's Tavern, where we missed a rare opportunity to sample Chef Tony Huelster's homemade cherry pie. Had there not been a special toast in honor of the late Rex Staton, we would have undoubtedly attempted the double, as Tony's pies are absolutely out of this world. As it was, Steve and I knew where we needed to be and although Randy Jones couldn't make it again, Steve Remington could, reminiscing with Rem about Rex and my open wheel indoctrination. Taking part in two separate toasts, on one of them I offered that Staton represented the absolute epitome of hardcore concerning racing fandom and photography. As I stated in my last piece, racing got a lot less interesting with Rex's passing.
WRTV-6 Sports Director and Indycar Radio Network reporter Dave Furst made a special Kokomo Speedway appearance to piece together an Indiana Sprint Week story for that night's newscast, noting how he learned about the Indianapolis 500 through his many childhood trips to Tri-State Speedway in Haubstadt. Furst was not the only racing dignitary on-hand on Tuesday, as Robin Miller and Doug Boles also roamed the grounds. Truly passionate about auto racing and its unique personalities, I enjoy everything produced by Dave. Simply put, he "gets it".
As for Kokomo's Sprint Week product, once its upper half was ripped apart and redone after mostly single-file heat races, the usual balls-to-the-walls action returned for the B and A-mains. That of course allowed Thomas Meseraull to attack from the top side, which is never a bad thing. In speaking with Jarrod O'Connor prior to the playing of the national anthem, he noted how he and his brother Reece had purposely prepared the track to give the middle and bottom lanes a much better shot in 2018, as last year featured far too many runaway affairs around the rim.
The biggest takeaway from Terre Haute might have been the racetrack itself – on my shirt and in my eyes, ears, nose, hair, and every possible human crevice. Come feature time from my front stretch vantage point, I had a hard time viewing dark colored cars through turns one, two, and four, even missing Robert Ballou's last lap lunge with his white bodied Maxim. I'm hardly an expert on dirt, but Indiana Sprint Week is the number one showcase for wingless sprint car racing. Wouldn't a reasonable person want to provide the best possible surface for the best possible racing when the biggest crowd is watching? I don't mean to sound ungrateful or nitpick, as I distinctly remember when there was no racing on these grounds in the late 1980s. But, my question is, was that the absolute best that Bob Sargent and his crew could do in giving us a good racetrack? From his home base in the middle of Illinois, Bob is ridiculously busy with so many speedways that there is simply no way to give this place the attention it so desperately needs and deserves. But, when the qualifying draw ultimately determines the evening's outcome, something needs to change. It might sound crazy, but perhaps he should give his former partner Gerry Olson a phone call, as Gerry enjoys working the dirt and probably still lives in the area. The other item I'll remember from the Action Track is watching Ballou inch closer to Tyler Courtney. Providing that one brief moment of excitement, I was honestly expecting more of that type of stuff from the entire evening.
Even though Lincoln Park's feature surface reverted to one lane and was equally slick as the Action Track, at least it offered a large ledge to lean on. Sprint Week ambience had just begun to be felt on this fifth stop, as the concrete concourse was bursting at the seams with hardcore fans having a great time. With 11 of the top 17 qualifiers missing heat race transfers to the feature, that gridded 17th-quickest Chad Boespflug in the number one starting spot - easily the deepest USAC has gone to produce a pole sitter since they went to this format several years ago. LPS Sprint Week offered a little bit of everything: thrills, spills, controversy, the thrill of victory, and the agony of defeat. Although I would have loved to have observed additional feature overtaking via a two groove track, the ridiculously cutthroat slide jobs did keep me entertained.
Traffic congestion and road construction was a serious issue all the way from Carmel to Bloomington. After a stop at Bargersville's Taxman Brewing and arriving with 45 minutes to spare, somehow Steve and I still managed to find a parking spot. Sitting high atop turn four, although we were too far away to get pelted with red clay from the heavy surface, I was thankfully able to hear Dr. Pat Sullivan's tributes to Sheldon Kinser (yes, this was the Sheldon Kinser Memorial, a race I have attended all but twice since 1989) and Rex Staton ("Heard THAT!"). Feeling fortunate that our sport has someone as passionate as Pat to offer such sentiments, his presence on the microphone makes those stressful Friday afternoon drives well worth the hassle. Even though Bloomington's surface offered two grooves, C.J. Leary was far too fast to catch from his pole starting spot, making the race for first a non-issue.
Already mentioning just how much I enjoyed the Haubstadt finale, there is no question that my improved health changed my Sprint Week spirits. However, it is also important to note at just how much a Hud Cone autograph on the back window of our dusty and dirty rental car and a pair of Dewig Meats bratwursts did wonders for my mood. Often accused of being a perfectionist much like track operator and promoter Tommy Helfrich, perhaps it is my German heritage that is to blame. But, my obsessive compulsive qualities make me appreciate the fruits of this man's labor that much more. A trip to Tri-State is always a special occasion and this time, it was extra special. Tommy, his staff, and Dave Darland's drive all played a part in salvaging my Sprint Week.
Having had my annual physical a few days after the completion of my summer solstice, my doctor surmised that I was dealing with a virus, which could last anywhere from two days to an entire month. No matter what it was, it just shouldn't be allowed in the summer, especially while on vacation, as I was here for a good time, not a long time (borrowing those words from a recent Robert Ballou t-shirt). Keeping me in a complete fog for the better part of ten days, it effectively killed my enthusiasm for the one time of the year that I cherish and savor most. However, my memories of this particular week will forever revolve around the glowing positivity of that one last race. Even if something might have been missing in this 2018 Indiana Sprint Week, it reminded me that a nearly perfect evening of sprint car action might just be the best medicine known to mankind, eventually moving the needle to where it should have been from the start.
Volume 20, Number 9
Status Changes
"One minute you're a hero. The next minute, you're a zero."
I can instantly remember when I first heard those words, spoken by the extremely hardcore and humble Doug Wolfgang on TNN's Hidden Heroes television program from late 1987/early 1988 that featured Fred Grenoble, then a mechanic for car owner Bob Weikert. Ever since the airing of that program, Doug's statement has stuck with me, popping into my head on more than one occasion during this recent action-packed holiday week of Indiana sprint car combat.
Despite the plethora of open wheel options, I limited my intake to a pair of Kokomo Speedway contests that ultimately bookended a Friday night United States Auto Club Indiana Sprint Week preview at Lincoln Park Speedway. On each one of these evenings, it just so happened that the major players endured their fair share of ups and downs, significantly changing their status from one night to the next or over the course of a few hours.
Beginning with an unusual Tuesday treat of Kokomo Speedway sprint cars and fireworks, Chris Windom was the odds-on favorite to take home the trophy, having scored in four of the five 2018 meetings prior to this affair. In case you are wondering, Chris's lone blemish came on May 6th when he finished fourth to Kevin Thomas, Jr., who collected the King of Kokomo crown. On this Fourth of July eve, Windom qualified for the front row of his heat, finished second to C.J. Leary, and redrew the fourth starting spot for the 25-lap main event, looking like he could easily make it five for six. But, as Mr. Wolfgang so aptly reminded, hero to zero can happen in a heartbeat.
Thomas Meseraull (Whitney 00) and first heat winner Dave Darland (Goodnight 36D) would share the front row and much to my surprise, Darland would fall to fifth fairly early. With the cushion well off the wall, the middle to low lanes were the way to go, as Meseraull's Hawk chassis ruled the roost. It only took a few laps for Windom to wave his magic wand, early apexing the third corner to secure second in his trusty DRC/Claxton combo. Working lap ten, Chris's third turn diamond instantly translated to front stretch momentum, motoring through the middle of one and two to overtake T-Mez for top billing. Third heat winner and fifth-starting C.J. Leary (family 30) made a Meseraull connection in corner three and shot to second, bringing eighth-starting Kevin Thomas, Jr. (Dooling-Hayward 63) in tow. Heavy into lapped traffic, the lead trio remained bumper to bumper, but Kenny Baldwin's chauffeur proved that he is indeed human when he scaled the turn four cushion while lapping a pair. Thus leaving the door wide open for his two pursuers, Kevin quickly seized command before Mooresville, Indiana's Ben Knight looped his number 16 in the second corner.
Just six laps remained when green lights reappeared, and KTJ was up to task by putting distance between himself, Leary, and Windom. The leaders had already slipped beneath the white flag when seventh-running Meseraull spun in the fourth corner, resulting in a rare one-lap shootout. Kevin cut a perfect circuit to nail down his second Kokomo sprint car score of the season. Leary, Windom, Darland, and Cottle (Shane) collected top-five coin, with Cottle's tour from 12th in the Phillips 71 extremely impressive after crushing concrete on an extremely slippery initial lap of qualifying. Second heat winner Jarett Andretti, Scotty Weir (from 14th in the Gass 17), Clinton Boyles, Isaac Chapple, and Aaron Farney secured positions six through ten. Not quite a zero but no doubt disappointed was Windom, who clearly let one slip away. Perhaps even more dejected was last year's track champ Justin Grant, who was the quickest from hot lap/qualifying session number one and finished second to Dave Darland, setting him up for the feature redraw. However, immediately after the heat race checkered flag flew, the engine in his Topp Motorsports machine imploded and called a premature end to his outing, continuing his hugely frustrating season.
While KTJ was answering Rob Goodman's questions from BC's victory lane, I observed the fact that crew chief/mechanic Davey Jones was not part of the celebration with Brad Alexander, A.J. Parker, and Jason McDougal. Curious to know more but having committed myself to the grandstands the entire evening as my wife Rachael, oldest brother Greg, and his daughter Ana were in the house, I was unable to satisfy my inquiring mind. Doing some digging in the Lincoln Park pits three days later, I learned that Thomas and Jones had parted ways at some point after the June 24th Darland Memorial.
While most exited after the 10:10 PM sprint car completion I made a rare decision to stay for not only a lengthy pyrotechnics display, but also a modified and hornet feature. Offering an edge-of-your-seat, cushion-crushing slide-fest involving Zeke McKenzie and eventual winner Dylan Woodling, I hate to admit it, but the race for first in the mods was actually more entertaining than the sprint cars! As for the hornets, a last turn, last lap pass by Chris Hillman over Josh Gamblin served as a thrilling conclusion to an already satisfying evening, made even better when I was stopped by a westbound Norfolk Southern freight train on U.S. 31. I might be an old soul at this stage of my existence, but certain things like trains make the little kid come out.
Working a full Friday and arriving to a packed house in Putnamville for this USAC segment of the Bill Gardner Sprintacular, it was indeed an eventful evening involving all kinds of movement along the hero to zero spectrum. Playing the leading role in this storyline was Tuesday night's star Kevin Thomas, Jr., who tempted fate all night long. Nearly spinning on his first lap of qualifying, he recovered nicely to time seventh-best. In his heat, he cranked his car completely sideways and used the infield to escape a spinning Isaac Chapple, setting him up for an outside front row feature start alongside Hurst brothers hired gun Jordan Kinser. As if he was special ordering a Whopper at Burger King, KTJ was having it his way in the finale, handily leading the first 22 laps. Scaling the right rear of Chapple in turn three fairly early, he somehow survived the skirmish and resumed his torrid pace, about to put a lap on Darland, Ballou, Bacon, and Windom two-thirds of the way through. However, Kevin's luck would soon run out after clipping the curb at the exit of turn two. Flipping and landing his Mean Green DRC on all four wheels, despite his ability to restart he was saddled with an unsavory 16th, losing his point lead to eventual winner Tyler Courtney who tallied his fifth USAC sprint car feature win of 2018. I can only imagine how disgusted Kevin felt afterwards, only intensifying the pressure to perform during Indiana Sprint Week. Hero to zero…it happens to even the best of them.
Qualifying fourth, winning his heat from sixth, and starting the feature from fifth, Courtney had to hustle to get past Tony DiMattia, Jordan Kinser, and A.J. Hopkins. Once in second, he could occasionally cut into Kevin's lead, but we'll never know if he would have gotten close enough to take a swipe. In the right place at the right time, although he was a sprint car winner here in September of 2012, Tyler finally bagged a big one at the facility that was once operated by his grandfather. Former mini sprint combatants were assisting on the winning Clauson-Marshall-Newman Spike, as Rossville's Cole Bodine and Kokomo's Kevin Smith work with Tyler Ransbottom and Tim Clauson. Tim is one busy man these days, as in addition to heading up midget and sprint assaults, he still holds down a full-time gig outside of racing. Son of former Eric Shively crew member Kevin Bodine, Cole Bodine is taking a page from Tyler Courtney, as he is putting in his time at the Clauson Marshall shop in Fishers to earn valuable, high-profile midget seat time, subbing for the injured Zeb Wise in this week's USAC tour of Oklahoma, Kansas, Nebraska, and Missouri. A high-quality kid who comes from good stock, I can't wait to see what the future holds for Cole, who nearly won the tour finale in Sweet Springs, Missouri.
Five times a Lincoln Park producer in limited 2018 outings for Jeremy Ottinger (who celebrated his 47th birthday the day before), A.J. Hopkins qualified fifth, transferred through his heat, and started the feature fourth, ultimately chasing Courtney to the 11:30 PM checkered flag. Representing the best-career USAC outing for A.J., he reinforced the notion that he has what it takes to compete with the national tour regulars. Wishing that he and Jeremy would run a few more races outside of Putnam County, can Hopkins put it all together on the Thursday night of Indiana Sprint Week?
Compared to his landlord Kevin Thomas, Jr., house guest Jason McDougal wound up on the opposite end of the hero/zero horizon. Qualifying 28th fastest from a field of 37 in Shawn Krockenberger's 21K, Jason escaped a huge incident in the semi-feature to surge from 12th to 2nd, more than good enough to earn the 22nd starting spot in the 30-lap main event. Methodically moving through the pack on a tricky track, he was already up to fourth at the time of KTJ's red flag. McDougal manufactured one more spot in the final eight laps to land on the podium in his initial USAC sprint car outing. It's certainly been an eventful season for the Okie, who officially ended 2017 with three victories at the Tulsa Shootout, becoming the first to score more than two golden driller trophies in one evening. Finding work in the Petry Excavating midget vacated by Thomas, he made his first appearance in Krockenberger's sprint car on June 1st at Bloomington. Although he was slated to run the car on several more occasions, rainouts and scheduling conflicts have limited his previous runs to Lincoln Park (6/23) and Bloomington (6/29). One wonders: could he be the next big thing in short-track open wheel racing?
Entering the premises just in time for two-lap qualifications, I stood behind Greencastle's Tracy Pickens, a former socket spinner for Kevin Thomas, Bill Rose, and J.J. Yeley. Operating on a character-filled playing field capped by a thick upper lip and underscored with a bumpy bottom, qualifying proved to be a handful for so many of the national heroes, ultimately making them look like zeroes at least for the time being. Notables like Justin Grant (19th), Robert Ballou (21st), Dave Darland (24th), Chad Boespflug (25th), Chris Windom (27th), Jarett Andretti (30th), and Kyle Cummins (31st) each had issues which of course meant there were some surprises filtering into the top-15, including quick-qualifier and three-time 2018 LPS winner Carson Short (12.467), Kody Swanson (2nd), Tony DiMattia (6th), Jordan Kinser (9th), Brandon Mattox (12th), Kent Schmidt (13th), and Brian VanMeveren (15th). For the second night in a row, Minnesota attorney VanMeveren enjoyed the assistance of Mike Gass and Phil Poor, the long-time USAC and All Star Circuit of Champions title winning mechanic.
So many of those big names could not recover from their qualifying woes. Boespflug biked in the B-main and owned no more provisional passes. Debuting a new Triple X chassis, Cummins broke a rear end in his heat and called it a night. Jousting side-by-side for the final transfer on the final lap of heat two, Andretti connected with DiMattia at the start/finish and snap-rolled atop the concrete blocks down the remainder of the front chute. Although his DRC chassis and assorted components were a write-off, the car's construction did its job, allowing its pilot to walk away. Grant won his heat from the front row but wound up 19th after starting 15th, reversing his fortunes in a big way the next night with a huge $4,000 MSCS score at this same stop. However, one of the biggest stories on this evening was how Windom, Darland, and Ballou salvaged their evenings, finishing 4th, 7th, and 9th after starting 21st, 20th, and 17th, respectively. If the race were five laps longer, Chris could have been contending for a feature win, proving that he and Derek Claxton are more than ready to contend for their second ISW championship. It is hard to believe that Chris and Derek have not claimed a Sprint Week win since Terre Haute 2011.
After Courtney, Hopkins, McDougal, and Windom came Jordan Kinser, the Bloomington Speedway star who enjoyed his best USAC outing to date. Thomas Meseraull made his way from 13th to 6th in the Briscoe 5. As already mentioned, Darland and Ballou were 7th and 9th, sandwiching Brandon Mattox. Josh Hodges took tenth while Brady Bacon bagged 11th after needing new left rear rubber after the second circuit.
An unusually long night for current Lincoln Park standards, it reminded me of the old days from the early '90s when I was stuck in the grandstands and subjected to an overdose of stock car craziness. With four support classes (D2 midgets, modifieds, street stocks, and bombers), a half hour delay for a fan emergency and ambulance switch, and a vital track rework prior to the A-main, that allowed me plenty of time to catch up with individuals that could only be found in the pit area, having made a wise post-qualifying decision to upgrade my $25 general admission ticket with a $5 donation to Jill and Joe Spiker's back gate. Watching the heat races while staring into a bright orange disc, I was at least entertained during the ambulance delay by stories from ex-L&N/CSX railroad employees Joe Higdon and Arba Richardson, both of whom crewed on trains that passed through Putnamville on the old Monon mainline.
It was in the pits where I initially encountered Jim LeConte, the ex-Danville GM foundry employee and United Sprint Association official who entertained with several outstanding Doug Wolfgang/Gary Stanton stories from the early 1980s. Dave Conn of J&D Performance was also on-hand, tending to customers Kent Schmidt, Jeremy Ottinger, and Jarett Andretti, even digging in to assist in the deconstruction of Andretti's annihilated equipment. BOSS chassis constructor Flea Ruzic was assisting Jimmy Jones and Robert Ballou yet again, noting that Robert's 2006 Maxim had been clipped for the fifth time: four performed by him and one by Joe Devin. This worn out piece is the only car with which Robert finds comfort, so Flea is toying with the idea of building a brand-new machine and stressing the tubing before delivering it to the Mad Man.
Congratulating Tim Creech on his heat race win, this was the very first USAC feature that Tim had ever made. Involved in an early incident with Brent Beauchamp and credited with 21st, Creech has enjoyed some solid showings at LPS thus far in 2018, loving his DRC chassis that he says is not only easy to drive, but easy to work on.
Bumping into 2001 MSCS rookie of the year Travis Thompson, Travis was tending to another Terre Hautian in Brandon Mattox, who is embroiled in a battle for his first MSCS title. Last operating a Mattox machine five or six years ago, Thompson is pondering the possibility of returning to action with a full-on assault of Indiana Sprint Week in Brandon's normal number 28. The reason being: Mattox excitedly scooped that he would be piloting another DRC for Fitzpatrick Autosports, a group of Australians he met during last year's ISW. One week later, the new combination debuted 11th at Gas City but had their pristine piece seriously damaged in a Haubstadt tumble. As of the time of writing, Joe Devin is making repairs, so it will require quite a thrash to be ready in time for Plymouth.
2000 LPS and Tri-State track champion Eric Burns was making a rare USAC appearance in Bill Gasway's Stealth while his 16-year-old son Harley would be making his first attempt in Doug Rolison's Stealth. Optimistic as always despite suffering through a miserable outing when his new-for-2018 aluminum engine refused to operate at full song, Eric's evening turned from bad to worse after a B-main connection with Brian VanMeveren. Set to be a high school junior this fall, Eric's offspring was struggling with his power plant as well. Quite an interesting story regarding the method in which Harley's 305 cubic inch steel block Chevy was acquired, it was left abandoned under a tarp at Eric's rental property along U.S. 40 just west of Brazil. With plans of upgrading Harley to a 400 cubic inch steel block, they recently purchased a newer chassis from Levi Jones, who spent nearly four hours advising the teenager on the ins and outs of the sport. Midway through his second season, Harley has been quietly honing his skills as he hustles a grossly underpowered machine, looking forward to the benefits of even more power, but newer hardware as well.
Sunday's closure to a long holiday week came in Howard County for the Kokomo Klassic, a race with roots that reach back to the Bill Lipkey era of track ownership. Back in the '70s and '80s, the Klassic always managed to attract some of the sport's biggest names. 2018 maintained that tradition, especially with the pre-race festivities organized by Josh and Shannon Spencer. Josh single-handedly contacted a large group of legendary drivers, mechanics, car owners, announcers, and writers, most of whom showed up to mingle and sign autographs. Although I was on the list, I certainly did not feel worthy of scribbling my name alongside so many heroes. Stepping away from the table to gather my own list of signatures which numbered around 50, it was quite an impressive array of hall of fame talent, a rare opportunity to reacquaint myself some who I have not seen in months, years, or even decades. Rare sightings included Jack and Jody Hewitt, Steve Butler, Gary Fisher, Kent Evans, A.J. Anderson, Brandon Petty, Mark Clark, Michael Burthay, Jeff "Auggie" O'Banion, Terry Pletch, Mike Mann, Greg Stephens, Kelly Kinser, Todd Kelley, Mark Caldwell, and Allen Barr. I won't go through the entire list of who was here, but it was truly a step back in time to see all of the smiling faces. Even after getting seriously banged up from a Gas City tumble in mid-June, Tom Davies was present and in great spirits. Brad Dickison, Pat Sullivan, Tony Jarrett, and Tony Ploughe were full of so many colorful stories, I could have listened for hours on end. All of these outstanding personalities reminded me of why I became so addicted to this sport in the first place. I sincerely hope this becomes a permanent thing – as it serves as such a vital link between the past and present.
As for the on-track activities, 24 traditional and 24 305/602 winged sprint cars were in attendance and in true Kokomo Klassic tradition, big names like Chris Windom, Kevin Thomas, Jr., and Robert Ballou served as the central characters. C.J. Leary (own 30), Kyle Cummins, Scotty Weir (Gass 17), Justin Grant, Jarett Andretti, and Josh Cunningham were welcome additions. Rather surprisingly, Dave Darland did not have a ride, no doubt a sign of the times when true car owners have become so scarce.
Renewing his Kokomo royalty, Chris Windom would qualify fourth, win his heat, and redraw the third feature starting position, setting him up for another productive Sunday evening. Tracking down Robert Ballou with 13 laps remaining, although lapped traffic would allow Ballou to close in the waning stages, it would not prevent the Flying Illini from collecting his fifth Kokomo feature win in seven attempts. However, it was a far from simple task for his Baldwin bunch, as a push rod issue in hot laps/qualifying mandated an engine change prior to heat race action. Directed by crew chief Derek Claxton, the swap was completed in about 15 minutes.
Kevin Thomas, Jr. came from ninth to claim third, quite an eventful evening for similar mechanical reasons. Slowing during hot laps/qualifying, Kevin and his Brad Alexander led squad were also working feverishly under the hood before their heat race, honoring assistance from Steve Fox and Brian Cripe to troubleshoot the issue and reset the timing on their Gary Stanton engine.
Starting fourth and finishing fourth was C.J. Leary, his final test and tune prior to Indiana Sprint Week. Reliable sources say that the recently departed Davey Jones will be joining Donnie Gentry and Chuck Leary on the Leary Construction crew for this seven race series. Beginning from the outside of the front row after his huge win the previous night in Putnamville, Justin Grant briefly raced for first before a turn three bike ride rendered him fifth, which is exactly where he wound up. Positions six through ten were claimed by Shane Cottle, Cummins, Isaac Chapple (after a solid run from sixth to second in his heat), Weir, and Andretti (who had Kyle Dautrich tending to his magneto after hot laps/qualifying).
Jay Waugh and Braydan Willmington added some Aussie flair to this Kokomo Klassic. Having resided in the Hoosier state since May 23rd, Jay's number 99 was assembled by Northern California's Steven Tiner. Keeping his equipment at Landon Simon's shop and living with Chris and Amy Simon, on this adventure Waugh was focused on winged activities, hitting all of the Ohio Speedweek stops. Sprinkling in some wingless outings including a 14th place finish on this Sunday, he returns home right before Indiana Sprint Week, a series in which he competed in 2014. Just twenty years of age and a veteran of the midget and 410 winged sprint car wars, Braydan Willmington debuted Davey Ray's DRC chassis with a fifth at Gas City on July 6th, backing that up one week later with a fine fourth at Gas City and a third in Montpelier midgets. Winning the B-main at Kokomo and collecting 16th, he appeared to be quite comfortable in just his second ever wingless sprint car start, noting that "it's way more fun than a winged sprint car and just like a big midget." Before he exits the country on July 22nd, the exciting Willmington will make his USAC sprint car debut at Plymouth, following up with another Montpelier midget effort on the 21st.
Watching Kokomo heat and feature action with Lapel sprint car rookie Evan Mosley, despite getting a late start to the season the 18 year-old has continued to improve and impress. On Friday July 6th, Mosley started 19th at Gas City and worked his way up to third, but a last lap issue sent him back to 6th. One night later, track regular Willie Tackitt snatched victory from Mosley's hands on the final lap in Charleston, Illinois, the same place where he debuted fourth in early June. But on the following Friday, Evan opened even more eyes on an old school cowboy surface at Gas City, scoring yet another second thanks to a solid setup from sprint car legend Tray House. Only his seventh showing, could a feature win be just around the corner?
Fast forward to Friday July 13th and my drive to Bloomington Speedway's Summer Doubler was truly a nightmare, requiring just under two hours thanks to I-465 congestion and State Road 37 restrictions. Speaking of nightmares, it's been that kind of a season for Kyle Cummins and his Eberhardt Zirzow Racing team. Although they nailed down a Bloomington feature win on Friday, April 13th, this year has turned out to be a huge test in patience and persistence. In late May, they switched chassis and shock combinations from DRC/CSI to Tripe X/Benic. Just as they began to make some progress, a Bloomington blown right rear tire caused a costly crash on June 15th, wiping out a car and numerous components. Taking some time off to regroup, Kyle and his father assembled a new Triple X and in its fourth outing, it became a Bloomington winner on yet another Friday the 13th. Three months between wins, this was a rather significant change of status for the pride of Princeton, Indiana.
From third starting position, Cummins claimed the first heat and after drawing the pole for the 25-lap feature, he took full advantage to lead every lap around the infield tires, admitting afterwards that it was a nerve-wracking ordeal to run the bottom and hit his marks. On the slicked off surface that offered the thinnest of cushions, fifth-starting Robert Ballou, Jeff Bland, Jr., 11th-starting Isaac Chapple (quickest from qualifying), and ninth-starting Andrew Prather scored second through fifth. Solidifying sixth through tenth at the 9:29 PM checkered flag were Josh Cunningham (originally slated to start 20th), Jadon Rogers (from 15th), Jordan Kinser, Scotty Weir, and Michael Koontz.
By virtue of his two previous feature wins, track point leader Kinser started 10th but suffered a flat right front tire after an incident with Daylan Chambers. Towed to the pits where Jeff Bland's Waltz Racing crew not only offered a new wheel and tire but changed it as well, this was a true sign of sportsmanship as Bland and Waltz were second in points.
The race for first was a forgone conclusion, as Kyle was the class of the field. Behind him, it was a completely different story as third-starting Brandon Morin was doing his best to fend off the ferocious foursome of Scotty Weir, Robert Ballou, Chad Boespflug (Pottorff 11P), and Bland. The five of them battled high, low, and through the middle, with positions changing nearly every corner. Working lap 18, Weir finally wrenched second from Morin's grasp while Bland smelled blood in the water, attempting to squeeze underneath the number 98 at the bottom of turn three. The resulting spear bounced Morin into an inversion that also collected Boespflug. Once back to green, Weir tried to pick the pockets of Cummins but a late race bobble spoiled his podium placement.
A quality-filled field of 26 sprinters raced for double points, which unbelievably was the second to last regular show for wingless sprint cars. The Bob Kinser Memorial on August 17th serves as the finale, a date that's already circled on my calendar. This evening's Bloomington contestants also included Jon Stanbrough, Jake Scott, Kody Swanson, Travis Berryhill, Dakota Jackson, and Bradley Sterrett (Burton 04). Missing qualifications altogether due to the lengthy drive, I failed to witness Jon Stanbrough's single set of corners in the Wingo 77, immediately exiting with engine issues. Suffering through a recent rough stretch, Jackson bagged the B but was forced to scratch from the A.
A rather abbreviated tour of pit lane began and ended in Buddy Cunningham's pit. Buddy detailed his chaotic cruise from Spencer to Bloomington in which he was involved in an accident in front of McCormick's Creek State Park on State Road 46, severely damaging the pickup that he used to tow Andrew Prather's self-constructed chassis. His first street accident in nearly 40 years of driving did not deter his quest to compete, arranging for another vehicle to tow his trailer the rest of the distance.
Meeting up with Dan "Dirtfan" Hetser as the national anthem was playing, we headed over to the hill to catch a trio of entertaining heat races. The best of the bunch was heat two, where a wet towel was tossed over the top-seven. Situated just in front was 1996 Lincoln Park Speedway sprint car champ "Auggie" O'Banion, who discussed his plans of traveling to Canada to purchase a wingless sprint car for his son Shane (named after Shane Carson), who currently competes in flat track motorcycles.
Staying after the sprint car conclusion for a special "Heroes and Hornets" celebrity race and the 305 Race Saver feature, it is worth noting that the sprint car contingent was well represented in this hornet happening that required its competitors to be newcomers to the front wheel drive machines. Sprint shoes included Anton Hernandez, Tyler Waltz, Bradley Sterrett, Josh Cunningham, Jake Scott, Danny Holtsclaw, Buddy Cunningham, and Ethan Barrow, with the rest of the field made up of modified and street stock standouts. The 22 contestants were gridded based on the amount of money raised for St. Jude's Hospital. Tenth-starting Sterrett would wind up the winner while Jake Scott (4th) and Josh Cunningham (5th) were the next best sprint car finishers. The event raised a healthy $12,836, punctuated by a massive tumble from Bill McCarty. Jeff Wimmenauer was the fourth and final leader of the 305 feature, coming from 11th to score his second win of the season.
Returning to Doug Wolfgang's hero to zero statement from TNN's Hidden Heroes episode from the late 1980s, I seem to recall that Kokomo, Indiana photographer Rex Staton made an appearance on this program while mingling around the Wolfgang/Weikert pit at Eldora. Assisting in the babysitting of my nephew's son and watching the 35th Kings Royal from the comfort of my basement couch, I shockingly awoke to the sad and sobering news of Rex's passing on Sunday morning. Along with the Little 500 and Knoxville Nationals, the Kings Royal was one of the few events that Rex would never miss, so the fact that he wasn't at Eldora is testament to just how poor his health was. Spending some quality time with him prior to the Indiana Midget Week finale at Kokomo Speedway in early June, although he did photograph the Little 500, this was the first time I had seen him all year long. Having spent the better part of 2018 in the hospital, Rex was so happy to be back in his element, even if it was just for a short while. Like so many of the sport's most intriguing personalities, my introduction to Staton came through photographer Steve Remington and knowing him for the past three decades, I'm not sure if I have ever encountered anyone who had as much pure passion for the sport, sacrificing nearly everything in the name of racing and photography. Echoing Randy Jones's comment that Rex lived life on his own terms, he could care less of what others thought of his world, one of the last of those free spirits left in our fraternity. I readily admit that I will never be able to match his lifelong devotion and for that, I'll forever hold him in the highest regard. Happy to have considered Rex a friend, I'm saddened by the fact that his passing represents yet another permanent exit of open wheel racing's most intriguing individuals. Gone but never forgotten, may you finally rest in peace Rexy.
Thrashing in my final few days of work before a long-awaited Indiana Sprint Week respite, I'm looking forward to my own change of status. Removing myself from reality for a solid ten days, in addition to sleeping in, indulging in only the best of food and drink, and spending quality time with the closest of comrades, I look forward to observing which racers will rise to the occasion to become heroes and which ones will be humbled to zeroes during this grueling stretch. As they say, let the games begin!
Volume 20, Number 8
Special Shows
As I have stressed so many times in these past 20 years of covering traditional sprint car competition, the overall outlook on a national basis depends heavily on the health of the local scene, particularly in the state of Indiana where the spotlight shines brightest. This is a sprint car state, so many of our venues need substantial car counts to lure fans into the grandstands. In addition, sanctioning bodies such as the United States Auto Club and Midwest Sprint Car Series must have local competitors to bolster their rosters. With a definite decline in the number of local competitors in these last ten years, Indiana oval track operators are now required to do more than just swing open the gates to enjoy a successful evening, as both the fans and racers are demanding quite a bit more than they used to.
As far as unsanctioned events are concerned, the most common method of boosting front and back gate receipts is to offer a special show with a fancy title and a substantially larger purse. But as we have all observed, so many times that fails to bring the bulk of the cars, making it even more difficult for operators to justify those types of programs. Thankfully, even after so many failed experiments, the special show manages to survive, recently covering a prime example with Paragon's Johnson Memorial and following up with two more: Kokomo's Darland Memorial (named for Bob and Joan Darland – Dave's parents) and Gas City's Jerry Gappens, Sr. Memorial.
It's hard to believe that we are nearly halfway through the Midwestern traditional sprint car calendar, as it seems like the bulk of the year has consisted of cancellations caused by an overly moody Mother Nature. Hereby presenting an opportunity to reflect on 2018, if one were to simply examine feature wins and United States Auto Club points, the takeaway would be that this year has once again been all about Kevin Thomas, Jr. Tallying ten feature victories (5 Indiana unsanctioned, 4 USAC, and 1 MSCS) and maintaining a 38-point margin in the national standings, at times he has been unstoppable, claiming four victories in a row and sweeping an entire Indiana weekend in early May.
But lately, there has been one rather painful thorn sticking from Kevin's side, quietly stealing his thunder and spoiling his bid to make 2018 even bigger than 2017 and 2016. If KTJ is the sprint car equivalent of Superman, then defending USAC sprint car king Chris Windom is his Kryptonite.
Recently charging to his second consecutive USAC Eastern Storm championship, Chris copped two wins and three additional podium placements in the grueling six-race stretch. And despite Kevin's victory in Bridgeport, New Jersey, "Big Daddy" managed to match his every move. Although overall Eastern Storm winners have gone on to claim the national championship in 8 of 11 seasons, it's not a given, expecting a supreme dog fight between these two and many more (Tyler Courtney) with the pressure-packed Indiana Sprint Week looming on the horizon. After trumping Thomas to claim his fourth win in five Kokomo Speedway outings at this most recent Darland Memorial on June 24th, it is safe to say that Windom and his chief mechanic Derek Claxton are warming up at just the right time.
Chris and Kevin have been near the front of every Kokomo sprint car feature this year and this particular bout was more of the same. Thomas was quickest in the third qualifying group and stole a heat race win from Windom when Chris climbed the massive mound of clay beneath the turn two concrete. With the $3,000-to-win, 30-lap feature redraw gridding Kevin second and Chris fourth, it only took the Alabama annihilator six circuits to mount enough momentum to zip past second heat winner, pole sitter, and four-time track champ Shane Cottle (Phillips 71). Five laps after Thomas took the point, Windom somehow found an opening underneath of Cottle at the turn one entrance and slipped into second. Halfway through and with heavy congestion ahead, Chris continued to dwell downstairs and substantially cut into Kevin's cushion. While both encountered three-time Indy Speedrome champion Ted Hines, Windom worked his magic and picked Thomas's pockets. Trying high and low, KTJ intensified his attack in the Dooling 63 and inched closer with every lap, but it was not enough to prevent the reigning national champ from parking Kenny Baldwin's DRC/Claxton-Mopar on the front stretch once again. The green-to-checker finish of this edge-of-your-seat affair came at an astonishing 8:44 PM, with daylight evident for most of my homeward journey on the extremely choppy U.S. 31.
Claiming win number seven on the season, Windom's victories, consistency, and uncanny ability to upset the apple cart of guys like Thomas, Justin Grant, and Kody Swanson are certainly no surprise, especially when considering just how long he's been playing this game. His first contest at Kokomo came all the way back in May of 2005 when he was just 14 years of age and now that he's 27 and claimed two Little 500 trophies and USAC national titles in Silver Crown and sprint cars, his eyes are firmly focused on bigger prizes. Having missed out on the driver development opportunities that were oh-so-common in that '05-'07 era, the sad part about big league racing these days is that no matter how much talent Windom has to offer, it still requires funding of some sort to get the deal done. Eventually making seven ARCA stock car starts from 2011-2015 (debuting third at Springfield) and four NASCAR truck attempts in 2017 (19th at Eldora, DNQ at Bristol, 32nd at Martinsville, and 26th at Homestead), despite his Indy Lights practice crash at Indianapolis, he is expected to make another oval attempt later this season with the same squad. Another Eldora truck engagement is planned as well, aligning with an even better team than last year's MB Motorsports.
Driving a DRC chassis after destroying his 2006 Maxim at Weedsport, Robert Ballou started third and collected third, well within earshot of the lead tandem. Dave Darland (Goodnight 36D) was quickest in his qualifying session, won the first heat after a brief slide-fest with Clinton Boyles (Hazen 57), but drew the sixth starting spot for the feature. Although mysteriously absent for sprint car portion of the Indiana Midget Week finale, just like the dynamic duo Dave has been a consistent Kokomo contender in 2018. Finishing a respectable fourth, he returned to his early season form but was completely blinded by the sunlight, unable to rip the lip through turn one. That same condition was confirmed in Windom's winning interview, explaining why he operated exclusively around the bottom. After pacing the first five laps, Cottle had to settle for fifth. Sixth through tenth included Brent Beauchamp (Olson 34), Jarett Andretti, Isaac Chapple, Boyles, and Kody Swanson (Byram 3R).
Sunday weather was simply gorgeous, ideal for a pair of 40th wedding anniversary celebrations: one prior to my Kokomo Speedway arrival for Jerry and Sarah Spencer and one pre-heat race for Michael and Janet Harrington's renewal of wedding vows. Once arriving at the north end of the City of Firsts, remnants of the heavy rain from Thursday and Friday left the speedway grounds heavily saturated. The recently installed parking lot drains did their job, but Chris O'Connor Naranjo noted that quite a bit of water had to be pumped just to be prepared for Sunday, especially underneath the grandstand. Sunday's crowd was solid, but I wanted it to be overflowing, especially with the larger purse paid out. My rationale for attending had much to do with the fact that USAC was off this weekend, expecting an all-star cast. With 30 sprint cars in the house, my expectations were clearly met and then some. I just wish more people were here to join me, as we need local racing and these special shows to survive and thrive.
A pre-race tour of the pit area observed Brian Cripe calling shots for Colten Cottle (fourth the previous evening at LPS) while the nomadic Slide Job Bob (Robert Brown, Jr). was hard at work with Tony DiMattia. Jimmy Jones was still tending to Robert Ballou's inventory, noting how he brought back a 2007 Maxim from New York that will require quite a bit of fabrication time to be ready for Sprint Week battle.
While fastening a right rear wheel cover, Paul Hazen noted that he has two DRC chassis in his stable once again after repairs were needed to one after an early season incident at Lincoln Park. However, he only has one engine available, one which will unfortunately have lots of laps once Indiana Sprint Week opens. To make it through the entire week with his young hot shoe Clinton Boyles, Paul says the ideal situation would be to find a willing sponsor who has an extra engine that he or she would be willing to loan. As you may recall, Matt Goodnight stepped up to the plate last season. Hopefully someone else does the same in 2018. Extremely happy about chassis constructor Joe Devin's recommendation on Boyles, Paul says that he pretty much just has to block the car at the shop and Clinton will drive it, not needing very many at-the-track adjustments.
Brent Beauchamp made a rare Kokomo appearance in Jeff Olson's Spike chassis, as Sunday nights are not easy given he still has to drive back to his new home in Columbus, Ohio where he sells steel and his wife is enrolled in a two year residency program for pharmacy at Ohio State University. Formerly an air traffic controller with one of my older sisters, Olson says that retirement is sitting well with him, able to do whatever he wants, whenever he wants. Former sprint car competitor Ed Hassler ably assists Olson, just as he has the last several seasons.
Chris "Critter" Malone was elbows-up in his second place B-main blast, making only his fourth start of the season and first outside of Haubstadt. One of a few who is willing to compete with and without a wing, after all these years Critter is still employed by Howerton Racing Products, noting that "someone has to do the work". I can vividly recall the first time I saw Malone in action: the 1989 Hut 100 conducted late in the season at Lawrenceburg Speedway, a race that Rich Vogler dominated in the Wilke 11. Yep, that's been some time ago.
If ever there was a team that embodied the working man's spirit of the late Bob Darland, it has to be the 4P belonging to Scott Pedersen. With son Ryan on the wrenches as always and engine constructed by his father Red, they might not own a ton of money, a four-wheeler, or a fancy hauler, but the product they put on the track is still premium. With C.J. Leary again in the saddle, the Greenfield gasser qualified quickest from the second group but missed the feature redraw after finishing third. Opening in eighth, unfortunately a broken nozzle line caused him to exit stage left on lap five, forced to watch the balance of the contest from the infield. After a lengthy Eastern Storm excursion, "Diamond" Donnie Gentry enjoyed a night off while C.J.'s father Chuck assisted. Much like Dave and Bob Darland in the early 1990s, the Pedersens serve as the local underdog and a serious threat to national squads looking to pilfer Indiana bullring purses. Expecting a breakthrough win from this combination, read on in this article as I discuss just how such a prediction became reality.
The Darland Memorial was Aaron Davis's ninth sprint car appearance in his rookie campaign. Despite his huge horsepower deficit to the big dogs that was overly evident in Kokomo hot laps and heats, the 22 year-old nearly made the main event in a 49-car Lincoln Park field the previous evening. Guided by veteran sprint car tuner Mike Fisher, Mike is the uncle of Aaron's father Jeff and has been twisting wrenches on race cars for the past 55 years, assisting in the efforts of his brothers Ron (starting at Armscamp Speedway in the 1950s) and Don, nephews Gary Fisher and Scott Fisher, a young Jerry Gappens, Jr., Tray House, Mark Clark, and Tony Main, to name just a few. The following Friday in Gas City, I became fully acquainted with this extensive family tree, which also includes Jeff's two older brothers Boyd and Jerry. As for Aaron's outing in Kokomo, all did not go well in his heat race as he lost an O-ring on an oil galley plug, resulting in most of the oil being blown out of the engine. At the same time, a timing cover bolt came loose that extended all the way to the water jacket, forcing all of the water out as well. Calling it an early evening, thankfully no major damage was done and Aaron was back in action five days later when he started 10th and finished 13th at Gas City. Back on June 8th, Aaron enjoyed his best outing of the season with a solid seventh place finish. Like the Pedersen 4P, the Davis 11 is a pure and passionate representation of the local Indiana sprint car scene, and we need more of these types of teams coming out of the woodwork to keep this thing alive.
While on my way up to Kokomo's front stretch grandstands for the heats, I observed former USAC champion car owner and current Jarett Andretti sponsor Jeff Stoops engaged in conversation with his former sprint car mechanic Phil Poor, who was here to help Isaac Chapple. Just a few rows up from Stoops and Poor was Steve Fox, who in the late 1980s and early 1990s served as a primary foe in both winged and wingless circles. Speaking of Andretti, he once again guided by his father John, who was set to begin additional treatments upon receiving the disappointing news in late May that his cancer had come back. Here's hoping all goes well with John and he continues to maintain a positive attitude, as I know from my own family's experience that attitude and outlook is half the battle.
Spending the remainder of my Sunday evening alongside former sprint car shoe Josh "GQ" Slone and his son Jackson, Jackson is a Noblesville High School student and Race Saver rookie utilizing a 2016 raised rail DRC chassis, the last machine that Steve Kinser drove competitively at Lebanon Valley Speedway in August of '16. Powered by an ex-Cale Stinson (son of Jimmy) 305, Jackson has performed well in limited 2018 outings, already laying claim to a couple of top-ten finishes at Bloomington.
Kokomo Speedway's next two contests will be conducted over this holiday week. On Tuesday the 3rd, fireworks will not only take place on the track, but off as well, as the massive post-race display always attracts a big crowd. Thanks to the efforts of Josh Spencer, the following Sunday's Kokomo Klassic will offer an impressive array of legendary participants who plan on signing autographs. Both evenings are guaranteed to be a great time, so call a friend and help ensure that their rear ends arrive in Kokomo.
Saving my next racing adventure for Gas City I-69 Speedway's Jerry Gappens, Sr. Memorial, I only wish I had the luxury of a helicopter to shuttle me from Allisonville Road and I-465 to State Road 22/U.S. 35 and Interstate 69. Leaving work at 5:40 PM and twice slowed by heavy congestion (lastly for a minivan that had burned to the ground at the Fairmount exit), in between the stoppages I was "on the gas", miraculously arriving in time for sprint car hot laps. However, instead of sweating through my t-shirt so early in the evening, I chose to stay cool in the comfort of the track office's air conditioning, chatting with several of Jerry's family members who are so vital in its operations. Jerry's sister Barb manages the track office while her husband Mick tackles any outside projects/emergencies. Assisting Barb with wristbands and insurance waiver sheets on this evening was Diana, who is a close friend of Jerry's mother Opal. Encountering enthusiastic multimedia intern and BSU telecommunications student Rachel, I also had the pleasure of acquainting myself with Jerry's girlfriend Cheryl, who as it turns out is the mother of a young lady (Allison) who is dating a close college friend of my nephew. Yes, it is a small world and as I have always maintained, the most enjoyable aspect of racing is sharing conversations with all of the parties involved. After enjoying a brief discussion with these I-69 staffers, I get the impression that they love what they are doing, hoping that they quickly hit a huge home run.
For this Star Spangled Spectacular featuring an added fireworks extravaganza, a significantly larger crowd was on-hand compared to my previous appearance on May 4th, giving hope that there are people still interested in an evening of motorsports entertainment. After all practice sessions were complete, surface grooming was being conducted as oven-like heat baked a slick but smooth playing field, a huge departure from previous weeks when "heavy" was the word of the day. While a tiller and water truck slowly circled the oval, promoter Jerry Gappens, Jr. was putting his public relations skills to work, interviewing patrons over the PA system and handing out door prizes. Although the sprint car payout for this contest might have been standard ($8,090 overall with $1,500 to win, $1,000 for second, $650 for third, $200 to start, and $100 tow money), as Jerry has stated, there are no "regular" shows at Gas City. Heavily catering to the fans to make each night special with the aforementioned door prizes, interviews, and special intermission entertainment, just like I witnessed on May 4th, tonight offered a kids coin toss on the front stretch. With a seemingly endless line of youngsters streaming out of the stands, they would engage in a scrum to see just how many of the $200 in coins (spread out on a tarp) they could gather.
While surface preparations were finalized, I attempted to make my way around the pit area. Only making it as far as Paul Hazen's 57, I asked Paul if the surface changes would alter his usual setup, as he and chauffeur Clinton Boyles were going for their fourth victory in a row on these grounds. While conversing, Hazen offered formal introductions to Dave Stensland, Sr. and Jr. Dave Jr. is still a Hazen backer in the form of his Fort Wayne, Angola, and Auburn, Indiana practice: Physical Medicine Consultants. Dave Jr. excitedly discussed details of restoring Paul's 1993 Stealth chassis that claimed 19 victories with Jon Stanbrough, the same car they had purchased and utilized when winning their first feature with Steve Ott. The racing roots of Dave Sr. reach back to the late 1940s and early 1950s in New Jersey's famed Gasoline Alley, recalling his influential interactions with hall of fame mechanic, car owner, and driver Roscoe "Pappy" Hough, who ironically originated from Fort Wayne, Indiana. Before fielding a sprint car for such notables as Dave Darland, Thomas Meseraull, Jac Haudenschild, and Bryan Clauson, Dave Sr. did a little driving of his own, steering a stock car at several New Jersey ovals. One of Dave's former drivers was also Mike Fedorcak, the master fabricator who he first met when both were working second shift at Fort Wayne's International Harvester, also a former Hazen employer. Most remembered for his Munchkin midgets from the late 1980s, Mike also crafted his own sprint car in the early 1980s, one that Dave still owns. Although Dave Jr. also supports Thomas Meseraull's 00, he and his father have stepped away from car ownership after selling to Brad Wyatt.
Meeting retired Kroger advertising assistant Kevin Kotansky in the grandstands, we watched three sprint car heats, three modified heats, and a pair each of thunder car and compact heats. With the sun still high in the sky, surface conditions still appeared to be slick as Garrett Abrams, Shane Cottle, Matt Westfall claimed wins, but more than one lane was workable as evidenced by 2013 track champion Scotty Weir. Making his first appearance of the season in the Gass number 17, Weir toured the top to take the lead from his fifth starting spot, only to lose it with a spin two laps later. Scotty scooted back to third while Westfall claimed the win from seventh in the Marshall 33.
With 21 cars on-hand, Gas City's sprint car count outnumbered Bloomington and Boswell (MSCS). A majority of the competitors came from north of Indy, but a few headed west from the Buckeye state while one driver even made the long haul from the southern half of the land of Lincoln (although his car came from Ohio). The best indicator of sprint car health is the addition of newer names, and this Gas City field contained quite a few: Aaron Davis, Clinton Boyles, Evan Mosley, Bryar Schroeter, Jack James, Adam Wilfong, and Luke Harbison. All are either brand new or at least fairly new to the full-size sprint scene.
Prior to the start of the 25-lap Gappens Memorial, the namesake's oldest son gave a short, tear-filled tribute to his father who passed away in October of 2012. Gappens was a 33-year employee of Delco Electronics and an avid sports enthusiast, coaching football and baseball in the Tri-Central school system where a scholarship exists in his name. Sharing a special bond and a fondness for motorsports with Jerry Jr., Jerry Sr. was a supermodified/sprint car competitor, an operator of the Terre Haute Action Track (resurrecting a dormant facility in 1990), and a track preparation expert at Evans Kokomo Speedway. Before sprint cars were pushed, several Gappens family members gave the traditional "Gentlemen Start Your Engines" command. Now that's what I call passion personified…
Shortly thereafter, the 21-car field aligned with Abrams and C.J. Leary (Pedersen 4P) sharing the front row. A sign of things to come, Leary stepped upstairs to lead the initial lap after boldly going three-wide with third-starting Matt Westfall and Abrams. Once out front, Leary immediately pointed to the bottom and paced a pack containing Westfall, fifth-starting Shane Cottle, and sixth-starting Clinton Boyles. Having won here on multiple occasions in the early 2000s, Westfall patiently waited to pounce on his prey, making his move within the first five laps when C.J. slipped at the exit of turn two. The Greenfield grenade immediately reverted to his high-side heroics to briefly regain the premier position a couple of laps later. However, Matt's extensive Gas City bottom-feeding experience was better suited to the slippery conditions. While the top-two waged a wheel-to-wheel war, seventh-starting Shane Cockrum was suddenly in the lead picture, exclusively operating around the infield tires. Leary eventually gave up on his top shelf tactic but could not contain Cockrum, who slipped into second as the lead trio began to encounter lapped traffic. As congestion intensified, Shane tapped the rear bumper of the leader while C.J. again explored his options up top. Just as things were getting juicy, Noblesville's Luke Harbison slowed atop turn four to cause the lone caution, leaving a four lap shootout to determine the winner.
Westfall led Cockrum and Leary back to green and as Shane searched for an opening, C.J. gave the middle and top grooves another go. Leary inched ahead of Cockrum and while coming to take the white flag, the Benton, Illinois fire chief suddenly moved to the middle and caused Leary to commit to the top. Fanning three wide on this final tour, C.J.'s backstretch momentum allowed him to circle both Shane and Matt through the final set of corners to steal the feature victory in rather dramatic fashion. Westfall settled for second while Cockrum collected third. Cottle and Boyles rounded out the first-five finishers. Dallas Hewitt (from 18th in the Keen 18), Weir, Abrams, Isaac Chapple, and Tyler Hewitt secured sixth through tenth at the 9:43 PM checkered flag.
Elated to escape with this first win of a frustrating season and score the first-ever sprint car feature win for car owner Scott Pedersen, Leary cut a celebratory turn three donut on the cool down lap. As for the crew, it was pure pandemonium, as Scott, his son Ryan, mechanic Donnie Gentry, and Chuck Leary were sharing hugs and high-fives in victory lane, a long-time coming for that initial success story. My nephew Danny hustled to join them for front stretch photos, having been best of friends with Ryan for the last two decades and insisting that the Pedersens contact Leary about driving their car back in 2015.
An improbable and stunning ending on such an old-school, dry-slick surface, this sprint car victory for the Pedersens was significant for several reasons. First and foremost, it proves that the little guy operating on a shoestring budget still has a chance, needing just a good-handling car, a solid engine, and some well-seasoned experience and talent. Based out of Greenfield, the Pedersen effort also offers prime evidence that one does not need a fancy truck and trailer to tow short distances, as Scott and Ryan pull their non-decaled DRC chassis with a normal Chevy pickup and a circa-1958 A.J. Watson constructed open trailer, purpose-built to carry Indy roadsters of that era. A true throwback to simpler times, their engine is carefully constructed with high-quality components by Scott's father Red, who has decades of winning engine building experience. Red, along with his sons Scott and Chris, were part-time Silver Crown participants in the late 1980s/early 1990s with a Lloyd Shores chassis. Dusting off the Silver Crown car for a few more attempts in the 2000s, Scott entered the sprint car arena in 2011 after purchasing a former Pace Motorsports machine for Josh Clemons. Offering rides to guys like Scotty Weir, Dickie Gaines, Jon Stanbrough, Tyler Courtney, Brian Karraker, Max McGhee, and Dave Darland among others, they have been knocking on the door for quite some time.
Their big win is also a lesson in why it's so important to never give up in chasing your dreams, as it took seven years of several bent chassis and boxes of mangled bolt-on components to get to this point. Friday's victory was far from a walk in the park, as the 4P did not obtain any hot laps when fuel failed to reach the engine. With all lines removed, it was an all-out thrash just to present for the second heat. After their second-place finish, all those fuel lines were found to be clogged and engine temperature excessive, requiring yet another thrash to clear the lines and attempt to diagnose the problem. The same symptoms existed post-feature as well, with Scott believing that a faulty fuel bladder was the culprit. With the driver sticking to his top-side guns, C.J. subscribed to the same never-say-die attitude as his car owners.
Leaving the track feeling that the local Indiana sprint car scene is still alive and well, this Pedersen production must also provide some hope to the rest of the little guys out there. Truly a race and evening to remember, I'm sure Jerry Gappens, Sr. would have easily approved of this special show.
Moving into a busy first week of July, Kokomo (7/3 and 7/8) and Lincoln Park USAC (7/6) are already on my calendar, but additional wingless sprint car options exist on the 5th (Anderson), 6th (Gas City) and 7th (Lincoln Park MSCS). Although the season may be halfway over, thankfully there's still a large portion of meat left on the bone, anxious to take that next flavorful bite.
Volume 20, Number 7
Names and Places
As is the case with most anywhere you travel in this state, Hoosiers are quite proud of our people and our past. South of Indy on State Road 67, I was recently reminded of that fact when spotting the "Welcome to Mooresville" sign. Hailing itself as the home the Indiana state flag, Paul Hadley created the design that was adopted on May 31st of 1917, well over a decade and a half before the town's most notorious native John Dillinger started robbing banks. Between Mooresville and Martinsville, 67 becomes John Wooden Way, named of course for Martinsville's coaching legend who claimed 10 national college basketball championships over a 12 year span at UCLA, amassing an utterly amazing winning percentage of over 80%. Shrinking from four lanes to two beyond Martinsville, upon reaching Paragon the original version of State Road 67 takes us through the center of the tiny town that claims just 659 inhabitants. Once home to a majestic high school constructed in 1920, these days all that's left is a rather pedestrian elementary institution that is consolidated into the Martinsville school district. Just past the elementary school, old road 67 becomes the Edd Sheppard Memorial Highway, named in honor of the Paragon Speedway creator and National Sprint Car Hall of Fame inductee.
Carving a racing facility from his own farmland in 1954 and sowing the seeds of Southern Indiana sprint car racing, Sheppard's flair for promotion made Paragon one of the Midwest's premier places to race in the '60s and '70s. Luring big-name drivers with tow money, hosting frequent post-race parties, and stuffing $20 bills into drivers' pockets, Edd effectively ended Saturday night squabbles for cars and stars. A prime location where nearly every member of the Kinser clan and Dick Gaines honed their craft, Sheppard's vision remained intact after his premature passing in December of 1971, as the family continued to host races through Easter of 1977. Harry Redkey was next in line but failed to enjoy the same amount of success, eventually losing the track through a tax auction. Longtime sprint car combatant Mike Johnson took the reins for seven seasons before selling to Keith and Judy Ford, who have done their part to proudly maintain this Morgan County tradition for the last 32 years.
Ford's early sprint car offerings were primarily winged, but as the years progressed the winged fraternity demanded higher purses to cover skyrocketing equipment costs. With car counts dwindling to nearly nothing, for the 1995 season Keith made the bold decision to return to the wingless world and start catering to the little guy. Dropping the winning payout from $1,000 to $500 and offering every competitor an opportunity to start a feature for $100, many like 1984 track champion Kevin Thomas were outspoken in their criticism of the concept. Despite the naysayers, the idea was a huge home run, as car counts rose exponentially over the next decade. In the early 2000s, sprint car assemblies averaged right around 50 and sometimes reached into the 70s, requiring as many as three features per evening. Unfortunately, all of that changed after the economy tanked in 2008, as there are fewer of the little guys trying to chase their sprint car dreams. Paragon Speedway has not been immune to the decline in local sprint car competitors, as their first contest of the 2018 season attracted a miniscule meeting of 17.
Owning a desire to retire to a more peaceful and stress-free existence, Keith and Judy Ford have casually attempted to unload the property for the last six to eight years. Officially on the market at the moment, a scant eight races were scheduled for 2018, not yet wishing to sever those mighty 64-year-old racing roots that are firmly entrenched on this beautiful slice of Southern Indiana.
Although I have not attended too many auto racing venues outside of this state, I suspect that you will be hard pressed to find such a pure, unfiltered auto racing experience as Paragon Speedway. There are no gimmicks and creature comforts are minimal. There is no scoreboard. There might be some speakers hanging off the light poles that will offer the best of The Eagles while surface preparations are finalized, but there is no state of the art sound system blasting your eardrums. There are no flame throwers or pyrotechnics exploding at the end of heat races. Although there is the occasional airplane ascending from the accompanying air strip, there is no intermission entertainment or light show on the feature wave lap. When you plop down your money at this ticket window, what you receive in return is the traditional on-track product and that gorgeous western horizon. If you forgot your blanket or lawn chair, you can choose to plant your buttocks on those all-too-familiar wooden planks, or move higher up the hill to the more modern aluminum bleachers. Heck, if you get there early enough, you can even watch from the back of your pickup truck from the shaded area just outside of turn one. The bottom line is that Paragon is truly an homage to simpler times, when automobile racing was a mainstream form of entertainment.
Ever since Keith Ford implemented his unusual wingless sprint car program in 1995, Paragon has been home to all ends of the sprint car spectrum. There are the young up and comers, searching for valuable seat time. There are the middle-aged budget-minded racers, looking for a place where they can have fun, run up front, and maybe pocket a little cash along the way. And last but not least, there are those in the twilight of their careers, gaining their need for speed at a venue that's a little more laid back than usual.
Here to absorb the 28th annual Johnson Memorial on a sweltering 94-degree day, as expected Hoosier pride is still evident on this piece of real estate. This contest not only celebrates the memory of the late Mike Johnson (former racer and Paragon possessor), but also Mike's older brother Johnny, who competed here from 1954 to 2013. By the time I started to religiously follow sprint car racing, Mike had come down with cancer but was still a regular Paragon competitor. Winning a consolation race in what would be his final ride before his unfortunate passing in the late 1980s ('88 or '89), he was wheeling a machine normally operated by his nephew Randy. Gleaning that tidbit from Mike's son, while I was dripping with sweat car owner Dave Hurst kindly introduced me to Mike Johnson, Jr. Mike, Jr. recalled many a day spent up on the hill when he was heavily involved in the manual labor aspect of maintaining a facility for his father, digging countless holes to insert fence posts. Noting just how active the facility was in his era, motocross races were held on Fridays, sprints and late models were Saturday mainstays, and Sundays saw special shows conducted. So busy in helping to run the racetrack, despite an overwhelming desire to race a sprint car, Mike Jr. never enjoyed such an opportunity.
Mike Johnson was one of Dave Hurst's all-time favorite drivers, and one of Dave's cherished memories is one particular Paragon outing in the late 1960s when much to the dismay of mechanic Dizz Wilson, they mounted a double-diamond Firestone tire on the right rear (supplied by Mike Smith's Speed Shop). Blistering fast, they nearly stole a win from Gene Henson's nail-head Buick but had to settle for second. Mike enjoyed quite a bit of success in the Hurst-mobile, claiming the 1969 Kokomo sprint car championship, winning several Eldora Speedway shows, and enjoying several trips to the Knoxville Nationals. Fresh from their Bloomington success story the previous evening with Jordan Kinser, Hurst Brothers Racing still hungered for their first-ever Johnson Memorial trophy. Team publicist Dan Hurst reminded that the sport's two most tenured car owners scored on the same night, as 80-year-old Paul Hazen was victorious at Gas City. Paul has owned sprint cars since 1968, but Dave's car ownership duties began in 1965. Turning 81 on July 19th, Dave has actually been intimately involved in this sprint car business since 1964.
Now 86 years of age and happily able to escape from his Lyons, Indiana nursing home room to take in tonight's festivities, Johnny Johnson confirmed that it had been just five years since he last strapped into a sprinter. Rumored to have been on these same grounds when the track was first cut, he was a Paragon competitor from day one, utilizing a rusted out Ford coupe acquired from a junkyard for just $25. One of Johnny's more interesting claims to fame is that he was the final winner on Bloomington's old half-mile layout, operating a Hudson with a stubborn trunk lid that refused to latch. Despite that trunk that was often half-open, he nearly lapped the second-place competitor.
It wouldn't be Paragon if a Johnson family member was not in action and rather apropos on this evening, a pair of them readied for battle. Johnny's son Randy was set to make his final appearance in this event, operating the orange-bodied Maxim chassis. Johnny's grandson Brian Cahill manned "Johnny's Toy"- the ex-Allen Barr/Doc Black reverse-tube Competition Welding from the early 1990s. Both would race in the same heat but did not fare so well, as Brian spun and was promptly t-boned by Jake Henderson. Although Randy and Brian failed to make the main event through one of two consolation affairs, Brian was able to pace the feature field while Randy took a promoter's option and tagged the tail.
Arriving early enough to take an extensive tour of pit lane, although I was nearly melting from the extreme heat, it was a highly enjoyable experience. Speaking to quite a few names that can only be found in this sprint car sanctuary, nearly everyone had an interesting story to tell.
First up was Clinton, Indiana veteran Dave Peperak, one of those aforementioned racers who at 64 years of age is in the twilight of a colorful career. Operating a three-year-old Triple X chassis for the second time this season (choosing Charleston for his debut), after a brief chat I learned that Dave's familiar number 77 was powered by a unique 348 cubic inch steel block Chevy. Topped with ancient -8 Brodix heads, the engine began as a 350 cubic-inch block (bored 4 and 1/8ths of an inch) and was fitted with a 3 and 1/4th inch stroke crankshaft from a 327. After operating go-karts and motorcycles in his youth, Peperak's sprint car career commenced at the tender age of 18 in 1972, noting that racetracks didn't allow you to race these beasts if you were any younger. A USAC regular by 1976, he set a one-lap record at Terre Haute in 1980 and of course won his lone feature on ABC's Wide World of Sports in 1981 at Eldora, all in a machine he and his sponsor/car owner Don Robertson had constructed on their own. Speaking with much reverence regarding Robertson, Peperak even recalled going through the 1983 Rookie Orientation program at the Indianapolis 500 in equipment provided by the Clinton gravel pit proprietor who passed away shortly thereafter. Although Dave failed to crack the code for tonight's lone A-feature format, I gained a small bit of satisfaction from watching him climb through the cage yet again.
At the opposite end of the sprint car spectrum are youngsters Evan Mosley and Jacob Gordon. Both sons of traditional sprint car talent from the 1990s (Aaron and Eric), both earned their racing stripes in mini sprints over the last several seasons. The 17-year-old Gordon is set to be a senior at Mount Vernon High School and is actually a year younger than Mosley, having accumulated quite a few traditional sprint car laps last year (Paragon, Lawrenceburg, and Bloomington) and this season as well, belting into a 602 cubic inch winged sprint at Plymouth. Wearing Aaron's old black Simpson suit and a retro 1989 Jeff Gordon Molds Unlimited t-shirt underneath, 18-year-old Evan, a recent Lapel High School grad and third generation racer, successfully debuted his sprint car with a fourth place finish the previous Saturday in Charleston, Illinois.
A racing reunion of sorts, Evan's grandfather Chuck Mosley was on-hand to observe, a sprint car racer in his own right as he remembered opening many an Indiana season on Easter Sunday on these same grounds. Up to nothing these days, Mosley once operated Boles Chevrolet in Pendleton, Indiana as well as another Boles GM dealership in New Castle before selling aggregate for Beaver Materials. Back in his Boles days, Chuck maintained the former Rex Kirtley/Sheldon Kinser Silver Crown car that Willie purchased back in 1987, the same chassis that Tray House used to set quick time at the Phoenix Checker Classic in October of '87. Mark Alderson destroyed the car at the Hoosier Hundred in 1989, but it was later retrieved and restored to its glory days by Billy Throckmorton.
Long-time Mosley team member "Diamond" Dave Bromer was spotted in the pit area, as was Mike "Deuce" Thompson. Thompson was pitted next door with Tyler Kendall, extending his Glen Niebel affiliation as Matt (Tyler's father) and Mike were both disciples of the Mt. Auburn motor maestro. Kendall's former Gene Nolen Spike was used to score sixth in the second heat and fourth in the second semi-feature.
Steve Fox and his nephew Brayden lent additional hands to Mosley's former Irish Saunders JR-1 chassis purchased and donated by Eric Gordon, who is also Evan's employer at his plastering company (Red Line Systems) for the second summer in a row. Powering the black and gold beauty was an aluminum block Chevy purchased at a significant discount from Ray Kenens, Jr., the only aluminum block Ray ever owned. Evan's father Aaron first earned his nickname of "The Outlaw" at this location back in 1995/1996, as after winning his share of features he decided to race elsewhere, only to return again. Before Evan heads off to college, the plan is to get him as many laps as their limited budget allows, focusing on Gas City Fridays. Owning very limited spares, if the machine stays in one piece Aaron hopes to give it a go at Putnamville and perhaps the Four Crown.
The second of three machines wearing Red Line Systems on the hood was Jake Gordon's black and white 41, a Triple X chassis that Brady Bacon drove to the USAC sprint car championship for the Hoffmans in 2016. Propelled by Mopar muscle, Gordon's father got the engine for nearly nothing, as a Lexington, Kentucky modified racer needed cash very quickly and was willing to part with the piece for a meager $5,500. Jake failed to start the Charleston feature last Saturday after encountering an issue with the magneto. The third entry showing Red Line Systems lettering was Scotty Hampton's black number 51, a former Greg Staab coil-front Competition Welding owned by Fortville's Ted Slinkard that had been previously piloted by Brent Turner (Ted's grandson) and Jake Gordon (a few times last season). As you know, Hampton finished fifth in this year's Little 500, also owning a Lincoln Park Speedway sprint car championship (2015) with Jeremy Ottinger. Slinkard has long been involved in open wheel ownership, most remembered for fielding a Speedrome midget for Terry Goff in the early 1990s.
Both Mosley and Gordon found themselves in the first heat. Evan spun in turn three while attempting to slip underneath Howard McCormick, having to settle for a sub-par ninth while Jake ended two spots better. Stuck in the same semi-feature, Gordon galloped from seventh to second, nearly stealing a win from Adam Wilfong via the top shelf through three and four on the final go-round. Gordon later got 13th in the feature. Mosley moved from ninth to fourth in the B, just two spots shy of a feature transfer. Paragon is the perfect place for these two sprint car tyros to get some crucial seat time and with so much outstanding racing DNA existing between the two of them, it will be tons of fun observing their progression.
These days, one rarely sees 66-year-old Palmyra resident Troy Link in action, but the odds increase if you wind up in Paragon or Putnamville. Unloading a non-downtube year 2000 Dynamite chassis after destroying his much newer Maxim here a year or so ago, Troy has another raised rail Maxim ready to roll. As loyal as ever to the blue oval brand and American Racer rubber, Link still is powered by an aluminum Ford engine, proving that such a thing is indeed possible as Donny Schatz and Tony Stewart Racing use a Shaver Chevy while wearing Ford decals on their hood. Troy and his father Ember have always had Fords bolted between their frame rails, even going back to their ex-Karl Kinser/Sumar Racing Indy roadster that both father and son piloted at different times in their careers. Speaking of that shortened roadster, Troy won a semi-feature with it at Chandler but literally cut the car in half in an accident, eventually piecing it back together to finish fifth behind Dick Gaines at Lawrenceburg. Lewis Klug of Cincinnati is the current owner of the car, restored to its former Sumar status.
Troy does not compete as often as he used to, especially after his father passed away in 2011. Just three days shy of his 91st birthday, Ember was a long-time dump truck driver, perhaps the oldest in Indiana to own an active CDL at 90 years and 2 months. On this evening, Troy was questioning his sanity for making the 88 mile drive to race in over 90 degree heat, not feeling as young as he used to. Seriously considering loading up despite drawing the pole for heat four, he slid back to seventh in the heat and was sixth in the B. Although this wasn't his best showing, much like Peperak it was a treat to see him still active.
A few cars down the way, 1996 and 1998 Paragon champion Leon Thickstun was here with a triumvirate consisting of three-time track champ Jake Scott (the winner on May 12th) and Nashville, Indiana brothers Brandon and Travis Spencer. All three young men are in outstanding shape but even at 80 years of age, their mentor Leon still looks like he could get the job done, mentioning how he used to stay in racing shape by playing 50-60 basketball games in the off-season. One rather interesting fact about Thickstun: he is the last man to make a winged World of Outlaws feature with a wingless sprinter at Kokomo, with the series changing its rules immediately thereafter. On this evening, veteran sprint car mechanics Mike Dutcher and Joe Perry attached Mike's Momentum Racing shocks and dialed in Brandon's Maxim. Surging from seventh to fourth in the third heat, Brandon began from outside of row eight and earned 10th in the feature. "Touchdown" Jake claimed third in his heat, started 12th in the feature, and was running as high as seventh before spinning atop turns three and four, having to settle for 15th at the finish. As for Travis and his split-bar (front) Maxim formerly belonging to Joey Saldana, he was last in his heat but toiled from ninth to fifth in his consolation contest.
Former Bloomington Speedway modified king Buddy Cunningham brought a pair of machines, one for newcomer David Truax and another for Andrew Prather, who over the years has scored second in Paragon points on a pair of occasions. Andrew's ride for tonight was a chassis he constructed 12 years ago at the tender age of 19. Having crafted four of these machines back in the day, this one had only been "tabbed" three years ago. Receiving power from a Cunningham mill, Prather ran second in his heat and sixth in the feature while Truax took 10th in first semi-feature.
With NHRA racing in Bristol, Tennessee, I was somewhat surprised to see Jon Stanbrough here as his Wingo Brothers Maxim is normally only available on NHRA off-weekends. Jon was just as surprised to see me, commenting that he has always enjoyed racing at Paragon and would be here more if the payout was better. Twice a Paragon USAC winner in a three week span in July of 1996 for the Law Brothers and twice triumphing in a Johnson Memorial, Stanbrough mentioned that this might be his final opportunity to compete here, thus signaling that he could be done with driving at the conclusion of this season. With Chris Hoyer absent, Kevin Price was the primary wrench spinner on the Scorpion Security Products number 77. Collaborating on setups with Stanbrough and assisted by Chuck Rodee, it was quite the memorable evening for Price. Jon took full advantage of his outside front row starting spot in heat four to lead every lap around the bottom, just nipping an aggressive Aric Gentry for the win. Redrawing the pole position for the $1,400-to-win finale, the Silent Gasser hugged the inside line the whole way and was never headed, claiming what I believe to be his 188th sprint car score.
Jon faced early threats from second heat winner and fourth-starting Daylan Chambers, who had his hands full holding off a ferocious attack from first heat winner and sixth-starting Jordon Kinser and six-time track champion Josh Cunningham, who had finished second to Kinser in that first heat and drew the outside of the front row. Cunningham immediately fell back to fourth but clawed his way back to third, using the top side to battle under the same blanket with Kinser and Chambers for the entire distance. It was a great scrap for second, but the trio just never got close enough to Stanbrough to offer a serious threat. Jon was followed to the 10:48 PM finish by Chambers, Kinser, Cunningham, and Gentry. Sixth through tenth included Andrew Prather, third heat winner Ethan Barrow, Chris Phillips, Scotty Hampton, and Brandon Spencer.
It was quite the full day for Josh Cunningham, who had earlier given the pre-race invocation and officiated a funeral ceremony for Ellettsville's Nancy Hetser. In a shocking bit of news, I learned that Nancy passed away on Monday June 11th in Springfield, Illinois while on a racing excursion with her husband Dan, with whom I have enjoyed many a meeting and racing conversation over the last decade. Mother of Trent (employed by Speedway Engines) and Kelli, I was introduced to Nancy for the first time while exiting the Tony Hulman Classic no more than a month ago. With Nancy's abrupt passing and just now reading of Jason Johnson's tragic accident at Beaver Dam, Wisconsin, I can't help but get chills and feel immense sadness for both families. Sending me an e-mail just two days after the ceremony, Dan so sagely reminded: "Today is a gift. Tomorrow is not promised." Oh how those words are so true.
Despite the high heat on this particular Saturday, after my highly-satisfying stroll down pit lane, I spent the balance of my evening with a pair of first-time Paragon visitors: my wife Rachael and my nephew's soon-to-be nine-month-old son. While on my way up top, I managed to encounter former car owner and all around sprint car super fan Rodney Reynolds, who was here to cheer on 14th place finisher Drew Abel. Like me, Reynolds feared that this could be one of the last opportunities to catch a race on these hallowed grounds. The balance of the 2018 Paragon Speedway racing schedule shows June 30th (fireworks), July 14th (Dave Peeden Memorial), July 21st (King of Indiana Sprint Special), and August 11th (champions night). I feel like I need to come back one more time this season.
There are few things in life more peaceful than Southern Indiana sprint car ambience, and nowhere is it more evident than Paragon. The white fencing protecting the parking lot from old road 67, the old barns that reference its agricultural roots, the tiny ticket booth and steep climb up the hill, the infield pond, the adjacent grain elevator seen in so many of the same John Mahoney shots from the 1970s, and even the swarm of insects gathering around the lights on warm summer evenings – all those aspects offer such a refreshing feeling, knowing that some things just have not changed, no matter how many years have expired. Feeling good for Jon Stanbrough, Kevin Price, and the Johnson family on the ride home, I continued to play the mental game of putting names with places. Paragon's list is quite lengthy, as nearly every member of the racing fraternity has turned laps here. It's such an integral piece of sprint car history, crossing my fingers that the place finds a new buyer who treasures its past and comprehends its current relevance. Echoing Dan Hetser's words, this particular Saturday was a great gift, speaking with so many of the down-home racers who openly shared their remembrances of this Morgan County institution. Although Paragon Speedway's tomorrow is not promised, let us hope that it comes with more than just memories.
Volume 20, Number 6
Powerful Stuff
Bigger is often better, but when it comes to the degree of entertainment generated by various racing disciplines, nothing could be further from the truth.
At one end of the spectrum is the once 800-pound gorilla of NASCAR. I say "once", because the size of that gorilla is rapidly shrinking. With the recent and slightly shocking news of the France family considering an exit from their empire, the news is not so surprising when the plummeting television ratings, disappearance of longtime sponsors, and dismantling of grandstands offer an accurate reflection of big-time stock car racing's state of affairs. With a mass exodus of its biggest names, a further alienation of fans by constantly changing race formats, and a completely sterile on-track product, it is going to take a ton of fresh ideas and unique personalities to make the sport interesting again. Honestly, I just don't see it happening – ever.
As crazy as it may sound, at the other end of the continuum is midget car racing. Multi-day events such as the Chili Bowl, USAC's Indiana Midget Week, and POWRi's Illinois Speed Week are always expanding, either in number of evenings or fan and car counts. Like a tiny Altoid mint, the mighty midgets pack a powerful punch – curiously potent but still remaining a niche among racing aficionados. With their hyperactive pilots scratching and clawing for every inch of real estate and high-pitched, high-dollar engines screaming for mercy, races are rather brief, the action is often chaotic, and the overall atmosphere quite intoxicating. Having found a way to survive since the 1930s, perhaps today's demand for midget racing could be attributed to its limited supply. With all of the above qualities, it should be come as no surprise that midget madness seems to be on the upswing. Now if we could just get more quality, sanctioned shows scheduled in Indiana outside of Midget Week, I'd be a bit more satisfied.
After a six race in five day stretch of events surrounding the Indianapolis 500, even with Memorial Day to rest and recover, energy levels were without question depleted before Midget Week ever commenced. Attempting to ready myself for another six-day marathon of late nights and early mornings, it's amazing what I'm willing to endure to immerse myself in this action. Making it a little easier on my body and brain by only working half days on Tuesday, Wednesday, and Thursday, that Wednesday morning after a late night in Montpelier was once again brutal, arriving home at 12:45 AM. (A special thank you goes out to Kevin Kotansky for doing the driving.) If only the promoters would heed my plea and offer just two classes of cars, it would make my life so much easier. At some point I will have to face the facts: Indiana Midget and Sprint Week are only ideal for vacationers, clearly not suited for working class folk. However, my fear of missing out will never permit me to be sensible and stay home on one of these nights.
Fourteen years in the running, Indiana Midget Week remains one of the racing's best kept secrets. Crowds are respectable, but unlike Indiana Sprint Week or the Chili Bowl they are not sellouts, making it easier for late arrivers like myself to find a seat. Aside from Montpelier and sometimes Gas City, there might not be the same amount of star power as Tulsa in early January, but there's just something so appealing about watching these machines navigate my home state bullrings, so much better than an indoor arena as proper banking, cushions, and multiple grooves make for magnificent back and forth battles. As much as I am a true-blue sprint car fanatic, after all these years I am a firm believer that this series could survive on just midgets alone. With the sprint cars often running their feature last (Kokomo was the lone exception in 2018), they aren't able to put on a proper show due to subpar surfaces, leaving some foreigners believing that wingless sprint cars are actually quite boring. To counter that, those fans need to come to Indiana Sprint Week. Nevertheless, I would imagine that midget and sprint car doubleheaders remains a draw for the majority, so why mess with a good thing?
Perhaps my senses are dulled with so much sprint car racing in this state, but the sight of something so different is indeed powerful stuff. Unfortunately for this year's edition of Midget Week, such a rare treat was ruined twice by that dreaded four letter word: RAIN! With all that awesome weather surrounding the 500, of course we had to get wet at some point. Gas City and Bloomington's IMW rounds were victimized, feeling bad for Gas City promoter Jerry Gappens as this was his biggest event of the season before being awarded a September 7th USAC sprint car date in the days that followed. Bloomington was an even bigger bummer, especially given the stressful rush hour drive that I endured after leaving work at 5 PM. Missing all of sprint car hot laps, I arrived just in time to see midgets warm up, getting through half of the qualifying order until the ominous clouds let loose. A quick decision to pull the plug allowed me to make the most of my evening by gaining a booth at Janko's Little Zagreb in downtown Bloomington (6th and Morton), where I dined alone and savored every bite of a juicy and infinitely flavorful 20- ounce ribeye steak. This being my first time to visit Janko's since May of 2010, had there been a guest joining me in this impromptu excursion, I would have undoubtedly shared a world-famous spicy meatball appetizer.
As it was, four races were better than none. But, just as it felt like the series was finally starting to gather momentum, I was once again saying goodbye to a large contingent who were on tour with Bryce Townsend, officially counting 21 New Zealanders and 2 Aussies. Although I failed to put my name on the prestigious Kiwi Tour Sweepstakes trophy for the fifth time, the final points for this tenth anniversary contest proudly proclaimed Ian Riley as its winner. Some $200 USD richer, Ian will be fielding a New Zealand midget for Tyler Courtney this coming off-season, also assisting Chris Windom in his Kiwi debut while supplying an engine for Michael Pickens. Tyler's father Tony graciously played host to Townsend Tours all week long and after a few more hot dogs were consumed at Courtney's Kokomo compound, the two Ford vans piloted by Townsend and Alf Bidois were headed back to Indy, unfortunately not to be seen again as my plans to meet up in Macon less than one week later were spoiled by Saturday storms.
Each one of the four Midget Week rounds had its moments, and the races seemed to increment in excitement. Although Montpelier was too dusty for my liking and the feature event contained six cautions, Kyle Larson stole the show with a clean sweep, registering new one and ten lap records and a convincing feature win in which he led the final 21 tours. Perhaps as much as Kyle's cleanup, the cutthroat sliders involving Kevin Thomas, Jr. (Dooling 63), Larson (Kunz 21K), and later Tanner Thorson (Lamar 3c) will be remembered most. Going back to watch the highlights a few days later, the action was quite intense, aided by the sizeable ledge that defined the slicked off top shelf. Despite the dust, a low lane was also evident, one where Tyler Courtney toiled from 14th to second in his usual Clauson-Marshall Spike/Stanton SR-11. Pole sitter Logan Seavey was in the mix all night and took third in his KKM Spike/Toyota, with Jerry Coons, Jr. (Petry/Goff 25) and KTJ claiming fourth and fifth.
After the Gas City gusher, Lincoln Park Speedway's stop was also threatened by inclement weather, somewhat miraculous that both midget and sprint features were completed. Although sprinkles began to fall during the midget main, thanks to some relatively clean preliminaries those midgets were offering a four-wide salute at an ultra-efficient 9:25. With Tanner Thorson and Chad Boat beginning from the front row, although the box score would show Thorson leading the first 16 tours and Boat the final 14, it was anything but boring or academic. In the middle stages, the two exchanged first place seven times in four laps, with Boat fending off a hard-charging Justin Grant (from 11th) to score his first Midget Week win. Courtney completed the podium with Zeb Wise and Thorson gathering fourth and fifth. It's a good thing that the action was tame early, as five cautions and one red led to a longer than usual feature.
After the previous week's instant classic involving Robert Ballou, Kevin Thomas, Jr., and winner Tyler Courtney, I had high hopes for Bloomington's Midget Week battle. Midgets are without question the perfect size of automobile to attack the short and narrow circle of red clay, so pleased to see that the surface was absolutely spot-on for hot laps and the 12 cars that took qualifying times. Crossing my fingers for a rescheduled date along with Gas City, I won't hold my breath but remain hopeful something will be worked out. As I stated earlier, Indiana bullrings just don't offer enough top-notch midget madness.
As always, Lawrenceburg felt 10 to 15 degrees hotter than home and just like the air temp, the battle for Midget Week supremacy was turned up several degrees from Thursday. Each year I preach that Lawrenceburg is the true showcase for this series and an absolute must-see. Once again, my statement continues to ring true. Like Lincoln Park, the box score looked fairly boring, as pole sitter Tyler Courtney paced the first 21 tours, with fast qualifier Spencer Bayston coming forth to lead the final nine. However, the middle stage was quite spectacular as a four car fight broke out for first, bringing Chad Boat and Justin Grant into the mix. Grant briefly led when he dove underneath Courtney in turn three, but his night would soon end after making a concrete connection on the other end. After bouncing to a stop through turn two on the first circuit, seventh-starting Tanner Thorson restarted from the rear and was up to fifth at the time of Grant's upside down excursion (lap 22). Blasting outside of Boat while exiting turn two and cutting across his wake while entering three, in one fell swoop Thorson aggressively angled underneath Courtney and swiped second. Pulling even with Spencer through three and four on laps 27, 28, and 29, on the final lap Tanner got too tight along the cushion in one and two and would have to settle for second. Boat, Courtney, and sophomore Keith Kunz combatant Tanner Carrick completed the top-five.
Kokomo's finale was undoubtedly the craziest of the week, offering drama so thick that you could literally slice it with a knife. Seven drivers were eligible to claim their first IMW crown, with Tyler Courtney leading Tanner Thorson by 19 markers as the feature went green. After Chad Boat reverted to a backup and started from the rear, that moved Kevin Thomas, Jr. to the pole and Tyler Courtney to his outside. As predicted, Courtney would lead the first ten laps around the bottom of the completely slicked off surface. So uncharacteristic of Kokomo, stiff winds from the southwest wreaked havoc on the playing field that required a complete rework after heat races were completed. However, all that water and tilling would only last a short while, as the winds refused to relent. Looking to sew up the series crown that got away from him here last year, Sunshine eventually yielded to the high-side heroics of Thomas and Jason McDougal, as a thick cushion still existed below the outside concrete and served as the preferred line for the final third of the event. After some disappointing performances in his first three Midget Week outings, McDougal was in the hunt in the same Petry Spike/Toyota that Kevin used to collect a pair of February Ocala honors. Although Kevin would wind up leading the rest of the distance, those last 20 laps were anything but dull.
Prior to Thomas taking the lead, a rather key moment came when Spencer Bayston and Zeb Wise had a meeting of the minds for fourth. Bayston's left rear and Wise's right rear tires were flattened, but both returned to battle. Just before Ryan Robinson's red flag at lap 13, 15th-starting Justin Grant had moved into a position to pounce. So effective against the ledge, JG quickly disposed of Courtney and McDougal and had his sights set on KTJ. But after crushing that curb in four, calamity was just around the corner after he lost second to a turn one McDougal slider. In the same breath, ninth-starting Logan Seavey attempted to capitalize and made contact with Grant, forcing him above the cushion, into the wall, and on his lid for the second night in a row. In the process, Courtney and Thorson were swept up in the lap 25 incident. All three returned to action but for Tyler and Tanner, their hopes for the Midget Week trophy were flushed down the drain.
After one more Thorson spin, the final five laps suddenly had Seavey and Bayston licking their chops. Seavey immediately disposed of McDougal for second with a slider through one and two, pulling to Thomas's rear bumper as they prepared to take the white flag. Like a quarterback telegraphing a pass, Logan's turn one slide for life was crossed over by Kevin, but the Sutter, California kid wasn't done. One more grenade was tossed through three and four, but Seavey just didn't have enough mustard on the hot dog to inch past Thomas. After overcooking the cushion in the final corner, he handed second to Bayston, who had more than enough points to secure his first Indiana Midget Week championship. With all racing activities complete by 10:19 PM, McDougal and Tyler Thomas completed the top-five. For the race winner, it was his first USAC midget triumph since 2015, awarding redemption for a spin at Lincoln Park (where he qualified quickest and finished 16th) and a loss of power steering at Lawrenceburg (taking 10th).
After finishes of seventh, sixth, first, and second, defending national champion Bayston built a 12 point Midget Week margin on Courtney, who finished 15th and was forced to swallow a bitter pill for the second year in a row. Boat sailed from 22nd to 9th in the Kokomo finale and scored third in IMW points, but his 13th place showing in Montpelier did the most damage. Seavey, Thomas, Thorson, and Wise were fourth through seventh in the standings, averaging feature finishes of 5.5, 8.0, 7.75, and 7.5, respectively.
Thorson was without question the most spectacular competitor of the series, looking like he had so much to prove after losing rides with both Keith Kunz and Joe Dooling since the end of last season. Speaking as a fan, thankfully his legendary sprint car owner Clyde Lamar came to the rescue with a Spike/Stanton-Mopar SR11 that was assembled in just three days, debuting with a thrilling opening night joust in Montpelier that set the tone for the week. Battling back and forth with Boat for the win at LPS, he came so close to another at Lawrenceburg after his early race caution, pulling off an insane and nearly impossible pass of Boat and Courtney. Even more dramatic was Tanner's Kokomo heat race war with former teammate Ryan Robinson. After body-slamming Robinson for the final transfer in turn four, Ryan returned the favor by moving Tanner up the track in turn two. Thorson duplicated the maneuver in turn four, only to lose the spot one lap later with a half spin through four. I did not rush to the pits afterwards to see if anything escalated, but 25 or 30 years ago a black eye or bloody lip would have resulted from such an on-track exchange. Tanner continued to turn up the heat by claiming the opening two rounds of POWRi's Illinois Speed Week.
Justin Grant had a rough week according the final results, but the lone solace is that he ran up front every night. Beginning from the outside of the front row at Montpelier, after a brief duel with Kyle Larson he would spin from contention on lap nine. Also tangling with Brayton Lynch, he wound up a sub-par 17th. Elevating from 11th to 2nd at LPS, he had the lead for a short while at Lawrenceburg before pounding the wall between turns one and two and landing upside down. He ended up in the same position at Kokomo after surging from 17th to 2nd. Despite the misfortune, like Thorson he was a ton of fun to watch.
Rico Abreu had a massively disappointing Midget Week and aside from qualifying quickest at Kokomo, he was never a feature contender. Starting 5th, 12th, and 16th at Montpelier, LPS, and the Burg, he was scored 9th, 8th, and 7th at the end of thirty tours. After failing to make his heat race cut at Kokomo, his Speedway Engines Toyota took a dump during the semi and forced him to watch from the sidelines. After claiming the national championship and Midget Week title in 2014 and yet another Midget Week honor in 2015, this just wasn't the same aggressive Abreu that we've grown accustomed to. One has to wonder just how much that Four Crown accident from last year has affected him, as I feel like he should have at least been a front runner, especially at The Burg. I miss the old Rico!
I also expected more out of Brady Bacon and his Bob East/Brad Noffsinger led Beast/Toyota, but spins from the top-five at Montpelier and Lincoln Park relegated him 12th and 11th. Scoring 6th from 9th at Lawrenceburg and 6th from 13th at Kokomo, aside from qualifying 15th at Kokomo he was good early on, just not good enough later.
As for the companion sprint car shows, with the exception of Kokomo it was all Kevin Thomas, Jr. Winning Montpelier from fifth, Lincoln Park from fourth, and Lawrenceburg from second, had it not been for a heat race engine issue at Kokomo, it could have been a clean sweep for his DRC/Speedway combination. Finishing fifth from 20th in the finale, it was still a rather impressive showing for Kevin and his Dooling-Hayward 63 squad, as the driver and his crew of Davey Jones and Brad Alexander have not lost their touch.
In his three wins, KTJ did face a little bit of competition. At Montpelier, he endured an early battle with Matt Westfall (Marshall 33) and R.J. Johnson (Reinbold/Underwood 19) before sliding Joe Stornetta for the lead, his job made much easier when second-running Brady Bacon caused a caution after slipping over the edge of turn two. Playing huggy pole through one and two, Johnson could hang with KTJ until the middle of the backstretch, but Kevin would always manage to scoot further away. With the checkered flag waving at 10:59 PM, Thomas and Johnson were chased by Westfall, Stornetta, and Thomas Meseraull (in a second Reinbold/Underwood ride).
Johnson and C.J. Leary (Pedersen 4P) began from the front of the Lincoln Park sprint finale. Riddled with four yellows and two reds, R.J. led early from the bottom lane before third-starting Darland (Dutcher 17) circled him through one and two. Fifth-starting Brandon Mattox made the middle and bottom lanes work in his DRC, moving past Darland on two occasions. After consecutive stoppages for Johnson and Stevie Sussex (Burton 04), Brandon soon had his hands full with the black and silver 63. Trying high and low, Kevin could not find a way past the Terre Haute terror. Thomas eventually earned the premier position with a slide job through turns one and two, laying claim to his seventh sprint car victory of the season. Mattox, Bacon (from 8th), Darland, and Leary secured second through fifth at the 10:37 PM conclusion.
At The Burg, Jordan Kinser (Hurst 70) and KTJ were front row mates, and by no surprise Thomas took the initial lead as the groove was against the cushion way up top. Kevin led all 25 laps, but I'm sure he had no clue about the threat that lurked from behind in C.J. Leary, who started seventh in the Pedersen DRC. Although fifth-starting Brady Bacon (Hoffman 69 OT) operated in second for the bulk of the affair, he was upended by Leary after a lap 14 restart for a Michael Fischesser spin. Clearly cutting the gap to Thomas, with five laps left C.J.'s over the cushion excursion through three and four cost him dearly, as mud messed with his steering linkage and allowed Bacon to steal second. After claiming third, Leary and his crew of Scott Pedersen, Scott's son Ryan, and Donnie Gentry were left wondering "what if". Meseraull and Jarett Andretti rounded out the top-five. With just a modified main event remaining, sprints were shuttered at 10:19 PM.
Tyler Hewitt and Justin Grant (Topp 4) were front row starters for Kokomo's sprint car contest. Grant took full advantage of his outside starting spot and pounded the top, facing an almost immediate threat from sixth-starting Chris Windom. Windom had disposed of fourth-starting C.J. Leary and quickly tossed a turn two bomb in the direction of Grant. One lap later, C.J. also slid Justin in the same spot, but a Bryar Schroeter spin negated the move. Operating exclusively against that thick upper lip, Windom and Grant ruled the roost, but behind them Thomas had already advanced from 20th to 6th long before the crossed flags were displayed. Grant's Maxim appeared the handle the ledge a little better, slipping past Windom through turn two before nailing the cushion on exit, thus allowing Chris to cross over. Launching a similar attack through three and four, Justin prevailed until lapped traffic reared its ugly head. With nearly everyone traversing the top, disposing of those back markers with desperate sliders became the norm. Windom worked his second place position to his advantage when Justin was suddenly slowed by the congestion. After rolling the bottom through four, Chris's lengthy drift from the bottom of one to the top of two awarded him a lead with five laps left. Windom won his third Kokomo contest of 2018, defeating Grant, eighth-starting Shane Cottle (Phillips 71), Leary, and Thomas.
In addition to the twin car attack from Reinbold/Underwood Racing, Charles Davis, Jr. added some additional Arizona flair to the companion sprint car shows in his Massey Motorsports number 50, making a mad dash across the country after competing in a two-night show at Canyon over the Memorial Day weekend. It has probably been over a decade since I last encountered Davis, remembering a few appearances at Kelly's Pub Too on Monday night Racin' with D.O. radio shows. Tenth place finishes at Montpelier and Putnamville were his best results. Missing such an extensive and influential west coast presence for Indiana Sprint Week, I neglected to ask if the Arizona visitors would be back in a month and a half.
Digging deeper into my Midget Week notebook, new sprint car names/combinations were encountered at Montpelier. One of them was 15-year-old Troy, Ohio native and former mini sprint star Korbyn Hayslett, who made his fifth sprint car appearance of the season. Another was St. Paul, Minnesota attorney Brian VanMeveren, who had competed several times at Lincoln Park in 2018. With his DRC chassis housed and maintained at Jon Stanbrough's Brownsburg shop, JRS ally Chris Hoyer often serves as Brian's at-the-track help. Also on Tuesday, Dave Darland made his first appearance of 2018 in Mark Hery's 40. The collaboration was short-lived however, as engine issues were encountered in hot laps. Later in the week, Dave drove the Dutcher 17 at LPS and Paragon (for the Chuck Amati 68), the Briscoe 5 at Bloomington, but oddly enough, did not have a ride for Kokomo. Are you serious? What is this world coming to?
An examination of Midget Week car counts showed that the midget high came on opening night at Montpelier (36), with the traditional low occurring at Lawrenceburg (24). Including Bloomington, midget populations averaged 30. Multi-car squads were all the rage, with Keith Kunz Motorsports bringing as many as nine at Montpelier and eight for the rest of the series, often accounting for one-fourth and sometimes one-third of the entire field. Clauson/Marshall and Petry/Goff each hauled three entries to the track. Tucker/Boat, Alex Bright, and FMR brought two, but the FMR double for Brady Bacon and Kyle Craker was only applicable at Montpelier. Midget Week is usually an international on-track affair, and this year's lone representations came from Argentinian Damian Lopez and 16-year-old New Zealand F2 midget star Max Guilford. Damian drove a BOSS/Chevy for Casey Shuman, earning a few practice laps just a few hours prior to his Montpelier debut. As for Max, he was making his full-size midget debut for A.J. Felker after gaining some seat time two weeks prior at Christchurch. Midget Week was no doubt the toughest time to make their U.S. debuts, as both Lopez and Guilford were mired in the semi-feature on each one of their outings.
As for the sprints, 33 was the high car count at Lincoln Park while 21 was the low at Montpelier, averaging 27. With midget rides virtually non-existent, sprint car drivers doing double duty were limited to Kevin Thomas, Jr. (all week), Brady Bacon (Montpelier, LPS, and Lawrenceburg), Logan Seavey (Lawrenceburg), and Justin Grant (Kokomo). C.J. Leary's Gray Automotive midget ride lasted through the middle of the Montpelier semi-feature, when Matt Moore (the third Petry/Goff pilot) made contact and sent Leary soaring through the air. The landing completely wiped out the white number 11.
Speaking of nasty spills, dirt late model gasser Hudson O'Neal teamed with Jake Neuman at Lincoln Park and slammed the turn three cushion in his heat. Flipping and coming to a rather abrupt stop, both O'Neal and Neuman would not be seen the rest of the series. Operating a second machine from the Tucker/Boat stable, Zane Hendricks also dumped hard at Lawrenceburg, his third and final upside down excursion of the week. Ryan Robinson and Justin Grant inverted their midgets twice during the four night stand.
Finishing this Midget Week summary on a rainy Sunday afternoon, I can't help but recall just how short the span of time was in which I had to enjoy this diversion from the sprint car norm. Living vicariously through those on tour with Bryce Townsend, I had to watch highlights of the first three nights of POWRi's Illinois Speed Week to see what I had missed. All that noise and all those breathtaking, ruthless overtaking maneuvers are certainly something you just have to experience in-person to truly appreciate how special and exciting this brand of action is in overall realm of motorsports. Hoping to calm my fear of missing out with another trip to Macon, just like Gas City and Bloomington's washout, unfortunately one cannot count on Mother Nature to be agreeable at all times. With such a short supply of midget racing around my neck of the woods, I feel as though demand is at an all-time high, no doubt a good problem to have considering the troubling issue that some mainstream motorsports offerings are currently encountering. Although some want to believe that bigger is always better, when it comes to amount of entertainment generated from automobile racing, no other form packs a meaner punch than midgets, especially noteworthy for this one week in Indiana. Ultimately leaving me wanting for more, it's some seriously powerful stuff.
Volume 20, Number 5
Hot Hands
After just one journey, the chosen few who have joined me in my Indianapolis 500 excursions might just make other plans for the following year. Other than witnessing the race, one of my primary desires is to get in and out of the track as quickly as possible with the least amount of resistance. But to achieve that goal without VIP status, that necessitates parking as far away as possible which of course guarantees a longer walk than most would prefer. That's fine when you're full of energy, the morning temps are cooler, and when the weather happens to be cooperative. But after the race is over, that same one and a half mile stroll seems infinitely longer; hundreds of thousands of us herded out of the facility like hot and sweaty livestock.
Reaching 30th, 34th, and 38th street represents appreciable milestones on that return. Experiencing such a mixed bag of feelings along the way, naturally I am both relieved and content that the weather allowed me to witness yet another 500, unquestionably the highlight of my racing campaign. But with that walk also comes quite a bit of sadness, realizing that I will have to wait one more year to be enveloped by the electricity and heavy emotions that always come with Indy's tradition-rich pre-race festivities. Even though Kokomo's Indy Double (coming in a few hours), Indiana Midget Week (coming in a few days), Indiana Sprint Week, Kokomo's Smackdown, and the Four Crown Nationals are dates I eagerly anticipate, once we finally reach my vehicle it truly feels like the season is on a downhill slide.
It might have only been the second hottest 500 on record, but 93 degrees did feel a tad uncomfortable while baking on aluminum bleachers, so hot that the metal button on the left side pocket of my shorts was literally too hot to touch. A veteran of 33 of these contests, the nearly unbearable race day heat seemed like a normal Indy from the mid-to-late 1980s. Such a sauna seemed appropriate in the culmination of a week in which the hottest hands in racing continued to make their mark. Aside from Ed Carpenter claiming the pole, James Hinchliffe's qualifying miss, and Danica Patrick's retirement, Indy's month of May belonged to Australian Will Power, becoming the first to sweep the Grand Prix and Indianapolis 500 in one month. Joining Power in the too hot to touch category were Tyler Courtney and Kody Swanson, both of whom starred in the week of Indy's short track open wheel contests.
Filling five days with six races and unencumbered by weather concerns, it was an enjoyable yet hectic time, only using four hours of paid time off on Friday afternoon in order to reach Bloomington Speedway's Josh Burton Memorial. Starting the stretch with a post-work 90 minute dash to the famed Tony Hulman Classic at the Terre Haute Action Track, the next afternoon required only five miles of travel from my Castleton employer to the Indiana State Fairgrounds for the Hoosier Hundred. After a Bonge's Tavern feasting that included a group of 15 from Bryce Townsend's Motorsport Tours, it was off to yet another Little 500 in Anderson, hard to believe such a wild event celebrated its 70th running in 2018. And finally, despite the heat exhaustion, Sunday also included the obligatory Kokomo double-dip, continuing a personal tradition that dates to 1992. Naturally, I could have also included Lawrenceburg's World of Outlaws outing on Memorial Day, but I needed some amount of rest before the six day grind of Indiana Midget Week began.
Still a relative newcomer to the sport, Tyler Courtney nearly swept all three of the dirt sprint car races I attended, starting with his first Action Track triumph and Hulman Classic rifle, a rather unique trophy tradition that dates to the race's 1971 origins. Starting from the outside of the front row and leading lap one, Tyler then trailed Chase Stockon for the next 20 tours before a timely stoppage occurred on lap 21 for a flipping Jadon Rogers. Rogers was tumbling from the top of turn four and appeared ready to swallow second place Courtney. Tyler took evasive action, sliding seriously sideways to connect with just a glancing blow via the right rear wheel and tire. The ensuing restart saw the Clauson/Marshall/Newman Racing Spike no worse for the wear, as Sunshine slid Showtime and led the last nine laps. His third USAC sprint car triumph of the season was his first since Ocala in February. Kevin Thomas, Jr. came on strong in the late stages to secure second. Pole sitter Shane Cottle initially dropped to sixth but recovered to procure a podium spot in the Steve and Carla Phillips owned DRC. Chris Windom whisked from 10th to 4th while Stockon fell to fifth. C.J. Leary, Robert Ballou, 15th-starting Justin Grant, Brady Bacon, and Chad Boespflug represented the second half of the top-ten, exiting the arena at 9:30.
After surviving a late-race scrape with Jerry Coons, Jr. and scoring a third in Thursday's Hoosier Hundred, Courtney's Bloomington bash was far more dramatic and pressure-packed than Wednesday. Beginning from the outside front row in the MSCS sanctioned affair, he endured a constant barrage of bullets fired by Robert Ballou and Kevin Thomas, Jr., overtaking Ballou through the final two corners to escape with the $2,500 top prize, a $500 bonus, and yet another trophy in the form of a rifle. This fifth annual Burton Memorial was easily the most thrilling stop in my 2018 campaign, watching from up top with longtime Kokomo cohort "Coach" Randy Moss, who was in route to the Little 500 from his Florida fortress. Reliving so many memories from the past two decades, Coach and I had the time of our lives, so impressed and satisfied by the hardcore combat we had just witnessed.
Immediately reaching for the sky with a wheel stand and snatching the number one spot from fellow front row starter Jon Stanbrough (Wingo 77), Courtney's initial threat came on the second circuit from Ballou, who pulled even on the back chute before diving underneath in turn three. A slight push of the front end of his nearly new DRC chassis prevented Robert from ruling the roost. After separate early cautions for Braxton Cummings and Brandon Mattox (with assistance from Frankfort's Brian Cripe), the last 18 laps were worth their weight in gold.
The top-three of Courtney, Ballou, and Jeff Bland, Jr. played bumper cars through the south end and allowed KTJ to seize the lead, literally shot out of a cannon in his Dooling/Hayward 63 DRC as he flew from fourth to first in the span of two corners. While Thomas was sinking his teeth into the meaty cushion of red clay, Courtney plugged and chugged around the bottom and quickly regained the premier position. Just as lapped traffic became as thick as Interstate 69 construction congestion, Bland would exit after bashing the berm in four. Tyler aggressively threaded his way through the back markers, making some breathtaking moves. Some of them included occasional contact, thus allowing Thomas and Ballou to stay close. Yet another bobble from Kevin cost him second place and set the stage for an epic ending between Courtney and Ballou. Over the last few laps, Robert was relentless, eventually slipping underneath the Priority Aviation number 7 while accepting the white flag. Entering turn one, Ballou somehow squeezed into a hole between a lapper and the infield marker tires, exiting turn two with the lead. However, Sunshine refused to wilt and drove deep into three, overhauling the Mad Man on the outside to hit ultimate pay dirt. An upset KTJ accepted an unsavory third while ninth-starting Thomas Meseraull found fourth in his own Hawk chassis, earning a $1,000 bonus from B&B Auto Brokers. Aided by Robert Brown, Jr., flying Illini Carson Short started 12th and finished 5th. Positions six through ten belonged to Stevie Sussex (Burton 04), Stanbrough, Kyle Cummins, Brandon Morin, and Shelby Van Gilder. Contested on a legitimate three groove surface, this was indeed a feature to rave about and salivate over!
Sunday's stop in Kokomo was tailor-made for another Courtney connection, but sometimes fate intervenes and manages to spoil a Cinderella story better suited to NASCAR. After making heavy contact at the start of the first heat with fellow front row starter Kevin Thomas, Jr. (leaving an angry KTJ with a flat left rear and a last place finish), Courtney ran second to Dave Darland in that heat, redrew for a feature starting birth of third, and dueled wheel-to-wheel for the first seven feature laps with the rim-riding hometown hero. Eventually inching in front, Tyler then mimicked Dave's top-shelf tactic in turns one and two. Still going low in three and four, Sunshine began to pull away from the People's Champ and was headed for three sprint car scores in a row before tagging the rear end of Matt Goodnight at the exit of turn four. Spinning and lightly tipping over on the front stretch, as fitting as it would have been to have the Clauson/Marshall/Newman Spike running up the ramp on a night honoring Bryan, it just wasn't meant to be.
After some front stretch fisticuffs involving Courtney and Thomas crew members (boiling over from the heat race contact), Darland restarted in first and had Windom, Shane Cottle, Josh Hodges, and Thomas in his wake. With adrenaline still coursing through my veins after the sight of the scuffle, the last six laps of this weekend finale were supercharged with excitement. Chris Windom's Wild Week had been anything but, missing out on his Indy Lights Freedom 100 debut after crashing in Tuesday practice. Fourth on Wednesday, 13th on Thursday, fifth on Friday, and sixth on Saturday, Chris was more than prepared to pounce when Dave climbed the cushion in three. Darland recovered to toss a successful turn one bomb, but Windom returned the favor on the next lap to lead the rest of the way, cooling off Courtney's hot hand. Cottle, Darland, Thomas (up from 15th), and Hodges chased the Kenny Baldwin DRC/Claxton to Brian Hodde's checkered flag. Positions six through ten were populated by Tyler Hewitt, Joe Stornetta, Jr., Isaac Chapple, Matt Goodnight, and Adam Byrkett.
Speaking of hot hands, the week of Indy might as well be renamed the week of Swanson: three big races, three tracks, and of course one winner. The Alt-Witzig engineer did not compete at the Hulman Classic, instead beginning his week with the Hoosier Hundred and his quest to tie Al Unser's record of four wins in a row. Opening his Thursday evening in grand style, Kody topped a 38-car qualifying field with the quickest lap in his DePalma owned Radio Hospital Maxim, led as always by legendary mechanic Bob Hampshire.
Swanson's time of 33.522 seconds was sadly such a long way from Johnny Parsons, Jr.'s one-lap record of 31.379, set all the way back in September of 1995. I understand the one-mile oval's issue with too much sand and not enough clay, but just once I'd love to see an honest effort to properly prepare the Indiana State Fairgrounds surface for more than one groove, as you just can't expect to produce a respectable playing field in less than one day's time. Don't get me wrong – I was ecstatic over the outstanding car and fan count, so thankful to see this race survive and thrive. And, perhaps I am too picky and my expectations are far too high for a slightly heavy set of hot laps and qualifying session, but I do fondly remember some lightning fast surfaces here from the late '80s and early '90s. Can we ever hope to return to those days, or are we forced to settle for less than stellar surfaces from here on out?
Stepping off of my soap box, after the first Hoosier Hundred consolation contested since 2006 (which claimed Bill Rose and Kenny Schrader as two of its casualties), Swanson beat Shane Cottle to the inside rail and played rabbit for the first 28 laps. Unusual in that Swanson normally pours on the coal in the last half of the event, true to form Kody yielded to the pressure of fifth-starting Brian Tyler, who appeared hell bent on capturing his first Hoosier Hundred. Tyler led the next 27 tours in the Bob Galas Beast, putting significant distance between himself and Swanson. Even after a caution for Kyle Robbins, BT again built a big margin before disaster struck the 1996 and 1997 USAC sprint car champion. Apparently, a piece of broken brake rotor from Chris Windom's car caused him to miss the turn one inside groove, quickly auguring into the outside concrete. Talk about the agony of defeat…
After that, no one could muster a serious challenge to Swanson's supremacy, as the Zionsville, Indiana transplant ruled the remaining 45 laps to equal Al Unser's 1970-1973 mark of four Hoosier Hundred wins in a row. Requiring pavement-like precision in navigating the Indy mile's narrow groove, Swanson's best lap was the 98th, topping his qualifying mark with a 33.372 second tour. Benton, Illinois fire chief Shane Cockrum simply didn't have enough to challenge Kody and would be forced to settle for second. Tyler Courtney, Shane Cottle, and 18th-starting Johnny Petrozelle filled out the first five finishing positions. Jacob Wilson (from 21st), Joe Liguori, David Byrne, Dave Darland (from 28th in Bill Rose's backup Beast), and Austin Mundie (from 24th) were scored sixth through tenth in the attrition-filled event.
After leading the final 99 laps the next evening at Indianapolis Raceway Park's Dave Steele Carb Night Classic, Kody collected his 22nd career Silver Crown series triumph, his third in a row in 2018. Kody's only real competition came from his younger brother Tanner, who qualified quickest and took the $5,000 challenge to start from the rear and attempt to win. Although Tanner got close, he could not defeat big brother, who cashed a cool $17,000 paycheck. Kody is just one win away from tying Jack Hewitt's series leading record of 23 wins, intact since 2000.
And then, there was Anderson's Little 500. Winning this event for the Hoffmans in 2016 and coming so close last year with Gene Nolen, Swanson was back with the same Nolen-owned Beast/Tranter V-6 combination, a team led by longtime Hoffman mechanic Dan Launderville. Most everyone, including myself, had already suspected he'd sweep the weekend, making us appear to be geniuses. However, it is rarely that easy at Anderson. But, if Swanson is around at the finish, the odds are strong that he will find a way to win and starting from the inside of the second row, it was already looking good before the green flag was ever waved.
An unbelievable field of 50 entries reiterated the continued resurgence of this event. Adding quality car and driver combinations each year, 2017 winner Kyle Hamilton failed to crack the starting lineup in his Klatt Enterprises Beast after suffering driveline issues in Thursday's qualifying session, then crashing on his Friday attempt. After finishing seventh in the previous day's Freedom 100 at IMS, tall and lanky Davey Hamilton, Jr. would start from the pole. Davey Jr. would be flanked by Daleville's Aaron Pierce and Bobby Santos, both looking for their first win in this event. Hamilton and Pierce set the early pace, with Aaron (wearing Aristocrat Products livery) taking the top spot on lap 27. Pierce led all the way to his first pit stop on lap 241 but once again, he was snake bitten. Encountering engine issues that were attended to on that stop, he lost four laps and returned to battle without a hood in place. Aaron eventually retired on lap 388. Around the midpoint, Hamilton also had issues and was officially out as well. So much for the rabbits!
The Little 500 is indeed a survival of the fittest, as prime contenders are always eliminated for one reason or another. Two-time winner Brian Tyler was the first out, tossing his steering wheel in disgust as smoke billowed from beneath the hood of his Contos 44 after just 41 laps. A winner in 2008 and a perennial contender, Shane Cottle was swept up in a lap 97 incident. Second in 2014 and third in 2016, Jerry Coons, Jr. lost a wheel just after lap 100 and was out of action shortly thereafter. Nine-time winner Eric Gordon started 19th in the Hoffman 69 and as usual, began to move forward after the first 100 laps. Up to fifth at the time of his first pit stop (lap 172), immediately thereafter he pulled to the infield with a broken driveshaft. Forced into the backstretch wall around lap 300 by another machine, an irate Bobby Santos flung his helmet at the perpetrator.
All those contenders were finally filtered down to just three men: Shane Hollingsworth, Jacob Wilson, and Kody Swanson. Nolen comrades Swanson and Hollingsworth's first pit stops came early (lap 146) while Wilson came in for service around the halfway mark, losing an extra lap after a push truck ran over his left rear wheel. Once Hollingsworth pitted for the final time on lap 303, Swanson served as the pilot dog, staying out for over 100 laps longer than his teammate. Due to the old rubber, Kody's performance dipped dramatically, allowing Wilson to not only get his lap back (lap 327), but completely circle Swanson again (lap 382). Without the aid of caution, Kody took matters into his own hands on lap 411, admitting afterwards that he intentionally spun between turns one and two so that he could pit and have an honest shot at winning. Wilson took full advantage of the pause and made his final pit stop as well. In the resulting chaos that saw Swanson pass the pace vehicle, Kody lost two laps while Jacob only dropped one, putting Hollingsworth back out front when they went back to green flag conditions on lap 422.
I still don't know if that pass of the pace vehicle was legal, as I could not find anything in the rules that discusses pace car protocol, but Wilson Brothers Racing did file a formal protest the day afterwards, believing that Swanson had pitted when the pits were closed. As is so often the case in this race, second place always seems to have a case for why they believe they won. Right or wrong, to my knowledge the final results have never been overruled. Officiating and scoring this event is indeed a nightmare, offering so many opportunities for discrepancies and disputes. I'm just glad that I'm up in the stands as a fan and not in the booth making calls that could alter the outcome.
As it was, it only took nine laps for Kody to get back one of those laps and with the aid of caution on lap 431, it only took 19 more for both Wilson and Swanson to be on the same lap as the leader. In one of the best late race battles I have ever witnessed here, Jacob and Kody went at it hot and heavy for the next 25 tours, slicing and dicing in and out of traffic. Swanson even connected with front stretch wall on lap 459 but was undeterred, wrenching second from Wilson on lap 470. Eight laps later, he yanked first from Hollingsworth's hands. With Shane's handling continuing to go south, by lap 495 he was one lap in arrears.
At the end, nothing could stop the hot hands of Kody Swanson, scoring his second Little 500 win in three years and first for car owner Gene Nolen. Wilson's bid for win number three will have to wait another year. Hollingsworth was happy to finish on the podium, coming oh-so-close to his first score. Tampa's Mickey Kempgens found fourth, five laps behind the leader. Morristown's Scotty Hampton soldiered home fifth in Jerry Powell's Beast, some seven laps down. Positions six through ten were claimed by Brian Gerster, Caleb Armstrong, Kenny Schrader, and Shane Cottle.
Digging into my Indy 500 weekend notebook, Terre Haute saw just 23 USAC sprint cars take time, still surprised with the low car counts evident at early 2018 USAC sprint car contests. One benefit of the limited assembly of equipment meant that all machines started the feature, allowing for an appreciated early exit. Dry for qualifying (KTJ was quickest at 20.574) and the heats but watered heavily for the feature, the track was fast in the first half, coming in just in time for Courtney to make his winning move.
As for the Hoosier Hundred, I already mentioned Kenny Schrader missing the show in the Dennis McQuinn 14. Had Schrader made the cut from the consolation, it would have been his first Hoosier Hundred in 33 years. Kenny did manage to win the companion modified event, with hopes of racing the Crown car once again at Springfield and Du Quoin.
Given the surprising names finishing in the top-five and top-ten, of course that implied that a majority of notables encountered issues. "Iceman" Coleman Gulick was out on lap five. Two-time winner Jeff Swindell pulled his Mark Swanson 21 pit side on lap 11. Russ Gamester coasted to the back stretch opening just before lap 25. Kevin Thomas, Jr.'s highly-anticipated debut in the Galen Fox 56 resulted in a premature conclusion on lap 37. C.J. Leary was done around the halfway mark while recent Sumar Classic winner Justin Grant exited on lap 67, operating in 7th. Brady Bacon had just stolen sixth from Grant before blowing up on lap 77, having moved from 27th starting spot in the Terry Klatt/Bob East ride. And finally, 2011 and 2012 HH winner Jerry Coons, Jr. attempted to dive underneath Tyler Courtney at the entrance of turn three on lap 89. Making heavy contact, Coons went for a rather wild ride but was able to walk away.
My trip to Bloomington was a little more scenic than usual, requiring about 20 more minutes after choosing to bypass anticipated State Road 37 traffic jams. So instead of 37, I used 67 to Gosport, following a long line of cars along the tight and twisty County Line Road. Exiting on State Road 46 between Spencer and Ellettsville, I finally made it to B-town in nearly two hours. 80-year-old Leon Thickstun was just ahead of me in the line for pit passes, asking him if he had enough cash to purchase Paragon Speedway after pulling a pair of crisp twenties from his wallet. Walking in tandem with Brandon and Travis Spencer, both young men pilot sprint cars owned by Leon, as their father had raced many years alongside the Nashville, Indiana legend. A veteran of eight Little 500s and a hired gun for Glen Niebel's sprint and champ cars, Thickstun even tested the famed number 20 when Bob Frey couldn't make it back from Wickenburg, Arizona. Having last strapped into a sprinter seven seasons ago, he is happy to leave the driving to the Spencers and Jake Scott, recalling that he was the first one in the 13-second bracket at Bloomington the week before Calvin Gilstrap was killed in 1976. Also remembering that he had also asked Gilstrap to climb in his car that fateful evening (as he was not feeling up to par), Calvin chose to pilot Cecil Beaver's number 57 instead. As the story goes, Calvin set quick time on his first lap of qualifying but crashed on his second, as the chromed roll cage collapsed upon impact in turn three. He would perish just a few days later in a Bloomington hospital.
Rather fitting, two-lap, single car qualifying would be held at this Josh Burton Memorial in honor of Calvin, with a top prize of $1,000 awarded by Eddie Gilstrap Motors. Jeff Bland, Jr. (Waltz 18) topped the 26-car field in this special session, a deviation from the norm for this Midwest Sprint Car Series sanction.
Upon my initial walk up the hill, I spotted noted photographer Tim Aylwin with camera and large lens in hand, standing in the grass on the upper level. Later, Tim was shooting from the flag stand, which I'm sure had to be a uniquely spectacular view. Wondering if any of these shots will make the Paul Oxman sprint car calendar, although the content contains far too many winged sprint cars and typos, I have purchased one every year since 1986. Bumping into Kyle Cummins car owner Fred Zirzow, he mentioned that the team has sold its only DRC chassis, now exclusively using Triple X. CSI Shocks have also been swapped for those built by Scott Benic. My first time to see Jon Stanbrough in action this season, Jon finished second in the first heat, just nipping Kevin Thomas, Jr. for the final redraw position. Commenting on the fatigue that he's been feeling since his daughter's early April birth, Stanbrough stated that without the nap he enjoyed on the ride down to B-town, there would have been no way he could have raced on this evening. JRS was joined in this journey by his usual posse consisting of Chris Hoyer, Kevin Price, and Chuck Rodee.
Given the early Sunday morning alarm clock for the next day's Indianapolis 500, I am normally in a hurry to exit Anderson's Little 500 once the checkered flag has fallen. This year's 10:16 PM completion finally allowed for an exception to my rule, as I chose to head to the front stretch to congratulate long-time sprint car crew member Sam Brooks on his induction into the Little 500 Hall of Fame.
A nine-time winner of this event, eight of Sam's nine victories came with Eric Gordon, the same guy he first met in the summer of his senior year of high school while employed at Central Hardware on East Washington Street in Indianapolis. That year was 1986 and the two instantly connected. Although Brooks had no idea what a sprint car was, he would soon find out. The two have literally been the best of friends since that summertime gig and through good times and bad, Sam has been there to support him in every way, shape, and form. Now employed by Gordon at Red Line Systems of Indiana, during Little 5 week the two of them ran the business from Anderson Speedway, as Eric was of course returning to battle in the Hoffman 69 while Sam tended to the tires on Jacob Wilson's 07.
Why wouldn't Brooks abandon the Wilsons and assist his buddy in his return? The answer is simple: Sam is one of the most fiercely loyal human beings you will ever encounter. Wanting to show his continued appreciation to the Wilson family for giving him an opportunity after Gordon retired, the sad fact is that back in 2014, no one else needed his help. Winning his most recent Little 500 with Wilson Brothers Racing (2014), on May 26th of 2018 Sam came oh-so-close to his ultimate dream day: a hall of fame induction and triumph number ten. With sweat still gleaming in the bright lights along the front stretch, Sam was honest in his assessment that he was heavily disappointed in finishing second, especially troubling when questions existed about the outcome. Owning an almost unreasonable expectation of winning in every Little 500 outing, despite his depression he was already thinking about the 2019 event the day afterwards. Just like his longtime friend and boss, to say that this man lives, eats, and breathes this race is an understatement.
Although wins still mean the most to him, Sam was completely humbled by his induction, never expecting to receive such an award. What stands out most to him is the fact that of the 109 men who are inducted, only one is officially listed as a "mechanic". Sam Brooks is that lone mechanic and enjoying this once in a lifetime opportunity to bask with him on his day of honor, making an exception to my rule offered far more memories than an extra thirty minutes of sleep. Take a bow Sam…you earned it!
After a late Sunday afternoon stop at home to change my shirt and cool off, the 45-minute jaunt to Kokomo came quickly. Surprisingly accompanied in this racing marathon by my wife, unfortunately only 16 sprinters battled for the $2,000 top prize in BC's Indiana Double, undoubtedly impacted by MSCS at Haubstadt, hot weather, and the upcoming six day stretch of sprint car contests that accompany Indiana Midget Week. As always quality reigned over quality, and the usual heavy hitters were joined by Tijeras, New Mexico's Josh Hodges, whose DRC bodywork was adorned in a throwback Ron Shuman/Gary Stanton scheme. After debuting the previous evening in Charleston, Illinois, Windfall, Indiana's Aaron Davis finally made his Kokomo sprint car debut, which also saw the long-awaited return of late 1990s competitor Charlie Sarver. Despite starting an hour later to allow travel time for Indy 500 attendees, we were still on the road before 10 PM.
In the last decade, the week of the Indianapolis 500 seemed to signify infinite worry about impending wet weather, always attempting to ruin events that only come once a year and hold huge amounts of significance. But this year was altogether different, as some unusually dry weather allowed for a magnificent six-race stretch that only grew hotter with each day. Free to fully enjoy and savor each one of these outings, some outstanding performances were witnessed. Weary from a week filled with early mornings that followed exciting evenings, although the mile and a half return walk from the 500 in high heat might not be a noteworthy fitness feat, it was still significant in that my primary train of thought did not have to do with the downhill slide of this racing campaign. Rather, the heat sent me back the mid-1980s when all Indy 500s seemed this way, as it was that point in my life when I reached an appropriate age to comprehend the enormity of this event. Call me a little sentimental and perhaps a little crazy from this heat wave, but even after that dreadful walk I still feel the same about Indy as I did in 1985. Such a magical experience, there truly is nothing else like it in the entire world.
Volume 20, Number 4
The Great Escape
It 5:00 on a Friday afternoon. No, I'm not at the bar, tilting back beverages in honor of completing another hectic and highly stressful week of work. Rather, I've been on the road for about an hour and with no time for delays, I need sixty more minutes to arrive at my intended destination, as that is when the green flag is set to wave on hot laps. And if anyone knows me, they are aware of my feelings about missing hot laps.
Unable to relax, I have been hustling all day long, heading into work one hour earlier so that I could leave one hour earlier. Ever since I graduated from Ball State University in 1994 and joined the working world, this has been an all-too-familiar feeling on Fridays from April to October – never enough vacation days and never enough time to get where I need to be. Although it was now the weekend; that failed to relieve the heavy load I've been carrying these last few weeks, already worrying about Monday morning. The distinct possibility of arriving late and/or earning a speeding ticket was only increasing my angst, leading me to wonder if the struggle was indeed worth it. After all these years, why was I willing to continue to place myself in this pressure cooker, just to watch cars go around in circles?
On this occasion, the answer was quite simple. It could only be attributed to my long-standing allure for Eldora Speedway, the singular location that cemented my hardcore hunger for sprint car competition. And, when the United States Auto Club is the sanctioning body of record, the attraction is only magnified. Once a common occurrence, these days a USAC/Eldora union is only a twice a year type of thing. Friday was the first half of the fourth annual Let's Race Two weekend, once again pairing the best of both sprint car worlds: USAC's traditional and the World of Outlaws winged varieties.
Offered on Mother's Day weekend, as the seventh of eight kids I spent most of my youth in the presence of my beloved mother, as my father regularly worked 80 hours per week to pay for all those offspring. Much like Mom-time, any excursion to Eldora is equally familiar, comfortable, and cherished. But after losing my mother to colon cancer some seven years ago this month, with her absence my childhood home and family life just has not been the same. Thankfully, some places still exist that allow me to feel at ease and having been a regular attendee since October of 1985, the Big E is indeed one of them.
Thinking of no better way to escape the rigors of life than to be cloaked in Eldora comfort, the indescribable feelings generated from visiting this mystical mecca are unlike those generated from any other dirt track. Tucked away in the serene, fertile farmlands of Western Ohio that frequently exude the fragrances of nature, all these years later it is still such a startling presence when stumbling upon it.
Getting back to my frenetic Friday afternoon, my grand plan was to meet up with Chesterland, Ohio's Tom Percy, who graciously offered a sleeping spot in his camper for two evenings. Spending the better part of two days away from reality, I had two goals in mind: 1) to relax and 2) have a freaking good time! Joining Tom on this trip would be two first-time Eldora attendees and overall nice guys: Trevor Valentine and Doug Kililea.
So difficult to express to Trevor and Doug just how significant Eldora Speedway is to the overall landscape of automobile racing, one need only to observe its list of alumni to grasp just how hallowed these grounds are. In the track's early days, Indy 500 talent like A.J. Foyt, Mario Andretti, Parnelli Jones, Jim Hurtubise, Johnny Rutherford, Bobby Unser, Gary Bettenhausen, and Pancho Carter chose to risk life and limb sharpening their skills on these treacherous banks. To this day, it's is still one of the prime places to prove that you own the bravery and talent required to reach the next level. In my early years of attendance, I observed real men like Sheldon Kinser, Jack Hewitt, Rich Vogler, Larry Rice, Steve Butler, Steve Kinser, Doug Wolfgang, Sammy Swindell, Jac Haudenschild, Rick Hood, Kenny Jacobs, and Kevin Huntley run the wall with perfection. So bold and yet so precise, I couldn't help but be in awe, as they were all worshipped and still serve as my own benchmarks for badassery.
The rash decision of band leader and Eldora ballroom owner Earl Baltes to carve a dirt oval into the accompanying hillside was big, but even bigger was the awarding of a United States Auto Club sanctioned sprint car contest in 1962, as USAC was the world's premier sanctioning body. 56 years and 196 races later, here we were on Friday, May 11th, with the milestone 200th USAC sprint car race set to occur in 2019. Since 1978, the World of Outlaws have held a similar number of events at the Big E, counting 167 "A" features. When adding preliminary events, one could calculate that the number of World of Outlaws events exceed that of USAC. Either way, Eldora was tailor-made for sprint cars, whether you prefer them with or without aerodynamic aids.
Finally arriving at my intended destination with just minutes to spare, after changing out of work attire I would only miss a few laps of that first hot lap session, jogging to see whose engine I could hear screaming for mercy from the sign-in booth. Turning out to be Chase Stockon, under overcast skies I was more than pleased to see the surface colored dark chocolate, allowing for the application of unlimited horsepower. This signified that ample moisture had been applied, clearly evidenced when several USAC chauffeurs explored the 15-second bracket during practice. Eleven men would clock beneath 16 seconds in qualifications, with Kevin Thomas, Jr. going out first and eventually winding up with quick time in his Hoffman 69 DRC/Speedway. Despite the dampness, Thomas's 15.318 was still a long way from the 2006 record of Jerry Coons, Jr. (14.712). Third in the qualifying line, Cole Duncan's Fisher powered Maxim (Neumeister 12N) was the best of the WoO bunch at 12.879, fairly close but still shy of Craig Dollansky's 16-year-old record (12.707 seconds). Six Outlaws were under 13 seconds on Friday.
After Landon Simon and Michael Fischesser encountered issues, only 22 of the 24 USAC entries took time. Being such a died-in-the-wool Eldora/USAC supporter, that's a massively disappointing car count, even with Gas City and Bloomington offering competition for cars. I can understand some Indiana guys staying home, but where were all of the Ohio based racers? Saturday's count wasn't much better at 21 but had opposition from Lawrenceburg, Haubstadt, Paragon, and Putnamville. World of Outlaws assemblies were more consistent at 37 and 36 over the two days. Regarding the lowly USAC figure, are Indiana and Ohio car owners just not fond of Eldora and its additional safety regulations, USAC's entry fee, running against the big dogs, or the added costs of staying overnight in a hotel? Whatever it was, no consolation race was needed on Friday or Saturday, and I cannot remember that ever being the case for an Eldora/USAC sprint car pairing. In this disappointing era of specialization, Brady Bacon was the lone soldier to engage in both battles.
As Tom and I attempted to explain to Trevor and Doug, heat race action is one of the biggest differences between USAC and World of Outlaws racing. USAC inverts the six quickest while WoO begins the fastest up front. As is to be expected, each one of the Friday and Saturday Outlaw heat race winners came from the front row while Friday's USAC winners came from the first or second row. With early conditions much more slippery on Saturday, USAC heat winners exclusively came from the third row, thus proving my point. However, even with the WoO's pro-qualifying format, on Friday both Kerry Madsen and Brad Sweet started six and finished second, allowing them to participate in the all-important trophy dash that set the first four rows of the feature. Without question, the best heat race of the weekend came with the World of Outlaws on Friday, when heat three front row starters Logan Schuchart and Eldora's favorite son Jac Haudenschild exchanged four slide jobs for first. Celebrating his 60th birthday on April 7th, it's hard to imagine that Haud is 35 years older than Schuchart, but Friday night he showed no signs of slowing down. Jac claimed that heat and drew the outside front row for the dash, finishing second to Cole Duncan.
Opening night heat race misfortune came on both sides of the sprint car equation, as USAC's Tony DiMattia cracked the turn one concrete and violently tumbled down the bank while WoO's Greg Wilson duplicated DiMattia. Thankfully, both walked away from their wreckage, which isn't always the case here. For Tony, it was two consecutive crashes after his Kokomo calamity the previous Sunday. Big names missing the Outlaw feature transfers from Friday's heats included Bacon, Saldana, Stewart, Kinser, Abreu and Pittman. Finishing beyond fourth in the B, Stewart, Kinser and Pittman each had to cash in provisional passes to participate in the opening night A-main. So did Jason Sides, whose engine gave up the ghost during qualifications.
Robert Ballou found himself blasting off from Friday's USAC feature event pole position, exercising a brand-new DRC chassis supplied by sponsor Jimmy Crawford and his Twister X enterprise. 2013 Four Crown sprint car stud Chris Windom would flank Ballou. A five-time Eldora victor, Robert rocketed to the lead on lap one. While Brady Bacon was bolting from eighth to fourth and clearly benefitting from running the B-main in his winged car, the Mad Man successfully crossed over a turn one, second lap slide job from Windom and eventually earned a little bit of breathing room. Justin Grant was on the go in his Topp Motorsports Maxim/Gaerte, gaining six spots in the first five laps, looking for his third win in four years at this very event. By lap eight, third place Bacon stole second from Windom with a successful turn one slide and just three laps later, number 99 had completely closed the gap to the leader. The lead duo moved away from third by the halfway mark, with Bacon officially snatching the premier position four laps later with a low-side lunge off turn four. With Ballou's setup going way too loose, it was all he could do to secure second place.
At the conclusion, Brady built a full straightaway lead to lay claim to his second-ever Eldora USAC triumph, lapping up to 10th place at the conclusion. Thanking supporter Gene Franckowiak for the use of his engine in his victory lane interview, it was a hometown win of sorts for BB, who bases his operations 15 minutes west of here in Union City. Windom, Grant, and KTJ completed the first five. Tyler Courtney, Stockon, Dave Darland, C.J. Leary, and Kyle Cummins collected sixth through tenth.
Thanks to their top-two finish in the dash, Duncan and Haudenschild (Jac) shared Friday's WoO feature front row. Immediately heading to the attic in his own Triple X chassis, Haud would lead the first 11 laps, having to deal with a double-file restart on lap six after Hunter Schuerenberg spun in turn four. With Donny Schatz now to his inside, Jac quickly adjusted his corner entry to thwart any bottom-feeding frenzy. While Haud and Schatz were fighting tooth and nail, sixth-starting Aaron Reutzel threw his hat into the lead ring. Lofting an electrifying two-for-one grenade at turn three of lap 12, Aaron advanced from third to first in an instant. Jac countered in turn one, but Aaron returned the favor in three. Just after Schatz stole second, Reutzel scaled the thinning cushion between turns one and two. Pancaking concrete, flying high, and crashing to a bitter conclusion, it was all over for the All Star Circuit of Champions point leader. Although he defeated NRA forces here in October of 2016 and topped a WoO war in Tulare, chalk this incident up to Eldora inexperience.
Schatz narrowly missed involvement in the Reutzel rumble and was rewarded with the lead. Leaving a healthy 17 laps remaining, Donny's drive to yet another victory was interrupted by a second red flag period, this one involving David Gravel, Carson Macedo (Coomer 21), Rico Abreu, and Joey Saldana. Perennial Eldora underdog Gary Taylor (Gorby 57) briefly held second before Brad Sweet swooped in. In the late stages when surface grip was gone, last year's Friday night winner Logan Schuchart found his rhythm around the bottom. Earning nothing more than a sniff of Schatz's tail tank, Schuchart simply didn't have enough to overtake and had to settle for second in his Shark Racing Triple X. At the end, the driver of car number 15 collected his 12th victory at Eldora and 7th in this young season, extending his point lead. With the winner exiting his usual J&J/Shaver to the sounds of boo birds, he was followed to the line by Schuchart, Sweet, Jac Haudenschild, and Duncan. Taylor, Sheldon Haudenschild, Jason Johnson, hard charger Daryn Pittman (from 26th), and Kerry Madsen completed the top-ten.
Despite yet another predictable production from your WoO winner, Friday night action was more than satisfactory in both divisions, enjoying the old-school Eldora surface early on and the efficient program that concluded at 10:19 PM. With on-track action virtually non-stop, there was no time to ponder the intense anxiety that had burdened me earlier in the day.
My Saturday morning alarm clock came in the form of the rising sun, blinding me with warmth around 7 AM. Unlike my normal Saturday mornings back home, this time I had no gym to get to, no yard to mow, and no car to wash. On a brief holiday, it actually felt damned good to get away from the same-old, same-old for once. Thanks to the mindful conservation of our water reserves, all four residents of "Hotel Grey Wolf" had enough to shower and make ourselves presentable for simple breakfast fare at Ansonia's Whistle stop, a proud sponsor of Little Haud last year. After we were done eating and preparing to enter Tom's King Ranch F-150, like a little kid I was excited to hear the bell from the adjoining railroad crossing. Snapping a photo of a thundering westbound CSX freight train crossing 118, these same tracks roll by an awesome new establishment where I've enjoyed an excellent brunch, that being Fortville, Indiana's Taxman Brewery.
While we were in the area, I pleaded with Percy to pull a little further south to Greenville's Maid-Rite, as this would be my first sack of loose meat sandwiches in exactly one year. Saving them for Sunday, Monday, and Tuesday, after returning to the camp site I was able to put the finishing touches on my previous week piece for Hoseheads while everyone else was lounging. With several hours to kill before Saturday hot laps, we were once again off to explore some additional attractive Western Ohio offerings. Fifteen minutes northeast through Cassella and St. Rose, our first stop was the Moeller Brew Barn in Maria Stein, another tiny town which proudly proclaims itself as the hometown of former MLB pitcher Cory Leubke. Situated in a small industrial park, the steel building resembling a bar had windows opened to the neighboring farm. Choosing to sample a flight of Dirt Track Kolsch, Blackberry Wheat, Wally Post Red Ale, and Bourbon Barrel Sour, rather appropriate that the Dirt Track Kolsch was my favorite of the four.
Through Chickasaw and Carthagena to Coldwater, upon the sage advice of my nephew our next stop was Tailspin brewery, housed in an old dairy barn where I enjoyed an incredibly satisfying G-Loc Doppelbock Blonde Ale and some friendly conversation with local folk. Looking up information on Carthagena, l learned that the village was started in 1840 by Harrison County, Kentucky's Charles Moore, an African American who owned 160 acres. For over 100 years, Carthagena contained a substantial population of African Americans and the land where their school once stood was purchased by the Missionaries of the Precious Blood. Still the site of the visually impressive Saint Charles Seminary, it is an imposing presence easily seen from miles away. Enjoying this further exploration of western Ohio, the sight of so many church steeples, silos, and immaculate homesteads served as an additional calming influence on this brief but great escape from reality.
Finally awarded enough time to make my way to the pits prior to Saturday's action, long-time Hoffman Racing V.P. of Operations Dan Launderville was here to help with Brady Bacon's dual pronged attack. When asked when and where I can see the Hoffman 69 O.T. back in action, Dan noted that Bacon will be in the Triple X/Mopar-Claxton for Friday and Saturday of Indiana Midget Week. Launderville, Jeremy Perdue, and Mark Ashbrook will again assist Kody Swanson's Little 500 effort with car owner Gene Nolen. Meanwhile, the return of Eric Gordon in the Hoffman 69 will be guided by long-time sports car/endurance racing crew chief Kevin Doran, whose Cincinnati oval track racing roots run deep.
While curiously inspecting the World of Outlaws artillery to identify chassis/engine/shock combinations, I asked Tony Stewart Racing crew member Brad Mariscotti if their Ford engine project was still in the works, and he confirmed that to be the case. TSR still uses Ron Shaver Chevrolet power, as does the Rudeen Racing 26 wrenched by Rob Hart, who noted that Shaver was actually here to sort out the issues they've been having matching engine characteristics with the preferences of its pilot Joey Saldana. Speaking of engines, co-car owner Fred Zirzow (EZR Racing) explained that his driver Kyle Cummins would be wheeling a Triple X chassis on Saturday as the camshaft profile of the Claxton engine installed in that car seemed better suited to Cummins than the one in Friday's DRC. As it was, the team's feature finish improved by one spot on Saturday.
Stopping to say hello to old friend Bill Rose whose Eldora roots date back to the mid-1980s in a USAC late model, it was great to see him back in his familiar number six wingless sprinter, a DRC chassis with Charlie Fisher power. After watching his new Maxim Silver Crown car in action at Terre Haute with Chris Windom behind the wheel (Windom worked out a deal to drive Bill's number 66 after blowing his engine in hot laps), Rose is excited to get back behind the wheel for this Thursday's Hoosier Hundred.
Hurrying back to the campsite for a quick bite (grilled chicken, broccoli, and tater tots), on-track activities were ready to resume promptly at 6 PM, as it was announced that the show would be pushed to completion as quickly as possible to in an attempt to avoid approaching storms. In an outstanding cooperation between track staff, sanctioning bodies, and teams, hot laps, qualifying, seven heat races, 1 trophy dash, and 1 B-main would be completed by 8 PM, with the pair of features taking the final checkered flag at 9:07 PM. Once again, the literal non-stop racing completely took me away from my worries, not even allowing for a bathroom break or trip down t-shirt row. Joined in Section I by my oldest brother, dad, and two nephews, the majority of Oldham family members agree that there is something so soothing about a springtime Eldora appearance, mandatory for one's mental health.
As expected for this second showing of the weekend, surface conditions turned slick fairly soon. Eleventh in the qualifying line, David Gravel's 12.910 second lap was best in the winged world, with only three machines clocking beneath 13 seconds. USAC hot laps and qualifications came after the Outlaws and C.J. Leary's 15.940 could not be topped, the only one in the 15 second club. Just like KTJ on Friday, C.J. was first in line. Sixth quick in Dan Pace's 44, Eldora newcomer Joe Stornetta was a thrill a minute all weekend long, showing no fear as he extended over the cushion and flirted with the fence in his qualification performance. After finishing second in his heat, Stornetta was set to start from the pole for the feature, assisted for the second weekend in a row by Frankfort, Indiana's Brian Cripe.
With everyone making the USAC A-main, the only drama for feature transfers came in the WoO B, as Daryn Pittman would overtake Trey Starks for the fourth and final transfer while taking the white flag. Big names missing from Saturday's outlaw A included Gary Taylor, Greg Wilson, Jac Haudenschild, and Cory Eliason, as poor qualification performances ruined their evening.
The USAC sprint car finale was up first and just like Friday, Chris Windom fired from the outside of the front row. But, it would be third starting Kevin Thomas, Jr. getting the jump to turn one, sliding the entire front row through turn two to lead the first three tours around the expansive half-mile. A second lap red flag for seventh-starting Justin Grant ended his evening, and the ensuing restart saw Joe Stornetta tag the turn four wall, dramatically cartwheeling to the bottom of the banking. With the front half of the frame cleaned off at the radiator, thankfully Joe was ok after the incident. So bold in his initial attack of Eldora, I was hoping Stornetta would not suffer such fate. But as so many have learned over the years, you just have to respect the concrete.
One lap after going back to green flag conditions, Windom's turn one slider on Thomas would prove to be the winning move, as Thomas's turn one try on lap five was no good. With surface conditions smooth and slick leading to a thin cushion, they completely favored Windom's extensive Eldora experience and the setup applied by Derek Claxton. Operating exclusively on top, Chris immediately drove to a full straightaway advantage as his nearest pursuers were engaged in heated combat.
Third-starting Chase Stockon's lap seven slider on KTJ secured second. Going low in three and four to block the bottom, Stockon was turned completely sideways by Thomas, who momentarily regained his runner-up status. Fifth-starting Tyler Courtney was also in the mix and attempted a big-time bomb on Thomas through three and four, only to tag the wall in the process. What was a three car tussle for second soon expanded to five, as Bacon and Ballou joined the party. Stockon returned to second in the middle stages but had to contend with Courtney, who finally snagged the spot with 11 laps to go. Although Sunshine managed to cut into Windom's massive margin, it was too little, too late for the Clauson/Marshall/Newman throttle stomper.
The defending series champion would win his first USAC contest of the 2018 campaign and second in Eldora USAC sprint car chronicles, leading Courtney, Stockon, 10th-starting Bacon, and Ballou to the finish. Sixth through tenth consisted of Thomas, Leary, Westfall, Cummins, and Dallas Hewitt. Windom left only eight cars on the lead lap at the finish, a truly dominating drive from one of the exclusive few Eldora masters.
After being rained out in Granite City and Pevely on the 18th and 19th, next up for Chris is the craziest week of his career. Starting on Monday, he practices at the Indianapolis Motor Speedway in an Indy Lights car. On Wednesday afternoon, he practices for the Little 500 in Anderson before heading off to the Terre Haute Action Track for Wednesday night's Tony Hulman Classic. Thursday is absolutely insane, as he practices and qualifies the Indy Lights car, qualifies for the Little 500, and races in the Hoosier Hundred at the Indiana State Fairgrounds. Friday is the Freedom 100 at IMS, also competing at IRP in the Carb Night Classic for Silver Crown cars. Saturday is of course the Little 5, wrapping up the weekend with dirt sprint car action at Kokomo in the Indiana Double. That's five different race cars at six different tracks, wondering how he'll handle the logistics of traveling to and from each venue. A daunting challenge in the spirit of Bryan Clauson's Chasing 200 Tour, as a fan watching from afar it should indeed be fun to follow.
After qualifying third, winning his heat from the pole, and winning the dash from the outside of the front row, another Donny Schatz World of Outlaws A-main victory seemed rather imminent on Saturday. However, it took a little bit of work, as his heat race and dash nemesis Parker Price-Miller would lead the first four laps from the pole, attacking the top shelf like a true veteran. But as usual, Schatz could stick his TSR 15 anywhere he wanted, going low through three and four to lead lap five. Two cautions would impede Donny's drive, first for Sheldon Haudenschild's turn four wall contact that folded his front axle and second for Spencer Bayston, who connected with Logan Schuchart late in the going.
Similar to Friday, third-starting Schuchart was the only one in Schatz's league, getting close enough to nearly pull off a pass through thick traffic on two occasions. Each time, Donny somehow threaded the needle and worked the congestion to perfection, winning his fourth feature in his last five starts, now numbering eight on the season. Schuchart again settled for second, with Aaron Reutzel, 15th-starting Kraig Kinser, and Tim Shaffer rounding out the top-five. PPM, Kerry Madsen, 17th-starting Brad Sweet, 22nd-starting Ian Madsen, and 24th-starting Daryn Pittman took sixth through tenth. Ohio fans clearly aren't happy seeing the same winner night after night, awarding Schatz with another healthy dose of boos. In these last dozen years, the World of Outlaws scenery has changed very little; wondering how the other teams can stand to lose on such a regular basis to one driver and team. The question is, who is going to step up and serve as a consistent threat to Donny's dominance? Right now, I don't see anyone being able to fill that role.
An eventual return to the campsite caught the never-ending parade of haulers leaving the premises, as so many of the teams were on their way to Haubstadt, Indiana for Sunday night. Although it sprinkled a bit off and on during Saturday night's racing, the big storms that were expected never arrived. Heading to bed at a reasonable hour only to awake early on Sunday to shower and pack belongings, after my farewell was extended to Tom, Trevor, and Doug, I walked inside the speedway grounds to have one last look before I departed. Encountering longtime Eldora caretaker Larry Boos who was engaged in an extensive cleanup of the grounds, I thanked him for his efforts, commenting that no matter how much this place has changed, one thing that hasn't is the special place it holds in my heart.
Unlike the Friday afternoon drive over, the early morning Sunday return home was done at a leisurely pace. Nobody was on the road, spotting so many tending to their yards while the weather was cool and comfortable. Eyeing signs for tiny towns that I have always wanted to explore off the U.S. 36 path, Crete (birthplace of People's Temple cult leader Jim Jones), Arba, Bloomingport, Carlos, Modoc, Mooreland (birthplace of Wilbur Wright), and Honey Creek are just a few. Interestingly enough, Honey Creek was once home to Thane Houser, an old-time Indy car builder, driver, relief driver, mechanic, and riding mechanic.
But, in these last 33 years that I have been coming to Eldora, I rarely, if ever, have the time to deviate from the norm as my mind is always racing, forever focused on traveling to and from this ultimate destination for speed, drama, and excitement. There is something to be said about those unique feelings experienced when pulling into the Eldora Speedway driveway. All that history and all that anticipation floods the brain and completely overwhelms my system, sending me into an entirely different state of mind. And on that rare Sunday morning drive, I couldn't help but recall so many of the several hundred Eldora visits I've thoroughly enjoyed, comprehending the ultimate impact this place and its creator have had on my existence. Far from finished with this relationship, I am already craving that next great escape.
Volume 20, Number 3
Spring Cleaning
It's almost unfathomable to comprehend, but the calendar has already flipped to May and like a light switch, the warmer weather that Hoosiers have been longing for has finally arrived. Now that it finally feels like spring, yards and mulch beds are being tended to, patio furniture is being uncovered, and grills are being fired up on a regular basis, all while clean freaks crack their windows and perform their rigorous indoor chores. In a similar fashion, the opening rounds of the Indiana sprint car campaign have also seen its share of serious clean up, especially if your name is Kevin Thomas, Jr.
Because of an overly damp and wintry March and April, through Sunday May 6th only eight Indiana sprint car evenings have been available. By no surprise, Thomas has been the biggest winner, beginning 2018 just like he ended 2017: in utterly dominating fashion. A winner of five features thus far, since April 28th KTJ, crew chief Davey Jones, and solid assistant Brad Alexander have literally been unstoppable. Utilizing DRC chassis and Speedway Engines in his Hoffman 69 (USAC) and Dooling/Hayward 63 (local), Kevin has lit up the scoreboard in Haubstadt (USAC), Gas City (MSCS), Plymouth (USAC), and Kokomo (unsanctioned), the latter three consisting of a weekend sweep. Discussing Haubstadt's thriller in my last edition, for this first weekend in May I could only make it to Gas City and Kokomo, the first time for such a Friday/Sunday combination since May of 2016.
My primary motivation for performing a Friday afternoon suicide mission through northeast-side Indy rush hour traffic was to sample an entertainment offering from newly anointed Gas City I-69 Speedway promoter Jerry Gappens, Jr. The 23-year Speedway Motorsports Inc. executive and Sharpsville, Indiana native left his nearly eight-year post as General Manager of New Hampshire Motor Speedway in October of 2015, boldly stepping out on a limb to lease the facility from Jack Himelick for an undisclosed number of years, starting in January 2018. A true racing renaissance man, Jerry has literally done it all in the sport. A one-time Indiana sprint car racer, he mentored under Chris Economaki as the assistant publisher at National Speed Sport News, assisted his father (also a former sprint car chauffeur) in the operation of the Terre Haute Action Track, served as an on-air personality for ABC Sports, and was schooled by Humpy Wheeler to eventually become the Senior VP of Events and Marketing at Charlotte Motor Speedway.
All that time with Wheeler obviously rubbed off, as Jerry has implemented several fresh ideas to separate his promotional efforts from the rest of the pack. From his aggressive marketing (airing television spots during March Madness), to his wide variety of racing offerings (Soccer Moms, school buses, and trailer races), to his highly interactive intermission entertainment (on May 4th he had a slew of kids scrambling for $200 in nickels spread out on a tarp), Gappens not only hopes to attract hardcore racers with one of the highest weekly sprint car purses in the state, but also capture the imagination of the casual fan as well. This being the third event of his campaign, reliable sources informed that sprint car counts, crowds, surface conditions, and overall efficiency were where they needed to be for his first two outings. I can attest on this particular Friday that surface conditions and efficiency were excellent, only wishing that more racers and fans would have joined in the fun.
After escaping my Castleton employer at 5:30 PM, despite gridlock around the Deer Creek exit and an emergency pit stop near Lapel, I miraculously managed to make the 60-mile trek in just over an hour. You'll never know who you'll run into while in route, as I encountered sprint car rookies Evan Mosley and Brayden Fox at the I-69/SR 13 Rickers convenience store while tending to a wayward Weather-Tech bed liner. Both former mini-sprint stars and third generation racers, Mosley (son of Aaron) is set to make his 410 wingless debut at Paragon's next scheduled show while Fox (son of Brad) has operated a winged sprint car a numerous times since his debut last fall. Just like their fathers, Brayden doesn't say too much while Evan is extremely outgoing, the latter stating that he hopes to make traditional sprint car racing great again.
Arriving as the headlining machines were preparing to hot lap and qualify, 20 fire breathing beasts battled for the winning sum of $3,000 in this initial Gas City appearance by the Midwest Sprint Car Series. I honestly expected a few more players, especially since Bloomington only had winged 305s running. However, two hours to the east, Limaland was hosting a rare wingless sprint car show which was captured by Landon Simon. Although their count was far more slim, this did indeed keep a handful or so away. But, much like a Sunday night in Kokomo, quality reigned over quantity. Either way, it was another solid outing from Gappens, whose hand I finally had the pleasure of shaking. First impressions mean everything and having initially encountered his sister and mother in the front office, their extremely pleasant and friendly demeanor set the tone for an awesome evening.
The three timed hot lap sessions lined up each heat and inverted the fastest four, with Chase Stockon's 12.888 second circuit topping them all. Observing fairly routine heat races from the turn four lineup chute with 81 year-old Merrillville Al Longiny, we saw wins come from first (Clinton Boyles in the Hazen 57), fourth (Brady Bacon), and third (KTJ). MSCS rules redraw the first two finishing positions to determine the feature lineup and with this evening's inversion turning out to be zero; that meant Paul Hazen's newly hired gun would blast off from the pole position.
After the heats, I had a chance to catch up to Hazen for the first time in 2018. Recently turning 80 years young, he noted that he had recently suffered a hernia while finishing the assembly of his two DRC chassis in March. Upon the advice of car constructor Joe Devin, Hazen met and eventually hired Boyles, whose number one objective in 2018 is to learn these Indiana ovals. Son of midget racer Joe and brother to Jessica (who is married to Hunter Schuerenberg), Clinton was named the 2016 National Sprint Car Hall of Fame wingless rookie of the year on the strength of three first-year feature wins in the Missouri-based WAR series. Having claimed one of those wins in just his fourth career outing, Boyles is obviously a quick study, as evidenced by his Gas City score one week from this particular evening (May 11th).
While heats for the two support classes were rolling, I observed veteran Illinois car owner Rick Pollock spinning sockets for Tony DiMattia, stopping to say hello to a beaten and battered Brian Cripe who was spending his first evening with Napa, California's Joe Stornetta, Jr.
I also spent some time with C.J. Leary, who hails from the same city (Greenfield, Indiana) that spawned his local ride: the Scott Pedersen owned DRC. While Scott, son Ryan, and Donnie Gentry were strategizing on feature offset and stagger, C.J. relayed the story of how he struggled to complete the final 2/3rds of the Haubstadt feature with a broken steering wheel and bent Jacob's ladder. Mentioning how much of a handful it was to deal with the wheel folding down on him while attempting to navigate the corners, one of the three spokes broke away from the outer rim on the eight-year-old wheel. A second spoke was also on the verge of breaking and had that happened, he would have actually been holding the outer rim while the final spoke was attached to the steering gear. Having never been a fan of Haubstadt, he's looking forward to his next trip, as these last two appearances have resulted in absolute rocket ships to drive.
With no B-main necessary, the I-69 30-lap finale was ready to roll by 8:35 PM. Beginning Boyles and Bacon from the front, Bacon's outside attack through one and two allowed him to take the point. For 25 of the 30 tours, it was an all-out Bacon-fest, as the two-time USAC sprint car king eventually opened up a full straightaway advantage in his own number 99 Triple X. Early on, Boyles tried hanging with him but soon had his hands full with second row starters Shane Cottle (Phillips 71) and Kevin Thomas, Jr. once lapped traffic came into play. Boyles and Cottle connected while overtaking Aric Gentry and one lap later, a bobble from the 57 allowed the 2004 and 2009 track champion to advance to second. However, it was only a matter of time until KTJ came calling, staying up top to take sweep past Boyles and Cottle. Still a long way to go to catch the leader, Thomas must be living right as a timely caution came with five circuits remaining, instigated by a Stornetta/Stockon turn four entanglement.
With no lappers between first and second, it was an entirely new race as Kevin immediately applied pressure with his top-shelf tactic. Brady stayed true to the bottom as the lead duo were suddenly engaged in exciting wheel-to-wheel combat for the next three tours. But, once Bacon altered his line to fly high in turn one, Thomas immediately diamonded the corner to pilfer the premier position. Despite one last lunge off turn four, Brady had nothing for the Alabama assassin, who advised that this was the first race for a new DRC chassis. Done in the daylight at 8:47 PM, chasing Thomas and Bacon were Cottle, Boyles, and second-week winner Thomas Meseraull. Marion, Illinois' Carson Short started 19th and scored an impressive sixth. Seventh through tenth were Robert Ballou, Isaac Chapple, C.J. Leary, and Chase Stockon, who came from the rear after his lap 25 incident.
Smooth and tacky all night long, Gas City's surface was in prime shape, blowing off just enough in the late stages to offer two true lanes. The efficient evening was made even more satisfying when realizing that Fairmount's Grains and Grill was open until 10 PM. Just ten minutes away, I saddled up to the bar and ordered one of their own Bad Dad Brewery creations: the Bloody Harry IPA. An east coast style hazy IPA, it is brewed with blood oranges, mentioning on their menu that its fruity notes consist of tangerine and slightly tart raspberries. (Make my day punk!) Having only eaten at Grains and Grill on one occasion, I was thoroughly impressed and have always wanted to return. On this late night, I caved into my humongous craving for their ridiculously delicious house burger: an eight ounce patty simply grilled and topped with bacon jam, fried onion, and white cheddar cheese. However, I must come back for "Kevin's Tenderloin" (G&G's chef's name is Kevin), which consists of their house cut Indiana raised pork loin pounded and hand breaded, topped with sharp white cheddar cheese, Applewood smoked bacon, and house potato salad. Are you hungry yet?
All in all, it was a highly satisfying Friday evening leaving me wanting more, so I encourage everyone to get "On The Gas" and get to Gas City for one of their upcoming programs. May 18th shows sprint cars, UMRA TQs, and mod lites. Dark on Friday the 25th, they host the second stop of Indiana Midget Week on Wednesday the 30th. Consecutive Fridays in June include "A Salute to the Kinsers" (GLSS winged and local wingless sprints headline on June 8th), the "Jack and Jiggs Classic" (sprints and D2 midgets on June 15th), the "Jerry Gappens Sr. Memorial" (sprints and UMP mods on June 22nd), and the "Star Spangled Spectacular" (sprints and UMP mods on June 29th). Go to www.gascityi69speedway.com to review the full year's schedule of events. The season finale arrives on September 28th.
Staying busy on Saturday with non-racing activities, I obviously missed a thrilling Plymouth USAC finish involving Robert Ballou and Kevin Thomas, Jr. Hungering for more with the arrival of Sunday's unsanctioned King of Kokomo thirty-lapper paying $2,500 to win, despite windy conditions, the fans were blessed two-fold: one - the weather was much better than forecasted and two - the all-star 30-car congregation that populated the pits was sure to be another barnburner. You're damned right if you say I'm lucky to live less than an hour away.
Continuing to don his apron with broom and dust pan in hand, KTJ absolutely cleaned house on Sunday. From the second group, he posted the top time of all at 13.068 seconds, won the second heat from fourth, drew the pole for the feature, and promptly paced the field for all 30 tours. Superior in his attack of the cushion through turns and two, Kevin was able to keep sixth-starting and first heat winner Dave Darland in his wake. Dave (Goodnight 36D) had immediately surged to third and became embroiled in a heated battle with second starting and third heat winner Justin Grant (Topp 4), exchanging the runner-up position four times in two laps via a volley of sliders. Interrupted only for a lap seven red for Tony DiMattia, despite Darland's gain from diamonding the south end of the speedway, every time Kevin would add to his advantage with a smoother sweep of the north. The People's Champ did what he needed to do to hold back the advances of Grant, who settled for the show position. Defending USAC champ Chris Windom started seventh and collected fourth place funds, with eighth-starting Kyle Cummins (EZR 3C) finding fifth, dampening his Eberhardt-Zirzow DRC chassis with Benic Enterprises-tuned Pro shocks for the first time this season. Carson Short started and finished sixth and was chased by C.J. Leary (Pedersen 4P), Thomas Meseraull, Logan Seavey (Briscoe 5), and Jarett Andretti. So hard to take my eyes off the battle for the lead, I tried to keep at least one eye on the scrum for sixth on back, as a handful of guys were going at it hot and heavy for the entire distance. As I like to say, it was just another Sunday night in Kokomo, treated to an exciting feature filled with the country's top talent, exiting extremely satisfied around 9:30 PM.
Other than DiMattia's dump, the only other serious calamity came at the start of the third heat when pole sitter Stevie Sussex (Burton 04) had an intimate encounter with fellow front row mate Justin Grant. Sussex inverted directly in front of my backstretch grandstand spot, introduced to the opposing vantage point courtesy of track ambassador Brent Goodnight. After an extensive surface revamp from Reece O'Connor, a 15-car B-main saw local boy Parker Frederickson pound the rear of Stratton Briggs as Brian Hodde was waving the checkered flag. In that 12-lap dash, Clinton Boyles topped 12th-starting Sussex, 13th-starting Joe Stornetta, Matt Goodnight, and 9th-starting Tyler Hewitt.
Kokomo's next event is BC's Indiana Double on the Sunday night of the Indianapolis 500, featuring wingless sprint cars. One week later, June 3rd is the highly-anticipated Indiana Midget Week finale, offering local wingless sprint cars as well. One week later, it's Kids Night and the Dave Crow Classic, again highlighted by unsanctioned wingless sprints.
After the weekend sweep and four wins in a row, the question remains: can anyone stop the extensive Indiana spring cleaning exhibition being conducted by Kevin Thomas, Jr.? With USAC backing courtesy of Richard Hoffman's Mean Green money plus local support from Joe Dooling and Brodie Hayward, funds, inventory, and quality of components do not appear to be an issue. Completely clicking with setups being applied by his dynamic duo of Jones and Alexander, just like a 100-car freight train, this combination will be difficult to stop. With the recent announcement of Thomas's assumption of driving duties of Dooling's 63 midget, the sky appears to be the limit at the moment.
Unless it's my two vehicles, I have to say I'm not a huge fan of spring cleaning, as it always seems to be an arduous chore. But when you're dominating the Indiana bullring scene, it has to be an entirely different story. Just ask KTJ, who is at the top of his game and absolutely loving life while he's busy cleaning up.
Volume 20, Number 2
Triple Treat
Pick just about any sport and the factor of three causes quite a stir.
Hockey's hat trick, baseball's triple play, and basketball's three point shot are prime examples, as are horse and auto racing's Triple Crowns. Speaking of the latter, the most significant and sophisticated version consists of the Indianapolis 500, 24 Hours of Le Mans, and the Monaco Grand Prix. Such a rare feat, after all these years Graham Hill is still the only one who has claimed all three contests. Indy car's Triple Crown (500 milers in Indianapolis, Pocono, and Ontario/Michigan/Fontana) is once again extinct, but Al Unser's 1978 sweep is still an impressive accomplishment some 40 years later. Closer to home, we all know that entry into USAC's exclusive Triple Crown club requires championships in each of its premier open wheel divisions. Six men have done the deed, but 23 years after the fact it is still unfathomable how Tony Stewart managed to take three titles in one singular season, as back in 1995 USAC's midget, sprint, and Silver Crown divisions had several scheduling conflicts that forced Tony to pick and choose which shows he would have to miss.
Although this final weekend of April 2018 may not be remembered in the same manner as any of the aforementioned titanic triples, race-starved Hoosier open wheel fanatics were finally feeling satisfied, as the combination of picture-perfect weather and a trio of home state USAC events was noteworthy. Selfishly speaking, this was a rather significant triple dip, leading off with a Bloomington battle that introduced the wild world of automobile racing to my nephew's seven-month-old son. Perched high atop turn four while wearing ear muffs, Graham was awake and alert from hot laps to feature conclusion, making for a fifth generation of the Oldham family who has been unfairly influenced by the intoxicating audio of ear-piercing engines. Wondering if he will actually enjoy this activity as he grows older, I speak from experience when stating that even if you are into other things, racing has a way of creeping into your system.
My wife Rachael and older brother Chris were along for the ride on Friday, beginning the evening with a pre-race meal at Nick's English Hut, where I painfully tested my parallel parking skills in a Ford Raptor on Kirkwood Avenue. Capping a truly fantastic day with Dave Darland's rim-riding feature win, the emotional score was his first in USAC sprint car circles since November of 2016 and 60th of his career. After starting second, Darland stayed upstairs for the entire distance but lost the lead on two separate occasions to pole sitter and bottom-feeding Chase Stockon. Adjusting his attack of the gargantuan cushion entering turn one and the fine line that existed in three and four, Dave slowly rebuilt momentum on the otherwise slicked-off surface to reclaim the number one spot from Chase on lap 13, never to be headed. His second win in as many weeks in the Scott Benic wrenched Goodnight Racing Maxim/Claxton, Dave appears as confident and relaxed as I've seen him in years. Many people may not realize, but the "Big Dog" Maxim chassis that Dave is driving is a three inch longer wheelbase than the standard configuration. Whether or not it makes a difference, it's all about being in the zone with driver comfort and confidence and given his solid run the next night in Haubstadt, I'd say that Darland and Benic might have something. High-fiving photographers after his victory lane interview with Pat Sullivan, the People's Champion was trailed by Chris Windom, Logan Seavey (up from 15th), Chad Boespflug, and C.J. Leary. Jeff Bland, Jr. (Waltz 18), Stockon, Brady Bacon (from 13th), Napa, California's Joe Stornetta (Pace 44), and Tyler Courtney rounded out the top-ten.
A truly efficient evening paired with support from RaceSaver 305s and super stocks, Bloomington's headliner checkered at an ultra-efficient 9:15 PM. Walking back down the hill to the parking lot, I couldn't help but stop to say hello to B&W Auto Mart's Bill Wever, eyeing an incident-filled Race Saver finale captured by 12th-starting Ryan Tusing (Huntley 26), who stole a win from Luke Bland with a late race overtaking.
The next day, my nephew took a day off from daycare and joined me in a journey to Tri-State Speedway, where Kevin Thomas, Jr. ran down quick qualifier (13.252) and first heat winner C.J. Leary to claim yet another USAC union at this high-banked quarter-mile paperclip. While C.J. manned the middle groove, KTJ explored the high line, eventually threading a thin needle between the front stretch wall and Leary to lead the final four laps. A big recovery after scaling the turn three bank at Bloomington to finish 16th, Saturday's victory would be his first in Mean Green 69 livery, extending the Hoffman Racing legacy even further. After Leary received a body slam from Dave Darland on lap nine, he miraculously drove the rest of the distance with a broken steering wheel and a folded Jacobs ladder, with his eight year-old steering wheel actually bending down when attempting to turn the car in the corners. Ultra-wide, tacky, and racy all night long, action was edge-of-your-seat, old-school Haubstadt and simply spectacular, with three of the four heat races won from sixth starting spot. Thomas and Leary were trailed by Logan Seavey, Dave Darland, and outside front row starter Justin Grant. Chris Windom, Robert Ballou, Kody Swanson (the pole sitter who led the first 12 laps), Carson Short, and Chase Stockon scored sixth through tenth. For Ballou, it was a big recovery after qualifying 24th and starting 20th, using his backup machine after crashing with Dakota Jackson on Friday. 31 cars assembled in southwestern Indiana, an excellent figure that outdrew both Lawrenceburg (Dickie Gaines took the $2,500 win) and Putnamville.
Sunday's Sumar Classic was a worthwhile diversion from the Pacers-Cavaliers finale, keeping me from obsessing over the dread of an upcoming stressful week of work. Impatiently sitting through nearly an hour's worth of hot laps for the 29-car corral that promptly began at 4 PM, the afternoon sun and excessive circuits burned up an initially decent surface. After a rare Silver Crown consolation race and a 15-lap modified feature, the Sumar finally took the green flag at 8:08 PM, with the second half of the 100-lap feature being played out on a rubbered-up, one groove surface. Far from ideal conditions for a hardcore fan who craves a cushion, despite the five cautions and two red flag periods (Joss Moffatt and Jacob Wilson), the feature action was actually quite eventful and entertaining, as the top spot was officially exchanged seven times between five different drivers, namely: Jerry Coons, Jr. (1-10), C.J. Leary (11-35), Justin Grant (36-69), Shane Cottle (70), Grant again (71-76), Kody Swanson (77-83), and Grant (84-100). For Grant, this was his second career Silver Crown score, redemption for two years ago when he had the car to win this same Sumar Classic.
Many times, the Terre Haute feature lead was exchanged several times a lap, proving once again that USAC racing can make lemonade from a sack of lemons. The most significant moment of the contest came on lap 84 when Cottle's turn three suicide slide from third to first speared Swanson's left rear. The contact ended Shane's evening while Kody's DePalma 63 squad was forced to swap rubber, driving through the field to eventually claim second. A complete rollercoaster of a Sunday for Swanson, his Bob Hampshire-led bunch exchanged engines after hot laps and did not take a qualifying lap. Relegating them to the consolation race in which they began last (12th) and finished 2nd, they eventually rolled off 18th for the finale. Despite my disdain for rubber-down conditions, after reviewing the video highlights a day or two later, the frustration and struggle was indeed worth it. The final results had Grant topping Swanson, quick qualifier Tyler Courtney (recovering from an early spin in the Lein 97), Chris Windom (jumping into Bill Rose's 66 after hot laps), and C.J. Leary. Positions six through ten were taken by Shane Cockrum, Jerry Coons, Jr., Joe Liguori, Johnny Petrozelle, and Neil Shepherd (after starting 23rd).
Going back through my weekend notebook, Friday's Bloomington battle offered 28 USAC machines, happy with the number but truthfully hoping for more. Perhaps the most surprising entry came from North Carolina's Johnny Petrozelle, who was in the state for Sunday's Silver Crown chores but brought his sprint car for Friday and Saturday too. Winged or wingless, dirt or pavement, Petrozelle can be seen racing just about anywhere. Johnny's best result from the weekend was ninth at Terre Haute after missing both Friday and Saturday features. Saturday, he was in a position to claim the final transfer from the semi-feature until Tyler Thomas's last turn, last lap effort removed them from contention.
Taking quick, informal strolls through Bloomington and Haubstadt pit areas, I spotted Brady Short turning wrenches on Logan Seavey's Briscoe Racing number 5. So odd not to see him in action at his best two speedways, each night Short was occupied on the car so I didn't have a chance to ask how many times we'd see him behind the wheel this year. For now, his focus is on getting Seavey to the front, accomplishing just that this weekend. The defending POWRi midget champion, Logan had only raced a sprint car at Bloomington on one occasion (last August) and had never raced at Haubstadt, but you'd never know it as he was fast, aggressive, and patient, most evident at Bloomington where he picked off many cars early around the bottom lane.
Making it an official start to the racing season by saying hello and shaking hands with Bloomington, Indiana's Dan Hetser not once but twice this weekend, I also had a chance to catch up with North Vernon, Indiana car owner Hank Byram, who suffered a heart attack five weeks prior. A fairly serious ordeal in which he had 100% blockage, luckily Hank's wife was home at the time and was able to rush him to the hospital. Manning the four-wheeler at Bloomington and Haubstadt, Byram said he's feeling fine, attending physical therapy sessions three times a week for the next eight weeks. Tim Spindler is still turning wrenches on Hank's Rock Steady Racing Mach 1, and the team still looks solid with new driver Kody Swanson. Utilizing a Bloomington provisional after missing the feature transfer by one spot to Stevie Sussex (Burton 04), they began from Haubstadt's pole and led the first 12 laps, one of the rare times for Kody to make a Tri-State appearance.
Kyle Cummins and his Eberhardt-Zirzow Racing team endured a frustrating weekend. After breaking a spark plug in Bloomington qualifying, Kyle timed 18th and wound wind up 14th in the main, far from meeting their elevated expectations after winning a local feature on April 13th. As for Saturday's results at his home track, he qualified fifth but couldn't make any moves in his heat after unhooking the sway bar from his DRC chassis. Relegated to the semi-main, he made the cut and would eventually start the 30-lapper from eighth. But, an early incident would send him on his side, restarting to claim a sub-standard 18th.
Tyler Thomas and his Michael Dutcher Motorsports team had an eventful weekend for sure. After qualifying quickest at Bloomington (10.954), Tyler finished 12th after starting 7th. Eighth-fastest on Saturday, everything unraveled in their heat after a last lap slide job from Chet Williams. Tyler attempted an immediate crossover but the two locked wheels, with Williams winding up on his side. After Chet was righted, an angry Tyler promptly fed him a wheel while idling under caution and was ordered to the pit area by USAC official Levi Jones. After a few heated words were exchanged between the two teams, the drama was far from over for Thomas, who spun in the semi-feature and was forced to rally from the rear. A last turn, last lap lunge at Johnny Petrozelle resulted in contact that kept both from earning feature starting berths. Thomas popped a provisional pass but could only muster 22nd in the main. As noticed in Lincoln Park Speedway results the next Saturday, Justin Peck occupied the seat in the 17GP.
While making the Haubstadt rounds, I learned that Frankfort, Indiana's Brian Cripe would be assisting Dan Pace and his driver Joe Stornetta at the following weekend's events. While speaking to Cripe's entourage that consisted of son Kevin and Rodney Reynolds, we observed Chad Boespflug and engine builder Jeff Claxton's last minute thrash to troubleshoot the under the hood issues. After qualifying seventh on Saturday, Chad missed the heat race cut and dropped out of the semi-feature while operating in second. Boespflug and Claxton were unable to solve the mystery, as the number 98 failed to take the green flag after using up a provisional pass.
The Sumar Classic represented a respectable field of 29 entries that contained some interesting combinations, with many names from the past appearing in the pit area. Two-time Silver Crown champion (2012 and 2013) and former Sumar Classic winner Bobby East was tending to the pristine Beast chassis belonging to long-time endurance racer Chris Dyson. In addition to his father Terry, Neil Shepherd had long-time Tray House mechanic Chuck Castor spinning sockets on Neil's new DRC while across the aisle, House was calling the shots on Travis Welpott's DRC. Once Chris Windom climbed into Bill Rose's Maxim after punching a hole in the block of his Nolen Racing 17, I observed the assistance of veteran Bloomington and Paragon speedway competitor Buddy Cunningham. As he's done the last few years, former midget racer and longtime Indycar mechanic Dennis LaCava directed Justin Grant's drive in the Hemelgarn DRC/Ford, with assistance from former Ray Kenens helper Jeff Lanam. Current Kevin Thomas, Jr. crew chief Davey Jones presided over the entry from Binghamton, New York's Coleman Gulick, with the brand new Mach 1 chassis sporting "Nut Up and Out Ball 'Em" on its sides. Nut Up and Out Ball 'Em is a new sportswear company brought to life by the Iceman himself, Coleman Gulick.
Having only attended one prior racing event in 2018, three races in three days pushed me closer to being in "race shape", as energy levels and enthusiasm always seem to be greater when auto racing options are available and exercised. Three separate drives to and from home resulted in 12 hours of windshield time but along the way I enjoyed some rather outstanding racing, not to mention an extra-special family moment on Friday, a gorgeous Saturday afternoon drive down 67/57/50/241/41 (with a brief stopover in Washington at Mason's Root Beer stand), and a relaxed Sunday afternoon spent in solitude at the Action Track. Although not quite as rare as I initially believed, this USAC Hoosier weekend triple was still a treat, once again reminding me of the fortunate feeling that comes from living in this epicenter of incredible open wheel activity.
Volume 20, Number 1
Back in the High Life
Over time, a significant amount of hot air has been expelled when speaking of Indiana weather inconsistencies. But, the truth is, people have had a legitimate reason to start a conversation with this subject these last few weeks. Weird, wacky, bi-polar, or whatever you want to call it, more often than not this spring season has been cold and wet, shaking my head as I wonder if we might just be transitioning from winter straight into summer.
Feeling like it was ice ages ago, Saturday, October 21st of 2017 was my most recent racing outing and after enduring an unusually painful off-season punctuated by a second bulging disc in my lower back and far too many stressful weeks at work, I patiently awaited the commencement of the Indiana open wheel calendar for the sole purpose of feeling alive once again. Unfortunately, someone forgot to remind Mother Nature that it was time to switch gears, as my March motorsports outdoor activities on the 23rd, 24th, and 31st were nixed well in advance due to unfavorable forecasts. Proving that this harsh weather was no fluke, the first full weekend in April wasn't any better, as the 6th and 7th were also a no-go. No doubt the oddest spring season that I can remember, ten inches of wet, heavy snow blanketed certain sections of the Indy area on March 24th. Only needing a couple of days to completely melt, once again a few more inches of accumulation came on consecutive Sundays: April 1st (Easter) and the 8th. I can't tell you how unusual it was to use a brush and ice scraper on my car so late into the year, and after missing out on another big Saturday (April 14th) in which all five Indiana open wheel options were washed out, snow was once again an issue on Monday April 16th.
Somehow, Indiana raceaholics earned a rare reprieve from all this insanity on Friday April 13th, with both Kokomo and Bloomington Speedways opening for 2018 business. Choosing the Kokomo Grand Prix's mouth-watering menu of USAC midgets and unsanctioned sprints as my initial outing, never have I started my season in K-town, always associating openers with USAC at Eldora. But ever since the Big E gave up on hosting Midwestern lid-lifters, North Vernon, Brownstown, or Lawrenceburg have played the part. Looking back through Excel spreadsheets showing my accumulation of racing contests, April 13th is the latest date for my first event. As they say, there's a first time for everything.
Exiting my employ at 5 PM on a Friday, my nephew was along for the ride, arriving just in time to hear the heavenly hum of midgets warming motors. Since becoming a father to son Graham Frederick last September 18th, Danny's anticipation for live automobile action has been infinitely greater than mine, so he too was loving this sudden respite from reality.
As I begin my 20th consecutive season of authoring articles for Allan Holland, with pen and paper in hand I made the climb to my usual section B vantage point. And much like the lovable accountant Norm Peterson from Cheers, it felt fantastic to encounter all those familiar, friendly faces who knew my name. The positive feelings generated from finally getting out of the house and doing something different were just so surreal, as all night long I was unable to comprehend that this special day had actually arrived. Not only was it the first race of the year, but as an added bonus it just so happened to be a midget and sprint car doubleheader at Indiana's baddest bullring. Go ahead and pinch me now, because life doesn't get much better than this.
Blessed with a quality-filled field of 34 midgets and 23 sprints for this ideal twin-bill, double-dippers included Kevin Thomas, Jr., Tyler Thomas, Dave Darland, C.J. Leary, Brady Bacon, and Chris Windom. Perhaps the most surprising sight was KTJ's sprint car: a Dooling/Hayward 63 which a few weeks ago had been mothballed for financial concerns, as per the team's press release. However, this particular piece appeared to be a DRC chassis, not the Spike that the team's former shoe Brady Bacon flogged in Florida. Arriving as cars were on the track and without any downtime to investigate, at the minimum I learned that this collaboration is only applicable for non-USAC unions. Of those doing the double, special midget appearances came from Windom, Leary, and Darland. Windom was once again wheeling a Baldwin Spike-Ford, but a half-spin in his heat resulted in a centerpunch from Justin Grant, ending his evening earlier than planned. C.J.'s Topp Motorsports Beast was powered by a Honda that was constructed by Topp Performance Race Parts (formerly Gaerte Engines), with plans to sell the piece as an affordable alternative to Toyotas, Mopar SR-11s, and Esslingers. Not the best advertising for their new product, Leary failed to crack the feature lineup. In a second BT Machine Spike/Esslinger, Darland needed the B to make the A, tipping over but returning to collect 13th.
Having caught a little of the Du Quoin opener online, I was at least familiar with a few of the new-for-2018 midget combinations in this ultra-healthy accumulation. Seven of the 34 came from the Keith Kunz corral, led by defending series champ Spencer Bayston. Also returning to the KKM fold were Ryan Robinson, Tanner Carrick, and Holly Shelton, with DQ winner Logan Seavey, Tucker Klaasmeyer, and Sam Johnson serving as new additions. Bayston and Seavey are more than capable of claiming their share of the limelight, but the fact that the other five are still unproven commodities gives hope to the rest of the competitors. Clauson-Marshall Racing again carried three cars, with Angola, Indiana teenage sensation Zeb Wise joining Tyler Courtney and Justin Grant for the national tour. Five pairs of entries came from Petry-Goff (KTJ and Jerry Coons, Jr.), FMR (Brady Bacon and Kyle Craker), BT Machine, Tucker-Boat (Chad Boat and Zane Hendricks), and Alex Bright (with Andrew "Layser"). Continuing a deuces wild theme, both Davey Ray (Chase Jones and Matt Moore) and Rusty Kunz (Thomas Meseraull and Brayton Lynch) oversaw entries from two separate squads.
The sprint car side of the ledger enjoyed its usual assembly of stout contestants, missing the Spencer 66 (Josh officially retired and sold his equipment), Hazen 57 (Paul's driver Clinton Boyles was in his family-owned ride), Topp 4, and Clauson-Marshall-Newman 7. Trevor Kobylarz and Rod Colburn made long hauls to serve as surprise additions, with everyone earning A-main passes.
Continuing the trend of Kokomo Speedway improvements since the O'Connor family took control for the 2004 season, the most noticeable change from 2017 was the addition of state-of-the-art Musco lighting, replacing the poles and structures installed during the Kent Evans era. Offering a completely fresh perspective on the playing field, the bright lights showcased massive cushions on both ends, enhancing the track's action-packed bullring theme. Pre-feature for both sprints and midgets, a spectacular light show was offered as drivers slowly circled the speedway, with the LED bulbs on the six poles flashing on and off in psychedelic succession. Much like my trip here in May of 2005 when the current layout was introduced, the upgraded lighting made me feel like I was visiting this place for the first time. Unaware of the cost of this particular project but knowing it wasn't cheap, between last year's back stretch grandstand erection and these lights, it is comforting to know that the O'Connors are willing to heavily invest in their facility. Signaling to me that they aren't going anywhere anytime soon, if you are a diehard fanatic like me, then that's certainly a good thing.
Thoroughly enjoying the thrilling finales for both classes, the heats were quite entertaining too, particularly the midgets. Justin Grant's run from the rear to third after his incident with Chris Windom, the crossover volleys between KTJ and Courtney (exchanging pleasantries afterwards), and the final turn, final lap overtaking for fourth by Bayston over Darland proved that Kokomo is made for midget racing. Watching these preliminaries with the original Kevin Thomas, Kevin relayed that his former car owner Hank Byram had suffered a heart attack over the off-season. I wasn't able to make it to Brownstown the next Friday to see if he was in the pit area with his driver Kody Swanson, but here's hoping Hank is enjoying a speedy recovery. Speaking of health concerns, KT's former midget car owner D.O. Laycock (both winners of the 1997 Kokomo Wolverine Midget Nationals) was at a routine doctor appointment on Friday April 20th but soon learned that he desperately needed a pacemaker and defibrillator installed. Thankfully, the procedure was successful and Laycock made it home the next day, but he missed the Lincoln Park Speedway opener. Sometimes, there is more to life than racing…
But in getting back to Kokomo's Grand Prix, absent of this type of entertainment for six months, I was back in the high life again. The same could be said for feature winners Chris Windom (sprint) and Tyler Courtney (midget) as they returned to their lofty perches in the open wheel ranks. For reigning USAC sprint car king Windom, it was his first Kokomo sprint car victory since July 3rd of 2017 and first sprint car score of any kind since September 15th of last year, once again working the pedals for Kenny Baldwin.
Beginning with the 25-lap sprint conclusion, pole sitter Kevin Thomas, Jr. beat fellow front row mate Windom to the top of turn one, but Chris countered with a surprise turn three slider that was immediately returned by a KTJ crossover. Fourth-starting Dave Darland (Goodnight 36D) used the bottom of turn one to bag second, only to give up the spot to Big Daddy one lap later. As the top three worked in close proximity, third-starting Bacon (fast qualifier at 13.172 in his own 99), fifth-starting Boespflug, and sixth-starting Jarett Andretti quickly joined the party to make it a six car congregation up front. While Brady applied heavy heat to Dave, Chris did the same with Kevin. Near the halfway mark, the lead tandem toiled in thick traffic, soon seeing a Windom toss a north end bomb that was quickly crossed by the Alabama assassin. Wheel-to-wheel at the line with 11 to go, Chris caressed the gnarly cushion and snagged the premier position for good. After Adam Byrkett clipped a turn four infield marker tire and inverted, a four lap dash saw Windom successfully fend off a ferocious Thomas to claim opening night honors. Bacon stole third from Darland on the final go-round, as Andretti rounded out the first five. Positions six through ten included Boespflug, Tony DiMattia, Tyler Thomas (Dutcher 17), Cottle (Shane) and Cottle (Colten).
As for defending Smackdown champ Courtney, after missing the feature at the Du Quoin opener, he was back on top of the USAC world with this Kokomo collection after having claimed two of three USAC sprint car opening rounds in Ocala. Tyler began the midget feature fifth after clocking second-best to teammate Justin Grant (Justin's 13.154-second lap was just off Rico Abreu's record of 13.009.). Terrific tyro Logan Seavey led the first nine laps from his outside front row start in the Kunz 67, initially dipping and diving underneath Kevin Thomas, Jr., whose turn three/four first lap slider exceeded the massive berm and dropped him to fifth. Seeing red after a lap one incident involving Gage Walker, Chase Jones, and Matt Moore, Seavey paced the field until ruby bulbs burned for Dave Darland and Jerry Coons, Jr. Restarting Seavey, Bayston, Courtney, Boat, and Grant, Bayston's turn one grenade launch opened the door for Courtney in turn three, stealing the top spot with a slick slider. Immediately turning to the bottom of turn one, Sunshine ruled the next two tours before a relentless Seavey swept past in turn three. Feature intensity amplified from red to white hot for the next pair of circuits, as Tyler and Logan exchanged the premier position on five separate occasions. Courtney's crossover of a Seavey slider through turns three and four wound up sealing the deal, leading the last 18 laps. But, it was far from simple task, first having to avoid a scary backstretch tank-slapper from Chase Jones and then a green-white-checker finish after a Tyler Thomas revolution. Tyler held off a hard-charging Chad Boat to take the 10:05 PM checkered flag, who elevated from eighth and made big gains in the final third of the contest. After starting seventh, last year's Grand Prix sweeper Brady Bacon settled for third, with Bayston and Grant rounding out the first five finishers. Scoring sixth from 12th was Zeb Wise, who topped throttle-stomping Seavey who backed up to seventh. Thomas Meseraull charged from 16th to 8th, with Ryan Robinson and KTJ claiming 9th and 10th. If Kokomo's Grand Prix is any indication, with Logan Seavey being a full-time competitor in 2018, I expect massive doses of midget excitement this season.
As is always the case with an excellent evening of racing action, gratification is only temporary, thoroughly disappointed that my craving could not be satisfied with a second helping of Saturday Grand Prix action. Kokomo's next event occurs on Sunday May 6th, with a trifecta of sprints, midgets, and hornets accounting for the King of Kokomo. Knowing that my next weekend (April 20th and 21st) was committed to a wedding of two close friends, I'm crossing my fingers in hope that the weather holds out for an upcoming USAC weekend triple in Bloomington, Haubstadt, and Terre Haute. Savoring such a brief encounter of being back in the high life, it's only natural to yearn for a longer stay.
Volume 19, Number 14
End of the Line
Given enough time, transformation is all but inevitable for even the most stubborn, change-averse individuals.
I offer living proof of such a stance, as for the longest period I was the pickiest eater known to mankind. Remembering as a six-year-old my refusal to try turkey at Valparaiso's legendary Strongbow Inn, I recall my ridiculous request for a McDonald's hamburger and French fries instead. These days, I still suffer from the occasional fast food craving, but my current day quest for sampling the most unique, high-quality offerings from mom and pop eateries shows just how much my culinary choices have expanded.
Likewise, having grown up under the influence of a father and three older brothers who were well rooted in road racing (Can-Am, Trans-Am, and Formula 5000) and the Indianapolis 500, after exposure to midgets, sprints, and champ dirt cars in my impressionable teenage years my auto racing interests soon evolved as well. Aside from the 500, short track open wheel stuff became the only action that moved my needle. Decades later this remains true, but an overexposure has no doubt diminished my passion, so much that the recent season-ender at Tri-State Speedway didn't invoke the same level of despair that it would have some ten or twenty years prior. Although I do not relish the forthcoming freeze, stress of the holiday shopping season, and preparation for year-end tasks at work, the end of the line for outdoor racing action did not imply the end of my world. As I have matured, much like my move away from a McDonald's menu I have found numerous ways to fill my free time with non-racing activities.
But, no matter how hard I try to back down from a full-fledged auto racing agenda, my last seven months have completely revolved around satisfying my need for speed. However, it's much more than a racing fix that is gratified, as each one of these 54 evenings I spent away from home in 2017 has done its part to maintain my sanity and provide for a positive spirit, truly treasuring these mini-vacations from my accountant mindset. However, to fully appreciate and ultimately miss this all-encompassing endeavor, I must endure an extensive hiatus. That hiatus officially began when I awoke to bright sunlight on Sunday morning October 22nd, several hours after I completed the lonely three-hour tour from Haubstadt, with satellite radio serving as my only companion.
When reviewing the 2017 slate, although by now it seems to have expired in just a heartbeat, it was in fact a long road traveled. As much as I was not ready for my racing calendar to commence, the rainy return from that initial Brownstown attempt was one that I will not soon forget, stunned and sickened by the tragic news of Dave Steele's incident. After losing Greg Staab earlier in the month, as a husband and father to three little ones Steele's abrupt departure was especially difficult to comprehend and process. After that incomplete opening round, one by one these jam-packed weekends managed to vanish into thin air. Early April conditions were surprisingly dry, not missing any of the extensive action until the final weekend of the month. Despite some strong storms in the days leading up to the Indianapolis 500, thankfully all events were run except for the Hulman Classic and Hoosier Hundred. A grueling but memorable one-day ride to and from Knoxville for USAC sprints and National Sprint Car Hall of Fame induction ceremonies was immediately followed by Indiana Midget Week, which without utilizing vacation days simply wore me out. Attending only three contests between Midget Week and Sprint Week, (Paragon's Amati, Brownstown, and Kokomo), unusually wet weather tried to put a damper on my favorite time of the year. A post-Sprint Week sprinkling of special excursions to Liberty and Waynesfield added seasoning to a late July/early August itinerary and before I knew it, the four fabulous days of Kokomo's Smackdown had arrived. Labor Day weekend's journey to Du Quoin was followed by the Speedrome's 3-Hour World Figure 8 and a trio September USAC weekends that of course included the Four Crown. Since then I have counted down to this very conclusion, so here I am discussing these final flings. Some 68 balmy degrees at race time for Friday's Kokomo Klash, the continued warm weather is what made the season's end not seem fathomable. Other than a few shows in April and May, I was never layering up with heavy clothing on a regular basis. Selfishly speaking, who says global warming is a bad thing?
If there had to be an end of the line for these outdoor activities, I can think of no better venues in which to put an exclamation point on 2017. Attending a pair of programs at arguably the nation's top two bullrings, the speed plants in Kokomo and Haubstadt are unfortunately separated by some supreme distance: 221 miles or 3 hours and 34 minutes of windshield time, which is a lot for the long and tall Hoosier state. Counting this as my 14th Kokomo appearance of the season due to its close proximity, the Klash has quite often served as the end of the racing line since its 2007 inception.
And as expected, Kokomo's pit area collected a massive amount of machinery, 127 machines on Friday and more than double that figure for Saturday's stock-car exclusive (264). As for Friday, I focused on the 35 sprints and 23 midgets in attendance, loving the damp yet smooth surface that early on held a hue of dark chocolate. After a 5:20 PM exit from my Castleton employ, while changing into dirt track attire along the old Pennsylvania Railroad Chicago to Cincinnati mainline, I listened to the first of four group hot lap/qualifying sessions that lined up heat races, this time straight-up.
With fast guys beginning up front, sprint and midget heat races were essentially runaways, with all but one winner coming from the front row (Chris Windom). However, the action beyond second firmly held my attention. Especially noteworthy was a super-stacked first heat in which Tyler Courtney, Chad Boespflug, and Shane Cottle sliced and diced for third, ultimately sending Shane to one of two B-mains. Ted Hines made the most of his rare appearance with a ninth to third surprise in heat two, which had 2014 Klash conqueror C.J. Leary leading until his 1 Way Technologies power plant went up in smoke, ending his evening and necessitating a swap in time for a Tri-State tow. David Hair's horrendous fourth heat sprint car crash represented the first of two Friday red flags. A shining representative of a shoestring racer, Hair was setting up for turn three but scaled the cushion and kissed concrete, with the resulting rebound returning an extended set of gyrations that crushed the front half of his nearly-new mid-tube CS-9 chassis and expelled an immense amount of methanol from its tail tank. Prepared to do double-duty with his midget, David was otherwise ok but was forced to spend the rest of his night readying the tattered remains for transport.
Dallas Hewitt (Keen 18) was the second to spill, unable to avoid a first lap fracas in the first sprint B that was easily claimed by four-time track champion Cottle, who put a half-track distance between himself and Matt Goodnight. With veteran socket spinner Scott Benic continuing to call the shots, Goodnight grabbed five spots to edge BOSS big shot Dustin Smith for the other A-main ticket. Travis Hery and Lee Underwood escaped with the remaining two feature spots from the second B.
The four sprint heat winners were Dave Darland (Hery 40), Chris Windom, Kevin Thomas, Jr. and Kyle Cummins (own 3c) and with the zero inversion format, they would occupy the first two rows for the 25-lap finale. Slick to a thin cushion in one and two and with the preferred lane up top on both ends, it came as no surprise that Darland would dominate the majority of the affair, as these conditions favored his usual high-side heroics. However, the key word was majority, as much like Waynesfield's Jack Hewitt Classic he would lead all but the final corner of the final lap, choosing to follow Jadon Rogers around the top side of turns three and four while Tyler Courtney (Topp 23) early-apexed with the now-patented diamond maneuver. Tyler just nipped him at the line to steal the victory, his third in a row at this high-banked bullring after tallying the final two Smackdown features. The late-race overtaking continued Dave's close-but-no-cigar theme this season, having won his share of features (six) but also losing several for assorted reasons. Yet another barnburner of a Kokomo finish, I've lost count of just how many since the 2004/2005 reconfiguration can be categorized in this manner, but it's a lot. It's no wonder so many out-of-towners plan their time off around this speedway's schedule, giving us more than ample reason to make return trips. I imagine we'll all be getting our asses to Kokomo in 2018, correct?
Courtney opened ninth and immediately stormed to fourth, becoming one of four foes in the bitter yet highly entertaining battle for runner-up rights. Using all avenues to obtain second, in the final five laps he eliminated the gap to Darland's rear-bumper, making up some serious ground in the final two tours. While Double-D had to swallow the bitter second-place pill, Cottle again put his incredible talent on display with his surge from 17th to 3rd. Just as I had written in 2003 before he landed the Monte Edison ride, I maintain that Shane is one of the most overlooked, underrated chauffeurs in any discipline. Windom and Thomas completed the first five finishers. Jarett Andretti, Scotty Weir (Gass 17), Cummins, Tyler Hewitt, and Boespflug bagged sixth through tenth.
As for the 25-lap midget main event, after such a sterling sprint car performance it was all Shane Cottle, securing his second Kokomo Klash midget victory for Wisconsin's Bill Ecker. Over the years, this combination has always shown speed at this exact event and when they've managed to finish they are indeed effective, having also claimed Klash hardware in 2013. Leading the entire feature distance around the infield marker tires, Shane's only threat came in the form of a pair of caution flags. On both occasions, the 2005 and 2006 Indiana Midget Week champion had no problem putting distance between himself and second place, serving up a clean sweep of the evening's proceedings after qualifying quickest and winning his heat race. The battle behind Cottle was considerable, mostly involving third heat winner Zeb Wise (Clauson-Marshall 39), Chris Windom (Baldwin 5), second heat winner Justin Peck (Arnold 43), Jerry Coons, Jr. (Petry 25), and Gage Walker. With ten to go, Wise spun through three and four but would battle back to earn a respectable finish. Top-five finishers behind Cottle were Walker, Windom, a late surging Landon Simon, and Coons. Peck, Chett Gehrke (from 14th in Don Moore's 10), Wise, Kyle Simon (teammate to Landon), and Nick Speidel rounded out the top-ten.
While mini sprints and thunder cars carried out their heat races, I seized my second to last opportunity to roam the pits and encountered quite a few names from the past. 78-year-old hall of fame mechanic and two-time USAC sprint car champion car owner (1974, 1976) Steve Stapp might have been utilizing a walker to get around, but that didn't stop the former driver from strapping into a sprinter earlier this year at Putnamville, much to the dismay of his daughter Susannah. You just can't keep such a strong racing spirit down for long, as evidenced nearly six years ago when Steve miraculously survived a collision with a freight train in Brownsburg, Indiana. Tossed from his RV some fifty feet and winding up with a pair of broken legs, broken ribs, and a punctured lung, one would have thought that could have been the end of the line for Stapp's racing involvement, but nothing could be further from the truth when he became a 2017 Silver Crown fixture with rookie driver Joss Moffatt. Having bumped into the Big Bopper earlier this year at a Pete Rose Live event in Carmel, Indiana, he talked in detail about his high school days in Southern California when he played baseball with pitching great Don Drysdale. There are few people who have a sharper memory or more colorful stories than Stapp, so naturally I take every opportunity to listen to him speak.
Former KISS coordinator and long-time track scorer Dawn Moss was hobbling around Kokomo with the aid of a small cart after a recent toe amputation. Through family and marriage, she has been around racing for her entire existence and even though her involvement may have decreased, of course you cannot keep her entirely away, re-emerging these past two seasons by working the Terre Haute Action Track pit gate for Bob Sargent's Track Enterprises. One may boast about their dedication to drive, wrench on, or watch sprint cars, but Dawn truly takes the cake as more than once she has been forced to hitchhike from her Speedway, Indiana home just to work the booth at Terre Haute! Now the proud owner of a Toyota Yaris, despite the health scare she is back in business and doesn't have to take such a dangerous route to arrive.
Now 79 years of age and just four years removed from the seat, "Hurryin" Hank Lower was spotted near Paul Hazen's 57. Cautioning that he wasn't quite done with his racing endeavors, thanks to friend Fred Otterbein the northern Indiana legend was able to locate, purchase, and restore his square tube modified from the 1970s in which he claimed three track titles at Butler Motor Speedway (1977-1979). The four-time Sprints on Dirt champion (1982, 1983, 1986, and 1994), one-time HOSS champion (1997), USAC feature winner (Butler 1990), and World of Outlaws quick timer (Lakeside 1991) has been winning in his old modified at Angola, Butler, New Paris, and Winchester, competing with groups based out of Ohio (VAR) and Michigan.
Demotte, Indiana midget campaigner Kurt Mayhew was unfairly introduced to the sport by growing up on a property adjacent to Illiana Speedway in Schererville, Indiana. I knew Mayhew had been involved in midget racing for as long as I've been a fan, but when asking just how long he's been squeezing through the roll cage, Kurt commented that it was 43 years ago (1974) when he first earned the opportunity to pilot his brother's midget at Little Springfield, towing all the way to Sandusky, Ohio for his second outing not long after. Piloting his 2014 DRC/Jim Stewart Honda to an 11th place finish in Friday's feature, these days Mayhew is a Badger series regular, having scored two series wins in 2016 (Farley, Iowa and Sun Prairie, Wisconsin) while on his way to an outstanding second-place points production. Although his best effort in 2017 has only been a third, the fact that he has stayed loyal to a sport that has chewed up and spit out its fair share of competitors is no doubt amazing. Kurt's lone Kokomo help came from Shelby, Indiana's Tim Argus, a former Dave Fuhrman assistant whose passion continues to burn bright.
Another highlight from this Kokomo curtain call was getting to speak with long-time Ludlow, Illinois sprint car combatant Al Thomas. Celebrating his 83rd birthday in August, "Mr. T" was in action on Friday, driving his ex-Jim Whiteside/Truckers 24-Hour 2003 Dynamite chassis powered by a Foxco Chevy. Having retired from the trucking industry in 2005, Thomas still chooses to spend his days at his shop, tending to his sprinter, old car collection, and lawn mowers when not consuming cups of coffee with his legion of friends who love to stop by and chat. Like many people his age, Al receives medical exams from various doctors and each time they give him a clean bill of health, providing proof that if one stays active, it's the best way to stop the inevitable rust from forming. Although it's been a while since I've seen him in action, more often than not he stays close to home when racing, unaware that he had scored a feature win in the 2016 season at Charleston, Illinois just prior to his 82nd birthday. Happily reconfirming his status as the strongest handshake in racing, I'm convinced that there is no end of the line for Al Thomas.
Slightly shocking was the best way to describe my reaction when it was announced over Kokomo Klash loudspeakers that this could be Josh Spencer's final race in his 15-year sprint car career. When asking Josh if this was indeed the truth, his response was a definite "maybe". As I enjoyed a slice of J. Edwards cake courtesy of team benefactor Frank Daigh, Spencer's reasoning was completely responsible and unselfish: he wants to spend more time with his 2 ½ year old son LeLand and doesn't want the young lad's desires to revolve around his own racing routine. Uncertain if he wants to step away from the sport entirely, he also doesn't want to just be out there. So for now, he'll keep his equipment just in case there is a change of heart over the off-season. As for this final Kokomo performance, it started off on an extremely strong note – quick time for the fourth session and a second place run in the heat. Before firing from the outside of the fourth row for the feature, Josh was honored for his season-long second place Kokomo Speedway points standing, a proud accomplishment given the level of competition that pulls through these gates. Although his feature finish failed to produce the proper fairytale ending, if this was truly the end of the line for Josh then it was still a solid and memorable outing. In this city of firsts that has previously been blessed with an abundance of local sprint car participation, in these tough economic times when car counts remain a challenge, it would be a big blow to permanently lose the Spencer 66. But as they say, all good things must come to an end.
Post-Kokomo, I would once again be going solo to Haubstadt, the second such time in five weeks. Slightly agitated by a late start to my trip and a sore lower back after lifting a trio of bulky tube televisions for recycling, listening to a replay of Tom Petty's 67th birthday celebration for the entire three-hour tour served as some soothing medication for the mind and soul. Equally pleasing on this overcast afternoon was the Southern Indiana scenery, as the fall foliage was in full bloom while endless fields were being feverishly harvested. Maintaining a steady pace on state road 67 through Paragon, Gosport, Spencer, and Freedom, once past Worthington's congregation of power lines I angled southwest on 57. Over the nearly new White River bridge at Newberry, after Elnora and Plainville came Washington, home of four Indiana Mister Basketballs (Steve Bouchie and three Zellers) and Mason's Root Beer Stand, where I could not only stretch my legs, but suck down a delicious butterscotch shake. West on U.S. 50 to my favorite two-lane twisty, 241 zigged and zagged through Monroe City, Iona (still boasting a population of 20), and Decker, dodging combines, tractors and grain trucks before being halted by a northbound CSX freight train, the first time for such a sighting in the ten years of traveling this route. Needing twenty more minutes to reach the Helfrich farm and Tri-State Speedway, I arrived just as 27 Midwest Sprint Car Series machines were warming engines for this final 2017 Indiana outdoor open wheel installment, the $5,000 to win Harvest Cup.
Surprised that several heavy hitters from the previous evening stayed home, this particular cast of characters was slightly unusual in its non-standard names. The list included: Chase Briscoe (his first sprint start since Brownstown in June), Tyler Thomas (Dutcher 17), Jared Fox (his first wingless 410 cubic inch drive in several seasons), Steve Thomas (father Al stayed home), recent Charleston winner Mitchell Davis, Kokomo's Parker Frederickson (twice a Charleston winner in '17), and Rochester's Dave Gross. With the speedway's surface extremely greasy for combined hot laps and group qualifications, Chet Williams clocked the quickest overall time at 13.518.
Now calling Mitchell, Indiana home, Brady Short and car owner Cam Pottorff had already locked up their third consecutive MSCS title, eliminating the possibility of any championship drama. "Sweet Feet" joins Kyle Cummins as a four-time MSCS master, the most in the 16-year history of the series. Although his 2017 feature win total of seven (including one MSCS score at Brownstown) is down from years past, Brady remains the man to beat in the southern half of the state after bagging his record-setting seventh Bloomington track championship.
Three heats were held under light precipitation, with Chase Stockon, Kyle Cummins, and Carson Short claiming wins from either the first or second row. Due to four yellows, two reds, and several of the unfamiliar competitors not wearing one-way radios, heat races took much longer to complete, with restart lineups further complicated by the MSCS double-file restart routine. Inversions involved Kent Schmidt and Collin Ambrose, with Kent crushing a spun Brandon Mattox while Collin climbed Ben Knight and made heavy contact with the backstretch wall, trashing his chassis in the process. Lapping three cars in his heat, this was Cummins's last ride in Hank Byram's 3R, as he will be joining forces with Wisconsin's Chuck Eberhardt and Fred Zirzow for 2018. Byram noted that Kody Swanson would be his chauffeur of choice for next season, missing out on an opportunity to get acquainted at Brownstown's recent Fun Fest due to the lingering effects of Swanson's Four Crown concussion.
Because of the stacked first heat containing Stockon, Briscoe, KTJ, C.J. Leary, Brady Short, and Tyler Thomas plus the limited passing opportunities on a lightning fast surface, both Short and T. Thomas were relegated to B-main status after beginning from the fourth row. Of course they wound up taking two of the five last chance transfers, with Brandon Mattox narrowly edging 2017 MSCS rookie of the year Kendall Ruble for the final spot despite an oil leak/fire and a ragged setup that tilted on just one wheel.
Before I headed to the front stretch side to catch this final feature with Decatur, Illinois entrepreneur Dan Clifton, I shared a brief conversation with BOSS chassis constructor Flea Ruzic, who was here to tend to Robert Ballou's requests. Inquiring about the most unique aspect that sets his piece apart from the competition, Ruzic commented that his chassis is constructed with military grade seamed steel tubing instead of the usual low-grade chromoly. As I learned, seamed tubing is slightly more expensive, but it's 20% stronger and does not fatigue. Capitalizing on that strength, BOSS chassis are allowed to be designed a bit differently and as a result weigh less than their counterparts. It should be interesting to see who jumps on the BOSS bandwagon for 2018.
A feature inversion pill of zero aligned the 30-lap finale in the exact order of heat race finish, with the first three rows consisting of Stockon, Cummins, C. Short, Thomas, Jr., Williams, and Donny Brackett (who utilized a coil-over shock on the right rear). Twice a Tri-State MSCS victor in 2017, Stockon got the jump while Thomas toured three-wide for second on the back chute, successfully sliding Cummins for the position. However, C.J. Leary literally came out of nowhere to seize the runner-up spot on the second lap, having started seventh. With lapped traffic coming into play on the sixth circuit, Leary was ready to pounce at any moment. Aiming for the bottom of turn one on lap seven, a supreme launch off the second corner propelled C.J. to the premier position. The lead duo would play a game of cat and mouse through traffic the rest of the distance, as Leary built a full-straight advantage on more than one occasion, only to have it erased while negotiating the back markers. "Showtime" could never take full advantage of those traffic jams thanks to a miserable understeer that reared its ugly head through turn two.
At the end, it was Leary landing in victory lane for the seventh time in 2017. Stockon, Cummins, Thomas, Jr., and Briscoe (from 10th) were top-five finishers, with Williams, rookie Stephen Schnapf, Ballou, Brackett, and Brady Short (from 17th) taking sixth through tenth. Going caution-free, the thirty-lap distance on the tacky track was covered in just over six minutes, with Leary preparing to put Ballou one lap down at the conclusion. C.J.'s dominating drive was truly impressive, especially given the fact that he did so much damage around the middle to bottom grooves, which have never been his preferred plan of attack. Clearly dialed in by his Henderson, Kentucky crew chief Donnie Gentry, it's amazing to note that in all his years of competing at his home track, Donnie had never been victorious at Tri-State Speedway.
With a feature finish coming at 9:14 PM local time, given the earlier than normal hour I happily agreed to cap my season with a post-race celebration courtesy of the extremely generous Mr. Clifton. The destination of choice was the Fort Branch, Indiana institution better known as Sandy's Pizza, which has consistently been a huge supporter of Tri-State Speedway. In the 23 years that I have made this long haul, I've never visited Sandy's, nor have I ever had the pleasure of sampling their specialty. Truth be told, I loved everything about the place, especially the décor of old gas and oil signs and its proximity to the same active railroad line that had earlier halted my Haubstadt advance in Decker. With a gigantic sausage and pepperoni pizza pie taking up the entire table, our group of five, which included Mt. Zion, Illinois 600cc mini sprint racer Michael Brummit (a winged and non-winged winner this year at Coles County) was well nourished for the long ride home and had more than enough to box up for extended enjoyment. The company, conversation, and cuisine were truly fantastic, necessitating a return visit next season.
After completing my return voyage around the same 2 AM hour, home base was officially the end of the line for this racing campaign. Subsequently enjoying a few more unseasonably warm days, it seemed rather appropriate that by the middle of the next week the weather would immediately turn cold, especially now that my schedule had finally calmed down. This flip of the light switch was a distinct reminder of just how good I have had it for the last seven months, thankfully granted a substantial amount of freedom to come and go for which I am eternally grateful. Now that it's November and daylight is in rapid decline, that final weekend of racing action seems like such a long time ago.
It's been over four weeks since his passing, but I've still got a lot of Tom Petty playing through my headphones. Especially enamored with his 1991 album Into the Great Wide Open, the fifth track is entitled The Dark of the Sun for which my favorite line is: "Give me hope. Give me comfort. Get me to a better place." Ever since I was a little tyke, I never was a fan of straying too far from home but by the time I was a teenager, I had attracted an itch to soak up the addictive atmosphere of a dirt track date, which led me anywhere and everywhere. But no matter how far I traveled, my preference was to return to the familiarity of my humble abode as soon as possible. Allowing me to fully reboot and refresh, I always feel much more calm, confident, and complete after an evening's sleep in my own bed. Now that there are no more racing dates on the calendar, such a season-ending alteration of desire, drive, and taste is not at all a bad thing, as at the end of the day, it keeps me grounded in the one place where I have always wanted to be. So even though transformation may indeed be inevitable when given enough time, one obvious exception to this rule is that there will never be a better place than home. Never!
Volume 19, Number 13
Learning to Fly
What's amazing is the nearly impenetrable bubble we live in during the heart of racing season. Isolated from nearly everything that occurs in everyday society, it takes quite a significant piece of news to penetrate that protective cocoon.
After enjoying a frenetic final Friday and Saturday of September highlighted by thrilling United States Auto Club sprint car contests in Montpelier and Lawrenceburg, a Sunday to unwind felt so right, topped by a special excursion to Sundae's Homemade (79th and Fall Creek) for Apple Pie ice cream in the early evening hours. Yeah, you know it is fall when the calendar flips to October, but also when such special flavors are featured at Sundae's.
But, by Monday morning that bubble was burst with the senseless news of the Las Vegas country music concert massacre. The fragility of life was further emphasized after a text message was received in the early afternoon hours regarding the stunning news of Tom Petty's status, making for the worst day that I can ever remember for the music industry. Just 18 days shy of his 67th birthday, Tom would pass later that evening, literally on top of the world and his craft after completing his 40th anniversary tour just one week prior. Also learning that we lost engine building genius Robert Yates to cancer, October 2nd hasn't been a great day in recent years, feeling a distinct chill when recalling that this was the second anniversary of losing USAC champion and Indiana icon Tony Elliott.
A couple of years ago I managed to run across Tom Petty's exclusive channel on Sirius XM and gave it a good listen. His deep tracks and quirky sense of humor made a distinct impression, allowing me to develop a true appreciation for the man and his talent. Although I never met him in person or took the time to attend one of his shows, after becoming a loyal listener it felt like I lost a friend, as his music has served as a faithful companion in my many travels, especially when my nephew was along for the ride. Hearing endless tributes on the way home from work, it was simply too hard to hold back tears. Sure his skills as a singer, song writer, guitarist, and producer will be missed, but it was all of those anecdotes from his peers that allowed me to fully comprehend the depth of this loss. So authentic and pure, Tom never forgot his roots, generously giving back to the industry by continually lending his expertise and awarding opportunities to those needing that one big break. All these years later, he was still the same crazed teenage fan of rock and roll's origins, never once losing his lifelong passion.
A resulting five day bout with depression was drowned in massive amounts of melodies supplied exclusively by Tom Petty Radio. I would be lost without such a soothing of the soul, consistently serving as the best medicine for pulling me through the most difficult days. Guiding me through the grind of recurring accounting activities, music also motivates me to complete the most physically demanding cardio sessions. Always lost in lyrics, they often serve as the source for article themes and while trying to link Montpelier and Lawrenceburg, "Learning to Fly" clearly hit the nail on the head, thanks in part to a tip from Petty fanatic Daniel Michael Oldham.
"Well I started out down a dirty road
Started out all alone
And the sun went down as I crossed the hill
And the town lit up, the world got still
I'm learning to fly, but I ain't got wings
Coming down is the hardest thing."
Having been at this sprint car game long enough to be considered veterans, Montpelier and Lawrenceburg victors C.J. Leary and Kevin Thomas, Jr. took their lumps in their learning curves but would eventually hit pay dirt. In their process of learning to fly, Leary was a Lawrenceburg champion in 2013 and landed in victory lane after several significant 2014 shows while Thomas tallied his first USAC score in 2012 and produced double-digit wins with Mike Dutcher in 2013. But, Kevin's 2014/2015 seasons failed to match 2013 and Leary encountered issues duplicating his 2014 breakout season. "Coming down" was indeed the hardest thing for both, so difficult to regain that same lofty status. Despite the adversity, these two gunslingers had no plans of backing down, as they continue to be working on something big regarding their careers. Scratching and clawing their way back to the top, a second half of 2017 reunion with former crew chiefs (Donnie Gentry for Leary and Davey Jones for Thomas) sent them flying as high as ever, currently riding huge waves of confidence. Despite their recent success stories, they must be careful not to let this lightning in the bottle escape, as this sport can be so humbling – up one minute and down the next.
Leary started third and ran sixth for the majority of the 30-lapper at Montpelier, Indiana. Turning up the heat in the late stages by leaning against a substantial ledge, he surged from third to first on the breathtaking final lap after threading the needle between Chris Windom and Kevin Thomas, Jr. Late-apexing three and four and clipping the cushion just right, his seriously shocking score was the fifth under USAC sanction in 2017 and second in a row after claiming Eldora's Four Crown Nationals. Starting the season with Jeff Walker at the helm, all five of his victories have come since July when Donnie Gentry took over. Having enjoyed limited success in their brief 2016 collaboration with Shane Wade, this combination has proven even more potent this time around, doing all of their damage with a DRC chassis, 1 Way Technologies engine (built in Washington, Indiana by Scott Gerkin), and a set of gas Pro shocks. Leary noted afterwards that this particular chassis hadn't won all year, with Gentry adding that this car demands a cushion in order to be effective, the same line of attack that best suits his driver. Looking forward to the next night in Lawrenceburg (his favorite place to race), C.J. claimed that winning Montpelier was like "icing on the cake".
While Leary was basking in the glow, KTJ had to be miffed in failing to tally yet another triumph. Having rode the rim to circle Windom as he received the initial white flag, just as Kevin was about to take the checkered some untimely red laundry was displayed for Kyle Robbins (the fourth such occurrence on Friday). This led to a green/white/checkered attempt similar to Kokomo's Smackdown finale and this time around, it would be Windom with the turn four surprise while coming to take the white, having successfully slid Thomas. But, Chris could not keep his Baldwin DRC on the bottom of turn one, allowing Kevin to dive beneath and reclaim first. However, as the Alabama bad ass drifted high upon corner exit, an unrestricted middle lane was opened for the lunging Leary, producing one of the most dramatic and unbelievable finishes of the season. Becoming an absolute winning machine in 2017, Montpelier proved that Thomas is still human.
"Well, some say life will beat you down
Break your heart, steal your crown
So I've started out for God-knows-where
I guess I'll know when I get there
I'm learning to fly, around the clouds
But what goes up must come down."
Quick qualifier Dave Darland (up front for two laps) and Robert Ballou chased Leary, Windom and Thomas to the 9:41 PM checkered flag on the chilly Friday evening, the second USAC sprint car contest at this 114 year-old facility. For Ballou, Friday's feature was a winding road after falling from 9th to 16th fairly early. Sixth through tenth included Tyler Courtney, pole sitter Chase Stockon, Josh Hodges, Thomas Meseraull (Dutcher 17), and Colten Cottle (from 20th).
Saturday's Lawrenceburg Fall Nationals was a complete role reversal for Thomas. Third quick from qualifying and firing from the outside of row two for the $10,000 finale, he employed the outside lane to squeeze past Leary, Ballou, and Grant to lead by the back stretch. Although the box score shows that Kevin was up front for all thirty tours, he did face some serious challenges along the way. The most serious threat came from quick qualifier Dave Darland, whose Goodnight 39 was glued to a surface that was clearly to his liking: slick to a thin cushion on both ends. After starting sixth, Dave was up to fifth by lap two, third by lap four, and second by lap nine. With Thomas maneuvering through thick traffic at lap 12, just one lap later Darland had completely closed the gap. Prepared to pounce, the People's Champion suddenly slowed on the back stretch, victim of a broken u-joint. Like the air being let out of a balloon, one could sense the level of disappointment suddenly experienced by the large assembly of fans.
Justin Grant inherited second but succumbed to C.J. Leary on lap 20. With five to go, KTJ again had to deal with traffic and completely lost his large advantage. Clearing Joss Moffatt in turn three with two to go was key for Kevin, as C.J. had to wait until turn one to do the same. The end result was traditional sprint car triumph number 16 of the season for Mr. Thomas while Leary had to settle for second. After a rough night on Friday in which he lost an engine in qualifications and flipped in the feature (finishing 21st), Grant's third place had to feel like a victory, still ahead of Windom in the national point standings by 45. Pole sitter Ballou endured early contact from Leary and found fourth while Tyler Courtney again charged hard, surging from 16th to 5th. Brady Bacon, Chris Windom, Josh Hodges, Jerry Coons, Jr. (from 20th in Shawn Krockenberger's 21), and Jon Stanbrough (from 19th) populated sixth through tenth place positions.
It's been quite a September for Kevin Thomas, Jr., finding victory lane three times in California and twice in Indiana, those latter two totaling $22,500 in winnings. After being booted from the Buffalo Wild Wings winged sprint car in late March (having scored one win in six outings), KTJ clearly made some world-class lemonade from a sack of lemons, turning the adversity into a career year. The most dominant traditional sprint car shoe of the last two seasons, he has most certainly learned to fly for fairly long periods, but as Petty reminded, he ain't got wings (not yet at least). Enjoying a fairly successful Knoxville Nationals debut for Bernie Stuebgen, could he go the way of Bryan Clauson and venture into that territory once again? Either way, you know you're the top gun when USAC official Levi Jones yanks your magneto, magneto box, and takes a right rear tire sample for further examination.
Delving into details, Montpelier attracted 28 machines while Lawrenceburg's $10,000 winning carrot could only count on 24, the latter receiving competition from Fremont BOSS ($5K to win) and the final points night at Lincoln Park. Regarding the low turnout of Lawrenceburg competitors, the same old adage holds true: the more money an Indiana promoter pays to win, the less cars he gets in return. The reality is that there are more little guys than big guys and they'll end up going where they feel they can be competitive. With Jarett Andretti suffering an engine failure in qualifying and hot lap flip victim Aric Gentry doubtful (he made repairs in time for his heat), no semi-feature was necessary. Of the 28 at Montpelier, 18 dipped underneath the track record set last April by Brady Bacon. Isaac Chapple was one of them, timing an impressive fifth fastest and later scoring a semi-feature victory. Isaac is still guided by Frankfort's Brian Cripe who after all these years still enjoys needling me. Truth be told, I enjoy giving it back to Brian, and it's good to see a familiar face in a mostly foreign pit area.
Another familiar face who learned how to deal with life's ups and downs a long time ago is David Lee Darland. Proof of his longevity exists with the fact that he's attempting to win a national USAC feature for the 25th straight season. Still shining like a diamond in the sunlight, although Dave won with the USAC Southwest sprint car series earlier this season and enjoyed a highly successful July and August on a local level, he has yet to score with any of the three USAC national series in 2017. A streak that dates back to May of 1993 with his initial triumph in the Hulman Classic, how cool would it have been to see him extend it with a third Hulman Classic victory? Currently in a groove with Goodnight Racing and mechanic Scott Benic, many might remember Dave's success in Benic's 2B during the 2008/2009 seasons. And, of course there was the memorable 2010 season with Goodnight and mechanic Brian Cripe that was so unexpected. Benic, Goodnight, and Darland reunited at Montpelier and Lawrenceburg where they were quickest qualifiers and contenders to win, leading a pair of laps at the former and chasing down leader KTJ at the latter. After the Lawrenceburg DNF, Darland appeared upbeat while the rest of his squad was a little on the perturbed side, observing a hungry Benic exhaling with an expletive while Goodnight noted "a cheap ass part got real expensive". At 51 years of age, it's great to see Dave giving the toddlers a run for their money.
After enjoying an excellent start to the season in Florida and in the Midwestern openers of April, aside from a few evenings of exception (Brownstown No Way Out 40 was one, the September Terre Haute stop was another) it's been nothing but a nightmare for Chad Boespflug. Since the end of April, nearly everything else has changed in his world, including a job switch (he's now selling trailers for Capitol Renegade) and complete crew member turnover for his Mean Green Eberhardt-Zirzow/Hoffman bunch. With his lone consistent help coming from Robert Brown, that black cloud of misfortune continued to rain down at Montpelier when he was unable to keep his machine running in the early stages, finally getting one lap at the end of the qualifying order. Believing the issue to be a mag box, it turned out to be a clogged fuel filter. After winning the second heat and elevating from 18th to 8th in the feature, with three laps left he was unable to avoid clobbering Shane Cottle who sat sideways in turn three. Timing 12th at Lawrenceburg where former Hoffman Racing principals Richard and Rob Hoffman were on hand (Rob was in motorcycle gear), he and Shawn Westerfeld connected on the second lap of the feature, shearing Chad's right front wheel from the axle. Although it is often said that what goes up must come down, Boespflug must wonder if the opposite holds true.
Michael Dutcher Motorsports (with assistance from Perkinsville's Joe Perry and New Carlisle, Ohio's Jack Morrow) continued its 2017 driver rotation on this final weekend of September with Thomas Meseraull and Shawn Westerfeld climbing through the cage. After qualifying 13th at Montpelier with Meseraull, a mysterious misfire had the team switching to a backup machine for the heat race. Forced to start from the rear, they earned a feature pass, thus enabling them to get their time back for the feature in which they ultimately collected ninth place money. With T-Mez moving to Stan Courtad's Hawk for the Fremont BOSS battle (which wound up being his sixth score of the season), Guilford, Indiana gasser Shawn Westerfeld got the call for his hometown Lawrenceburg Speedway. The 2014 track champion timed tenth, scored sixth in his heat, and as previously mentioned banged wheels with Boespflug early in the feature event and retired in 22nd. Having already piloted the number 17 at Brownstown in June, Shane Cottle was the wheelman at the Tony Hulman/Don Smith Classic in Terre Haute, running up into the top-five early before an unfortunate DNF.
Expecting everything to be the same when we wake up the next morning, how many times are we reminded of how good we once had it, having taken even the most average days and basic aspects of our existence for granted? After enjoying a highly satisfying weekend of excellent fall weather, a pair of exciting Indiana sprint car outings, and a peaceful Sunday to recharge batteries, an unforgettable Monday reminded that the best times are all too brief.
Wishing now that I would have sacrificed an early May event at Eldora for that 40th anniversary Tom Petty and the Heartbreakers date at Deer Creek, sadly there is no way to rewind and do it all over again. If there's anything that I gathered from my week-long inundation with music, it that we've somehow got to appreciate each day regardless of circumstances, because it could all be gone in the snap of a finger. Thankfully, music is one of the few things that stands the test of time and right now, it's the closest thing I have to a security blanket. Still immersing myself in all things Petty by continuing to explore his extensive catalog, it's been a huge source of comfort. Kindly reminded in "Learning to Fly" that coming down might just be the hardest thing, it is a rather normal aspect of life, and we simply have to find a way to deal with it and carry on.
But wait, there's more…
Despite so many October options in the first two weekends of the month, Terre Haute's combined Tony Hulman and Don Smith Classic would wind up as my first, making for the third to last outing of my 2017 outdoor agenda. Last October's Terre Haute finale was one of those rare races that will remain in my memory bank for an extended period, demanding my return despite an enticing offering at Eldora that could have included another evening with comrade Tom Percy. I was seemingly on auto pilot as I wandered west on I-70 and for the second year in a row, it was an amazing day of awesome Indiana weather. Sunny and a cozy 83 degrees at 6 PM with little to no humidity, shorts and a t-shirt were mandatory attire. It sure didn't feel like the middle of October nor did it feel like racing season was rapidly winding down, unable to grasp the concept that it would all be over in just seven days.
Continuing with the same theme from Montpelier and Lawrenceburg, Kevin Thomas, Jr. was still soaring above the clouds and had zero intentions of coming back down to Earth. Robbed of a win at the Action Track four weeks ago after running out of fuel, on this occasion he would not be denied, adding a further exclamation point to an already unbelievable campaign that now contains 17 wingless wins. Although he had already reached Terre Haute's promised land (2013 Indiana Sprint Week), this one was extra special because of that rich Hulman Classic history that dates back to 1971. With Winchester rifles awarded to the winning driver and car owner, it's one of the few USAC traditions that has managed to survive so much turnover. I just wish this race offered the same national television coverage and purse as it did back in the 1970s.
There's something to say about confidence, as right now it's almost impossible to stop the speeding KTJ freight train. Qualifying second and starting the feature fifth, he quickly cracked the whip to take third, soon snatching second from pole sitter Jarett Andretti after a lap eight restart for a slowing Robert Ballou (Kevin apologized in his post-race interview for contact with Jarett). Ballou was victim of a faulty magneto according to seasoned sprint car mechanic Jimmy Jones, as the parts failure ruined Robert's shot at taking three Hulman Classics in a row.
Near the halfway mark, Mr. Thomas began to turn up the heat on leader and outside front row starter Chase Stockon, who was in search of his first USAC score since Terre Haute's Indiana Sprint Week round of 2016. Just as Kevin began to make some noise, so did Dave Darland, who qualified quickest for the third outing in a row in Gene Goodnight's 39. Dave started sixth, dropped to seventh, but began picking off cars one by one as the surface started going slick.
Things began to get even more interesting as lapped traffic entered into the equation. Suddenly in close proximity on lap 19, Stockon would get around one of those lappers and instantly build a gap. But, once Thomas was free that advantage was erased. After Darland heaved a turn three haymaker at Windom for third (lap 21), he was able to reel in the top two to create a three car corral for first. Thomas's turn three slider on Stockon had him blowing through the cushion in four, allowing Darland to pull even and slingshot to second through the middle of one and two. Chase's new lease on life was short-lived when Brazil's Dylan Shaw blasted the turn four concrete and tumbled, going red for the second time in the evening (Chet Williams inverted in the semi after eighth-quick Tyler Hewitt spun in front of the field). Shaw was making his first USAC feature appearance after a dramatic last turn, last lap semi-feature sweep of Isaac Chapple.
Leaving a five-lap dash to determine the winner, after being in the basement for this entire 2017 campaign, would Stockon finally return to the main level? Would Darland extend his streak of USAC national feature wins to 25 years? Or, would Thomas pull another rabbit out of the proverbial hat?
KTJ drew first blood by immediately dive-bombing Darland upon corner one's entry, launching unsuccessful attacks on Stockon on both east and west ends the next time around. Lap 28 was the ultimate turning point and although Kevin's slider through one and two was immediately countered, his unrelenting attack was rewarded with the premier position at turn three. Windom and 13th starting Brady Bacon also dusted Darland, who fell victim to a heavily blistered right rear Hoosier.
Although Thomas's right rear was also tattered, he held off Action Track expert Windom for the big score. Making it a DRC chassis podium sweep, Stockon's third place showing was his best in quite some time. Bacon and Darland rounded out the top-five at the 9:35 PM checkered. Tyler Courtney (in a two-race old Maxim), Justin Grant, C.J. Leary, Kyle Cummins (his own 3c), and Jerry Coons, Jr. (Krockenberger 21) secured sixth through tenth.
Using the early evening to head to the pits, I observed a second consecutive Levi Jones request for a right rear tire sample from Thomas's car. Next door to the winning Jeff's-Jam-It-In Storage DRC was Darland's Goodnight ride. In addition to the lack of straightaway grip because of ruined right rear rubber, veteran mechanic Scott Benic added that his setup was a tad off (right rear loose), believing that he needed to be more aggressive for feature tweaks despite being spot-on for qualifying and heat action. Still, the number 39 post-race mood was far more upbeat than Lawrenceburg. Feeling good about being contenders to win in each of their three outings, the positivity allowed me to ask if a continuation of this combination was possible for 2018. No firm answer was given, but it wasn't ruled out either. Darland's west coast ride will be Josh Ford's 73 wrenched by Jimmy May.
Thirty-one cars made the call for this final Midwestern outing for USAC's sprint car division, bolstered by unusual appearances from Joss Moffatt (his initial sprint car drive at Terre Haute), Michigan's Joe Bares (assisted by Jeff Walker), 15-year-old Jadon Rogers (making his USAC debut), Patrick Budde (still powered by Ford), Chet Williams, Nate McMillin, Arizona's Stevie Sussex (Pollock 21), Lawrenceburg regular Tony McVey, and the aforementioned Shaw. Truly a blast from the past, I encountered former Britt Tool bandit Gregg Dillion and Ray Morgan Motorsports throttle stomper Travis Thompson, who continues to assist Cory, Indiana charger Brandon Mattox.
With perfect weather, a larger than expected car count, a massive crowd, an early ending, and an edge-of-your-seat finish, the evening was made even better by some solid surface preparation by the Track Enterprises crew, said to have spread a mysterious white substance before the feature. It was great to see the huge half-mile retain moisture for most of the night, as evidenced by a pair of qualification laps in the 19-second bracket, not to mention some exciting heat race and semi-feature battles for the final transfer. It also felt good to spend time with Lafayette's Arba Richardson, a retired CSX railroader and a devoted Dave Darland fan who was enjoying his first race of the season, still recovering from a 16 day stay in the hospital for a bout with pneumonia and MRSA, amongst other ailments. Having met "Arb" many years ago in the Kamp Motor Speedway parking lot with his long-time co-worker Joe Higdon, the stories these two generate from days of working the old Monon main line from Michigan City to Louisville certainly add to the allure of any evening spent at a race track.
It was a big week for Jon Stanbrough, who celebrated his 50th birthday with a select group of friends a few days early at Sarah Fisher's Speedway Indoor Karting, also using the occasion to announce that he was becoming a father to a baby girl for the second time (wife Melinda is due next April). An equally big outing came here at the Action Track, set to be the final showing for his number 81. Undecided about his 2018 plans, the possibility exists that he could run for another squad, but the recent and rather unexpected news of the baby might just be the determining factor, as Jon has never been one do to anything that did not demand some serious thought.
It's rather unfortunate that all endings aren't of the fairytale variety, as during hot laps a connecting rod shot through the bottom end of Stanbrough's Charlie Fisher mill that was on loan from Indiana Underground's Terry Riggs, leaving a huge puddle of oil while parked in the pits. Clearly that's not the way the 2002 and 2007 Hulman Classic winner wanted to go out, but the two-time national wingless driver of the year certainly had nothing to prove in this endeavor. Having long ago earned everyone's respect, the soft-spoken fabricator always preferred to let his on-track activities do the talking. Mounting so many impressive seasons, so many of them came with underdog squads. Having witnessed his dramatic first feature win at Bloomington in June of 1991 in which he touched wheels with Bob Kinser and had his trophy smashed to pieces, his road to Terre Haute 2017 was a long and winding one, gaining his first big break with the Law Brothers (1994) but nearly retiring altogether after a dismal 1998 with car owner John Davis. Hall of fame worthy for his statistics (I count 187 feature wins), the best of those seasons came after 1998, piecing together some awe-inspiring campaigns with Paul Hazen (19 wins in 2003), Roger Tapy (double-digit victories in 2004), and of course Steve and Brad Fox (30 wins in 2007). Taking a pair of Kokomo track titles (2003 and 2006), twice he was an Indiana Sprint Week (2006 and 2010) and Midwest Sprint Car Series champion (2012 and 2013), nailing down six King of Indiana Sprint Series titles (2003, 2006, 2007, 2008, 2010, and 2012). I've said it so many times before, but they just don't make sprint car drivers, and human beings for that matter, like they used to. Born in the same year of perhaps the best model year of Chevrolet's Corvette (1967), just like a '67 Sting Ray Jon Stanbrough will forever be revered as an all-time classic.
With plans of heading to Kokomo and Haubstadt to essentially put the wraps on my 2017, sadly a Sunday night in Wayne City, Illinois for the Jason Leffler Memorial is not in the cards with work awaiting on Monday morning. Nevertheless, I plan on making the most of both outings by choosing some appropriate traveling music and ultimately savoring some mouth-watering dirt track action. Whether it is the first race or last, just like they say on all of those GEICO commercials, "It's what you do".
Volume 19, Number 12
Indian Summer
I have always had a love-hate relationship with September.
In my youth, its arrival meant that the serenity of summertime had sadly become ancient history. Bringing with it the drudgery of never-ending homework, it also heaped upon me tons of pressure to perform on tests and quizzes. Now as a middle-aged man, September simply means it's time for football, declining daylight, and memorable end-of-season racing events, counting down to the empty feelings experienced at the mid-October outdoor open wheel curtain-closer.
If September weather happens to be warm enough to be considered an Indian summer, naturally I'm still stuck in a June/July frame of mind. So, with the recent rash of 90-degree days in the first few days of fall, one could say that I am in no way ready to pack up my t-shirts and shorts and put the wraps on this year's racing agenda.
I began this last full month of the season with a ride to Du Quoin, Illinois for the Ted Horn 100 USAC Silver Crown contest at the picturesque one-mile circle of soil. I say ride because my nephew (a.k.a. Ironman) did all the driving just like he did in our June journey to Knoxville. After finding a Pineapple Whip along the midway, much to our disappointment the surface took rubber early into the 100-mile grind, moving the groove way down from the outside concrete. Kody Swanson gift-wrapped a third Silver Crown championship with his first victory in this event since 2010. Just like last year, Jeff Swindell came close to glory until Swanson turned up the heat in the waning stages, reminded of how successful his chief mechanic Bob Hampshire has been in this discipline over the last 31 years. Swindell's superb showings make me wish that additional Outlaws (his older brother, Kinser, Wolfgang, and Blaney) would join him in these endurance contests.
A MOWA/POWRi Spoon River double was originally on my agenda for the next weekend, but my initial visit to those high banks was put on hold when my nephew needed to stay closer to home, as his wife was expecting to give birth to their first child at some point this month. Not wishing to make the late night return on my own, the desire to do something different resulted in our first sampling of the Indianapolis Speedrome's Three Hour World Figure 8 Championship. So impressed with the extensive improvements to the 76-year-old facility thanks to new owner Kevin Garrigus and track President Jonathan Byrd, other positive aspects included the humongous crowd, huge purse ($20K to win), and old-school atmosphere. It was indeed an entertaining evening, enthralled with the sophisticated equipment and fearless competitors, many of whom refused to lift while approaching the crossover. In those three hours, I was shocked to see that no one was t-boned as they met in the middle, with the winner ultimately being determined in the final five minutes. Introduced to a whole new world that I had no idea existed, this diversion was truly an eye-opening experience.
Back to my usual sprint car stuff on Friday the 15th, a post-work dash across interstate 70 to "The Hut" only cost me hot laps and a handful of cars from qualifications for the Jim Hurtubise Classic, arriving to enjoy the remainder of the 27-car USAC contingent tripping the timing loop. Robert Ballou came out 18th and even with rapidly deteriorating surface conditions produced the top time (20.477) in his BOSS chassis, such a rarity for Robert. While Jon Stanbrough strutted his Terre Haute talent in tenth, Brady Bacon (Dooling/Hayward 63) produced one of the slowest times (21.986) thanks to a clogged nozzle line, adding insult to injury when I later read that his time was disallowed.
Fresh from California Sprint Week were Chad Boespflug (sixth) and Kevin Thomas, Jr. (eighth), both operating under the guidance of new crew chiefs. Boespflug had ex-KTJ crewman Robert Brown, Jr. calling the shots on his Mean Green Maxim while ex-Boespflug chief Davey Jones was now dialing in Kevin's Jam-It-In Storage DRC with CSI's Brad Alexander. In years past, Jones and his son Dalton had worked with Thomas, interesting to note that Kevin and Davey were embroiled in a pit area altercation at last year's Tri-State Sprint Week stop. These intense competitors either have short memories or are extremely forgiving.
Gaining his annual Terre Haute fix was 2000 Tri-State and Lincoln Park track champion Eric Burns, who timed 26th in Bill Gasway's old Stealth that sported 20-year-old leftover parts and steel block power underneath the hood. The same machine I piloted last October in an open track play day at LPS, this time the engine was way off song, spoiling any real fun that could be had. Eric's 15-year-old son Harley was on-hand to assist and observe, having encountered his own engine issue at the recent King of Non-Wing contest in which a broken piston punched a hole in the block. After selling his bomber earlier this season, Harley became a first-year sprint car competitor at both Putnamville and Paragon, logging laps in Doug Rolison's Stealth that also dates back a couple of decades. Many people might forget, but Eric Burns was just a few laps shy from becoming a Hulman Classic winner in 2001 before being overtaken by Tracy Hines.
Aside from the equipment that Burns brought to battle, vintage open wheel hardware was on-hand to take a few leisurely laps around the legendary half-mile. Phil Poor towed his 1989 Stoops Gambler from his Anderson, Indiana home to take part in the festivities. Firing his pristine machine for the first time in a long while after being on loan to the National Sprint Car Hall of Fame/Museum in Knoxville, Iowa, the detail that went into Phil's restoration was second to none, able to retrieve many of the car's original parts and thus making it extremely period-correct. Back in 1989 the Terre Haute Action Track was rampant with weeds and had not been active since May of 1987, a month in which Phil swept both USAC races with driver Steve Butler.
With heats won from fifth (Chris Windom), fourth (KTJ), and third (Chase Stockon), Justin Grant and Jarett Andretti were the only ones from the quick six who failed to take a heat race transfer. Because of Justin and Jarett's dilemma, Kevin Thomas would propel from the pole of the 30-lap finale, joined on the front row by Scotty Weir (Gass 17). For the first 26 laps, it appeared that Kevin would keep his hot streak alive, having claimed three of the six California contests. The only one who could hang with him was Ballou, but a cut right rear tire ruined Robert's evening and put the action on pause with just four laps left.
After the lengthy caution for Ballou, it became a tale of two races, with the final four tours altogether different than the first 26. Action turned hot and heavy, rife with cutthroat sliders, contact, and a rather nasty ending for one competitor. After his mentor's misfortune, fifth-quick qualifier Aaron Farney sat second on the restart and was the immediate recipient of a Chris Windom slide job, not once but twice as an Isaac Chapple stoppage influenced the third amber illumination. On that second slider, Windom flew past Farney and pulled even with Thomas, driving his Baldwin Brothers DRC deep into turn three and past the nose of Kevin's car. KTJ was unsuccessful in his attempt to cross over and by the time he reached turn two, he mysteriously slowed. Farney was unable to avoid rapping the rear of Thomas, leading to backstretch calamity that claimed just one casualty, that being the Hazen 57 of Shane Cottle.
One final restart with three laps left saw the 9K run completely dry of fuel. Kevin coasted to the front stretch infield pit entrance, victim of a thirsty "Godzilla" engine (as per Davey Jones), a 25-gallon fuel cell, and some lengthy yellows for Ballou and Chapple. Boespflug jumped at the chance to steal second from Farney in turn four, followed one lap later by a similar maneuver involving 16th-starting Tyler Courtney. On the final go-round, Justin Grant forced his way underneath of Aaron (with contact) at the entrance to turn three for the fourth position. The wheel banging was far from over, as the two would meet again on the expansive front stretch. Locking wheels on a half-mile rarely results in a happy ending, as Aaron was the unlucky one who rode out a wicked flip to the inside concrete guarding the infield pit exit. The Brookston, Indiana charger was carefully extricated from his mangled Maxim and had to spend the night in a local hospital, released the next day.
The bottom line is this: the ruthless racing witnessed at the conclusion leads me to believe that if this activity is not curtailed, someone is bound to pay a far heftier price. Back in the days of Jack Hewitt and Bob Kinser, these things would have worked themselves out with a black eye or bloody nose, but we're a long way from those days with so much police interference.
Windom tallied his third consecutive USAC Terre Haute triumph dating back to last October. Boespflug, Courtney, Grant, and Farney rounded out the top-five. Chase Stockon (from 12th), Brady Bacon (from 22nd), Weir, C.J. Leary, (from 18th), and Dave Darland (Dutcher 17) scored sixth through tenth on the slicked off surface that offered quite a bit of overtaking in the late stages.
Terre Haute's next event is Saturday October 14th, with the running of the Tony Hulman Classic. Hoping for equally nice weather as last year, some damp dirt would also be welcomed, as promoter/operator Bob Sargent always seems to be working from behind on race days to offer some semblance of a surface.
Instead of staying overnight, I headed east for another Saturday morning routine of barber shop, gym, and yardwork, on my own in this next Haubstadt adventure. Aiming for a first-time visit to Bo-Mac's dairy bar in Shoals along the way, while on the west leg of 465 my MINI's GPS advised that the fastest route was State Roads 67, 39, and 37 to U.S. 50, requiring a painful single lane path south of Martinsville as I-69 construction had recently ratcheted up. Feeling some stressful sweat with the slow-going on 37, I began to feel better south of Bloomington, especially when eyeing a classic 1950s convertible at the Oolitic stoplight. Could its driver have been the one and only Karl Kinser?
Stepping on the pedal on the gorgeous tree-lined U.S. 50, I had just enough time to make a pit stop for a strawberry malt and Bo-Mac's Rox Burger, a double-cheeseburger topped with an onion ring that was named for Jug Rock, the country's largest free-standing table rock formation east of the Mississippi that is found near the east fork of the White River, just west of Shoals. Also hoping to take the scenic route to U.S. 41 via State Road 241 and Decker (I recently enjoyed a world-famous Decker melon for the first time – no doubt the juiciest I have ever experienced), I was advised to take the yawn-inspiring I-69 to State Road 68 if I had any hope of finding a place to park at Tommy Helfrich's Tri-State Speedway. Even with 30 minutes to spare, I was forced to park in the modified pit area, so for once I was thankful to have heeded the advice of new-fangled technology.
A humongous crowd was already on-hand to witness the $12,500 to win Haubstadt Hustler, with the $2,500 addition to the top prize coming from sponsor Unique Breedz. The tenth running of this event would once again feature a co-sanction from USAC and MSCS, with the latter format reigning supreme. Timed hot laps arranged heat races with the fastest four inverted and while normal MSCS meets could invert as many as 12 feature starters, this one only selected six. $500 was available to the quickest overall qualifier (Kyle Cummins – 13.624 in the Byram 3R), with Roger and Barb Tapy awarding the 13th fastest (Chet Williams) a new Hoosier right rear tire.
A hot and humid day/night more reminiscent of late July, Indian summer was in full effect for this final fling before fall's arrival. Recalling my most recent Tri-State trip when Kyle Cummins shocked Kevin Thomas, Jr. with a last turn, last lap pass to steal the Sprint Week win, it was only appropriate that the highest paying first place prize in the Hoosier state would involve these same two.
After Thomas Meseraull and Chet Williams won the first two heats from the first and second position, it was also rather appropriate that Kevin and Kyle would claim the third and fourth heats from the third and fourth positions. Clearly the quickest two cars from preliminaries, they were set to start the 40-lap main event from the second row but when C.J. Leary shot to the lead and suddenly slowed, that awarded Cummins a front row seat.
I fully expected Kyle to lead all 40 laps and although he did pace the first three, it would be Kevin who would stay out front for the majority, gaining the advantage with a low-side launch off turn two on the fourth lap. Officially up front for the final 37 circuits, KTJ was kept honest by six more cautions involving Short, Ruble, Cottle, Stanbrough, Jackson, Darland, Stockon, Hodges, Brackett (a front row starter), and Chapple. Just as he did in July, Cummins was finally able to shake his tight condition with under ten to go, finding increased speed when stepping upstairs. The final restart left just two laps to determine who would take the cake, truly a dejà vu experience for this dynamic duo as Cummins immediately pulled the trigger on a turn two slider that collected too much cushion and allowed Thomas back by. Almost scripted, the final two corners of the white flag lap were once again extremely dramatic. Kyle literally came out of nowhere to slide Kevin through three and four but in a reversal of roles from July, this time it was Thomas who crossed over and nipped Cummins at the line. Unable to locate a larger fuel cell in time for this 40-lapper, Thomas ran out of fuel for the second night in a row, this time coming after the 9:47 PM checkered flag had fallen.
Surging from sixth, Thomas Meseraull trailed the tandem in the Chase Briscoe Racing 5. Local boy Chet Williams fired from fifth and maintained fourth for the entire grind, perhaps his best effort to date. After being unable to take a time in his heat, Tyler Courtney scored a heat race transfer and flew from 14th to 5th in the finale. Sixth through tenth included hard chargers Chris Windom (from 16th), Brady Short (from 21st and after involvement in the second caution), Robert Ballou (from 18th), C.J. Leary (involved in the first caution), and point leader Justin Grant.
Brady Bacon's sub-standard weekend continued at The Haub when he was two semi-feature spots shy of cracking the A. Utilizing a provisional, he was unable to move forward and was credited with 18th. It had been a couple of years since Scotty Weir strapped into a sprint car for both Terre Haute and Haubstadt, having last competed at both venues with Jeff Walker in 2015. Although he earned 8th at the Action Track, he was one spot short of A-main status at Tri-State.
While operating in a transfer position in the second heat, Brian Karraker bicycled into a big-time flip, landing in a precarious upright position between the boiler plate wall and the billboards just beneath the scoreboard. Requiring the use of Helfrich's 1970s Ford boom truck to retrieve BK's battered machine, despite a destroyed chassis Karraker was otherwise unharmed in the incident. I would venture to say that few, if any tracks have such equipment on-hand to handle such an issue.
With the largest wingless sprint car crowd that I can remember, how ironic was it that sprint car racing's one and only King of the Outlaws was actually in the house? Steve Kinser noted to my nephew at the King's Royal that he "doesn't get off the property much" these days, so naturally it was great to see Steve at Haubstadt, sitting just a row beneath me for the feature. With wife Dana selling various Kinser apparel in the parking lot, even with such a crowd Steve was not pestered for autographs or pictures, spending the bulk of his time affectionately caring for his grandchildren.
One final Haubstadt note: in a world where customer-friendly aspects are too often ignored, I feel extremely fortunate that a place like Tri-State Speedway still thrives. I am confident in my assessment that there are few other dirt tracks in this country, if not this world, where the ownership is so concerned with so many small details. The facility always looks immaculate, the restrooms are always clean, the concession stands consistently provide solid options for snacking, and the quality of the racing surface is never a question. I know some people gripe about Tommy's tractor show and his never-ending quest for the perfect surface, but I will say this: I have never once had to worry about a lack of effort from the Tri-State staff when making the long drive to visit. More often than not, the feature action is well worth the distance traveled, as evidenced by last-turn, last-lap overtaking in my previous two trips. Other than starting earlier so Indy folk could arrive home sooner, who could ask for anything more?
Two days after Tri-State, my nephew became a proud papa to Graham Frederick Oldham, actually allowing me to hold him in my arms less than one day after the little guy entered this world. That was quite an eye-opening, impactful, and overwhelmingly heartwarming experience for yours truly, gaining a greater understanding of what is really important in life. However, just three days later while Danny was the responsible one tending to baby and wife, it seemed odd that I would be the one heading to Eldora's Four Crown Nationals weekend to camp overnight and soak up event atmosphere with Cleveland chum Tom Percy. In due time, I'm sure the Oldham family Eldora tradition will extend another generation when Graham will be entering through the front gate with his father, great uncles, and perhaps great grandfather. I'm quite certain that he'll grow to love this place like all of us Oldhams do.

Although Four Crown Nationals history dates back to 1981 when former USAC official turned car owner Johnny Vance convinced Earl Baltes to roll the dice on what was then a bold concept, I was formally introduced in 1985, which also happened to be my initial indoctrination to this palace of speed. With Johnny's recent passing, I couldn't help but get a little choked up when a new Johnny Vance Four Crown trophy was unveiled at this year's opening ceremonies. Some 30 years ago, I vividly recall buying an Aristrocrat Products t-shirt out of the trunk of Johnny's Cadillac in the Four Crown pit area, unbeknownst at the time of his influence on this very event.
Aside from 2003 when the Mopar Million took its place, I have only missed one of these classics since 1985, choosing the competing Winchester 400 in 1986 as I was then a hardcore ASA fan. With oh-so-many fond memories generated in the last 32 years, naturally the Four Crown remains near and dear to my heart, a tradition that makes the struggle of September something to look forward to. Given that Eldora hosts only one other USAC weekend on their calendar; attendance is vital to my happiness and satisfaction.
Once again, the Four Crown weekend would feature separate Friday/Saturday programs. As has been the norm since 2007, Friday's top billing was the World of Outlaws while Saturday offered the obligatory standard of USAC's midget/sprint/Silver Crown divisions along with the All Star Circuit of Champions. 2016 was the first year since 2006 that four features would be run on one evening, both becoming marathons for completely different reasons. 2006 rain delays resulted in features concluding around 6 AM. As for last year, heat racing began at an ungodly 10 PM after a two hour surface revamp, ultimately concluding at 2:49 AM.
In an effort to condense the program and prevent a repeat performance, Eldora management announced some minor tweaks to this year's Saturday format. They included: eliminating midget qualifying (lining up by the draw and using heat race passing points), cutting All Star time trials to just one lap per car, slashing five laps from the All Star feature, and pitting Silver Crown cars outside of the track. Slated to start Saturday hot laps at 4:30 PM (hot laps were later changed to 5:40), would these changes shave off enough time to end earlier and allow for requisite surface maintenance? As soon as I read the news of the adjusted schedule I knew that they wouldn't have a huge impact, but that didn't stop me from attempting to enjoy every single Four Crown moment.
In addition to my first time to camp here since the year 2000, many things stood out in this 36th Four Crown Nationals weekend. First and foremost, my statistically focused mind focused on the dominating feature drives all weekend, beginning with Tim Shaffer's wiring of the field in Friday's "BeFour the Crowns Challenge". Tim led all 30 laps in the Rudzik Excavating Triple X to earn his fourth career World of Outlaws Eldora achievement. On Saturday, all four winners were first-time victors in some way, shape or form. It all started with Spencer Bayston, who propelled from the pole position and reached the top of turn one first. Piloting the Keith Kunz Motorsports IWX sponsored Bullet by Spike/Toyota, Spencer controlled all 25 USAC midget feature laps for his initial Eldora score, collecting a cool $5,000. After winning his heat and the trophy dash, Brady Bacon bolted from his pole starting spot to an immediate advantage in the All Star Circuit of Champions 25-lapper, never letting up as he secured his first-ever All Star win in the Bacon Marshall Motorsports Triple X. Not to be outdone, outside front row starter Tyler Courtney beat pole sitter Kody Swanson to the top of turn two and paced all 50 USAC Silver Crown tours in Hans Lein's pristine DRC, his first-ever win at Eldora and first in Silver Crown competition. The lone feature that offered any overtaking up front was the USAC sprint car tilt, which saw third-starting Justin Grant split Chase Stockon and Robert Ballou to snatch the lead by turn one. However, eventual winner C.J. Leary claimed the premier position on lap two and held back Brady Bacon for his first Eldora triumph, having given away a May 2015 USAC win on the last lap to Justin Grant.
A second 2017 Four Crown memory will be the summer-like weather, with its sweat-inducing temperatures the hottest ever felt at this event. With the thermometer reading 92 degrees when arriving on Friday afternoon, the opening night surface was surprisingly wet for such scorching conditions, enough that Shane Stewart's quickest qualifying time of 12.899 seconds came dangerously close to Craig Dollansky's 2002 track record of 12.707. With the surface staying solid all throughout Friday evening, that certainly gave hope for a superb Saturday. Unfortunately, the combination of a 120-car contingent, more 90-degree temps, and the second day on the soil took its toll. Super-slick conditions finally attracted rubber and created a one-groove parade during the latter half of the USAC sprint car feature. Even with the less than desirable conditions, I actually found the racing to be entertaining, especially the early stages of the USAC sprint car finale that featured the top-six cars fitting under a blanket, also offering a fierce fight for second between Grant and Bacon.
Truth be told, the smooth, slick, and ultimately rubber-down conditions failed to provide the old-school Eldora experience that veteran fans so desperately desire, but it's also unreasonable to expect them to wait out an extensive surface revival on an already lengthy evening. Although the top and bottom grooves were scratched during Saturday's opening ceremonies, even without extensive maintenance the idea of sending the non-camping patrons on the road in the wee hours of the morning is far from ideal. In its current form, the one-day Four Crown format is a no-win situation that only offers one sensible solution: spread it out over multiple days so we can get back to the basics of enjoying a balls-out Eldora on-track experience, the very thing that brought all of us here in the first place. Eldora already offers a world-class big screen scoreboard, the most amazing pyrotechnics show, fan-friendly admission and concession stand pricing, a full-service bar, and undeniable atmosphere. Such an inviting, intimate setting, the only thing left to improve upon is the racing itself.
For the first 25 years, except for rare issues with rain, Four Crown activities spanned over two to three days. No doubt necessary in those early days due to massive car counts, these last two years have certainly seen no shortage of equipment, attracting 126 (2016) and 120 (2017). To Eldora's credit, they did manage to run extremely efficient programs on both Friday and Saturday. Friday concluded at 10:10 PM and despite Saturday's numerous wall-bangers and flips, all festivities ended at 1:13 AM on Sunday morning, 1 hour and 36 minutes sooner than 2016. The difference essentially equates to last year's two hour surface revival. However, with the impossible task of practicing and qualifying 120 cars and running 17 different racing contests, there just isn't enough room in the schedule for rain delays, serious accidents, or surface revamps. I am extremely passionate about the Four Crown Nationals and Eldora Speedway and hope that my comments aren't construed as harsh criticism. I simply want to see this event survive and thrive for decades to come, hoping that someone in a key position sees this and agrees that action must be taken.
A third major aspect of this 2017 Four Crown involved the massive crashes coming on Saturday. Beginning with hot laps and qualifying for the 36 USAC sprint cars in attendance, due to the slim margin for error on both ends there were ample opportunities for right rear wheels to become ruined by unforgiving concrete. In time trials alone, Nick Bilbee, Josh Hodges, and Austin Nemire made significant contact but did not turn over. Once was apparently not enough as Nemire later cracked concrete in the same spot in turn one during Silver Crown qualifying. Both times, his squad made necessary repairs to return to battle.
Whether the surface is heavy or slick, All Star Circuit of Champions hot laps showed how serious Eldora accidents can be. Tyler Esh caught the backstretch wall exiting turn two and helicoptered down the banking, promptly drilled in the cockpit by Dane Lorenc. Transported to Dayton due to the need for a trauma unit, Tyler had bleeding on the brain, a bruised lung, and a cracked T1 vertebrae. Eventually air lifted to Lancaster, PA, although he did not require surgery, he'll have to wear a brace for three months. 2017 FAST 410 champion D.J. Foos was the only other All Star to spill on Saturday after climbing concrete between one and two.
Even Eldora experts had their issues, as evidenced by 2013 and 2016 Four Crown midget maestro Rico Abreu catching the turn one wall at the start of the second midget heat, barrel rolling several times. Rico was able to exit under his own power but his accident was anything but tame, calling it quits for the rest of the evening as he was eventually transported to a local hospital for an overnight stay. Sporting some seriously black eyes a few days later, he tweeted that he was taking time off to properly recuperate. The only other major midget miscue came in the finale, when second-running Justin Grant was attempting to track down Bayston but caught the wall between turns one and two, pirouetting down the bank.
Silver Crown crashes were far more spectacular and serious. After heats for sprints, midgets, and All Stars were completed, the champ dirt cars finally qualified but did so on a seriously slick surface, far more treacherous than USAC sprint and All Star sessions. A razor thin cushion was available in one and two, but the wall was the only thing to lean on in three and four. Joss Moffatt was the first to pancake the perimeter in three and four. As previously mentioned, Nemire again got the wall in one and five cars later, Patrick Bruns pounded concrete in one, cartwheeling and landing upside down with engine screaming. Bruns was transported to Greenville for a foot fracture and cut that required some stitches, with surgery scheduled on Monday in Dayton.
The first of two Silver Crown feature crackups came when C.J. Leary attempted a two-for-one slider on second place Dave Darland (Phillips 27) and the lapped machine of Aaron Pierce through turn three. Leary's right rear wound up being the weapon that propelled Pierce into the outside wall. C.J. would soon retire with a flat right rear. After shedding tears while graciously accepting his third Silver Crown championship, early in the feature Kody Swanson flirted with the fence in the same spot as Bruns, Abreu, and Grant. Such flirtation eventually bit him in a big way on lap 32, going for a rough ride in his DePalma Maxim. Kody was thankfully ok but his machine had certainly seen better days. Previous to Eldora, his worst Silver Crown finish all year was fourth.
A fourth aspect ascertained from this year's Four Crown involved the continued showcasing of the most bad-ass, versatile talent known to mankind. It all started in 1981 when Steve Kinser subbed for an injured Rich Vogler and claimed both sprint and Silver Crown contests from the rear for Johnny Vance. Years after, such mastery at multitasking became the ultimate Four Crown honor and tradition. Larry Rice doubled-up in '85 as did Rich Vogler in '86, Hewitt in '91, '96, and '97, Stewart in '95, Darland in '99 and '04, Yeley in '01, Windom in '13, and Bell in '15. Of course we all know that the only men to triumph more than twice in one night were Hewitt in '98 and Kyle Larson in '11. Back when late models and modifieds served as the fourth class, Jack Hewitt was the most willing to climb through the window of one, racking up a jaw-dropping 19 wins in this event alone. Dave Darland's seven scores sits second on the list.
In the spirit of Dew-It Hewitt, Brady Bacon was the only one finding rides in all four classes, even finishing 24th in Friday's outlaw feature. Bacon's best Hewitt impersonation ended with solid Saturday showings: third (midget), second (sprint), first (All Stars), and fifth (Silver Crown – from 18th in the Gormly 199). The fact that true car owners are dying on the vine makes duplicating such foursome feats a tall task.
A fifth and final major takeaway from this 2017 Four Crown was the massive crowd on Saturday, without question the largest I have ever encountered for this contest. I said the same thing last year and despite the long night in 2016, they came back in even greater numbers one year later. Having already rehashed this year's difficulties, will the fans be as forgiving for an even more impressive assembly in 2018? Let's hope so.
Friday's BeFour the Crowns World of Outlaws war attracted a field of 42 and as I am always amazed with the current WoO format, qualifications clearly means everything. Dividing the field in half for two qualifying flights, the heat races offer no inversions, starting the fastest straight up. With the aid of a lightning fast surface, the end result was that every single racing event, except for the C-main, was claimed from the pole position. From the four heats, the front row starters finished in the exact same position, moving them to the all-important dash. Aside from qualification performance, the luck of the draw in the dash inversion ultimately determines the winner. The inversion of four placed Tim Shaffer and Jason Johnson on the front row. Shaffer scored the win while fourth-starting Shane Stewart secured second.
Stewart attempted to hang with Shaffer in the finale until shredding a right rear tire on lap 13, causing the second and final caution of the feature. Donny Schatz restarted second and whittled away at the Steel City Outlaw's lead, nearly pulling even around the bottom of turns three and four in the final three laps. But, it wasn't enough to shoot him underneath the 2010 Knoxville Nationals victor. Behind Tim and Donny were Joey Saldana (Indy Race Parts 71), Jason Johnson, and David Gravel. Brad Sweet (from 11th), Rico Abreu, Brent Marks (from 22nd), Chad Kemenah (from 19th), and Jac Haudenschild made up the second half of the top ten finishers. Abreu had been operating in third until cutting a right rear tire on the final lap. Parker Price-Miller was 17th in his debut drive with Destiny Motorsports, beating out Cap Henry (Neumeister 11N), Tony Stewart, and Spencer Bayston for the final feature pass from the Last Chance Showdown.
Saturday's population of 120 machines was subdivided into the following classes: 18 midgets, 36 sprint cars, 23 Silver Crown, and 43 winged All Stars.
After his seventh to second heat race romp, Bayston's beat down was his third USAC midget triumph of the year that also included a big Belleville bash. Indiana Midget Week champion Shane Golobic snatched second place from Dave Darland's grasp, with Dave dropping one more spot after Brady Bacon took third from seventh. Darland settled for fourth in a second BT Machine Spike/Esslinger, topping ninth-starting Tanner Thorson. Sixth through tenth in the 17-car lineup included Holly Shelton (from 13th), Chad Boat, Tanner Carrick, Tyler Thomas, and Alex Bright.
USAC sprint car qualifying saw Brady Bacon clock quickest (16.893), using the low groove in three and four. Never before do I remember an Eldora fast qualifier utilizing anything but the top shelf, but I suppose there is a first time for everything. Dave Darland (Hery 40) also dove low in three and four and was the only other to operate in the 16-second range, remembering how 30 years ago quick time was in the low-16s. In an incident-free A-main, Leary's late race turn one slider on lapper Tyler Thomas secured the win over Bacon, pole sitter Robert Ballou (who was extremely open, honest, and critical of the surface in his post-race interview), Kevin Thomas, Jr. (from 10th), and early leader Grant. Scotty Weir (Simon 22s), Chris Windom (from 15th), Thomas Meseraull (from 18th in Stan Courtad's 9x), outside front row starter Chase Stockon, and Matt Westfall (from 21st) were sixth through tenth. Bill Rose was 19th in George Kissel's 320 while Dave Darland dropped to 22nd after beginning fifth.
First heat foes Rico Abreu (14.669) and Joey Saldana (14.759) were the quickest two qualifiers in the entire All Star field. Fully suspecting these two to fight for top dog status in the 25-lap finale, once Abreu was absent for his heat that expectation was thrust solely upon Saldana. Joey went old-school with his breathtaking ride around the rim to conquer heat one. Tagging the wall between three and four during the dash, Saldana scored second to Brady Bacon and surprisingly fell to fourth at the start of the feature. Back up to second through three and four but again back to fourth by the flag stand, Joey again smacked the wall several times in the first two laps and was never a factor for the win. Underdog Bryan Nuckles started third and finished a strong second, operating a lane lower than Bacon and occasionally showing his nose. Yet another virtual unknown in the winged 410 world scored third, that being All Star rookie Max Stambaugh. Lee Jacobs elevated from 11th to fourth while Hunter Schuerenberg scooted from 13th to fifth. Sixth through tenth included additional unlikely suspects Dan McCarron, last year's winner Ian Madsen, Saldana, Caleb Armstrong (from 22nd), and John Garvin.
In the Silver Crown closer, although $8,000 victor Tyler Courtney was never seriously threatened, things got a bit too close for comfort on the final few laps when Chris Windom and Shane Cottle pulled to within a couple of car lengths, as Courtney's right rear rubber appeared ready to give up the ghost at any moment. Dave Darland operated as high as second but fell to fourth at the end, with Bacon making the big blast to fifth. Sixth through tenth included Grant, Schuerenberg, David Byrne, Ballou (Klatt 6), and Jerry Coons, Jr.
No, it may not have been the mind-blowing Four Crown I had been thirsting for in this sweltering Indian summer, but that did not mean I could not find a way to have a great time. Enjoying both nights in the grandstands and around the campground, I spent some long-awaited quality time with my good friend Tom as we joked, laughed, and shared interesting observations about life and racing. No matter how long the evening extends and how parched the playing field, it's still the Four Crown and it's still such a special event showcasing some amazing talent. USAC racing at Eldora is unfortunately an endangered species and no matter how everything plays out, I will still want to be a part of it, continuing my long-standing September tradition.
As I finally finish this piece after dragging my feet for the last two weeks, although the temperatures and weather are still respectable, perhaps it is coincidental that the passing of the Four Crown and a slightly rare Indian summer have occurred at the same time. With just a couple of September shows and some random October outings remaining, fall has been flung into my lap, with the countdown to hibernation mode becoming an all-too-real thing. It's been a long time since I've had to worry about homework, tests, quizzes, and the worry of waking up with a pimple on my face, but all these years later the love-hate relationship with this ninth month continues. As much as I love the specific racing events that are associated with this time of the year, I truly hate the thought of turning the calendar one more time. A change of seasons means a change of feelings, one that I'm not quite ready to deal with yet.
---
A Hosehead Production ko
Copyright © 2019 by "Hosehead's Sprint Car Photos & News." Do not reproduce anything from these pages without the permission of the photographers writers or webmaster.
Hosehead's Sprint Car Photos & NewsPO Box 42 Drums PA 182220042