These are the things that I am wishing for during 2022 for Florida sprint car racing:
1) Orlando SpeedWorld to cover their asphalt surface with dirt and bring in dirt sprint car racing in 2022. Of course, this should have been done years ago and would have made the track an ideal location for the newly formed Xtreme Outlaw Sprint Car Series, which has already added Florida dates to its inaugural season this year (Volusia Speedway Park, February 14 and 15). I hope for success for this national non-wing dirt sprint car series since they've had the foresight to include Florida in their plans. A dirt surface at SpeedWorld would also attract Central Florida race teams after they lose East Bay Raceway Park (due to the 2024 track sale), the last remaining dirt track on Florida's I-4 corridor.
2) Florida pavement sprint car promoters to work together and don't counter-schedule races.
3) A Driver Development Program for Florida's young sprint car drivers. A feeder series for 11–13 year-old drivers would be ideal. Rather than having these drivers immediately move into the premier series, this type of feeder series would be appropriate for younger, inexperienced drivers looking to work their way up to Florida's premier pavement (or dirt) sprint car series. Florida needs this, as it has twice seen 11-year-old drivers quickly advance in the past decade. Neither of these young lads had such a program available. See Wish No. 4 – a good option for such a program.
4) That 4-17 Southern Speedway (Punta Gorda) recommit to having a 602 crate engine non-wing sprint car series at their track, as they did early last year.
5) That a Floridian wins the Saturday finale at East Bay Raceway Park's annual East Bay 360 Winternationals in February. Danny Martin Jr. got robbed of the opportunity to go for this Saturday win in 2021 when the Saturday grand finale was rained out. He had just put in a career performance in the prior two days at East Bay, winning on Thursday and finishing third on Friday. Maybe 2022 will be the year. If not in 2022, then he (and all Floridians) will only have another year or two (maybe three?) before that 2024 track sale goes through and the property fulfills its ultimate end-use by becoming a mound of phosphate waste, just like that monstrous refuse mound that looms over the track to the east.
6) Since multiple Florida pavement sprint car teams have announced their intention to race in the inaugural season of the "500 Sprint Car Tour," a 10-race Midwest-based non-wing pavement sprint car series, my wish is that a Floridian wins the first series driver championship. It seems as though it is past due for a Floridian to do this. After all, it has been ten years since a Floridian won a national sprint car driving championship, which last occurred with the second of Troy DeCaire's two Must See Racing sprint car titles in 2011.
7) That pavement sprint car racing returns to New Smyrna Speedway. Not every pavement short oval in Florida lends itself to exciting, close sprint car racing. New Smyrna Speedway always did, and it's a shame that prior mistakes led to the track forsaking future sprint car events from Florida promoters. Maybe there's a way to patch up that relationship? One can hope.
8) That 2022 become a year when a greater number of Florida sprint car racers make forays into both national pavement and dirt sprint car racing. Dirt sprint car racing is the arena most in need of more racers to make the leap to race on the national level. Mark Ruel Jr. led the charge of Florida dirt racers making the leap in 2021, and he had the greatest level of success by taking four USCS national sprint car series feature wins.
9) That the Floridian who is most deserving of being inducted into the Little 500 Hall of Fame (but has not yet been inducted) will finally be inducted into this prestigious hall of fame in 2022. His name is Harry Campbell. This genius/wizard sprint car builder/fabricator/engine man has an impressive record of achievement at the Little 500, pavement sprint car racing's most significant annual event. He was the builder/chief mechanic of the car that sponsor/car owner Charles Ledford entered in 1986 and that Dave Scarborough drove to the Little 500 win on May 24. And it wasn't just a win, it was a beat-down, with a 21-lap advantage over second place. This was the third consecutive year that a Harry Campbell-built car won the Little 500, as Frank Riddle's car that won the race in 1984 and '85 was also built by Harry and was purchased from Harry by Frank Riddle in late 1982. The cars that Harry Campbell owned and entered won the Rookie of the Year in 1978 (driven by Frank Riddle) and the pole position in 1980 (Frank Riddle again). Frank Riddle drove that Harry Campbell-built car to five career Little 500 pole positions, still an event record (tied with Dave Steele). The cars that Harry wrenched and entered with Charles Ledford also finished in second on two occasions (Jim Haynes, 1984; and Wayne Reutimann, 1987). Another of the Campbell/Ledford cars had a third place in 1987 (driven by Dave Scarborough). One of Harry Campbell's finest achievements was his well-earned reputation for being a sprint car innovator. His ideas and inventions almost always brought new-found speed and competitiveness. Some even believed that later rule changes were brought about in an effort to nullify Harry's innovations and slow down his cars. But you couldn't slow down Harry Campbell. He'd just come up with a new innovation the next year. "The Innovator" was certainly a Little 500 legend. He is also certainly deserving of being inducted into the Little 500 Hall of Fame in 2022. This should be the year that Harry Campbell is awarded this well-earned designation.
Wayne Reutimann once said, "I feel Harry is the best wrench-man in the country. Any time he's associated with a car, it's a winner."
After winning the '86 Little 500, Dave Scarborough said that he and Harry and the crew were going to have an epic celebration that night. Let's hope that Harry's family and friends can have "Harry's Lil' Five Celebration, Part 2" after this year's race is complete. Make a note of the date: May 28, 2022. Hail Harry!
Shane Butler and his number 18 dirt sprint car.
4-17 Southern Speedway, Non-Wing 602 Sprint Car Track Champion: Scotty Adema
East Bay Raceway Park, Winged Limited 360 Sprint Car Track Champion: Frank Beck
Colton Bettis, a rookie driver from Lutz, made his sprint car debut this year as an 11-year-old. He was second in points in Showtime Speedway's Non-Wing Sprint Car Class (only nine points behind track champ LJ Grimm) and has made a splash in the class this season, taking his first sprint car feature win on October 2, 2021, at age 12. In his first sprint car race outside of Showtime Speedway, which occurred at 4-17 Southern Speedway with the Southern Sprint Car Series on December 4, he had a respectable 8th place finish going up against the best pavement drivers in the state.
LJ Grimm had eight feature wins in Showtime's non-wing sprint car class, winning on February 20, March 27, April 24, June 12, June 26, July 10, August 7, and October 23. He added a winged sprint car feature win on January 30, thoroughly dominating Showtime Speedway competition with a total of nine sprint car feature wins in 2021. He added another two feature wins in Southern Sprint Car Series competition for a total of 11 feature wins in Florida this year, the most Florida sprint car wins of any driver. He also came in a close second in points in the Southern Sprint Car Series, only 41 points behind 2021 point champ Sport Allen, who was also his teammate this year.
Other Showtime Speedway sprint car winners during the year: Troy DeCaire won at Showtime Speedway on January 23 (winged sprint car) and July 24 (non-wing). Sport Allen won on June 5, and Kody Swanson (February 27) and Kyle O'Gara (February 26) were non-wing feature winners during the Dave Steele World Non-Wing Sprint Car Championship weekend.
Too bad there isn't a trophy for "2021 Florida Sprint Car Team of the Year," as it would most certainly be awarded to the Taylor Andrews-owned Dayton Andrews Dodge pavement sprint car team. Taylor Andrews, a four-time TBARA champion, guided his dynamic duo of racing legend Sport Allen along with youngblood LJ Grimm to a total of 13 wins in Florida (11 for Grimm and 2 for Allen).
Troy DeCaire was the most successful Floridian in out-of-state pavement sprint car racing during the year. In addition to the six Florida races mentioned previously, he had a seventh Florida win in a short-lived effort to bring sprint car racing back to Pensacola's Five Flags Speedway, winning on July 9. Three trips to the far-away Northwest (how much further could he have gone – Alaska?) resulted in two wins on May 22 and June 19. After racing sporadically in the Midwest-centric Must See Racing Sprint Car Series in recent years, he raced in five series events in 2021, which included three of their four Southern races, winning two (Anderson Motor Speedway, May 15; and Montgomery Motor Speedway, October 8.)
Troy DeCaire (4 wins): January 16, February 13, March 20, and April 3.
LJ Grimm (2 wins): May 8 and October 16.
Sport Allen (1 win): October 9.
Shane Butler (1 win): November 13.
Davey Hamilton Jr. (1 win): December 4.
Bruce Brantley (1 win): May 15.
Tyler Clem (3 wins): May 1, October 16, and October 23.
Danny Martin Jr. (3 wins): May 22, July 3, and October 30.
Justin Webster (3 wins): February 4, 5, and 6.
Brandon Grubaugh (2 wins): March 20 and September 25.
AJ Maddox (1 win): May 15.
Shane Butler (1 win): December 11.
The year's most versatile sprint car driver in Florida? Well, obviously that was Shane Butler. Call him "Mr. Versatile," "Mr. November," and also "Mr. December." He was the only driver with sprint car feature wins on both dirt and pavement during the year in Florida, again with distinctive year-end punch, winning iconic races in both November and December. After getting his second Frank Riddle Memorial Race win in November on pavement, he followed that up with his second Don Rehm Classic race win on dirt in December. Want some more versatility for "Mr. Versatile"? In those two year-end wins: one was with wings, one without.
In addition to the short-lived return of sprint cars to Five Flags Speedway, similarities could be made to what happened at Showtime Speedway with their early-year foray into winged sprint car racing (two races in January only), and also 4-17 Southern Speedway, who after announcing a five-race non-wing 602 sprint car series lasting through December, scuttled the plan after running two races through May. With a limited number of teams purchasing and readying a 602 crate engine, the track's series was opened up to other engine types and the two races saw a mix of pavement and dirt cars. Management at 4-17 Southern Speedway had said that they did not want their 602 class to take away from the Southern Sprint Car Series events, but rather to provide an introductory class to those looking to move up in Florida sprint car racing. Veteran sprint campaigner Scotty Adema was a vigorous supporter of the concept of racing with 602 crate engines and won one of the two feature races and the track championship. I asked Scotty about the future of this class at 4-17 Southern Speedway.
"We are looking forward to getting some dates in 2022," Scotty replied. "The track wants a feeder series to the BG Southern Sprint Car Series (pavement and torsion bar cars allowed)." Scotty then mentioned that others wanted the racing to be for converted dirt cars only. "It's still too good of an idea to put it on the shelf. We've been running our 602 car against the BG cars the last two races, and it's only a half-second off the pace of a $30k motor."
Scotty's next comments were regarding the future of Florida racing and his vision for it: "I think we need a feeder class to the BG series. Late models have 3–4 different levels of cars to drive before making it to the super late level. We need that. New teams, new drivers, and fresh faces can be introduced by a class like the 602 cars. Us old guys are retiring, dying, or going broke and there's not a line of cars behind us to backfill our spots. I don't ever want it to be a replacement for the ground pounder type cars, but I would like to see it be a development/feeder class."
This reporter has sometimes wondered what type of feeder series is best suited for younger or inexperienced drivers looking to work their way up to Florida's premier pavement sprint car series. A feeder series would be appropriate for drivers in the 11–13 year-old age range, instead of these drivers immediately moving into the premier series. The TBARA had a short-lived driver development program for young drivers during their tenure. That was a good start. Maybe that's what Florida needs and deserves.
Turning to the dark (dirt) side of Florida sprint cars, the "2021 Florida Comeback Driver of the Year" must be none other than (Well, what to call him? He's too young to be old, been around too long to use any descriptive term that implies youth!) 35-year-old veteran racer and multi-time Florida champion Danny Martin Jr. After a win on Thursday, the opening night of the 2021 East Bay 360 Winternationals in February, he was in the running again on Friday, beaten only by two hot-shot Northerners (Tim Shaffer and Mark Smith), and came in third. After years of saying, "We're not running Top Gun anymore," Danny and car owner Doug Shaw did just that in '21. They took three Top Gun feature wins, one each in the spring, summer, and fall.
Runner-up in that "Comeback Driver of the Year" category was deservedly earned by another veteran, 51-year old Sport Allen, the 2021 Southern Sprint Car Series driver champion. His two feature wins and his first-ever championship in a Florida-based traveling sprint car series (he had previous sprint car track championships at East Bay Raceway Park and Showtime Speedway) made 2021 his best year in the past five seasons.
Another notable achievement on dirt by a Floridian, mostly in out-of-state races with the USCS Outlaw Thunder Tour, was by Mark Ruel Jr. of Jacksonville. He won four 2021 USCS feature races at Senoia Raceway (GA) on August 13 and 14, at Travelers Rest Speedway (SC) on September 10, and got a Florida win at Hendry County Motorsports Park on November 6.
Seeing an 11-year-old sprint car driver in Florida this year brought back memories of the last time an 11-year-old made a noteworthy debut in Florida sprint car racing. He was also from a Florida racing family. When I interviewed 11-year-old Tyler Clem at Bubba Raceway Park in 2013, he was in his first year of sprint car racing in a car owned by his father, Bubba Clem. Almost a decade later, he's now 19 years old and just won his first Florida sprint car championship, the 2021 Top Gun Sprint Series championship. That's a natural follow-up to earning dirt sprint car feature wins in Florida in both local and national series in the intervening years since that first awkward interview with a reporter in Ocala in August 2013. What a difference a decade makes.
It is satisfying to see the Rehm family carrying on with owning and operating the Top Gun Sprint Series since the death of the family patriarch, Don Rehm, in 2018. The ascension of one of their drivers, Tyler Clem, to become a championship-winning driver is one of the things they can be proud of, in addition to the professional manner in which they bring dirt sprint car racing to Florida in those 11 months of the year when the national dirt series race everywhere but Florida.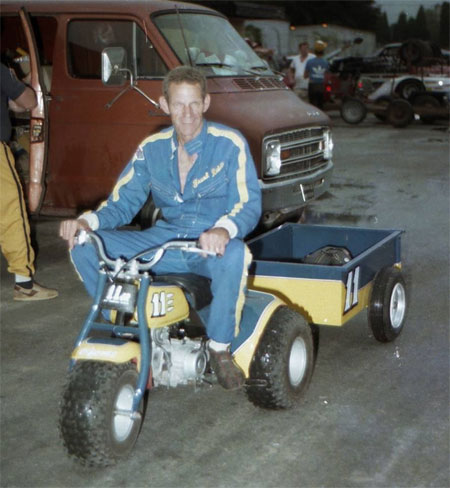 Frank Riddle on his three-wheeler in the pits at Golden Gate Speedway in the '80s, three-wheeler and cart painted in the blue and yellow team colors, Bobby Day Photo
Blue and Yellow Forever – The Legacy of Frank Riddle
Story by Richard Golardi
October 29, 2021
The colors that Frank Riddle became known for – blue and yellow – became symbolic of the blue-collar man, "the Flying Trainman," the hard-working family man, sprint car owner/driver, and businessman who could also keep in touch with the wild side every so often. As an example of that side of Frank, there was that night at the Little Manatee Lounge. Celebrating another sprint car win at Tampa's Golden Gate Speedway, the closest to a home track for Frank, car owner Harry Campbell, who once gave Frank an Andy Granatelli-like winner's circle kiss, had a silly moment in a close-dancing clinch with his driver, Frank Riddle.
"Frank Riddle was a tough old SOB now," former Golden Gate promoter Don Nerone said. "He didn't take no crap from nobody. He was as tough a man as there was in the world." Nerone had taken over from Frank Dery Jr., owner and promoter at Golden Gate from 1962 to '78, who then leased it to Nerone in '81. Dery liked to take guests up to the scorers' box to watch Frank race. Before any race with Frank entered, Frank Dery would tell his guests to keep an eye on Frank Riddle's car. He knew Frank was going to make the race entertaining.
"Watch No. 11 down there," Dery said. No. 11 was the blue and yellow Mar-Har Special sprint car, driven during the summer of '76 by Frank. "Perhaps the best-known sprint driver in these parts," one Tampa reporter crowed about Riddle. Another said he was "the dean of local sprint car racing." Frank liked to try to hoodwink the competition by downplaying his chance of winning, saying it was just luck and that if he won, it was just by chance. Everyone knew better. "The old man around here," as he called himself (and he was in his 40s when he said it), was still as sharp as ever.
Frank Dery pointed out the No. 11 car, telling them, "Just keep watchin'. Ol' Frank is comin' on." Dery's guests were in for a treat because Frank was about to put on a show. Frank was near the back of the pack. It was a foregone conclusion. You just expected Frank to blow past everyone and be in a position to win by the last lap. It didn't happen every Saturday night. But on this Saturday night, it did (July 24, 1976). Frank won. He stood in the winner's circle at "the Gate" wearing his colors, blue and yellow, of course.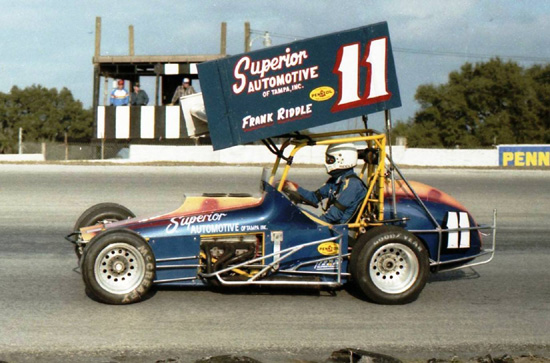 Frank Riddle at Golden Gate Speedway in Tampa, FL in the '80s, Bobby Day Photo.jpg
In their mid-50s, many men spend time looking forward to their retirement years, fretting about having enough money to retire when they wanted and being healthy enough to enjoy those years. Not Frank Riddle. He headed for the track. Running the full season at Golden Gate, or any other track, was now in the past. He had a goal in mind and it was to win the Little 500 sprint car race at Anderson Speedway, Indiana. He was 55 years old in 1984, still looking for his first "Lil Five" win. His facial wrinkles made him look grandfatherly, maybe about 10 years older than his real age, and that only made him more likeable. Back in Tampa, they were trying to figure out how a racer could be getting better as he aged. It defied logic. "Creating the Riddle legend," a Tampa columnist said, left fans and friends scratching their heads as Frank offered no explanation for his continued success. He had Social Security on his back bumper and old age was encroaching, with all its pains and aches and diminished physical capabilities.
"Old Man Riddle" slowed his sprint car to a stop in the front stretch winner's circle at Anderson Speedway on May 26, 1984. He looked fresh and steady as a rock as he rose out of his seat and thrust both fists into the air. He had just won his first Little 500, old age be damned. "Old Bones" repeated the feat the next year.
Jumping forward eight years, the Central Florida Sprint Car Association had its 1993 season-opening race at Lakeland Interstate Speedway, a quarter-mile asphalt track, on March 26, 1993. Frank Riddle arrived for the race towing his thirteen-year-old car with an eight-year-old engine under the hood. He was 64 years old and had been spending a lot of time on his Thonotosassa farm. He was spending less time racing, but intended to win or at least contest for the win. Everybody seemed to know Frank. Everybody liked him. Even the Tampa Tribune's motorsport columnist revealed that his father-in-law had worked on the Florida railroad with Frank for years. Whenever Frank raced during this time late in his career, it was a special event. This was one of those nights.
Frank went into the race with 93 career sprint car wins in Florida. The car was the same one he drove to two Little 500 wins in '84 and '85, and he started on the front row for the 25-lap sprint car feature in Lakeland. The race was called one of the greatest of Frank Riddle's career. He hadn't won a sprint car feature in two years. Two laps from the checkered flag, a yellow flag bunched up the field with Frank in first place. Close behind were two younger racers in second and third, Wayne Reutimann and Eddie Kelley. In the two-lap dash to the end, they tried everything, threw everything at Frank while attempting to pass, but they failed. It was Florida career win No. 94 for Frank. A question was posed: Which milestone would Frank reach first, (1) 100 career wins in Florida, or (2) his 70th birthday?
Frank only got one more sprint car feature win, his 95th in Florida. It came at Punta Gorda on June 5, 1993, well before his 70th birthday. He held the top position on the All-Time Florida Sprint Car Win List (which compiled all feature wins in Florida) for the rest of the '90s and into the 2000s. Four years later he retired from driving race cars. Induction into the Little 500 Hall of Fame happened just a year before he drove his last race in '97, and was followed by induction into the National Sprint Car Hall of Fame in 2010. Family and friends gathered in Knoxville, Iowa, when Frank's name was added to the list of national honorees on June 5, 2010. Frank was not present. He died on March 14, 2007, at 78 years old.
With about two weeks until the Frank Riddle Memorial Sprint Car Race, scheduled for Saturday, November 13, 2021, at Citrus County Speedway in Inverness, Florida, now is the time to honor and remember a man who is a Florida auto racing icon. Those memories of blue and yellow are going to be in our consciousness for a long time.
The Frank Riddle Memorial Sprint Car Race Returns in 2021
Story by Richard Golardi
September 11, 2021
The Frank Riddle Memorial Sprint Car Race, which is scheduled for its 10th annual edition on Saturday, November 13, 2021, at Citrus County Speedway in Inverness, Florida, is being held to honor a man who is a sprint car racing icon and a Florida racing legend. This memorial race was held at Desoto Speedway three times previously, in 2007, 2008, and 2014; and at Showtime Speedway once in 2016; and also at Citrus County Speedway in 2013, 2015, and 2017–2019.
The BG Products Southern Sprint Car Series has confirmed that the Frank Riddle Memorial this year will be a regular season, 40-lap winged race for the pavement-only sprint car series. Series sponsor BG Products is providing sponsorship of the sanctioning body, the Southern Sprint Car Series, as they have since the series took over the sanctioning of the Frank Riddle Memorial in 2016. The Frank Riddle Memorial race winners include Troy DeCaire, Shane Butler, Dave Steele, Joey Aguilar, Mickey Kempgens, and John Inman.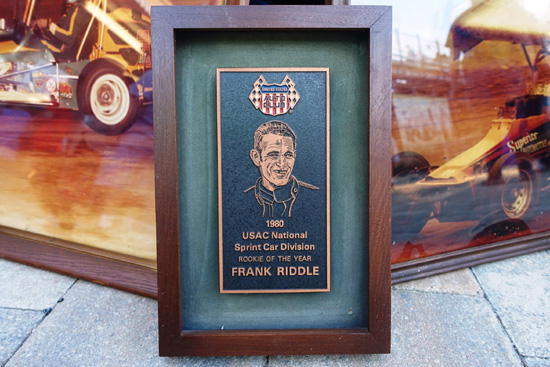 Frank Riddle's plaque awarded for the 1980 USAC Rookie of the Year title, sprint car division, Richard Golardi Photo
Frank Riddle was a family man, a working man, a businessman, and a racer. He was inducted into the Little 500 Hall of Fame in 1996 and the National Sprint Car Hall of Fame in 2010. This last honor came three years after he died in 2007 at age 78. Frank is known for winning the Little 500, one of the most prestigious and grueling auto races, twice in the 1980s when he was in his mid-50s. Frank had always wanted to race and win in the Midwest. In his first attempt at the Little 500 in 1978, he started fifth and finished in fourth place, earning Rookie of the Year. In just his fourth try in 1984, he qualified on the pole and won the 500-lap race. He came back the next year and repeated the same feat, this time at age 56. In his first five attempts during the '80s, he was the fastest qualifier each time. In his career at Anderson Speedway, he had sixteen starts in the Little 500, with two wins, five top ten finishes, and seven top five starting positions.
Frank Riddle's status as a fierce and talented race car driver was initially earned in Florida while competing at tracks around the Tampa Bay area. These tracks included Phillips Field, Speedway Park, and the half-mile dirt oval at the Florida State Fairgrounds. Early in his career, Frank raced stock cars, modifieds, and super modifieds. He would run two or three super modified races a week, frequently ending his night in the winner's circle. During this time, Frank also raced all over Florida, from the Southeast coast to Pensacola, and also in the Deep South. Some of the races would be as long as 300 laps, and Frank would show his expertise at taking care of his car and making it to the checkered flag.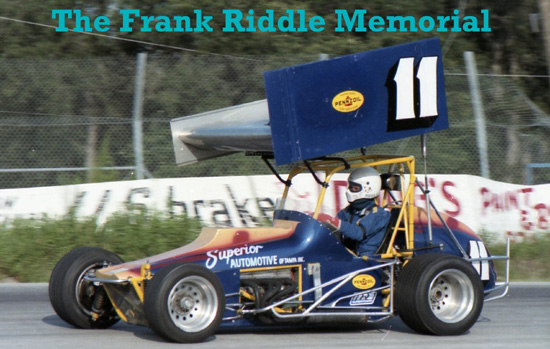 Frank Riddle at Golden Gate Speedway, Bobby Day Photo
When sprint cars replaced the modifieds at Golden Gate Speedway in 1969, car owners sought out Frank to drive their cars, as he had already shown his abilities at "the Gate" and other local tracks. When the Tampa Bay Area Racing Association was formed, Frank was a regular sprint car competitor on both the dirt and pavement with his fellow Bay area racers. He had 95 lifetime Florida sprint car feature wins during his years of racing in the Sunshine State, which places him third on the overall Florida winners list, behind only Wayne Reutimann with 97 wins and Dave Steele with 101 wins.
Tall and lanky, Frank's friends called him "Bones," or "Old Bones," and when he raced at Golden Gate, he called himself "the old man around here." The press called him "Old Pro," and "the Flying Trainman," and "the dean of Florida sprint car racers." His facial wrinkles always made him look at least 10 years older than his actual age, and he used that to his advantage. He'd lull his opponents into thinking he was too old and past his best days, and then he'd go out and beat them. During the 1980 season, he ran the USAC National Sprint Car Series in the blue and yellow number 11 J.W. Hunt Produce car owned by Harry Campbell, and earned the USAC Rookie of the Year title at 51 years old. At that time, it made him the oldest ever USAC Rookie of the Year.
A well-known story from Frank's career involved a frightening crash and fire at Anderson Speedway in 1993. His car caught fire after crashing and coming to rest in turn one, where a fan crawled under the catch fence and ran to the car to tell Frank, who appeared to be stunned from the impact, that he was on fire and to get out. Frank would meet with the fan when he returned to Anderson to race, remembering the good deed for many years after that fateful day.
After starting his racing career in 1948 and getting his first feature race win on March 3, 1951, at Tampa's Phillips Field, Frank Riddle racked up 250 feature wins over the next 49 years. After he retired from his job as a CSX railroad engineer in 1987, he spent his time farming at a small farm in Thonotosassa, and later retired from racing in 1997 at age 68. That year, he made his last trip to Anderson to drive in the Little 500. He is one of the racers responsible for motivating Floridians to make an annual trek to Central Indiana and the Little 500. Each year, the highest finishing Floridian at the Little 500 earns the Frank Riddle Award. This is why the BG Products Southern Sprint Car Series and Citrus County Speedway are honoring Frank Riddle, naming the race the "Frank Riddle Memorial."
The Frank Riddle Memorial Race,
Race Winner History
1) 9/29/2007, Desoto Speedway, Winner - Dave Steele
2) 9/27/2008, Desoto Speedway, Winner - Troy DeCaire
3) 10/19/2013, Citrus County Speedway, Winner - Joey Aguilar
4) 10/18/2014, Desoto Speedway, Winner - Shane Butler
5) 10/3/2015, Citrus County Speedway, Winner - Jason Kimball
6) 10/29/2016, Showtime Speedway, Winner - Dave Steele
7) 10/14/2017, Citrus County Speedway, Winner – Mickey Kempgens
8) 11/10/2018, Citrus County Speedway, Winner – John Inman
9) 11/9/2019, Citrus County Speedway, Winner – Troy DeCaire


(NOTE: the race was not run 2009–2012, or 2020.)
Top Five Greatest Two-Man Duels in Golden Gate Speedway History
Story by Richard Golardi
August 18, 2021
There were a lot of great races and great duels during the two decades and two years of racing at Tampa's Golden Gate Speedway. I've been researching the speedway's history for an upcoming book, in addition to dozens of interviews with racers who turned a wheel at "the Gate." The track, a third-mile asphalt oval, had the good fortune to operate during racing's "Golden Era," that period during the 1960s and '70s when some of the greatest drivers, car owners, and promoters were active. It might seem obvious that the best, the greatest two-man duels in the Gate's history involved these legends. For the most part, they did. Here are the Top Five Greatest Two-Man Duels in Golden Gate Speedway History, May 1962 to June 1984:
1) 1965 Florida Governor's Cup late model championship race, Sunday, November 14, 1965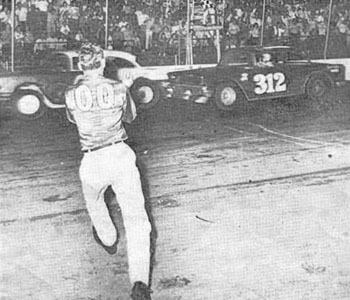 Wayne Reutimann crosses finish line ahead of Bobby Allison to win '65 Governor's Cup, Buzzie in foreground, Golden Gate Speedway, Tampa.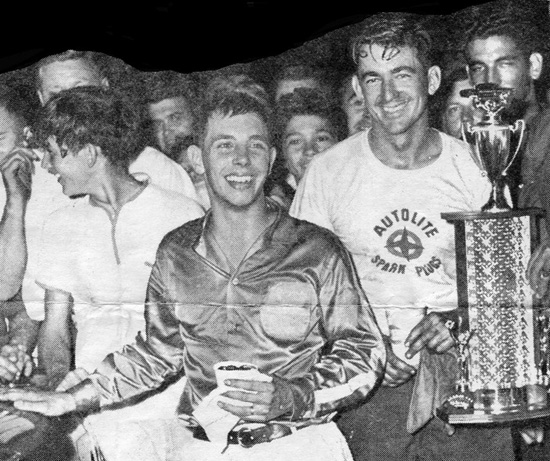 Wayne Reutimann, left, and Bobby Allison at Golden Gate Speedway, 1965 Governor's Cup late model race.jpg
The first race at Golden Gate designated as "The Governor's Cup" turned into an epic two-man battle between local racer Wayne Reutimann and Alabama modified and stock car driver Bobby Allison. Reutimann, of the Zephyrhills "Racing Reutimanns," was a frequent winner in the Gate's late model class. Allison had honed his championship-winning form in NASCAR modified racing. Wayne set the fastest qualifying lap on Saturday night; Bobby didn't arrive in town until Sunday morning. He had to earn a spot for the 200-lap championship race in a Sunday afternoon 25-lap qualifying race. Bobby made a furious charge through the field after starting last and won it. Wayne and Bobby had already established themselves as the two fastest. The 200-lap contest was going to determine who the Florida State Late Model Champion was.
Wayne was in the lead by the 25th lap as Bobby sliced through a gaggle of slower cars. He looked like he knew the track as well as the weekly racers, including Wayne. Soon he was in second, trailing closely behind Wayne. Despite locking bumpers with another car coming off a turn, Wayne had the lead for more than 170 laps. Bobby was looking to pass the entire time. Once, he dove low in the turn, getting his front bumper up to Wayne's door. There was no bumping. The two racers respected each other too much, and both wanted it to be a clean race. Bobby fell back in behind Wayne again. His best chance to pass had failed, or so it seemed. Wayne appeared to be on the way to winning.
That all changed on the last lap, coming off the fourth turn. Wayne let his guard down for just a moment, a split-second lapse of concentration. Bobby pounced. He pulled alongside Wayne coming off the last turn. They floored it. It was an all-out drag race to the checkered flag. This was what the Golden Gate fans had come to see, the two best drivers in the field in the two best cars, dashing to the finish. Buzzie ran through the infield toward the edge of the track, urging his brother on.
Wayne beat Bobby to the start/finish line by less than a car length. It was the biggest win of his six-year racing career. Bobby was sure that Wayne was going to be joining him soon on the NASCAR circuit. He was just that talented. That 20-year-old kid from Florida had skill, nerves of steel, and was a winner.
2) The Pavement Master vs. The Dirt Master, modified feature race, Saturday, April 4, 1964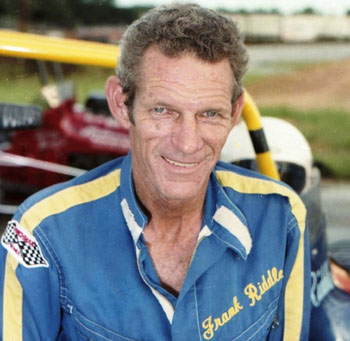 Frank Riddle at Golden Gate Speedway. (Bobby Day Photo)
The modified feature in early April '64 matched two drivers who were both inducted into the National Sprint Car Hall of Fame: Frank Riddle (inducted in 2010), and Pete Folse (inducted in 1995). Frank Riddle had matured into a formidable modified driver, using the weekly racing on the Gate's asphalt to develop his expertise on pavement. He had one track championship, winning the super modified championship race in December '63. His first modified track championship came a few years later, in '67. Pete Folse had established himself as a national racing star by winning the IMCA National Sprint Car Series driver championship three times, 1959–61. His expertise on dirt matched Frank's expertise on pavement. As Frank led the 20-lap modified feature race, Pete was right on his tail. Pete pressured Frank throughout the race, waiting for Frank to make a mistake, allowing him to pass and take the win. Frank was perfect, never making the slightest bobble, holding off Pete to win one of the most exciting modified races seen at Golden Gate (Pete was second). On this night, the Pavement Master defeated the Dirt Master.
3) 1970 Season Finale Sprint Car Feature, Grand Champion-Deciding Race, Saturday, November 7, 1970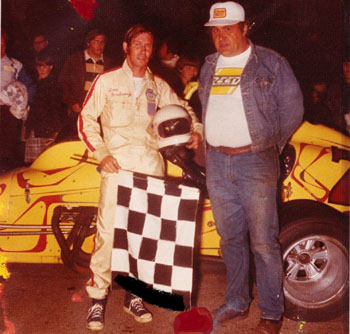 Dave Scarborough, left, and Harry Campbell with the Lee Parker #7 sprint car, Golden Gate Speedway
The right to be named the "Grand Champion" of Golden Gate Speedway, the overall driving title earned by the driver earning the most points in all classes, was going to be decided in the season's last sprint car feature race on Saturday, November 7. It was set to be a bumper-bashing, intense duel between two 1970 track champions, Dave Scarborough (sprint car track champion), and Jim Alvis Sr. (late model track champion). They had an intense rivalry going on during the year, and even though Scarborough was the sprint car champ, he wasn't assured of a victory in the sprint car race. Alvis could, and had defeated him in the past, and was the Grand Champion title holder the past two years, 1968 and '69. A simple outcome would determine the 1970 Grand Champion: The driver to finish ahead of his arch-rival in the 25-lap sprint car feature would earn enough points to take the overall point title.
In the feature race, Jim Alvis Sr. led early. Dave methodically advanced past slower cars until he was right there, inches off Jim's bumper. Dave swung out high to pass leader Jim Alvis Sr., who slid into Dave's car, sending them both sliding off the track. Both drivers were required to start at the rear when the race restarted. What happened next was astounding. Leaving Jim behind, Dave carved through the field, making passes on every turn. He passed four cars on one lap, six the next, followed by the pass for the lead on the last lap. Taking the checkered flag first ahead of Jim made Dave Scarborough the 1970 Golden Gate Grand Champion. The come-from-the-back win has long been held to be one of the most amazing displays of driving skill by any driver in Golden Gate's history.
4) Brother vs. Brother Match Race, The Racing Reutimanns, limited late model race, Saturday, March 31, 1973
With all of the Racing Reutimanns present at Golden Gate Speedway (Emil, Buzzie, Wayne, and Dale) just before the two oldest brothers, Buzzie and Wayne, were due to leave for six months of modified racing in the Northeast, it seemed like the ideal time for a match race. Track owner Frank Dery Jr. resolved to have this match race for the Reutimanns on the last Saturday in March. In April, Buzzie and Wayne would be a thousand miles away, racing in New York. The ideal match race was going to be a duel between all four Reutimanns, including Emil, who refused to say he was retired, and 17-year-old Dale, who got his first win at the Gate in '72. But there weren't four cars available. There were only two, the limited late models being raced by Wayne and Dale on Saturdays in March.
Dery wanted the match race to be between Wayne and Buzzie, both track champions at the Gate, Buzzie twice in a late model, and Wayne in a sprint car. Dale was asked to loan his limited late model to Buzzie to set up the five-lap match race. Wayne had the advantage, as he had won the limited late model feature for the past three Saturday nights. Unlike his two brothers, Buzzie was not a regular racer at the Gate. This race could reveal how far one brother might go to defeat the other.
When the green flag was waved, Buzzie and Wayne raced closely, with a few bumps, through the first four laps of the match race, setting up a deciding last lap. Buzzie tapped Wayne's late model on the rear bumper, sending it up high in the third turn and allowing Buzzie to pass and take the unexpected win.
Dale was hoping to see his car in the same condition as before the race. It wasn't. It had gotten bounced around some during the race and it showed on the car's sheet metal when the battle of brothers had gotten a little intense. He wasn't pleased. His consolation – he wouldn't have to race his brother in the Gate's limited late model class for the next six months. More wins were coming for the youngest Racing Reutimann.
5) The Veteran vs. The Kid, sprint car feature race, Friday, May 11, 1973
Now a beloved star and multi-time champion at Golden Gate, 44-year-old Frank Riddle was still looking for his first sprint car track championship there. In a few years, he'd start calling himself "the old man" while still in his 40s. It was a perfect ploy, the wrinkled, grandfatherly racer that the kids all loved, lulling his opponents into underestimating him. The Veteran already had Golden Gate super modified and modified titles. The Kid, 18-year-old Robert Smith, had won his first sprint car feature at the Gate less than one year earlier, October 21, 1972. The teenage sprint car phenom's breakout year was in '73. Now he was winning more frequently in the Gate's weekly sprint car races (moved to Friday night in '73). Not only was he winning, but he also wasn't letting the veterans intimidate him, including Frank Riddle. When he was little, Robert would tag along with Frank to go fishing in Gibsonton's Bullfrog Creek. He looked up to Frank as a mentor, and Frank drove cars for his father, Willard Smith. In the May 11 sprint car feature race, a two-man duel developed between Robert and Frank Riddle, who was right on Robert's rear bumper from the first turn of the first lap until the last turn of the last lap, but could not pass Robert, who won the feature. Many more duels (and a few punches) between the Veteran and the Kid were ahead, all through the '70s and '80s, both in Florida and at the Little 500 in Anderson, Indiana.
Origin Story: Florida's First Long-Distance Sprint Car Race
Story by Richard Golardi
July 29, 2021
If one considers a long-distance sprint car race to be longer than 100 laps, then Florida's first race to qualify (with sprint cars on a short track) was the inaugural Florida State Championship Sprint Car race. It was a 300-lap race held at Tampa's Golden Gate Speedway, a paved third-mile oval, on Sunday, December 12, 1971. It was the first 100-mile sprint car race ever held in Florida. Except, that's where things sort of get a little murky.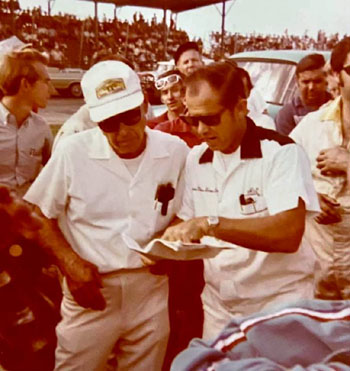 Johnny Hicks, starter at Golden Gate, left, and Art Moody, competition director, on race day, Dec. 12, 1971.
There was a prior long-distance open wheel race in Florida, held far from Tampa, then the epicenter of Florida sprint car racing. It was the Fiesta 200 super modified race, which was run for four years in the mid-'60s at Pensacola's Five Flags Speedway, a half-mile paved oval. It was 200 laps, 100 miles. In its first year, it was the Fiesta 200 (Modified) Stock Car Race, according to the track's 1963 newspaper ad. By the final race in '66, it was the Fiesta 200 Super Modified Stock Car Race. But by then, some cars looked just like a sprint car, with the IMCA-required "streamlined body," except with a roll cage and top wing added (not all cars). That's the murky part – the race had morphed into a sprint car race with wings and cages. By today's standards, that would be a winged sprint car race. Not every car looked like that, but Ellis Palasini's No. V8 did. That car was a sprint car, but that race wasn't a sprint car race.
Floridians raced in the Fiesta 200, including Jimmy Riddle, Dave Scarborough, Bill Roynon, and Dick Pratt. None of them won it. The drivers from the Deep South, not Florida, did better in endurance races, matched with a fast car and high bank race skills. Texan Wayne Niedecken won in '64, followed by Mississippian Armond Holley, who won in '65 and '66. Super modified racing fell out of favor at Pensacola, and Mobile Speedway had their own race later in the '60s, the World 300.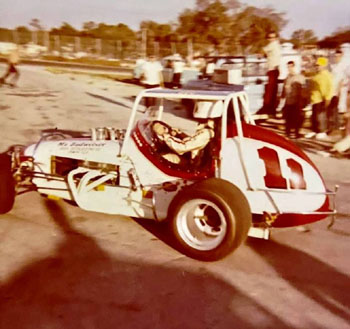 Dave Scarborough at Golden Gate Speedway on race day, Dec. 12, 1971.
Golden Gate Speedway's longest sprint car race prior to '71 was during the Fourth of July championship races in '69, a 100-lap sprint car race. Jim Alvis Sr. was having his best season yet in sprint cars in '69 at "the Gate" (as Golden Gate Speedway was known), even beating the cars with offset engines. Alvis, wearing all-white, flashed his winning smile in the winner's circle on July 3. He won the 100-lap sprint car race and took second in the late models. Over the next few years, several other drivers ascended in the sprint car ranks at the Gate while Jim Alvis Sr. spent his time concentrating on late models, winning multiple track titles. The first two sprint car track championships, in '69 and '70, were taken by Wayne Reutimann (for car owner Sam Posey) and Dave Scarborough (car owners Harry Campbell and Paul Urbanek). Scarborough dominated the sprint car points through most of the '71 season at the Gate. That point lead evaporated by September – Jim Riddle was coming on fast, now driving his own No. 1 sprint car, and he took over the point lead from Scarborough later in the month. The last sprint car race of the regular season, Saturday, November 6, was going to determine the 1971 sprint car track champion. When it concluded, Jim Riddle had the advantage, winning his first sprint car driver title at the Gate by seven points over Dave Scarborough.
That seemed to set the stage for the locals entered in the inaugural Florida State Championship Sprint Car race a month later in mid-December. The locals had a familiar refrain when asked if they could beat the out-of-staters – they would remark that they knew the track, knew which tires and setups to use, and that gave them the advantage. The favorites appeared to be Jim Riddle, Dave Scarborough, Larry Brazil, Frank Riddle, and Wayne Reutimann. Scarborough, upon arriving in Anderson for the Little 500 back in May, was described by a local reporter as the driver who "has won almost every sprint car race at the Golden Gate Speedway." Wayne Reutimann's feature win in October proved that wasn't true, but Wayne was having a mediocre year in sprint cars, out of the top five in points. Not so for Frank Riddle, third in points in '71. Jim Riddle had another advantage in addition to his hot streak in the Gate's sprint car battles – the new car that Harry Campbell was building for him especially for this race.
Harry Campbell spent November and the early part of December converting an ex-Indy car roadster, which had been driven in the Indy 500 by Troy Ruttman, to a sprint car. Before Jim Riddle could drive it on December 12, Harry's rebuilding process involved shortening the wheelbase, putting in a new engine, and adding a roll cage. All the cars entered would have roll cages, not only the racers coming from the USAC sprint car circuit (which required roll cages starting in '71), but all the Floridians as well, who had weekly Saturday night racing at Golden Gate. Sprint cars raced there with "roofs," sheet metal over the top of the roll cage, and 302-cubic-inch Chevy engines, some of them offset (pushed over to the car's left side). Cars from the Southern super modified circuit had to remove their wings.
News was coming in about the Midwest drivers who were expected: Cliff Cockrum from Illinois, Todd Gibson from Ohio (also with an offset roadster), and Dick Gaines from Indiana. There was also a Georgia boy, Herman Wise, who won the Little 500 in '71, and Chuck Amati from Tennessee.
Unlike the Governor's Cup late model race in November, which took up a weekend of racing, the Florida State Championship race for sprint cars was a one-day event. Qualifying for the 32 starting spots was planned for just prior to the 2 p.m. start of "the longest and richest ($11,000 total purse) sprint car championship in Florida history." Track owner Frank Dery chose to break up the race into three 100-lap segments, with a 15-minute pit stop after the first two segments. That eliminated the need for green-flag stops and the frenzied, dangerous conditions they would create. Golden Gate chief starter Johnny Hicks made an investment to make the Gate a little safer – foam fire-fighting equipment to put in use at the Gate and the Florida State Fair track during the February IMCA sprint car races.
Jim Riddle broke the one-lap qualifying record during his pole position-winning qualifying run. In the race, he appeared to settle into a strategy of laying back to see if others went out too hard at the beginning of the 300 laps and subsequently broke or crashed. At first, it was uncertain if this was a wise plan, as Dave Scarborough and Larry Brazil fought an intense battle for the lead throughout most of the race, making it appear as if they were sure to finish one-two. They were the fastest, or so it seemed …
The two-man battle for the lead was interrupted twice by accidents that sent two drivers to the hospital. When Tony Lavata's onboard "USAC approved" fire extinguisher exploded, he was sprayed with shrapnel which caused bad cuts on his chest, stomach, and arms. University Community Hospital later reported that his condition was fair. He survived. Wayne Reutimann was the second driver hurt, getting burned on both legs when his car caught fire. He was less seriously injured and left the hospital later that night.
Into the last hundred laps, Dave Scarborough had already led for 200-plus laps, followed by Larry Brazil, who had led for less than 20 laps. Then they were both out. It was serendipity, or luck, or just being right where he needed to be, waiting for the hotshots to wear out and go out, that Jim Riddle was there, the new leader as the last few laps dwindled down to a checkered flag. Jim Riddle was the victor at the so-called "first annual" Florida State Championship Sprint Car race. It seemed unusual for a brilliant promoter like Frank Dery Jr. to make such a goof when titling the race. There never was a second annual race. Later that decade, Dery made plans for an even bigger annual sprint car race. But that's another story ...
Finish, Florida State Championship Sprint Car Race
Golden Gate Speedway, Tampa, FL, 300 laps
Sunday, December 12, 1971
1. Jim Riddle (FL); 2. Ollie Silva (MA); 3. Hardy Maddox (FL); 4. Dick Gaines (IN); 5. Bill Roynon (FL); 6. Todd Gibson (OH); 7. Buzz Barton (FL); 8. Billy Yuma (FL); 9. Jerry Mann (TX); 10. Cliff Cockrum (IL)
Photos from Golden Gate Speedway are courtesy of Brenda Huskey Hudnell.
Reporter's Notes from the 2021 Little 500
Story and Photos by Richard Golardi
May 30, 2021
The 2021 Pay Less Little 500 Presented by UAW turned into a race of attrition as wrecked and broken cars gathered at the west end of the track showed that turns 1 and 2 had become the "crunch corners." Not a single accident occurred in turns 3 and 4, and there was only one spin down in those "quiet corners." Tyler Roahrig steered through trouble, had a deft hand at dealing with slower traffic, and held off the late-race charge mounted by the Swanson brothers, who both were in the cars of teams new to them in 2021. Kody Swanson appeared to have the best chance to overtake Roahrig but failed to make the crucial pass late in the race. Roahrig later built up almost a half-lap lead over the Swanson brothers.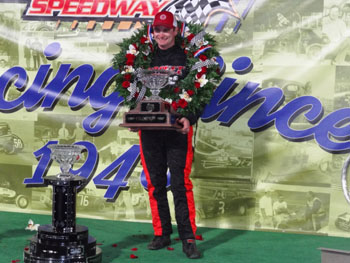 Tyler Roahrig holds the winner's trophy at the 2021 Little 500 on Saturday.
By lap 280, half the field was out of the race. The infield became a parking lot for many cars steered by veteran racers (including Kenny Schrader, Brian Tyler, Shane Butler, Aaron Pierce, and Eric Gordon). Sixteen cars were still making laps, and a few more dropped by the wayside during the last 200 laps. The number 51 car of Scott Hampton seemed to have gained speed over prior years to challenge for the lead and take 4th place; and the number 55, driven by Florida veteran racer Tommy Nichols, took the checkered flag at the conclusion of 500 laps for the first time. Nichols' 12th place was his best-ever here for the 500.
Although a substantial number of fans still believed that air jacks had been banned from the Little 500 this year (they were banned for a short time), the rule banning air jacks had been rescinded, and I spotted them on the cars of Shane Butler, Aaron Pierce, and Kody Swanson. Although two-car wrecks in the first and second turns were a recurring calamity through the first half of the race, none compared to the frightening wreck that occurred on the front straight during Thursday qualifying. The car of Rob Keesling seemed to take a sharp left turn at the start/finish line and veer directly into a temporary infield concrete barrier set at an angle to the track. The sharp impact knocked over the barrier, sent Keesling's car into a pinwheeling flip, and when it landed in the infield grass, the car tore into a series of crazy donuts caused by a stuck throttle or unconscious driver or both. Keesling was awake and alert when taken to an Anderson hospital. I hope that a permanent barrier will soon replace the temporary movable concrete barriers, but the aging, rusted catch fences and safety cables are the structure that is most urgently in need of replacement at Anderson Speedway.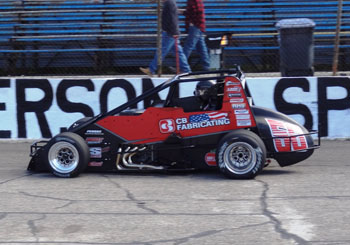 Tyler Roahrig's race winning car at the 2021 Little 500 on Saturday.
The crew of Tommy Nichols' number 55 entry discovered that their refueling hose was damaged and unusable, and when a replacement was pressed into service, another part was still needed for their refueling rig. A trusted friend made the trip to Michigan, picked up the needed part, returned to Anderson, and hand-delivered the part right to the infield pits, where it was installed on their refueling rig within hours of the race start. Everyone was left feeling, "It sure is nice to have good friends!"
Rookie Cody Karl from Gulfport, Mississippi, was the second-ever racer from that Deep South state to become a Little 500 starter. He had raced at Mobile (Alabama) International Speedway when they previously had sprint car racing, and Cody had a Stealth chassis at that time. Cody finished 20th in a Beast chassis Jett Motorsports car after starting 30th. He told me that he enjoyed racing at Mobile and that he liked that type of high-speed, banked track. A bullring like Anderson was a new experience for him, as was a race with pit stops.
I got a chance to take a close-up look inside the cockpit of Shane Butler's number 18 Butler Motorsports sprint car and I peppered Keith Butler, Shane's brother, with a series of questions regarding all the dials and knobs that I saw inside the cockpit. Unlike the high-tech end of open wheel racing, in which all the car controls are clustered on and attached to the steering wheel, sprint cars still have a basic steering wheel with other controls on the dashboard and to the right and left of the cockpit, within easy reach. There are right (marked R on the knob) and left (a big L) weight jackers, and a fuel adjustment dial, and others. A carbon-fiber containment seat protects the driver, and it's light and strong. The days of open wheel drivers emerging from a wreck with broken bodies and broken seats seem to be a thing of the past, thanks to these new, rugged seats.
The high level of talent seen in the current class of Little 500 pavement racers, including Tyler Roahrig, the Swansons, and Bobby Santos III, is a stroke of luck for short track pavement racing, as their talent adds to the excitement, coupled with the knowledge that we'll likely be able to see them race in the Little 500 for years. At a time in the early '60s, that wasn't the case. Parnelli Jones, Jim McElreath, and Johnny Rutherford all came to the Little 500, each for only one race before moving on to successful Indy car racing careers. This weekend, there was a lot of fretting and gnashing of teeth over the lack of opportunities being offered to Kody Swanson, even some anger and indignation directed at Indy car racing. At times, I find that behavior puzzling. Other than that short "prime time for pavement short track talent" during those three years in the early '60s (1960–62), pavement short track racing has not been a path to Indy 500 glory in recent history. Sure, there was a time in the '90s when that "prime time" seemed to be having a revival. Steve Kinser and Jack Hewitt raced an Indy car at the Brickyard. None of the pavement short track talent won the Indy 500, none of them ever drank the Brickyard's milk. Fans of the Little 500 are the winners. The Swanson brothers will be back next year. It's a safe bet that they'll be competing for the win. And I'll back too, and enjoying it.
Tommy Nichols: Bravery, Determination, and a Desire to Win the Little 500
Story and Photos by Richard Golardi
May 28, 2021
Fifty-one-year-old sprint car owner/driver Tommy Nichols sits in a folding chair with a large RV looming directly behind him, which serves as a shield from the late afternoon sun in a parking/camping area at Indiana's Anderson Speedway. The affable racer is showing a few signs of aging, his trimmed beard sprouting some gray and there's maybe a little added mid-torso weight from a decade or two of middle-age. Two small dogs romp under and around his feet, and when their stares reach a critical level of pity, he feeds them small chunks of pulled pork from his plate.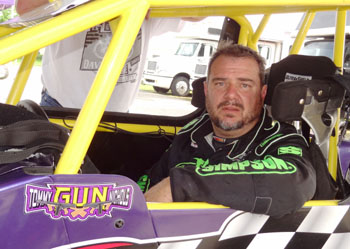 Tommy Nichols discusses car setup with crew, 2021 Little 500, Anderson Speedway.
Tommy is here as an owner/driver to attempt to qualify for his fifth Pay Less Little 500 Presented by UAW. It seems certain that he'll qualify and be racing in his fifth "Lil' Five" on Saturday night. His previous starts were in 1991, '94, '96, and last year, when he had his best race finish, 13th place with 439 laps completed in his purple and yellow No. 55 Tommy Nichols Enterprises Hurricane chassis. "Tommy Gun" Nichols also fielded a car for Florida driver Garrett Green in 2018, getting 14th place that year as solely an owner. Tommy has been to the winner's circle in both TBARA and Southern Sprint Car Series competition in Florida, most recently on August 11, 2018, at Citrus County Speedway in Inverness.
His team for the 2021 Little 500 consists of, "A 'George Rudolph Hurricane' that was put together for him, built for him a couple of years ago. And 'Pops,' my dad, built a brand-new 410 [cubic-inch] motor for this year, and Mike Alvis and Tra Pissot worked on the suspension and the set-up of the car. I came in here very happy. The first time out on the track today [Wednesday], and the car worked really, really well. Throughout the day, with the adjustments, we kept getting faster and faster. I never put on another new set of tires. We did get a scare today with the motor, blew an oil plug out of the bottom of the motor. We've got Wilo USA as a sponsor again this year, also PSI Technologies, Royal Electric, TNT Fabrication, and a couple other product sponsors. Also Troy Thompson, TTI Machine. I'm very grateful for the help and the sponsorship that we've got. I think we've got a pretty good team this year."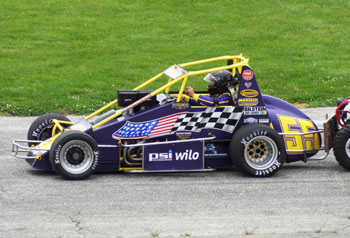 Tommy Nichols in the infield during a 2021 Little 500 practice day.
The original plan that Tommy had for this year's Little 500 was to have Florida driver LJ Grimm drive a second team car, the blue and black Hurricane chassis that is raced as his Florida winged car. A new 360-cubic-inch aluminum motor was to be matched with that car for Grimm to drive but now serves as Tommy's backup car. "LJ backed out, probably a month ago," Tommy explained, "and said that he had other plans, and other things to do, and he appreciated the offer. So, we decided to just come and run one car." LJ Grimm has revealed that he is driving in this weekend's Must See Racing winged sprint car race in Kalamazoo, Michigan, making it impossible to also race in the Little 500. "I said, 'That's fine.' " Subsequently, that blue and black winged car got damaged in a head-on wreck at Auburndale Speedway in April, breaking the front axle and "taking out the front clip," which is being repaired now.
Last year's best-ever finish in the Little 500 for Tommy came with some frustration and disappointment. "We were at lap 472, and we were sitting ninth place and I was passing Kenny Schrader for eighth when the motor blew. Twenty-something laps left to go and we were almost there. We were the highest-placed Florida guy at the time in the race. A bunch of us in the top ten, we were lapping everybody in the field. I guess I was 'counting my chickens before they hatched,' and then the motor popped. But – it was a lot of fun."
One of his Little 500 memories involved reaching a top-five position early in the 1996 race and then getting "tangled up" with a lapped car. "He tapped me on the front end, it broke the brake line, and I had no brakes. Basically ran into the wall, came off the wall and went down into the pits and took out Frank Riddle's pits. Frank Riddle came up to me after the race and he had a five-gallon plastic bucket, and he goes, 'Nichols, this is the only thing I have left from this whole race! I blew my motor up, I crashed the car, you destroyed everything in my pits, and this is the only thing I have left.' I felt bad. They said I even wiped out his generator and hit his fuel tower, and I had no brakes and no steering because after the brakes went out, I hit the wall and the steering went out. So, I was just a speeding bullet going into the infield. I was just sitting there waving my hands, like, 'Watch out! Watch out!' and went into the pits."
During the time that Tommy was running the full USAC sprint car season (dirt and pavement) with his father as the car owner, and after qualifying for the 1994 Little 500, "That was back when USAC was running and we would go over to Winchester. I normally qualified in the top fifteen every year we came up here. I qualified and I was happy, we were locked in, and I go over to Winchester and that was the night with the bad accident with Robbie Stanley." Stanley was going for his fourth consecutive USAC National Sprint Car Series championship in '94, after winning the USAC title in 1991, '92, and '93. Tommy found himself swept into the accident that involved Robbie Stanley. "I destroyed my car, "Tommy recalled. "Larry Tyler hit him in the tail tank, which spun him around and I T-boned him right in the side, and we're pretty sure that's what got him. It was horrifying. It was devastating to me for a while. At that point, I kind of got out of racing for a month or two, and then, believe it or not, some Indiana people called me and said, 'Hey, come back racing. We miss you!' So, I came back racing. I kinda felt bad, but slowly got over it. That's just something that you never get over – you learn to deal with it."
On the USAC sprint car trail in the early to mid-'90s, Tommy would make the drive back and forth to Florida every weekend. "Now, we stayed up here sometimes with Brad Armstrong. They had their shop up here and we kept our cars up here and we would drive back and forth. Sometimes, we'd leave the rig up here and just drive a car or truck back and forth. It just depended. It was pretty hectic. It was a lot of fun. My dad [Dennis 'Pops' Nichols] and Jack Nowling were very good friends. They worked in the marine business, the marine trailer business together. Jack helped us out. I was getting out of go-karts and said, 'I want to get into sprint cars,' and Pops takes me over to Jack Nowling's place and Wayne Hammond put me to work on a sprint car. That's where I started to learn to work on 'em, with them. That was probably in the mid-'80s. There's a lot of good memories there."
The next stage in Tommy's racing career was helped by a sponsorship deal with Hooters Restaurants. The Hooters Pro Cup late model series was starting and Tommy was involved from its beginning. A trip to Alan Kulwicki's shop found them picking up tow rigs, motors, and late model cars for their racing. That was when Lakeland's USA International Speedway was a prominent part of the Hooters Pro Cup racing.
"I've got probably five thousand laps over there on that track. Hooters owned that. It was the start of the series, and that's what I ended up doin'. I kinda transitioned to the late models for a couple of years – '96 and '97. In '98, I broke the contract with Hooters and went to drive for Lang Engineering in ARCA. So, I went and ran the ARCA Series for a while, I think a full year. We were going to try to shoot for the Daytona 500 and were getting ready to run some NASCAR practice and then the team kinda fell apart. I went right back to sprint car racing."
There was also some USAC Silver Crown racing, in a car previously driven by Dave Steele and owned by Mac Steele, Dave's father. "Put it together, Hooters sponsored me, and we ran some IRP and some pavement." Tommy was away from the Little 500 for an extended period, from the mid-'90s until the past four years, due to these other racing pursuits. Technology had changed, for the cars and the tires, and just about everything else. The new way of endurance pavement sprint car racing involved a short learning curve, and Tommy adapted quickly, qualifying in his own car last year for the first time in 24 years.
"I definitely feel a lot older, I can tell you that," Tommy remarked. "I sit here and look at some of the young kids that are running, these twenty-something young guys, and I'm like, 'Yeah, I used to be you, you know, thirty-something years ago!' I don't know – I think I'm a little smarter now. Back then it was: Put the foot down and go. Didn't care if you crashed, didn't matter. Now, it's smarter, more methodical in what we do, the changes we make to the car, the changes I make in driving style. I wish I would have had the sponsors and this attitude twenty years ago, and I probably could have made something here with this. But, it comes when it comes … and I'm happy."
How much longer will he race? "I thought about it," Tommy replied. "With number 55, I was planning on when I became 55, that would be my final year. But, ya know, I was sitting down with Kenny Schrader at the drivers' meeting and we were talking. I know he's in his sixties, and he said basically, 'You'll know when you're done.' He goes, 'Until you stop having fun …' And I'm really having fun right now. I really am. I mean, win, lose, draw, or break."
Kody Swanson: Crossroads Decisions, Throwback Races, and Pavement Domination
Story and Photo by Richard Golardi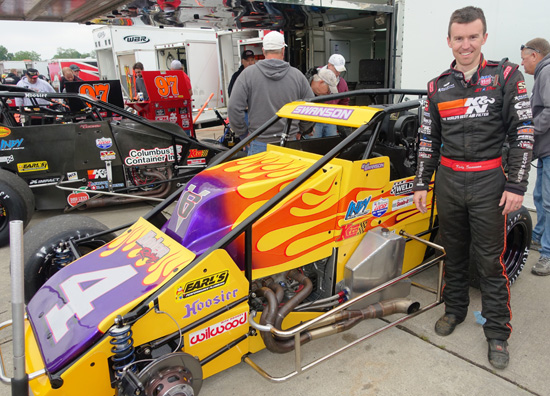 Kody Swanson at the 2017 Little 500, Anderson Speedway, IN
May 20, 2021
Thirty-three-year-old Kody Swanson is a race car driver whose character and demeanor makes you think of drivers from a past era. It's almost like he materialized from another era when drivers raced hard and clean, still treated others with respect and courtesy, and then went home to their families and their regular day jobs when the weekend was over. When he wins, you can't help but feel a little tinge of "things are right with the world." With talent in abundance, you might also wonder, "How come this guy hasn't advanced to the highest level in American auto racing?"
Swanson is a five-time USAC Silver Crown Series driver champion, but won't be in contention for his sixth championship this year, a crossroads year in which he is eschewing the dirt Silver Crown races to allow more time for a burgeoning stock car racing career. But, he's hardly fleeing from those throwback races in which he's dominated in the past, a couple of them prominently part of the "Week of Indy" races leading up to the Indianapolis 500. One of those races is gone, the Hoosier Hundred dirt champ car race in Indy. One remains, the Little 500 in Anderson, Indiana. He'll race in Anderson one week from Saturday in the 2021 Little 500, as he's already put together a pavement open wheel program (Silver Crown champ car and pavement sprint car) with Doran Racing. Kody's talent for pavement open wheel racing is another throwback, evoking memories of another pavement virtuoso, Dave Steele.
This crossroads year for Kody, which got its big jump-start at New Smyrna Speedway during February Speedweeks, will see more chances to dominate on pavement as Kody reduces the amount of dirt racing on his schedule. He recently revealed a race schedule for the last half of May with all pavement races. He's already racked up wins in pro late model and super late model racing in 2021, along with a pavement sprint car win in Florida.
There was a time when Kody was not that positive about an opportunity coming his way to advance in pavement racing and eventually get to the highest level of American auto racing. It was in late 2015, when he had just clinched his second USAC Silver Crown championship in Syracuse, New York. When I interviewed him in October 2015, Kody remarked, "I would like to make it on at some point to maybe the NASCAR ranks, but I just don't have the real certain hope that will happen. I'm old in my career, but I'm not as young as the guys that they're taking. I don't have some of the rest of the pieces that are needed to make that work. So for now, I'm enjoying my time in the Silver Crown Series …"
Kody has obviously made a concerted effort to put some of "the rest of the pieces" together this year, adding a hearty dose of pavement late model racing and winning the pro late model driver title in February during New Smyrna's Speedweeks racing. He's also downplayed dirt racing. In late 2015, he planned "a little bit of everything. Winged pavement, winged dirt … Silver Crown – that'll be my main season-long goal …" Fast forward to 2021 and those goals from a half-decade ago have been subject to a major makeover. Winged sprint cars (pavement and dirt varieties) seem to have gotten the ax, along with dirt champ cars and having the Silver Crown champ car title as his main goal for the year. Meet the new goals.
While he was at Florida's New Smyrna Speedway earlier this year, I asked about the crossroads in his racing career that he has reached in 2021 and his future plans: "I've been really fortunate to have had a great career in Silver Crown and open wheel stuff thus far," Kody Swanson told me. "I've always wanted to continue to move up, whether that be in NASCAR's Cup Series, or moving toward the Indy 500. In the last year, I've had a couple of opportunities to kinda break free." The ARCA stock car race at Iowa Speedway in July 2020, in which he finished eighth, was described by Kody as "the first time I've been in anything with fenders in a while. I drove for Chad Bryant in a late model stock a couple of times. The opportunity came to race here with Team Platinum and they do a really great job with the pro late models and super late models. To come to New Smyrna here, we get a lot of experience in a short amount of time. With successive days in the car and trying to improve each night, it's a great opportunity to learn."
Kody also expressed how much he appreciated the Team Platinum crew, and the great cars that they prepared for him. He also said that he'd been close to winning in the pro late model class, and wanted to win a race in that class during eight days of racing in February, a goal he achieved later that week at New Smyrna Speedway, a track he described as "one that's hard to pass at."
Pavement sprint car racing has been one of his most successful pursuits in recent years, with three wins in the Little 500 and two wins in the Dave Steele World Non-Wing Championship race in Florida the past two winters. Those wins in Florida were both with Doran Racing, and Kody returns to the Little 500 for the first time with one of the Doran Racing No. 77 sprint cars later this month. "I still love open wheel stuff and I'm going to run all the pavement sprint car races we can with Doran Racing, and the pavement Silver Crown stuff," Kody stated. Not the dirt Silver Crown races – he admitted that he's not seeking a ride for those races.
"If my goal for the year is to get moved into new things," Kody remarked, "and I keep doing the same things over and over, expecting something different, then some people will think that's insanity! And I'm half a decade in here, been doin' the same thing. I don't want to take that focus and put it toward a championship-type thing. I want to continue to try to move forward into new types of racing on the pavement, and see where that goes for a little while."
Earlier this year, I also asked Kody about his 2015 comments, when he spoke of not having that "real certain hope" about getting to NASCAR eventually. Was he implying that he was too old, then or now? "I probably still am," he replied. "But I think there's at least a little hope left. At one point, I was too old and had no opportunities to do something different. I'm older now, but I've been fortunate to have some opportunities shake loose, so I'm just trying to pursue those as best I can and I'm enjoying the challenge of learning something new. I've been really fortunate to have a lot of good years and a lot of success with those [USAC Silver Crown] cars."
For the future, Kody told me that he wants to "put more effort into trying these new things, and doing everything I can to pursue them. If it's things that are along the path to the Indy 500, or even things that are sports car-related, I've been enjoying trying them all."
Dust and Rain: An Indiana/Ohio Adventure
Story and Photo by Richard Golardi
May 9, 2021
Part 1 of the weekend for this writer involved choosing to go to the dirt sprint car races at one of two tracks on Friday evening, either Gas City I-69 Speedway or Eldora Speedway, "across the border" in Ohio. I admit that I often don't have much luck in guessing which track will rain out, and which track will not. Luck was with me this night, sort of. I chose Gas City.
The rain was falling while approaching Gas City, Indiana, by way of the interstate highway (thank you President Eisenhower for the push to build the interstate highway system, imagine not having it!). It was a good choice, as Eldora had no racing that night after making the decision to not have another "24 Hours of Eldora," as another endless night at Eldora was dubbed. Gas City was delayed, did have racing, and it became "T-Mez Night" when Thomas Meseraull won both open wheel feature races in non-wing sprint cars and the USAC Midwest Regional Midget Series. I stayed until midnight, allowing me to catch the driving clinic displayed by T-Mez in the sprint car feature. Eldora had no features. They (all four features, two with USAC and two with the World of Outlaws) were all delayed until Saturday.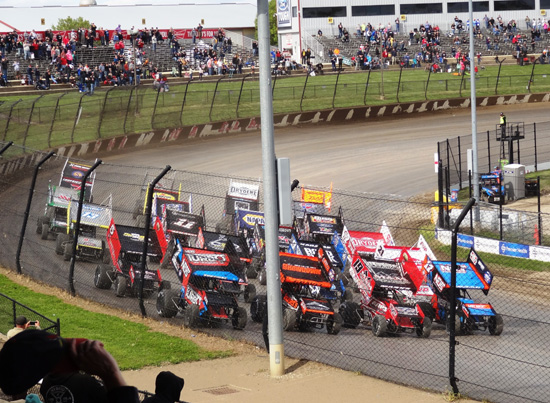 World of Outlaws sprint cars at Eldora Speedway, 5-8-2021
Gas City on Friday was a chilling experience, as temperatures dipped and frozen race fans mostly headed for the exit well before the first feature race started just before midnight. I only stayed for that single feature race and then left while I could still feel my fingers through my thin gloves. It was worth the trip – Meseraull is able to make it enjoyable, even when he beats up the competition, as he did. Of course, it also leaves unanswered an obvious question: "How come T-Mez is here, racing in a 'weekly series' when he should be racing in the national series over at Eldora with USAC?"
With the planned Sunday USAC Silver Crown Series season-opening race at Winchester Speedway (my main reason for coming north) already postponed until July (good choice, as it's raining now on Sunday), that left Eldora's planned day of sprint car racing on Saturday (Let's Race Four?) as my last day of racing for this trip "up north." With the afternoon start of racing, taking up with hot laps and then right into heat races for the USAC sprint cars, the biggest challenge of the day for Eldora's track crew was evident from the first race – big, billowing clouds of dust. At one point from my vantage in the front stretch stands, I could see all of the front stretch and about two-thirds of the back stretch, and that's all. The turns had disappeared into the tall clouds of dust. The Eldora track boys got to work quickly. They knew what to do – put down lots of water, and do this after each heat or feature race. Even though the fans' view of the track suffered (for a short while), the racing did not. An enjoyable feature of Eldora, especially for a Floridian, is the passing, often by way of the slide job, something seldom seen in Florida racing. The fun part is watching the slide job get set up, and attempting to guess, at this early stage, if the slide job will be successful and result in a pass for position. Robert Ballou provided another bit of fun for the fans. His brutally honest comments and hold-back-nothing criticism of other racers, teams, and track owners are always a highlight and a character trait that journalists always want more of.
Back in Florida, the obvious star of the racing weekend was a relative newcomer to Florida sprint car racing, LJ Grimm. He won the Saturday night sprint car feature with the Southern Sprint Car Series, a first win in the series for him, which seemed inevitable with the wins he has been accumulating in pavement races outside the series. His next big hurdle in pavement sprint car racing will be as a rookie driver at the Little 500 in Anderson, Indiana, later this month. Grimm will be piloting the No. 25 Wilo USA-sponsored entry owned by Floridian Tommy Nichols. Rookies from Florida have had a tendency to have great success in earning the Little 500 Rookie of the Year award, last accomplished by Garrett Green in 2013. Among the Floridians to earn this award are the following: Dave Steele (1992), Robert Smith (1976), Frank Riddle (1978), and Bo Hartley (1997). Every one of those drivers were Florida race winners, TBARA champions, or future "Lil' 500" winners. LJ Grimm seems to be on track to be the next.
Kody Swanson Not Actively Seeking Ride for USAC Silver Crown Dirt Races in 2021
Story and Photos by Richard Golardi
May 5, 2021
Five-time USAC Silver Crown Series champion Kody Swanson recently told me that he is not actively seeking a ride for the dirt races in the USAC Silver Crown Series in 2021, and will apparently only race in the five asphalt races currently on the schedule. Since more than half of the series races are on dirt in 2021, seven of twelve races, that makes it impossible for the 33-year-old Swanson to earn a sixth USAC Silver Crown Series title.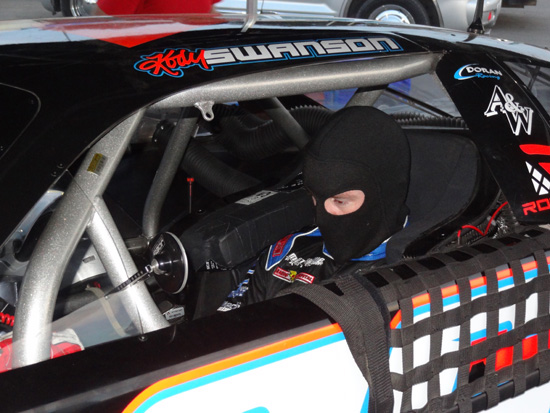 Kody Swanson in late model at New Smyrna Speedway, 2021
The early front runner for the USC champ car title in 2021 may likely be defending Silver Crown champ Justin Grant, who earlier this week tested his car on Winchester Speedway's high-banked asphalt half-mile oval. Grant posted the day's fastest lap while practicing for this Sunday's season-opening Silver Crown Series race. If he can win at Winchester on May 9, it will be his first Silver Crown Series win on asphalt. Although the entry list for Winchester Speedway does not list any Florida drivers, a champ car owned by a familiar Florida car owner will be present. That's the No. 22 DJ Racing car, fielded by Floridian Dick Fieler for the 2020 Little 500 winner, Bobby Santos III.
One of the reasons Kody Swanson decided not to seek a ride for the seven USAC Silver Crown dirt races in 2021 is because of the increased time he has committed to being successful in asphalt late model racing, especially since the beginning of this year. At New Smyrna Speedway's World Series of Asphalt Stock Car Racing in February, he had one feature win along with three second-place finishes in pro late model racing, which earned him the track's pro late model championship during the World Series racing.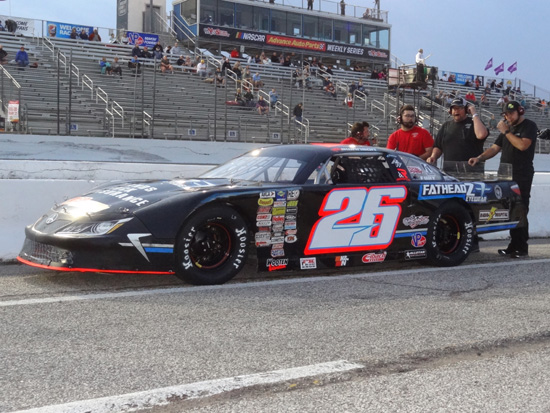 Kody Swanson's late model on pit road at New Smyrna Speedway, 2021.
That championship motivated the late model team he raced with during February, Team Platinum, to sign him to drive in more super and pro late model races this year. Those dates will be fit in so that they don't conflict with the commitment that Swanson has already made with Doran Racing to drive in the asphalt Silver Crown races (May 9, May 28, June 25, August 14, and October 10), and select sprint car races, including the Little 500 (May 29), a race he has won three times. Swanson subsequently won the ARCA/CRA Super Series super late model race at Salem Speedway on April 25, again with Team Platinum. It was his first super late model race win. In addition to his late model success, Kody Swanson also won his first Indy Pro 2000 race, also his first race in a rear-engine open wheel race car, in August 2020 at Lucas Oil Raceway at Indianapolis. Kody's name was also recently added to the 2021 driver lineup for the Superstar Racing Experience (SRX) in its inaugural season, which CBS will broadcast in primetime this summer on Saturday nights.
Non-Wing 602 Sprint Car Class Debuts at 4-17 Southern Speedway
Story by Richard Golardi
April 29, 2021
Although the 602 crate engine has been seen in Florida sprint car racing in the recent past, this past weekend brought the debut of a new class of sprint cars on the asphalt at Punta Gorda's 4-17 Southern Speedway. One of the participants in Saturday night's non-wing 602 sprint car class feature race was veteran Florida sprint car campaigner Scotty Adema from Fort Myers. Florida promoter Don Rehm had previously allowed 602 and 604 crate motors to compete against the mainstay limited-360 motor in the dirt-only Top Gun Series that he owned and operated. This big change came in 2016, allowing engines other than the limited-360 engine that was (and still is) the main power plant in the series for years. In Florida pavement sprint car racing, the TBARA 22-degree cylinder head, 360-cubic-inch engine has been dominant for decades.
Referred to as a "602 crate engine", the engine is designed for short track racing weekend warriors and is a 350-horsepower (at 5,000 rpm), 350-cubic-inch GM (Chevrolet) sealed racing crate engine. Sprint car owner/driver Scotty Adema stated that the engine had slightly more horsepower, "375–400 horsepower … on alcohol. On my car, I used a traditional fuel pump in the stock location to avoid using a $500 Waterman pump and costly regulators. It works fine so far." He added that he was using a battery out of a mini-sprint race car and estimated that a good car with a new motor could be built and assembled for $12,000–$13,000.
"That's a lot of fun for pretty reasonable money," Scotty Adema stated. He gave his thoughts prior to Saturday's race: "I'm ready to see who's coming. This class will definitely concentrate on the set-up and the drivers' ability more than just the amount of money you can spend on a race car. It's a concept to use the Chevy 602 motor combined with a non-wing car to offer an affordable option for those who may be interested in sprint car racing. I like the concept and enjoy non-wing racing. I'm in. It'll take a little bit to get a few of them together, but it'll be a great class. Won't be a great car count, but a great concept that may spark Florida sprint car racing. I think it'll grow …"
One sprint car fan stated that he was "Glad to see they are trying to make sprint car racing a little more affordable. I have been learning more about the LS motor as an option. A more modern version of the old, small block 602 engine …"
Scotty Adema won the 25–lap feature race last Saturday in the debut of 4-17 Southern Speedway's 602 sprint car class. "What a blast racing with the 602 crate motor," Adema said. "It was so much fun and was a great opening night for the new class. These things are so simple to work on. It's actually fun to drive."
There were four cars in the feature race, all with drivers who live in Southwest Florida, and it is believed that more cars will be joining the class shortly. Future 602 sprint car races at 4-17 Southern Speedway are planned for May 22, September 18, October 23, and December 18, 2021. There are also another six winged sprint car races planned at the track in 2021, all with sanctioning from the Southern Sprint Car Series, Florida's touring winged sprint car series.
4-17 Southern Speedway, 602 Non-Wing Sprint Car Feature Race Results, April 24, 2021:
(1) #67-Scotty Adema, Fort Myers, FL; (2) #3-Travis Bliemeister, Venice, FL; (3) #2B-Nick Andrade, Venice, FL; (4) #13-Chaz Hambling, Cape Coral, FL
Shane Butler: Seasons of Change
Story and Photos by Richard Golardi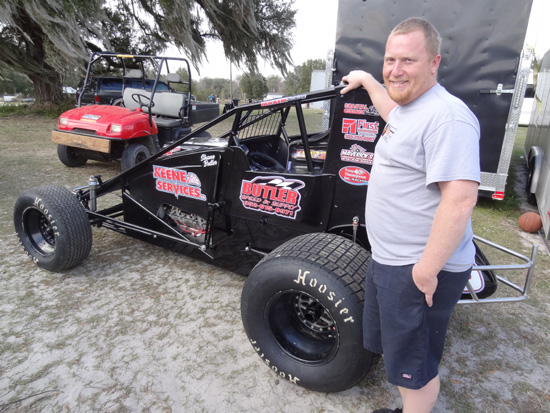 February 11, 2021
Thirty-nine-year-old Florida businessman and sprint car driver Shane Butler, a three-time Florida state pavement sprint car champion (TBARA champion in 2002, '10 and '14), has undergone some changes in his chosen career and also his racing career in the last couple of race seasons. In early 2019, he made the change to concentrate on Florida dirt sprint car racing, after a late-season battle for the all-pavement 2018 Southern Sprint Car Shootout Series point title, which it appeared he would win, saw the point lead slip out of his grasp late in the season. The point title that year went to another driver, and Shane was second. The changes continued in 2020, a year that brought a change to how Shane spent the hours of nine-to-five during the workweek. With the new year, 2021 will be another season of change for Shane, with his entry into national 410 dirt sprint car racing, beginning this week with Bubba Raceway Park's races on Thursday through Saturday with the USAC National Sprint Car Series.
Shane has spent part of the fall and winter preparing a chassis and 410-cubic-inch engine for the arrival of non-wing national dirt sprint car racing, specifically with USAC, beginning today. Shane has dabbled in national series dirt sprint car racing previously. This year brings a bigger commitment and effort into this type of sprint car racing, now with his own team.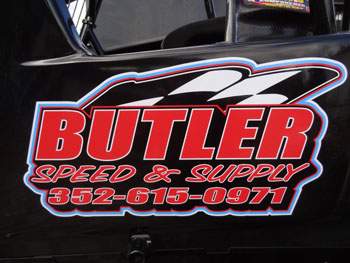 Shane was primarily a Florida pavement sprint car racer for most of his racing career, at least up until the end of the 2018 race season. "Yeah," Shane remarked. "Around 2008 … I think I ran maybe 10 dirt races. We put a car together and started out at East Bay during Speedweeks and broke a motor. Before that, I got the opportunity to drive a car for Kenny Mulligan and we went and ran two shows in Alabama with USCS. I might have run one or two shows before then with the dirt car and probably had 10 races on dirt. I was still learnin' it and we didn't put a Top Gun motor [limited 360-cubic-inch] together. My wife, Katrina, was pregnant with Landon when I first got the dirt car. We ran it a little bit in '08, didn't want to spend money on a Top Gun motor, so we sold the dirt car and then stuck with pavement up until 2018. I think the race with Wayne Davis [Southeastern Sprint Car Series] at All-Tech Raceway was our first race in a dirt non-wing sprint car. I took my 'asphalt buddies' with me, LJ and Devin McLeod, and my dad, and we were like a bunch of pavement racers who didn't know what the hell to do, and just kinda winged it."
This was going to be a major change for Shane, a pavement racer, who now was taken by the dirt and wanted to inhale some fine dirt particles along with his usual race day fix of methanol fumes and burnt rubber. This was not unusual for the majority of Florida's most talented sprint car champions, to race on both dirt and pavement and even in fendered race cars. Shane was merely following a tradition of Florida racers, going back to the late '40s and early '50s, who regularly raced sprint cars and stock cars on both asphalt and dirt. The dirt racing and pavement racing "specialist" is a modern invention, mostly seen in Florida in the '90s and later. It didn't use to be that way. "If it had a steering wheel, they drove it" was an often-heard refrain in Florida in prior years.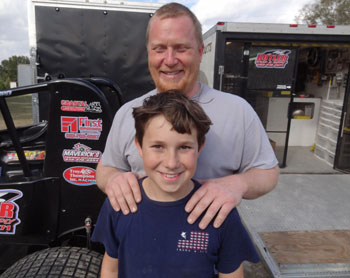 Shane Butler and his son, Landon.
Wayne Davis' idea for a regional non-wing dirt sprint car series, based in the South, with an "open motor rule," is what at first attracted Shane to commit to concentrate on dirt sprint car racing in 2019. He wouldn't have to travel outside of Florida and nearby states, and wouldn't need a limited 360 engine, required for Florida's Top Gun sprint car series. He liked this plan and decided he'd race in this series. It lasted for a short time, and the at-first promising plans for a regional non-wing dirt series later fell apart and the series failed.
"It was gonna be a good deal – open motors, and we had a 410 sittin' here. I'm like, 'Man that's perfect.' I can go get a dirt car, I can put a 410 in it, because Jimmy Brown owned it, and he's like, 'Whatever you wanna do, go for it!' " Shane decided to sit out the first series races in Hendry County, which he wanted to compete in but decided against after a job loss in the family – which was Katrina's job. He then planned for his first race with the Southeastern Sprint Car Series at North Florida's All-Tech Raceway on March 16, 2019. He nearly won it, or had thought he won it until a ruling by the series that he was not the winner. It would have been his first career sprint car feature win on dirt.
"We had a blast," Shane said, "and we were set to run more of his stuff, and we did. What attracted me was that I always wanted to run non-wing dirt sprint cars. I loved non-wing, period, whether it's dirt or asphalt. I'll still always love my pavement, but I really love the dirt too. The things I've learned, and the challenges that go with running a dirt car, with keeping up with the race track, and lane changes, it's made it more enjoyable to try to figure out what to do next. It's kind of a challenge, and it's been an enjoyable challenge."
Shane's third place finish with the Southeastern Sprint Car Series at Southern Raceway in the Florida panhandle, a race that included some of the Midwest dirt hotshots, fed his desire to keep up his effort in non-wing dirt racing. "I was like a kid in a candy store," Shane recalled. "It was something I've always wanted to do, and we're doin' it, and we're runnin' good at it. The non-wing deal is pushed so much more in the driver's hands."
The first dirt sprint car feature win was not long in coming. It occurred at the Don Rehm Classic on November 30, 2019, a race honoring the long-time Florida sprint car driver and promoter. It's a non-wing Top Gun sprint car series race held annually at East Bay Raceway Park. Shane's feature win, like the previous dirt feature that he initially was told he had won, came with some controversy. A failure of the transponder scoring system left officials to eyeball a close finish, and without a camera or official at the finish line, that eyeballing of the side-by-side finish with AJ Maddox was the subject of debate. Shane was awarded the feature win. He had his first career dirt sprint car feature win after 31 sprint car feature wins on Florida pavement tracks.
A deal was made with Taylor Andrews in late 2019 to trade one of Shane's pavement sprint cars for a dirt chassis for Top Gun winged sprint car racing in 2020, and Shane added three more dirt sprint car feature wins in Florida last year. Shane's 2020 wins also included his first winged sprint car feature win on dirt. It was at East Bay Raceway in Gibsonton. Shane now sits in 18th place on the All-Time Florida Sprint Car Win List with 35 career sprint car wins in Florida, four of them on dirt.
"Some people were mad at me," Shane said of that first dirt sprint car win, "and I wasn't scoring the race. The track was, and I'm not going to give it back. There were some pictures and some videos, and some questioned it. They made the call, not me! We took that one, and we came back this past year, 2020, started out at East Bay, and wasn't going to run points, was just going to kinda hit-and-miss." Another change was ahead for 2020, a career change.
Steele Performance Parts, started by the late Florida racing legend Dave Steele, was going out of business in early 2020 and was going to sell its inventory of parts and other items in their Tampa race shop. The Butlers, Shane and his wife, negotiated to buy the parts inventory, and the shelving that held the parts, from the Steele family in January 2020. Shane then left his regular day job, and an employer he was with for 15 years, to concentrate full-time on building his speed shop business. They would not be purchasing the business name – "They didn't want to sell the name," Shane explained – and would also not be purchasing any race cars, engines, or business equipment. They did not purchase the Tampa building that housed the shop, as they planned to locate their speed shop in their Bushnell race shop in North Florida. They also had the advantage of being well-known in the Florida short track racing community and having many friends in the community. Many racers stop by for advice, as well as to make a purchase. Shane and his father, Stan, share their knowledge with these Florida racers, some of them young and inexperienced but willing to listen and learn.
One of the sprint cars inside the race shop holds a clipboard with a neatly printed list of items needed to get the car race-ready. "Disassemble … fix nose wing mount … build new lower panels … paint Troy's colors, etc." That last item reveals the car's future owner/driver – it's retired sprint car/USAC champ car driver Troy Thompson. He's about to get back into racing, with the help of the Butlers. Their speed shop, originally called TCB Speed South, has now been renamed Butler Speed & Supply as of January 1, 2021. "We wanted our name on it," Shane explained. He and his wife, Katrina, are the sole owners of the company. The company logo uses red and black, familiar colors used by the Butler race team.
Nearby sits another sprint car. It's the black number 18, displaying Shane's name as the driver and also the Butler Speed & Supply sticker. It's the Maxim dirt car chassis Shane will use this week for USAC dirt racing, and its engine is installed, sponsor stickers are applied (Keene Services Inc., Cobb Glass Co. Inc., and others), and it is only in need of Shane's hands to take the wheel, a track, some competition, and a push to get started. That happens on Thursday.
For 2021, Shane has a desire to build his speed shop business – "The number one goal is to concentrate on the business," he said – and that may involve a plan to "slow down racing a little bit." He is undecided if he will race the complete 2021 Top Gun series schedule, but will be at the track for every one of the Top Gun series races with his speed shop trailer to make parts sales in the pits. His shop is also frequently open on weekends, when the weekend racers are often working on their cars and in need of parts and advice. The shop has opened its garage doors late at night for that last-minute, gotta-have-it part that a racer could not do without. Orders come in by phone and from in-person visitors to their race shop. Cars come in for maintenance and repairs. New racers have requested a car and engine be built for them to race.
Next in 2021 is "what I'm really excited about," as Shane stated. This week in Ocala will not be his first attempt to qualify for a USAC National Sprint Car Series race. That first attempt came in 2004, a pavement USAC sprint car race at Toledo, Ohio. Since he didn't advance to the feature, Shane will be looking to qualify for his first USAC sprint car feature this week. He has two previous USAC national race starts, both in the USAC Silver Crown champ car series. Shane has a new 2020 Maxim dirt sprint car chassis with a Claxton 410-cubic-inch engine under the hood, and a sponsor group in place. The engine is the same one used by Shane in the 2020 Little 500 in Anderson, Indiana, and has not been used since then.
Then, there's the future of the Butler racing family, the 12-year-old son of Shane and Katrina, Landon Butler, who got his start in go-kart racing. "We're gonna keep practicing [a dirt sprint car]," Shane replied when asked what was next for Landon. "His most recent practice was at The Bullring [one-quarter mile dirt oval in Ocala]. It's perfect for him." The small, flat dirt track gives a new driver a place to learn throttle control and the feel of a sprint car without any big banking or high speeds. It's a tight, little track that fits Landon's needs for now, while he's learning. He's already put in dirt laps both with and without a wing. "It's perfect for what we're trying to get him to learn. I can stop him on the race track and tell him some things that he can do a little differently, or ask him if he feels something wrong with the car or whatnot. I can stop him, talk to him for a second, and we can push him off, and he can go again," Shane said. Landon's sprint car practice laps have all been on dirt. Shane estimates he already has between 100 and 150 practice laps completed in four practice sessions at two tracks, and has had no throttle restriction after the first session. His first sprint car race will be at a smaller track, no Florida half-miles yet. "He's smooth," the proud papa said.
Look out, Florida short track racing, as another Butler appears to be closing in on his Florida sprint car racing debut (maybe this summer) and the seemingly inevitable trip to the winner's circle and eventually into the Florida record books. He's Landon Butler … remember that name.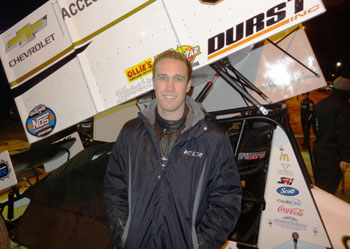 Q & A with Carson Macedo at Volusia Speedway Park
Story and Photo by Richard Golardi
February 9, 2021
Q. What was the highlight of your 2020 racing season?
A. We won the CBS race there at Haubstadt [World of Outlaws sprint car race broadcast live on CBS Sports Network on June 20, 2020, at Tri-State Speedway, Indiana, a race which was considered a thriller], really big race, obviously being on TV. That was pretty special. I feel that I learned a lot last year. I feel like I'm bringing that into 2021 here with JJR [Jason Johnson Racing]. Nice to have a fresh start with a new team [Carson has already won once during Florida Speedweeks, at Volusia Speedway Park with the All Star Circuit of Champions on Thursday].
Q. So that's the biggest change for you in 2021, with transitioning to a new sprint car race team?
A. Yeah. Last year, I raced with Kyle Larson Racing in the number 2 car [a team that has been disbanded]. This year, I'm racing the Jason Johnson Racing number 41. I'm happy to get things rolling here with [crew chief] Phil Dietz and Nate and Clyde. We have some really good sponsors on board, and I'm really excited for 2021.
Q. What is your primary racing goal in 2021?
A. I just wanna win races, be our best. Our team – our very best, night in and night out. I don't really have a whole lot of expectations for this year; I wanna win as much as I can. I wanna compete in the points championship in a respectable manner and just be our best every single night. That's my goal, that's what I'm looking forward to.
Q. Are you competing in any other races other than the full World of Outlaws schedule for the rest of 2021?
A. No, just the World of Outlaws series.
Q. Are there any big World of Outlaws races that you haven't won yet that you are especially determined to go out and win this year?
A. We always wanna win those marquee events that pay big money. Eldora, the Kings Royal, there's two of them this year, the Knoxville Nationals – these are all really big marquee events that pay really good money. There'll all important to us.
Q. How do you feel things have gone for you so far at Volusia Speedway Park?
A. Not bad. We ran seventh on the first night [Wednesday with the All Star Circuit of Champions], and we were able to pick up a win on the second night at the All Star show, and then fifth at the first Outlaw show of the year [on Friday]. I think that's three pretty respectable positions, and we'll keep building on that and keep looking forward to the future [Carson had a sixth-place finish in Sunday night's World of Outlaws feature after this interview was completed].
Q. The World of Outlaws is heading for the Deep South states next, so I'm curious if you have ever raced at any tracks in these states in the Deep South – like Alabama, Mississippi, or Louisiana, for example?
A. Never. No, that'll be some new race tracks. We'll try and tackle it the best we can.
Q. So, it'll be your first trip to race at a track in the Deep South. It should be fun.
A. Yeah.
Q. Thank you, Carson.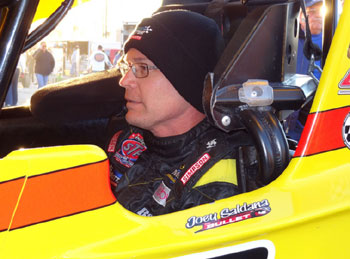 Joey Saldana: The Full-Time Retired Racer Who Still Races
Story and Photo by Richard Golardi
Monday, February 08, 2021
"Last year? Huh!" Indiana sprint car driver Joey Saldana replied when asked about his year in racing in 2020. It was almost as if he was somewhat shocked by the question. He hadn't disappeared from dirt sprint car racing. Not hardly. He was there at Volusia Speedway Park for sprint car racing with both the All Star Circuit of Champions and the World of Outlaws. He just isn't seen in the cockpit of a winged sprint car as frequently anymore.
When interviewed on Sunday afternoon, he spoke of his son's racing exploits in 2020, not his own. His 2020 racing highlight: "Probably watching my son win the first race he ran at Macon, Illinois in a micro. Then we went to the POWRi show a couple of weeks later and he ran third, so that was definitely the highlight of my year last year." For himself: "I only dabble in it five times a year, so probably the coolest part for me is going to all the big races, making the shows, and at least being competitive for not racing but five, six times a year."
What about 2021 for Joey? "Actually, I wasn't even going to come down here, but the times I have run this car for Charlie and James Fisher, we've had some engine failures, and they tried some different things, and wanted to come down here. This is always a good place to check your motor package to see how good you are. So far, we've been competitive all three nights. We had brake issues the first night, which took us out. For not racing in five months [the car and himself], to come down here with the quality of the cars and run eighth and tenth and be competitive, I'd say your motor program is pretty good." Joey expressed some slight remorse that his team "could have maybe got a win," if they had a top-notch, full-time driver in the seat. His Sunday night feature finish was 25th place.
Despite completing his fourth race at Volusia Speedway Park in one week as a part-time, semi-retired racer, he felt like a retired racer. "I consider myself full-time retired," Joey said. "People like yourself talk about it in weird ways. For me, I was a full-time World of Outlaws driver for 18 years." Now, in 2021: "When you're running five to ten times a year, that's pretty much full-time retired when you're accustomed to making a living and racing a hundred times a year. Yeah, I am really retired. I'm just out here having fun and it's cool to get your adrenaline pumped up. These cars are the baddest cars to watch, to witness, to drive, so when you get an opportunity to drive one, I enjoy it because I know how lucky I was to do it at a high level for a long time. But, I consider myself retired. I guess I'm not 'officially helmet on the shelf' yet. But to me, I am."
This was Joey's first time in Florida to race in three years. He has enjoyed racing here and recalled his previous Florida Speedweeks wins with a smile. Getting out of the Indiana winter weather for a brief Florida respite also is a perk, whether it comes with wins or satisfying finishes. "You may not see me again this year …," Joey added, "or you might see me at the Kings Royal or the Nationals. But, I'd say if that's the case, that'd probably be it [for his five or six annual races]."
Aside from those races that his son enters, and limited racing in sprint cars, Joey has spent time building his own business as a part supplier to race teams, including many in the World of Outlaws. "I have an oil tank business [Saldana Racing Oil Tanks] I bought last year, and I do probably 80 percent of these guys out here, so they keep me busy. That's kind of cool to have my name on Donny Schatz's car, or Brad Sweet's. There's a little piece of me still out here, so I enjoy that. We do all the manufacturing and welding of the oil tanks. It's a little part of a big piece, but you've got to have it to make that big piece function."
Joey's father had a similar business, Saldana Racing Products. "It was a company my dad started a long time ago and then sold it," Joey said. That put him in a situation that was "kinda weird," as he previously found himself in competition with his father, but "my dad's no longer involved in that." Joey went ahead at speed to get as many teams as possible to use his oil tanks on their race cars and has found success.
"The Saldana name continues," Joey stated proudly. It can be found on the oil tanks of the World of Outlaws cars, and even in block letters on a World of Outlaws driver's firesuit … but that's something you'll see only every once in a while in 2021. After all, he's "full-time retired," and he's on a Florida racing vacation of the high-speed variety, enjoying how "it's cool to see the Saldana name out on a race car."
Florida Pavement Sprint Car Racing Heading Toward Split in 2021
Story and Photo by Richard Golardi
January 14, 2021
It last happened at the end of 2014. The Tampa Bay Area Racing Association (TBARA) had become disorganized and unable to put together a race schedule for 2015 and eventually dissolved. The conditions led to a season without a traveling Florida pavement sprint car series in 2015, the first time this had happened in Florida since 1980. Several tracks stepped in to have their own non-sanctioned sprint car races, including Showtime Speedway. By the end of 2015, the Southern Sprint Car Shootout Series was formed, an ambitious effort by several Tampa area racing concerns to keep the tradition of a Florida traveling series going for the state's pavement sprint car teams. Overall, it has been a success, but is still bedeviled by low car counts.
The continued success of the series will therefore be mostly dependent on keeping the car counts from falling any further, since there is already in place competent management, about 15 active race teams, a primary sponsor, and a small collection of pavement tracks that are happy with the racing provided by the series. In addition to keeping most of the management team from 2020, the BG Products Southern Sprint Car Shootout Series has also planned a 13-race schedule for 2021 across four Florida tracks stretching from North Florida's Citrus County Speedway to 4-17 Southern Speedway in the state's southwest corner. Although it lacks the high-speed punch offered by the bigger tracks like New Smyrna Speedway and the defunct Desoto Speedway, the series has managed to build their brand with name drivers, controversies, and races that sometimes become wheel-banging brawls that lack nothing but the pit fistfights.
The limited racing and scramble for resources and sponsor dollars that emerged in 2020 may be partly responsible for what is coming in 2021: a split in Florida pavement sprint car racing. A glance at the 2021 schedule for the Southern Sprint Car series shows no races at their anchor track, Showtime Speedway in Pinellas Park. Track management there has decided to run separately in 2021 by having their own non-sanctioned sprint car races, both with and without wings. So far, three races have been announced (the first race is next week), although there were prior plans being discussed for twice-a-month sprint car races. Robert Yoho, leaseholder at Showtime Speedway, apparently is no longer associated with the Southern Sprint Car Shootout Series.
The man with the unenviable duty to keep the car counts up for the Southern Sprint Car series in 2021 is series manager Rick Day, and I spoke to him at a recent race in Inverness. "We've got 13 dates already booked for 2021," Day told me. "We'll be at 4-17 Southern Speedway, Auburndale Speedway, back at Citrus County Speedway, and we are announcing that for the first time since 2013, the sprint cars will return to Orlando SpeedWorld in 2021 for two dates. We're going full-bore, everything's looking good, we've just got to work out a few details on some sponsorship stuff. 2021 should be pretty good."
At the time of this interview in November, it was known that BG Products would return as the series title sponsor, and Rick Day stated that there was still a desire to have some series races at Showtime Speedway "because of our sponsor, BG Products. That is their main market area, so we need to be there. Taylor Andrews is trying to work out with Robert [Yoho] to secure some dates there for 2021, but at this time, we don't know for sure. Through this partnership with Dayton Andrews Dodge, that's how we got the BG Products sponsorship to start with. That relationship is a long-standing relationship. The marketing partnership [both Dayton Andrews Dodge and BG Products] will continue in 2021."
The 2021 schedule has a sizable mid-season break that will last a little over four months, from May 15 to September 18. Winter season races now include the first 2021 race this Saturday at Punta Gorda's 4-17 Southern Speedway, a return trip there in mid-February, and two December races that include a season finale at Orlando SpeedWorld planned for one week before Christmas Day. "We want to take the summer months off, that way, we're not fighting the heat and the rain. It just makes sense, it's better for the teams, and they won't waste money on travel only to get there and we rain out. We're just electing not to book anything in those four months."
Regarding the option of having a non-wing "Little 500 Warm-Up" race, as was considered recently, Rick Day stated, "We're open to a non-wing race. We tried to do it a couple of years ago, but to be honest, with the sponsor commitments, they like having that great, big BG logo up there on that sideboard. They like the bigger decals. We're not opposed to a non-wing race. Actually, I would welcome some non-wing races, especially before the Little 500, like a tune-up race that TBARA used to do back in the day. We've just got to work out some of the details with sponsorship and the race track."
If the non-wing Little 500 Warm-Up race is a possibility for 2021, the May 15 race date at Auburndale Speedway seems to be a perfect fit, maybe even make it the "BG Products Classic" to placate the primary sponsor. The pavement sprint car racing media members are already onboard as far as their support for such a race.
Rick Day continued, "He [Robert Yoho] has indicated that he wants to do a Showtime sprint car class, but he's only wanting to do 25-lap races. It might work for him, but I'm not sure what his plans are. He's wanting to do a 25-lap, twice-a-month type deal over there. He's wanting to run the second and fourth Saturday of the month, as to where we're trying to work with him. We've tried to book most of our races on the first and third Saturdays of the month, to kind of stay off of those dates, to work with him just in case we do end up getting some Showtime Speedway dates."
A schedule of Florida pavement sprint car racing this ambitious (races on the first through fourth Saturday each month) would likely see high attrition of teams participating and the inevitable low car counts getting even lower. Whether this will happen during any month in 2021 is unknown as of today.
"Unfortunately, there could be some months that sprint cars would be racing every weekend of the month. It's actually probably too much," Rick Day admitted. Weekly sprint car racing was successful at several Florida tracks in the past (Golden Gate Speedway in the '70s, the Florida State Fairgrounds Speedway in the '80s), but there isn't much of a possibility that it could be successfully resurrected in modern times. There aren't enough active teams to sustain it. "We're going forward with our deal," Rick Day stated. "This is our sixth year. There's still a possibility of some Showtime Speedway dates."
Remembering Those in Florida's Pavement Sprint Car Community Who Have Passed, 2019-2020
Story and Photos by Richard Golardi
Another superlative was needed … because calling Ralph Liguori a legend just wasn't enough, it just didn't describe the level of accomplishment seen in his auto racing resume, which covered the entire second half of the 20th century. Ralph's "membership" in the Florida pavement sprint car racing community was also cemented by his one "official Florida sprint car feature win" in a pavement sprint car (supposedly there was a second win, according to Ralph, but I couldn't confirm this), at Sunshine Speedway in 1979. Add more wins in NASCAR Short Track stock car racing, sprint cars, midgets, modifieds, late model stock cars, and even sports cars, which was in NASCAR's SCODA division. They raced sports cars on NASCAR's oval tracks.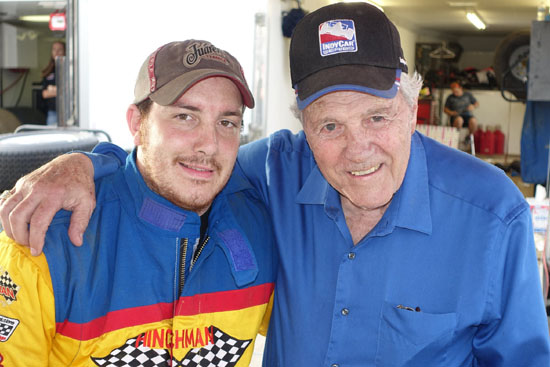 Ralph Liguori and his grandson, Joe Liguori
In Raleigh, North Carolina, Ralph was given the name "the Fayetteville Yankee" during his NASCAR years. They even listed him as coming from Fayetteville, getting rid of his heritage as a New Yorker from the Bronx who later moved to Tampa. He set a Raleigh Speedway track record by winning six stock car features in a row and then earned the track's stock car championship in 1954.
Then there was "that race," the one that Ralph loved to talk about. It was the 1970 Hoosier Hundred, a USAC Indy car dirt race in which Ralph had a late-race battle with A.J. Foyt for second place. It was all-so-memorable because Ralph saw A.J.'s car wiggle a little at the end of the back straight with two laps left, dove to the inside of him going into the third turn, and made the pass to take second place away from Foyt.
"He finally did it!" exclaimed the network TV announcer. He knew what a big achievement it was, and how it was going to be a big deal to Ralph. There was one racer who received the biggest, most raucous greeting from the crowd after the race concluded. It wasn't A.J. It wasn't Al Unser, the race winner. It was Ralph. Although he never won an Indy car race, Ralph enjoyed that day as much as a win.
Ralph said that he led a comfortable life after driving in his last race in 2000, a midget race in Ohio. He made a lot more money from his businesses and prudent investments in real estate than he ever did in auto racing. But when it came time to tell stories, his racing stories and those about his family that he loved dominated his memories. He was especially proud of mentoring and supporting the racing career of his grandson, Joe Liguori. He'd spend his summers up north to follow Joe on the circuit and be involved in his racing, right up to a few years before he died at age 93 on July 21, 2020. He and his wife, Jane, had four sons: Ralph Jr., Michael, Frank, and Nicholas.
Upon learning that he had earned the 2013 TBARA Rookie of the Year title, Matt Alfonso remarked, "Special thanks to Jimmy Alvis and Sharon Riddle for letting me drive the car this year. I would also like to thank J.R.E. Racing Engines. To all that have helped me out this year, thank you." I personally remembered Matt as having a quick smile and being easy to talk to at the track. A friend remembered, "He was a great guy. Always in a good mood, very funny, and never asked for a single thing. RIP Matt Alfonso, and thanks for the wild times we had growing up."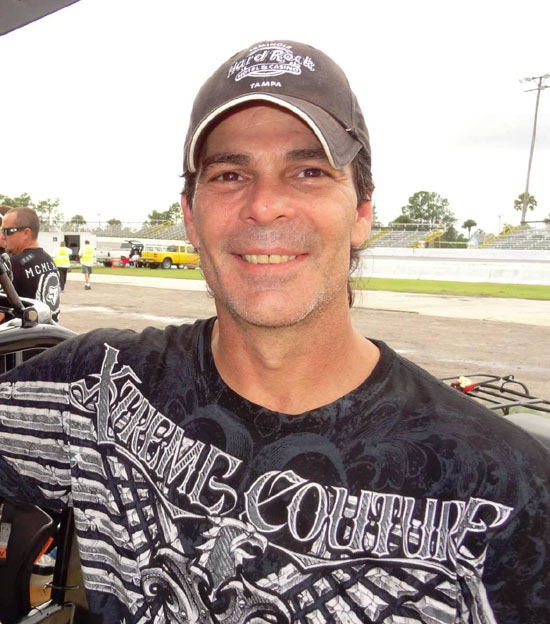 Matt Alfonso
Matt undoubtedly had his best two years in sprint car competition during 2013 and '14. In addition to the TBARA Rookie award, he had several top three finishes during that time. During our talks in the pits during this time, Matt spoke of the change in his appearance, as he had lost a lot of weight after the cancer diagnosis. He continued racing a sprint car until he was gone from the Florida sprint car circuit for a while, and then passed away due to cancer on December 11, 2020. He was 52 years old. On his Facebook page, Matt posted a background picture of tiny, colorful birds, as if he was finding great enjoyment from the little things in life during his last months. He also decided to give himself a nickname. It seemed like it fit him, as he never seemed to have another nickname at the track. Beneath his name, he wrote: "The Quiet One."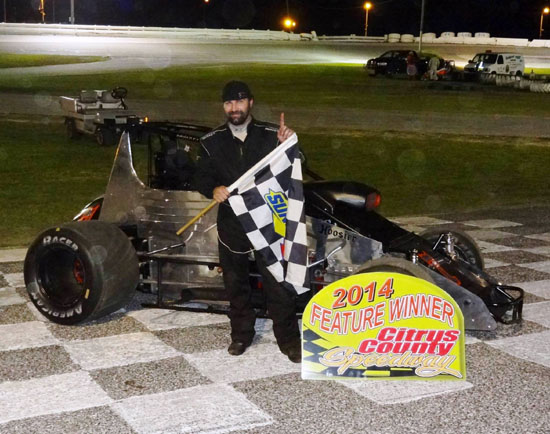 Steven Bradley
Since he died on December 31, 2019, I have decided to include Steven Bradley in this remembrance, and to include him with others who passed away from December 31, 2019, to December 31, 2020. Steven won the non-wing sprint car feature at Citrus County Speedway on April 5, 2014. He also was a feature winner in the Checkered Flag Sprint Series in November 2009. He was 34 years old when he died suddenly last year, and is survived by his wife Amanda and four children.
When he got his 2014 sprint car win, Steven told me that he had been out of racing for most of the past three years. It was the second race in his new car, and he already had a third place finish to go with the win. "I'm excited," he stated, as the win came on his birthday. "I had some family problems and some stuff I had to take care of, and I ended up having a baby, a little boy. I had to help out at home, and didn't really have the time to put in at the garage. We took a couple of years break, and now he's old enough, and it's not as hard on my wife. We're back in the garage again, back at it. We stuck together a new car." Steven thanked Jerry Stuckey for putting together the Hurricane chassis that he wheeled to the winner's circle that night. "We're real happy with it," he added, smiling broadly.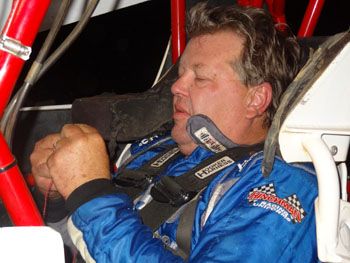 Danny Smith at Hendry County Motorsports Park, 11-21-2020
A Dirt King's Reign Concludes
Story and Photo by Richard Golardi
November 23, 2020
Hendry County Motorsports Park, Clewiston, Florida, Saturday, November 21, 2020.
If 63-year-old Ohio dirt sprint car racer Danny Smith won the Top Gun Sprint Series feature race, then he would extend his streak of getting a sprint car feature win into a 46th consecutive year. He could return to his Ohio home, satisfied with his accomplishment and feeling happy. What if he didn't win? "Then I'd still go home feeling happy," Danny Smith replied.
And why shouldn't he feel happy? He would head home knowing that his feat, 45 consecutive years with a sprint car feature win, was in the uppermost levels of difficulty during decades when names like Kinser, Swindell, and Wolfgang racked up countless wins, all during a time when sprint cars were far more dangerous and sometimes killed or crippled their occupants. A serious enough injury could have broken Danny's win streak long ago. But it didn't.
Danny had a habit of steering around trouble, frequently winning, and garnering fans and friends, especially in the Midwest and Florida, and … don't forget Australia. Along that long, winding trail came a big win on pavement, as a relief driver in the 1979 Little 500 (infamous for having a wild, unpredictable finish), a plethora of track championships (Ohio mostly), a status as an "honorary Floridian" due to his winning ways on Florida tracks and close friendship with legendary Gibsonton car owner Jack Nowling, and induction into the National Sprint Car Hall of Fame in 2015.
Hendry County Motorsports Park, Clewiston, Florida, Friday, November 6, 2020.
A last weekend of racing, that was Danny's original plan. That Friday and Saturday, the 6th and 7th, were going to be his last two nights of racing for 2020. But he could stick around Florida for a little longer, I said convincingly (or so I thought). There were two more dirt sprint car races coming up in Florida through early December, I mentioned. But … he probably wouldn't be interested. I couldn't recall Danny entering a Top Gun series race previously. Plus, he'd need a limited 360 c.i. engine, which he didn't have. He probably wouldn't be interested. Danny shook his head slightly. That meant no.
Funny thing though, mention more racing to a race car driver, and he'll scheme to borrow, buy, or cajole his way into that extra racing. A phone call or two was made. Florida car owner Andy Cobb had a Racesaver 305 c.i. engine, an engine eligible to compete along with the limited 360s in Top Gun. If Danny Smith could arrange to borrow it, he'd have another chance to extend that amazing win streak into a 46th year. If not, Danny's streak would end at 45 consecutive years, as his last win was in 2019. Andy Cobb gladly loaned the 305 engine to Danny. He'd make a last stand, one last effort to extend that streak into a 46th year, and it was planned for Saturday, November 21 at Hendry County.
Danny was smiling and looking confident before buckling in and heading out onto the third-mile dirt oval in Clewiston. He was going to head home to Ohio after this race, win or lose, he stated. It was his last race of 2020. Passing rain clouds had mostly missed the track, drenching other parts of South Florida. Three-inch-long frogs were romping through the spectator stands, startling race fans as they sought out popcorn kernels and discarded hot dog rolls and providing entertainment by jumping into the laps of unsuspecting fans. If you heard a sudden "AHH!" then you knew what just happened.
After the green flag flew, Danny fell back to somewhere close to mid-field shortly after the start of the 30-lap Top Gun sprint car feature race. With the flips and crashes that plagued the early laps, it was a smart move. He missed the spinning and crashing cars, including one that spun directly across his nose in the fourth turn. Then came the methodical stalking, passing, and trying different grooves until he came upon a couple of Top Gun dirt aces, AJ Maddox and Garrett Green. He passed them too. He was up to third place. Ahead were Tyler Clem and Danny Martin Jr.
He stalked, he powered ahead, but those last two passes were a bit too far off. Clem and Martin both headed for the bottom groove as the track slicked up, and that's the way they finished, taking first and second. It was Tyler Clem's first win in two years, and he was smiling and thankful in his return to winning. Danny Smith was third.
Danny Smith was through with racing, but just for this year. He'll be back for 2021, he said. He'll be 64 years old and he'll still be a full-time race car driver. That's what he liked doing, so he was going to continue doing it … at least for one more year. He knows that question about retirement will come up again, but not for another 12 months.
You'll just have to imagine Danny's smile on the long trip home to Ohio. It was one of those smiles of satisfaction upon setting a goal, and then completing it, a well-earned, deep-seated satisfaction that you feel deep down inside of you. Then you reach your destination, pull into your driveway, and you're back home, back with your family. It doesn't get any better.
Congratulations to Danny Smith on one hell of a 45-year run of success … and welcome home.
Feature Race Highlights Video, Top Gun Sprint Series at Hendry County Motorsports Park, Saturday, November 21, 2020:
Sunshine State Invitational at Hendry County Featured 360 Sprint Cars
Story and Photos by Richard Golardi
November 11, 2020
When plans for two nights of USCS sprint car racing at Hendry County Motorsports Park, just south of Lake Okeechobee in South Florida, were scuttled by wind, rain, and a changing USCS schedule, promoter Ken Kinney moved swiftly to change last weekend's plans. He replaced the USCS races with his own Sunshine State Invitational, an open 360 sprint car two-day event, with hopes of drawing some Midwest and Deep South teams along with the Florida teams that had raced with USCS in the past. The result was impressive racing, less than adequate numbers of paid race fans, and one race win each for the old (middle-aged?) pros and the teenage Florida dirt racing contingent.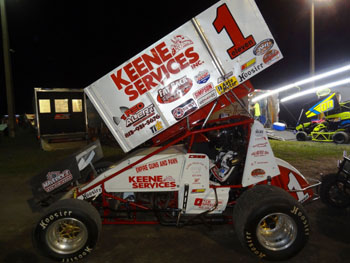 Andy Cobb at Hendry County Motorsports Park, 11-6-2020.
That teenage contingent, the Young Guns of Florida, has seen past success with both USCS mini-sprint and 360 sprint car racing. One of their members, 16-year-old Conner Morrell, took to Hendry County's dirt on the first night, Friday, to battle Danny Martin Jr. for the lead early in the race, only to drop back some when Martin put on his usual dirt racing clinic, deftly handling the slower traffic and the track's sandy surface. Saturday night held greater success for Conner Morrell, and he won the feature for one of his most remarkable Florida wins yet.
Garrett Green seems to have completely shrugged off the effects of a frightening flip in a wingless show at East Bay Raceway seven weeks ago, and the concussion and black eyes he suffered when the right rear corner of his sprint car's roll cage was pounded down into the dirt by almost a foot. He pointed out the depth of the penetration on his car's roll cage, which occurred on the packed dirt of East Bay's fourth turn groove. He is foregoing the next weekend of Florida dirt racing, this Friday and Saturday in the panhandle at Southern Raceway's two-day USCS season finale, to concentrate on the remaining Top Gun Sprint Series races. He is still in the running for the Top Gun series point title with two races remaining. The next series race takes him back to the Hendry County dirt on November 21.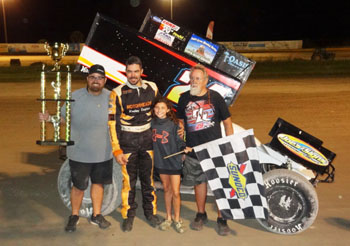 Danny Martin Jr. wins at Hendry County Motorsports Park, 11-6-2020
Car owner Andy Cobb had a multi-car team at Hendry County last weekend. He had the number 18 car for teammate Shane Butler, and for himself, he had the 1 (Eleven) car, with an "Eleven" placed inside the numeral one. The number was a throwback to his family's racing legacy and his own admiration for Jimmy Riddle, and the number 111 sprint car that he drove and the number 11 later fielded at the 2000 Little 500 for Jim Childers, who won the race. Andy told me that he has been gone from auto racing for the past seven years while he took a foray into drag boat racing during that time. "I came back to auto racing in the middle of this year," Andy said. He is also back in sprint cars, with plans for 2021 that include racing in both ASCS and USCS 360 racing with a number 1C car, since the 1 (Eleven) doesn't seem feasible, and there are other number 1 cars.
Andy's grandfather passed away this summer, so the family's racing legacy has been on his mind lately. The family's business, Cobb Glass Company Inc., is celebrating 50 years in business this year, and was involved in sponsorship at Golden Gate Speedway during the 1960s and '70s. The Cobb Brothers Auto Glass cleanup crew was an iconic group at Golden Gate, running the push trucks, crash trucks, and sponsoring the race cars of various owners. They also sponsored Jim Childers' first bomber stock car at "the Gate."
In the developing trend of grandsons of Florida sprint car legends getting involved in Florida short track auto racing, the latest addition is likely going to be 11-year-old Landon Butler, son of Shane Butler and grandson of Stan Butler. Landon has taken some practice laps on dirt in the family racing team's sprint car at both The Bullring (Marion County Speedway, Ocala) and at Hendry County Motorsports Park. His grandfather told me that he looked smooth and had no problems during his practice sessions. His previous racing experience is in go kart racing. Landon joins Stephen Hartley, son of Bo Hartley and grandson of Sonny Hartley; and also Bryton Horner, who is Frank Riddle's great-grandson. Both are currently racing Legend cars, recently at Auburndale Speedway and Citrus County Speedway.
Danny Smith looked calm and confident, almost serene, prior to taking to the track at Hendry County Motorsports Park on Friday. The Friday and Saturday sprint car features were going to be his next-to-last chance to continue his current consecutive year sprint car feature race win streak into 2020. His last feature wins came in 2019, which marked his 45th consecutive year with a sprint car win. He plans one last weekend of 2020 sprint car racing at Southern Raceway, near Pensacola, this weekend with the USCS Outlaw Thunder Tour. That will be his last chance to get a win and mark his 46th consecutive winning year. If he doesn't get a win during his November tour in Florida, and with no 2020 races planned beyond Florida, his win streak would end at 45 years.
Danny has had some second and third place finishes this year, and his 410 cubic inch engine has gotten so well-worn from this year's All Star Circuit of Champions and Ohio 410 racing that he just "shoved it under a bench" in his race shop for the present time. He has been concentrating on 360 racing for several months. He has missed more races this year at his usual Ohio home track, Atomic Speedway, than in the past several years, but has still competed in most of the races there. This year included more races with his 360 engine, in which he has gotten higher finishes.
At Hendry County last year, Danny Smith won two feature races, in January and November. That last win included one comedic moment when he slipped and fell off the top wing while celebrating, fortunately avoiding injury in spite of the hard fall. Often the USCS 360 wins required defeating other "Northern Invaders" and nationally-known stars such as Tony Stewart and Mark Smith, who have also grown fond of USCS 360 racing in the past five years.
Video: feature race highlights from Hendry County Motorsports Park, Clewiston, FL, Friday, November 6, 2020, from the Florida Open Wheel channel:
Don Heckman: A Florida Pavement Sprint Car Racing Icon
Story by Richard Golardi
October 21, 2020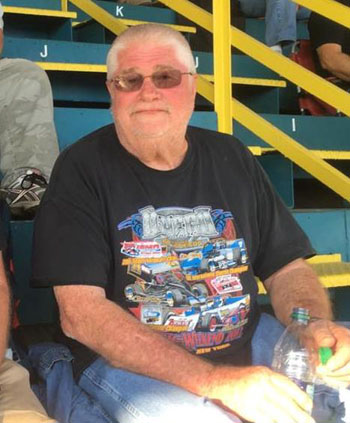 Don Heckman
Our story begins at one of those race tracks that used to attract Florida open wheel racing fans, but has been long gone. You might assume that it was one of those tracks somewhere in the Tampa Bay area, one of many tracks that used to host sprint car, midget, or even USAC Silver Crown races, as did the Florida State Fairgrounds Speedway. But it's not.
The track was in Southeast Florida – the Florida City Speedway, in Florida City, near Homestead. It became known as a haven for TQ midget racing, a class still popular in Florida today. One of the racers who could be seen taking a victory lap of the high-banked, asphalt speedway in one of the toy-like, little TQ midgets was Gary Smith. His entire upper body seemed to extend beyond the tiny car's body, with a small roll bar that seemed more for decoration than protection in his number 88 TQ midget. Smith would bravely climb into the little race car, clothed in grimy, grease-covered pants, short-sleeve shirt, and bubble-faced helmet. He was a "hard-charging winner who deeply loved the sport … [who] raced in an era before roll cages and adequate driver protection. As a result …" Then the day of tragedy arrived at the tiny, one-eighth mile Florida City Speedway.
Twenty-two-year-old Gary Smith was killed in a wreck at the track in 1969, just two weeks after his last victory lap at the track he loved. "As a result, Gary was the only fatality at the Florida City Speedway. After his accident, the track closed for a year, but when it reopened, his dad, 'Smitty,' stayed on as the starter." Florida City's reputation as a small track with reduced speeds, thereby supposedly making it a safer track, was damaged permanently. The track made a comeback in 1970 under the auspices of the SMRA (Southern Mini-Stock Racing Association). The club racers even cut the grass and maintained the track facility, and TQ midget racing was part of the comeback until '74. Then the club closed it, and the racing was gone for good in '76. Another asphalt race track, Homestead-Miami Speedway, was built about five miles away in the '90s. NASCAR now ruled the roost in Southeast Florida auto racing, bringing their season-ending Cup Series race to their track in Homestead up until 2019.
But Florida City Speedway was not gone and forgotten, thanks to those who helped keep the memories alive, such as racer Rex Hollinger. A Speedway reunion in 2002 leads us to the present day and news from October 2020. "I have just acquired my most prized materialistic possession," wrote Gary Smith Jr., son of racer Gary Smith. Don Heckman's family had reached out to Gary.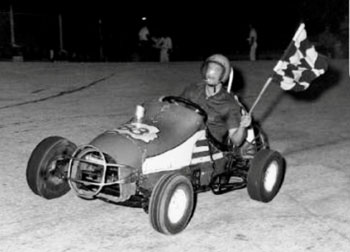 Gary Smith after a TQ midget win.
Don Heckman had a long and fabled career in Florida short track auto racing, both as a racer and sprint car owner. The local newspaper headlines in Miami/Homestead from 1971 would often read: "Heckman Wins Auto Feature (3-14-1971) … Heckman's victory in the three-quarter midget 20 lapper was his second …" A third, and then fourth victory followed. Often, he was "the man to beat" in the TQ midgets, and also was a friend of Gary Smith at Florida City.
Sprint car racer and TBARA Rookie of the Year Rex Hollinger went to Florida City Speedway as a boy. After the TQ midget racers bolted roll cages onto their cars, he did witness one shocking wreck there involving Don Heckman. "Don was very aggressive," Rex recalled, "and very impatient. He was wild. In 1973, he went barrel-rolling on the back straightaway in a TQ midget, all the way to the wall in turns three and four, up and over the fence, and landed on top of a truck in the pits. They took him to the hospital, and he was back at the track later that night. He was kinda pissed-off because the EMTs had cut up his firesuit. He's old-school tough as nails!" The two racers later became friends after Don helped Rex get his mini-stock car set up, and then they had a shared involvement in Florida sprint car racing and enjoyed reliving the good ole days back in Florida City.
Heckman's most successful period came while partnering with legendary Florida sprint car driver Wayne Reutimann. They racked up dozens of wins on Florida's short pavement ovals, including winning multiple TBARA sprint car championships together.
When Don Heckman first asked Wayne to drive his car in Anderson Speedway's Little 500 in '92, Wayne was somewhat surprised, but took him up on the offer. He was impressed with Heckman's enthusiasm to win the race, and knew that he had a quality car. Still, he couldn't understand why a car owner would take on the costs of driving to Indiana, and all the other costs, for a race where "the wear and tear on a car in a 500-lap race is unbelievable. And the chances of winning are almost as high as they are for winning the lottery." The car owner from Miami was pumped to go to Anderson, wanted Wayne Reutimann as his driver, and wanted to win. That was enough to convince Wayne to say yes to his offer.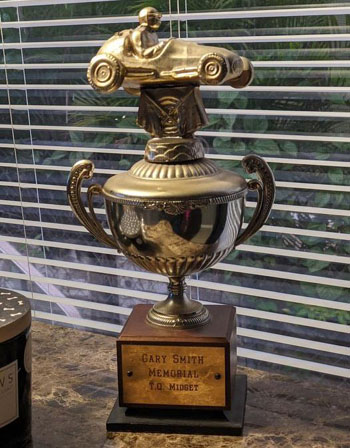 Gary Smith Memorial Trophy, TQ midget at Florida City Speedway.
Although that highly talented Florida duo of Heckman and Reutimann never won at Anderson's "Lil' Five" together, Heckman had one of his most enjoyable years at the Little 500 in 2008. That's when Doug Heveron, then a Floridian, won the pole position in the number 22 Heckman Motorsports car. Even though they didn't win the race, Don was still beaming with pride. Heveron had said that he was going to retire as a driver after the race, so Heckman decided that he would join him in retiring from racing.
"He was as good as there is," Don Heckman said of Wayne Reutimann's racing expertise. "Wayne would very seldom mess up, he always raced a lap ahead of where he was. I had three TBARA championships through Wayne, I have five altogether." Heckman praised Reutimann as a great person, a great family man, and "just a super driver." What Heckman most admired about Wayne was his expertise at protecting his car, while still being fast enough to get to the front and win, which he did 97 times in Florida sprint car competition. That's second on the All-Time Florida Sprint Car Win List, with only Dave Steele having more sprint car wins (101) in Florida. Lots of Wayne's wins came in Don Heckman's number 22 sprint car beginning in 1992.
The reason that Don Heckman's family was reaching out to Gary Smith Jr. was because Don had requested that Gary come to see him. They also revealed that Don was feeling under the weather. Florida City Speedway had begun a Gary Smith Memorial race after Gary's tragic death, and a trophy went to the winner, inscribed "Gary Smith Memorial T.Q. Midget." Don Heckman had the trophy. He won the inaugural Gary Smith Memorial race during his time as a racer at Florida City Speedway. Gary remembered that Don was "one of the six that walked my dad to his final resting place." Don Heckman was special to Gary and the Smith family, and many other Florida racers who Don helped achieve success on and off the race track. The news about Don is disheartening. He is dealing with illness, and has not been feeling well lately.
Gary Smith Jr. added his thoughts: "Don also told me he is right with the Lord, his family, and friends. The world needs more people like Don Heckman … #CANCERSUCKS." Gary went to visit Don, calling it an "honor and a humbling experience that a person not feeling very well at all … would think of me." Don presented the Gary Smith Memorial trophy to Gary as a gift. He wanted Gary to have it and keep it. Gary admitted that he was speechless and greatly honored by the gift. He also heard some stories about his father that he'd never heard before. Don Heckman had remembered the tragedy of that crash more than 50 years ago, the sadness of burying one of his competitors, and the fatherless little boy who was left behind, but not forgotten.
The gift said a lot about the giver, Don Heckman. It said that he was worth remembering too.
Thanks to Rex Hollinger (credit for the story idea), Don Heckman, and Gary Smith Jr.
Rex Hollinger's Florida City Speedway web page is here:
http://floridacityspeedway.homestead.com/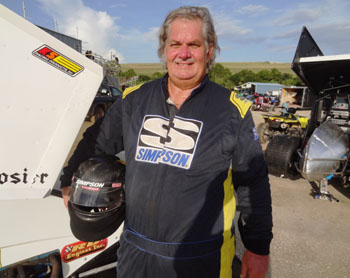 Tim George and his dirt sprint car at East Bay Raceway, Sept. 5, 2020
Tim George: The King of the East Bay Raceway Limited Sprint Cars
Story and Photos by Richard Golardi
September 30, 2020
Even if one says that Tim George has dominated the 360-cubic-inch limited sprint car class at East Bay Raceway Park in Gibsonton, it's still an understatement. You need a more powerful word or phrase, like "ruled," "made a mockery of," or maybe just say: Tim George is the King of the East Bay Raceway 360 Limited Sprint Cars.
Tim George was at East Bay Raceway with his family and family-owned race team. Tim George was home. As he moved around the two winged sprint cars, stacks of tires, the race car hauler, various members of the race team, and other observers (along with one journalist), he seemed at ease. The sky seemed to be troubled, seemed to be threatening another summer downpour. The cars were pulled out of the hauler after he took a last look at the skies above East Bay and declared that he was ready for that night's racing, which included the 360 limited sprint cars. The evening's one interview was complete, and now it was time to go racing.
A few drivers can be classified as one of the legends of East Bay Raceway, and Tim George is certainly one of them. A plaque just inside his race car hauler lists the years that Tim earned the title of East Bay Raceway Park limited sprint car track champion. Those years are: 2000, '02, '03, '04, '06, '08, '10, and '11. That makes him an eight-time East Bay Raceway champion. He also earned the 2005 USA (United Sprintcar Alliance) Sprints series championship. "We were running asphalt with 'em. That was all-asphalt that year," Tim said regarding that USA Sprints title. "And I won a championship with Top Gun, too." That was 2010, when he earned the championship with the Top Gun Sprint Series, a Florida traveling dirt sprint car series.
"My father did it [auto racing] when I was real young," Tim explained earlier this month. "And I just picked it up from there. Everybody's got to have bad habits! He was running down here then. Basically, SaraMana Speedway track, late models. Never did much good with 'em, never really put forth the effort. It was asphalt. That was all we had back then around here was asphalt. You had SaraMana, the old Punta Gorda track, right off of 41, and you had St. Pete. That was the first track I ran was the old Punta Gorda track, when I was 13, in a '57 Chevrolet bomber. What year? I'm 61 now – do the math!" It was 1972. Tim classified his result in that first feature, in a bomber, as "not good. I only ran one late model race, and that was in Okeechobee. I started out in the Super Sixes here, at East Bay."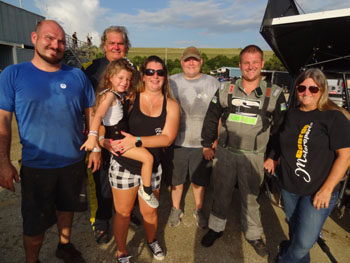 Tim George and his family racing team at East Bay Raceway Park, Sept. 5, 2020
His transition to improved race results: "Around 1985." The transition to being a winner: "Probably somewhere around 1990. The first win was around 1989 or '90, that was in Southern Modifieds." The Southern Modifieds became popular in Florida in the late 1980s and early '90s, and looked remarkably similar to the sprint cars of that time. The series later evolved and morphed into the limited sprint car class at East Bay Raceway, and for some years, some still believed them to be modifieds. The statistician keeping the All-Time Florida Sprint Car Win List didn't include the limited sprint cars in his sprint car win totals, considering them to be modifieds.
Although his father helped him get into racing, another member of Tim's immediate family was less enthusiastic about him moving into sprint cars. "My wife, Robin, told me if I got a sprint car, she'd divorce me. She lied! We've been married for 37 years. The first night she came, she called it 'the stupidest thing she ever saw.' She still comes to every one she can, she'll work on the car, and she can change the gears in 'em, she'll change tires."
Tim's favorite track (a question with an obvious answer) is East Bay, of course. "I like this track. I like Volusia [his second-favorite track], but I like this track, too." Tim believes his sprint car feature win total "is probably somewhere between 20 and 30. Other than in the sprints, I won one other feature race in the late model. I've won at probably two-thirds of the tracks in Florida." Tim's nine-to-five job: "I drive a tow truck. I've got six of 'em, which makes it hard to get away." His company, Venice Wrecker Service, based in Venice, Florida, has a problem experienced by many employers: "People don't like to work too much anymore." He hopped behind the wheel of a tow truck to head to the site of a wreck by himself for the first time at age 13. The driver that he admired more than any other: "Probably Steve Kinser."
Tim would have liked to have headed out onto the World of Outlaws tour, as many legendary sprint car drivers did when Tim was a young man. "It might have been nice when I was younger, but when you get older, you just gotta take what you got and go on and try to be happy with what you got." Going wheel-to-wheel with Steve Kinser, well, that "would have been fun to try."
"For 21 consecutive years, until I hurt my back, I was in the top three in points in that [class], the East Bay limited sprints. The worst I finished was in third, up to 2017. It ended two years ago when I had my back surgery. I kinda tried to go out of the park here. I've got nine screws, three cages, and two rods in my back. I caught the gate post about 15 feet in the air, and it stopped me. I came back onto the track. I flipped one a month later, and it got to where I could hardly walk. I was out of racing for about a year. I was still fielding a car with Billy [Bridges], my son-in-law. I came back at the end of 2018, when I ran two races. The first race I ran here in 2019, I won it. Last year, I ended up upside down on the front chute again while lapping somebody and took a left knee out. Now I have a 'fake knee.' It chipped a bone when I hit the steering box."
He had been avoiding the knee replacement surgery, but after the chipped bone, "I couldn't put it off no more." That surgery caused him to miss the first two races of this year at East Bay during the February Winternationals. Danny Sams took over a backup for the number 1* car for those two races. Another surgery is looming in December, this time the other knee is due for replacement surgery. It's becoming one of the most common orthopedic surgeries, and Tim will soon have contributed to the statistics on two occasions.
"This year's been 'up and down.' I got the new car, it takes a little bit to figure 'em out and I had a few motor problems. We ran third the first night here, fourth last time we were here, that was the second race this year. They're not getting the cars up here [for East Bay limited sprints], but they're not wanting to pay no more money either. Money's a big deal, there's more of 'em runnin' the Top Gun because Top Gun pays better. That's just the way it works out. With the track being sold, and it's not gonna be around, there's not too many people for our class of sprint cars in Florida, which is basically a 'bastard class.' You can't go really nowhere else and run that motor combination. You can run 305s just about anywhere, or the 360s, you can run them – ASCS or USCS. But with the motor rules that we have, basically they're all on their own.
"I mean, it's a dying sport. Now, most kids would rather sit at home and play on their video games than do anything that takes manual labor – hot, sweaty work. When I was a kid, you didn't have air conditioning, you had maybe three TV channels, if you were lucky. You went to the races on Saturday night somewhere. Now, there's just so many things to do. The local racing, there's just not much money in it."
Some cars were wrecked during the time that Tim sat out a year while recovering, and now Billy Bridges is driving what amounts to something like a "team car," which travels to the track in Tim's hauler, but which is owned by the Bridges family. The car driven by Tim is easy to spot, it's the "one-star," 1*. "We started out with a number 10, and we kinda crinkled the tank one time and my father just cut a star to cover the spot and it lost the zero. The star covered where the paint was gone and it stayed. Generally, the cars were yellow. This one ain't, it's white."
Tim recited the names of his family members, in addition to his wife, Robin: "I have four daughters: Brandi, Susanne, Rebecca (Becky), and then Cheyanne, the youngest. She's 19 now. We basically adopted her, she's my wife's niece's daughter, but we've had her since she was like two years old. I've raised her. Susie and Becky have run sprint cars with me. Brandi was into beauty pageants. Susie works for me, runs the office for me. Rebecca quit racing to show cows. She's loved cows her whole life. It's been a family affair with us. My mother's here, my wife's here, my daughter's here." Brandi may be most familiar to Florida racing fans as a trophy queen at Florida short track races, often at East Bay, and is a professional model, now doing marketing for a group of lawyers. There's also one grandchild, a four-year-old girl.
What's the future for the East Bay limited sprints, and what about Tim's future? "The series will [return]; me, I don't know yet. I've done it a long time. I'm getting tired. My body obviously won't handle me getting wiped out, and it's got nothing to do with me, it's just 'right place, wrong time.' When you run one of them, it happens. It can get violent – quick. And you gotta know that. I mean, it's gotta be something you can't get mad about. It keeps really workin' on my body. I mean, my back, my knee. Ya just don't heal the way ya used to – or at least I don't. I don't know what would be next. I've run this track basically since it opened in 1977, in one class or another. I still enjoy it. It's cost me a lot of money, but it's been a lot of fun. If I was bad at it, it'd be real easy to quit. When you're not bad at it, it's hard to quit when you still enjoy it," he said with a laugh. "It's kind of a catch-22."
Tim George had been thinking about making this year his last driving sprint cars. "Yeah," he said, "back when I had my back surgery done, there when I was out for the year. My wife says I'm unbearable when I don't go racing." So, he went back and became "bearable" again. "I guess! So much that she can put up with me anyway, but you know how that goes." When that question about retiring from driving race cars comes up, he responds: "I don't know. I keep saying it over and over and every time I seem to come back, so I don't know. It's hard to quit. I always said when it quits being fun, I'd quit. And it's still fun. It's gotta be something you do for the love of the sport."
As he posed for a photo with his car at East Bay, a structure in the background loomed over the iconic Florida dirt track, the racer, and his race car. It was an ever-growing mound of phosphate waste from the nearby phosphate mines. Soon, like time itself, it would take over. The mining company had profits to spend and had contracted to buy the track by 2024. They needed the land for another mound of waste. Racing at East Bay, and Tim George's time there as a racing legend, would both be coming to an end. The racer and his track had grown old together, but you can't hold back time. It always moves on.
2020 Florida Sprint Car Mid-Season Review
Story and Photo by Richard Golardi
July 21, 2020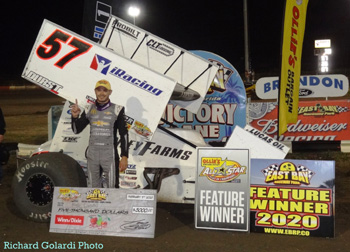 Kyle Larson, winner, All Star Circuit of Champions, East Bay Raceway Park, Feb. 11, 2020
Florida sprint car racing has had its most difficult year in recent memory, with Florida now being identified by numerous media organizations as one of the "latest coronavirus epicenters." In addition to putting a damper on fans' enthusiasm to attend crowded sports events, the situation in Florida has seen a record number of new infections in recent weeks. The only bright spot has been that all February Speedweeks sprint car events were completed before the lockdown began in March. Some of the February feature race winners included Kyle Larson, Donny Schatz, Kody Swanson, Brad Sweet and Aaron Reutzel, and the racing was excellent. Larson's Tuesday night All Star dominance at East Bay Raceway was especially impressive.
The Southern Sprint Car Shootout Series had held two races since Memorial Day, and has canceled two races planned for Showtime Speedway in Pinellas Park, due to restrictions imposed by the coronavirus. Surprisingly, Troy DeCaire, who dominated in early season action, has not won a series feature race since early March, when the last race was held before the lockdown and restrictions on sports events by the State of Florida. Up to that time, DeCaire had won the first three points races in the 2020 season, with Kody Swanson winning the Dave Steele Non Wing World Finals (non-points race) in February. After his win at Punta Gorda's 4-17 Southern Speedway last Saturday, John Inman needs one more feature win to equal DeCaire's win total for the year. Inman, with top five finishes in all six series races this year, leads the current standings by 52 points over second place Troy DeCaire. The only other driver with a series win this year is Daniel Miller, winner at Punta Gorda in early June.
Yesterday, Showtime Speedway leaseholder Robert Yoho stated that, "There will be no sprint cars at Showtime this week. Showtime is electing not to race again," regarding the race planned for this coming Saturday, July 25 at Showtime. The next scheduled race is a return trip to 4-17 Southern Speedway set for August 15. The remaining races through early December are all at the two tracks already mentioned, save for one race at Citrus County Speedway in November. Races at Auburndale Speedway were canceled, and no races were planned for New Smyrna Speedway.
That mirrors a similar situation for the Florida dirt series, the Top Gun Sprint Series. They also have found that their racing has been limited to a reduced number of tracks, as compared to previous years. After two races at East Bay Raceway Park in January and February, both won by Garrett Green (who got married during the lockdown), the only other track to hold a Top Gun race this year has been Hendry County Motorsports Park in Clewiston, the advertised "Southernmost Dirt Track in the USA." A.J. Maddox has won two of the races held there in the vicinity of the Everglades, in March and May, and Shane Butler won the most recent race, on June 13. The track's next race on September 12 has an advertised first place prize of a minimum $2,000. It is also being recognized by the series as the planned "biggest Top Gun Sprints payout ever."
In August, the Top Gun Sprints intend to resume racing at both East Bay Raceway (August 1) and Volusia Speedway Park (August 29). There are additional races scheduled at these two tracks through early December, when the season concludes at East Bay Raceway on December 5. Another notable event in Top Gun racing has been the "comeback tour" of Florida sprint car legend Stan Butler, who has raced with the series this year, in addition to his steady participation in DAARA and classic sprint car competition. Garrett Green, A.J. Maddox, and Shane Butler currently hold the top three places, in that order, in series points for 2020. Green is the only one of the three who is looking for his first sprint car series championship in Florida.
Pavement Sprint Cars Highlight 2020 Indy Race Week, Plus Indy 500 and Little 500 Race Week Schedules
Story by Richard Golardi
May 22, 2020
With the 2020 Indianapolis 500 scheduled for Sunday, August 23, and the usual races at Terre Haute and the one or two USAC Silver Crown races in Indianapolis and Brownsburg now off the schedule, the 2020 Indy Race Week takes on a new look. A major part of that new look is the prominence that pavement sprint car racing takes this year. They will be in the national spotlight for three consecutive days.
Pavement sprint car racing will take place on the three nights prior to the Sunday, August 23 race date for the Indy 500. The Must See Racing Sprint Series visits the Indianapolis Speedrome on both Thursday, 8/20 (winged speed trials only) and Friday, 8/21 (winged speed trials and feature races). Then, the wings are off for both non-wing sprint car and midget races for the Night Before the 500 at Lucas Oil Raceway at Indianapolis on Saturday, 8/22. The sprint car race will likely interest several Florida pavement sprint car teams, as it serves as an Indiana warm-up race for the Little 500, set for two weeks later on Saturday, 9/5.
Here's some news that definitely fits into the category of: "I didn't see that coming, but I'm not shocked at the development." USAC has quietly, without a press release, gotten back into sanctioning pavement sprint car racing, and pavement midget racing too. As of today, the pavement sprint car and pavement midget races at Lucas Oil Raceway at Indianapolis on Saturday, August 22 are now USAC sanctioned races. They silently slipped them onto the national sprint car and national midget race schedules, listed as "SE," a special event with no points awarded.
"New Look" Indy 500 Race Week Schedule:
Pavement Sprint Car Races Scheduled, Indiana races only:
• Indianapolis Speedrome: Thursday, August 20,
Indyana Shootout, Must See Racing Midgets, TQ midgets, Ford oval,
Figure 8, speed trials with winged sprint cars
• Indianapolis Speedrome, Friday, August 21,
Indyana Shootout, Must See Racing sprint cars (winged, Twin 50s),
Must See Racing midgets, TQ midgets, Factory FWD, speed
trials with winged sprint cars
• Lucas Oil Raceway at Indianapolis, Saturday, August 22,
Night Before the 500, Pavement sprint cars and pavement
midgets (both non-wing)
Dirt Sprint Car Races Scheduled, Indiana only:
• Bloomington Speedway, Bloomington, IN, Friday, August 21,
Non-wing 410 sprint cars
• Gas City I-69 Speedway, Gas City, IN, Friday, August 21, Twin
20s, Non-wing 410 sprint cars
• Lawrenceburg Speedway, Lawrenceburg, IN, Saturday,
August 22, Dick Gaines Memorial, Non-wing 410 sprint cars
• Lincoln Park Speedway, Putnamville, IN, Saturday, August 22,
Midwest Sprint Car Series, Non-wing 410 sprint cars
• Plymouth Speedway, Plymouth, IN, Saturday, August 22, All
Star Circuit of Champions, Winged 410 sprint cars
USAC Silver Crown Races Scheduled:
• Illinois State Fairgrounds, Springfield, Illinois, Bettenhausen
100, Saturday, August 22
Little 500 Race Week Schedule:
There are currently two USAC national series events on the same weekend (but a different date) as the current date for the 2020 Pay Less Little 500 Presented by UAW, which is Saturday, September 5:
• USAC National Midget Series: Sept 4, Sweet Springs Motorsports Complex, Sweet Springs, MO
• USAC Silver Crown Champ Car Series: Sept 6, Du Quoin State Fairgrounds, Du Quoin, IL
Indiana sprint car races that same weekend, not including 9/5 (as of 5-22-2020):
• Friday, 9/4: Bloomington Speedway, Midwest Sprint Car Series, Josh Burton Memorial
• Friday, 9/4: Gas City I-69 Speedway, Non-wing 410 sprint cars
• Sunday, 9/6: Kokomo Speedway, Non-wing 410 sprint cars
• Sunday, 9/6: Tri-State Speedway, Midwest Sprint Car Series, Labor Day Weekend Challenge
April's Mixed Bag of (No) Racing
Story and Photo by Richard Golardi
April 10, 2020
April's usual mixed bag of sprint car racing in the Midwest and Florida has brought no racing in either locale this year. News about the immediate future of racing is another mixed bag of both good and bad news. I'll get some of the worst bad news out of the way first, leaving the good news until a little later. Speaking of little, the Little 500 seems to be holding fast to its intended Memorial Day weekend race date of Saturday, May 23 (at least as of today, 4/10). This commitment has meant that an excellent alternative race day, Saturday, August 22, has already gone to Lucas Oil Raceway at Indianapolis and their revival of "The Night Before the 500," now with both pavement sprint cars and midgets. A decent purse structure seems likely to draw most of the major pavement sprint car teams. It remains to be seen if there will be enough midget teams to take their cars out of storage to race, but the date is a good choice for such a doubleheader. Crowds drawn to Indy for the next day's Indy 500 make it so.
A recent University of Chicago study reported by Scientific American (see link below) has detailed a fascinating find: numerous coronavirus "hidden hotspots" across the country. The reason that they are hidden is because they have not received much of any exposure in the press (that may change now with the study's release). These are areas that are "disproportionally affected by COVID-19." The researchers looked at infections per county, then made their adjustments. It revealed a significant number of locations in the South where the proportion of people who have COVID-19 is quite a bit higher.
These hidden hotspots also show another disturbing trend, especially for those Florida sprint car teams intending to head north to Indiana in a little over a month for Indy race week and the Little 500. These hidden hotspots are concentrated right along the route almost always taken by Central Florida race teams to travel from the Tampa Bay area to Indianapolis and Anderson, Indiana, which is I-75, to I-24, and then to I-65. They include Albany, GA (bordering I-75), Atlanta (on I-75), Nashville, TN (on I-24), and then Indiana (I-65 bisects the state right up to Indianapolis). That "route most taken" from Tampa now leads through four of the nation's COVID-19 hidden hotspots and puts those Florida race teams at increased risk of exposure to the virus twice, going north, and then heading home.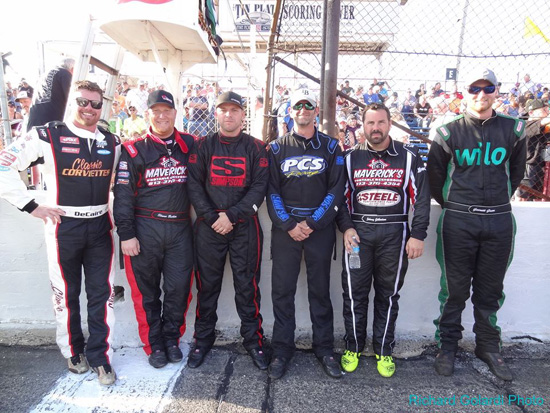 2018 Little 500 Florida Driver Group Photo
In addition, a just-released survey conducted by Seton Hall University on April 6–8 has found that a majority of Americans (72%) would not feel safe attending a sports event unless a vaccine for COVID-19 had been developed. Among those persons who identified as sports fans, 61% stated that they would not feel safe. Most Americans are not at the point where they feel safe and without fear of illness while at a crowded sports event.
A readily available alternative for the Little 500, in fact probably the best alternative as of today, is to postpone the date of the race, and not just for the benefit of the Florida teams, but also for the benefit of the race fans who attend the Little 500, a group that includes a large percentage of over-65 seniors, a group identified by the CDC as "at higher risk for developing more serious complications from COVID-19 illness" (CDC.gov, 4-10-2020).
There is one alternative date for the Little 500 that stands out, and it is the only date providing all these advantages: there are no competing USAC national races on this date, Kokomo Speedway has no race planned (but probably will have one soon), Lucas Oil Raceway has no oval race planned, there is a major daytime race being held in Indianapolis the same day (Brickyard 400), and Anderson Speedway will benefit from the fans already in Central Indiana looking for another race. That date, with all these advantages, is Sunday, July 5.
Why this day? Because there are already races planned for July 4 for USAC and for the Indianapolis Motor Speedway (which has two races) in Central Indiana. That date won't work. The "speedway" will probably run late into the day with their two races, and many families will have BBQ and firework parties, and will not be inclined to leave the beer and BBQ they plan to consume to go to a race. Little 500 qualifying could be held on Thursday and Friday, July 2 and 3, and the race on July 5. There's another benefit: owners, drivers, and crew members that have non-essential jobs, and are now out of work and cutting back on all their expenses, have a greater likelihood of being back to work by July, and can therefore afford the costs of running a race team once again. In April and May, many teams have no way to gather funds to afford the cost of racing in the Little 500, which is estimated to cost several thousand dollars.
A July race date for the Little 500 would also align the race with scheduling decisions made by the Indianapolis Motor Speedway, IndyCar Series, and MLB pro baseball, all of whom have no plans to hold events in occupied stadiums during April or May. The IndyCar Series will not hold their season-opening race until June. The speedway will not race until July. Other auto races planned for April and May are being canceled and postponed. That makes sense.
Now, on to that promised good news: Both of Florida's sprint car series, the Southern Sprint Car Shootout Series and the Top Gun Sprint series, have both expressed their intention to return to racing when stay-at-home orders have been called off and race fans may once again safely gather at Florida's short tracks, both dirt and paved. Two of Florida's legendary sprint car team owners, Jack Nowling and George Rudolph, have both recently celebrated their 80th birthdays, with George the most recent to turn 80 on March 30. Nowling and fellow Florida car owner Bob Gratton were also the Grand Marshals for the February running of the Dave Steele World Non-Wing Championship at Showtime Speedway in Pinellas Park. George Rudolph can still be seen in the pits, wrench in hand, in Florida and at the Little 500 to this day. Wrench on, George! Two early favorites for 2020 championships in Florida's sprint car racing have already emerged, even though both Florida series have shut down since early March. Troy DeCaire has won three features with the Southern Sprint Car series, and seemed poised to resume that dominance when the season resumes. On the dark (dirt) side, Garrett Green, driving the No. 82 Hardy Maddox car, has taken the checkered flag in two of the three Top Gun series races this year, and is one of the few Florida racers to have multiple sprint cars wins on both dirt and pavement. He's one of the early favorites to take his first sprint car championship this year with the Top Gun dirt racers, and would be a popular champion. On the pavement side, the next Florida race is tentatively planned for Saturday, June 27 at Showtime Speedway. Top Gun does not have a confirmed date to resume racing.
Here's the link to the Scientific American article on "hidden hotspots":
https://www.scientificamerican.com/article/map-reveals-hidden-u-s-hotspots-of-coronavirus-infection/
Jeff Walker – The Master Mentor of the Champions
Story and Photo by Richard Golardi
February 15, 2020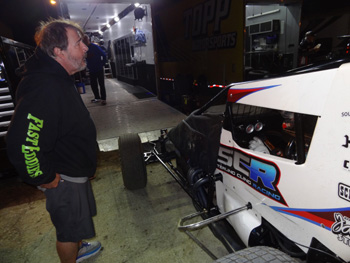 The names and places were rolling off his tongue. Stories of sprint car races and sprint car places, all told by legendary sprint car team owner Jeff Walker, owner of Jeff's Jam-It-In Storage in Noblesville, Indiana. Then there are the names – all those young hot-shots that he tutored and molded and made into consistent winners and racing champions. You can start with Dave Steele, a racer who he moved right into his office at his storage facility, and made it into a bedroom for the 22-year-old in May 1996. Then, add the following names to his list of drivers: Tony Elliott (for almost 10 years), Levi Jones, Dave Darland, Ricky Stenhouse Jr., Kyle Larson, Brad Sweet, and "I can't even think of all of them," Jeff remarked.
Jeff Walker has experienced loss, too. If you have been around short track auto racing as long as Jeff Walker, it has happened. He was close to Robbie Stanley, a USAC sprint car champion, who died in a sprint car at Winchester Speedway on May 26, 1994. "He was good at a young age," Jeff said. "Him and I were pretty good friends. We had a pretty long talk, that day that he got killed. That was a pretty sad day for me. We sat in the parking lot there and talked. He wasn't very happy with that car there at Anderson. We ran [Little 500] qualifying at Anderson that day, and then ran Winchester that night, and that's when he got killed. I've been close to a couple of guys that got killed – and it's hard. Luckily enough, it wasn't in my car, so I'm glad of that. I haven't had anybody really hurt in any of my cars, and we've run a lot of races."
Levi Jones, present at Bubba Raceway Park last night in his current position as USAC executive vice president, was another of those protégés of Jeff Walker who had success and multiple championships in a sprint car. He also won his last feature race, at Gas City Speedway, driving a sprint car owned by Jeff Walker. "Levi ran for me a lot too. He ran for me before [car owner Tony] Stewart, that was his first ride out of his family car, and he drove for me for a while. It was at the same time I was fielding two cars then, with Tony Elliott."
When Levi Jones made a decision about his future, a decision to leave race car driving, he came to Jeff Walker, and let him know, "Jeff, I've got three kids that rely on me." It was when Jeff had just built a whole new race team. "I get it," Jeff said to him. "If you want to throw in the towel, I understand." Levi was concerned: "I don't want you mad at me!"
"I'm not mad at you!" Jeff responded. "I understand."
Jeff believes that the reason his cars have won so many races is because of the high level of talent possessed by his drivers. "Hire the right driver, and you'll be a winning team," he proclaimed. Of course, he is downplaying his mechanical genius at preparing his cars, and his ability to pick the future champions – those drivers that he could mold, mentor, and develop into champions, as he has done for decades. Frequently, they were USAC racing champions, who often went on to win their championships in later years, such as Dave Steele's USAC Silver Crown titles in 2004 and 2005 driving Bob East's champ car.
"I've probably helped a few of them!" Jeff Walker said of his drivers over the decades. "And today, I'm here in Florida with a rookie out of Arizona, Sterling Cling." Jeff's rookie driver, competing for the USAC Rookie of the Year title, is considered one of the favorites for the 2020 sprint car division rookie title along with Anton Hernandez and Anthony D'Alessio.
"I just started working for them [Cling family] last June," Jeff said, "and they're out of Arizona, so I've been out there all winter, building cars. Now we're here, and we're going to give it a go, and see how he does." Jeff revealed that Sterling Cling is an off-road racing champion, and is an experienced race winner. Of course, learning sprint car racing "is way different: 800 horsepower in a 1,200 pound car. In 410 sprint cars, he's had maybe 10–12 races. We ran last year. He's got a 360, they call it Challenge Cup. We won one of those, a Challenge Cup race in Arizona a few weeks ago, and a third place last week.
"They've hired me to run the whole team. They said, 'We want you to do it all.' That's the only way I probably would have done it, because I didn't really want the job. We're going to run up until June with USAC, through Pennsylvania, and just see how we're doing. Then, we're going to reevaluate how we're doing. If we're not running well, and not staying up with them, then we're going to run local races, and get some more experience, and then come back for USAC the next year. If we're doing alright, we'll keep running the USAC stuff."
Greg Wilson – The Long-Time Visitor
Story and Photos by Richard Golardi
February 13, 2020
Ohio sprint car racer Greg Wilson, driver of the No. w20 car, has been a long-time visitor to Captain Jack's place, the name often used for the home of Jack Nowling. It's down at the end of a dead-end road in Gibsonton, Florida. It's a location that becomes a gathering place for dirt sprint car racers during February Speedweeks, and especially during those three days of racing at East Bay Raceway Park for the 360 Winternationals, which begins today through Saturday. In fact, Greg has been coming to Captain Jack's and his iconic "Cracker House" for 29 years, about as long as Captain Jack has been living in Gibsonton.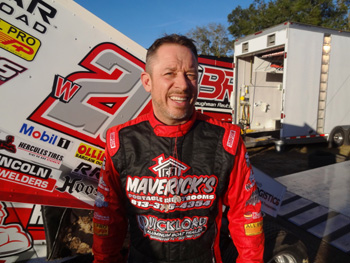 Greg may just be the racer who is not only a long-time visitor, he may have been visiting for longer than any other racer. He recommended to fellow dirt sprint car racer Danny Smith that he should join him at Captain Jack's during those weeks of racing during February. Danny joined him, as did many other racers, and has also been a regular visitor there for as long as many can remember. Of course, a highlight of their stay is visiting with that iconic, rough, tough, gruff, but extremely lovable, Florida sprint car team owner and owner of Jack's Place: Jack Nowling. If you have been one of the visitors there, then you know there is one overwhelming emotion that everyone experiences. It's that everyone loves Jack Nowling.
Jack opens up his property, his home, and the social gathering place, The Cracker House, to this diverse group of racers from the Northeast, Midwest, and the rest of the country. Also, there is the bunkhouse, like something out of the Old West, and a fire pit, where racers can be found telling stories and spinning tales (sometimes truthful) of racing from decades gone by, and at race tracks that have met the developer's bulldozers (Boo!). Sometimes, the story telling and the card games go on until the sun comes up. Greg Wilson has been there to greet the sun after the all-night games and stories have wound down, and believe it or not, that happened on days that the racers then headed over to East Bay Raceway to drive their sprint cars.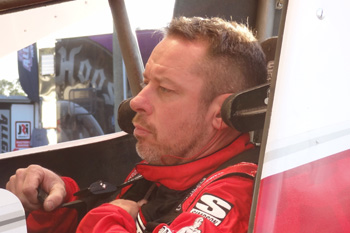 For 2020, Greg Wilson told me that his main goal is to compete for the driver's championship with the Ollie's Bargain Outlet All Star Circuit of Champions. "And win some races," Greg told me at Volusia Speedway Park. "We had a decent year last year, didn't win some races that we felt like we should have. Kinda changed some things around over the winter time. Got a really good mechanic [Dean "Bonzai" Bruns] starting in April that will take some pressure off me, and hopefully that equals out to be some wins. He's going to do the full All Star schedule for our points season. We changed some stuff around, worked on the motors a little bit, and just tried to fine-tune some things that we felt like we were starting to learn at the end of last year. So, maybe we won't start so far behind this year.
"You always do this to win races," Greg added. "We do a lot of stuff for our partners, so we'll be really busy doing stuff for Hercules Tire and all the people that are involved with our team." Regarding the highlight of his 2019 racing season, Greg remarked, "I don't know if there was one real highlight. I just felt like there was a lot of times that we started showing signs that we could win some races again. You know, we kind of went through "a low" being out on the road with the World of Outlaws, and not really having our ducks in a row. And we felt like, last year, we needed to work toward getting things simplified, and trying to figure out what it was going to take to get back to being competitive. We felt like there was times that we showed that, but we couldn't quite get over that hump. Hopefully this year, we can get some wins."
In addition to running the full All Star Circuit of Champions schedule, Greg plans to race in about 20–25 World of Outlaws races, and another 10–15 weekly or 360 shows somewhere. This week, "If we're ready, we'll be at East Bay for the 360s, if not, we'll be in Alabama the following weekend." Greg revealed that he's got his 360 engine with him, meaning that he'll race, if that is the final decision this week to enter the 360 Winternationals. "We're ready. Oh, yeah!" he remarked.
"We like East Bay Raceway. It's a cool place," he said. "It appears it ain't gonna be around forever, and we'd like to get us a big win there. But, we also have to do what's right for our team." Greg plans to reevaluate the teams' status on Wednesday, a day without racing, and then make his plans for the rest of the week of racing in Florida. "And then we'll go from there."
This happens, all while his anticipation grows about the coming reunion of racers over at Captain Jack's place in Gibsonton. "We're excited to be over at Captain Jack's," Greg stated. "I've been going there probably longer than any of "the clan" has been goin' there. I started going there when I was 15 years old, and I'm 44 years old. So, he's like a father. Jack's been a huge part of my life, and we love the man, and he's struggling right now with some health issues. We're excited to get back there and spend some time with him this week. I actually started coming around right when "the move" [Jack's move from Brandon to Gibsonton] happened. Right when he moved to Gibsonton, like the first or second year, I met him at the race track at East Bay. I was there."
And, that is what makes Greg Wilson "The Long-Time Visitor."
In February 2019, Terry McCarl won another East Bay 360 Winternational Saturday finale, the Ronald Laney Memorial race. That's the race with the biggest payday in 360 sprint car racing during February Speedweeks in Florida. It was the fourth time winning that race for the 55-year-old Iowa racer, which includes one race with a 410 engine, and the other three during the 360 Winternationals. His main competition for that Saturday finale this year may be another two experts on Florida dirt, Aaron Reutzel and Mark Smith. They have both won two feature races so far during 2020 February Speedweeks, Reutzel in 410 racing, and Smith in 360 racing.
"Man, I just love East Bay Raceway Park," "T-MAC" had said previously about the small, racy West Coast Florida dirt track. "We had our ups and downs," Terry said about his 2019 season, "but [Knoxville] Nationals is always our biggest goal, and we had a bad Nationals, had some mechanical problems. We won six features in six different states. We won one at Texas Motor Speedway, one of the finales with the ASCS national group. Picked up our 59th win at Knoxville, we're only one behind [Doug] Wolfgang on the all-time list. We're inching up there, slowly but surely. East Bay was our highlight last year, that was our fourth one, the third with 360s, we won one with a 410. That was also our second in a row, only person to do that. Pretty proud, I love East Bay, I love comin' down here, I love Florida, we've got a lot of great friends and have been comin' down here for so many years. And of course, you can't beat the weather, compared to Iowa. I've said this story a lot, but as a little boy, I used to listen to my dad's stories about comin' to Tampa, and racing at the Tampa Fairgrounds and all those places that you see in the history books. My dad was there for quite a few of those and it means a lot to me to come down here and put my name into the record books. I'm into the history of sprint car racing quite a bit.
"We teamed up with Rick and Barb Rogers at Destiny Motorsports last year, it's T-MAC Motorsports and Destiny Motorsports, it's a 'combo deal.' They're good folks, we've been friends a long time. They sponsored me for years with Destiny Motorsports on the front wing, and this last year, we combined more, we got their truck and trailer and all their goodies and put a deal together. We're going to get bigger and better every year, I think, with Dick and Barb. I'm looking forward to being with them, they're great people. And Mondak Portables, and that really helped us out to get back on track. We had a good year for our first year teaming up with those guys, and I'm looking forward to this year. Florida's kinda tough, and it's always been that way. Gary Wright and I always used to joke about it: 'If you win every night in Florida, or lose every night, you still get to the Georgia line on your way out of town, and throw away all your notes, because they don't work anywhere else.' "
On Sunday at Volusia Speedway Park, Terry remarked, "I've dominated down here, and I've run bad down here, like this week. Florida's a tricky, tricky place for everybody. I really enjoy it, I'm looking forward to being at East Bay this week." Terry intends to race at all five sprint car races at East Bay Raceway this week, the two All Star series races, Monday and Tuesday; followed by the three nights of the East Bay 360 Winternationals, Thursday–Saturday. Then he heads home, with the possibility of getting in a USCS sprint car race on the way. The World of Outlaws sprint car dates through the beginning of April are also in his plans. Beyond April, it's "kind of pick and choose," and after speaking to Rick and Barb, "we might be at Knoxville weekly, I'm not sure. I live 30 minutes from 'the best track in the world.' I think we ran 60-some races last year, but we were there for all the weekly shows. What's nice about where we live, and about Knoxville, is that it pays really well, their point fund is really good, but their season is very short. It lets us race with the Outlaws up until April, and it lets us race with the Outlaws after that [late August end of Knoxville's sprint car season]. You never know where you're going to see us, or where we're going to be – 360s, 410s, we could be just about anywhere."
Terry mentioned that his son, Carson, we be racing at East Bay this year, and that he's "excited about that. Hopefully, next year we can get Austin down here too, and have a 'McCarl – Fest.' Carson, my youngest, was the 360 champion at Knoxville last year, and will be racing a 360 at East Bay. Austin is kinda 'crew-chiefing' for us. He's putting his own team, his own ride together with Brandon Ikenberry, they're looking at doing some racing together. He's a long-time friend of Austin's and he's worked for me for years and years, a great crew guy."
Daryn Pittman, the 41-year old racer from Owasso, Oklahoma, has already won a World of Outlaws NOS Energy Drink Sprint Car Series championship. That happened in 2013. He has a career win total of 85 feature wins with the Outlaws. But Daryn Pittman is looking to improve on his first season with Roth Motorsports last year, when he won four World of Outlaws races, half of which occurred during the February Speedweeks visit by the Outlaws to Volusia Speedway Park. Although he leaves Volusia without any feature wins this year, his speed and impressive car-handling on the last night, Sunday, when he was in contention for the win with Brad Sweet and Logan Schuchart, is a great start to more wins and improved consistency for 2020.
Later in 2019, Daryn added another win in the Gold Cup Race of Champions at California's Silver Dollar Speedway in September, and that put him on the way to a fourth place in the final 2019 point standings with the World of Outlaws. Back in the No. 83 Roth Motorsports sprint car this year in his 23rd year of racing, Daryn remarked that he was "glad to be back again. Definitely would like to get to victory lane a few more times than what we did last year, but obviously excited to be back and try to build on what we started last year."
Highlight of the year in racing for Daryn in 2019: "We started off awfully good," he said. "But, honestly, I'd say the highlight for me, especially with how much I've struggled there, was running third at the [Knoxville] Nationals. Ran well, we started 10th and got to 2nd and contended for the lead for a few laps, and weren't quite good enough. But that was really a pretty big step for me, and I think that was a really good effort by the team, and big improvement by myself, as far as performance-wise at that race. So, I actually think that might have been one of my highlights. Winning Gold Cup was obviously a pretty big win for us, as well, and being in Dennis' [car owner Dennis Roth] back yard in California."
Main goal for 2020: "We've gotta win races. We only won four last year. I think a realistic goal is we'd really like to try to get close to double digits, if not, as close as we can. We've got to do a better job of winning more races and being competitive and contend for more "crown jewels" and be there again for Knoxville. The National Open [at Williams Grove Speedway] is one that's been there on my radar, and one I've been close to winning for way too many years. So, we'd love to be able to click that one off. I've run second, five times now, I believe. You gotta go out there and win 'em, and earn 'em. It's one that we've always been good at, and been close, and we've love to be able to finally check off the list. If we could be as good as we were at Knoxville this year, I definitely think that we can contend for that one, as well."
After Sunday night at Volusia Speedway Park, "We're done until Texas," Daryn said. They were not staying around for another two days of 410 racing at East Bay Raceway, as many of the other 410 teams were doing before heading back north for the rest of the 2020 season. "We'll get ready for just the Outlaws races. We'll probably run the Front Row Challenge at Oskaloosa, but other than that, no. The Outlaws schedule keeps 'em busy enough. We don't need to seek too many other races."
A track that he'd choose to get a win in 2020: "Knoxville. Only race I've ever won in Knoxville is a World Challenge race, so I'd be happy with a July, or June, or whenever we go there, or any race in August, for sure. It's definitely a track that I'd love to get a win at. Wins have been only the World Challenge race – I've won that three times, I think, but that's the only race I've ever won there."
It almost happened in 2019. Jacob Allen's first feature race win in the World of Outlaws NOS Energy Drink Sprint Car Series, that is. He was leading a race at the Stockton Dirt Track, one lap away from winning it, when a part failure took a "sure win" away. That makes the 25-year-old racer from Hanover, Pennsylvania want that first win even more this year. He took 12th place in the World of Outlaws points last year, after a best placing of 11th in Outlaws points in 2018. He is back with Shark Racing, a team owned by his father, Bobby Allen, in 2020, again with Logan Schuchart as his teammate. Jacob was a full-time "PA Posse" racer, racing full-time in Central Pennsylvania through 2013, and then went full-time in the World of Outlaws series in 2014 for the first time.
Jacob's main goal for 2020: "Just to have fun," he remarked, "and to be a good teammate, and have a good attitude." Highlight of the year for him in 2019: "In a weird way, I'd say, getting that close to winning my first Outlaw race. That was a heartbreak, but that was probably my highlight – just being up front, leading that race, and being fast on a track that we have struggled at in the past."
The definite main goal for 2020 is the effort he'll put forth to get his first World of Outlaws feature win: "Yeah, that's obvious, just to get that first Outlaw win." Jacob plans to "just take one race at a time and do the best I can. I come to every race, and it doesn't matter if I've won one Outlaw race, or a hundred Outlaw races, I feel like I'm always gonna treat that the same – one race at a time and try to win it."
If he could choose a track for that first Outlaw win, would he choose Stockton, California, or would it be a different track?: "I'll take it tonight, here at Volusia. If it doesn't happen today, I'm gonna try again tomorrow, and see how it all plays out. This [Volusia Speedway Park] is a fast race track. It's pretty technical. After a few months of the off-season, you come right into a lot of speed and great competition, but that's everywhere. It's a pretty tricky and aggressive half-mile, but it doesn't make me intimidated or anything like that. I just take that all into perspective, and I go out there and I give it the best shot I can."
Shark Racing plans to compete in the full 2020 World of Outlaws race schedule, and also has plans for the few weeks after the sprint car racing at Volusia ends on Sunday, February 9. "We're going to go back home after we race here in Volusia," Jacob stated. "We plan on racing in the Icebreaker, that's at Lincoln Speedway [Saturday, February 22], and anything with the right scheduling that we have time to do and we're able to race it, I know my dad is gonna want to race, and we are too. Back home, or wherever it might be. Back in Pennsylvania is where you can find us, if we're not racing with the Outlaws. At the end of the year, if BAPS [Motor Speedway, Pennsylvania] has that race after the Outlaw season, we always do that one."
Aaron Reutzel was already on a roll coming into the Friday night season-opening race for the World of Outlaws NOS Energy Drink Sprint Cars. He had already won at Volusia Speedway Park this week, taking the Thursday night Ollie's Bargain Outlet All Star Circuit of Champions feature race with impressive speed. Earlier this year, he also had a sprint car win in Australia on January 5, his first win "Down Under." With 18 overall feature wins (16 with the All Star series) and his second consecutive All Star Circuit of Champions driver championship in 2019, what's left for the 29-year old sprint car virtuoso?
How about conquer Florida Speedweeks for a start? Aaron and his Baughman-Reutzel Motorsports No. 87 team plan to race in ten nights of competition in Florida this week, and all the way through to the end of next week. After Volusia, it's off to East Bay Raceway Park on Monday and Tuesday, and that's where he'll stay for the rest of the week after the All Star series races on those first two nights. Out comes the 410 engine, replaced by their 360 engine for the East Bay 360 Winternationals on Thursday–Saturday. The rest of the year consists of attempting to win their third straight All Star series championship, while also including a major portion of the World of Outlaws sprint car schedule in their 2020 plans.
"We're gonna do the All Star deal again," Aaron remarked at Volusia Speedway Park on Friday. "So, we'd like to win that again. Last year, I felt like it was a big one for us to win it again. When we won it the first year [2018], it was our rookie year. Last year, we felt like we needed to back it up to prove that we were the team that we were. That was good. This year, I think we want to back-up everything that we did, you never want to go backwards. Sixteen wins, that's going to be hard to do; and then an Outlaw win, that's going to be hard to do as well. If I have any goal, it's going to be to at least get two Outlaw wins this year, and win the All Star championship again.
"I would like to have a little bit more of a consistent year," Aaron continued, "where we have a little less DNFs, and try to get more consistent – me as a driver, and also as a team together." When asked about a track where he has not won, but where he'd like to be a winner, he was quick to respond: "I'd like to get Knoxville out of the way, I haven't won there yet." Highlight of the year in 2019: "Winning the Tuscarora 50." Goal for this weekend at Volusia: "Try to win one of these next three [weekend races at Volusia], and go down to East Bay, I'd like to win the Ronald Laney Memorial [Saturday finale at East Bay Raceway], 'cause Ronald grew up about an hour from me and he was always "the hometown guy," so, I'd like to win that race. I haven't been there [East Bay 360 Winternationals] since 2015."
All the Thursday speed he showed was quite a contrast from Wednesday night at Volusia, when he struggled for speed. Not on Thursday, when he had speed in abundance, and a trophy. What happened? "I don't know! At the end of last year, it seemed like it didn't matter where we went, we were able to make speed and last night just wasn't any different." Any other big half-mile tracks similar to Volusia that he's looking forward to in 2020? "I always enjoy getting back to Eldora, and definitely Port Royal," which was the location of Aaron's "favorite win" from 2019, the Tuscarora 50, at Pennsylvania's Port Royal Speedway on September 7, which was a $52,000 payday for Aaron and his team, their biggest ever.
When legendary Florida sprint car racer Frank Riddle competed for the USAC National Sprint Car series Rookie of the Year title in 1980 (he won it at age 51), he had three decades of racing experience behind him. He was hardly a "rookie." When Floridian Anthony D'Alessio races for that same USAC Rookie of the Year title this year, four decades after Riddle's try, he measures his sprint car experience in years, not decades. Next month will mark three years since his first sprint car feature win, in an East Bay Sprints race at East Bay Raceway Park on March 11, 2017. He went on to win another sprint car feature in Florida that year, a Top Gun Sprint Series race at East Bay. By the next year, the Apollo Beach resident had moved on and was racing in the Midwest. New tracks, new competition, and new goals were ahead for 2018 and '19. Now, when he sits in his dirt sprint car and looks out over the car's hood, ahead of him he sees 2020.
Anthony plans to race in the full USAC AMSOIL National Sprint Car Series tour in 2020, beginning with the season-opening race at Ocala's Bubba Raceway Park on Thursday, February 13. He'll still be a teenage racer, 19 years old. But that will change soon. On April 6, he'll turn 20, leaving his teenage years behind, and also embarking on an arduous spring and summer tour of Midwest and Eastern race tracks, most of them new to him. He did race at a number of Indiana tracks last year; highlighted by a feature win at Lincoln Park Speedway during their "King of Non-Wing Sprints" event in August, and also a USAC heat race win at Kokomo Speedway in July during USAC's Indiana Sprint Week. He raced at a couple other USAC events, and lots of weekly sprint car shows at tracks such as Kokomo, Gas City Speedway, and Lawrenceburg Speedway.
During early 2020, he showed off the new car colors, with a flash of bright blue and black, on both social media and at a kick-off event held at a pub in Anderson, Indiana last Saturday. Anderson was a short hop down the interstate from where he currently lives, in Gas City. He raced the full season of races at Gas City Speedway in 2019, and will be back there in 2020 with USAC as an owner/driver in company with Parallax Motorsports and owner Joe Brandon. He'll be driving the No. 01 DRC/ Claxton Mopar. Brandon stated that he decided to move forward with this united team effort after meeting Anthony, who immediately impressed him as "a genuinely nice young man." Nice … and fast, that is.
Anthony's already got a history of success in winning Rookie of the Year titles, winning three of them in Florida before that move to the Midwest about 1 ˝ years ago. First came the Rookie of the Year designations in both the East Bay Raceway sprint car division, and the Top Gun Sprint Series in 2016 (his first full season in sprint cars), followed by a half-year of pavement racing and Rookie of the Year with the Southern Sprint Car Shootout Series in 2017. That came at the wheel of Johnny Gilbertson's No. 22X. He led laps and got a top ten at the Frank Riddle Memorial race in October 2017. That pavement experience plays an important role in one of Anthony's future goals – getting to race a champ car in USAC Silver Crown, which races on both dirt and pavement.
But first, it's time to gain experience in USAC competition on USAC tracks in a USAC sprint car. "When I moved to Indiana, it was always the plan to go USAC racing," Anthony said. "Last year was my 'build season,' I like to call it. I wanted to get one good season of local Indiana racing under my belt before I went full-bore USAC racing, so I used last season to build my operation and just learn as much as I could." His parents are "still down in Florida. I'm actually living up here by myself – all on my own."
Other racing plans for 2020: "If the time comes when we have a week off, and can go hit Kokomo, and any local Indiana track, I probably will. I'm just kind of going to play it by ear. My number one goal is to go out and have fun and that's what I came here to do. This is going to be a learning season and there's a lot of tracks on the schedule that I haven't been to yet. So, I'm going to have to really buckle down, and learn all I can while I can – get my notebook together, I guess you can say, for the coming seasons. Most of the tracks on the schedule, outside of Indiana, I haven't been to."
His family's plans to come see him race outside of Florida: "They're going to try to come to the majority of them. My mom's kind of sick right now, and she can't travel as much as she'd like. But, my dad is going to try to come to just about all of them. He wants to be there for me, to support me."
His opinion of his chance of winning USAC Rookie of the Year: "I think I have a pretty good chance. There's some stiff competition for Rookie of the Year this year, but I feel I've put a pretty good program together, and can definitely be a contender for it. It's going to be mostly about consistency, and who can make the most races, and right now, that's all I'm focused on." On the other two USAC rookie contenders, Anton Hernandez of Texas, and Sterling Cling of Arizona, Anthony said, "I've raced with them quite a bit. Anton Hernandez is a great shoe, and he's got a great car owner, Kenny Baldwin, behind him this year, so I think he'll definitely be stiff competition. Sterling Cling, as well, he's also gonna be pretty tough. He's got Jeff Walker behind him turning the wrenches, he's one of the most notable [car owners] there is. It's definitely going to be tough, but I hope I've put a good program together, so I can at least contend for it. I actually work over at Scott Benic's speed shop right now; we also build for Baldwin's team for Anton's car. I've worked alongside Anton putting the cars together."
Would he want to do more pavement open wheel racing? "Yeah, I'd be interested in doing pavement, either at the Little 500, or pavement Silver Crown stuff. I'd love to get behind the wheel of anything on pavement. I'd never turn anything down, that's for sure."
Racing plans beyond 2020: "I don't know really – I guess it depends on the opportunities that arise. I love the USAC racing, I love the community behind it. I'd love to be able to drive in Silver Crown, and get behind the wheel of a midget. I've always said that wherever I go, I just want to be good at it. That's what I want to do – whatever I race, whether it's USAC sprint cars, Silver Crown, or midgets, or World of Outlaws, or if I'm lucky enough to make it to higher levels, like IndyCar or NASCAR, I just want to be good at whatever I do."
Rounding the one-third mile dirt surface at Gibsonton's East Bay Raceway Park for a last time on the night of November 30, 2019, AJ Maddox was in an intense battle with Shane Butler for the feature race win, a race that later was declared the season finale. Going into this Top Gun Sprint Series finale, he had a 20-point lead in the season-long points over second-place Keith Butler. AJ had just surpassed Butler in the series point standings earlier in the month, when Butler had a stretch of bad luck. As AJ and Shane Butler approached the front straight and the checkered flag, with a first or second place feature finish almost certain, AJ had the 2019 Top Gun sprint car driver championship firmly in his grasp. Keith Butler was just inside the top ten in the race, allowing AJ to gain points and sew up the title. That was his. One thing was left … win the race.
With a win this night, AJ was going to earn his fifth Top Gun series feature race of the season. The four prior 2019 wins came at East Bay Raceway during Speedweeks (two wins), at Volusia Speedway Park in April, and also at East Bay in October. He had already established a record of earning the driver championship in Top Gun Series racing during odd-numbered years, going back to 2015, his first driver championship in the series. That was followed by championships in 2017, and now, 2019. These all came at the wheel of the No. 3A car owned by Ray Bolin. His car had now carried AJ into a tie with Danny Martin Jr. (champion in 2011, 2013 and 2014) for the most career Top Gun driver championships. Both drivers now had three titles.
Let's go back to that East Bay race on November 30: Earlier in the evening, race officials informed the teams that the transponders, an electronic device installed on each car for timing and scoring, would not be used, as the computerized system used in conjunction with the transponders had malfunctioned. Teams were informed to return the transponders. There was no system to capture a "photo finish" by a camera at the start/finish line, if one was needed in case of a close finish. The finish was going to be decided by race officials by eye.
AJ and Shane were now side-by-side coming off the fourth turn on the last lap, and seemed to stay that way upon crossing the finish line. But, one of them was just slightly ahead. The race was now over. The arguing was just beginning. One view of the finish line, slightly askew from directly straight-on, appeared to show AJ and the No. 3A ahead at the line. But he was not declared the winner. Shane Butler was declared the winner, and got the honor of celebrating in the front straight winner's circle at East Bay.
AJ had a different opinion of that declared finishing order. He stated that if the transponders had been present and were functioning properly, that he, and not Shane, would have been declared the winner. "I chalk up the last race of the year as a win," AJ said defiantly. "If we would have had transponders on the cars, I think the end results would have been a little bit different. There's video evidence of the finish, at the finish line, and at the time, we couldn't do anything about it, so I didn't want to make a fuss. It was a Memorial Race for Don [Rehm], and his family was all involved. That's the way it goes sometimes: sometimes the calls go your way, and sometimes they don't!"
About Top Gun Series racing: "It's one of series where you have to run every race. You gotta support the series, and show up every week. Sometimes that's difficult to do – life gets in the way, and you've gotta truly be dedicated to it. Luckily, every year that I've won the championship, it's been one of those years where I've been lucky enough to make every race, and finish well, and have a good car underneath me. That's what it takes to win championships. It takes dedication, and a good car, and good support."
About the oddity of winning his championships only in odd-numbered years: "Some of those years, we've been trying to branch out, and run some 360 stuff," which for dirt racers in Florida, that often consists of the East Bay 360 Winternationals, and USCS national sprint car series races, which require an ASCS/USCS 360 engine to be competitive. Top Gun Series racing does not allow these engines, only limited 360 engines (and some others). "One or two of those years, I didn't have a motor for some of the races, we had some motor issues" he added. AJ has had a goal to run more USCS races, and those "even-numbered, non-championship years" sometimes marked the time when his team had that goal in mind. USCS races in Georgia and South Carolina were sometimes within reach during the summer months, but the desire not to lose points in the Top Gun rankings often kept them closer to home.
His goal for the 2020 race season: "Try to not run as much Top Gun stuff, but run a lot more 360 stuff. From 2012 to 2018, I did have a 360, and we ran quite a bit with the 360." Engine builder Robert Delgado began the rebuild on his USCS 360 engine in 2018. After health issues delayed the rebuild and set back Delgado's work timeline, car owner Ray Bolin decided to stick with Delgado and wait out the delay. Delgado's engine work was worth waiting for, they decided.
After missing last year's East Bay Winternationals, they've got their USCS 360 engine back, and are now ready for more 360 racing in 2020. "It's a bullet, for sure – came off the dyno with good numbers," AJ said of his confidence in the rebuilt 360, which will be ready to race in the East Bay Winternationals in two weeks. His 2018 Winternationals results included getting a top six start to get locked into the feature on the final night, Saturday, February 17. Those top six qualifiers are often considered among the best 360 dirt sprint car racers in the nation.
AJ's highlight of the year in 2019 racing: "Honestly, it's going to sound kinda selfless, but, helping Matt Kurtz during the 2019 360 Winternationals was kinda the highlight of my year, in racing. He didn't make the show the first two nights, and kept workin' at it, and he went on to start last in the heat race and win. Raced his way in, came from the back in the feature, I think he started 16th, or so, and drove right up to the front, got to second. I think he got a little tired there towards the end of the race; it's certainly special when you get to do that with that kind of company – even workin' on 'em and helping somebody else. Seeing an effort like that is really satisfying. We ran the Top Gun stuff, we won some races and it's always fun to win the non-wing races. Other than the last race, according to the history books, I've won every Top Gun non-wing race at East Bay that they've held, heat and feature, since 2012. Probably one of the highlights of my career."
On Sunday, January 19, the Top Gun Series Annual Banquet saw Ray Bolin and AJ Maddox take the check and trophy for their 2019 series driver championship. I asked who gets the check, is it split between owner and driver? "Any money that is awarded goes to the owner of the car," AJ replied. "I'm not sure what the amount is, they kinda keep going up every year. It's between three and five thousand for the championships [driver and car owner both]. Ray will get that. That'll help out for the following year, and we'll keep on movin'. I get a picture, and a handshake, and a jacket [Hoosier Tire purple], and get to drive race cars for another year." But … the check split? "Ahh – we don't really have anything set in stone. I take care of the cars, and house the cars here. Ray lives in Orlando. He covers the cost of all the racing, I get to enjoy driving and working on the cars. That's pretty much my payment of the whole deal. It costs a lot to keep these cars goin'. I don't expect anything in return, honestly. Just get to drive them, and be around it, and live my dream is plenty payment enough."
AJ's "thank yous" to all who helped him achieve another Top Gun Series driver championship in 2019: "First would be Ray Bolin, then his business is the sole sponsor of the car, as of right now: AMP Agri Machinery and Parts. And Robert Delgado Racing Engines, he's always provided reliable, great power. That's pretty much all we've got right now. And Ashlynn [his girlfriend], of course, for helping me work on it and maintain it." Is she being assigned the "crew chief" title? "Oh, yeah, for sure," he answered. "She's usually got it washed on Monday or Tuesday, and on stands, ready to be worked on. She'll do most of the work on it if I get hung-up at work, or I can't make it over there, and she can. She can do full maintenance, and do anything and everything making sure that car's ready to race."
That certainly makes AJ a lucky guy, many would say. "Yeah … I ought to marry her one of these days," he stated. When I called AJ for this interview, there was the possibility that "home shopping" for he and Ashlynn might necessitate a change of day and time for the interview. They were looking for the perfect home – for the two of them. "Ashlynn and I are trying to get our first house, we're in the process of that right now. Actually, we put an offer in on one today. I'm working pretty hard at my job [plumber/pipefitter], I'm doing at least 60 hours a week. Between moving, and that, and getting ready for the Winternationals, I'm a pretty busy guy."
Racing plans for the next month: "We're going to do all the Winternationals stuff we can for the next month." At most, that's six nights of racing: possibly three nights of the Top Gun Series, limited 360 engine, on January 30, 31, and February 1; and "definitely" three nights of the East Bay 360 Winternationals, on February 13–15. Also – "The majority of the Top Gun stuff throughout the year, and whatever USCS stuff we can break-off and hit, we're gonna do that. Usually, there's 10 to 12 USCS races throughout the year that we try to plan on hitting. It doesn't always work out that way, but we'll at least try to hit that many. Most of the places are within reason [with cost considerations] – Georgia, and Alabama, or North or South Carolina. Try to look at it as a mini-vacation, just get outta town. We've talked about it a little bit."
Home plans, looking to the future, looking ahead to more championships, AJ was willing to say how he was putting it all together, his current perspective: "We are plenty excited about it, hopefully it all works out, and we can start another chapter of life here." The house being considered, it's "a little three bedroom, two bath, it's got a pretty decent size shop in the back – plenty of room for us to expand, and get our race car hauler in and out of. It's a good starter home, at least for now." His own race shop, right next store to his home: "That was the idea in mind when we started the process. I haven't been able to keep the race cars where I live yet, since I've been racing."
If you are wondering: did I ask about a wedding, and family, and children, and so on, in the future? Here's the answer: No. I didn't. I'd already demanded that the "ought to marry her" comment be on the record (pretty good – huh?). I decided not to press any further. I believe AJ will tell us what he's thinking, and what's he's feeling. All that will happen … when the time is right.
The swift-approaching February Sprint Car Speedweeks in Florida will have a different look in 2020. The national series will hold their races during a condensed period of just 11 days during the first half of the month. Compare that to 2019 – when just one track, Bubba Raceway Park in Ocala, had national sprint car series races for three consecutive weekends during February. Of the three sprint car series that raced during those three weekends, only one returns to Bubba Raceway Park in 2020 – the USAC national sprint car series.
Bubba Raceway will have two weekends of national open wheel racing in 2020, as they will once again host the USAC national midget series on the weekend prior to the arrival of the USAC sprint cars. But, the All Star Circuit of Champions and the USCS Outlaw Thunder Tour, the other two national sprint car series to visit in 2019, will both be absent from Bubba Raceway in February 2020. Rumors of financial difficulties for track co-owner Bubba Clem have been swirling all through this year, but the truth is that the track will be back with racing in 2020, although with a shorter Speedweeks schedule.
Despite the announcement that East Bay Raceway Park will likely be sold and closed in 2024, long anticipated as the mound of phosphate waste that looms higher in the east with each passing year seemed destined to overwhelm and supplant the track eventually, the East Bay 360 Sprint Car Winternationals return. If the 360 Winternationals are held each year until the end (which seems sure to happen), then the 2020 edition will be followed by four more before the last ever 360 Winternationals in February 2024. East Bay management is hardly rolling over and waiting for the inevitable, however. They are bringing back national 410 sprint car racing for the first time in years with the return of the All Star Circuit of Champions, filling in the Monday–Tuesday gap between the Florida dates for the World of Outlaws sprint cars and the USAC sprint cars.
With that "gap" filled in, which was a three-day gap without a national sprint car series race last year, there now will only be a one-day gap without a national sprint car series race during the week before the Sunday, February 16 date of the Daytona 500. In fact, beginning on Wednesday, Feb. 5, there will be a national sprint car race in Florida for all of the rest of that week, and almost all of the next week. The only day without a race will be Wednesday, Feb 12, and it will have national sprint cars on track, but just for practice, and not racing, in Ocala at Bubba Raceway. For an 11 day period from Feb. 5 to Feb. 15, the dedicated sprint car race fan can see cars from a national sprint car series on track for those 11 consecutive days, and all but one of them with racing.
Despite the disappointment that came with their previous "Big Speedweeks sprint car race," which saw a depleted car count, few cars with 410 engines, and sparse attendance in 2014, Showtime Speedway will make a try at another big February Speedweeks race, this time a non-wing, non-points race to honor the memory of Dave Steele. The race will be held on Thursday, February 20, at Showtime Speedway, and will be designated as the Dave Steele Non-Wing World Finals. The planned distance is 125 laps on the quarter-mile pavement oval.
Feeling up to the challenge of going to the track for 11 consecutive days of national sprint cars on dirt? Well, then you'll need the 2020 February Sprint Car Speedweeks schedule for Florida, and here it is:
Thursday, Friday, and Saturday, 1/30 to 2/1: Top Gun Sprint Series, East Bay Raceway Park, Gibsonton.
Wednesday and Thursday, 2/5 to 2/6: All Star Circuit of Champions, Volusia Speedway Park, Barberville.
Friday, Saturday, and Sunday, 2/7 to 2/9: World of Outlaws Sprint Car Series, Volusia Speedway Park, Barberville.
Friday and Saturday, 2/7 to 2/8: USCS Outlaw Thunder Tour, Hendry County Motorsports Park, Clewiston.
Monday and Tuesday, 2/10 to 2/11: All Star Circuit of Champions, East Bay Raceway Park, Gibsonton.
Thursday, Friday, and Saturday, 2/13 to 2/15: East Bay 360 Winternationals at East Bay Raceway Park, Gibsonton; and the USAC National Sprint Car Series at Bubba Raceway Park, Ocala.
Saturday, 2/15: Southern Sprint Car Shootout Series, 4-17 Southern Speedway, Punta Gorda.
Thursday, 2/20: Southern Sprint Car Shootout Series, Dave Steele Non-Wing World Finals, Showtime Speedway, Pinellas Park (special non-points, non-wing race).