Check Out These Other Pages At Hoseheads

Bill W's Knoxville News Bill Wright

KO's Indiana Bullring Scene Kevin Oldham

From the Grandstand Ron Rodda

Wagsworld Ken Wagner

Keeping Track Dino Oberto

Tri-State Outlook Duane Hancock

Runnin The High Groove Paul Kuyawa

Hoosier Race Report Danny Burton

Not Just Another Racing Column Pastor Dudley Balmer

Dirt Divas Camisha Miller

Central PA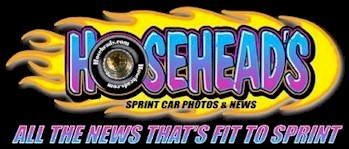 United Racing Club
Broadsliding with Bev
Bridgeport –Sunday April 12th, 2015
No, you didn't read that byline wrong. Yes, I'm still alive and well and living in Newtown, PA. And no, I'm not returning to write a column weekly about sprint cars, but I couldn't help myself after visiting Bridgeport Speedway this past Sunday. We are now avid boaters as many of my Facebook friends know and for the past two winters have been living on our boat down in Florida. Life has been good post racing and while we sometimes enjoy watching our grandsons run quarter midgets at Atco, we don't get to very many races anymore. Bruce does not want to be bitten by the racing bug, so he stays away. Me, I still miss the people!
This past weekend though we returned to Bridgeport Speedway in NJ as guests, which included The United Racing Club's opener. It was an honor to be included in the celebration of the "club" returning to a membership club that only wants what's best for the racers, fans and racetracks. Having been involved with URC for more than a dozen years as racers, media, board members and President, Bruce and I never agreed with the club turning into a company but understand why it happened. We thank Bill Gallagher and URC for including us in this historic day. Bill is the driving force behind the membership and along with a handful of folks will hopefully return URC into the strong club it once was.
Bridgeport also holds a special place in my heart as it was the first racetrack I ever drove a sprint car. We rented the track for a day with several other racers and I got to run my #10 URC sprinter there for many practice laps. The facility is much nicer than I remember and I think that Dave Adams and Keith Hoffman have done a wonderful job of promoting this track. Owner, Brian Ramey has put money into this place and it shows. They are kid friendly and run a very efficient show. We were impressed with car counts and the officials. The bathrooms were great (such a women thing). My only wish is that the track was physically smaller. It would be SO much racier and would allow fans to watch closer competition if they'd just cut it down a bit. At least that's how the sprint car fans and racers feel. We all think cars get too spread out and it's boring to watch.
The new dirt put on the track this year made for a smooth dusty surface. It's often hard to tell how a surface will remain for the season for several reasons. Judging it by the first race is tough because of weather, wind, cold, recent rain and new clay. I believe dirt track prep is one of the hardest jobs there is, so I always reserved judgment until June, when we raced. Bridgeport's track was what I would have expected early in the season.
It was in May of 1948 (and no I wasn't born back then) that the very first URC race took place at Lockport, NY, with only 9 cars in attendance. The first Champion was Bob Cooney and people like Harry Johnson, Shorty Pritzbur, Jules Furslew and Carl Miller were all instrumental in making that first year a success and car counts grew each week. They even had a banquet that first year, imagine that! The subsequent years that followed proved even more successful and the working man's club flourished, thanks to guys like Louis Kunz and Bill Bauer. It was April 29th, 1973 that URC first raced Bridgeport and Harry Benjamin was the winner that day with Toby Tobias running 2nd. Leroy Felty would go on to become the URC Champion that year and car counts were good. If you ask me URC's hay-days were during the 80's and 90's but maybe I'm prejudice because that's when we were involved with the club.
It's been four years since URC has raced Bridgeport when Daryn Pittman and JJ Grasso were the winners in 2011. The 22 racers and car owners were excited to return there to race and many expressed to me how happy they were to be there and be part of the club camaraderie again. Some teams talked to me about wanting it to be fun again. They claim the last 3 years have been pretty bad.
Several retired URC racers as well as officials and friends were present to kick off Sunday's race. A few past Champions that I talked with were (1975, 76) Gary Gollup and (1994) Greg Coverdale. Both are doing well and happy. Other former racers on hand included Stew Brown, Tm Hogue and Bruce Thompson. Past owners Rick Shive, Pat and Kathy Palladino, Larry and Jan Gilbert, and Fred Kennedy were there as well. Former URC officials, Flo Fling along with daughter Stephanie Hill as well as Bob Hafner were there supporting the opener. It was also good to see so many old friends. It was very nostalgic for me.
Many of the racing faces at Bridgeport on Sunday have been supporting URC for many years, even through the last 9 years of the Company. Eight-time Champion Curt Michael is in full support of the renewed club atmosphere and won his 50th career win in fine style. The Michael family have been long time racing folks with Brother Sean a former driver as well. Mom and Dad were on hand to support their favored driver and the new club racing. Curt still is smooth and fast and I enjoyed seeing him in the green #5G. Many others that have been supporters of URC for at least 8-10 years including Mike Haggenbottom, Mark Bitner, Randy West, Josh Weller, Dave Betts, Dave Franek, Jason Clauss, Jimmy Stitzel and Robbie Stillwaggon. Most of these URC teams are family affairs with support from local businesses in their towns as well as other family members.
Speaking of Josh Weller, he is a nice young man who drives for long time URC owner, past President and past board member, Ken Eldreth. The Eldreth family has supported URC for many years and at one time had son Jon driving. They now support two cars, including the #25e driven by 21 year old Tyler Ross who finished a solid 5th. Josh drove an excellent race and put the good looking #25 in second place, giving Curt a run for his money. The two Eldreth cars will be a force to be reckoned with this year I'm sure.
There was only one sprint car flip all day which is pretty good considering it was opening day. The unfortunate one was Jason Cherry, in turn one during the feature, driving the Cherry family #67. He bent the frame and had his bell rung, but was back in the pits assessing the damage so they could regroup.
I got a chance to visit with the Swanson Family who supports two cars. Younger brother David Swanson drives the family red #117. He finished 13th in the feature. Dave will run a limited schedule due to his work schedule as a NJ policeman. Older brother Jonathan who drives the red #17j dropped from the feature early with a flat tire. Both were running Kriner motors and both look forward to supporting the new URC.
Almost nineteen year old rookie, Brad Franks driving the 12B will be running the URC schedule this year. He finished 12th in the feature on Sunday and was giving the car a good shake down. Speaking of rookies, I know this isn't sprint car stuff, but congrats to Tommy Tanner who won the DA's Auto Body Rookie Feature on Sunday at Bridgeport. He will be a Sportsman to watch this year as he drives the family #93.
Getting the distance award was Chuck Hebing from Ontario, NY with his #45. Chuck led the field at the drop of the green but had some problems with his power steering and was a DNF getting paid for 19th. He was driving the car his daughter uses in the 305 division.
Some new/old URC officials include Glenn (Stretch) Fitzcharles Jr who I know will do a great job as Race Director. As a former crew chief for his dad, Stretch has already worked several years as an official and grew up around racing. Billy Gallagher has official experience and will be an asset as well. Mimi, (sorry don't know your last name) will also be a big help. The club will use track scorers and flagman due to a restricted budget.
They have a limited amount of money to advertise and need new sponsors to support their 22 race schedule. Their payout is consistent with what it was with the company and will pay $2000 to win on a regular or special sponsored race and $1500 to win a regular non sponsored event. They will pay $200 /$250 to take the green and their total payout varies from $8500 to $10,045 depending on sponsorship. They will be returning to Central PA at tracks like Williams Grove, Selinsgrove and Port Royal and Susquehanna, which I think is exciting. I am looking forward to watching the growth they will make and maybe even catching another race here or there this season.
Please support them this year. Check out the club website and schedule at: unitedracingclub.net Then go watch some racing with the oldest continuous sprint car club in America. You can reach Bill Gallagher with questions at: 610-960-0440. Their next race will be May 2, for the Jack Gunn Memorial at Selinsgrove.






Bev Thompson is a former URC, Central PA, sprint car columnist, who wrote for Area Racing News for 15 years, as well as posting her column on Hoseheads. Her husband Bruce drove stock cars and sprint cars for many years, as did their son Len, who drove sprint cars in Central PA. Now their grandson's Mike and Owen drive quarter-midgets.
It's all Michael at the URC Season Opener at Bridgeport Speedway
With the sun setting in the distance, New York Invader Chuck Hebing led the 20 URC Sprints to the green flag. Before a lap was completed, the potent, Bill Gallagher owned 5G with Curt Michael in the driver's seat overtook Hebing coming out of turn 4. From lap 1 until 25, Curt Michael led the 2015 URC Season opener, scoring the 50th URC win of his career.
Before the 2nd lap could be completed, the 17J of Jonathan Swanson stopped in turn 1. During the caution, Robbie Stillwaggon headed to the pits only to return just prior to the green flag. On the restart, Curt Michael led with Chuck "Cobra" Hebing close in tow along with Josh Weller, Troy Betts and Jimmy Stitzel rounding out the top 5. On lap 3 Weller overtook Hebing for the runner up spot. One lap later Hebing retired to the infield with power steering problems. The Quality Auto Body 360 sprinter of Robbie Stillwaggon returned to the pits again on lap 5 with a fuel pump issue. The 17J of Swanson stopped again in turns 1-2 on lap 6. A hard charging Randy West made his way up into the top 5 only to retire on lap 8 with motor issues. Lap 11 saw Jason Cherry flip hard in turn 1. Cherry reported that the car got a little loose then hit a rut and began to flip. Cherry walked away, but the 67 was totally demolished. On the restart, Michael jumped out again to the lead with Josh Weller and the Eldreth sponsored sprinter close behind. With the top 5 of Michael, Weller, Betts, Stitzel and Franek all running the top line, Michael began to catch the end of the field on lap 17. Michael worked through lapped traffic for the remaining 8 laps and went on to score his 50th career URC win. The top 5 included runner up Josh Weller, Troy Betts, reigning URC Champion, Davie Franek, and URC rookie Tyler Ross, who gained 9 positions aboard the second Eldreth Construction ride.
With a total of 22 cars on hand, URC had 3 heat races with heat wins going to Robbie Stillwaggon, Chuck Hebing and Curt Michael. With the 76 of Jamie Bodo and the 8w of PJ Williams retiring their cars after the heats, a consi was no longer needed. Many drivers were spotted in the pits during the night. Andy Best reports recently purchasing the 360 of Kevin Darling, so the 88B will be back in action soon. Kevin Darling reports that he is still getting the 9D together, but will be back on track soon. Also, Tim Hogue is reportedly waiting on a motor before he and Kyle Reinhardt can hit the track in the 39 car.
Next up for the United Racing Club on May 2nd will be the annual running of the Jack Gunn Memorial race at Selinsgrove Speedway. The following night URC will travel to Susquehanna Speedway for a special Sunday night show.
1 Curt Michael, 2 Josh Weller, 3 Troy Betts, 4 Davie Franek, 5 Tyler Ross, 6 Jimmy Stitzel, 7 Mark Bitner, 8 Jason Clauss, 9 Scott Lutz, 10 Mike Haggenbottom, 11 Bill Unglert, 12 Brad Franks, 13 David Swanson, 14 Justin Hoffman, 15 Jason Cherry, 16 Randy West, 17 Jonathan Swanson, 18 Robbie Stillwaggon, 19 Chuck Hebing, 20 JR Berry
Getting to know Cody Jourdan
by Tim Moran
Throughout the 2015 race season we will be highlighting the stars of the United Racing Club. The first edition is getting to know Cody Jourdan. Jourdan will be running the entire United Racing Club 2015 schedule aboard the 21c sprint car. Cody has been racing for 10 years in a career that, like most, started in quarter midget racing until the age of 16. At 16, Jourdan moved up to the 305 winged sprint car series sanctioned by the TSRS. Even though this will be Jourdan's first full year with a 360 series, he did try his hand running with the 360's during last year's race at Grandview Speedway. Jourdan chose Grandview to try out because he enjoys a small, fast track that focuses more on the driver's ability than the amount of money you can spend on a motor. Cody credits the experiences with, and respect he's already been shown by the drivers in the United Racing Club as the main reasons for moving up to the ultra competitive division. Jourdan's expectations are reasonable and attainable for a driver making the step up in competition. Cody expects to learn a lot this year visiting tracks he has never been to or seen. Most importantly, Jourdan just wants to learn and gain respect from his competitors in his rookie season. Make sure to visit the 21c pits before or after the races to meet United Racing Club's Cody Jourdan.
The first race of the season for the United Racing Club will be April 12th at the large 5/8 mile, ultra fast Bridgeport Speedway. Come out early for the URC FanFest and enjoy the stars and cars of the United Racing Club past and present. Bring the whole family for food, music by Whiskey Grin, give-a-ways, driver autographs, bounce houses and more! FanFest will be held at the pavilion behind the main grandstands.
United Racing Club Returns to Port Royal Speedway
The United Racing Club Return to Port Royal Speedway for the "Open Wheel Madness" event on October 17 featuring the URC 360 sprints and 410 sprints. The show will highlight two popular divisions as the famous fairgrounds host Port Royal Fall Foliage Days, a local trademark craft and fall festival during the daytime, followed by the big Open Wheel Madness.
The URC sprints look forward to bringing a large car count to the Famous Speedway located in middle of the small Port Royal town. URC will run its regular show with pill draw for heats and invert for feature, starting a 20 car field. The 358 sprints will be allowed to race with URC but they must pass PA 358 tech and run an URC legal 5x5 wing.
On April 12, the United Racing Club will be at the Bridgeport Speedway for the first race of the season. Race teams are encouraged to arrive early as they must go through New Jersey State tech procedures. The pit gates swing open at 12:30pm with hot laps starting at 3pm and racing getting underway at 4pm.
It is recommended that all competitors obtain a URC license to be eligible for points, contingency sponsorships and provisional starting spots and there will be a discount for URC members entering the pits at Bridgeport. To avoid a delay the day of the event, send your membership forms to the URC office in advance. Memberships forms can be found on the URC website, www.unitedracingclub.net.
Race night sponsorship packages are still available with URC at a few of the events so act fast to get in on the excitement. For more information, please contact Curt Michael at 302-344-1882 or curtmichael@verizon.net. Be sure to keep up with everything URC related by checking our website or Facebook pages.
United Racing Club Returns to Big Diamond Speedway June 19
The United Racing Club makes its return to Big Diamond Speedway on Friday, June 19th. The always racy 3/8-mile speedway in Minersville, PA has put on some of the best URC races over the years and this year's event should be no different.
No matter where you look on the speedway you will always find action taking place. That is what Randy West, driver of the Fred Kennedy owned sprint car finds most intriguing. "There's usually two grooves which makes for great racing and the fans are always very happy to see us there. It is great to race in front of such a energetic crowd."
Curt Michael, eight time URC Champion, is also looking forward to URC's return to Big Diamond. "Big Diamond is a track that I have had success at. I like the small tracks where things happen quick and you have to get your elbows up," stated the driver of Bill Gallagher's potent "green machine"
The United Racing Club season kicks off Sunday April 12th at the spacious 5/8 mile Bridgeport Speedway in Bridgeport, NJ. Randy West and Curt Michael will be looking to win the season opener along with Robbie Stillwaggon, Josh Weller, Mark Bitner, Brad Franks, Kyle Reinhardt and Brian Carber just to name a few.
With races also taking place at Williams Grove, Selinsgrove, Georgetown, New Egypt, Thunder Mountain, Utica Rome, Susquehanna, Port Royal, and Orange County the schedule has a little something for everyone, drivers and fans alike.
Anyone interest in scheduling a URC race should contact booking agent Curt Michael at 302-344-1882.
---
A Hosehead Production
Copyright © 2015 by "Hosehead's Sprint Car Photos & News." Do not reproduce anything from these pages without the permission of the photographers, writers or webmaster.
Hosehead's Sprint Car Photos & News,PO Box 42, Drums PA 18222-0042