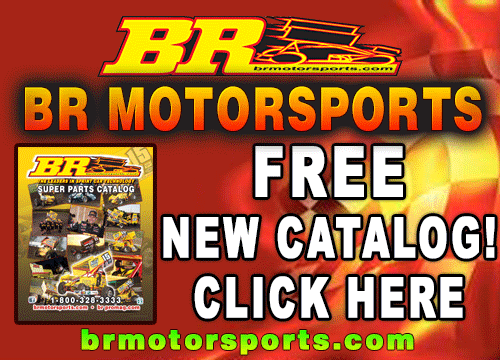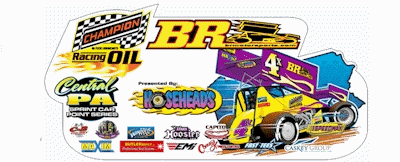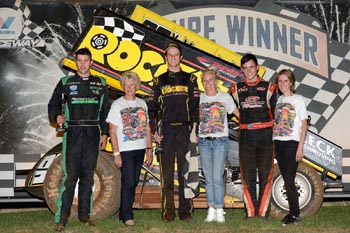 Sammy Walsh (centre) won the Sprintcar A Main at Valvoline Raceway on 9 December from Marcus Dumesny (right) and James Thompson (left). Helping with the presentation were the late George Tatnell's widow and daughters. Gary Reid photo
Latest News and Race Results
If you don't see it here yet, check the Message Board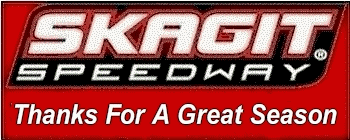 Wednesday December 13th 2017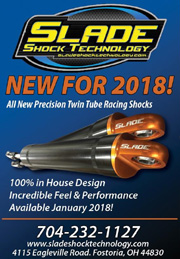 If there is one thing I am, it's always right. Ted Nugent
9:00pm
PRESS....
Tuesday December 12th 2017

You gotta love livin', baby, 'cause dyin' is a pain in the ass. Frank Sinatra
9:00pm
RESULTS....
Palmerston North NZ)Feature: 2usa Shane Stewart, 54a Michael Pickens, 1nz Jamie Larsen, 11usa Kyle Hirst, 78a Daniel Eggleton, 22a Dean Brindle Heat One: 2usa Shane Stewart, 18p Greg Pickerill, 22a Dean Brindle, 3nz Jamie McDonald, 5a Daniel Rogers, 4a Matthew Leversedge Heat Two: 14usa Tony Stewart, 1nz Jamie Larsen, 54a Michael Pickens, 78a Daniel Eggleton, 11usa Kyle Hirst, 28p Tony Uhlenberg Heat Three: 11usa Kyle Hirst, 54a Michael Pickens, 51m, 4a Matthew Leversedge , 2usa Shane Stewart, 22a Dean Brindle Heat Four: 3nz Jamie McDonald, 1nz Jamie Larsen, 5a Daniel Rogers, 78a Daniel Eggleton, 18p Greg Pickerill, 19p Kendall Savage 12/12
PRESS....
Monday December 11th 2017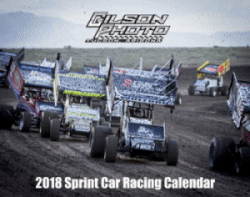 If you don't deal with your demons, they will deal with you, and it's gonna hurt. Nikki Sixx
9:50pm
PRESS....
2:50pm
PRESS....
Sunday December 10th 2017

"I just want to break even" Richard Manuel
5:00pm
RESULTS....
East Bay Raceway Park FL)In the Q Auto & Injury Attorneys Sprints 15-lap feature it was Anthony D'Alessio winning with Johnny Gilbertson second and Billy Bridges third.Q Auto & Injury Attorneys Sprints (15-lap feature) 01 Anthony D'Alessio 22 Johnny Gilbertson 11b Billy Bridges 55 Kurt Taylor 2 Frank Beck 3k Guy Bos 21 Justin Webster 12 David Kelley 96 Nikole Voisey (DNS) 12/10
PRESS....
Saturday December 9th 2017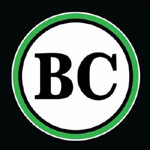 The learning process continues until the day you die. Kirk Douglas
3:00pm
RESULTS....
Western Springs Speedway NZ)1 54A Michael Pickens 2 11USA Kyle Hirst 3 78A Daniel Eggleton 4 2USA Shane Stewart 5 1NZ Jamie Larsen 6 88M Keaton Dahm 7 14USA Tony Stewart 8 5A Daniel Rodgers 9 21W Stephen Taylor 10 29A Jeremy Halpin 11 26A Paul Sands 12 15A Steve Pribicevich DNF 73K Brian Edwards DNF 22A Dean Brindle DNF 3NZ Jamie McDonald DNF 5USA Brad Loyet DNF 2NZ Jonathan Allard DNF 59A Mike Wheeler DNF 51M Rodney Wood 12/9
Avalon Raceway AU)1 #W17 James McFadden 2 #W3 Steve Lines 3 #V90 Corey McCullagh 4 #V98 Peter Doukas 5 #V37 Grant Anderson 6 #Q23 Lachlan McHugh 7 #VA18 Scott Rielly 8 #V68 Brett Milburn 9 #T7 Tim Hutchins 10 #V42 Jye Okeeffe 11 #V72 Jacob Smith 12 #V22 Terry Rankin 13 #V67 Luke Walker 14 #S4 Lisa Walker 15 #V40 Rusty Hickman 16 #S20 Glen Sutherland 17 #V88 David Murcott 18 #V73 Charles Hunter 12/9
Valvoline Raceway AU)1 #92N Sam Walsh 2 #47N Marcus Dumesny 3 #22N James Thompson 4 #2D Ben Atkinson 5 #78N Andrew Wright 6 #43N Alex Orr 7 #16N Daniel Sayre 8 #5NQ Danny Reidy 9 #20N Troy Little 10 #54N Grant Tunks 11 #32N Warren Ferguson 12 #89N Braydan Willmington 13 #6NS Matt Geering 14 #7NS Callum Williamson 15 #5N Dean Thomas 16 #7Q Robbie Farr 17 #24N Blake Skipper 18 #58NS Cameron Ware 19 #55N Kim Becker 20 #71N Courtney O'hehir 21 #18NT Jason Gebert 22 #40N Chris Mcinerney 23 #57N Matt Dumesny 24 #21NS Jordyn Brazier 12/9
Perth Motorplex AU)1 #2 Jamie Veal 2 #60 Kaiden Manders 3 #87 Carl Dowling 4 #14 Jason Pryde 5 #80 James Inglis 6 #77 Bradley Maiolo 7 #11 Jason Kendrick 8 #V36 Tim Van Ginneken 9 #10 Andrew Priolo 10 #12 Daniel Harding 11 #97 Mitchell Wormall 12 #24 Troy Beckingham 13 #55 Darren Mewett 14 #94 Matthew Cross 15 #9 AJ Nash 16 #51 Jamie Oldfield 17 #79 Scott Chatwin 18 #V41 Darren Mollenoyux 19 #44 Ben Ellement 20 #86 Corey Hunter 21 #A1 Kerry Madsen 22 #57 Shaun Bradford 23 #89 Kye Scroop 24 #20 Ryan Lancaster 25 #27 Sean Zemunik 26 #88 Adrian Haywood 27 #99 Jamie Maiolo12/9
Perth Motorplex AU)Midgets...1 #USA7 Tucker Klaasmeyer 2 #24 Dayne Kingshott 3 #23 Glen Mears 4 #USA4 Alex Bright 5 #38 Travis White 6 #26 Keenan Fleming 7 #32 Stuart Yates 8 #S83 Brett Ireland 9 #9 Vaughan Manders 10 #V4 Luke Ferguson 11 #V22 Joe Lostitch 12 #15 Rob Golding 13 #12 Chris Telenta 14 #89 Aaron North 15 #37 Philip Jeffreys 16 #14 Neville Lance 17 #17 Daniel Golding 18 #V15 Andy Pearce 19 #47 Dene McAllan 20 #52 Tom Payet 21 #72 Nathan Chalmers 12/9
PRESS....
Friday December 8th 2017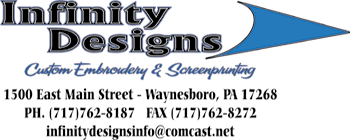 Whoever controls the media, controls the mind. Jim Morrison
11:45pm
PRESS....
USAC)USAC National driving champions Kody Swanson, Chris Windom and Spencer Bayston shared the spotlight along with other 2017 USAC champions and special award recipients at Friday night's 62nd USAC "Night of Champions" celebration at the Indiana Roof Ballroom in downtown Indianapolis, Ind. Swanson, of Kingsburg, CA, Windom, of Canton, IL and Bayston, of Lebanon, IN, earned National championships. Swanson was a third-time Silver Crown titlist, Windom a first-time AMSOIL Sprint Car king and Bayston a first-time National Midget champ. USAC 12/8
Sports Plus Video)This season, give the gift of speed with racing DVD action to gift to your favorite race fans, PLUS help the York Country Racing Club. Select titles on the SPV eBay store we will gift 10% of the proceeds to the YCRC. Keep watch of those promotions on Sport Plus Video's Twitter feed @sportsplusvide1 and Facebook at https://www.facebook.com/sportsplusvideo/. Shop now at the eBay store at: http://ebay.to/2hVDQhH 12/8
SCCT)Fresh off a successful opening season the Elk Grove Ford Sprint Car Challenge Tour presented by Abreu Vineyards is pleased to announce its 2018 schedule of events, which showcases 12 dates at six different tracks throughout California and Northern Nevada. The second year Winged 360 Sprint Car tour is happy to welcome back Elk Grove Ford, Abreu Vineyards and Hoosier Racing Tires as major sponsors for the upcoming season. With great cooperation from promoters there will also be no conflicts between SCCT and the King of the West-NARC Sprint Cars, allowing teams to compete for both titles. In addition to that there will be a trio of shows held in conjunction with KWS-NARC, bringing the best of the best in the Golden State to the same track on the same night. Press Releases 12/8
8:45pm
PRESS....
3:00pm
PRESS....
Kyle Larson Racing)NASCAR star and dirt racing veteran Kyle Larson will shift into sole owner of Larson Marks Racing starting in 2018. The team will be run under the Kyle Larson Racing banner and Justin Marks will assume an advisory role with KLR moving forward.http://larsonmarksracing.com/ 12/8
Dooling Hayward Motorsports)Dooling Hayward Motorsports has agreed to a partnership with Richard Childress Racing (RCR), one of NASCAR's most storied organizations and winner of over 200 races and 17 championships, effective immediately. RCR is based in Welcome, North Carolina and is scheduled to field cars in the Monster Energy NASCAR Cup Series and NASCAR XFINITY Series in 2018; its 49th season as a race team. Press Releases 12/8
All Stars)The 2018 Arctic Cat All Stars champion will receive $50,000 and the overall points fund next year will see an increase of over $60,000. 12/8
Tanner Thorson)Tanner Thorson will pilot the Dooling Hayward Motorsports/Richard Childress Racing No. 63 for the 2018 Chili Bowl Nationals and select USAC midget events with Rusty Kunz on the wrenches. 12/8
Greg Wilson)Hercules Tire today announced that the company will continue its partnership with Greg Wilson Racing in 2018. This announcement follows Wilson's commitment earlier today to run once again with the World of Outlaws Craftsman Sprint Car Series on the 2018 tour.https://www.herculestire.com/ 12/8
Thursday December 7th 2017

"May God have mercy upon my enemies, because I won't." – George S. Patton
12:20pm
PRESS....
Wednesday December 6th 2017

Everywhere is within walking distance if you have the time. Steven Wright
10:25pm
PRESS....
Premier Speedway AU)Two of the Grand Annual Sprintcar Classic's Top Ten from 2017 have entered for the South West Conveyancing supported 2018 version of the event at Sungold Stadium, Premier Speedway, Warrnambool. Having previously stood on top of the podium in both 2011 with Monte Motorsport and 2013 with Hall's Motorsport, Mt. Gambier's Steven Lines managed a strong ninth place finish last January behind eventual Classic Champion James McFadden. Press Releases 12/6
Dodge City Raceway Park KS)With another exhilarating racing season in the books at the state-of-the-art Dodge City Raceway Park in southwest Kansas, all that remains is the annual awards banquet.The top 2017 competitors in each division will receive their hardware and points fund money on Saturday night, January 27, 2018, at the Western Expo Center that is located adjacent to the track at the intersection of US 56 and US 283 on the south edge of Dodge City, KS. Press Releases 12/6
Michael Faccinto)Michael Faccinto is set to partner with Austin Brown Racing for the 32nd running of the Lucas Oil Chili Bowl Nationals presented by General Tire. Faccinto will be behind the wheel of the Mesilla Valley Transportation/Boss Chassis/Toyota Racing No.7 machine.http://dubpubmedia.com/ 12/6
Heffner Racing)Kevin Thomas Jr will be behind the wheel of the Heffner Racing No.27 midget at the Lucas Oil Chili Bowl Nationals. 12/6
Speed Sport)Sixteen-year-old sprint car driver Michael "Buddy" Kofoid is set to embark on his most ambitious racing schedule to date after joining Harley Van Dyke Motorsports.https://speedsport.com/12/6
Speed Sport)TOPP Motorsports has confirmed that sprint car driver Justin Grant has joined the team to chase the USAC AMSOIL National Sprint Car Series championship.https://speedsport.com/ 12/6
Speed Sport)Kyle Cummins and team owners Chuck Eberhardt and Fred Zirzow (EZR) have partnered to take on the full USAC AMSOIL National Sprint Car Series season.https://speedsport.com/ 12/6
Bricen James)While most drivers will have to wait for the spring to come about before resuming their racing careers that will not be the case for Bricen James. The Albany, Oregon native will be back in action in January for the 2018 Chili Bowl Nationals piloting the Johnny Herrera Racing #45X entry prepared by legendary car owner/crew chief Kenny Woodruff. James will be one of over three hundred drivers expected to make the trip to the Tulsa, Oklahoma event. Press Releases 12/6
Tuesday December 5th 2017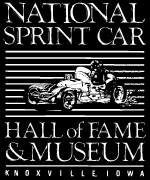 It's kind of fun to do the impossible. Walt Disney
11:45pm
PRESS....
3:00pm
PRESS....
Monday December 4th 2017

Your part can be the king, but unless people are treating you like royalty, you ain't no king, man. Jeff Bridges
11:00pm
PRESS....
Sunday December 3rd 2017
Of all the things I've lost I miss my mind the most. Ozzy Osbourne
11:00pm
PRESS....
Indy Race Parts)If you're in town for the PRI Show this week, be sure to stop in and see us. Sign up for giveaways and see the daily deal of the day. We will only be open Mon-Thur 9:30AM-5PM, Friday 9AM-3PM, and Sat 9AM-noon. We are located 5 miles from the convention center (361 Gasoline Alley, Indy In 46222). Stuck without a car? Call us and we can possible swing by and pick ya up or if you can't visit us during our limited hours, call (317-244-9437 or 317-507-6310) and we can make arrangements to meet you at the shop so you can shop! Have a good time at the show and hope to see a lot of you there or at the shop! 12/3
Sprintcar All Stars AU)As did every speedway in Victoria last weekend the Mainline DynoLog Dynamometers All Star Series had to cancel RD 4 at Wangaratta Speedway. It has been 9 seasons since the All Stars visited Wangaratta so this was very disappointing for everyone especially the Committee of the Club after all their efforts to get Sprintcars back at their race track. With negotiations held very early last week when this bad weather was forecast between the Wangaratta Committee and the All Star promotion we have been fortunate enough to reschedule the event to December 16 th. "We are pleased that we could reschedule the final of our JSR King of the Rivers mini-series as it would have been a shame to lose it. We are now just hoping that all our teams can support the show even though it is closer to Christmas. I did check with teams beforehand and it was suitable to most of them." Promoter Mandy Searle tells us. Drivers wishing to compete on December 16 please nominate via mandyallstars@bigpond.com 12/3
Thomas Davies)It's a season of change for Thomas Davies, who during the recent off season decided to make the move into 360 Sprintcars from Formula 500s, off the back of a conversation with a fellow racer, thanks to some significant support. What initially started as an idea three months ago to put a car together with best mate and 410 Sprintcar driver James Inglis, quickly came to fruition after a phone call with long-time supporters Rob Hair from RBH Mechanical Services and Jon Wiese, who were happy to get behind Davies' venture into Sprintcars, with Hair providing Davies with a 2015 Cool Chassis car and a 360ci engine, which is currently being prepared for the 2017-18 season. Press Releases 12/3
CRSA)The 2017 Super Gen Products/Champion Power Equipment CRSA Sprint Tour will go down as abbreviated, but incredibly competitive. It fell victim to rain-outs and unforeseen cancellations throughout the schedule. We were able to race thirteen times at eight different northeast speedways. The track types would range with anything from a high speed, five-eighths mile hard clay at Orange County Fair Speedway to the tight, high banked confines of the third-mile Woodhull Raceway and everything in between. Press Releases 12/3
POWRi Elite)Texas-based Elite Sprint Car Series will come under POWRi sanction for 2018 effectively creating the POWRi Lucas Oil Elite Sprint Car Series. POWRi and the Elite Sprints have partnered together to continue the growth of traditional sprint car racing in Texas, Oklahoma, Missouri, and Arkansas. The Elite Sprints are currently a non-wing 305 sprint care league and will be converting to POWRi WAR rules in 2018. Look for the POWRi Lucas Oil Elite Sprint Car Series to release a 20-25 race schedule. Press Releases 12/3
2:00pm
RESULTS....
Len Sammons Productions)A restart with two laps left in the first annual East Coast Indoor Dirt Nationals inside CURE Insurance Arena in Trenton, N.J. enabled Whitey Kidd, III of Staten Island, N.Y., to shoot by Alex Bright of Collegeville, Pa., who had led from the halfway mark of the 40-lap contest, and score a dramatic, shocking, and well received Micro Sprint win. Race Results 12/3
SSSS)Sport Allen won the final 2017 Southern Sprintcar Series race at Punta Gorda FL on Saturday.12/3
PRESS....
Racing Promotion Monthly)Promoters from the Pacific Coast and Western Canada gathered at the RPM@Reno Promoters Workshop, confirming 2018 schedules and participating in two days of talks, discussions, and networking. The Workshop, produced by Racing Promotion Monthly, hosted by the Eldorado Hotel Casino Reno, returned to Reno, and the Eldorado after a two-year hiatus. Press Releases 12/3
OSCS)With time for proper promotion at risk, Ohio Sprint Car Series promoter, Brad McCown, has decided to terminate the Ohio-based sprint car series before the beginning of the 2018 season. McCown, also the promoter of Atomic Speedway near Chillicothe, will now aim all of his focus toward the Atomic high banks, preparing for what could be a record season in 2018. Press Releases 12/3
Saturday December 2nd 2017
Cherish forever what makes you unique, 'cuz you're really a yawn if it goes. Bette Midler
11:50pm
East Bay Raceway Park FL)In the Eagle Jet Top Gun Sprints 25-lap feature it was Hayden Campbell coming home with the win and finishing in the second spot was the 2017 Eagle Jet Top Gun Champion AJ Maddox. Finishing in the third spot was Mark Ruel, Jr. Eagle Jet Top Gun Sprints (25-lap feature) 5 Hayden Campbell 3a AJ Maddox 83 Mark Ruel, Jr. 19 Keith Butler G6 Brandon Grubaugh 3k Guy Bos 52 Shane Kreidler 11b Billy Bridges 00 Harley Zimmerman 20 Frank Carlson 96 Nikole Voisey B2 Chuck Barlow 82 Matt Kurtz (DNS) 12/2
NARC KWS)The King of the West-NARC Sprint Car Series has rolled out a 2018 sprint car schedule that will feature 16 race dates at nine different dirt oval tracks in California. Up for grabs for open wheel teams will be more than $430,000 in prize money, championship point funds and contingency awards. The series will continue to be backed by title sponsor Fujitsu General and Hoosier Racing Tires.Press Releases 12/2
2:00pm
RESULTS....
Len Sammons Productions)American Racing Drivers Club Midget past champion Alex Bright, reigning Action Track USA SpeedSTR and Micro Sprint champion Tim Buckwalter, nationally acclaimed Micro Sprint standout Austin Quick and regional Micro favorite Jesse Maurer each punched their tickets into tonight's $5,000-to-win East Coast Indoor Dirt Nationals inside Trenton, NJ's CURE Insurance Arena by winning 15-lap A-Qualifier races last night. Race Results 12/2
Photos)Steve Koletar shots from the Trenton NJ Indoor Dirt Nationals are inSpeedShotz 12/2
Murray Bridge AU)1 #W17 James McFadden 2 #S19 Brad Keller 3 #Q7 Robbie Farr 4 #W3 Steven Lines 5 #S63 Ryan Jones 6 #USA00 Corey Eliason 7 #V42 Jye O'Keefe 8 #S78 Keke Falland 9 #S81 Luke Dillon 10 #S74 Jamie Cobby 11 #S13 Brock Hallett 12 #S25 Justin Sloan 13 #V36 Tim Van Ginneken 14 #S10 Steven Caruso 15 #S71 Sam Putland 16 #S97 Matt Egel 17 #V35 Jamie Veal 18 #S72 Chad Ely 19 #S88 Todd Wigzell 12/2
PRESS....
Valvoline Raceway AU)VR washed out, 410 sprintcars on 9 Dec, Sprintcar Development Series on 16 Dec and Valvoline Grand Prix on 26 Dec. 12/2
Austin Hogue)In October of 2016, Austin Hogue sent shockwaves through the Central Pennsylvania pit area when he announced that at the age of 25 he was walking away from the sport of sprint car racing. After nearly 16 years of running go-carts, Allison Legacy Series asphalt cars, 358 Sprint Cars and 410 Sprint Cars, Hogue and his family owned team were burned out from the weekly grind the sport presented. Press Releases 12/2
Friday December 1st 2017
There's a thin line between to laugh with and to laugh at. Richard Pryor
USCS)24 year-old Morgan Turpen from Cordova, Tennessee didn't win the United Sprint Car Series presented by K&N Filters National Championship as she did in 2015 and 2016 during the 40-event 2017 season, but she did lead the series win totals amongst all drivers with nine trips to the www.rockauto.com USCS Victory Lane as the main event winner. USCS 12/1
USAC)On eight occasions in 2017, Justin Grant was atop the board in time trials, leading all USAC National drivers in that category to capture the season's ProSource Fast Time Award Challenge. Grant, of Ione, California, was the only USAC AMSOIL National Sprint Car driver during the season to record ProSource Fast Qualifying time and win the feature in the same night, which he did in the season-opening "Winter Dirt Games" at Bubba Raceway Park in Ocala, Fla. USAC12/1
Cory Kruseman Sprint Car and Midget Driving School)Are you looking for a special gift for the racing fan on your Christmas shopping list that will supply the thrill of a lifetime? If you answered "yes," look no further. Starting today, the Cory Kruseman Sprint Car and Midget Driving School is offering some major discounts via Groupon just in time for the holidays. Press Releases 12/1
Lucas Oil Chili Bowl)With under 40 days until the green flag drops on the Lucas Oil Chili Bowl Nationals presented by General Tire, the first wave of entries has been revealed with 148 received so far for the 32nd edition of the "Mecca of Micros", happening January 9-13, 2018 at the Tulsa Expo Raceway, located inside the River Spirit Expo Center.
2:50pm
PRESS....
Kaeding Performance) Tomorrow!!! The 28th annual Kaeding Performance Race Car Swap Meet at the San Jose Fairgrounds on Tully Road, will take place on December 2nd 2017 at 8:00 a.m. This is the Swap Meet to come to, with vendors and buyers from all over California, Washington, Oregon, Nevada,Hawaii, Canada, Australia and New Zealand. So pack up all your racing parts or bring $$$ to find the best buys from the top teams in the Western States and beyond. Kaeding Performance will be hosting an Open House at their location 813 Cristich Lane in Campbell from 12 Noon to 6:00 p.m. following the Swap Meet. The Open House will include a buffet lunch,door prizes & Open House Specials. 12/1
Cory Eliason)Cory Eliason & the Roth Motorsports 83 team will begin their 2018 race season Volusia Speedway FL DIRTCar Nationals with the All Stars & World of Outlaws. The team will run a national schedule of 60+ races with various sanctions including: World of Outlaws, All Stars, Knoxville Raceway & NARC KWS. 12/1
URC)Don Blackshear from the Pace Performance Circle Track Division will be in attendance during the URC General Membership Meeting at the Limerick Diner on Wednesday November 29 at 7pm. Don will be talking to the URC race teams and anyone else interested in coming and learning about the Pace Perfomance / URC Alternative Engine and the potential 360 engine program. The engine is based off of a GM LS3 and will come complete along with fuel pump, headers and air cleaner. Total cost of the package is shaping up to be under $24,000 along with free shipping. Don will answer every question everyone might have on Wednesday the 29th, but we will answer one big question now......yes, your engine builder can build this engine if he or she wants to. URC 12/1
ESS)In what was started in 2007 has now grown to be a vital part of each year end awards banquet. The Lucky Giveaway Program for 2017 marked the 11th consecutive year where manufacturers of sprint car racing rewarded teams that faithfully followed the Lucas Oil Empire Super Sprint Tour. Press Releases 12/1
J&J Auto Racing)When we're young, we are taught that hard work will help you achieve your goals. Sometimes the road is easy to travel, sometimes it takes perseverance – just like a full racing season can at times. Both Jared Horstman and Justin Whittall showed they have the staying power to persevere in what can be an emotional sport – taking drivers, teams and fans from the highest of highs to the lowest of lows.Press Releases 12/1
Hoffman Auto Racing)Hoffman Auto Racing (HAR) is taking great pride in announcing that after a three year absence , 9 time Little 500 Champion Eric Gordon will drive the Mean Green Hoffman Car in the 2018 classic. Lykins Energy Solutions, and Hoosier Tire remain as associate sponsors. Hoffman Racing is privileged to once again be designated as an official Military Order Of The Purple Heart Race Team. Press Releases 12/1
Len Sammons Productions)Some seventy of the Micro Sprint drivers and cars that will be competing in the first East Coast Indoor Dirt Nationals this weekend inside CURE Insurance Arena in Trenton, N.J., got in their first laps in on Thursday night, starting at 7:00 PM in a practice session. Press Releases 12/1