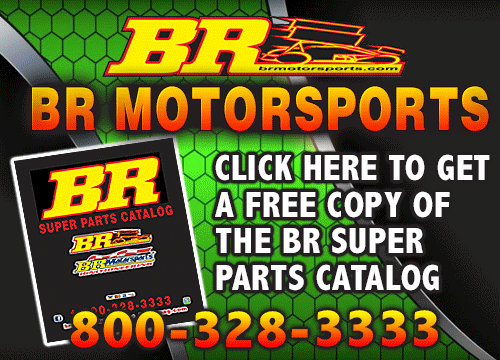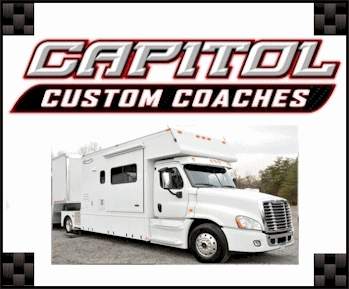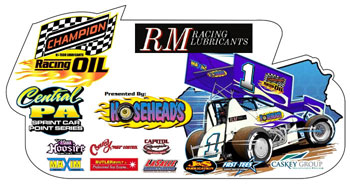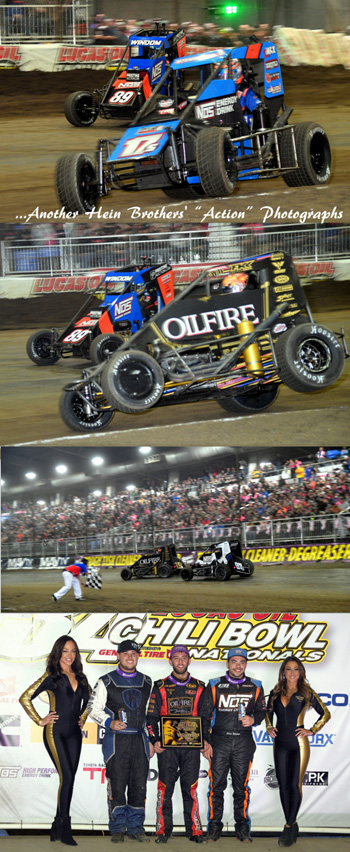 (TOP) The battle for the lead position in Friday's Chili Bowl Midget Nationals 30 lap A-Main event started with Ricky Steinhouse Jr. (17s) and Chris Windom (89) slugging it out wheel to wheel. (TOP MIDDLE) Tanner Thorson (19) makes his way to the front as he battles it out with Windom (89). (TOP BOTTOM) The battle for the lead position saw not only Thorson and Windom but also Ryan Bernal making his bid for the top spot. But on the final lap, Thorson (19) held onto the lead position as he is followed closely by Bernal (87w) to flagman Chip Graham's checkered flags. (BOTTOM) Celebrating in victory lane are the top three finishers with (left to right) with runner up Ryan Bernal, winner Tanner Thorson, and third place finisher Chris Windom..........ANOTHER HEIN BROTHERS' "ACTION" PHOTOGRAPH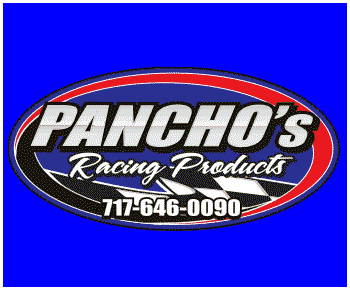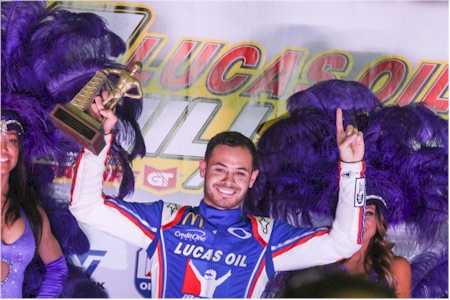 "I'm sorry NASCAR, I'm sorry Daytona, but this is the biggest effing race I've ever won. I hope to win Daytona in a few weeks, but this is badass!" That said it all as Kyle Larson found redemption from a last-lap loss one year ago as the Elk Grove, California native finally captured the Golden Driller in the 34th annual Lucas Oil Chili Bowl Nationals presented by General Tire. Larson, in his 13th Chili Bowl attempt, and ninth A-Feature appearance, trailed the opening 38 laps as Christopher Bell took the lead from the pole. Brendon Bauman Photo
Latest News and Race Results
If you don't see it here yet, check the Message Board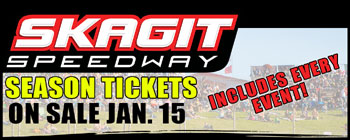 Sunday January 19th


We should live, act, and say nothing to the injury of anyone. It is not only best as a matter of principle, but it is the path to peace and honor. Robert E. Lee
3:00am
RESULTS....
SSSS)Troy DeCaire emerged victorious in a wild affair Saturday night at 417 Speedway in Punta Gorda, Florida. DeCaire captured the season opener for the BG Products Southern Sprint Car Shootout Series, and in the process, also captured the first sprint car event held anywhere in North America in 2020.Race Results 1/19

Lucas Oil Chili Bowl)"I'm sorry NASCAR, I'm sorry Daytona, but this is the biggest effing race I've ever won. I hope to win Daytona in a few weeks, but this is badass!" That said it all as Kyle Larson found redemption from a last-lap loss one year ago as the Elk Grove, California native finally captured the Golden Driller in the 34th annual Lucas Oil Chili Bowl Nationals presented by General Tire. Larson, in his 13th Chili Bowl attempt, and ninth A-Feature appearance, trailed the opening 38 laps as Christopher Bell took the lead from the pole. ASCS 1/18
PRESS....
CRSA)The 2019 season for the SuperGen Products with Champion Power Equipment CRSA Sprint Car Series was an exciting one with nine different drivers gracing victory lane. In all, 13 of the scheduled 14 events were completed with the one non-completed event being a rain out at the Land of Legends Raceway in August. When all was said and done, Altamont, New York's Jeff Trombley was crowned series champion for the third time in as many seasons. The now three time series champion also claimed the Kennedy's of Troy Northway 90 Mini-Series and CRSA/Land of Legends Raceway Five Star Series championships. Press Releases1/19

REVS Racing LLC)RevsRacing LLC is excited to announce that we will be bringing 3 events to Lucas Oil Raceway Indianapolis during the 2020 season. For automotive enthusiasts, the events will feel like it felt to be a kid in candy store.We will kick off season at the beginning of May, with the three day Indy Revolution. Racers will returnin the middle of June for another three day event; the Indy Summer Nationals. We will finish up the season in October, with a one day event; the Indy Revolt.Press Releases1/19

PPB Motorsports 2020)Andrea Cap of East Berlin, PA was named Aqua Duck Water Transport Ms. Motorsports 2020 Saturday night at the Pioneer Pole Buildings Motorsports 2020 Race Car & Trade Show Saturday night. Andrea was crowned her successor, Taylor Fullin. Ms. Cap's first runner-up was Morgan Rochelle and second runner-up was Casey Robicheau. Ms. Cap was also the Swimwear winner, Ms. Rochelle the Sportswear winner, Ms. Robicheau the Interview winner, Amanda Arms the Ms. Photogenic winner and Rachel Molyneaux was named Ms. Congeniality. Press Releases1/19
Saturday January 18th
It has yet to be proven that intelligence has any survival value. Arthur C. Clarke

3:00pm
RESULTS....
Simpson Speedway AU)1 #USA4 Kalib Henry 2 #USA6 Tim Kaeding 3 #USA19 Tim Shaffer 4 #NT7 Matthew Reed 5 #USA3 Shane Stewart 6 #V60 Jordyn Charge 7 #V83 Chris Solomon 8 #V34 Brenten Farrer 9 #V70 John Vogels 10 #VA8 Daniel Evans 11 #V7 Paul Soloman 12 #SA95 Jarman Dalitz 13 #SA22 Chad Ely 14 #V29 Michael Tancredi 15 #V39 Brett Smith 16 #SA11 Scot Enderl 17 #VA29 Brett Milburn 18 #SA14 Brendan Quinn 19 #V90 Corey McCullagh 20 #SA96 Brendan Guerin 1/18

Racin Boys)Five preliminary nights featuring 343 drivers have led to Championship Saturday for the Lucas Oil Chili Bowl Nationals Presented by General Tire, which wraps up the 34th edition on Saturday inside the River Spirit Expo Center. Press Releases1/18
2:50am
RESULTS....
Lucas Oil Chili Bowl)Four leaders, seven official lead changes, and at the end of Friday's Vacuworx Qualifying Night; a drag race to the checkered flag that saw Tanner Thorson holding off Ryan Bernal at the line for his first career preliminary A-Feature victory in the 34th running of the Lucas Oil Chili Bowl National presented by General Tire. ASCS 1/18

Photos)Steve Koletar photos from PPB Motorsports Show Oaks PA are in SpeedShotz 1/18
PRESS....
Friday January 17th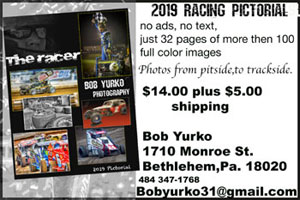 The fight is won or lost far away from witnesses - behind the lines, in the gym, and out there on the road, long before I dance under those lights. Muhammad Ali

2:30am
RESULTS....
Lucas Oil Chili Bowl)Christopher Bell's fifth preliminary night victory in as many years, and sixth overall prelim triumph, the driver of the Tucker-Boat No. 84x was the class of the field in Thursday's John Christner Trucking Qualifying Night. ASCS 1/17
PRESS....
Wednesday January 15th


Sometimes all you need is just for somebody to believe in you in order to be able to accomplish maybe what you never thought you could. Drew Brees
11:50pm
RESULTS....
Lucas Oil Chili Bowl)Chasing early, then having to hold off numerous charges over the course of late-race restarts, California's Rico Abreu captured his fifth consecutive Hard Rock Casino Tulsa preliminary night victory during the Wednesday portion of the 34th annual Lucas Oil Chili Bowl Nationals presented by General Tire. ASCS 1/15
9:50pm
PRESS....
2:00am
RESULTS....
Lucas Oil Chili Bowl)Picking up his sixth career preliminary night victory, and third straight since 2018, Kyle Larson battled through a myriad of cautions to win Tuesday's Warren CAT Qualifying Night during the 34th annual Lucas Oil Chili Bowl Nationals presented by General Tire.Locking into his ninth championship A-Feature since 2010, the race to that ticket became a question of fuel. ASCS 1/15
PRESS....
Tuesday January 14th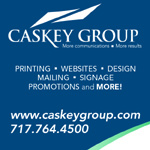 The 50-50-90 rule: Anytime you have a 50-50 chance of getting something right, there's a 90% probability you'll get it wrong. Andy Rooney

5:30pm
PRESS....
1:40pm
PRESS....
Monday January 13th


If you've got a problem, take it out on a drum. Neil Peart
11:50pm
RESULTS....
Lucas Oil Chili Bowl)Debuting with Keith Kunz Motorsports, Oklahoma's Cannon McIntosh squashed all doubts of his worth as the 17-year old driver topped his Heat Races, Qualifier, and finally held off multiple charges, cautions, and an open red to win his first career Chili Bowl Preliminary A-Feature on Cummins Qualifying Night of the 34th annual Lucas Oil Chili Bowl Nationals presented by General Tire. ASCS 1/13

Column)Joseph Terrell has his next column covering Americans in Australia, recent west coast news and his top 10 for Chili Bowl.The West Coast Sprint Car Scene 1/13
PRESS....
4:30pm
PRESS....
Joey Saldana Racing)Joey Saldana has acquired the Godfrey Autosport/Spike Oil Tank Division.https://twitter.com/ 1/13

Eddie Tafoya)2019 USAC/CRA and USAC Southwest Sprint Car Series Rookie of the Year, Eddie Tafoya Jr. of Chino Hills, California, will make his midget racing debut this week at the 34th Annual Lucas Oil Chili Bowl Midget Nationals in Tulsa, Oklahoma. The talented driver will be competing in one of the five preliminary nights (Monday through Friday) and will then come back for Saturday's finale. Press Releases1/13

Donny Schatz)For the third time in his career, ten-time World of Outlaws Sprint Car Series champion and Fargo, North Dakota-native Donny Schatz will enter the prestigious Chili Bowl Midget Nationals at River Spirit Expo Center in Tulsa, Oklahoma. The six-day program, which will feature roughly 350 competitors derived from all disciplines of auto racing, will kick-off, officially, with preliminary competition today - Monday, January 13.Press Releases1/13

Dave Argabright)If you are attending the Chili Bowl Nationals this week, stop by and see Jack Hewitt and Jimmy Sills as they sign copies of their respective books: Hewitt's Law and Life With Luke. We will also have copies of Modern Thunder, and Pat Sullivan will visit as well to help us sign books. Life With Luke - $29.95 Hardbound, 312 pages, 32 pages of color and b/w photographs Life With Luke Collector's Edition - $49.95 Hewitt's Law - $29.95 Hardbound, 332 pages, 64 pages of color and b/w photographs Hewitt's Law Collector's Edition - $49.95 Modern Thunder - $49.95 Hardbound, 384 pages, over 1,300 photographs 1/13

Premier Speedway AU)Hailing from Des Moines, Iowa, a mere 37 miles from Knoxville Raceway, it is little wonder that Speedway has become the long-held passion of McKenna Haase, with the now resident of Indianapolis set to tick another item off the bucket list by contesting the 48th South West Conveyancing Grand Annual Sprintcar Classic. Haase will be a part of a field that has again eclipsed the 100-entry mark as the first ever female Sprintcar Feature race winner at Knoxville Raceway makes the trek to Warrnambool for Sydney based car owners Matt and Sharmaine Thomas. Press Releases1/13

ARDC)In 1939 a racing visionary by the name of Bill Schindler saw the need for more organization in the sport of midget auto racing. Schindler, along with others formed the American Racing Drivers Club or as they became more commonly known as ARDC. On Friday, May 1st the Mighty Midgets of ARDC returns to the 3/8th mile Big Diamond Speedway. The high banked, multi groove surface of the Coal Region track has produced high speed side by side action for several years. Press Releases1/13

Indy Race Parts)Still looking for sprint car & midget parts for the upcoming season? Be sure to visit our booth at the Circle Track Expo, January 25th at the Indiana State Fairgrounds in Indianapolis. Everything is on a one way ticket, cheap and if there is not a price on the item, don't be shy just shout! Just like last year, we will also have the shop open from 9AM-3PM (Located at, 361 Gasoline Alley Indianapolis) with a lot to offer from new and used parts, chassis, used tires (low as $25), and plenty of deals. It's just a short 00 min drive from the fairgrounds so if you have time, stop by and visit us at both locations! Happy bargain hunting. 1/13

Smileys Racing Products)Smiley's Racing Products has combined the Pre-Season Sale and Annual Racer's Swap Meet for ONE SUPER SATURDAY! It's the biggest Smiley's Racing event ever!! Smiley's is offering "deep discounts" to help customers "gear up" for the 2020 racing season. Almost Everything is on Sale! Let's jump right in! Here's the top-line information on all event happenings. Press Releases1/13

Racin Boys)Practice is underway inside the River Spirit Expo Center, where approximately 350 of the top race car drivers in the world converge this week to duke it out for the Golden Driller. The 34th annual Lucas Oil Chili Bowl Nationals Presented by General Tire kicks off five consecutive nights of preliminary action on Monday evening prior to Saturday's finale. Each preliminary night is scheduled to begin at 4 p.m. (Central) with hot laps. Press Releases1/13

Jack Dover)Jack Dover is confident heading into his third career attempt at the famed Lucas Oil Chili Bowl Nationals Presented by General Tire. Dover will be driving for Randy Washburn at the marquee midget event held inside the River Spirit Expo Center in Tulsa, Okla., this week. The team's preliminary night is Thursday. Press Releases1/13
Sunday January 12th


Millions saw the apple fall, but Newton was the one who asked why.Bernard Baruch
9:00pm
PRESS....
Saturday January 11th

What's another word for Thesaurus? Steven Wright
2:30pm
RESULTS....
Valvoline Raceway AU)1 #N99 Carson Macedo 2 #N47 Marcus Dumesny 3 #N48 Jackson Delamont 4 #USA56 Aaron Reutzel 5 #V35 Jamie Veal 6 #NQ7 Robbie Farr 7 #S63 Ryan Jones 8 #USA0 Lynton Jeffrey 9 #N16 Daniel Sayre 10 #NS4 Ian Madsen 11 #NS71 Michael Stewart 12 #D2 Ben Atkinson 13 #NS6 Matt Geering 14 #N54 Grant Tunks 15 #W26 Cory Eliason 16 #V5 Max Dumesny 17 #N56 Michael Saller 18 #N95 Daniel Needham 19 #N40 Chris Mcinerney 20 #N20 Troy Little 21 #NQ5 Danny Reidy 22 #N92 Sam Walsh 23 #USA7 Brad Sweet 24 #NS21 Jordyn Brazier Speedcars...1 #N51 Michael Stewart 2 #N99 Carson Macedo 3 #N14 Nathan Smee 4 #N71 Sam Walsh 5 #N57 Harley Smee 6 #N28 Dean Meadows 7 #N97 Matthew Jackson 8 #N24 Clint Leibhardt 9 #N36 Stephen Birkett 10 #N8 Cameron Malouf 11 #V72 Glen Shaw 12 #N41 Robert Mackay 13 #N66 Ben Morgan 14 #N69 Ayden Elliott 15 #N5 Andy Hassan 16 #N74 Alan Day 17 #N34 Jeffrey Burns 18 #N15 DJ Raw 19 #Q76 Reid Mackay 20 #N11 Jay Waugh 21 #N4 Bob Jackson1/11

Carrick Speedway AU)1 #T 11 Jason Redpath 2 #T 35 Adrian Redpath 3 #T 10 Jamie Bricknell 4 #T 9 Chris Johns 5 #T 48 Nick Penno 6 #T 17 Jason Dawkins 7 #T 29 Robin Dawkins 8 #T 87 Bradley Walkley 9 #T 2 Scott Bissett 10 #T 5 Mahtia Bissett 11 #T 3 Chris Gallagher 12 #T 16 Adam Alexander 13 #T 14 Mark House 1/11

Avalon Raceway AU)1 #V90 Corey McCullagh 2 #V37 Grant Anderson 3 #V8 Bobby Daly 4 #V60 Jordyn Charge 5 #V68 Brett Milburn 6 #V7 Paul Solomon 7 #V42 Jye Okeeffe 8 #V83 Chris Solomon 9 #T62 Tate Frost 10 #V2 Domain Ramsay 11 #V77 Brayden Parr 12 #VA88 Grant Stansfield 13 #V72 Jacob Smith 14 #T7 Tim Hutchins 15 #V17 Dennis Jones 16 #V70 John Vogels 17 #T45 Kurt Luttrell 18 #V48 Adam King 1/11

Perth Motorplex AU)1 #3 Callum Williamson 2 #8 Andrew Priolo 3 #75 Ben Van Ryt 4 #51 Jamie Oldfield 5 #79 Kris Coyle 6 #20 Ryan Lancaster 7 #67 Jaydee Dack 8 #50 Tom Callaghan 9 #97 Mitchell Wormall 10 #11 Jason Kendrick 11 #12 Daniel Harding 12 #57 Shaun Bradford 13 #9 AJ Nash 14 #89 Kye Scroop 15 #18 Trevor Jolly 16 #21wx Troy Lawson 1/11
Friday January 10th
Generally when there's a lot of smoke... there's just a whole lot more smoke. George Foreman
11:30pm
PRESS....
Wayne Johnson)Todd Carlile, owner of TwoC racing along with driver Wayne Johnson are proud to announce they will be competing full-time with the World of Outlaws (WoO) in 2020. This will be Johnson's first full-time on the tour. For the last 10 years, Johnson has been competing mainly with the ASCS in a 360 and running a handful of 410 races as well. "We stepped away from ASCS 360 racing and went and raced with the WoO about half of the year last year and realized that if we want to be the best and build the team up for the future, the WoO tour is where we need to be," Johnson said. Car owner Todd Carlile stated, "We have been wanting to go full time racing with the World of Outlaws and we ultimately decided that now was the right opportunity." Press Releases1/10

Placerville Speedway CA)Placerville Speedway season passes for the 2020 race season are available, include a reserved seat and feature an extensive savings as opposed to purchasing each week. A season ticket is good for 23 total events, excluding the ASCS National show, the El Dorado County Fair, Monster Trucks and the Hangtown 100. An adult season pass can be purchased for $330 or with a parking pass for $445. When breaking down the season pass savings, you can take in the action for under $15 a night. Passes are also available for seniors, military, juniors and children. Season passes are available at https://www.placervillespeedway.com/store 1/10

US 36 Raceway MO)Due to forecasted winter weather, US 36 Raceway and Bethany Speedway officials have postponed the 2020 drivers' meeting that was scheduled for Sunday. The new date, which will again serve as a meeting for both tracks, is scheduled for Saturday, Jan. 25 at 11 a.m. at the Cameron Community Center. 1/10

ESS)In what has now become the 12th consecutive year, Lucas Oil Products Inc. from Corona, California has returned to be the series sponsor for the Lucas Oil Empire Super Sprints (ESS). Lucas Oil has not only become a major backer for the sprint car organization that is running it's 37th Anniversary Tour but has become family. "Lucas Oil not only brings us a big boost in our annual point fund, but they have help support us in so many other ways," noted ESS President Chuck Miller, "We are very fortunate to have the Lucas name attached to our tour for so many years." Press Releases 1/10

Travis Berryhill)Travis Berryhill is proud to announce he will return to Tulsa, Oklahoma and compete in the 2020 Chili Bowl Midget Nationals, starting Monday morning, January 13th, with practice. Berryhill will enter his third decade of Chili Bowl competition, highlighted by a 2017 Qualifying Preliminary Night victory and a solid top fifteen feature outing, an underdog Tulsa story that still comes up in the top Chili Bowl moments in history. Press Releases 1/10

Premier Speedway AU)The 2019 Australian Sprintcar Champion Andrew Scheuerle has this afternoon confirmed he will contest his first Grand Annual Sprintcar Classic since 2016 as he prepares for a whirlwind trip south to contest the Classic and defend his National Championship at Latrobe a week later. Press Releases 1/10

USAC)Anthony D'Alessio is stepping up to challenge for USAC AMSOIL National Sprint Car Rookie of the Year honors in the upcoming 2020 season. D'Alessio, in conjunction with Parallax Motorsports, will field one entry as an owner/driver for the 2020 slate, which features 46 events at 23 different venues, most of which D'Alessio will be experiencing for the first time, beginning in February at Bubba Raceway Park in Ocala, Fla. for Winter Dirt Games XI. USAC 1/10

David Gravel)Veteran World of Outlaws Sprint Cars competitor David Gravel will make his stock car racing debut with KBR Development, at Daytona International Speedway. Gravel will pilot the #28 Chevrolet at the World Center of Racing, Saturday, February 8 in the ARCA Menards Series 200.https://www.kbrdevelopment.com/news 1/10
Thursday January 9th
I may not believe in myself, but I believe in what I'm doing. Jimmy Page
9:30pm
PRESS....
Wednesday January 8th
Look up at the stars and not down at your feet. Try to make sense of what you see, and wonder about what makes the universe exist. Be curious. Stephen Hawking
8:45pm
RESULTS....
Photos)Steve Koletar photos from Allentown PA PPL Center 1-4-2020. Ryan Flores & Dylan Hoch winners. SpeedShotz 1/8

Valvoline Raceway AU)1 #USA4 Kalib Henry 2 #N16 Daniel Sayre 3 #N22 James Thompson 4 #NS97 Luke Geering 5 #S63 Ryan Jones 6 #N52 Mark Attard 7 #N61 Mick Matchett 8 #NS24 Peter Bourke 9 #NS35 Kaitlyn Anthony 10 #Q6 Mick Rowell 11 #N41 Jeff Lawler 12 #N92 Jamie Tilley 13 #N18 Guy Stanshall 14 #N88 Jimmy Matchett 15 #N97 Warren Vassall 16 #N73 Darren Salmon Wingless Sprints...1 #N41 Jason Bates 2 #N25 Marshall Blyton 3 #N97 Kyle Mock 4 #N5 Mark Blyton 5 #N16 Ashleigh Jack 6 #N51 Dean Thomas 7 #NX48 Tyson Williams 8 #N42 Zac Pacchiarotta 9 #N20 Troy Little 10 #N99 Mitchell O'brien 11 #NX91 Shane Sheedy 12 #N98 Leigton O'brien 13 #NX16 Andrew Sayre 14 #NX52 William Lucas 15 #N53 Jeff Thomas 16 #N84 Jarrad Rust 17 #N83 Darryl Marshall 18 #N45 Troy Carey 19 #NX23 Matthew Pescod 20 #NX82 Nathan Dicker 21 #NX5 Max Risbridger 22 #NX21 Kyle Ionn 23 #N29 Michael Sammut 24 #NX31 Joel Rhind 1/8
PRESS....
Premier Speedway AU)Making a Classic final is every young Sprintcar Racers dream and in 2019 both Tim Van Ginneken and Brayden Parr were a part of the 24 strong field that greeted the starter at the commencement of the 40-lap finale. In 2020 both of these Victorian based Sprintcar pilots will return to Sungold Stadium to start from scratch, all over again against another 90 plus drivers from all over Australia as well as some of the very best Americans. Tim Van Ginneken will be at the wheel of the V44 Triple X with a Maxwill Race Engines 410 for company. Press Releases 1/8

Cale Thomas/Trone Outdoor Motorsports)Pennsylvania car owner John Trone has tabbed Cale Thomas as the new driver of the Trone Outdoors Motorsports No. 39 Maxim, with a focus on premier races in the Mid-Atlantic and Northeast. Thomas and Trone are planning a schedule of more than 60 races this season, including many World of Outlaws NOS Energy Drink Sprint Car Series and Ollie's Bargain Outlet All Star Circuit of Champions races in the area, while filling in the remainder of their calendar at many local Central Pennsylvania facilities. Press Releases 1/8

Premier Speedway AU)The official entry list for the 2020 South West Conveyancing Grand Annual Sprintcar Classic continues to grow with 88 drivers and teams having now entered for the event to be held over three huge nights from January 24 to 26, 2020. Having made the Classic final in 2018, and electing to bypass the event last season, exciting Queenslander Luke Oldfield will return to Sungold Stadium to contest the Classic once again. Press Releases 1/8

RAMS Racing)RAMS Racing is proud to announce they will be supporting Veterans Community Project (VCP) for the 2020 season beginning at the Chili Bowl Nationals. VCP is a group of combat veterans in Kansas City, Missouri who refuse to let any Veteran fall through the cracks. From providing housing to offering walk-in support services, they are there for everyone who took the oath to serve America. Press Releases 1/8

Kyle Offill)Heading into what will be his fourth season aboard a winged sprint car, Tracy, CA driver Kyle Offill will turn his primary focus towards the 410ci ranks in 2020 as he is set for his rookie season with the King of the West Series (KWS). Press Releases 1/8

Damion Gardner)Concord, California racing star Damion Gardner closed the 2019 season in historic fashion when he became the first driver to win eight championships in the 74-year history of Southern California sprint car racing. Coming into the year, the dark-haired driver's total of seven So Cal titles tied him with National Sprint Car Hall of Famer Ron Shuman. Press Releases 1/8

US 36 Raceway MO)The US 36 Raceway pre-season drivers' meeting for the upcoming season is scheduled for this Sunday, Jan. 12 at 10 a.m. The meeting will take place at the Cameron Community Center and drivers will have the opportunity to register, select pit stalls and ask questions regarding the upcoming season. 1/8
Tuesday January 7th
We must be willing to let go of the life we have planned, so as to have the life that is waiting for us. E. M. Forster
6:45pm
PRESS....
Champion Racing Oil/RM Racing Lubricants Central PA Sprint Cars)Over $25,000 in cash and product certificates were sent out to the top 10 Central PA Sprint car drivers right before Christmas. Danny Dietrich, Freddie Rahmer, Brian Montieth, Lance Dewease, Anthony Macri, Ryan Smith, Lucas Wolfe, Logan Wagner, Kyle Moody and Cory Haas all received checks. $6,000 went to champion Danny Dietrich down to $1,000 for 10 place Cory Haas. Champion Racing Oil, Butler Built, RM Racing Lubricants, Hoseheads.com, Maxim Chassis, Hoosier Tire Mid-Atlantic, Conroy Pneu-Control, Capitol Renegade, Fast Tees, and J&S Fabrication have all provided towards the point fund. All sorts of gift certificates, product discounts and product were also provided by Wings Unlimited, Panchos Racing Products, Kreitz Oval Track Parts, Keizer Aluminum Wheels, Zemco Speed Equipment, Triple X Race Co, ATL Fuel Cells, Smith Titanium, Indy Race Parts, King Racing Products, Rider Racing Engines, Racing Electronics, Red Robin, DMI Inc, Caskey Group, AL Driveline and Hot Show Racewear. Champion Racing Oil/RM Racing Lubricants Central PA Sprints 1/7

Column)Pat & Bruce Eckel have their report from the PPL Center in Allentown on the TQ midget racing held there on Friday night. A Typical Weekend1/7

USCS)The United Sprint Car Series presented by K&N Filters congratulates frequent USCS competitor and the series' 2019 feature wins leader, Mark Smith from Sunbury, Pennsylvania on his nomination for the National Sprint Car Hall of Fame 360 sprint car "Wild Card Driver of the Year". Mark Smith topped the United Sprint Car Series presented by K&N Filters wins column with 11 (Eleven) trips to the www.rockauto.com USCS Victory Lane. Additionally, Smith who is Co-Founder and Owner of the Mach 1 Chassis, Inc. led the Nation in winged 360 sprint car victories with 14 wins during the 2019 season. USCS 1/7

Chase Johnson)Chase Johnson prides himself on being able to climb into any type of race car and quickly develop into a contender. The Californian has done just that in limited midget starts, winning for car owner Tom Malloy last year in only four event starts. The duo will team up again next week at the 34th annual Lucas Oil Chili Bowl Nationals Presented by General Tire, which is held Monday through Saturday inside the River Spirit Expo Center in Tulsa, Okla. Press Releases 1/7

Racin Boys)The 2020 Lucas Oil Chili Bowl Nationals Presented by General Tire is setting up to be one of the biggest in event history. With a little less than one week remaining until the midget spectacle begins inside the River Spirit Expo Center, running Jan. 13-18, a total of 355 entries have been submitted. That is only 10 shy of the record car count, which was set in 2017. Press Releases 1/7

Tyler Thompson)In conjunction with Seymour Racing and Indy Performance Composites, Oswego Speedway International Classic Champion, Tyler Thompson, will make his Chili Bowl Midget Nationals debut on Tuesday, January 14 inside the River Spirit Expo Center in Tulsa, OK. Press Releases 1/7

Len Sammons Productions)With two blockbuster events in the books, the 2020 Indoor Auto Racing Series fueled by VP heads to Boardwalk Hall in Atlantic City on Friday and Saturday January 31st and February 1st for the 18th annual NAPA Auto Parts Classic. Defending series champion Erick Rudolph of Ransomville, N.Y. won the opener held inside the PPL Center in Allentown, Pa. on Friday night January 3rd. Ryan Flores, a native of Brick, N.J. now living in Mooresville, N.C. won the TQ Midget feature event on Saturday night. Press Releases 1/7

Terry McCarl/Austin McCarl)Inching closer to Florida Speedweek to open the 2020 season, Terry and Austin McCarl are both pleased to welcome Real-Geese Silhouette Decoys aboard both the No. 4 and No. 17A cars. Based out of Bradner, OH, Real Geese manufactures several different models of silhouette decoys for the waterfowl hunter. Offering different price ranges, and options, Real-Geese uses digitally enhanced, detailed images, the highest quality materials, and most advanced production methods on their products to provide an unmatched durability. Press Releases 1/7

Landon Simon)Landon Simon announced today his plans to pilot the newly redesigned Rams Racing, Rockwell Security, The Hayloft Farm to Table Online, Dave & Buster's No. 2L Bullet Chassis powered by Mopar for the 34th annual Lucas Oil Chili Bowl Nationals presented by General Tire, January 13-18 at the River Spirit Expo Center in Tulsa, Oklahoma. Press Releases 1/7

NSCHOF)The non-profit National Sprint Car Hall of Fame & Museum Foundation is gearing up for a big week in Tulsa, Oklahoma, during the 34th Annual Lucas Oil Chili Bowl Nationals, presented by General Tire, January 13-18, 2020. The museum's week will be highlighted by the announcement of the National Sprint Car Hall of Fame's "31st Class" on Tuesday, January 14, and its museum-benefit auction on Thursday, January 16. In addition, its three divisions of North American Sprint Car Poll awards will be announced January 15-17. Press Releases 1/7

IRA)The Hopf Farms Bullring Showdown is back! The Bumper To Bumper IRA Outlaw Sprint Series is proud to announce the dates for the 4th annual "5 race, series within a series." The 2020 version kicks off Memorial Day weekend with a pair of events, opening at Beaver Dam Raceway on Saturday May 23rd, followed by an event at 141 Speedway on Sunday May 24th. Round 3 returns to 141 Speedway on Sunday July 5th. Round 4 is set for the Plymouth Dirt Track on Saturday August 1st. The finale for the 5 race series falls during the Sheboygan County Fair event at the Plymouth Dirt Track on Saturday of Labor Day weekend, September 5th. If rain dates are needed, the first would be the IRA event scheduled for Sunday September 6th at 141 Speedway. The IRA is very proud to be associated with our friends, Dean & Stacy Hopf, and their large racing family. 1/7
Monday January 6th
Everyone goes through adversity in life, but what matters is how you learn from it. Lou Holtz
6:00am
RESULTS....
Len Sammons Productions)One night after riding out a spectacular flip early in the (Three Quarter) TQ Midget feature, Ryan Flores of Troutman, NC, came back to score an impressive win inside Allentown, PA's PPL Center in the 40-lap Indoor Auto Racing Series Allentown finale . Race Results 1/6

Tulsa Shootout)Wrapping up the 35th annual Lucas Oil Tulsa Shootout with 55 laps in the Outlaw A-Feature, three different leaders and a first-time winner capped off a run of five first time winners on Saturday night.ASCS 1/6
PRESS....
Saturday January 4th
I don't know any other way to lead but by example. Don Shula
2:30pm
RESULTS....
Archerfield Speedway AU)1 #USA15 Donny Schatz 2 #V40 Rusty Hickman 3 #W2 Kerry Madsen 4 #V88 Dave Murcott 5 #USA5w Lucas Wolfe 6 #W17 James McFadden 7 #A1 Andrew Scheuerle 8 #W60 Lachlan McHugh 9 #Q83 Steven Lines 10 #Q59 Kevin Titman 11 #S13 Brock Hallet 12 #Q16 Bryan Mann 13 #Q17 Luke Oldfield 14 #Q54 Randy Morgan 15 #Q8 Brock Dean 16 #T22 Jock Goodyer 17 #Q2 Brent Kratzmann 18 #V25 Jack Lee 19 #Q51 Tim Farrell 20 #V55 Brooke Tatnell 1/4

Valvoline Raceway AU)1 #W26 Cory Eliason 2 #USA56 Aaron Reutzel 3 #N99 Carson Macedo 4 #USA7 Brad Sweet 5 #NQ7 Robbie Farr 6 #D2 Ben Atkinson 7 #N53 Jessie Attard 8 #N47 Marcus Dumesny 9 #S63 Ryan Jones 10 #N54 Grant Tunks 11 #USA0 Lynton Jeffrey 12 #NS71 Michael Stewart 13 #N56 Michael Saller 14 #N48 Jackson Delamont 15 #USA55 McKenna Haase 16 #NQ5 Danny Reidy 17 #NS6 Matt Geering 18 #N86 Ben Atkinson JR 19 #N61 Mick Matchett 20 #N16 Daniel Sayre 21 #N32 Warren Ferguson 22 #N20 Troy Little 23 #NZ69 Brett Sullivan 24 #V5 Max Dumesny 1/4

Hobart Raceway AU)1 #T 48 Nick Penno 2 #T 10 Jamie Bricknell 3 #T 9 Chris Johns 4 #T 35 Adrian Redpath 5 #T 14 Mark House 6 #T 17 Jason Dawkins 7 #T 45 Kurt Luttrell 8 #T 2 Scott Bissett 9 #T 16 Adam Alexander 10 #T 87 Bradley Walkley 11 #T 5 Mahtia Bissett 12 #T 20 Tony Clasener 13 #T 3 Chris Gallagher 14 #T 11 Jason Redpath 1/4

Borderline Speedway AU)Wingless Sprints...1 #V33 Luke Storer 2 #V43 Daniel Storer 3 #V32 Dayn Bentvelzen 4 #S23 Jack McCarthy 5 #N97 Kyle Mock 6 #V77 Alex Thomson 7 #V 95 Glenn Watts 8 #V 28 Tim Van Ginnekin 9 #NX16 Andrew Sayre 10 #A1 Alex Ross 11 #V93 Travis Millar 12 #N58 Luke Sayre 13 #S35 Mitchell Broome 14 #V79 Clint Mclaren 15 #V4 Carly Walsh 16 #VX50 Luke Weel 17 #V45 Bhoe Paterson 18 #V23 Mathew Balcombe 1/4

Murray Bridge Speedway AU)Feature 1...1 #S97 Matt Egel 2 #S81 Luke Dillon 3 #S4 Lisa Walker 4 #USA4 Kalib Henry 5 #S78 Keke Falland 6 #S14 Brendan Quinn 7 #S2 Craig Vanderstelt 8 #S27 Daniel Pestka 9 #S90 Michael Lovegrove 10 #S38 Lachlan McDonough 11 #S3 Ben Morris 12 #S10 Steven Caruso 13 #S98 Chad Ely 14 #S45 Jake Tranter 15 #S16 Joel Heinrich 16 #V49 Ricky Clark Feature 2...1 #S81 Luke Dillon 2 #S10 Steven Caruso 3 #S90 Michael Lovegrove 4 #S14 Brendan Quinn 5 #S27 Daniel Pestka 6 #USA4 Kalib Henry 7 #S3 Ben Morris 8 #S38 Lachlan McDonough 9 #S98 Chad Ely 10 #S78 Keke Falland 11 #V49 Ricky Clark 12 #S4 Lisa Walker 13 #S97 Matt Egel 14 #S45 Jake Tranter 15 #S16 Joel Heinrich 16 #S2 Craig Vanderstelt 1/4

Albany Speedway AU)1 #USA87 Shane Stewart 2 #3 Callum Williamson 3 #USA1 Bud Kaeding 4 #11 Jason Kendrick 5 #79 Kris Coyle 6 #97 Mitchell Wormall 7 #12 Daniel Harding 8 #94 Matthew Cross 9 #USA2 Harli White 10 #8 Andrew Priolo 1/4

Len Sammons Productions)Four time Indoor Auto Racing Series TQ Midget season champion Erick Rudolph of Ransomville, NY ducked under Shawn Nye with 25 laps complete in Friday's 40-lap TQ Midget Indoor Auto Racing Series feature and kept Nye at bay for the remaining laps to win. Rudolph won in a car built by Mark Lafler that was fielded with ten inch tires as opposed to the thirteen inch tires all of Lafler's cars have used previously. Race Results 1/4

Tulsa Shootout)Three days, 252 individual races, and 2,196 laps later, the stage is nearly set for the finale of the 35th annual Lucas Oil Tulsa Shootout. Looking at a run of 65 events on Saturday, the final day of competition will begin with Restricted A-Class B-Features.ASCS 1/4
PRESS....