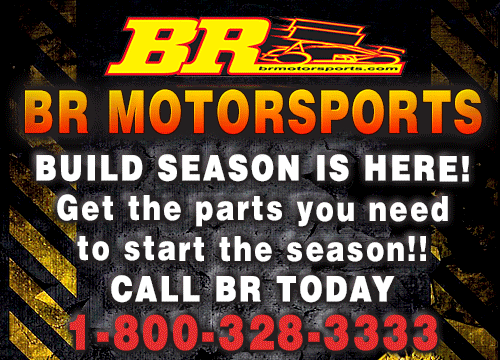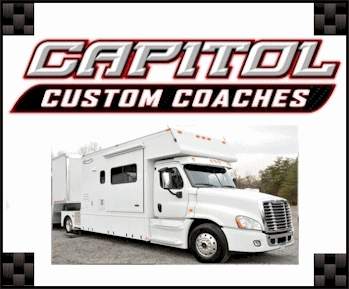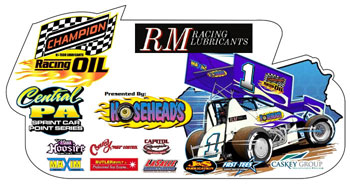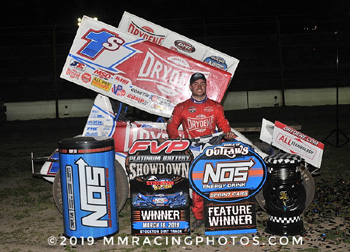 Logan Schuchart in victory lane after winning the World of Outlaw NOS Energy Drink Sprint Car Series Feature at the Stockton Dirt Track (M&M Photos)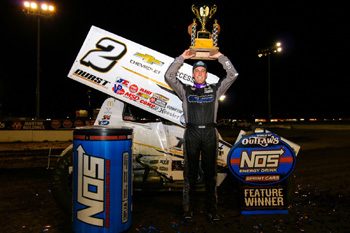 Carson Macedo wins the Mini Gold Cup and gets his first win of the 2019 World of Outlaws season Friday night at Silver Dollar Speedway CA DB3 Imaging
39 Anthony Macri, 48 Danny Dietrich & 72 Ryan Smith race for the win at Lincoln Speedway 3/16 www.speedshifttv.com
Highlights from 1s Logan Schuchart's World of Outlaws win at Stockton CA 3/16 www.dirtvision.com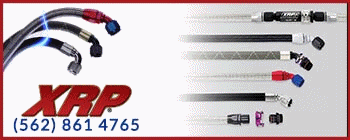 Latest News and Race Results
If you don't see it here yet, check the Message Board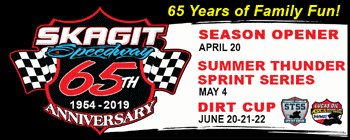 Tuesday March 19th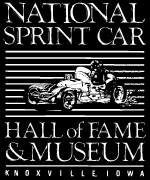 Destiny is no matter of chance. It is a matter of choice. It is not a thing to be waited for, it is a thing to be achieved. William Jennings Bryan
10:30pm
PRESS....
Ryan Smith)Heffner Racing Enterprises driver, Ryan Smith, registered two top-five finishes this past weekend in Central Pennsylvania. Smith opened the weekend Saturday afternoon at Lincoln Speedway. Smith maneuvered his way through the heat race to grab third-place, placing him into the redraw for the main event. Smith rolled off on the outside of the third row for the 25-lap feature. Press Releases 3/19

AFCS)The inaugural season of the All Pro Aluminum Cylinder Heads/Kistler Racing Products Attica Fremont 410 Championship Series (AFCS) Presented by the Baumann Auto Group and the KS Sales & Service AFCS 305 Championship Series Presented by Jason Dietsch Trailer Sales will hand out over $65,000 in cash and awards in 2019.Series Director Duane Hancock said the huge response from marketing partners, race teams and fans has been "incredible." Press Releases 3/19

Brian Brown)It's no question that March has been a frustrating month for Brian Brown, who has been racing on the West Coast with the World of Outlaws NOS Energy Drink Sprint Car Series. Last weekend wasn't smooth as the team struggled to find speed on a pair of bumpy bullrings. "It's been a rough few nights to say the least," Brown said. "It really starts with qualifying. We've always been good qualifiers and for whatever reason we haven't been qualifying well the last few nights as we normally have. When you unload slow you can never get back ahead." Press Releases 3/19

Kraig Kinser)Kraig Kinser tied his season-best result with the World of Outlaws NOS Energy Drink Sprint Car Series on Friday at Silver Dollar Speedway. Kinser kicked off the Silver Dollar Shootout presented by Reibes NAPA Auto Parts by qualifying fourth quickest in his group. A fourth-place finish in a heat race locked him into the 15th starting position for the main event at the quarter-mile oval in Chico, Calif. Press Releases 3/19

Hangtown 100)Attention drivers/teams planning to run the Elk Grove Ford Hangtown 100! Registration for the big event at Placerville Speedway on November 19th and 20th is now open and can be accessed by visiting https://www.hangtown100.com/register The much anticipated Hangtown 100 marks the first ever Placerville appearance by the USAC NOS Energy Drink National Midget Series. Both nights will also be co-sanctioned by the USAC Western States Midgets. Wednesday night's USAC A-main will be 100-laps around the famed red clay oval with the winner picking up a $20,000 payday. Rounding out the card each night will be the Wicked Energy Gum NW Focus Midgets presented by Cognitive Warriors. A rain date has also been established for Thursday November 21st in case of inclement weather. To stay up to date with event news be sure and visit www.hangtown100.com and follow along on Twitterhttps://twitter.com/hangtown100 3/19

Giovanni Scelzi)Two California quarter miles are on tap for Giovanni Scelzi this weekend. Scelzi and Roth Motorsports are scheduled to compete with the World of Outlaws NOS Energy Drink Sprint Car Series on Friday at Ocean Speedway in Watsonville during the Ocean Outlaw Showdown and on Saturday at Placerville Speedway in Placerville during the 49er Gold Rush Classic presented by Riebes NAPA Auto Parts. Press Releases 3/19

Derek Hagar)Last Saturday got off to a great start for Derek Hagar, who kicked off his sprint car season by invading I-30 Speedway. Hagar won a heat race after starting on the pole. That lined him up on the outside of the third row for the A Main at the quarter-mile oval. Press Releases 3/19

Robbie Price)Robbie Price is aiming to be as prepared as possible once the Lucas Oil ASCS National Tour season heats up beginning next month. The season-opening event in Texas was canceled because of weather last weekend, giving Price the opportunity to stay in California and continue racing with the World of Outlaws NOS Energy Drink Sprint Car Series. Press Releases 3/19

Grant Anderson)Warrnambool's Premier Speedway is rated by Grant Anderson as one of his favourite tracks, and in last Saturday night's final round of the Eureka Garages & Sheds Sprintcar Series there, he managed to add to his 2018-19 season podium tally. Press Releases 3/19

Bobby Daly)With a wealth of support behind him from his team, family and sponsors, Bobby Daly has experienced a season to remember, with his most recent highlight being a runner-up finish in the overall Eureka Garages & Sheds Sprintcar Series point standings. Press Releases 3/19

Rhys Baxter)Since teaming up at the beginning of the 2017-18 season, 410 Sprintcar driver Rhys Baxter and car ownerKevin Schembri are proving to be a combination worth watching, with the duo now challenging for regular top-five results. It was back in 2016 that Baxter initially met Schembri while racing Wingless Sprints aboard both his own car and Andrew Chivell's, with his five seasons with the class being highlighted by a pair of top-10 results in the 2013 and 2016 Australian Championships. Press Releases 3/19

Cole Macedo)Making his third and fourth career starts with the World of Outlaws NOS Energy Drink Sprint Car Series this past weekend, Lemoore's Cole Macedo proceeded to make his first ever feature start with the "Greatest Show on Dirt" at the Stockton Dirt Track Saturday finale. Macedo had made his initial World of Outlaws starts recently at the Dirt Track at Las Vegas Motor Speedway but was back at more familiar confines starting off at Silver Dollar Speedway in Chico Friday. Press Releases 3/19

Perris Auto Speedway CA)The more things change, the more they stay the same. The first part of that saying can be proved very true when it comes to short track auto racing in the Southwest. Over the last quarter of a century, many tracks have closed and others have seen a revolving door of promoters. One thing that has remained a constant since 1996 is that Perris Auto Speedway has been run under the banner of Oval Entertainment and the Kazarian family since day one. Now, Oval Entertainment President Don Kazarian is pleased to announce that he has signed a 20-year lease extension for the popular dirt track to remain open on the SoCal Fair and Event Center.Press Releases 3/19

Blake Hahn)Salvaging a weekend that was scheduled to see action at the Devil's Bowl Speedway, Blake Hahn adjusted his schedule to I-30 Speedway in Little Rock, Ark. for a chance to shake down his DriveWFX.com No. 52 where the result was a third-place finish. "We were really happy with the car. We've made a few small changes over the off-season that seemed to make the car a little more responsive. I was really looking forward to racing at Devil's Bowl, but it was still a good weekend getting to race at I-30," commented Hahn.Press Releases 3/19

BAPS Motor Speedway PA)Opening Day At BAPS This Saturday, March 23 BAPS Motor Speedway opens the 2019 racing this Saturday, March 23, with the BAPS Super Sportsman and the Central PA Legends. In addition to a full racing program for the Sportsman & Legends, there will also be a practice session for the Late Models & Street Stocks. Practice sessions will be offered to Late Models & Street Stocks at the end of hot laps, again after heats and then for an hour after the completion of the Legends feature. Sat., March 23 Times Gates: 2PM Grandstands: 3PM Drivers Meeting: 3:30PM Heats: 5PM Sat., March 23 Fees General Admission: $14 Seniors: $12 Students: $5 12 & Under: FREE! Pit Pass: $30 3/19
3:40pm
PRESS....
Monday March 18th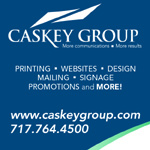 Officeholders are the agents of the people, not their masters. Grover Cleveland
9:15pm
PRESS....
3:25pm
RESULTS....
I-30 Speedway AR)Sam Hafertepe Jr, Tim Crawley, Blake Hahn, Seth Bergman, Jordon Mallett. 3/18

POWRi BCRA)Friday night at The Dirt Track at Kern County, Chase Johnson grabbed the race lead on the third lap and never looked back as he claimed the POWRi BCRA Lucas Oil Midget Series' season opening win. Austin Liggett and Maria Cofer would lead the field to green and it would be the reigning Dirt Series Champion, Cofer grabbing the early lead as Chase Johnson would jump up into second. Race Results 3/18
PRESS....
Sunday March 17th
Your body is the direct result of what you eat as well as what you don't eat. Gloria Swanson
11:00pm
RESULTS....
PRESS....
Clinton County Motor Speedway PA)When the 2019 Clinton County Motor Speedway Banquet concludes, racers will be taking home a little extra cash next winter. Speedway management is working hard to improve the total racing experience at the fairgrounds oval. A racers point fund is one more way to thank teams for their participation at the high banked oval. Through a lot of hard off season work, five of the tracks six regular classes have a point fund sponsor secured. Management continues to speak with prospective marketing partners for all classes and other promotions expecting to make the 2019 season the best in recent memory. Central PA 3/17

POWRi)Although he's not listed as an official rookie, there is no doubting the fact that 16-year old Cannon McIntosh of Bixby, Oklahoma is one of the nation's fastest rising young guns with superstar potential. Driving for his family-owned operation, Dave Mac Motorsports, McIntosh has committed to chase to 2019 POWRi Lucas Oil National Midget Championship. Press Releases 3/17

Column)Ron Rodda has notes from Marysville CA and Tony Gualda news in From the Grandstand 3/17
2:30pm
RESULTS....
OCRS)Zach Chappell wanted a win, but veteran Wayne Johnson got the final word in a wild final lap run to the checkered Saturday in the Ameri-Flex / OCRS season opener at Red Dirt Raceway. Chappell was leading on the final lap when he spun on the backstretch in lapped traffic. Johnson and Layne Himebaugh drove past and Johnson raced on to his first Drive Shafts, Inc. OCRS A feature victory. Surprisingly, Chappell avoided bringing out a yellow flag by staying on the gas and racing around Himebaugh to finish second. OCRS 3/17

SE Sprint Cars)Saturdays Brisk Southeastern Sprint Car Series wingless sprint car show at All-Tech Raceway near Lake City, Florida was won by Shane Butler in the 19. 3/17

World of Outlaws)Blue and orange confetti painted the landscape around Logan Schuchart, who climbed to the top wing of his Shark Racing Sprint Car with the checkered flag in one hand and other pointing to the sky. Thousands of fans cheered, and the first-time winner this season, Schuchart, cheered with them in Victory Lane at the Stockton Dirt Track. DIRT/World of Outlaws 3/17
2:30am
RESULTS....
Wheatley Chronicles)Wayne Johnson won Saturdays 30-lap season-opening Oil Capital Racing Series (OCRS) feature event atop the 1/4-mile Red Dirt Raceway in Meeker, OK. Complete The Wheatley Chronicles Recap at http://sprintcarmania.com. 3/17

USCS)Matt Covington from Glenpool, OK won the 30-lap USCS Outlaw Thunder Tour presented by K&N Filters main event at Hattiesburg Speedway by inches over USCS points leader Tony Stewart in an as exciting finish.USCS Outlaw Thunder Tour presented by K&N Filters Winged Sprint Cars on Saturday, March 16, 2019 at Hattiesburg Speedway results: FireAde A-Main - (30 Laps) 1. 95-Matt Covington[3] ; 2. 14-Tony Stewart[4] ; 3. 10m-Morgan Turpen[5] ; 4. 01-Shane Morgan[1] ; 5. 29-Jeff Oliver[9] ; 6. m1-Mark Smith[2] ; 7. 1s-Joey Schmidt[12] ; 8. 28f-Davie Franek[11] ; 9. 18j-RJ Jacobs[17] ; 10. 17cb-Corey Bailey[22] ; 11. 51-Bobby Tersillo[13] ; 12. 93-Jake Knight[10] ; 13. 07-Johnny Bridges[15] ; 14. 52-Cody Karl[14] ; 15. 44c-Chase Howard[18] ; 16. 17b-Shelby Brown[20] ; 17. 44-Ronny Howard[19] ; 18. 9-Edward Guidry[25] ; 19. 10k-Dewayne White[7] ; 20. 4-Danny Smith[8] ; 21. 10-Terry Gray[6] ; 22. 88-Brandon Blenden[23] ; 23. 38-Tony Agin[16] ; 24. 77-Michael Santangelo[24] ; 25. 28-Jeff Willingham[21]USCS3/17

Marysville Raceway CA)1 #21 Michael Ing 2 #93 Stephen Ingraham 3 #7H Jake Haulot 4 #7B Brent Bjork 5 #71L Korey Lovell 6 #71JR Alec Justeson 7 #49 Mike Monahan 8 #15 Pat Harvey Jr. 9 #16 Jimmy Steward 10 #95 Brandon Dozier 11 #92 Andy Forsberg 12 #00 Steel Powell 13 #15S Ryan Souza 14 #12J John Clark 15 #34 Adam Walters 16 #6W Billy Wallace 3/17

USAC SW)Taking the lead from Troy Rutherford on lap seven, Chase Johnson (Penngrove, CA) claimed the 30-lap USAC West Coast Sprint Car feature at Bakersfield Speedway. Racing the family owned #24 Johnny Franklin Mufflers / PitStop USA Maxim, Johnson became the 51st driver to earn a series victory. Starting sixth, Chase earned his first career $1,500 USAC West Coast Sprint Car win over Austin Liggett, "Hollywood" Danny Faria Jr., J.J. Ringo, and Tristan Guardino. Liggett earned hard charger honors wth a twenty-first to second place run.USAC 3/17

World of Outlaws)Stockton CA...1 #1S Logan Schuchart 2 #49 Brad Sweet 3 #7S Tim Kaeding 4 #87 Aaron Reutzel 5 #88N DJ Netto 6 #24 Rico Abreu 7 #2 Carson Macedo 8 #15 Donny Schatz 9 #26 Cory Eliason 10 #17 Sheldon Haudenschild 11 #83 Daryn Pittman 12 #O Bud Kaeding 13 #5 Shane Stewart 14 #17W Shane Golobic 15 #41 David Gravel 16 #18 Ian Madsen 17 #71P Parker Price-Miller 18 #45 Chad Kemenah 19 #29 Willie Croft 20 #9 Kasey Kahne 21 #5H Cole Macedo 22 #1A Jacob Allen 23 #41S Dominic Scelzi 24 #4 Terry McCarl 25 #21 Brian Brown3/17
PRESS....
Twin Cities Raceway Park IN)Races were cancelled Saturday. 3/17

USCS)Sammy Swindell: Can He Do It?...Will he do it? A late entry into THIS SUNDAY's USCS Frostbuster 150 is three-time World of Outlaws Sprint Car Champion and Mid-South racing legend Sammy Swindell. from Germantown, Tebnnessee. Swindell who has been one of the top sprint car drivers of all times through a long and storied career will be looking to extend his annual win streak to 49 consecutive years that he has won a sprint car main event. His first win of 2019 will put him at the 49 year-in-a-row figure. Will we witness it at "The MAG" on Sunday afternoon at 3pm?....Just be there! For more race info www.magnoliadirt.com 3/17

USCS)The USCS Outlaw Thunder Tour presented by K&N Filters winged sprint cars invade Magnolia Motor Speedway this Sunday afternoon, March 17that 3:00 pm to headline the 11th annual "Frost Buster 150" presented by FireAde. The event will be the 10th round of a 60+ race schedule for the series twenty-third season of competition. The www.RockAuto.com USCS 600 Sprint Car Series winged mini sprints join the USCS sprint cars to create a USCS double-header on Sunday afternoon. USCS 3/17
Saturday March 16th

When I read about the evils of drinking, I gave up reading. Henny Youngman
4:00pm
RESULTS....
Lincoln Speedway PA)Danny Dietrich wowed the crowd with a last lap pass to earn his first victory of the young 2019 season. Dietrich started on the pole of the 25-lap feature, but this was not an easy win for the pole-sitter. Dietrich shared the front row with Anthony Macri. Danny got a good jump on the start and took the high side around the track, but Landon Myers spun out in turn one setting up the field for a complete restart. Central PA3/16
Western Springs Speedway NZ)Sprint Car...1 #3NZ Michael Pickens 2 #2NZ Jamie Larsen 3 #22A Dean Brindle 4 #88M Keaton Dahm 5 #6M James Dahm 6 #71A Jamie McDonald 7 #62A Dave Witton 8 #19P Kendall Savage 9 #78C Matthew Leversedge 10 #51K Brad Curtin 11 #29A Jeremy Halpin 12 #10A Glen Torpey 13 #76A Steve Smith 14 #37A Robert Corscadden 15 #51M Rodney Wood 16 #78A Daniel Eggleton 17 #21A Kerry Brocas 18 #7A Dion Kendall 19 #35A Rob Vazey 20 #23A Adam Child....Midget...1 #1NZ Michael Pickens 2 #27A Hayden Williams 3 #91A Hayden Guptill 4 #2NZ Brad Mosen 5 #3NZ Shayne Alach 6 #79A Max Guildford 7 #6A Jayden Worthington 8 #25A Scott Buckley 9 #33A James Cossey 10 #7A Travis Buckley 11 #95S Duane Hickman 12 #5A Brock Maskovich 13 #4A Kaleb Currie 14 #93A Kayne Buck 15 #19A Mark Mullins 16 #58A Joe Malone 17 #43A Matthew Watson 18 #71A Breyton Davison 19 #8A Caleb Antonio-Rooney 20 #41A Ricky McGough 3/16
Premier Speedway AU)1 #V52 Darren Mollenoyux 2 #V35 Jamie Veal 3 #V37 Grant Anderson 4 #V40 Rusty Hickman 5 #VA81 Rhys Baxter 6 #V70 John Vogels 7 #V68 Brett Milburn 8 #Q83 Steve Lines 9 #W17 James McFadden 10 #V67 Luke Walker 11 #V88 David Murcott 12 #V77 Brayden Parr 13 #V22 Terry Rankin 14 #V8 Bobby Daly 15 #V17 Dennis Jones 16 #VA71 Corey McCullagh 17 #S13 Brock Hallett 18 #S15 Aidan Hall
Murray Bridge Speedway AU)1 #S97 Matt Egel 2 #Q7 Robbie Farr 3 #S19 Brad Keller 4 #S40 Marcus Dumesny 5 #S63 Ryan Jones 6 #S27 Daniel Pestka 7 #S81 Luke Dillon 8 #S7 Hayden Pitt 9 #S78 Keke Falland 10 #S4 Lisa Walker 11 #S33 Mark Caruso 12 #S83 Shannon Barry 13 #S10 Steven Caruso 14 #S98 Stephen Taylor 15 #S28 Brett Sullivan 16 #D3 Ben Atkinson Jnr 17 #S5 Tregan Gates 18 #S41 Adrian Cottrell 19 #S54 Nick Rachwal 20 #NS4 Brayden Cooley
Kalgoorlie AU)1 #W60 Kaiden Manders 2 #V44 Tim Van Ginneken 3 #42wx Ben Butcher 4 #SA44 Daniel Evans 5 #W97 Mitchell Wormall 6 #W25 Taylor Milling 7 #24wx Sam Borlini 8 #90wx Daniel Keen 9 #30w Jamie Landrigan 10 #W66 Rob Watson Jnr 11 #81wx Jacob Potts 12 #12wx Ray Leonard 13 #9wx Steve Adley 14 #W79 Tom Hooper 15 #W83 Daniel Hartigan 16 #W14 Callem Sweetman 17 #W80 James Inglis 18 #16wx Matthew Iwanow 19 #9w Aj Nash 3/16
CRASH PAD)Make crashing better by putting The CRASH PAD in your seat ...before not after. No one plans to crash but STUFF HAPPENS. This simple seat insert is THE BEST way to reduce spinal compression forces in a crash. If there was something better, we'd use it !! Race Smart. Race Ready. FREE Shipping at www.802solutions.com/crash-pad-products/ 3/16
2:50am
RESULTS....
Friday March 15th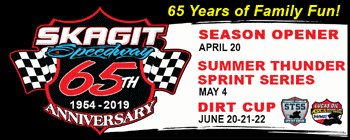 My life is part humor, part roses, part thorns. Bret Michaels
8:30pm
PRESS....
Thursday March 14th

Can you imagine if Babe Ruth had had Twitter? Billy Crystal
11:30pm
PRESS....
Wednesday March 13th

I was a dog in a past life. Really. I'll be walking down the street and dogs will do a sort of double take. Like, Hey, I know him. William H. Macy
11:40pm
PRESS....
Tuesday March 12th

Certain things in life are more important than the usual crap that everyone strives for. James Taylor
10:40pm
PRESS....
Monday March 11th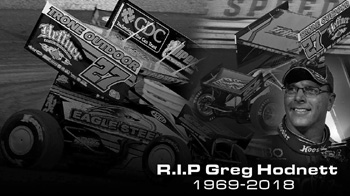 To give real service you must add something which cannot be bought or measured with money, and that is sincerity and integrity. Douglas Adams
10:00pm
PRESS....
Sunday March 10th
Be a dreamer. If you don't know how to dream, you're dead. Jim Valvano
5:00pm
RESULTS....
USCS)Sunbury, Pennsylvania's Mark Smith raced from his inside 2nd row starting spot past Friday night's feature winner, Morgan Turpen from Cordova. Tennessee on lap four and survived two caution periods to park his M1 sprint car in the RockAuto.com USCS Victory Lane for the 3rd time this season. Highlands,Texas sprint car veteran, Channin Tankersley followed Smith in the runner-up spot. Tony Stewart from Columbus, Indiana put on a show charging back to front after getting in a tangle with a lapped car on lap 10 while in second place. USCS 3/10
USAC)Cannon McIntosh's grace under fire was demonstrated literally and figuratively in a multitude of manners Saturday night in the fourth annual "Shamrock Classic" at the Southern Illinois Center. A fuel leak during hot laps ignited the Bixby, Oklahoma driver's ride, giving the 16-year-old driver a scare he won't soon forget and forcing him to borrow crew member Grady Chandler's firesuit for the remainder of the night as a replacement. USAC 3/10
World of Outlaws)Last year's World of Outlaws NOS® Energy Drink Sprint Car Series Kevin Gobrecht Rookie of the Year Ian Madsen claims one of his weak points has been short tracks. Not anymore. The Australian won everything there was to win at the third-mile Thunderbowl Raceway in Tulare, Calif., Saturday night. Not even a couple of rain showers could slow him down.DIRT/World of Outlaws 3/10
Len Sammons Productions)Erick Rudolph raced to victory Saturday night before a large and enthusiastic crowd in the Indoor Auto Racing Series Three Quarter (TQ} Midget 40-lap feature inside the Syracuse Exposition Center on the New York State Fairgrounds. Race Results 3/10
PRESS....
Dirtstation has just released more oldies but goodies to the 200+ DVD collection sets available for purchase on the Dirstation ebay store. These new dirt racing releases are from Williams Grove, Hagerstown and Winchester Speedways from the 1989 - 1998. Check them out today at: http://bit.ly/SPVDirtStation 3/10

Racing Fans Worldwide)Racing Fans Worldwide an organization that has you in mind to bring a focus of only what is important to fans like yourself. This is " Racing Fans Worldwide" with savings, prizes, discounts from businesses , tracks , acting as your spokes person to what is on your mind in dealing with issues of importance. You now become the persons who decide the winners of drivers awards , promoters , media person polls, of the year in many different sanctioning groupsPress Releases 3/10
3:30am
RESULTS....
Kings of Thunder)Tulare CA...1 #37 Mitchell Faccinto 2 #88N DJ Netto 3 #56 Justyn Cox 4 #01 Shane Golobic 5 #21x Cole Macedo 6 #67V Danny Faria 7 #7 Steven Kent 8 #67G Grant Duinkerken 9 #12P Scott Parker 10 #7Z Zane Blanchard 11 #5 Cole Danell 12 #88V Jace Vanderweerd 13 #5H Jesse Love 14 #28 Nathan Rolfe 15 #9S Landon Hurst 16 #09S Geoffrey Strole 17 #33W Tucker Worth 18 #10 Mathew Moles 19 #21P Robbie Price 20 #24 Rico Abreu 21 #0 Bud Kaeding 22 #99T Tanner Boul 3/10

World of Outlaws)Tulare CA...Feature Finish: 1 #18 Ian Madsen 2 #83 Daryn Pittman 3 #17 Sheldon Haudenschild 4 #49 Brad Sweet 5 #49X Tim Shaffer 6 #5 Shane Stewart 7 #26 Cory Eliason 8 #2 Carson Macedo 9 #87 Aaron Reutzel 10 #15 Donny Schatz 11 #O Bud Kaeding 12 #41 David Gravel 13 #9 Kasey Kahne 14 #4 Terry McCarl 15 #41S Dominic Scelzi 16 #45 Chad Kemenah 17 #68 Chase Johnson 18 #19 Brent Marks 19 #1S Logan Schuchart 20 #7S Tim Kaeding 21 #17W Shane Golobic 22 #83JR Giovanni Scelzi 23 #88N DJ Netto 24 #11K Kraig Kinser 25 #16A Colby Copeland 3/10

USAC Midgets)USAC NOS ENERGY DRINK MIDGET NATIONAL CHAMPIONSHIP RACE RESULTS: March 9, 2019 - Southern Illinois Center - Du Quoin, Illinois - 4th Annual "Shamrock Classic" FEATURE: (50 laps, starting position in parentheses) 1. Cannon McIntosh (1), 2. Chad Boat (15), 3. Zeb Wise (4), 4. Zach Daum (6), 5. Justin Grant (13), 6. Logan Seavey (2), 7. Tyler Courtney (21), 8. Andrew Layser (3), 9. Chris Windom (18), 10. Tucker Klaasmeyer (11)3/10

USAC CRA/SW)Securing the lead for good on lap 25, Hunter Schuerenberg (Sikeston, MO) claimed the Saturday night finale of the "Spring Showcase" at Canyon Speedway Park. Driving the Reinbold / Underwood Motorsports #19 AME Electrical / Mesilla Valley Transportation Spike, Hunter earned his first $3,000 USAC/CRA and USAC SouthWest Sprint Car win over Damion Gardner, Brody Roa, R.J. Johnson, and Jason McDougal. McDougal was the night's hard charger with a thirteenth to fifth place run.USAC 3/10

Civil War)Marysville CA...1 #92 Andy Forsberg 2 #88 Koen Shaw 3 #38B Blake Carrick 4 #24 Justin Henry 5 #15 Pat Harvey Jr. 3/10

USCS)Chatham LA...1 #M1 Mark Smith 2 #17g Channin Tankersley 3 #14 Tony Stewart 4 #28f Davie Franek 5 #4 Danny Smith 6 #10m Morgan Turpen 7 #6 Dustin Gates 8 #10 Terry Gray 9 #51 Bobby Tersillo 10 #5J Jamie Ball 11 #38 Tony Agin 12 #07 Johnny Bridges 13 #49 Mallie Shuster 14 #28 Jeff Williingham 15 #11 Jim Shuster 16 #17b Shelby Brown 17 #16c Cody Tankersley 18 #8a Alan Myers 3/10

ASCS Elite)Races for Saturday, March 9 at Big O Speedway with the ASCS Elite Non-Wing Series presented by Abilene Powder Coating were canceled. Showers during the morning at Big O Speedway put the wash on Saturday's events according to the track. Next for the ASCS Elite Non-Wing Series presented by Abilene Powder Coating will be Superbowl Speedway in Greenville, Texas on Saturday, March 23. 3/10
Saturday March 9th
The main part of intellectual education is not the acquisition of facts, but learning how to make facts live. Oliver Wendell Holmes, Jr.
1:25pm
RESULTS....
Archerfield Speedway AU)1 #23 Lachlan McHugh 2 #17 Luke Oldfield 3 #59 Kevin Titman 4 #5 Peter Lack 5 #12 Ben Hilder 6 #16 Bryan Mann 7 #2 Brent Kratzmann 8 #90 Anthony Lambert 9 #N56 Michael Saller 10 #28 Allan Woods 11 #34 Kevin Britten 12 #96 Paul Rooks 13 #88 Ryan McNamara 14 #10 Adam Butler 15 #57 Brandon Haynes 16 #A1 Andrew Scheuerle 17 #78 Andrew Corbet 18 #Q22 Cody Maroske 3/9

Nyora Nationals AU)wingless sprints...1 #VX42 Jason Andreatta 2 #VX12 Matt Mills 3 #V83 Todd Hobson 4 #VX20 Brad Foster 5 #VX10 Steven Loader 6 #V16 Wayne Logue 7 #VX64 Brett Pope 8 #VX89 Christopher Temby 9 #V52 Scott Irons 10 #V37 Ben Grey 11 #V24 Michael Lovell 12 #V93 Travis Millar 13 #V89 Ebony Hobson 14 #V27 Bree Hall 15 #V76 Kelvin Johnson 16 #V84 Jake Warren 17 #V65 Sean Kuypers 18 #VX21 Ricky Mills 19 #VX6 Daryl Logue 20 #VX13 James Mills 3/9

Carrick Speedway AU)1#T 48 Nick Penno 2 #T 25 Jamie Bricknell 3 #T 29 Jason Dawkins 4 #T 8 Curt Smith 5 #T 16 Adam Alexander 6 #TA 29 Robin Dawkins 7 #T 45 Kurt Luttrell 8 #T 9 Chris Johns 9 #T 2 Scott Bissett 10 #T 36 Terry Watson 11 #T 62 Tate Frost 12 #T 32 Nick Anderson 3/9

Valvoline Raceway AU)Speedcars....1 #V97 Kaidon Brown 2 #N14 Nathan Smee 3 #N51 Michael Stewart 4 #N78 Troy Jenkins 5 #N97 Matthew Jackson 6 #N63 Mitch Brien 7 #N57 Harley Smee 8 #N36 Stephen Birkett 9 #N62 Dan Biner 10 #N58 Jeremy Evans 11 #N15 DJ Raw 12 #N26 Jamie Hall 13 #N74 Alan Day 14 #N8 Cameron Malouf 15 #N42 Warren Ferguson 16 #N43 Glen Arnold 17 #N76 Bob Jackson 18 #N67 Gavin Wesble 19 #N28 Dean Meadows 20 #N41 Jordan Mackay 21 #N70 Matt Smith 22 #N40 Dave Lambert 23 #N34 Jeffrey Burns 3/9

Len Sammons Productions)Justin Bonsignore of Holtsville, Long Island, NY bested Erick Rudolph of Ransomville, NY Friday night in the 40-lap Three Quarter (TQ) Midget Indoor Auto Racing Series Fueled By VP Race Fuels in a titanic fight to the finish between two past Series champions locked in mortal combat. Race Results 3/9
PRESS....
Waynesfield Raceway Park OH)The dates have been set for the special racing events at Waynesfield Raceway Park for 2019. There are currently four races planned with the possibility of more, with three of the races honoring Ohio racing legends and National Sprint Car Hall of Fame inductees Rick Ferkel, Jack Hewitt and Bob Hampshire. There are four confirmed racing dates in 2019 at "The Field" - Sunday, April 7, Wednesday, July 3, Friday, Aug. 2. New Waynesfield Promoter Shane Helms - a former sprint car driver and successful businessman - said he is working on a unique event for sometime in October, eyeing Oct. 12. Press Releases 3/9

CRASH PAD)What's under Your Butt ? Reduce your risk of spinal injury with this simple seat insert. Tested Best to reduce spinal compression forces in a crash. Don't race without it. Absorb impact. Race Smart. Race Ready. FREE Shipping at www.802solutions.com/crash-pad-products/ 3/9
2:00am
RESULTS....
ASCS Elite)Rare to see a first for Kevin Ramey, but Friday night at Heart O' Texas Speedway's Gordon Woolley Classic was just that as the pilot of the Iron Dome Motorsports entry snagged his first career victory with the ASCS Elite Non-Wing Series presented by Abilene Powder Coating over a field of 32 entries. ASCS 3/9

USAC CRA/SW)Taking the lead from Brody Roa on the second lap, Josh Hodges (Tijeras, NM) led the rest of the way to win the opening night of the "Spring Showcase" at Canyon Speedway Park. Driving the family owned #74X Jackson Compaction / Parts Plus Maxim, Hodges earned the $3,000 USAC/CRA and USAC SouthWest Sprint Car triumph. Roa, Isaac Chapple, R.J. Johnson, and Jake Swanson rounded out the top-five drivers. Before the main event, several cars were penalized for reporting late to staging and Hodges was the night's hard charger.USAC 3/9

USCS)Two-time USCS Outlaw Thunder Tour National Champion, Morgan Turpen from Cordova, TN raced from her K&N Filters Pole Position into the RockAuto.com USCS Victory Lane at the end of the 25-lap FireAde A-Main at Chatham Speedway on Friday night. Turpen delighted the huge crowd by holding off the hard charging duo of Columbus, Indiana's Tony Stewart, who finished in the runner-up spot. Two-time 2019 USCS winner Mark Smith from Sunbury, Pennsylvania trailed Stewart in the K&N Filters Podium Award third place.USCS3/9
Friday March 8th
The main part of intellectual education is not the acquisition of facts, but learning how to make facts live. Oliver Wendell Holmes, Jr.
9:45pm
PRESS....
1:20pm
PRESS....
Lincoln Speedway PA)Racing for Saturday (3/9) is postponed to Sunday (3/10). After some morning rain the temps on Sunday afternoon are forecasted to be in the 60s. Open Practice is still on the schedule after the 410 feature. Gates open at 12pm racing at 2pm. 3/8

World of Outlaws)Mother Nature has been cruel this week, so we've had to cancel tonight's event at Tulare Thunderbowl Raceway CA. We're still on for tomorrow, though. 3/8
Thursday March 7th
My strength is coming up with two outs in the last of the ninth. Michael Eisner
11:00pm
PRESS....
2:20pm
PRESS....
Wednesday March 6th
I never worry about the problem. I worry about the solution. Shaquille O'Neal
8:30pm
PRESS....
Tuesday March 5th
History will be kind to me for I intend to write it. Winston Churchill
9:30pm
PRESS....
Krikke Motorsports)A runner-up finish in last Saturday night's Krikke Boys Shootout at Bunbury Speedway signalled the end of the 2018-19 season for the Krikke Motorsport team and their driver Kerry Madsen, with the combination having experienced a positive debut season together. While their campaign wasn't without its challenges, it was their consistency that saw the Bunbury, Western Australia-based team and Madsen achieve numerous positive results, as evident in last Saturday night's Krikke Boys Shootout, which is one of the most important events on the team's calendar. Press Releases 3/5

Charles Hunter)Having never before visited the top step of the podium during his 19 seasons in 410 Sprintcars, Charles Hunter recently decided that he would need to set his focus solely on his racing if he wanted to achieve new milestones, which is exactly what he did last Saturday night. Press Releases 3/5

Ohsweken Speedway ONT)Ohsweken Speedway is excited to reveal its 2019 Friday Night Excitement schedule. The 2019 campaign at Canada's best 3/8-mile dirt track is slated for 20 nights of thrilling racing. Regular Friday Night Excitement shows will feature four weekly divisions for the second straight campaign, including the Kool Kidz-Corr/Pak 360 Sprint Cars, Strickland's GMC Crate Sprint Car, Middleport Mechanical Thunder Stocks and HRW Automotive Mini Stocks as well as several special events. Race time is 7:30pm for all events. Press Releases 3/5

Thunderbowl Speedway CA)The inaugural World of Outlaws NOS Energy Drink Sprint Car Series event at Merle Stone Chevrolet Thunderbowl Raceway occurred in September of 2003 when 20-time series champion Steve Kinser scored victory over Tim Shaffer and Jason Meyers. Press Releases 3/5

CRSA)The first green flag of the 2019 SuperGen Products/Champion Power Equipment CRSA season is just about three months away and when the field charges into turn number one for the first time, the series will welcome a new sponsor. Midstate Basement Authorities, Inc. and owner Eric Leach will join the CRSA family in 2019. In addition to serving as an associate sponsor of the series, Midstate Basement Authorities will also sponsor the second round of the series at the Weedsport Speedway on Memorial Day (May 27th) and an award handed out at each event. That award will be the Midstate Basement Authorities Last One Standing Award, helping teams out of the basement. The award will be given to the last driver still running at the end of the nights A-Main event. Press Releases 3/5

USAC)Who's going all-in this Saturday night when a hefty payday of $50,000 is up for grabs in the USAC NOS Energy Drink National Midget Factory Canopies "Shamrock Classic" at the Southern Illinois Center in Du Quoin? The Factory Canopies "Pot of Gold" Challenge will provide the top-four drivers in passing points throughout the night an opportunity to pad their wallets with a $50,000 bonus. Following the heats and qualifying races, if the top driver in passing points turns down the chance to go to the tail and go for $50K, the option will go on to the next driver and so on, but only the first four in passing points have that option. USAC 3/5

Greg Wilson)Greg Wilson has an elbows-up type of race track on tap this weekend when he will visit Thunderbowl Raceway with the World of Outlaws NOS Energy Drink Sprint Car Series. The oval in Tulare, Calif., hosts 'The Greatest Show on Dirt' this Friday and Saturday. It's a bullring where Wilson and his Hercules Tires, DNC Hydraulics, Ohio Logistics and Gear Off Road sponsored team scored a career-best outing in 2017. Press Releases 3/5

Robbie Price)Robbie Price accomplished his objective last week when he kicked off his season competing at the FVP Platinum Battery Showdown presented by Star Nursery. "I started the year in Las Vegas a couple of years ago," he said. "I knew it'd be rough being at a big track with the best in the business. We came to make some laps and get some notes to see how things are rolling. It was all about learning the cars this year and how everything changes. Nothing is ever the same from year to year. I think we were pretty good." Press Releases 3/5

Parker Price-Miller)Making his way out West with the World of Outlaws, Parker Price-Miller would finish 13th during Wednesday night's opener before taking a wild ride in the opening laps of Thursday night's feature event. "Man, we took a big one on Thursday night in a racing deal but fortunately we are safe and able to race on this week," Parker Price-Miller said. Press Releases 3/5

Terry McCarl)Making the trip West to meet up with the World of Outlaws NOS Energy Drink Sprint Car Series, Terry McCarl and Destiny Motorsports are excited to kick off the California swing this week following two-nights in Las Vegas, NV. "Las Vegas, NV is a tough show year after year," Terry McCarl said. "Lots of great teams were watching the feature, including us the first night. Thursday night I thought it would take rubber earlier than it did and ended up killing our tires early and I ultimately pulled off." Press Releases 3/5

Kyle Larson Racing)Lucas Oil Products is proud to announce they have signed on to be an official partner of Kyle Larson Racing. The deal will support KLR drivers Kyle Larson and Carson Macedo for the 2019 season as they compete in the 2019 World of Outlaws series and several other crown jewel events throughout the year. After a few weeks of preliminary talks, Lucas Oil Director of Motorsports Tom Bogner was pleased to make the partnership official. "Everyone at Lucas Oil is very excited to welcome Kyle Larson Racing into the Lucas Oil family," said Bogner. "Kyle is one of the most talented drivers on both pavement and dirt and has a very strong following while Carson is one of the most exciting up-and-coming drivers in the dirt racing world right now. We are proud to be a part of their program and can't wait to see them in victory lane many times this year." Press Releases 3/5

CJB Motorsports)Gambling is a win or lose proposition.......... much like the world of motorsports. Once a year, these two themes get tied together as the World of Outlaws NOS Energy Drink Sprint Car Series invades the gambling capital of the world, Las Vegas, Nevada. Press Releases 3/5

BAPS Motor Speedway PA)Saturday, March 23, BAPS Motor Speedway will host the first race of the 2019 season, headlining the BAPS Super Sportsman along with the Central PA Legends! There will also be a practice session for any Late Model and Street Stock teams who wish to fine tune their cars before opening their season at Tyson Fence Night, the following Saturday, March 30. Gates: 2PM Racing: 5PM General Admission: $14, Seniors: $12 Students: $5, Pits: $30 3/5