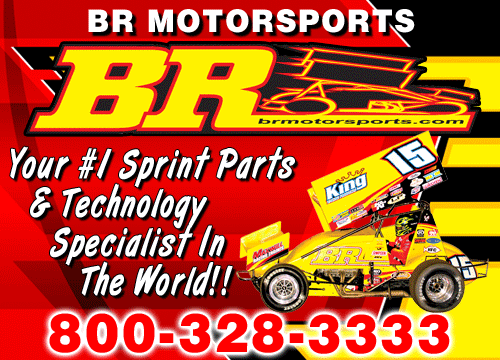 Highlights from the Arctic Cat All Star Sprint Car Circuit of Champions season opener at Bubba Raceway Park in Ocala, FL 2-5-16 All Stars You Tube
Kraig Kinser victory lane interview night 1 of Arctic Cat All Stars at Bubba Raceway Park FL 2/5 Hoseheads You Tube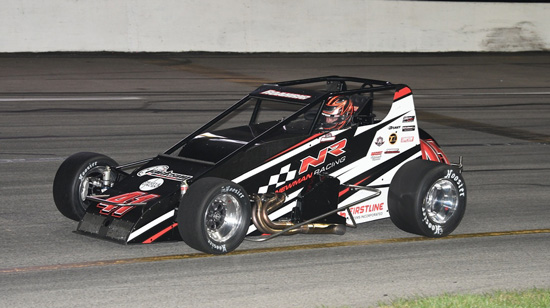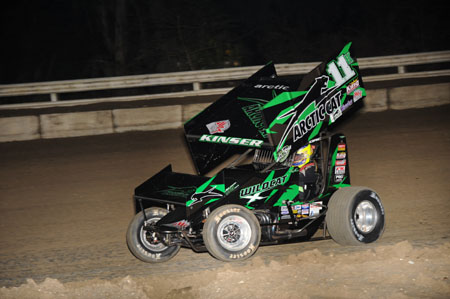 Kraig Kinser with his Dad Steve Kinser wins night 1 of Arctic Cat All Stars at Bubba Raceway Park FL 2/5 Hoseheads LIVE & Paul Arch Photo
Latest News and Race Results
If you don't see it here yet, check the Message Board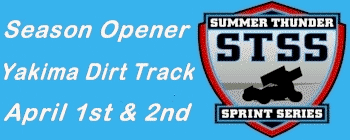 Sunday February 7th 2016

I just believe in the goodwill of people, the power of people to do something positive. Eddie Izzard
10:00pm
RESULTS....
Top Gun)All Tech Raceway FL...1 82 Matt Kurtz 2 22 Shawn Murray 3 22 Johnny Gilbertson 4 3 Dennis Misuraca 5 17c Aileen Collins-Love 6 20 Frank Carlson 7 38 Tony Agin 8 19 Keith Butler 9 02 Gene Lasker 10 3k Guy Bos 11 31 Andrew Griffen 12 55 Kurt Taylor 13 83 Mark Ruel 2/7
Sprintcar All Stars AU)In a hard fought battle last night at Horsham's Blue Ribbon Raceway Matthew Reed crossed the line first to add another feature win to his impressive resume. Only the second time back this season for the ACT49 Team Reed had a calculated drive thru traffic for 30 laps. Young Brayden Parr again showed his raw talent bringing the V71 home in 2nd and Farmer Phil Lock rounding out the top three. Race Results 2/7
PRESS....
Saturday February 6th 2016

You just can't beat the person who never gives up. Babe Ruth
4:00pm
PRESS....
All Stars)With heavy rains invading the area, and more rain on the forecast, Bubba Raceway Park and Arctic Cat All Star Circuit of Champions officials have decided to cancel Saturday night's Bubba Army Winter Nationals program at Bubba Raceway Park. There will be no rain date. All Stars 2/6
Chad Kemenah)The 2016 Sprint Car Season is quickly approaching and car owner Rob Hunter could not be more excited. The Hunter Racing Team will be at the Bubba Army Winter Nationals at the Bubba Raceway Park on Friday, February 5th and Saturday, February 6th with the Arctic Cat All Star Circuit of Champions. Press Releases2/6
SOD)Engine Pro Sprints On Dirt presented by ARP is pleased to announce that long-time sponsor Lane Automotive is returning as a Sprints On Dirt primary heat race sponsor in 2016. In addition, its Allstar Performance division, and the Comp Cams product line will once again be Sprints On Dirt contingency sponsors for 2016. Press Releases2/6
Bobby Adamson)82 year old Bobby Adamson chases burglar on foot and by car. http://www.wjhg.com/ 2/6
3:00am
RESULTS....
All Stars)For the third time in his career and for the first time since 2007, Kraig Kinser found victory lane with the Arctic Cat All Star Circuit of Champions. The Bloomington, Indiana, native scored $5,000 for his wire-to-wire triumph at Bubba Raceway Park on Friday, February 5, officially capturing the first Arctic Cat All Star Circuit of Champions win of the 2016 season. Defending All Star champion Dale Blaney finished second, followed by Greg Hodnett, Chad Kemenah and a hard charging Caleb Armstrong. All Stars2/6
Photos)Look for photos tonight from the 2016 All Stars opener at Bubba Raceway Park in Ocala FL in Hoseheads LIVE2/6
PRESS....
Friday February 5th 2016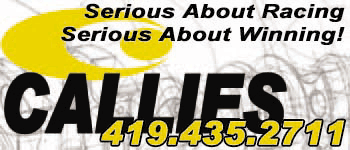 My motto was always to keep swinging. Whether I was in a slump or feeling badly or having trouble off the field, the only thing to do was keep swinging. Hank Aaron
12:30pm
RESULTS....
Valvoline Raceway AU)Michael "Slim" Pickens and Zach Daum put on a master class tonight to run first and second in the Preliminary night 20-lapper at Valvoline Raceway to kick off the Rod Bowen's Prestige Smash Repairs Australian Speedcar Championship. American Daum took the lead early in his GRD #14 Eagle in the uninterrupted main event before Kiwi champ Pickens got by in the Sirrom Racing #38 King to take the number one spot and never relinquish it. Race Results 2/5
PRESS....
World of Outlaws)World Racing Group will expand its partnership with Racing Electronics in 2016 to bring fans even closer to the racing action at World of Outlaws Craftsman Sprint Car Series, World of Outlaws Craftsman Late Model Series and Super DIRTcar Series events. Starting at the 45th Annual DIRTcar Nationals at Volusia Speedway Park in Barberville, Fla., fans will be able to listen directly to driver receiver communication, race control and the announcers for all three series, Johnny Gibson, Shane Andrews, Matt Prieur and Rick Eschelman. DIRT/World of Outlaws 2/5
CRASH PAD)- STUFF HAPPENS !!! Get some air, get over a wheel, climb the fence, flip... and a wheels down landing can Break your Back !! Stuff Happens to Anyone, Any Track, Any Car ! Put a CRASH PAD between you and a bad landing. The thicker the better. This is the material that tested BEST for the US Military to reduce Spinal Impact Forces. Don't miss out on a racing season due to a back injury! Put the Right Stuff in your seat -Before Not After-. Do It NOW. Learn more, Find a Dealer, Order Online at WWW.802solutions.com 2/5
Thursday February 4th 2016

Votes are like trees, if you are trying to build a forest. If you have more trees than you have forests, then at that point the pollsters will probably say you will win. Dan Quayle
11:00pm
PRESS....
Aaron Reutzel)Two weekends away from a racetrack was enough. Rather than sit idle for another pair of weekends, Aaron Reutzel and the Shark-powered Dissolvealloy Frac Ball Revolution /BC Fundz No. 87 Sprint Car team are making the 900-plus mile journey from Clute, TX, to Ocala, FL, for this weekend's opening pair of All Star Circuit of Champions events at Bubba Raceway Park. Press Releases2/4
Tony Stewart)Legendary drag racer Don "Snake" Prudhomme gave NBC Sports a first-hand account of Tony Stewart's accident in the Southern California sand dunes Sunday.http://nascar.nbcsports.com/ 2/4
Kevin Swindell)Few misconceptions about my injury I wanted to clear up.... https://pbs.twimg.com/ 2/4
Dirt Track Heroes)The dates and show schedule are now confirmed for the popular ninth edition of the week long Quaker Steak & Lube Dirt Track Heroes Show for 2016 and the hard-working staff is putting all of the necessary pieces in place to produce another great show. The successful event will once again begin its week long run at the Phillipsburg Mall located off Route 22 East in Phillipsburg, New Jersey beginning on Sunday, March 6th and will run through March 12th. The upcoming show encompasses the majority of the local short track scene and has become a must go to event in the local Tri-State area. Press Releases2/4
Sprintcar All Stars AU)RD 9 of the Mainline DynoLog Dynamometers All Star Series will be run this Saturday night at Blue Ribbon Raceway, Horsham. The Series heads to their 5th race track in 7 shows. "So many different tracks challenge's every driver and keeps everyone on even ground – no home track favourites for our guys!" Searle tells us. "We love to take our show to so many different tracks & fans and show off our talented drivers. Blue Ribbon Raceway is an awesome track to visit. The Committee have done so much work there over the past couple of seasons and the track has been racy." Press Releases2/4
5:00pm
PRESS....
Cody Bova)Cody Bova will begin his 2016 season at the home of "Ohio's Finest Racing." Since announcing his plans to contend for the FAST "305" Series "Rookie of the Year" title in 2016, Bova has added to his upcoming schedule and will launch his new campaign at Attica Raceway Park in Attica, Ohio, on Friday, March 25. It will be Bova's first ever appearance at the one-third mile oval. Press Releases2/4
Column)Happy New Year. It's that time of year when the World of Outlaw Sprint Car Series is gearing up for the start of their 2016 Point's Race season. The Dirt Car National's will kick off their first event of the season on February 12th, 13th and 14th, 2016, at Volusia Speedway Park, Barberville, FL. Can't wait to see the new paint schemes, their sponsors and of course the most important, the amazing Drivers and their crews. Time to check out your favorites and be ready to cheer them on.. Sprint Car Notes2/4
Tony Stewart)Tony Stewart, driver of the No. 14 Chevrolet for Stewart-Haas Racing in the NASCAR Sprint Cup Series, sustained a burst fracture of the L1 vertebra in an all-terrain vehicle accident Sunday while vacationing on the West Coast. Stewart was transported to a local hospital following the non-racing accident and promptly evaluated. He was awake and alert throughout the process and able to move all of his extremities. Stewart flew to North Carolina Tuesday evening and was admitted to a Charlotte-area hospital for further evaluation. On Wednesday, he underwent surgery. The subsequent recovery period means Stewart will miss the beginning of the Sprint Cup season. A timetable for Stewart's return has not been determined, but he is expected to make a full recovery and return to the No. 14 Chevrolet in 2016. Plans for an interim driver have not been finalized. 2/4
All Stars)Due to impending weather conditions, Arctic Cat All Star Circuit of Champions and Bubba Raceway Park officials have decided to cancel the practice session scheduled for Thursday evening, February 4. Racing for Friday and Saturday night are still on as scheduled. Pit gates are scheduled to open at 10 am on Friday morning, February 5. A mandatory drivers meeting will begin at 6 pm. The first hot lap session will hit the speedway at 7 pm. Pending track conditions on Friday afternoon, a potential practice session will be conducted sometime between 2 and 5 pm. More information will be released pertaining to that practice session on Friday morning. Additional news and information regarding the Bubba Army Winter Nationals at Bubba Raceway Park, including ticket prices and schedule of events, can be found on the Web at www.bubbaracewaypark.com. Those seeking additional information regarding the Arctic Cat All Star Circuit of Champions should visit their official online home at www.allstarsprint.com. Series updates and breaking news will be posted regularly on the official Twitter account of the Arctic Cat All Star Circuit of Champions: https://twitter.com/ASCoC. Find full text results from each and every event here: www.allstarsprint.com/schedule/. Arctic Cat All Star Circuit of Champions apparel will be available at all series events in 2016, as well as available online at www.classicinkusa.com and www.fullyinjected.com. 2/4
World of Outlaws)Hello World of Outlaws Fans! We announced this week that Sears and Craftsman brand tools have made a 3-year commitment to become Title Sponsor of both the World of Outlaws Sprint Car Series and World of Outlaws Late Model Series, marking the first time that a Fortune 100 company has made such a significant investment in dirt track racing. We wanted to invite you to check out our welcome video for Craftsman and to let you know that for a very limited time we are sending fans who register at www.worldofoutlaws.com a free series decal. These won't last, so register soon! 2/4
OCRS)Dooling Machine Products is returning as title sponsor of the annual Oklahoma State Championship race for the Ameri-Flex / OCRS sprint car series. This event will once again be held at its birthplace, the Oklahoma Sports Park in Ada Oklahoma. The winner of the 10th Annual running of the OSC race will collect $2,000 with additional money added into the overall purse as well. This special event will be held on Saturday, September 10th. OCRS 2/4
Ian Madsen)A disappointing Grand Annual Sprint Car Classic led Ian Madsen and his KCP Racing team into one final weekend of action in Australia during the Australian Championship, and Madsen and company ended things on a positive note as the St. Marys, NSW driver finished ninth. Press Releases2/4
Wednesday February 3rd 2016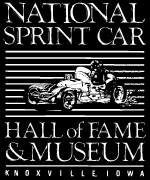 Fame is a vapor, popularity an accident, and riches take wings. Only one thing endures and that is character. Horace Greeley
11:45pm
PRESS....
1:00pm
PRESS....
ASCS Lucas Oil)When some drivers sustain injuries behind the wheel, it can take weeks, if not full seasons of racing to bounce back. For Sam Hafertepe, Jr. it took mere laps for the Sunnyvale, Texas driver to feel right at home in the Hwy. 79 Collision No. 15h. Coming back for the first time with the American Bank of Oklahoma ASCS Red River Region presented by Smiley's Racing Products at the Outlaw Motorsports Park on July 24, after breaking his arm on May 1, 2015 at the Salina Highbanks Speedway, it was as if Sam never left as the Texas ace smoked the field on a track that rough and on the top, only to follow that up the next night at the Longdale Speedway. ASCS 2/3
Thunderbowl Raceway CA)It's become an annual tradition each season to open the campaign at Merle Stone Chevrolet Thunderbowl Raceway with the World of Outlaws Craftsman Sprint Car Series invading the one-third mile clay oval. Adding to the excitement for the second straight year is the fact that the California based King of the West 410 Sprint Car Series will co-sanction each night with the "Greatest Show on Dirt" Friday & Saturday March 11 & 12. Press Releases2/3
USAC)ProSource Consultants of Grand Saline, Tex. will continue its popular "fast qualifier" awards program during the 2016 USAC National racing season, benefitting drivers who post the fastest qualifying time for events in USAC's Silver Crown, AMSOIL National Sprint Car and National Midget Series. USAC 2/3
Column)Richard Golardi has his "2016 Florida Speedweeks Preview"Florida Open Wheel 2/3
Toby Bellbowen)It was an Australian Title to remember for Toby Bellbowen after he come home a very respectable eleventh in the championship final. After starting from position sixteen, Toby made steady progress and brought the immaculate Hogs Breath Café #7 home just outside the top ten. Given the original starting list comprised of over 100 cars, this is an achievement that will long be remembered. Press Releases2/3
Tuesday February 2nd 2016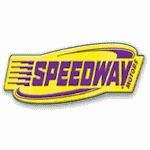 Mistakes are the portals of discovery. James Joyce
7:45pm
PRESS....
Column)Ron Rodda has notes from five weeks in Arizona From the Grandstand2/2
Placerville Speedway CA)Placerville Speedway is pleased to announce the hiring of Rio Linda's Brad Kennedy as the new track announcer for the 2016 season. "We are very happy to welcome Brad Kennedy as the announcer at Placerville Speedway", new track promoter Scott Russell states. "We feel with Brad's knowledge of the competitors, his family's history in the sport, and specifically at Placerville Speedway, combined with his youthful exuberance, that he is the right man for the job. Press Releases2/2
Valvoline Raceway AU)54 drivers have entered for the 75th Anniversary Australian Speedcar Championship presented by Rod Bowen's Prestige Smash Repairs at Sydney's Valvoline Raceway this Friday and Saturday night. The entry list includes legends, dark horses, wild cards and hot favourites from the USA, NZ, WA, ACT, QLD, VIC and of course NSW in what promises to be one of the most spectacular events in Australia in any category this year. Press Releases2/2
CRASH PAD)Back Injuries happen when vertical impact stops the bottom of your seat and the weight of your body, head and helmet compress your spine against it. These impacts last 1/10th of a second, creating a high amount of force. The CRASH PAD provides the space and even compression resistance to slow your downward motion. The increased stopping time and distance reduces the impact force and Reduces your Risk of Spinal Injury with this simple seat insert. It Can Happen To ANYONE. Be Smart, Be Prepared, Do It Now not After. Info, Dealers, Online Ordering at WWW.802solutions.com.2/2
All Stars)The stars and cars of the Arctic Cat All Star Circuit of Champions will hit the dirt for the first time in 2016 on Friday evening, February 5, in sunny north central Florida. The traveling Arctic Cat All Stars will compete in a total of four events during their Florida venture, co-headlining such programs as the 5th annual Bubba Army Winter Nationals and the 45th annual DIRTcar Nationals. All Stars 2/2
Terry McCarl)The Australian Sprintcar Classic continues to grow in stature worldwide and this year was no different. The event held at the Premier Speedway near Warnambool, Victoria, Australia attracted 124 competitors from around the world. Altoona, Iowa's Terry McCarl found himself in the middle of things again, driving Colin Bulmer and Wayne Cole's #V2 to a top ten finish. Press Releases2/2
Monday February 1st 2016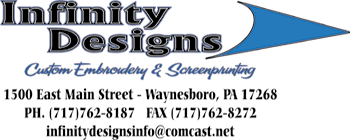 I have a tendency to kick it up. I like to rattle the cage. Lisa Marie Presley
11:00pm
PRESS....
Speedway Motors/Champion Racing Oil Central PA Sprint Cars)$21,000 in cash was paid out to the top 10 drivers in the Speedway Motors/Champion Racing Oil Central PA Sprint Cars points for the 2015 season. Along with the cash, product certificates were also sent out. Point leader Greg Hodnett received a gift certificate from Triple X Race Co for being the highest finishing Triple X driver. 2nd place Danny Dietrich received a gift certificate from Maxim Chassis for being the highest finishing Maxim driver in the points. 2015 Rookie of the Year Chase Dietz received certificates from Zemco Speed Equipment, Shaver Wesmar Gear Drives, KSE Racing Products and My Race Pass.Speedway Motors/Champion Racing Oil Central PA 2/1
ASCS Lucas Oil)The 25th year of action with the Lucas Oil American Sprint Car Series presented by the MAVTV Motorsports Network continues to get bigger and better as the MAVTV Motorsports Network in Corona, Cali. has announced its biggest year of coverage in the history of the American Sprint Car Series with 20 nights of racing set to be featured in 2016. ASCS 2/1
Penn Live)World of Outlaws ink landmark three-year deal with Sears and Craftsman Toolshttp://www.pennlive.com/2/1
NCRA/NSL 360)The GoMuddy.com National Sprint League 360 Series has established a partnership with the National Championship Racing Association, which is better known as the NCRA. The GoMuddy.com NCRA/NSL 360 Region has been created for the 2016 season with the region currently hosting 18 races at eight tracks throughout Kansas, Nebraska and Oklahoma on its tentative schedule. National Sprint League 2/1
Dale Blaney)Dale Blaney already has one victory under his belt this year as he tackles the Arctic Cat All Star Circuit of Champions 2016 season, which begins this weekend at Bubba Raceway Park in Ocala, Fla. Blaney, who guided his Mainstream Holdings, Inc., backed CH Motorsports team to a win last month during the Winter Heat Sprint Car Showdown in Arizona, is seeking his first triumph since 2012 at the unique 3/8-mile oval this Friday and Saturday. Press Releases2/1
Caleb Helms)Caleb Helms is slated to open the 2016 season this weekend at Bubba Raceway Park. Helms has signed up to compete full-time this season with the Arctic Cat All Star Circuit of Champions, which begins the new campaign on Friday and Saturday at the unique track in Ocala, Fla. Press Releases2/1
Kerry Madsen)Coming up so close in a host of big races during a 14-race tour in Australia, Kerry Madsen made the best of his final weekend of action in Australia as he parked his American Racing/Keneric Racing No. 29 machine in victory lane on Sunday night and was crowned the Australia Champion. Press Releases2/1
The Cushion)After 5 weeks of conversations, negotiations and a multitude of counter-offers to try and keep our relationship going, we are disappointed to announce that TheCushion.com no longer has the rights to post World of Outlaws video coverage like we have been doing the past few years. World Racing Group and the World of Outlaws have made an internal decision to control their content in-house and the ways in which it is distributed to the public. Press Releases2/1
Jackson Motorplex MN)Jackson Motorplex is pleased to announce multiple marketing partners committed to the recently renovated track for the 2016 season. Liquid Nitro Energy Drink will sponsor the IMCA RaceSaver 305 sprint car class with Minnesota West - Jackson Campus sponsoring the IMCA hobby stock class and Bohl's Small Engine & Marine sponsoring the IMCA sport mods. Press Releases2/1
USAC)Bryan Clauson of Noblesville, Ind. emerged as the champion of the five-race "Winter Challenge" USAC Southwest/West Coast Sprint Car series, posting three wins, a second and a fourth the past two weeks at Canyon Speedway in Peoria, Ariz. USAC 2/1
USAC)Bryan Clauson has become the sixth driver in USAC history to score 100 race victories during a career. He is also the youngest, at age 26, to reach that feat. He achieved the century mark last Friday night at Canyon Speedway in Peoria, Ariz. by winning the 30-lap USAC Southwest/West Coast Sprint Car "Winter Challenge" special event. Clauson's total includes two Silver Crown wins, 34 in National Sprint Cars, 36 in National Midgets, seven in Kenyon Midgets, nine West Coast Sprint special events, 5 regional Midgets, 3 Western Midgets, 3 CRA Sprints and a National Midget special event. USAC 2/1
Eldora Speedway OH)Sears and the Craftsman brand, America's most trusted tool brand, announced today the return of Craftsman tools as a major presence in motorsports, becoming the title sponsor of the World of Outlaws. The three-year agreement, which begins immediately, renames the two premier series in dirt track racing to the "World of Outlaws Craftsman Sprint Car Series" and "World of Outlaws Craftsman Late Model Series." This is the first time the two top series in grassroots motorsports have shared a title sponsor. Press Releases2/1
Top Gun Sprints)The Eagle Jet Top Gun Sprint Series is looking forward to making their first appearances on Sunday, February 7 at All-Tech Raceway in Lake City, Fl. This will the first time sprint cars have race at All-Tech since it has been converted to a dirt race track. Joining the Eagle Jet Top Gun Sprints will be the Hobby/Street Stocks and the V8/Pure Stocks. Hot laps at 3: pm and racing at 4:00 pm. Come out for a high speed action filled afternoon of sprint car racing. The purse for the All Tech Raceway event is $1,100.00 to win, 5 place $425.00, 10 place $300.00, 15 Place $225, 20 place $200.00 and anyone making an Honest Attempt to race but cannot start the feature will receive $50.00.2/1
Dirt Track Heroes)The defining details and preparations for the Ninth Annual Quaker Steak & Lube Dirt Track Heroes Show continue to fall into place as the management staff has been working diligently to put the many pieces in place for what is expected to be another highly successful gathering of the past, present and future of auto racing coming together under one roof in Phillipsburg, New Jersey. The show will begin on March 6th and run through March 12th with a full itinerary of interview sessions and demonstrations set to take place. Press Releases2/1
I-30 Speedway AR)A $15,000 winner's share up for grabs! What a way to kick off the 2016 season at Little Rock's I-30 Speedway. Recircle the dates on your calendar, as I-30 Speedway will make-up the 28th Annual COMP Cams Short Track Nationals presented by Hoosier Tires on March 10-12. The event postponed by inclement weather last October offers up a $15,000 winner's share with $2,000 just to start the Saturday night finale. Press Releases2/1
Oswego Speedway NY)A week after the announcement of Oswego Speedway's 2016 yearlong and 60th annual International Classic Weekend ticket packages, Speedway officials are happy to announce two separate fan appreciation savings specials in this year's weekly pricing at the 'Steel Palace.' Press Releases2/1
Aaron Reutzel)Aaron Reutzel broke out of the gates with a flurry of racing activity to kick off the 2016 racing season. The reigning Lucas Oil ASCS National champion kicked off January by competing in all five rounds of Cocopah Speedway's Winter Heat Sprint Car Showdown near Yuma, AZ, and then made the long trek to Tulsa, OK, to compete in his first Chili Bowl Midget Nationals. Press Releases2/1
Ohsweken Speedway ONT) Greg and Clinton highlight the recently-released 2016 racing schedule. Greg visits with the Janssens Brothers Racing team, 2015 HRW Mini Stock division champions. Clinton also catches up with Race Director Doug Leonard, while Nathan Ackland from Ackland Insurance and Rick Scott from Strickland's GMC both have some exciting news for race teams. Visit www.OhswekenSpeedway.com to watch the video. 2016 SEASONOhsweken Speedway's 21st season of racing begins on Friday, May 20 with Opening Night 2016. The weekly Friday night racing program will include Corr/Pak Merchandising 360 Sprint Cars, Strickland's GMC Crate Sprint Cars, Affordable Towing & Recovery Thunder Stocks, HRW Automotive Mini Stocks, and Gale's Auto Aftermarket Bombers.2/1
Montpelier Motor Speedway IN)As the Montpelier Motor Speedway enters its 113th year of racing including its 30th consecutive season opener, race fans will find an aggressive and diverse schedule featuring 28 races at the East Central Indiana 1/4 mile clay oval. Owners and Promoters, Harold and Lori Hunter, enter their 8th year of promotion and 6th year of ownership of the facility built in 1903.Press Releases2/1
Danny Holtgraver)"Downtown" Danny Holtgraver will return to the road in 2016, set to follow the entire Arctic Cat All Star Circuit of Champions schedule. Holtgraver, who finished eighth in the final series standings in 2015, will pilot the Pete Grove-owned No. 70 during his upcoming All Star campaign, rejoining crew chief Cody Jacobs for what he hopes to be a "career season." Press Releases2/1
9:00am
PRESS....
World of Outlaws)Sears® and the Craftsman® brand, America's most trusted tool brand, announced today the return of Craftsman tools as a major presence in motorsports, becoming the title sponsor of the World of Outlaws®. The three-year agreement, which begins immediately, renames the two premier series in dirt track racing to the "World of Outlaws Craftsman Sprint Car Series" and "World of Outlaws Craftsman Late Model Series." This is the first time the two top series in grassroots motorsports have shared a title sponsor. DIRT/World of Outlaws 2/1
SOD)Officials from Hoosier Tire Midwest announced today the extension of Hoosier Racing Tire as the official series tire of the Engine Pro Sprints on Dirt presented by ARP. The new agreement extends the sponsorship of the Sprint Car Series through the 2016 season. The series has released the 2016 schedule which includes thirteen race dates at seven different tracks. Included in the 2016 schedule are five two-day weekends that have become more popular with competitors and fans. Press Releases2/1
Sunday January 31st 2016
Above anything else, I hate to lose. Jackie Robinson
11:50pm
RESULTS....
Atlantic City NJ)Anthony Sesely of Matawan, N.J., became the first three time winner of the NAPA Know How Gambler's Classic Three Quarter (TQ) Midget feature Saturday night by driving what amounted to a perfect race in Atlantic City's Boardwalk Hall. "The car got better as the race went on," Sesely said. "We're back with the setup we used to win the 2013 and 2014 race. I couldn't be happier." Race Results 1/31
PRESS....
PennLive)Sprint Car driver Alan Krimes stretching the dollar again in 2016, plans 65 to 70 race schedulehttp://www.pennlive.com/ 1/31
Racing Xtravaganza)It was announced nearly one year ago when Scott Gobrecht purchased the rights to the off season racing show held annually at the York Fairgrounds. Quickly renamed Racing Xtravaganza, show organizers have pressed forward securing sponsors for the show along with filling the York Expo Center with racing vehicles, vendors and so much more. And it all takes shape this coming weekend, February 6 and 7 at the York Expo Center on the grounds of the York Fairgrounds where over 100 racing vehicles and over 40 vendors will give race fans a weekend full of pre-season racing Xcitement. One of the highlights will be the original Amoco No. 93 Kevin Gobrecht 410 Sprint car that was driven to victory at the Historical Big One at Eldora Speedway. Press Releases1/31
World of Outlaws)As the 2016 World of Outlaws Sprint Car Series prepares to kick off the season, Joey Saldana, David Gravel and Paul McMahan will be traveling to the 45th Annual DIRTcar Nationals at Volusia Speedway Park in different haulers than they did last year. DIRT/World of Outlaws 1/31
Texas Racers Auction)This weekend's annual Texas Racers/High Performance Trade Show, Auction and Swap Meet just got a bit more intriguing as Rodney Sanders Racing, Brodix Cylinder Heads and Hatfield Racing Engines will have booths and trailers at the 4 Speed Promotions event in Wichita Falls, Texas. Rodney Sanders Racing will have two trailers, one selling souvenirs with another trailer full of modified parts, chassis and accessories as the former USMTS national champion gears for yet another successful modified season. Press Releases1/31
Wichita Falls Trade Show)The final 4 Speed Promotion event for the 2015-2016 off season is this coming weekend as Greg Deatherage is set to present the annual Texas Racer's/High Performance Trade Show, Auction and Swap Meet on Friday and Saturday night, February 5-6, 2016. This event will once again take place at the MPEC Center in the JS Birdwell Arena in Wichita Falls, Texas. Press Releases1/31
Saturday January 30th 2016
If you can remember anything about the sixties, you weren't really there. Paul Kantner
11:45pm
RESULTS....
East Bay Raceway Park FL)At East Bay Raceway on Saturday night for night number two of the 40th Annual Winternationals at East Bay Raceway Park as it was Matt Kurtz repeating history from one year ago winning the Saturday night 25-lap feature event for the Eagle Jet Top Gun Sprints. Race Results 1/30
USAC)USAC SOUTHWEST/WEST COAST "Special Event" SPRINT CAR RACE RESULTS: January 30, 2016 – Peoria, Arizona – Canyon Speedway – "5th Winter Challenge" - "Arizona Speed Week"FEATURE: (30 laps) 1. Josh Hodges, 2. Bryan Clauson, 3. R.J. Johnson, 4. Charles Davis Jr., 5. Andy Reinbold, 6. Mike Martin, 7. Tom Ogle, 8. Shon Deskins, 9. Tye Mihocko, 10. Brian HosfordUSAC 1/30
Canyon Speedway Park AZ)Josh Hodges and Hunter Marriott brought the curtains down on Canyon Speedway Park's Winter Challenge 2016 with impressive drives to victory lane in Saturday night's fifth and final round of the mini-series atop the 1/3-mile clay oval. Race Results 1/30
PRESS....
FAST)FAST Series officials will take their Ohio-based sprint car series to an entire new level in 2016, introducing a revamped image and an increased schedule that will benefit drivers and fans alike. Formerly known as Fremont/Attica Sprint Title, the newly established "FAST Series" will continue the tradition of promoting highly competitive 410ci and 305ci sprint car competition in northwestern Ohio and the surrounding areas. Press Releases1/30
Trail Way Speedway PA)It all began with two racetracks. Hanover's Trail-Way Speedway and Abbottstown's Lincoln Speedway decided several years ago to try a 358 Sprint Car Shootout. It was a program that was designed to help both tracks bring in higher car counts while racing for a series payout. The Shootout Series provided an opportunity for many race teams to visit other tracks that normally weren't on their racing schedules, whether racing for points or just for fun. In an attempt to build on what these two tracks had started, Trail-Way Speedway owners and promoters Brad, Perry and Barry Hostetter have decided to extend the Shootout Series to several other Trail-Way divisions, including the 600 Micro Sprints, Street Stocks/Xtreme Stocks, Limited Stocks/Road Warriors, Hoosier Tire Mid-Atlantic 358 Sprint Cars and the return of the 410 Sprint Cars! Central PA 1/30
1:00pm
PRESS....
Port Royal Speedway PA)The 2016 Port Royal Speedway schedule of events has been released, featuring 31 total race dates, starting with the season opener for the Weikert's Livestock 410 sprints and the super late models on March 12 at 6 pm. Of course, the 410 sprints and the super lates continue to be the tracks top flight divisions, showcasing the historic oval's speed and frenzied action on a weekly basis. The rich-in-history 410 sprints are set for 29 shows at Port Royal in 2016 including appearances by USAC, the All Stars Circuit of Champions Sprints and the World of Outlaws. Central PA 1/30
Sammy Swindell)Though the record books say he is one of the most successful and seasoned sprint car racers ever, Sammy Swindell has a rookies level of excitement heading into the 2016 season. "The schedule ended up being a bit more than I thought it would be," said Swindell, driver of the Big Game Treestands, GoMuddy.com #1 machine for CJB Motorsports. "However, when you get to looking at things and the way the races fall, there were a lot of things that made sense for us. A lot of tracks had some nice weekend shows. Those two day events make it easier on the traveling side." After a successful limited schedule in 2015 with the Pennsylvania based team, the Germantown, Tenn. native will expand his slate of races to include over 60 nights of racing under the CJB banner. Press Releases1/30
Dirt Track Heroes)The tentative schedule for the popular ninth edition of the week long Quaker Steak & Lube Dirt Track Heroes Show is now confirmed for 2016. The successful event will once again begin its week long run at the Phillipsburg Mall located off Route 22 East in Phillipsburg, New Jersey. Opening day is set for Sunday, March 6th with a salute to all of the racetracks and a special emphasis on the great racing that took place at the speedways located in Nazareth, Pennsylvania, including the half mile, and both the paved and dirt versions of the larger National speedway which closed after the 2004 racing season.Press Releases1/30
Ohsweken Speedway ONT)Ticket renewals for Ohsweken Speedway's 2016 Special Events are set to begin on Monday, February 1. Ticket renewals can be processed by calling 519 717-0023 or visiting www.OhswekenSpeedway.com beginning on Monday, February 1. Anyone wishing to renew their 2015 Special Event seats must do so by Monday, February 29. Press Releases1/30
RESULTS....
Premier Speedway AU)Grand Annual Sprintcar Classic Champion Jamie Veal continued his golden run at Premier Speedway this evening when he claimed victory in the Preliminary Feature event to cap off proceedings for night two of the 2016 Lucas Oil Australian Sprintcar Championship. Race Results 1/30
Premier Speedway AU)Brooke Tatnell's chances of claiming a sixth Australian Championship took a giant leap forward on Friday night at Sungold Stadium, Premier Speedway, Warrnambool when he claimed victory after a race long battle with 2003 Champion Kerry Madsen and early pace-setter Grant Anderson. Race Results 1/30
2:30am
RESULTS....
PRESS....
USAC)Lanco's Clyde Martin Memorial Speedway in Newmanstown, Pa. has joined the 2016 USAC Pennsylvania Midget Week slate. The one-eighth-mile dirt oval will host the third night of the four-race swing, on August 16. "We are beyond excited and proud to host an event of this magnitude," said Lanco President Jim Harrington, Jr. "We know what a jewel we have in the Clyde Martin Memorial Speedway and now we can showcase our track and facility to a national touring group - the USAC National Midget Series. We can't wait until the stars of USAC take on the Clyde Martin clay." USAC 1/30
CRASH PAD)Just don't crash and there is no need to have a CRASH PAD your seat. But STUFF HAPPENS !!! Woulda, shoulda, coulda won't soften the impact that can Break Your Back if you get some air and land wheels down. Get Ready Right with the Right Stuff in your seat. Other "stuff" can collapse, bounce or go rigid in the 1/10th of a second of impact. Use what tested BEST for the US Military. Be Smart NOW. Find out What, Where, Why at www.802solutions.com.1/30
NSL)The National Sprint League has secured multiple sponsors for the 2016 campaign. Okoboji Motor Company, which is a premier vehicle dealership based in Spirit Lake, Iowa, has signed on to become the Official Pace Vehicle of the NSL. The National Sprint League also welcomes Burn Rubber for Brain Cells to the program this season. The organization spreads awareness about brain cancer and raises money for research to cure the disease. National Sprint League 1/30
Friday January 29th 2016
You can't just sit around and make protest albums all your life; eventually it comes to the point where you have to do something. Paul Kantner
3:30pm
PRESS....
Sprint Car Bandits)Even though this Series just launched 12/30/15, there are already 10 Sprint Car Bandits (SCB) events booked, and 34 sprint car teams have registered and expressed their intent on racing with the Series in 2016. Additional dates are currently being negotiated, and based on those conversations, the SCB is estimating a 12-16 date schedule at this point. Press Releases1/29
BillW Media)Getting ready for the upcoming season? Bill W Media provides a number of services, including the following… Marketing Proposals are in Power Point or printable form, and showcase your team, track or series, race fan demographics, etc. to potential marketing partners. Proposals can be customized to the needs of your team. Website Management Are you too busy to keep your website updated, especially during the season? It can be outdated in a hurry. We can manage your website, updating your latest schedules, results, news, pictures, videos or other needs, while you concentrate on your race team. If interested, shoot me an e-mail at sprntcar@hotmail.com... Bill Wright 1/29
Manzanita Speedway Reunion Party)All classes represented, Manzanita reunion for all ages and divisions. Come join the fun and visit with friends past and present. Pick up your tickets today, limited seating available $10. (602)438-0022 Pam or (623)910-7964 Kaylene March 5th 2016 at the Arizona Open Wheel Museum., 3534 E Broadway Rd Phoenix, Az 85040 2-7pm https://www.facebook.com/events/222766378064755/ 1/29
SOD)Engine Pro Sprints On Dirt presented by ARP is proud to announce that Engler Machine & Tool has agreed to continue its long-running sponsorship of Sprints On Dirt as a 2016 primary heat race sponsor. Engler Machine & Tool was started in 1980 by Tim Engler. His main line of business at that time was plastic injection molds. Over the years he has diversified very widely, leaning more towards "high performance products." Press Releases1/29
Thursday January 28th 2016
'But I don't want to go among mad people,' said Alice. 'Oh, you can't help that,' said the cat. 'We're all mad here.' Lewis Carroll
11:30pm
PRESS....
Atlantic City NJ)Andy Jankowiak and Erick Rudolph broke into uncharted territory Thursday night inside Atlantic City's Boardwalk Hall by running the first laps ever recorded by Three Quarter Midgets on the historic track in the seven second bracket. Jankowiak's 7.906 was the fastest lap while Rudolph answered with a 7.943. The top two were followed on the time charts by Jimmy Blewett, Tim Buckwalter, Rob Neely, Ryan Susice, Zane Zeiner, Justin Bonsignore, Scott Kreutter and Anthony Sesely. Ryan Preece may have just as fast but he chose to run the Thursday practices without a transponder. Thus his times were not recorded. Press Releases1/28
Calistoga Speedway CA)For local dirt track sprint car and midget enthusiasts the Louie Vermeil Classic held at the Calistoga Speedway in the beautiful Napa Valley features a weekend of grassroots racing and a walk down memory lane. While the focus of the weekend is the on track tight knit racing that fans love, it is also an event that recognizes the people who have dedicated their lives to the betterment of motorsports. Press Releases1/28
Belle Clair Speedway IL)The 2016 schedule for Belle-Clair Speedway has been released featuring 27 events. The season will begin with a Test N Tune on Saturday, March 12th before returning to running mainly Friday night events. Running a mix of racecars, Belle-Clair will again continue to host UMP Late Models, Modifieds, B-Mods, Pure Stocks, and POWRi Midgets and Micros, while adding Mod Lites/Dwarfs and the WAR Sprint Series. The Mod Lite/Dwarf division has been added to help out Doe Run. Press Releases1/28
Mid Atlantic Crown)Williams Grove, Selinsgrove, and Utica-Rome Speedways, in partnership with the United Racing Club (URC) and Empire Super Sprint (ESS) organizations, announced one of the biggest weekends for 360 sprint car racing in the United States July 29-31 with the inaugural Mid-Atlantic Crown. More than $80,000 in prize money will be posted for three consecutive nights of 360 sprint car racing at the three aforementioned race tracks located in the northeast this summer. The "Weekend of Money" is expected to draw the best 360 sprint car drivers from all parts of the United States and Canada and will determine an overall champion. Central PA 1/28
Panchos Racing Products)Pancho's is having a SUPER SALE...15% OFF the EVERYTHING in the STORE. .....this Friday & Saturday ONLY!! Be there, benefit from the 15% OFF Everything Sale! Call 717-646-0090 or stop by. 2 DAYS only Sale! Located in Hanover, PA. Your Dirt Track SuperStore. We have it In Stock. Sale dates are Jan 29 & 30 only. Limited to in stock merchandise. PANCHO's RACING PRODUCTS 717-646-0090 1/28
World of Outlaws)The World of Outlaws Sprint Car Series and NAPA Auto Parts are returning the 'Greatest Show on Dirt' to Phoenix for the first time since 2009 with the NAPA Desert Shootout at Arizona Speedway on Sunday, March 6. The high-banked, third-mile dirt oval in Queen Creek, Ariz. is hosting the series for the first time ever. It is one of four tracks this season that are hosting a World of Outlaws event for the first time. DIRT/World of Outlaws 1/28
3:00pm
PRESS....
ASCS Lucas Oil)Adding to the 25th season of action for the Lucas Oil American Sprint Car Series presented by the MAVTV Motorsports Network, the nation's largest Sprint Car sanctioning body is proud to announce the series debut at Badlands Motor Speedway in Brandon, S.D. on Sunday, July 31, 2016. ASCS 1/28
DIRTVision)DIRTVision.com, the online destination for race fans to watch and listen to World of Outlaws and DIRTcar events, kicks off 2016 with a new look and, for the first time ever in dirt track racing, a free on-demand video archive that will feature current and historic races. DIRT/World of Outlaws 1/28
Baytown TX/SLS Promotions)Discount tickets are now available for purchase at local participating O'Reilly Auto Parts stores in the Houston area, as O'Reilly Auto Parts Presents the World of Outlaws Sprint Car Series hosted by Kasey Kahne at Royal Purple Raceway in Baytown, Texas on Saturday, February 27. Each ticket purchased at an O'Reilly Auto Parts location will feature a special $5 discount. Tickets buyers will exchange their O'Reilly receipt for tickets at the Main Grandstand ticket booth on race day. Press Releases1/28
Wednesday January 27th 2016
Contrariwise, if it was so, it might be; and if it were so, it would be; but as it isn't, it ain't. That's logic. Lewis Carroll
11:30pm
PRESS....
USAC)The April 30 Hemelgarn Racing/Super Fitness "Rollie Beale Classic" at Toledo (Ohio) Speedway salutes one of America's most revered open-wheel drivers, the 1973 USAC National Sprint Car Champion who passed away two years ago. USAC 1/27
USAC)The USAC Midwest Thunder Midget (MTM) Series is pleased to announce its plans for the 2016 season featuring affordable production automotive and motorcycle-based engine rules. The series will offer competitive racing against full fields of cars with members competing for USAC points series recognition including the opportunity for the series champion to attend the USAC Banquet in Indianapolis next December. The series will focus on two Midwest race facilities known for their commitment to open wheel, non-wing racing: Montpelier Motor Speedway in Indiana and Waynesfield Raceway Park in Ohio with additional facilities a possibility. USAC 1/27
World of Outlaws)The final dates for the 2016 World of Outlaws Sprint Car Series season have been set as the series gears up to kick off during DIRTcar Nationals at Volusia Speedway Park in two weeks. In all, the 2016 season will feature 91 races at 54 different tracks in 25 states and one Canadian province. Four tracks will be making inaugural appearances on the schedule while another 11 return after absences.DIRT/World of Outlaws 1/27
3:30pm
PRESS....
Bandit Racing Team)With Bandit Racing's regular pilot, Josh Williams, focusing on getting into the fire academy, car owner , Gary Williams, and team manager, Billy Muller, are pleased to announce that Lorne Wofford will pilot the new look No. 18w machine as the team competes with the ASCS Southwest Tour, and Colby Copeland will compete with the team in select multi-day events in California. Press Releases1/27
OCRS)A-1 Machine Shop, a Tulsa Oklahoma based full service CNC machine shop, has signed on as a Heat Race sponsor for the 2016 season. A-1 Machine Shop is owned by Paul Edwards who is also known around the racing community as the 'Shock Doc" for his work with racing shocks. Regarding his involvement with the Ameri-Flex / OCRS series, Edwards commented: "Since I was a kid, I have always loved sprint car racing. I am excited to get to be a part of it as an adult." OCRS 1/27
Canyon Speedway Park AZ)This Friday, January 29th, the "5th Annual Winter Challenge" will continue at Canyon Speedway in Peoria, Arizona. Featuring the USAC SouthWest and West Coast Sprint Cars, Friday's main event will pay $2,000-to-win and Saturday's winner will take home $4,000. Promoted by Kevin Montgomery, racing will start at 7:00pm on Friday and 5:00pm on Saturday. The IMCA Modifieds, IMCA Stock Cars vs Pure Stocks, IMCA Hobby Stocks vs Renegades, and Dwarf Cars will share the action packed cards. USAC SouthWest Sprint Car Series rules apply and for more event, and ticket information, visit www.canyonspeedwaypark.com or call (602) 258-7223 (RACE).Press Releases1/27
Capitol Renegade King of the 358's)Need to thank everyone who helped make the Capitol Renegade King of the 358's a reality. Wayne Quackenbush for coming on board and being the title sponsor again for the 358's. Allan Holland for always being there to help me and the division out. Jason Loss and everyone at Total Identity Solutions, Mark Bell for coming on board this year as a new sponsor for the 358 series. Griff Griffith for helping out once again, Andrew Rucker for helping out on the website making sure I don't screw it up to much and all the great people over on Jager Hill especially Renee Cole for always being down to help the 358 division. You guys rock. This has been a dream I have had for the past 5 years, and with your help I have finally been able to put something together to find out who truly is the King of the 358's. Now to all my 358 driver friends, hope you all support this as much as you can so we can continue to build this year in and year out. Would love to see this grow into a yearly thing just like the point series has. You guys all wanted a speedweek, well here you go. http://www.centralparacing.com/1/27
Oswego Speedway NY)Oswego Speedway officials announced this week season ticket pricing and 60th annual Budweiser International Classic Weekend ticket packages, which for the first time in several years are available for under $100. Fans are now able to visit Oswego Speedway's box office Monday-Thursday from 9 a.m. to 4 p.m. to reserve their seats for the entire season or specific Budweiser Classic Weekend packages, to get a jumpstart on 2016. Press Releases1/27
ESS)As the new year approaches and we get ready to celebrate the 33rd Anniversary Tour for the Lucas Oil Empire Super Sprints, new and exciting sponsorship programs are being added to the already long list of backers. For 2016 we like to introduce the new 7-12 Challenge for each full point event. Any driver that wins the 25 lap A-Main and started in positions 7-12 will collect an extra $100 in their pay envelope at night's end. Press Releases1/27
Benic Enterprises and Benic Shock Services would like to invite all racers and car owners to our 12th annual Open House on Saturday January 30. Whether you are in the area for racing or just from this region, make the short drive to Fairmount, Indiana and check out our great deals as you get ready for the 2016 season. Bring your shocks of any brand to be checked out on one of our state-of-the-art Roehrig dynos and we'll help you come up with the right tune-up for your chassis and track. AFCO used shocks brought in during the show will be repaired or rebuilt within the following week by our shock experts, great turn around time, with a show special 15% discount. We are also offering a 10% discount on new shocks as well. New 2015 5 bar Maxim frames will be on display along with new and used parts and frames with great discounts available. Everything will be on sale with no reasonable offer refused! Destiny Motorsports race team will also be on display with parts and frames available at great prices. Come see what's new for the 2016 season and take the time to talk with our experienced team on what you need to take the next step in your racing program. Free food and drink will be available with the open house beginning at 9 am and going until the last person has left! For further information contact Benic Enterprises at 765-948-5758 or email at benicenterprises@aol.com or benicenterprises@yahoo.com Look forward to seeing everyone here. Thank you. 1/27
S&W Performance)The S&W Performance Group is pleased to announce they are an official VP Racing Fuels dealer. The entire VP product line including; Racing Fuels, SEF Small Engine Fuels, Additives 'Maddatives' and Performance Products such as Specialty Lubricants, Performance Chemicals, Traction Compounds and Fuel Handling Accessories are now available through S&W. Due to VP's large distribution network, most products will be delivered within 2 business days within continental USA.Press Releases1/27
Attica Raceway Park OH)While the finishing touches are being made to the 2016 racing schedule for Attica Raceway Park, one date has had fans across the region excited – Tuesday, July 12. That's when the World of Outlaw Sprint Car Series returns to "Ohio's Finest Racing" speedplant for the 28th Annual Ohio Logistics Brad Doty Classic presented by Racing Optics. The Brad Doty Classic has become one of the "must win" races on the World of Outlaws Sprint Car Series schedule. While also honoring one of the best drivers who ever strapped into a sprint car, the event has also created some of the best racing highlights in the sport's history since its inception in 1989 at Attica Raceway Park (fans remember local racer Alvin Roepke screaming "Holy moley, I won the Doty," in victory lane at Attica in 2002). Press Releases1/27
Skagit Speedway WA)Skagit Speedway and Grays Harbor Raceway General manager Steve Beitler has been awarded the Region 6 Promoter of the Year Award by the Racing Promoters Monthly organization. Region 6, The Southwest and Western Region consists of the 9 western states. "I am quite humbled to win this award. I am surrounded by great workers.This really shows what an awesome team we have at both tracks", said Beitler, "Between the fans and the racers and the workers we really have a good thing going in this region". This marks the 4th time in the past 8 years that Beitler has received the Regional honor. He will travel to Daytona Beach Florida in February during Speed Weeks to attend the National RPM Promoters Conference where one of the six regional promoters will be awarded the prestigious 'National Promoter of the Year Award'. Other finalists for the award are: Region One, Eastern Region - The Leiby Brothers and Alan Kreitzer of Lincoln (Pennsylvania) Speedway; Region Two, Southeastern - Gray Garrison and the Hawkins family, Bowman Gray (North Carolina) Stadium; Region Three, Central Region - Rich Farmer, Fremont (Ohio) Speedway; Region Four, Northern Region - Dan and Scott Ratzjczak and Toby Kruse, 141 (Wisconsin) Speedway; Region Five, Great Plains Region - Dan Robinson, Lucas Oil (Missouri) Speedway . Gary and Donna Howe of Kalamazoo (Michigan) Speedway received the award last year.1/27
1:45am
PRESS....
Wichita Falls Trade Show)The final 4 Speed Promotion event for the 2015-2016 off season is just one week away as Greg Deatherage is set to present the annual Texas Racer's/High Performance Trade Show, Auction and Swap Meet on Friday and Saturday night, February 5-6, 2016. This event will once again take place at the MPEC Center in the JS Birdwell Arena in Wichita Falls, Texas. Press Releases1/27
WAR)WAR Awards Banquet info has been released on the WAR website. Please visit www.WarSprints.com or click the link provided below to view all of the details. We hope all of the 2015 competitors will join us to celebrate the past season as well as looking forward to 2016 plans. We'd like to also thank David and Julie Goodson at Impact Signs, Awnings, & Wraps for hosting the event! http://warwinglessautoracing Don't forget the full 2016 schedule is available on the webiste as well 1/27
Winged Nation)Here is the link to Winged Nation this week: Shane Stewart, Danny Martin Jr., Frankie Kerr and we hear from Danica Patrick. http://www.mrn.com/Media-Center/MRN-Show-Archives/Winged-Nation.aspx1/27
OSCS)7 great tracks: Wayne County Speedway, Legendary Hilltop Speedway, Moler Raceway, Millstream Speedway, Fremont Speedway, Jackson County Speedway, Atomic Speedway Over 20 nights of great racing with events like the OSCS/FAST Challenge Featuring Fremont Speedway June 11 $3,000 to win and August 20 Atomic Speedway $3,000 to win with $500 bonus for top avg finisher in these shows 18th Annual FREEDOM 40 at Atomic Speedway $5,000 to win and the OSCS Championship September 10 at Atomic Speedway. Great sponsors such as: Graphic Creations, Dickson Shocks, Indy Race Parts, Phantom Racing Gear, All Pro Heads, Maxim Chassis, Millhone Motorsports, Callies Performance, Kears Speed Shop, Trackside Camping, KSE Racing Products, Hinchman Indy, RBDesigns, Saldana Racing Products, Pyrotect, Hoosier Tire, Over 20 race teams already committed to the new Ohio Sprint Car Series Race/Competition Director Jack Hewitt Drivers list Jamie Miller's #6 Car Jac Haudenschild/TBA Ryan Broughton Danny Smith Caleb Griffith Ryan Myers Josh Davis RJ Perkins Beau Stewart Sam Ashworth Brandon Conkel Wes Mcglumpfy Nate Reeser Mike Terry Jr Mark Coleman Bryan Nuckles Eric Martin Dave Smith Eddie Slone Cole Duncan Kirk Jeffries Ronnie Blair Brandon Wimmer/Jarrett Andretti in John Shewbrooks #97 car John Shewbrooks Jason Dolick Visit our website at www.ohiosprintcars.net Plus our twitter and facebook pages have daily updates.1/27
High Groove Racin Motorsports Show)Hey everybody Paul and Dana Kuyawa here! Please listen to the High Groove Racin' Motorsports Show this Sunday night 6-8 PM Central Time on AM 1050 WLIP or listen live at www.wlip.com, we have two major sprint car guests. One is known as "The People's Champ" Dave Darland and the other guest all winged sprint car people should know! He went from the cockpit to the broadcast booth from Ohio, Brad Doty! Please tune in! Thank you, Paul and Dana Kuyawa High Groove Racin' Motorsports Show 1/27
Bakersfield Speedway CA)Returning to the helm of the Roth Motorsports No. 83 machine in 2016, Joey Saldana is looking forward to running close to Roth Motorsports' shop in April when the World of Outlaws return to the Bakersfield Speedway for the Budweiser Bash. Press Releases1/27
Premier Speedway AU)David Murcott's defence of his Australian Championship Crown stepped up a gear tonight at Sungold Stadium when he prevailed over nearly 80 cars in what was an action packed night of racing. Split qualifying was again the order of the day with such a large field of cars present with Murcott and Daniel Pestka both picking up $500 for being the fastest qualifiers in their respective groups. Press Releases1/27
Jack Sodeman Jr)For the second time in his career, Jack Sodeman, Jr., was crowned champion of Mercer Raceway Park, earning the 4 Your Car Connection and World of Wheels 410 sprint car title for car owner Jimmy Seger. The North Jackson, Ohio, native used two victory lane appearances to help seal his championship fate, including a victory during the final night of the regular season. Sodeman closed out his championship chase with a near 130 point advantage in the final standings. Press Releases1/27
NSL 360)The GOMUDDY.COM National Sprint League 360 Series will usher in a fresh opportunity for 360ci winged sprint car competitors when the inaugural season begins in less than two months. The series has a unique format to determine the national champion as well as drivers who earn bonus money - titled the 'Cash Bowl' - throughout the 2016 campaign. Any driver who competes in at least one national race and 15 regional races is eligible for the Cash Bowl, which pays $10 per point. National Sprint League 1/27
USAC/CRA)The blueprint for the 2016 AMSOIL USAC/CRA Sprint Car schedule has plans for a 24-race schedule that includes 20 races in the "Golden State" of California with events at eight different venues and two separate stops in the state of Arizona.USAC 1/27
Chase Dietz)After a successful 2015 campaign in the 358 sprint ranks with car owner Troy Godfrey, resulting in a Williams Grove Speedway track championship and five victories at two different Pennsylvania ovals, Chase Dietz is pleased to announce that he will continue his driving duties in the Godfrey Racing Engines, No. 5G. The only change will be engine size, as the team plans to focus solely on 410 sprint car competition in 2016. Press Releases1/27
Landon Simon)Landon Simon Racing announced today the multi-year extension of Mount Baker Vapor Electronic Cigarettes to the Indiana-based non-wing sprint car team as primary sponsor for 2016 and beyond. "It gives us great pleasure to announce that we will be continuing our relationship with Landon Simon for the next three years. In many ways, he has grown as a driver alongside our growth as a company. We believe that Landon's passion for racing and the motorsport community exemplifies our own vision of being leaders in the vaping industry. He has exposed us to a unique demographic, and has laid the framework for how we want our brand to be perceived," said James Thompson Co-owner and CEO of Mt Baker Vapor. Press Releases1/27
Atlantic City NJ)Though the winds blew, the snow flew and the tide rose last weekend in Atlantic City, historic Boardwalk Hall and all roads leading to it are open. And thus the NAPA Know How Racing Weekend, highlighted by Saturday night's Gambler's Classic for Three Quarter (TQ) Midgets will go on as scheduled. Press Releases1/27
MOWA)The Neal Tire MOWA Sprint Car Series Presented By Casey's General Stores is pleased to announce that Racing Optics will be a series sponsor for the 2016 season. Racing Optics is the leading manufacturer on laminated tearoff systems for all forms of motorsports. MOWA sprint car drivers and racers worldwide rely on laminated tearoffs from Racing Optics to safely perform at the highest levels. Unlike a single piece tearoff, the Racing Optics SpeedStack is a complex optical device having all of the characteristics found on a camera lens or telescope and uses only the highest quality "optical grade" Mylar. MOWA President Jeremy Standridge is looking forward to the 2016 partnership with Racing Optics. "Our drivers rely on the high quality of Racing Optics each and every lap we race during a season. In a sprint car, vision is everything and the Racing Optics tearoffs allow the driver to focus on racing while maintaining great vision. We couldn't put on a show without them." The Neal Tire MOWA Sprint Car Series presented by Casey's General Stores begins April 15 at Tri-City Speedway in Pontoon Beach, Illinois. The series will hold roughly 25 events in Illinois, Indiana and Missouri in 2016 1/27
SOD)Engine Pro Sprints On Dirt presented by ARP has released its 2016 schedule. Thirteen race dates at seven different tracks make up the schedule. There are five two-day weekends that have become more popular with competitors and fans. Races will be at Crystal Motor Speedway, Hartford Speedway, Butler Speedway, Merritt Speedway, I-96 Speedway, Thunderbird Raceway, and Winston Speedway. SOD will race at each track once before returning to a second race at any track. Crystal Motor Speedway presents the season opener on Saturday, April 30th; it will also be the location of the last 2016 race on Saturday, September 3rd. The entire schedule can be seen and printed at http://www.sprintsondirt.com and click on the Schedule tab. To see a lighthearted YouTube video of the schedule, click here: 2016 SOD Schedule. For more information about Engine Pro, go to www.enginepro.com. For more information about Sprints On Dirt, go to www.sprintsondirt.com. 1/27
ASCS Lucas Oil)The 25th season of competition for the Lucas Oil American Sprint Car Series presented by the MAVTV Motorsports Network kicks off in just over a month's time, with the season's first two nights moving to the birthplace of the American Sprint Car Series; the Creek County Speedway in Sapulpa, Okla. with the Sooner State Showdown. ASCS 1/27
Monday January 25th 2016
I sing the songs that people need to hear. Etta James
11:45pm
PRESS....
Joey Saldana)Great article written by Joey Saldana about himself and racing at http://www.thedriversproject.com/1/25
Clyde Knipp)Growing up in California, Missouri, Clyde Knipp always wondered what the roaring sounds were that filled the air every weekend from May to August. He'd hear the engines and the announcer calling races from the nearby Double-X Speedway and his curiosity as a 10-year old had him asking his father to take him. Minutes into his first trip to the speedway, it was love at first sight. While his dad was interested in stock cars, late models and street stocks, Clyde was fascinated by the Sprint Cars. Press Releases1/25
Kerry Madsen)2016 has been very kind to Kerry Madsen. Not even a month into the New Year, the Australian pilot has been red hot and that continued over the last week as Madsen won the King's Challenge for the second year in a row before a second place showing during the Grand Annual Sprint Car Classic. Press Releases1/25
Column)"Author Interview: Eddie Roche, "Florida Motorsports Retrospective Pictorial, Volume 1, 2nd Edition" by Richard Golardi Florida Open Wheel1/25
Patriot Sprints)The Patriot Sprint Tour (PST) is pleased to announce its tentative racing schedule for the 2016 season which includes 34 events at 22 different venues, encompassing New York, Pennsylvania, Ohio and the Canadian province of Ontario. A total of 27 events comprise the PST American tour plus nine additional shows in the mix to make up the PST Canadian tour. "We're a bit ahead with the 2016 schedule and I'm working with a few track promoters in the Northeast in hopes that we can add another few races," said Mike Emhof, PST Owner.Press Releases1/25
CRSA)The Racesaver® CRSA Sprints have released a tentative 2016 schedule for the 305 winged sprint series. The current schedule includes seven familiar racing venues from this past season. A majority of races will be held at speedways east of I-81. Press Releases1/25
Brock Zearfoss)In less than a month, Brock Zearfoss Racing will launch their 2016 season by hosting their annual team fundraiser. Race fans who attend will be eligible for many raffles and giveaways, as well as entertainment, dinner and refreshments throughout the course of the evening. The team will also unveil their 2016 ride, with official merchandise also for sale during the event. Press Releases1/25
CRASH PAD)Don't forget to put the Right Stuff between you and your seat bottom when you get the car ready for the 2016 season. Broken Backs happen every season. Be smart, be prepared with a CRASH PAD between you and a hard landing. Lots of Info, Dealers and online ordering at www.802solutions.com.1/25
2:00pm
PRESS....
Sunday January 24th 2016
I give so much pleasure to so many people. Why can I not get some pleasure for myself? John Belushi
11:45pm
RESULTS....
Canyon Speedway Park AZ)Josh Hodges and Ricky Thornton, Jr., captured the lion's share of Sunday night honors at Canyon Speedway Park by racing to victory lane in Round Three of Winter Challenge action atop the 1/3-mile clay oval. While New Mexico's Hodges hustled to USAC Southwest vs. USAC West Coast non-wing Sprint Car victory lane and Thornton, Jr., topped his second IMCA Modified feature of the weekend, other Sunday night winners included George Fronsman in IMCA Stock Car vs. Pure Stock action, Jarrett Martin in Micro Sprints and Chaz Baca, Jr., in Mod Lites. Race Results 1/24
PRESS....
PennLive)Sprint Car driver Doug Esh and owner Mark Coldren hire crew chief Dennis Kohler to take team to next level http://www.pennlive.com/1/24
PPB Motorsports 2016)The third and final day of the PPB Motorsports 2016 Race Car & Trade Show Presented By Insinger Sunoco was a day dedicated to the youthful race fans with all children entering the show free. Events for kids, sponsored by Mark Blackwell's Metal Fab of Pennington, N.J., included two pageants, Little Ms. Motorsports, and Tiny Ms. Motorsports and Big Wheel racing competitions for various age brackets. Press Releases1/24
Atlantic City NJ)Recently received entries for this coming weekend's NAPA Know How Gambler's Classic in Boardwalk Hall in Atlantic City, N.J., have pushed the field of Three Quarter (TQ) Midgets to nearly 100 men and machines. This, coupled with full fields of Champ Karts and Slingshots, means that the fourteenth annual Len Sammons Motorsports Productions (LSMP) has the potential to break all records for number of team entries. Press Releases1/24
Patriot Sprints)The Patriot Sprint Tour (PST) is proud to announce that Curtis Berleue Photography will be the official photographer for the 2016 season. "I am extremely humbled and excited by the opportunity to be the official Patriot Sprint Tour photographer for the 2016 season" commented Berleue, of Hornell, NY. "Traveling full time with a series is something I have wanted to do for a long time, and it is truly a dream come true." Press Releases1/24
Saturday January 23rd 2016
Normally, if you go through a game without attracting attention, you are doing a hell of a job. Jerry Kramer
11:50pm
RESULTS....
Canyon Speedway Park AZ)Bryan Clauson and Hunter Marriott took center stage by posting Saturday night feature wins as 101 cars filled the pit area at Canyon Speedway Park for the second of five Winter Challenge rounds of competition. While Indiana's Clauson bested the USAC Southwest vs. USAC West Coast non-wing Sprint Car ranks for the second night in a row, Missouri's Marriott bested Friday night winner Ricky Thornton, Jr., for IMCA Modified honors. Race Results 1/23
1:10pm
RESULTS....
Canyon Speedway Park AZ)Bryan Clauson certainly is no stranger to victory lane at Canyon Speedway Park. Neither is Ricky Thornton, Jr. So it was only fitting that Clauson and Thornton, Jr., were among those to pick off victories in Friday's opening leg of Canyon Speedway Park's Winter Challenge 2016. Race Results 1/23
USAC SW/WC)USAC SOUTHWEST/WEST COAST SPECIAL EVENT SPRINT RACE RESULTS: January 22, 2016 – Peoria, Arizona – Canyon Speedway – "2016 Winter Challenge" FEATURE: (30 laps) 1. Bryan Clauson, 2. Josh Hodges, 3. Charles Davis Jr., 4. R.J. Johnson, 5. Dennis Gile, 6. Andy Reinbold, 7. Brian Hosford, 8. Tom Ogle, 9. Michael Curtis, 10. Kenny PerkinsUSAC 1/23
PRESS....
Red River Valley Speedway TX)The 2016 Red River Speedway (RRS) schedule is now posted at the track website, www.RRSpeedway.com and at www.facebook.com/RedRiverSpeedway (track Facebook page). There is a print formatted version available on the track website. This is the first round of the schedule, which allows teams and fans to view the race nights scheduled for 2016. Press Releases1/23
PPB Motorsports 2016)The show will go on!! The PPB Motorsports 2016 Race Car & Trade Show will be open for business today (Saturday) with a full slate of activities being planned. Event promoter Len Sammons said, "We ask that everyone use their best judgement and be safe in traveling to the show. There have been no restrictions placed on travel in the area so we are moving forward with the show. DRIVE CAREFULLY!" The show, offering just about everything imaginable in motorsports, fills 250,000 square feet of the Greater Philadelphia Expo Center in Oaks, PA. Saturday hours for the show are 11 a.m. to 9 p.m. After 9 a.m. information will be available at 484.754.3984. Updates will be issued as the day progresses. Adult admission is $14 while children 6-12 pay $5 and youngsters under 6 are admitted free.1/23
PPB Motorsports 2016)The absolute best of what drivers, car owners and teams have to offer was on display on Friday, Jan. 22 as the PPB Motorsports Race Car & Trade Show opened at the Greater Philadelphia Expo Center in Oaks, Pa. for the first day of its three day run. Press Releases1/23
Wilmot Raceway WI)The Kenosha County Fairgrounds & Wilmot Raceway are proud to announce their tentative 2016 racing schedule. Wilmot again has one of the most diverse schedules of any track, backed by extremely solid core classes. Wilmot Raceway is the home of Sprint Car racing in the region, hosting 1000cc winged Mini Sprints and the GM604 based wingLESS Sprints on a regular basis. Additionally Wilmot Raceway hosts the most winged 410 Sprint Car action with premier sanctioning bodies such as The Bumper To Bumper IRA Outlaw Sprints making four stops plus a big co-sanctioned event with the Tony Stewart's All-Star Circuit of Champions, and HUGE for 2016 is the return of the World Of Outlaws Sprint Series! Add in several of Wilmot's own winged 410 shows and undoubtedly Wilmot Raceway is the place to be for Sprint Car fans in Wisconsin and northern Illinois.Press Releases1/23
Friday January 22nd 2016
On the whole, human beings want to be good, but not too good, and not quite all the time.George Orwell
2:25pm
Photos)Tommy Hein has the final night of the Lucas Oil Chili Bowl covered with photos & captions in Steel City 1/22
Ernie Saxton)"We are making an effort to reach more fans of the sport as our column on local, regional and national motorsports will now reach a much larger audience," said long time motorsports journalist Ernie Saxton. Saxton's column has been appearing on the Norristown, PA Times Herald website for a few years and now will be found on the websites of the Delaware County, PA Times, West Chester's Daily Local News, Pottstown, PA Mercury, along with the Times Herald. In addition the column will be found on the websites of a number of Pennsylvania weekly newspapers including the Boyertown Times, Hamburg Item, Kutztown Patriot, Southern Berks News and others. Press Releases1/22
Motorsports 2016)The three day Pioneer Pole Buildings Motorsports 2016 Race Car and Trade Show is set to go. The show, featuring just about everything imaginable in motorsports, runs from 2 p.m. today through 4 p.m. Sunday at the Greater Philadelphia Expo Center in Oaks, PA. "We are planning to keep the show open one hour later today (Friday) because of the weather forecast and the possibility it will take people a little longer to get out to the show," said show promoter Len Sammons. "We want those coming out for today's activities to have some extra time to see and enjoy the more than 200 race vehicles on display. There are numerous racers and sports personalities on hand and more than 600 exhibits are open for business. Many speedways are offering autograph sessions featuring their top racers and giving out information on their 2016 season." The second day of the show, scheduled for an 11 a.m. start on Saturday, will start on time.1/22
Motorsports 2016)The Pioneer Pole Buildings Motorsports Show awaits attendees today, Jan. 22, beginning at 2:00 PM with hundreds of race cars, many being debuted for the first time in their new liveries. "This is by far the best turnout of cars from the grassroots northeastern market," said Len Sammons, of Len Sammons Motorsports Productions, which has produced the Motorsports Show annually since 1986. Press Releases1/22
Thursday January 21st 2016
You can have all the riches and success in the world, but if you don't have your health, you have nothing. Steven Adler
11:50pm
PRESS....